With anticipation and anxiety high, the Falcon 9 rocket blasted off this morning from Vandenberg Air Force Base for its West Coast debut.
The Space Exploration Technologies rocket, which stands about 22 stories high, blasted off about 9 a.m. from Space Launch Complex-4 on South Base.
The results of the launch were not immediately available and were still being assessed.
The rocket was designed and built by entrepreneur Elon Musk's Hawthorne-based firm. Musk also founded PayPal and more recently the Tesla electric car company.
Although the mission was to prove the rocket's capabilities, Falcon's cargo was the Cascade Smallsat and Ionospheric Polar Explorer, or CASSIOPE, built by MacDonald, Dettwiler and Associates Ltd (MDA) of Canada.
Officials say CASSIOPE's mission is to prove a new design for a Canadian satellite frame that carries a scientific experiment and a technology demonstration.
Quelle: Santa Ynez Valley News
.
Canadian satellite blasts off on weather mission
MONTREAL - The Aurora Borealis, those beams of light that dance across the northern sky may look pretty, but a Canadian satellite is about to study a nasty side lurking behind that beauty.
The small hybrid satellite, with a multi-purpose mission, blasted off on Sunday from Vandenberg in California on board a Falcon 9 rocket developed by SpaceX, a commercial space company.
The Canadian Space Agency became one of SpaceX's first customers when the agency decided years ago to use the private U.S. rocket to deliver the satellite at a reduced cost of $10 million.
It cost the space agency $63 million to develop the satellite.
Its scientific payload will take a closer look at the Earth's upper atmosphere and allow scientists to collect new data on space storms.
Greg Enno, of the University of Calgary, says the CASSIOPE (Cascade SmallSat and Ionospheric Polar Explorer) satellite will focus on the interaction between the sun and the ionosphere (the upper atmosphere).
More specifically, it will study the effect of solar storms on radio communications, satellite navigation and other ground-based technologies.
Why is that important?
"Because the sun sends out big plumes of energy from its surface and they wallop our atmosphere and its magnetic field and affect GPS users — especially aircraft,'' Enno explained in an interview.
"It actually changes their position. And that's one of the reasons why we can't use GPS to land aircraft.
When plasma and particles from the sun enter the upper atmosphere they usually cause the stunning northern lights, but they also affect things like hydroelectricity systems and GPS users.
In 1989, it caused a blackout in Quebec for several days.
Enno said data collected by CASSIOPE during its two-year mission should make it a lot easier to predict the impact of solar storms on Earth.
"The biggest winners from our sets of data is the GPS industry because their measurements may be accurate enough so they can use it for all sorts of stuff like landing aircraft, but also Hydro people because they don't want to be surprised and have a network go down," Enno said.
CASSIOPE's science mission, which was developed by 10 Canadian universities, will also study the workings of the atmosphere, which has been losing mostly hydrogen and helium gases — and oxygen.
But Enno stressed that we shouldn't worry.
"The Earth's plants have not reached equilibrium yet," he said. "They're still putting more oxygen in the air than we're losing."
Enno said scientists who study the Earth's atmosphere want to get a better idea of what it will look like down the road.
"If you look at the Martian atmosphere and looking ahead in time, is that what the Earth's atmosphere will look like eventually, or will we have something else entirely?"
The 450-kilogram satellite also carries the Cascade technology demonstrator, which is described as a courier system in the sky for very large data files.
Dave Cady, an executive vice-president at MDA, the satellite's prime contractor, said Cascade will help to deliver data from ships at sea that are involved in oil and gas exploration.
"You have ships out on the ocean and they tend to be working in fairly inhospitable places where there's not a lot of Internet infrastructure."
Normally, Cady said, ships put large data files on software that is sent by helicopter to places like Houston and London for geophysical analysis.
"So, instead of having a helicopter courier, the ship would have a small antenna which would track CASSIOPE and the data would be uplinked as the satellite flies overhead," he said in a recent interview.
"Then it would be stored and downlinked when the satellite flies over Houston or London."
Quelle: Mississauga News
.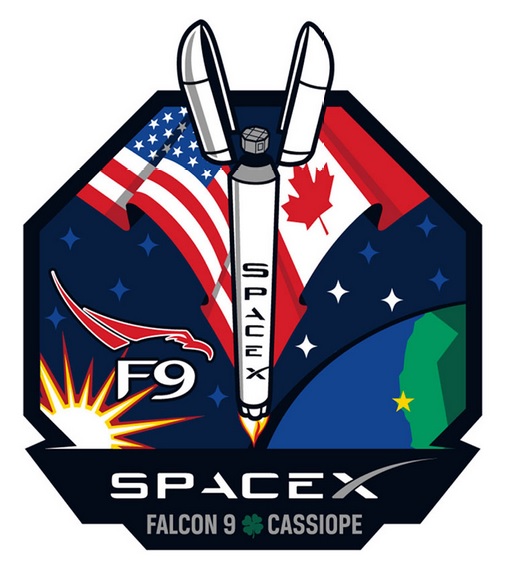 .
Update: 30.09.2013
.
Fotos von Start /SpaceX
.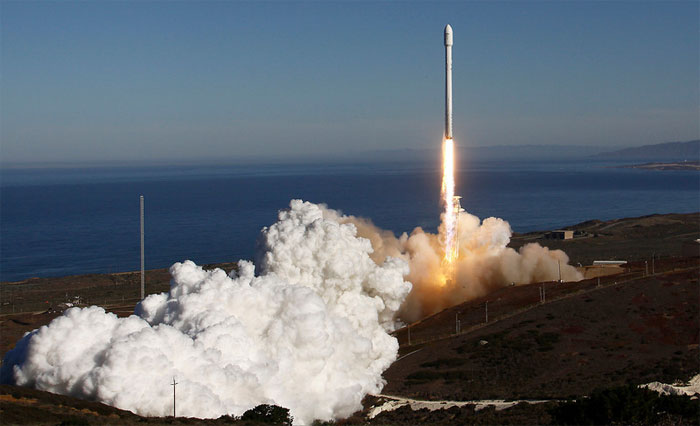 ,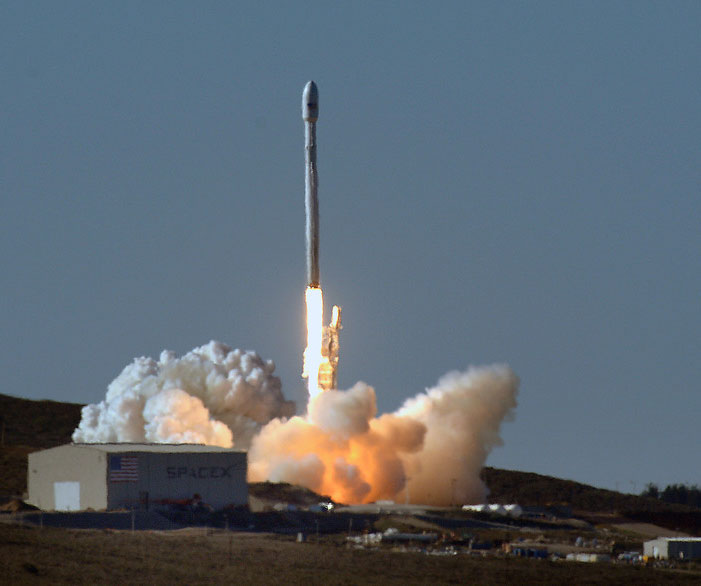 .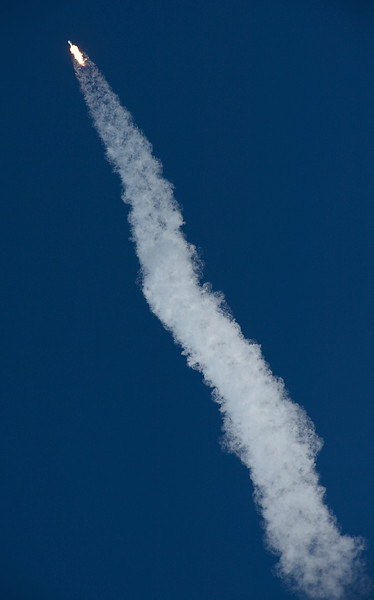 .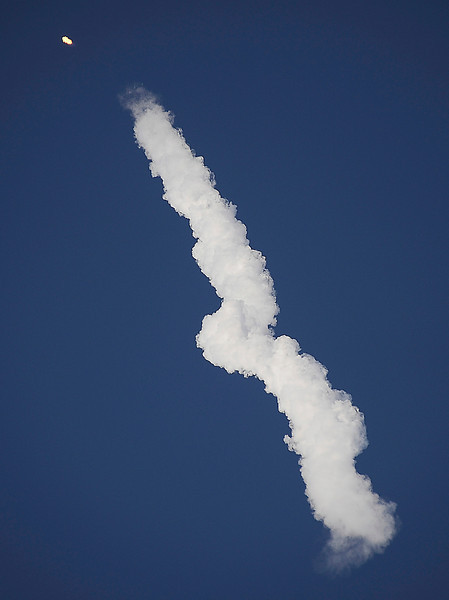 .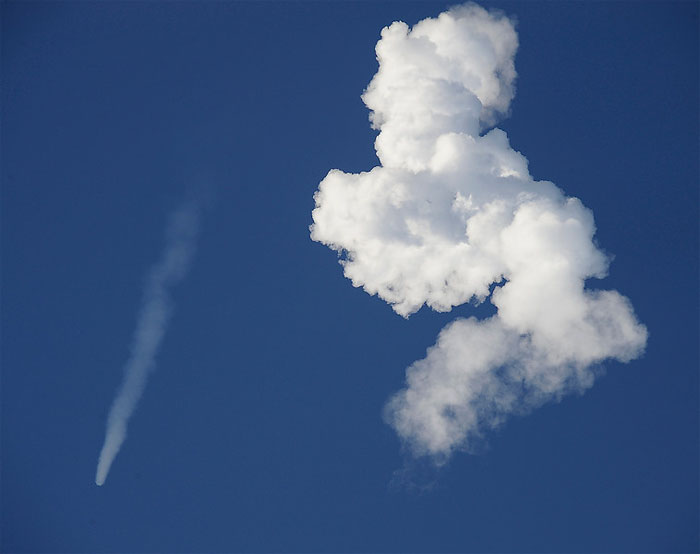 .
Update: 10.10.2013
.
Wow! Photographer Captures SpaceX Falcon 9 Rocket Launch Like Never Before.
.
Photographer David A. Kodama took this composite image capturing the unmanned, next-generation Falcon 9 rocket launch trajectory as it blasted off from the SpaceX launch pad at Vandenberg Air Force Base, Calif. at 12 p.m. EDT (1600 GMT) on Sept. 29.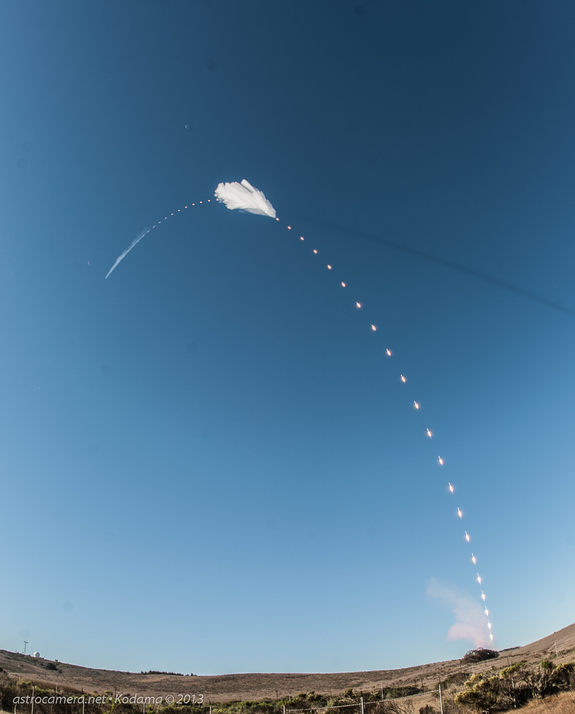 A photographer's road trip to see SpaceX's first Falcon 9 rocket launch from California last month led to this striking composite photo recently released to SPACE.com.
In the image, photographer David A. Kodama captures the SpaceX rocket launch in stages, from liftoff through its ascent into orbit.
SpaceX launched the first of its upgraded unmanned Falcon 9 rockets on Sept. 29 from Vandenberg Air Force Base in California. The rocket launched the CASSIOPE space weather tracking satellite into orbit for the Canadian Space Agency.