.
22.08.2013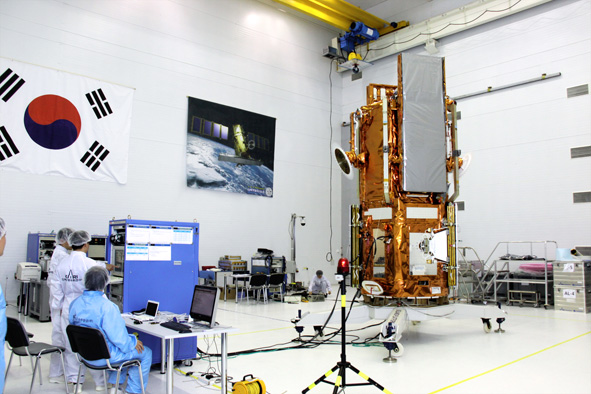 At the Yasny launch site, South Korea's KOMPSAT-5 satellite undergoes final checkout, ahead of its scheduled flight atop a Dnepr rocket on Thursday, 22 August. Photo Credit: Kosmotras
.
South Korea's first dedicated satellite to utilize Synthetic Aperture Radar (SAR) for Earth observations and environmental monitoring is scheduled to fly from the Yasny launch site, near the village of Dombarovsky in Russia's Orenburg Oblast, on Thursday, 22 August. The Korea Multi-Purpose Satellite (KOMPSAT)-5 will be carried aboard a three-stage Dnepr rocket from Yasny's Site 13, and the campaign is being conducted by Kosmotras, a commercial launch services provider operated jointly by Russia, Ukraine, and Kazakhstan.
Standing 113 feet tall and weighing an estimated 470,000 pounds, the Dnepr is a converted, Soviet-era SS-18 intercontinental ballistic missile, decommissioned from military service with Russia's Strategic Rocket Forces as part of the provisions of the 1991-signed Strategic Arms Reduction Treaty (START). This treaty has since been replaced by NewSTART, which received the signatures of U.S. President Barack Obama and Russian President Dmitri Medvedev in April 2010.
As a potential weapon of war, the SS-18 achieved a 97 percent success rate and since April 1999 has flown 17 orbital missions, five from Yasny and 12 from Baikonur in Kazakhstan. All three of its stages utilize unsymmetrical dimethyl hydrazine, with an oxidizer of nitrogen tetroxide, and the vehicle has the capability of inserting 8,000 pounds of payload into a low-Earth orbit of up to 180 miles altitude or 5,000 pounds into a Sun-synchronous, geocentric orbit of up to 180 miles altitude.
On its first mission, launched from Baikonur on 21 April 1999, the Dnepr lofted Britain's UoSAT-12 mini-satellite into low-Earth orbit. Since then, it has carried a range of payloads into orbit, most notably Bigelow Aerospace's Genesis-I (July 2006) and Genesis-II (June 2007) inflatable modules. Satellites from Thailand, Italy, Malaysia, Saudi Arabia, Argentina, Germany, France, Belarus, Japan, South Korea, Colombia, Norway, and the United States have also been boosted into orbit by the Dnepr.
Only one of its 17 missions has ended in failure. Back in July 2006, a malfunction in the pumping hydraulic drive of a combustion chamber induced roll, pitch, and yaw instability and the vehicle crashed about 90 miles from the Baikonur pad. Although it hit the ground in an unpopulated region of Kazakhstan, the debris released toxic pollutants and the Russian government was forced to pay $1.1 million in compensation.The Dnepr for Thursday's launch arrived at Yasny for final processing in June 2013, followed by the KOMPSAT-5 payload on 11 July. The satellite was airlifted from Incheon Airport in the Republic of Korea to Orsk, Russia, aboard an Antonov-124 Ruslan aircraft, after which it was transported overland by truck to Yasny. Since its arrival at the launch site, KOMPSAT-5 has undergone checkout and testing, and on 8 August the process of loading its hydrazine attitude-control propellants and pressurant gas was completed.
The first stage of the Dnepr is powered by a single RD-264 engine, which will produce 1.02 million pounds of thrust at liftoff and burn for 130 seconds. After it has been exhausted and separated, the RD-0255 powerplant of the second stage will pick up the baton with 170,000 pounds of thrust for 190 seconds, leaving the third stage and its single RD-869 engine for the longest burn to inject KOMPSAT-5 into orbit. The third stage will ignite for 1,000 seconds—more than 16 minutes—with a thrust of 4,200 pounds. Upon the completion of this firing, KOMPSAT-5 will be separated from the vehicle.
This mission is South Korea's first to employ X-band SAR technology and is expected to spend up to five years performing all-weather, 24-hour observations of the entire Korean Peninsula. From an orbit of 310-370 miles, inclined at 97.6 degrees, the radar data from KOMPSAT-5 should enable ground resolutions as fine as 1 meter (3.3 feet). It will fulfil Geographic Information Systems (GIS) requirements, together with ocean monitoring, land management, disaster monitoring, and environmental monitoring roles. As a secondary task, it will also perform atmospheric sounding and radio occultation science experiments with a dual-frequency GPS receiver and laser retroreflector array.
Developed by the Korea Aerospace Research Institute (KARI), the KOMPSAT-5 mission is the latest in a long line of Earth-resources spacecraft despatched by South Korea. Its predecessors included KOMPSAT-1, launched in December 1999 atop a Taurus rocket from Vandenberg Air Force Base, Calif., and KOMPSAT-2, which flew aboard a Rockot vehicle in July 2006. These two opening missions evaluated electro-optical cameras, ocean-scanning multi-spectral imagers, high-energy particle detectors, and ionospheric measurement sensors and demonstrated their worth in surveillance of natural disasters, utilization of mineral resources, cartography, and GIS construction.
Most recently, a Japanese H-IIA launch vehicle boosted KOMPSAT-3 into orbit in May 2012. This satellite employs a high-resolution, electro-optical camera and is presently a year into a planned four-year mission to provide continuous high-resolution imagery of Earth for GIS, environmental, agricultural, and oceanographic monitoring applications.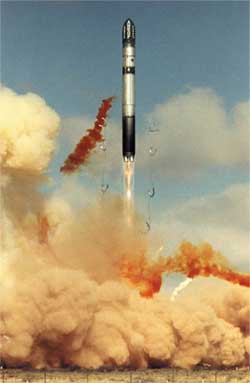 A Russian Dnepr rocket lofts Bigelow Aerospace's Genesis I mission. The Dnepr has flown 17 times since April 1999, with only one mission failure. Photo Credit: Bigelow Aerospace
.
Quelle: AS
.
Fifteen-minute sequence to determine fate of S. Korea's Arirang 5 satellite
YASNY, Russia, Aug. 22 (Yonhap) -- Nearly eight years have passed since South Korea began developing its latest multipurpose satellite, but the fate of the much anticipated project will be determined in just 15 minutes after liftoff, launch organizers said Thursday.
The Arirang 5 satellite is set to be launched at 8:39 p.m. (11:39 p.m. KST) from Russia's Yasny launch site, some 1,800 kilometers southeast of Moscow, using a Dnepr three-stage rocket converted from Russia's conventional intercontinental ballistic missile.
In 9.2 seconds following the initial launch, the first-stage thruster will be ignited, taking the rocket to an altitude of about 58.62 kilometers in just 100 seconds, according to the Korea Aerospace Research Institute (KARI).
The rocket will reach a velocity of 2,861.6 meters per second when its first-stage thruster separates from the rest of the rocket at about 112 seconds after liftoff.
Shortly after, the second-stage thruster will ignite to further propel the rocket for the next 169 seconds to 263.1 kilometers above ground level and to a velocity of 7,179.7 meters per second.
At 279.3 seconds after launch, fairings that enclose the satellite will be separated, and five seconds later the second-stage thruster will separate.
For seven seconds from 289.8 seconds following the rocket's initial launch, the third-stage thruster will adjust its direction to begin moving toward its target orbit.
At 914.2 seconds after liftoff, the Arirang 5 satellite will be deployed into orbit at an altitude of 549.9 kilometers.
In about 15 minutes following its deployment, the satellite will begin sending signals to earth, to be first detected by the Troll Satellite Station in Antarctica.
The satellite will make its first contact with KARI's ground station in South Korea at 5 hours and 56 minutes after its launch or at about 2:35 a.m. (5:35 a.m. KST) Friday.
Quelle: YONHAB-NEWS
.
Update: 23.08.2013
Dnepr carrier rocket puts South Korean satellite in orbit
YASNYI, the Orenburg region, August 22 (Itar-Tass) - A Dnepr carrier rocket put a South Korean remote sensing satellite in orbit on Thursday. The Dnepr rocket carrier was created on the basis of an RS-20 inter-continental ballistic missile (SS-18 "Satana" by NATO classification), an official spokesman for the Russian Strategic Purpose Troops said.
"The satellite separated from the rocket carrier's third stage at 18:55 Moscow time," he said.
Quelle: ITARTASS
.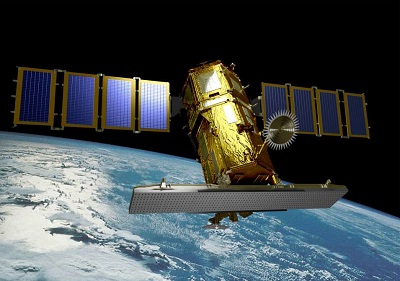 A converted Russian ballistic missile rocketed out of an underground silo in southern Russia on Thursday and delivered a radar-equipped South Korean observing satellite to a 340-mile-high orbit, kicking off a five-year mission to collect high-resolution imagery to aid urban planners, emergency responders and environmental scientists.
The three-stage Dnepr booster, derived from an SS-18 missile built to carry Russian nuclear weapons, launched at 1439 GMT (10:39 a.m. EDT) from a space base near Yasny, Russia, a small community in the Orenburg region in the southern part of the country.
The KOMPSAT 5 satellite deployed from the Dnepr's third stage in sun-synchronous orbit about 15 minutes later, and a Norwegian ground station in Antarctica received the first radio signals from the spacecraft a few minutes later, according to the Korea Aerospace Research Institute, or KARI.
On its Facebook page, KARI reported the 3,086-pound deployed its solar panels and was healthy following the successful launch, which marked the 17th success in 18 Dnepr rocket missions since 1999. The launch was conducted by Russian military forces for Kosmotras, a joint Russian-Ukrainian company which markets Dnepr rocket launches commercially.
KOMPSAT 5 is South Korea's first radar imaging satellite, joining two other operational Earth observation platforms to broaden the nation's high-resolution observing capabilities to include imaging at night and in all weather conditions. South Korea's satellites with optical cameras can only see the ground during daytime and in clear weather.
KOMPSAT 5's synthetic aperture radar, built by Thales Alenia Space, will scan Earth's surface with a top resolution of 1 meter, or about 3.3 feet. The radar also has the ability to operate in medium-resolution and wide-swatch modes to observe larger areas.
South Korean officials say KOMPSAT 5's imagery will be used to compile geographic information systems and in ocean management, land management, disaster response and environmental monitoring applications.
KOMPSAT 5's secondary mission is to help researchers collect atmospheric sounding data using a dual-frequency GPS receiver and laser reflectors. Scientists will watch how Earth's atmosphere distorts radio signals to learn more about conditions at various layers of the atmosphere.
Quelle: SN
.
(3rd LD) S. Korea's KOMPSAT-5 satellite makes first contact with ground station
YASNY, Russia, Aug. 22 (Yonhap) -- South Korea's new multipurpose satellite sent beacon signals to a ground station in Antarctica after its launch from Yasny, Russia on Thursday, indicating that the satellite successfully reached its target altitude and orbit, officials here said.
The Korea Multipurpose Satellite-5 (KOMPSAT-5) was launched at 8:39 p.m. (11:39 p.m. Korean time) from Russia's Yasny launch base, located some 1,800 kilometers southeast of Moscow.
"The launch vehicle successfully deployed the satellite approximately 15 minutes after its launch from the Yasny launch base," Lee Sang-ryool, an official from the Korea Aerospace Research Institute (KARI) in charge of the KOMPSAT-5 program, told reporters earlier.
"Troll Satellite Station in Antarctica received beacon signals from KOMPSAT-5 32 minutes after its launch," Lee said.
Beacon signals were again picked up by Norway's Svalbard Satellite Station at 10:06 p.m., further indicating the satellite's successful deployment into its target orbit, according to KARI officials.
Whether the satellite was successfully deployed and is functioning properly will be verified later when the satellite makes a radio contact with South Korea's ground station in Daejeon at 2:35 a.m. Friday, or five hours and 56 minutes after the launch, they said.
The satellite, also known as the Arirang 5, was sent into space using Russia's Dnepr, a space launch vehicle converted from Russia's Soviet-era intercontinental ballistic missile.
KOMPSAT-5 is South Korea's fourth multipurpose satellite, but it is the first with synthetic aperture radar with a 1-meter resolution, which will allow observation of the Earth's surface, especially the Korean Peninsula, regardless of weather conditions.
It will circle the Earth 15 times a day in the sun-synchronous orbit, or dawn-to-dusk orbit, for the next five years.
Quelle: YONHAB-NEWS
4512 Views