30.07.2021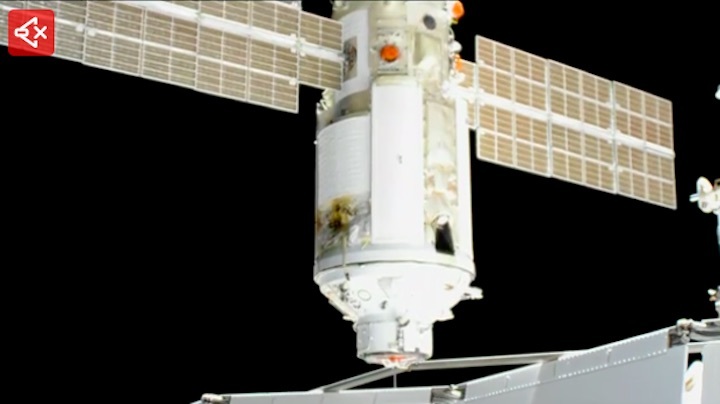 Beim Andocken (Video) des russischen Forschungsmoduls "Kauka" an der Raumstation ISS - ist es am Donnerstag zu einem nicht ganz ungefährlichen Zwischenfall gekommen. Weil die Triebwerke des Moduls "versehentlich und unerwartet" angefeuert wurden, wurde die ISS um 45 Grad aus ihrer regulären Flugbahn verschoben. Dadurch verlor die NASA für fast eine Stunde die Kontrolle über die Position der Station im All und auch der Kontakt zur Crew brach für elf Minuten ab.
Durch einen Notfalleinsatz habe die ISS aber wieder in ihre reguläre Flugbahn zurückgebracht werden können, teilte die US-Raumfahrtbehörde NASA am Donnerstag via Twitter mit. Die Besatzung sei zu keinem Zeitpunkt in Gefahr gewesen und die Internationale Raumstation und alle Systeme an Bord würden normal funktionieren.
Start des "Starliner"-Raumschiffs verschoben
Nach dem Zwischenfall teilte die NASA mit, dass sie den für Freitag geplanten Start eines "Starliner"-Raumschiffs von der Firma Boeing zur ISS zunächst auf unbestimmte Zeit verschiebe. Mit dem unbemannten Testflug soll die Grundlage dafür geschaffen werden, dass mit dem "Starliner" künftig Astronauten zur Raumstation transportiert werden können.
Eigentlich sollte das schon längst passieren, doch beim ersten Test im Dezember 2019 hatte es das Raumschiff nicht in den Orbit und zur ISS geschafft, unter anderem wegen eines Problems mit der automatischen Zündung der Triebwerke. Die Verschiebung "gibt dem Team der Internationalen Raumstation Zeit, Tests am neu eingetroffenen ,Nauka'-Modul von Roskosmos fortzusetzen und sicherzustellen, dass die Station für die ,Starliner'-Ankunft bereit ist", hieß es weiter.
Als Mehrzweckmodul ist "Nauka" vorrangig für die Forschung gedacht. Das Modul, das vor rund einer Woche an Bord einer Trägerrakete von Kasachstan aus ins All geschossen wurde, soll aber auch als Mannschaftsquartier mit eigenem Lebenserhaltungssystem dienen. Es misst 13 mal 4,11 Meter und wiegt mehr als 20 Tonnen.
Quelle: krone.at
+++
New Russian lab briefly knocks space station out of position
A problem with a newly docked Russian science lab briefly knocked the International Space Station out of position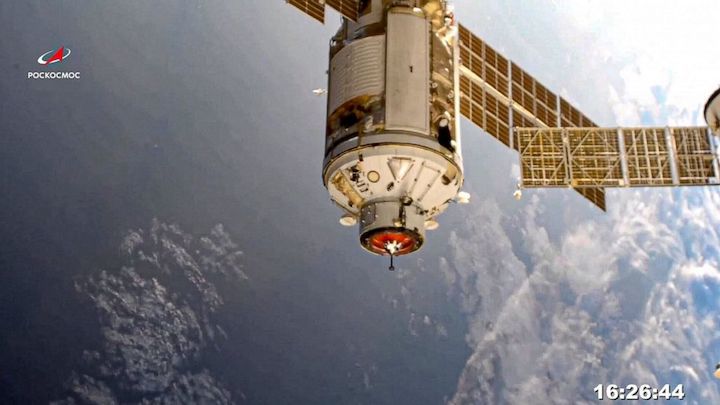 A newly arrived Russian science lab briefly knocked the International Space Station out of position Thursday when it accidentally fired its thrusters.
For 47 minutes, the space station lost control of its orientation when the firing occurred a few hours after docking, pushing the orbiting complex from its normal configuration. The station's position is key for getting power from solar panels and or communications. Communications with ground controllers also blipped out twice for a few minutes.
Flight controllers regained control using thrusters on other Russian components at the station to right the ship, and it is now stable and safe, NASA said.
"We haven't noticed any damage," space station program manager Joel Montalbano said in a late afternoon press conference. "There was no immediate danger at anytime to the crew."
Montalbano said the crew didn't really feel any movement or any shaking. NASA said the station moved 45 degrees out of attitude, about one-eighth of a complete circle. The complex was never spinning, NASA spokesman Bob Jacobs said.
NASA's human spaceflight chief Kathy Lueders called it "a pretty exciting hour."
The incident caused NASA to postpone a repeat test flight for Boeing's crew capsule that had been set for Friday afternoon from Florida. It will be Boeing's second attempt to reach the 250-mile-high station before putting astronauts on board; software problems botched the first test.
Russia's long-delayed 22-ton (20-metric-ton) lab called Nauka arrived earlier Thursday, eight days after it launched from the Russian launch facility in Baikonur, Kazakhstan.
The launch of Nauka, which will provide more room for scientific experiments and space for the crew, had been repeatedly delayed because of technical problems. It was initially scheduled to go up in 2007.
In 2013, experts found contamination in its fuel system, resulting in a long and costly replacement. Other Nauka systems also underwent modernization or repairs.
Stretching 43 feet (13 meters) long, Nauka became the first new compartment for the Russian segment of the outpost since 2010. On Monday, one of the older Russian units, the Pirs spacewalking compartment, undocked from the station to free up room for the new lab.
Nauka will require many maneuvers, including up to 11 spacewalks beginning in early September, to prepare it for operation.
The space station is currently operated by NASA astronauts Mark Vande Hei, Shane Kimbrough and Megan McArthur; Oleg Novitsky and Pyotr Dubrov of Russia's Roscosmos space corporation; Japan Aerospace Exploration Agency astronaut Akihiko Hoshide and European Space Agency astronaut Thomas Pesquet.
In 1998, Russia launched the station's first compartment, Zarya, which was followed in 2000 by another big piece, Zvezda, and three smaller modules in the following years. The last of them, Rassvet, arrived at the station in 2010.
Russian space officials downplayed the incident with Dmitry Rogozin, head of Roscosmos, tweeting: "All in order at the ISS. The crew is resting, which is what I advise you to do as well."
Quelle: abcNews
+++
Russian module mishap destabilises International Space Station
The International Space Station (ISS) was destabilised after engines of a newly arrived Russian module inadvertently fired up.
This was done by activating thrusters on other modules of the ISS. An investigation is now under way.
US and Russian officials stressed that the seven crew members aboard the space station were never in any danger.
The malfunction happened three hours after the Nauka module docked with the ISS on Thursday, following an eight-day flight from Earth.
Nasa officials said Nauka's jets started firing uncommanded at 12:34 EDT (16:45 GMT) "moving the station 45 degrees out of attitude".
The Russian Zvezda segment and a Progress freighter then responded to push the station back into its correct pointing configuration. The incident was over by 13:29 EDT.
"What we saw today was just an awesome job by the mission control flight teams," said Joel Montalbano, Nasa's ISS programme manager.
"Those guys were rock stars again and got us back in attitude control. That also shows you what a robust vehicle we have, and our ability to take these contingencies, recover from them and move on," he told reporters.
Communications with the ISS crew were lost for two periods, of four minutes and seven minutes, during the incident. However, the US agency said that the astronauts were safe. They "really didn't feel any movement", it added.


595 Views