A pressure vessel from a SpaceX Falcon 9 rocket stage fell on a man's farm in Washington State last week, leaving a "4-inch dent in the soil," the local sheriff's office said Friday.
The black Composite-Overwrapped Pressure Vessel, or COPV, was a remnant from the alien invasion-looking breakup of a Falcon 9 second stage over Oregon and Washington on March 26, local officials said. The stage reentered the atmosphere in an unusual spot in the sky after sending a payload of SpaceX's Starlink satellites to orbit.
A Grant County, Washington property owner, who told authorities he didn't want to be identified, found the errant COPV — roughly the size and shape of a hefty punching bag — sitting on his farm one morning last weekend. He reported it to the Grant County Sheriff's Office, GCSO spokesman Kyle Foreman said in a phone call. A sergeant was dispatched on Monday to check it out.
"Neither the property owner nor our sergeant are rocket scientists, of course, but judging from what had happened a few days prior, it looked to them like it was possibly debris from the Falcon 9 reentry," Foreman said. So the sergeant called SpaceX, which confirmed to GCSO it appeared to be their's and dispatched employees to retrieve the COPV on Tuesday. SpaceX didn't respond to a request for comment.
"Of course we didn't have a protocol for this, so we just erred on the side of returning someone's property to them," Foreman said.
A COPV is a part of the Falcon 9's second stage, the smaller section of the rocket that detaches from the main stage at the edge of space and boosts satellites farther from Earth. The COPV stores helium at pressures of nearly 6,000psi, which is used to pressurize the second stage's large tanks of propellant.
While most second stage parts either hang out in orbit for years or reenter Earth over the ocean, last week's stage put on a spectacular nighttime show over populated areas in the northwestern US. And somehow from that show, a COPV ended up embedded roughly 4 inches into the property owner's farmland, some 100 miles inward from the Pacific coast.
Jonathan McDowell, an astrophysicist at the Harvard-Smithsonian Center for Astrophysics and a keen tracker of things in space, had been keeping tabs on the second stage and said its reentry wasn't a surprise — but the timing and location of the reentry was a head-scratcher.
"It is a bit of a puzzle that the stage was not de-orbited under control back on March 4 — looks like something went wrong, but SpaceX has said nothing about it," McDowell said. "However, reentries of this kind happen every couple of weeks. It's just unusual that it happens over a densely populated area, just because that's a small fraction of the Earth."
The COPV in Washington wasn't the only piece of debris to land on US soil in recent weeks. An absolute hellstorm of debris rained over SpaceX's Boca Chica, Texas facilities on Tuesday when a Starship prototype exploded mid-air during its attempt to land, marking the fourth explosion of a Mars rocket prototype in a row in Elon Musk's speedy Starship test campaign. The 16-story-tall test rocket successfully launched over six miles in the air, but its return was utterly unsuccessful and resulted in the loss of all test data from the mission.
Quelle: The Verge
+++
SpaceX rocket debris found in Washington state after streaks in night sky
The discovery of the debris comes after a stunning display in the night sky over the Pacific Northwest that experts said was a rocket stage burning up.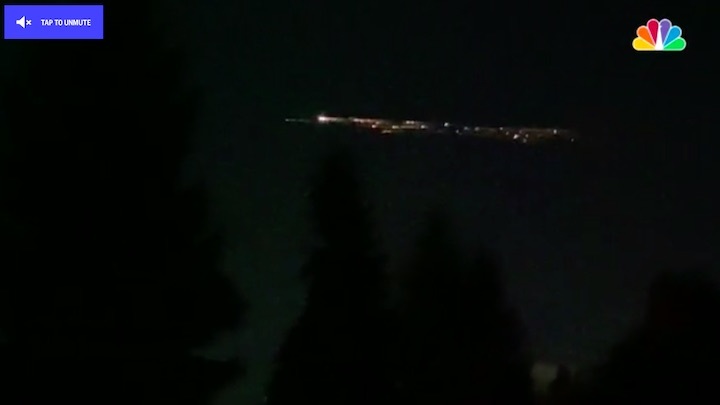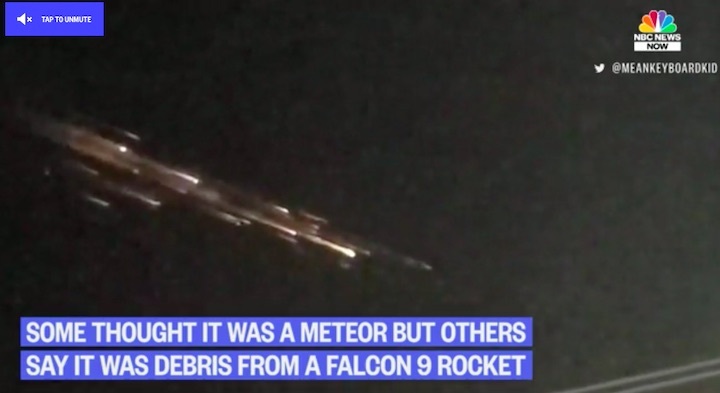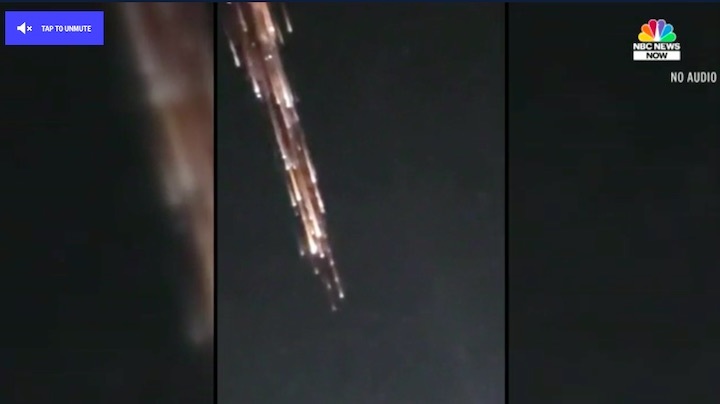 Part of a SpaceX rocket was discovered in Washington state last weekend, days after bright comet-like streaks lit up the night sky over the Pacific Northwest, a sheriff's official said.
The space company recovered the "composite-overwrapped pressure vessel from last week's Falcon 9 re-entry," the Grant County Sheriff's Office tweeted Friday.
The vessel, which was about 5 feet tall, was found on private property in southwestern Grant County, in the center of the state, last weekend.
There was no damage, and it left a 4- to 5-inch impact mark in the ground, said Kyle Foreman, a public information officer for the sheriff's department. SpaceX was notified Monday and arrived Tuesday to recover it, he said.
Where exactly it fell was not disclosed. "Media and treasure hunters: we are not disclosing specifics. The property owner simply wants to be left alone," the sheriff's office said in the tweet. The Tri-City Herald newspaper reports it fell on a farmer's field.
On March 25, streaks lit up the sky over Washington and Oregon. Some thought they were from a meteor or comet.
SpaceX does not appear to have ever publicly confirmed that its rocket was involved. But signs quickly pointed that way.
The National Weather Service in Seattle tweeted that based on unofficial information, "the widely reported bright objects in the sky were the debris from a Falcon 9 rocket 2nd stage that did not successfully have a deorbit burn." An astronomer told NBC affiliate KING of Seattle it was Falcon 9 rocket debris.
SpaceX did not respond to a request for comment Friday night.
There have been no reports of damage from the Match 25 event. No other reports of debris have been made to the Grant County Sheriff's Office, Foreman said.
The Falcon 9 is a reusable two-stage rocket. The second stage delivers the payload. The first stage is designed to return to Earth and land. There have been 111 Falcon 9 launches with 71 landings so far, according to the company's website.
Foreman said his understanding is that the pressure vessel that was found is used for the storage of helium
Quelle: NBC News
----
Update: 11.04.2021
.
Apparent SpaceX Rocket Debris Found on Oregon Coast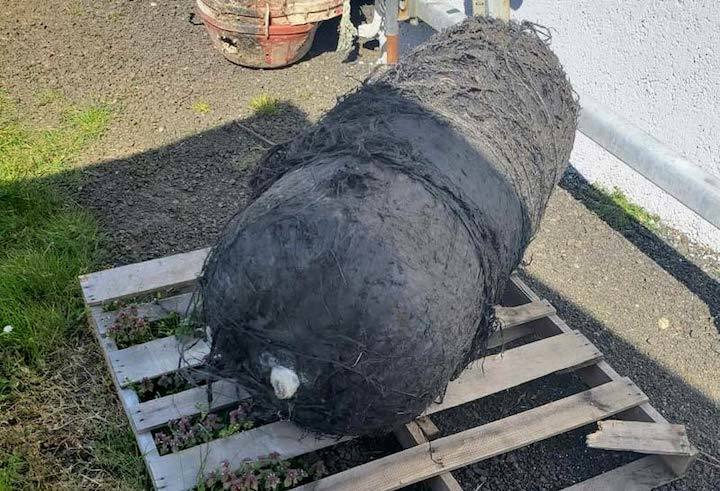 (Waldport, Oregon) – It's like an X-Files episode on the Oregon coast. (Photo courtesy Lincoln County Sheriffs)
Lincoln County Sheriffs reported Friday they found what appears to be charred debris from the Falcon X rocket that created such a startling show in the skies over the west coast in late March. This comes after another piece was found in eastern Washington last week.
The chunk of fuel container-like debris was found in Waldport after washing up in the Alsea Bay, according to the sheriff's office.
"The debris was removed from the Alsea Bay by a fisherman and was briefly stored near a local business," the office said.
Deputies responded about 3:15 p.m. Friday and set up an exclusion perimeter while officials assessed the object and any possible hazards.
"Central Oregon Coast Fire and Rescue responded to the scene and determined the object was not an immediate hazardous materials threat," the county said. "After further consultation with the Oregon Department of Environmental Quality, SpaceX was contacted."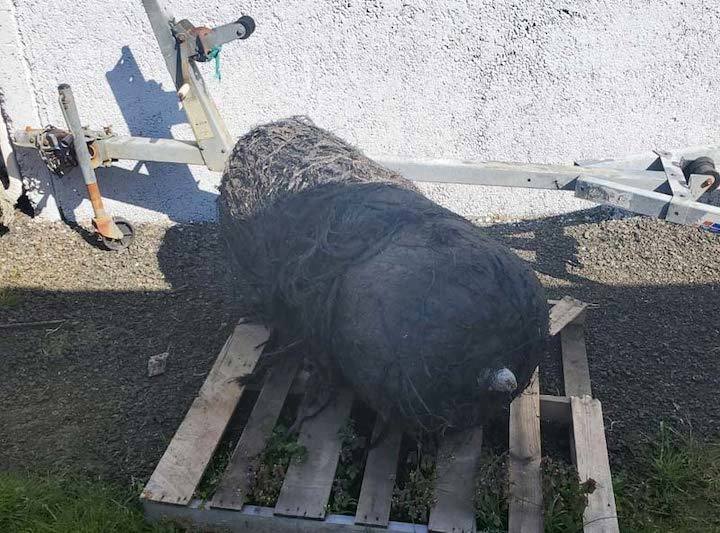 (Photo courtesy Lincoln County Sheriffs)
SpaceX was unable to determine for certain if the object was from their rocket, but the sheriff's office said it was "consistent with a composite overwrapped pressure vessel."
Engineers from the space company examined numerous photographs and took into account various observations from deputies before giving the go-ahead to move the object, saying it was safe to do so.
"The Lincoln County Sheriff's Office thanks Central Oregon Coast Fire and Rescue, the Oregon Department of Environmental Quality, and SpaceX for their rapid response to this incident," the office said.
Last week, a chunk of similar debris crashed on a farm in eastern Washington, according to Grant County Sheriffs. It was determined to be from the SpaceX rocket that broke up in the skies above the west coast.
That object was about five feet long and also a composite-overwrapped pressure vessel used for storing helium. It left a four-inch dent in the grounds of the farm but no one was hurt.
The owner of the property wanted to remain anonymous and Grant County Sheriffs said they will not release the location of that Washington landing spot.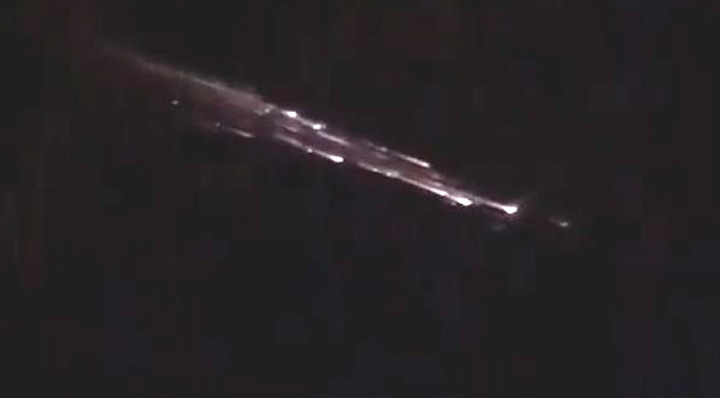 SpaceX rocket debris burning up over the NW in March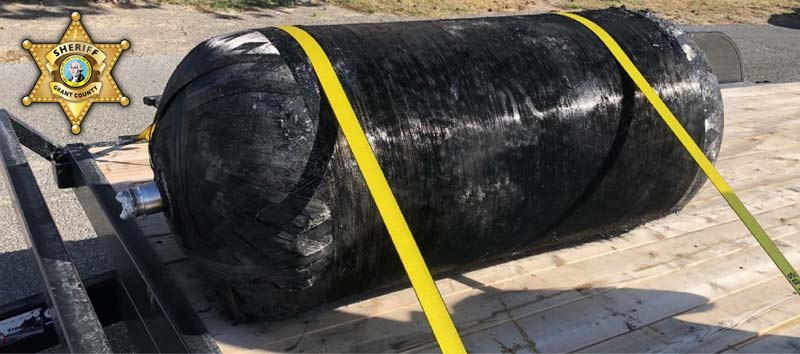 SpaceX debris found in Washington last week, courtesy Grant County Sheriff's
Quelle: Oregon Coast