9.10.2022
James Webb Space Telescope reveals the 'bones' of a distant galaxy in stunning new image
The fresh image peers behind the dust to reveal a web of gas and stars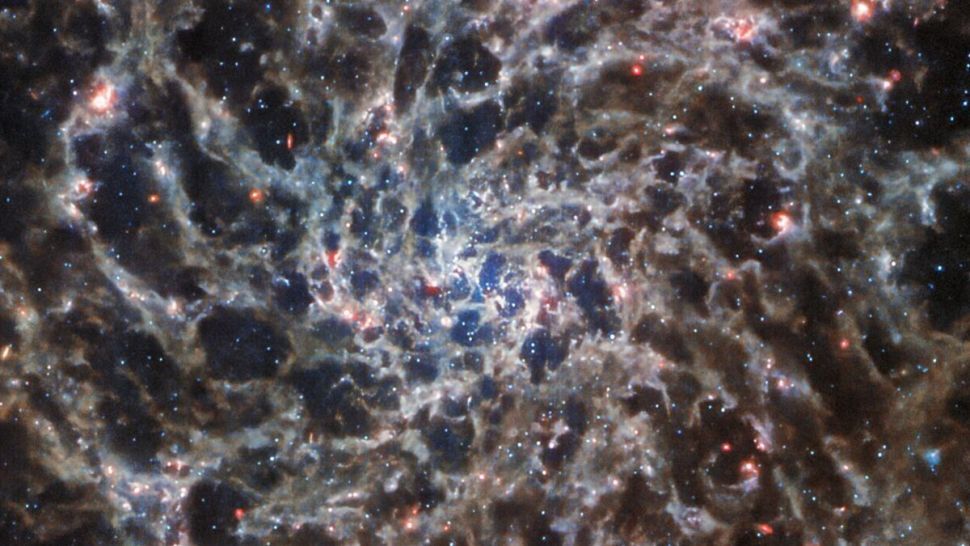 A James Webb Space Telescope image of the spiral galaxy IC 5332. (Image credit: ESA/NASA/CSA/J. Lee)
A new photo taken by the James Webb Space Telescope (JWST) has revealed the hidden gaseous "bone" structure of a distant galaxy — and it's absolutely spectacular.
The cosmic knot of gas, dust and stars belongs to the spiral galaxy IC 5332, located in the constellation Sculptor more than 29 million light-years from Earth. As it sits nearly perfectly face-on with respect to Earth, its spiral arms can be seen incredibly clearly.
This isn't the first time IC 5332 has had its photo snapped. The 66,000 light-year-wide galaxy — roughly two-thirds the size of our Milky Way — was also imaged in the past by the Hubble Space Telescope. But Hubble can't see in the infrared region of the electromagnetic spectrum, whereas the James Webb Space Telescope can. As a result, the updated image contains so many previously obscured details that it looks almost completely different.
"The Hubble image shows dark regions that seem to separate the spiral arms, whereas the Webb image shows more of a continual tangle of structures that echo the spiral arms' shape," representatives of the European Space Agency (ESA), which captured the new image, wrote in a statement(opens in new tab).
The ESA explained that this difference is because of the galaxy's dust, which is much more likely to scatter ultraviolet and visible light(opens in new tab) (which Hubble sees in) than the infrared frequencies available to the JWST. Different stars are also visible across the two images because some stars shine brighter across different frequencies than others.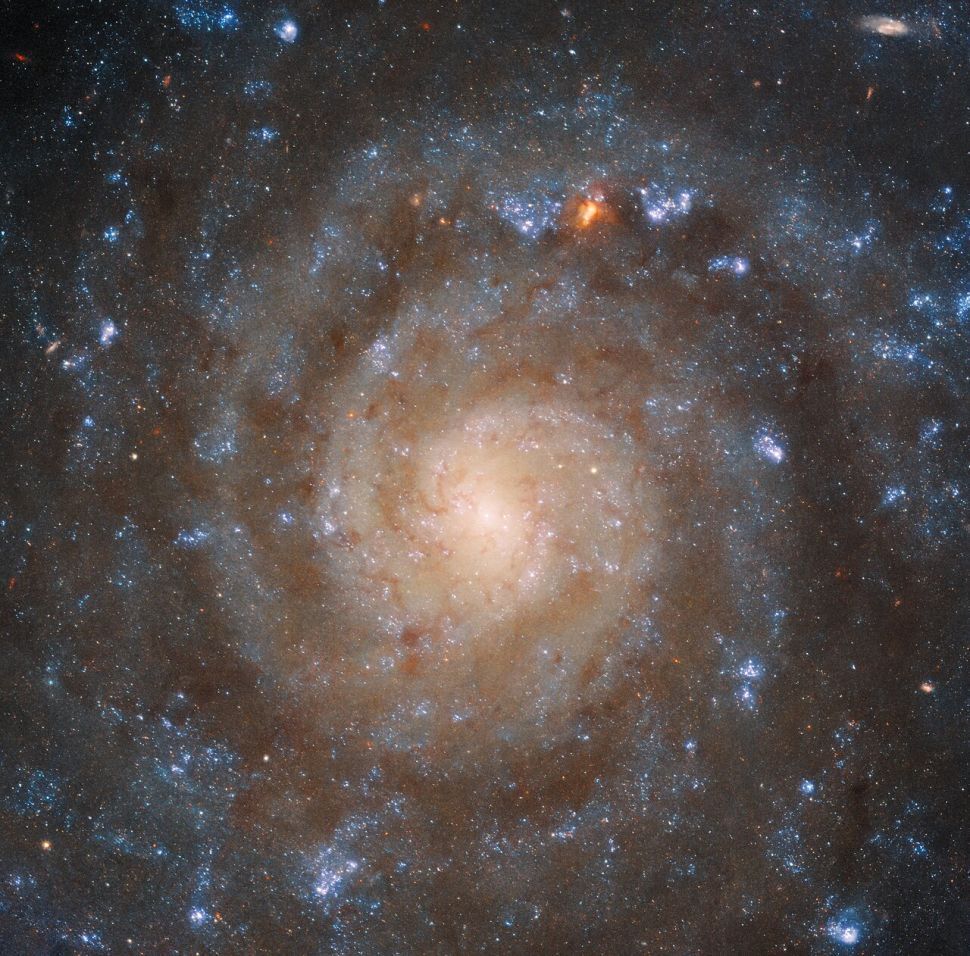 Hubble's image of IC 5332 shows the structure of some of the spiral arms obscured by clouds of dust. (Image credit: ESA/Webb, NASA & CSA, J. Lee and the PHANGS-JWST and PHANGS-HST Teams)
To snap this image, the JWST used its Mid-Infrared Instrument — a specialized camera that, in order to remove infrared interference effects from other heat sources, needs to be supercooled to minus 446.8 degrees Fahrenheit (minus 266 degrees Celsius). The JWST's location in the cold vastness of space, away from Earth, is also essential for helping it spot faint infrared light, as the heat of our planet would drown out the distant galaxy's signal.
About 100 times more powerful than the Hubble Space Telescope, the $10 billion space observatory was launched to a gravitationally stable location 1 million miles (1.5 million kilometers) from Earth — known as a Lagrange point — in December 2021. The JWST is the most advanced space telescope ever built, with the ability to peek inside the atmospheres of far-away exoplanets and read the earliest chapter of the universe's history in its faintest glimmers of light — which have been stretched to infrared frequencies from billions of years of travel across the expanding fabric of space-time(opens in new tab).
Six months of painstaking setup and calibration saw the telescope's instruments and its 21-foot-wide (6.5 meters) gold-plated mirror readied for operation. Following the unveiling of its first images in July, the telescope has been wowing with a steady stream of mindblowing snaps of our near and distant universe. To name just a few, the telescope has captured stunning images of cartwheel galaxies(opens in new tab); Einstein rings(opens in new tab); Orion's sword(opens in new tab); Neptune's ghostly halo(opens in new tab); and the deepest image of the universe ever produced(opens in new tab).
In the case of IC 5332, ESA scientists hope that by comparing the Hubble and JWST images of the distant galaxy, they can learn more about the galaxy's composition and structure, as well as how these may translate to more general patterns witnessed across all spiral galaxies.
Quelle: SC
----
Update: 14.10.2022
.
NASA releases new images of 'fingerprint-like' dust rings from Webb telescope
Each ring was formed when the stars were nearby of one another.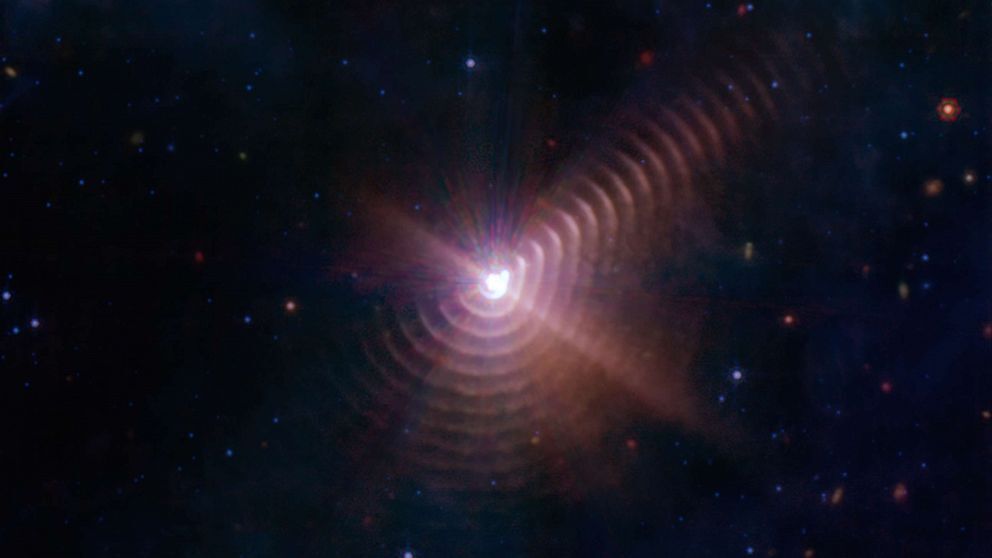 The two stars in Wolf-Rayet 140 produce shells of dust every eight years that look like rings, as seen in this image from NASA's James Webb Space Telescope. Each ring was created when the stars came close together and their stellar winds collided, compressing the gas and forming dust.
NASA on Wednesday, released a new image from the James Webb Space Telescope of dust rings, with a "fingerprint-like pattern," caused by two stars closely interacting with each other.
"We're looking at over a century of dust production from this system," Ryan Lau, an astronomer at NSF's NOIRLab, said in a news release about the discovery. "The image also illustrates just how sensitive this telescope is. Before, we were only able to see two dust rings, using ground-based telescopes. Now we see at least 17 of them."
According to NASA, each ring was formed when the stars were nearby of one another and the streams of gas they emitted met, creating dust.
"The stars' orbits bring them together about once every eight years; like the growth of rings of a tree's trunk, the dust loops mark the passage of time," NASA said in its announcement.
Lau said that the Webb telescope's mid-infrared technology could properly study the dust rings.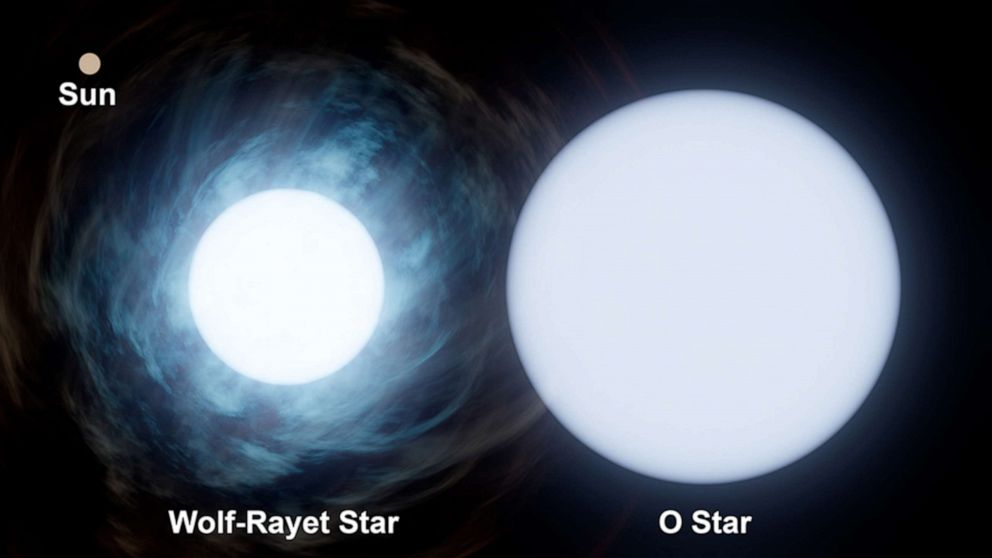 The telescope's near-infrared camera uses infrared radiation to detect objects in space.
It can observe celestial bodies, such as stars, nebulae and planets, that are too cool or too faint to be seen in visible light, or what is visible to the human eye.
Last month, the Webb telescope captured the clearest view of Neptune's rings in over 30 years.
"It has been three decades since we last saw these faint, dusty rings, and this is the first time we've seen them in the infrared," Heidi Hammel, an interdisciplinary scientist for the James Webb Telescope Project, said in a statement at the time.
In August, NASA released two images of Jupiter from Webb that highlighted the planet's features in detail.
Quelle: abcNews
+++
James Webb telescope solves dusty star mystery
It's one of the most striking images we've yet seen from the new super space telescope James Webb.
Many people were rather puzzled by it when it first popped up on social mediain late August, but astronomers in the know were delighted because of the insights they could draw.
The picture shows WR 140. It's a double star system, or a binary, some 5,000 light-years from Earth.
Those rings are dust shells that extend outwards over 10 trillion km.
That's a distance that's hard to comprehend. Put another way, it's 70,000 times the distance between Earth and our Sun.
"Previous observations of WR 140 revealed the presence of up to three shells. To see 17 like this is amazing, and shows the power of James Webb," said Dr Olivia Jones from the UK Astronomy Technology Centre (UK ATC) in Edinburgh which helped to build the telescope.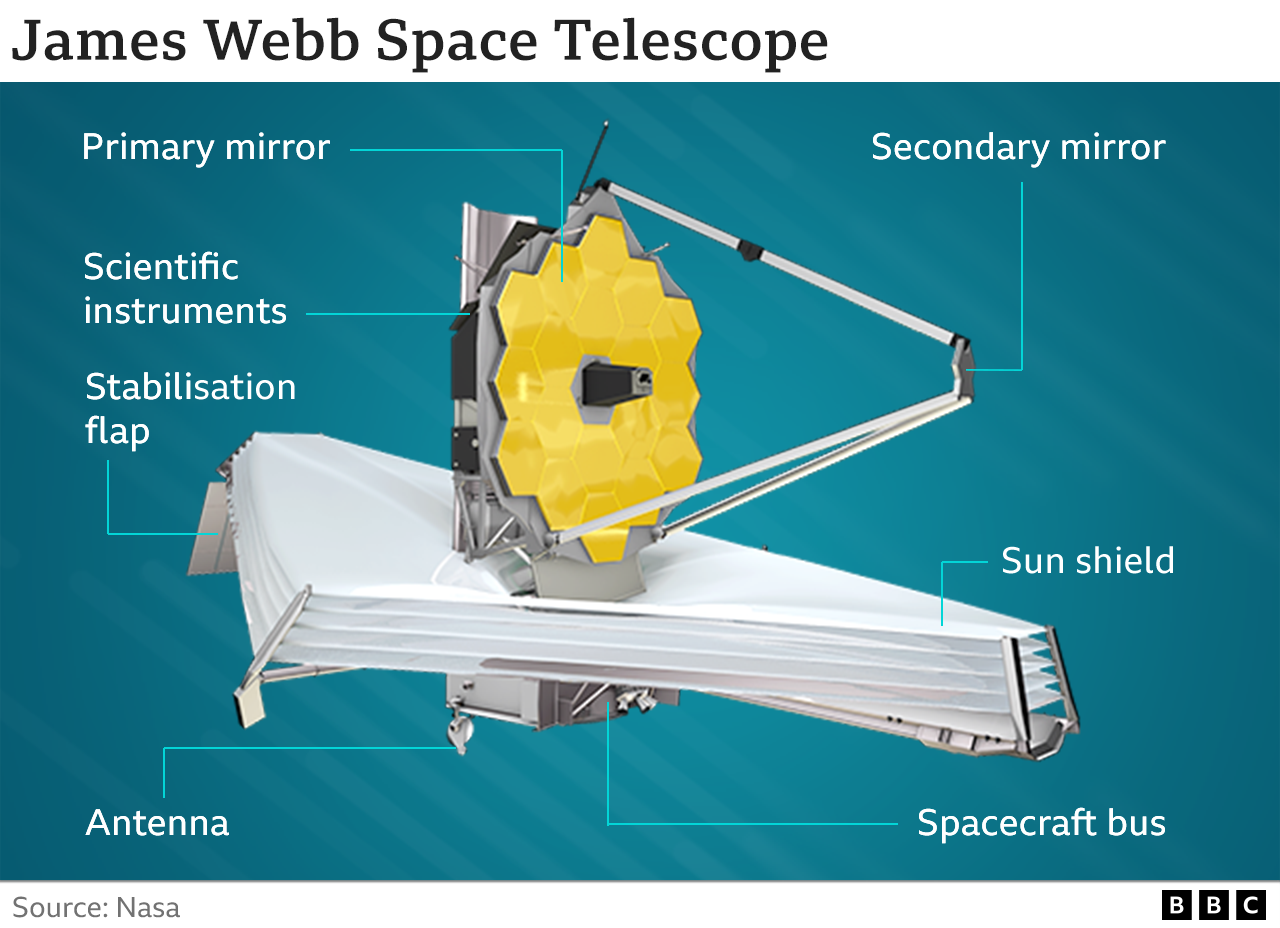 228 Views