13.03.2020
Don't stop them now! Rocket Lab to pay homage to rock band Queen in next launch for NASA
"Don't Stop Me Now" is preparing for launch.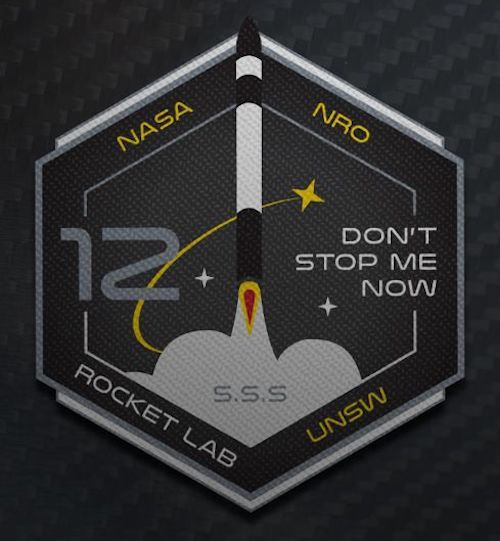 Space startup Rocket Lab has planned a ride-share mission for its 12th launch, colorfully named "Don't Stop Me Now" after a 1978 Queen song.
With the launch, the space technology company plans to send payloads into space for NASA, the National Reconnaissance Office (NRO) and other customers, Rocket Lab announced in a statement.
The launch window for this mission will last about two weeks and will open March 27, with the Electron rocket ready to lift off from Rocket Lab's usual launchpad on New Zealand's Mahia Peninsula.
"We created Electron to make getting to space easy for all, so it's gratifying to be meeting the needs of national security payloads and student research projects on the same mission," Peter Beck, Rocket Lab founder and CEO, said in the statement.
The NASA-supported payload aboard this mission is a satellite from Boston University called ANDESITE, which stands for Ad-Hoc Network Demonstration for Extended Satellite-Based Inquiry and Other Team Endeavors. This satellite is designed to measure the magnetosphere (the region of space dominated by Earth's magnetic field) and examine electric currents flowing as a part of "space weather" — activity initiated by the sun. NASA and other agencies have a keen interest in following space weather to better protect satellites and Earth infrastructure (such as power lines) from the sun's activity.
With this mission, the NRO will send three of its payloads. While Rocket Lab has not yet provided many details about the payloads, in the statement the company said that these payloads were procured under the Rapid Acquisition of a Small Rocket (RASR) contract vehicle to put small satellites in space quickly and cost-effectively. Rocket Lab's first dedicated NRO launch took place Jan. 31, 2020.
Also on board will be the M2 Pathfinder satellite, a joint initiative of the University of New South Wales Canberra Space and the Australian government. This satellite is designed to test communications and other technologies "that will assist in informing the future space capabilities of Australia," Rocket Lab said.
Although Rocket Lab is currently launching these payloads from New Zealand, the company will soon also be launching from the Mid-Atlantic Regional Spaceport on Wallops Island in Virginia. This new launchpad will provide even easier and cheaper access for American customers seeking to launch their satellites , Rocket Lab has said. The first mission to launch from this new pad is expected in 2020.
Quelle: SC
----
Update: 25.03.2020
.
Rocket Lab postpones launch because of coronavirus pandemic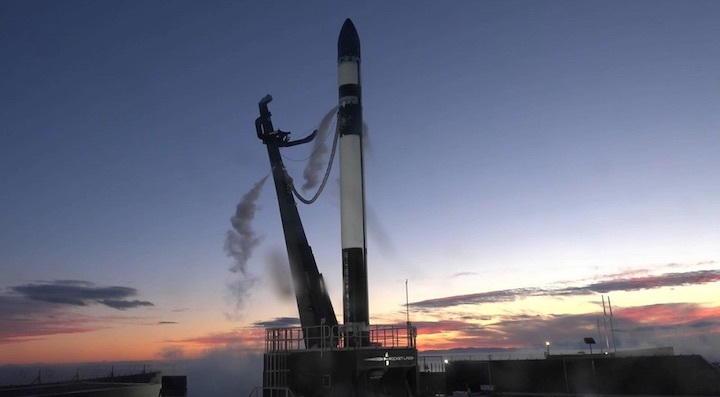 WASHINGTON — Rocket Lab announced March 24 that it was delaying the next launch of its Electron rocket from New Zealand as the government there institutes a near-total lockdown to combat the coronavirus pandemic.
The company said in a statement that the launch, which had been scheduled for March 30 from its Launch Complex 1 in New Zealand, would be postponed, and did not set a new date. "We are working with the government, health officials and our customers to determine when launch operations can resume," the company said.
The decision to postpone the launch came after the government of New Zealand announced March 23 that it was moving to Level 4, or its highest response level to the pandemic, effective just before midnight local time March 25. Under Level 4, residents are instructed to remain at home and only essential businesses allowed to remain open.
What the government considers essential is very limited. "Only the businesses absolutely essential to ensure the necessities of life, like supermarkets and pharmacies, can stay open. If in doubt, the business premises should be closed," Paul Stocks, deputy chief executive of New Zealand's Ministry of Business, Innovation and Employment said in a March 24 statement.
The order does allow businesses deemed a "critical part of the supply chain for essential services" to remain open, but does not include the broader "critical infrastructure" exemptions found in similar orders in the United States that have allowed aerospace companies to remain open.
Days earlier, Rocket Lab said it was moving ahead with the launch. Company spokesperson Morgan Bailey said March 19 that the launch was still scheduled for March 30, with all the payloads and the launch team in place in New Zealand. The company confirmed those launch plans in a March 21 statement, adding that it was "working with our customers and local government authorities to minimize any potential disruption to our future missions planned in the months ahead."
The government order would also halt production of Electron rockets at the company's New Zealand factory. Rocket Lab said in its statement that it has vehicles completed that can be ready once launches resume. "We're fortunate to have enough launch vehicles ready that we can effectively manage a pause in production and still have vehicles available for launch as soon as conditions allow," it stated.
The delayed mission, ironically named "Don't Stop Me Now" by the company, carried three payloads for the National Reconnaissance Office as well as student-built cubesats from Boston University and the University of New South Wales.
The Electron mission joins a small but growing list of launch attempts postponed by the coronavirus pandemic. Earlier March 24, the Argentine space agency CONAE announced the launch of its SAOCOM 1B satellite on a SpaceX Falcon 9, scheduled for March 30 from Cape Canaveral, has been delayed. CONAE said that "restrictions imposed by the COVID-19 pandemic" raised questions about whether the agency had the resources to support the launch of the satellite as well as its on-orbit commissioning.
Launches from the European spaceport in Kourou, French Guiana, have also been placed on hold since March 16 because of French restrictions on non-essential activities. That has delayed the return to flight of the Vega rocket, which had been scheduled for March 23.
A United Launch Alliance Atlas 5 launch remains scheduled for March 26 from Cape Canaveral. The U.S. Space Force's 45th Space Wing said March 24 that it did not foresee other launches there being delayed because of restrictions imposed by the coronavirus pandemic on spaceport activities.
Quelle: SN
----
Update: 1.05.2020
.
Rocket Lab rolls out first Electron at LC-2 ahead of Q3 2020 launch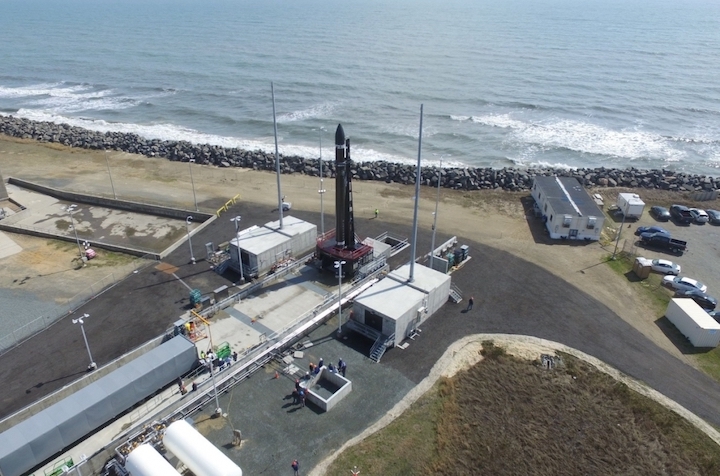 Rocket Lab has rolled out the first Electron rocket that will lift off from Launch Complex 2 (LC-2), the company's launch site at Virginia's Mid-Atlantic Regional Spaceport (MARS). Rocket Lab has also performed several tests on the rocket and ground equipment to verify pad systems. LC-2's maiden launch, carrying the sole payload of the STP-27RM mission, is set to take place in the third quarter of 2020.

Rocket Lab Launch Complex 2
To help reduce the load on Launch Complex 1 in New Zealand, and to allow Electron to reach different orbits, Rocket Lab began a search for where to construct a second launch complex. The new site – named Launch Complex 2 – would be located somewhere in the United States.
Eventually, Rocket Lab narrowed down the search to four different sites: Kennedy Space Center, Vandenberg Air Force Base, the Pacific Spaceport Complex – Alaska, and MARS at Wallops Island, Virginia.
Ultimately, Rocket Lab decided on building LC-2 at MARS – primarily due to having lower launch traffic than other facilities, along with the ability to reach lower-inclination orbits.
MARS has historically only launched one or two missions per year – leaving plenty of room on the range schedule for Electron to launch up to 12 times per year.
LC-2 would be built next to the existing MARS Pad 0A, where Northrop Grumman's Antares rocket launches from.
On the same day as the selection announcement – October 17, 2018 – ground was broken for Launch Complex 2. Construction on the site began in earnest in February 2019.
Throughout 2019, LC-2 was constructed at a quick pace. By October, the launch mount and strongback had been installed at the pad.
LC-2 was officially opened on December 12, 2019 – setting a record for the fastest launch pad construction to date.
Recently, Rocket Lab has been testing and validating the systems at the new pad. This included raising the site's first Electron rocket vertical and performing a test of the engine igniters.
Tests of powering and communication were also performed on the vehicle.
Rocket Lab has noted that the launch site tests occurred before the Virginia government ordered non-essential businesses to close due to COVID-19. Currently, only essential personnel are on-site to ensure the safety of pad equipment.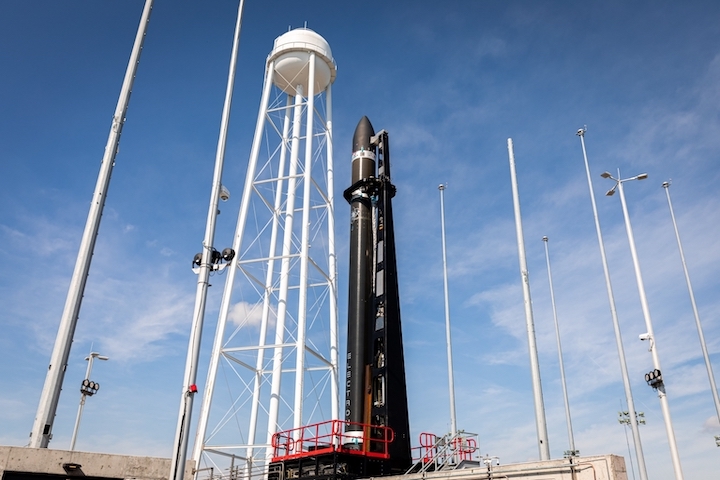 Currently, the company still has to complete NASA certification for its Autonomous Flight Termination System (AFTS).
If there is a major issue during launch – such as a deviation of trajectory or loss of tank pressure – the AFTS will destroy the rocket to ensure the safety of people and structures nearby.
AFTS is preferred over a manual system because it simplifies the launch process and range preparations.
Rocket Lab has already flown several missions with an active AFTS from Launch Complex 1 in New Zealand. When the first Electron lifts off from LC-2, it will mark the first time an AFTS flies from MARS.
NASA expects the certification to be finished in time for a launch in Q3 2020.
Rocket Lab is also continuing work on an Integration and Control Facility (ICF) near MARS. As its name suggests, the ICF will be where simultaneous integration of multiple Electron rockets and their payloads will take place. In addition, the facility will include office space and a launch control center.
From the ICF, completed Electron rockets will be moved to LC-2 and raised vertical for launch.
The first mission from LC-2 will be the STP-27RM mission for the US Air Force's Space Test Program. Previously, the mission was expected to launch in the second quarter of 2020. However, due to delays from COVID-19-related closures, launch has been pushed back to the third quarter.
For the mission, Electron will carry a single microsat to Low Earth Orbit. The satellite will determine the capability for smallsats to monitor space weather. The microsat is part of the Air Force Research Laboratory's Monolith program.
STP-27RM is the second Electron flight for the Space Test Program, following STP-27RD in May 2019.
In 2021, another Electron will launch from LC-2, carrying NASA's Cislunar Autonomous Positioning System Technology Operations and Navigation Experiment (CAPSTONE) to a near-rectilinear halo orbit around the Moon. This pathfinder mission will verify that the unique orbit can be used for the future Gateway station as part of the Artemis program.
Rocket Lab is also building a third launch pad, called LC-1B.
LC-1B is being constructed near LC-1 in New Zealand to ensure that a launch pad is always available.
Currently, it takes about 4 weeks after a launch to return LC-1 to flight readiness. With two launch pads, the company can process a rocket on one while refurbishing the other. The new pad is expected to be finished in late 2020.
Quelle: NS
----
Update: 10.05.2020
.
Counting down to next Rocket Lab launch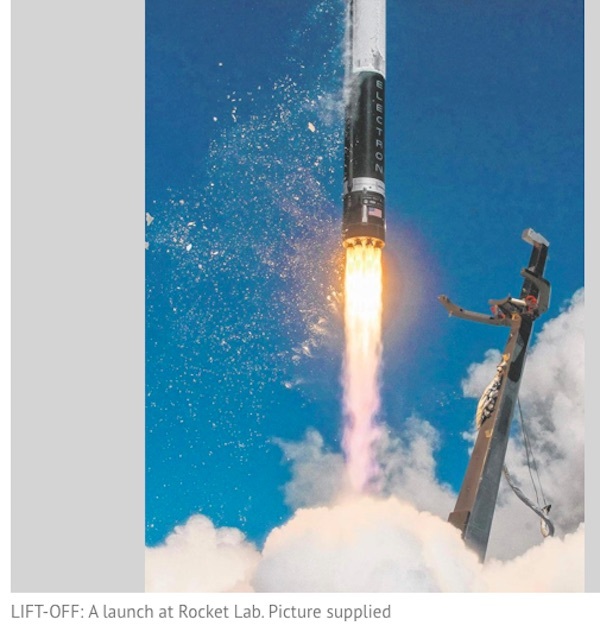 Testing has resumed at Rocket Lab's Mahia launch complex, with another launch expected soon, the United States-based space company says.
Following the easing of Covid-19 restrictions, Rocket Lab went ahead with testing yesterday for its next Mahia launch at Launch Complex 1.
The mission will launch payloads for the National Aeronautics and Space Administration (NASA) and the University of New South Wales (UNSW) Canberra Space.
It will also include a classified payload from the US Government's National Reconnaissance Office (NRO),
Rocket Lab's 12th Electron launch was originally scheduled for March 27 but was postponed in response to the country's Level 4 restrictions.
With restrictions now easing and some businesses able to reopen with safety measures in place, launch operations have resumed safely and crews at Launch Complex 1 completed a successful wet dress rehearsal yesterday.
The launch is scheduled to take place from Rocket Lab Launch Complex 1 at Onenui Station.
A new 14-day launch window for the mission will be confirmed soon.
The Electron launch vehicle and the Launch Complex 1 ground systems remained in a state of readiness throughout the Covid-19 lockdown in preparation for a quick return to launch operations.
Enhanced health and safety processes will be implemented for this launch in line with government health advice to protect Rocket Lab personnel.
These measures include physical distancing, split shifts, maintaining contact-tracing registers and enhanced cleaning procedures.
"Our focus in recent years has been to structure Rocket Lab's teams and operations in a way that enables rapid production and launch capability in order to respond quickly to our customers' needs and spool up launch operations within days," Rocket Lab chief executive Peter Beck said.
"We built our team and facilities with a focus on flexibility and responsiveness, and while we didn't think a global pandemic would be the reason for demonstrating rapid launch capability, we're able to put it into practice now."
Quelle: The Gisborne Herald
----
Update: 30.05.2020
.
Rocket Lab to resume launches in June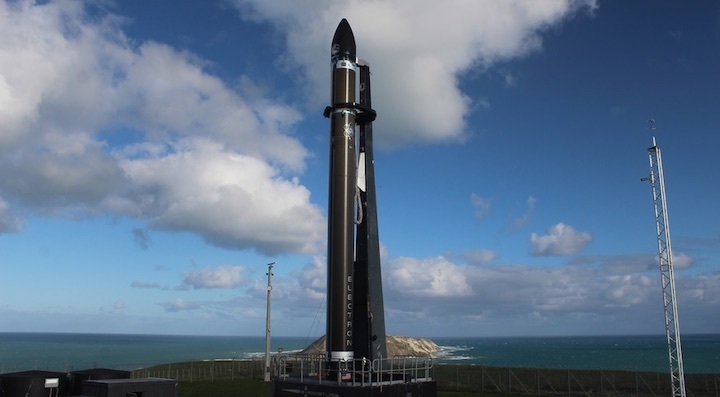 WASHINGTON — Rocket Lab will resume launches of its Electron small launch vehicle in June as the effects of the coronavirus pandemic ease at its New Zealand launch site.
The company announced May 28 it has rescheduled an Electron launch for June 11 local time from its launch site on New Zealand's Mahia Peninsula. That launch was previously scheduled for March 30 but postponed because of a lockdown imposed by the New Zealand government in response to the pandemic.
The launch, called "Don't Stop Me Now" by the company, has the same set of payloads as what the company originally announced in March. That includes three unidentified payloads for the National Reconnaissance Office, the ANDESITE (Ad-hoc Network Demonstration for Extended Satellite-based Inquiry and other Team Endeavors) cubesat built by students at Boston University and whose launch was arranged by NASA, and M2 Pathfinder built by the University of New South Wales Canberra.
The announcement of the new launch date comes as New Zealand scales back its response to the pandemic. The country stepped down to Alert Level 2 of its response plan May 29 (local time), allowing larger gatherings of people, as the country has reported only a handful of new cases of COVID-19 since the middle of the month.
Rocket Lab said in its statement about the launch that it will continue to use "enhanced health and safety processes" for employees working on this launch, including physical distancing, split shifts and enhanced cleaning.
The company hasn't announced plans for future Electron rockets, or an update on its new Launch Complex (LC) 2 in Virginia. The company rolled an Electron out to the pad at LC-2 this spring for tests, including a brief static fire of its nine first stage engines. However, the first Electron launch from LC-2, of Air Force Research Lab smallsat called Monolith, is not expected until at least the third quarter of this year, as the company waits for NASA to certify the rocket's autonomous flight termination system.
Quelle: SN
----
Update: 9.06.2020
.
Picture-perfect hopes for Thursday rocket launch from Mahia
The promise of a picture-perfect rocket launch across Hawke Bay at the end of this week is literally up in the clouds if it's unable to get underway at first shot.
Rocket Lab has a two-week 4.43pm to 6.32pm daily window available for a southern trajectory which agents say will be a good one for viewing along the East Coast.
National weather forecasters MetService agree, if a possible nor'westerly doesn't stop a Day 1 launch taking place.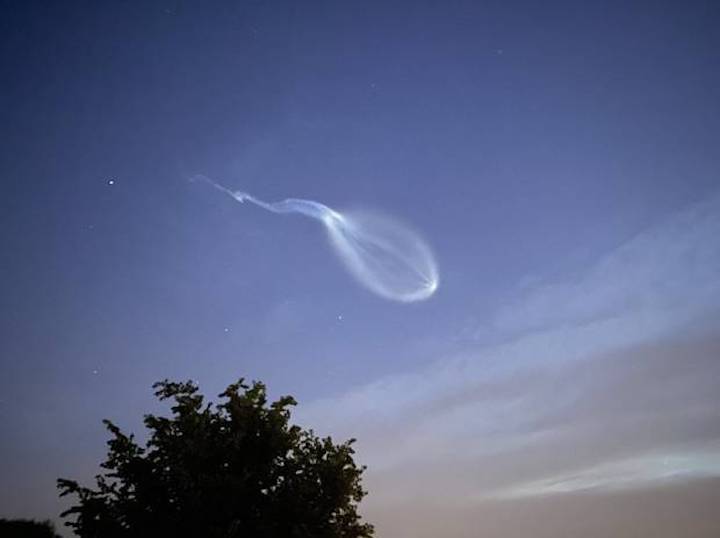 If it does intervene it could be several days before both a launch and good viewing are possible, due to a southerly front expected from the South Island.
The launch is the 12th for Rocket Lab from its Mahia Peninsula Electron launch pad, where it first launched commercially on January 21, 2018, after a range of test flights which had started eight months earlier.
It's billed as a timeshare mission for Nasa, the US National Reconnaissance Office and the University of New South Wales Canberra Space.
Its name – Don't Stop Me Now - and patch are dedicated to Rocket Lab board member Scott Smith who died in February, and carries the name of his favourite song, Queen's Don't Stop Me Now.
A second launch pad is being built within the Mahia complex to enable more launches.
Quelle: NZ Herald
----
Update: 11.06.2020
.
Start verschoben wegen Wetter.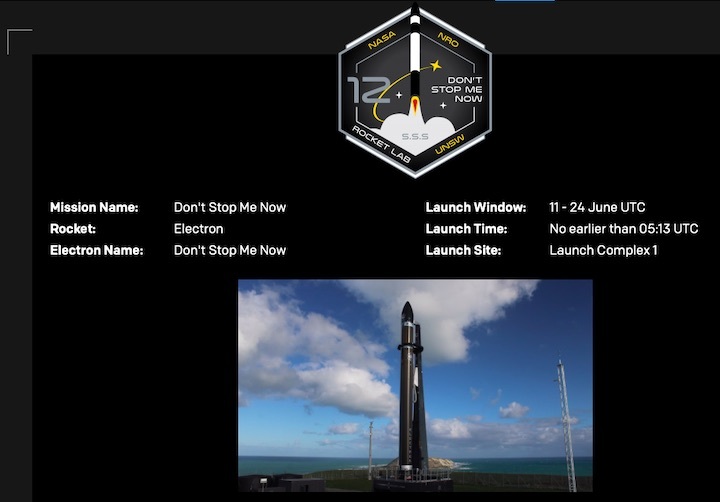 LIVE-Frams von Startabbruch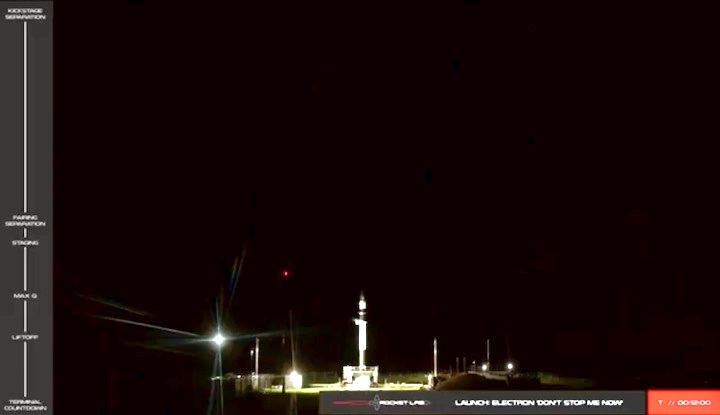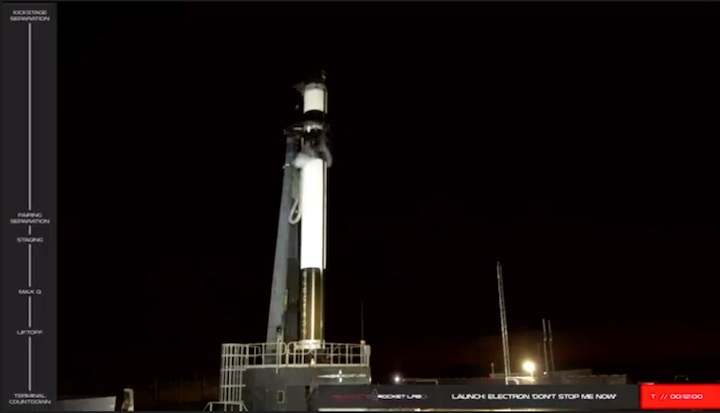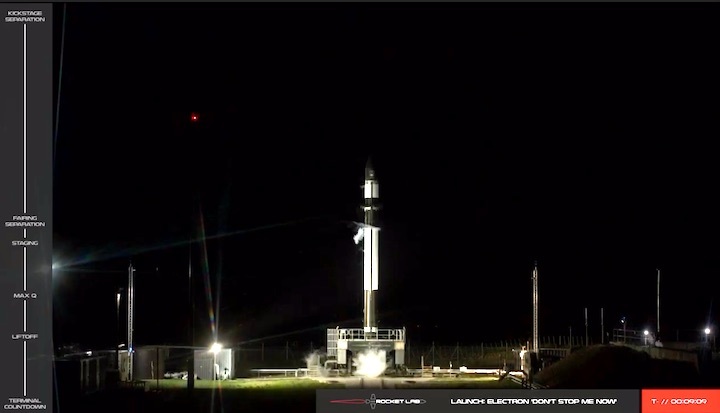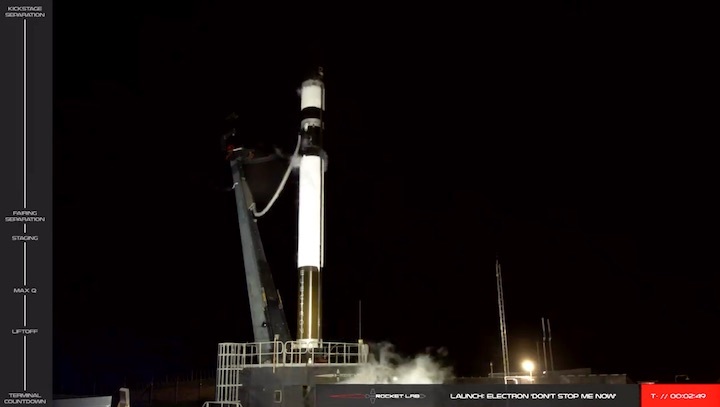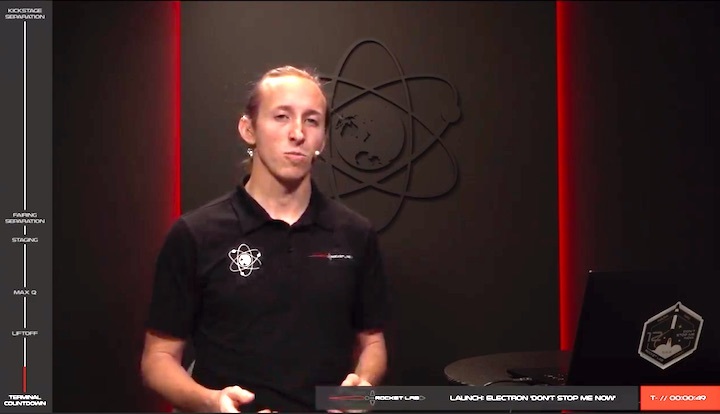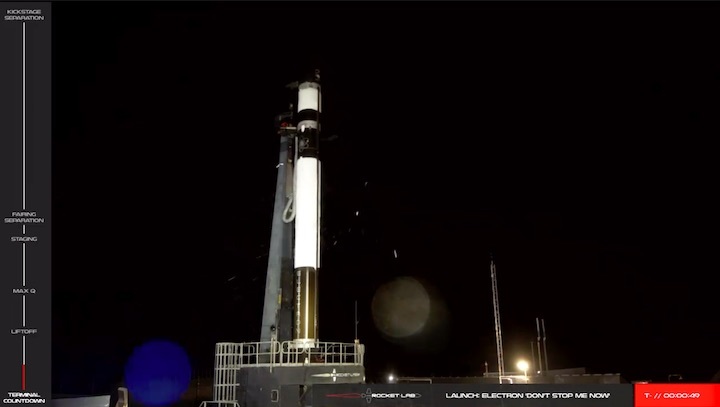 Quelle: Rocket Lab
+++
Rocket Lab's second mission for 2020 delayed as high winds cancel launch
The rideshare mission was originally scheduled for March 27. Today's delay came after the countdown to launch had already begun on the East Coast's Mahia Penninsula.
The mission is named Don't Stop Me Now, in recognition of Rocket Lab board member and Queen fan Scott Smith, a Rocket Lab board member and friend to the team who passed away in February 2020.
When it does launch, the mission will deploy payloads from NASA, the NRO and the University of New South Wales that will launch several small satellites.
The spacecraft will use a wireless network of lightweight mini-satellites to measure the strength and direction of electrical currents flowing in and out of Earth's magnetic field, the impact of which can affect radio communications and electrical systems.
Data obtained from the mission will also help researchers better understand the makeup of Earth's polar lights (aurora) and better predict potentially dangerous solar storms.
Delayed by high winds, the launch was originally set for 5.15pm this afternoon before being abandoned at 6.30pm.
Rocket Lab said there are still several days left in the "launch window".
Quelle. TVNZ 1News
----
Update: 13.06.2020
.
Rocket Lab to launch satellites for US spysat agency and NASA Saturday. Here's how to watch.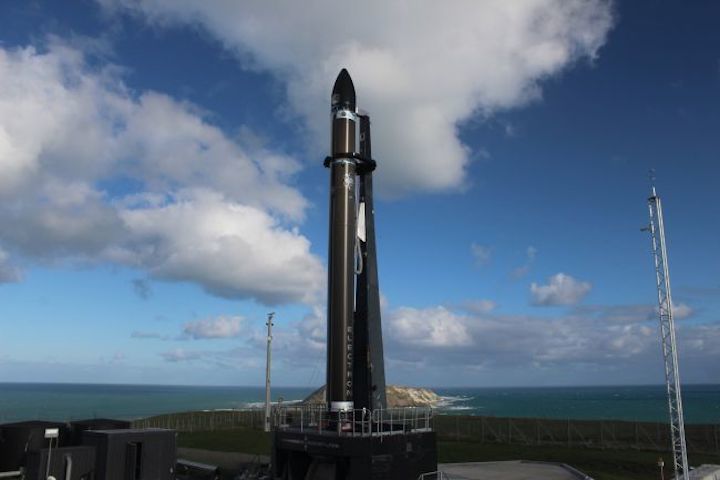 Update at 8 a.m. EDT on June 11: Rocket Lab is now targeting Saturday, June 13, to launch the "Don't Stop Me Now" mission due to delays from high winds. This story has been updated with that new date.
The launch company Rocket Lab will launch five small satellites for NASA, a U.S. spy satellite agency and universities early Saturday (June 13) and you can watch it live online.
An Electron rocket will launch the mission, called "Don't Stop Me Now" after a song by the rock band Queen, at 12:43 a.m. EDT (0443 GMT) from Rocket Lab's Launch Complex 1 on the Mahia Peninsula of New Zealand. The flight, originally scheduled for March 30, has been delayed over two months due to closures from the ongoing COVID-19 pandemic. High winds delayed a launch attempt on Thursday (June 11) and prompted Rocket Lab to skip a Friday liftoff try.
You can watch the launch live here and on the Space.com homepage, courtesy of Rocket Launch, about 20 minutes before launch. Rocket Lab has a nearly two-hour launch window for the mission that ends at 2:32 a.m. EDT (0632 GMT), so the webcast could begin any time in that window. You can watch the launch
"We gave it our best shot, but today the winds won.," Rocket Lab CEO Peter Beck wrote on Twitter early Thursday.
"Don't Stop Me Now" is a rideshare mission carrying multiple satellites into orbit for three different customers.
More high winds are headed towards LC-1 tomorrow, so we're going to wait for them to clear before we get back on the pad for the #DontStopMeNow mission.

Launch is now targeted for no earlier than 04:43, 13 June UTC.

NZT: 16:43 (13 June)
ET: 00:43 (13 June)
PT: 21:43 (12 June)
First, there are three different payloads built for the U.S. National Reconnaissance Office (NRO), the agency responsible for space-based reconnaissance of Earth. While details are scant on exactly what those craft will do in orbit, the mission is the second NRO launch by Rocket Lab. (The first was the launch of NROL-151 in January.)
"This is the 2nd launch under NRO's Rapid Acquisition of a Small Rocket (RASR) contract vehicle, which enables our exploration of new launch opportunities for smallsats through a streamlined, commercial approach," NRO officials wrote on Twitter. "Under this approach, RASR allows the NRO to have a path to greater launch resiliency and responsiveness. By leveraging commercial space launch capabilities where possible, the NRO can put space capabilities on orbit in a cost-effective manner."
"Don't Stop Me Now" will also launch ANDESITE (short for Ad-Hoc Network Demonstration for Extended Satellite-Based Inquiry and Other Team Endeavors) for NASA's CubeSat Launch initiative. ANDESITE is a small satellite built by students at Boston University to study Earth's magnetic field, according to a Rocket Lab description.
A third payload, the M2 Pathfinder satellite, will also ride to orbit on "Don't Stop Me Now." The mission is a collaboration between the University of New South Wales, Canberra Space and the Australian government, according to Rocket Lab.
"The satellite will demonstrate the ability of an onboard software-based radio to operate and reconfigure while in orbit," Rocket Lab said of the M2 Pathfinder craft.
Unlike recent Rocket Lab flights, in which the company tested new technologies for future Electron booster retrievals after launch, no recovery tests are planned for this mission. Rocket Lab is hoping to begin recovering the first stage of its Electron boosters for eventual reuse by capturing them mid-air using a helicopter and parachutes.
The company's "Don't Stop Me Know" mission is named to honor Rocket Lab board member Scott Smith, a dedicated Queen fan who died in February, according to the New Zealand Herald. Queen's song of the same name was reportedly Smith's favorite, the Herald stated.
Quelle: SC
+++
Update: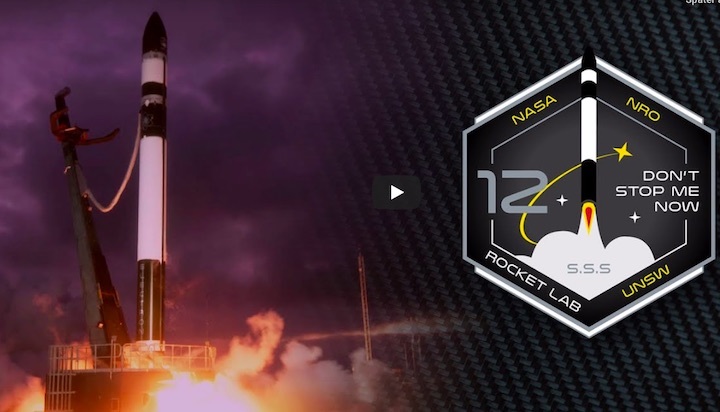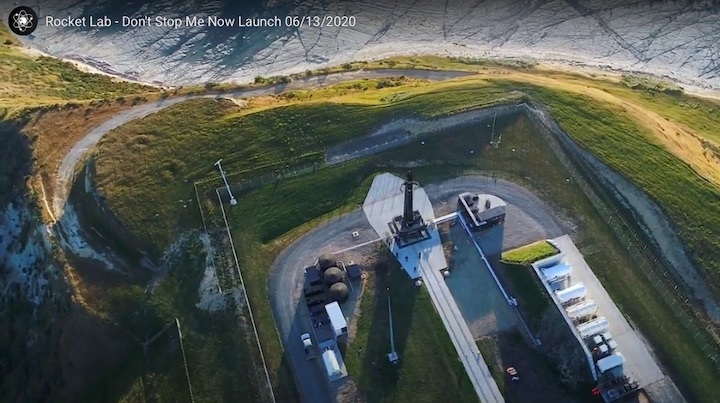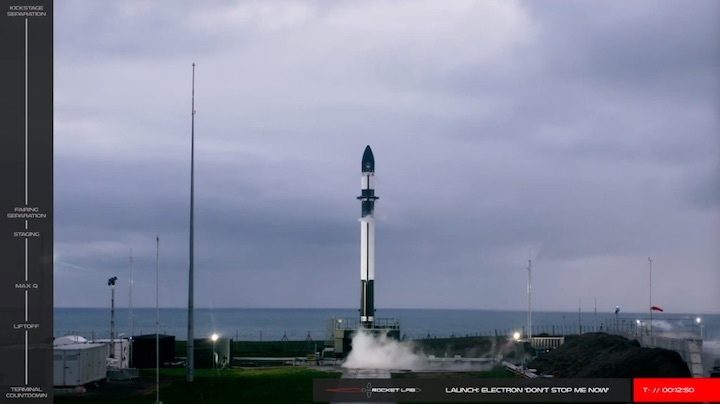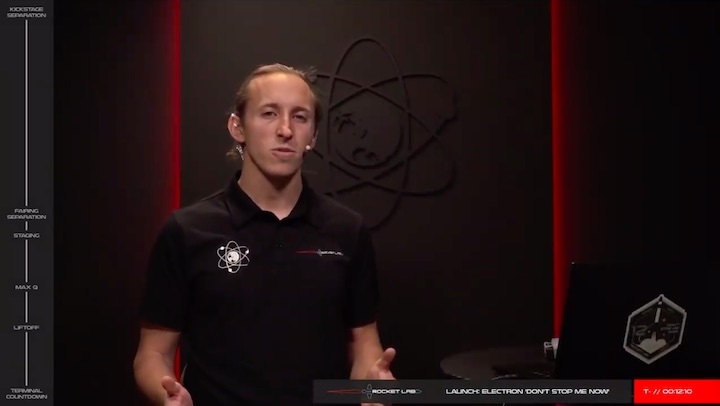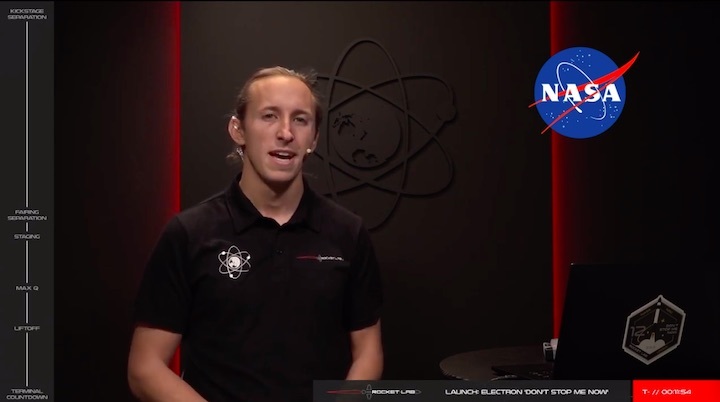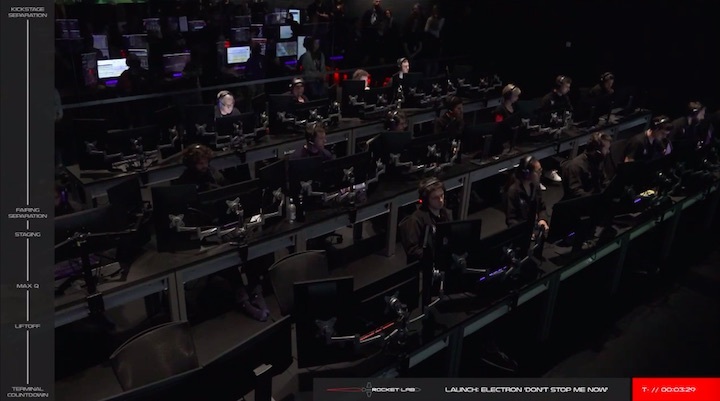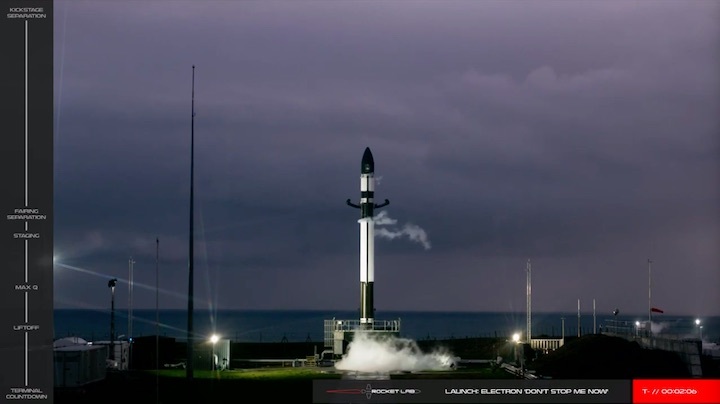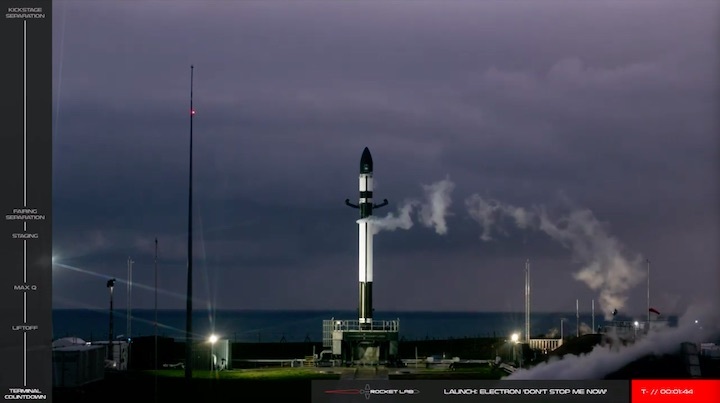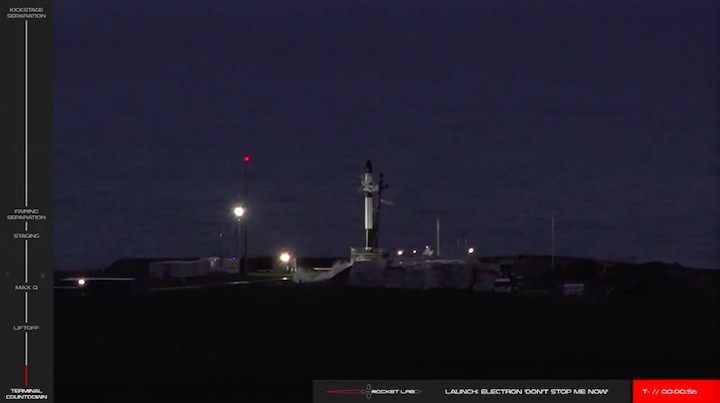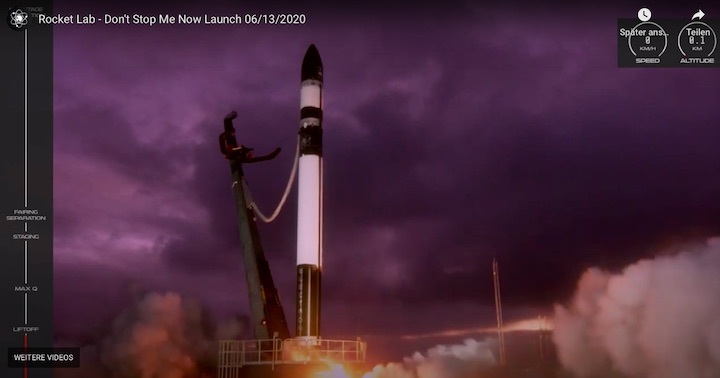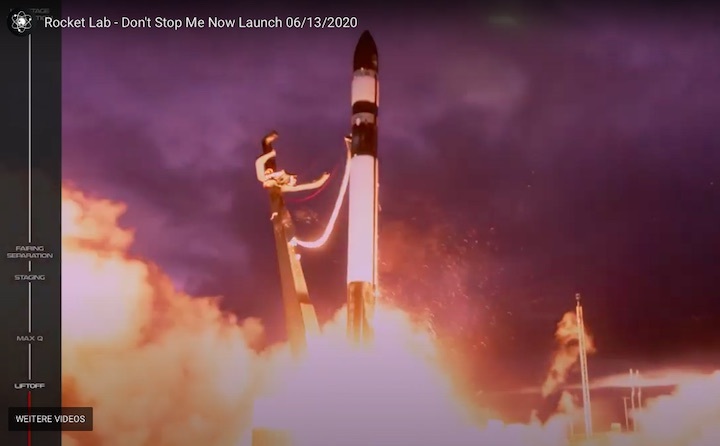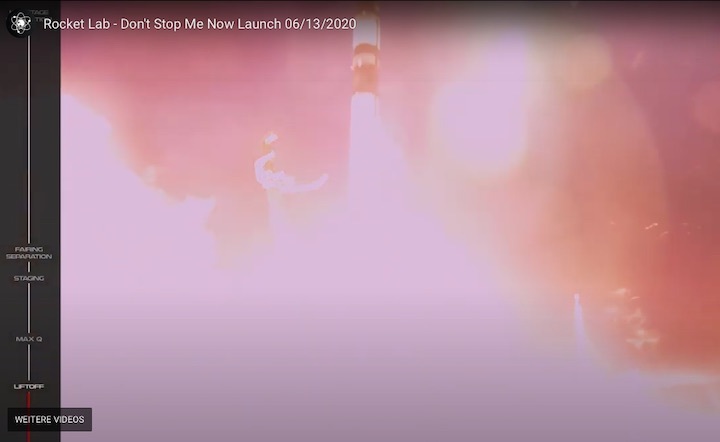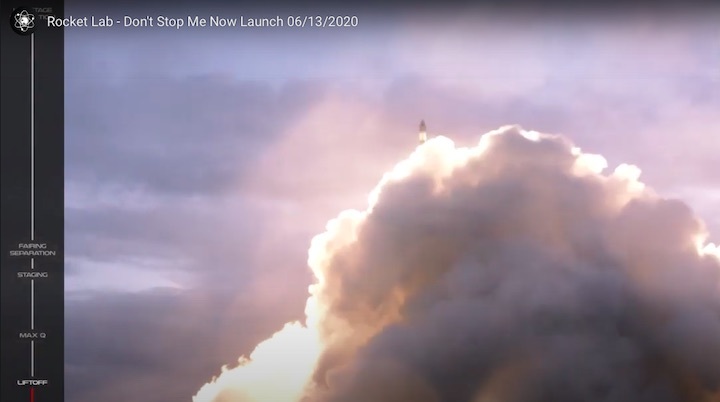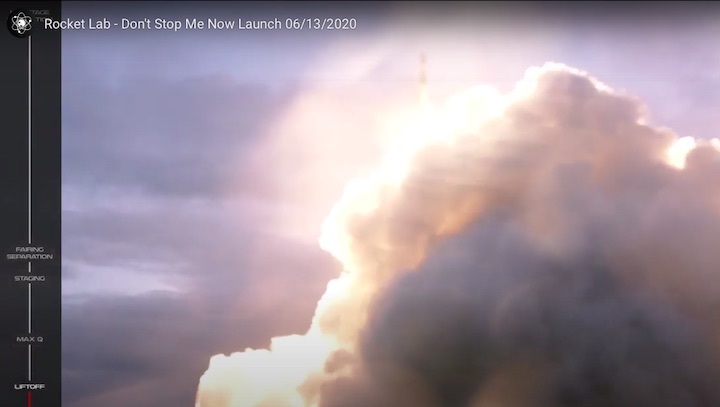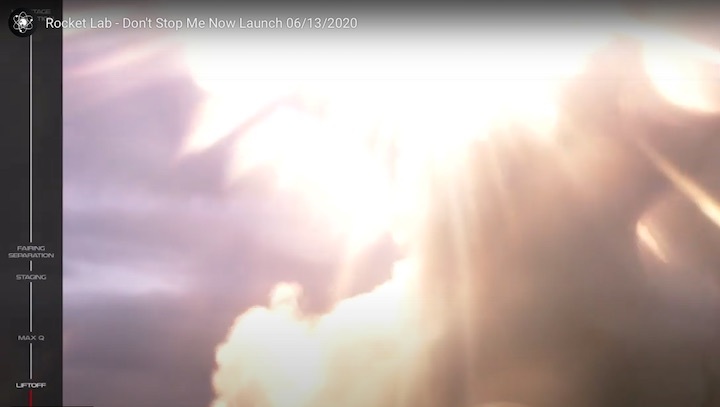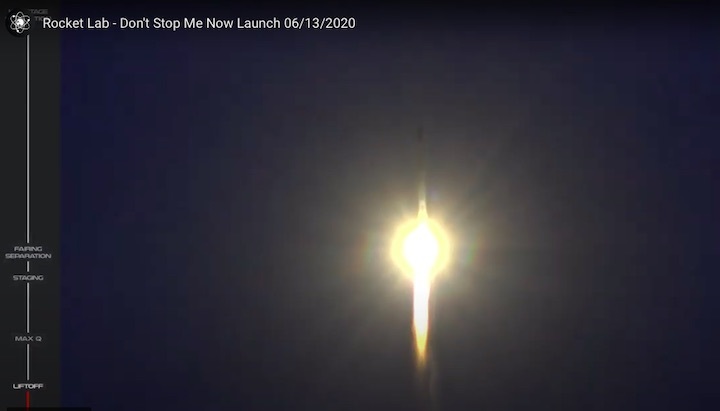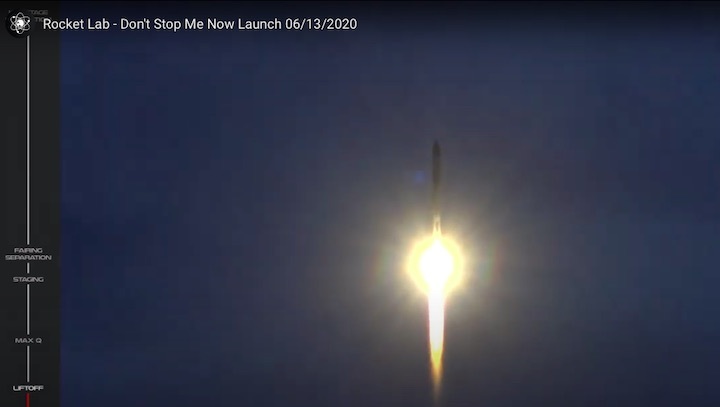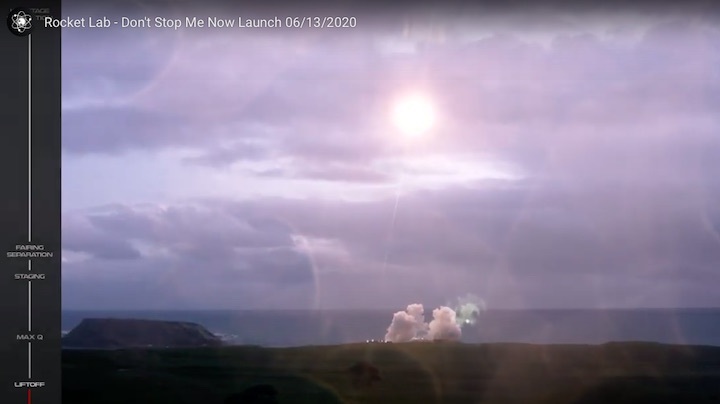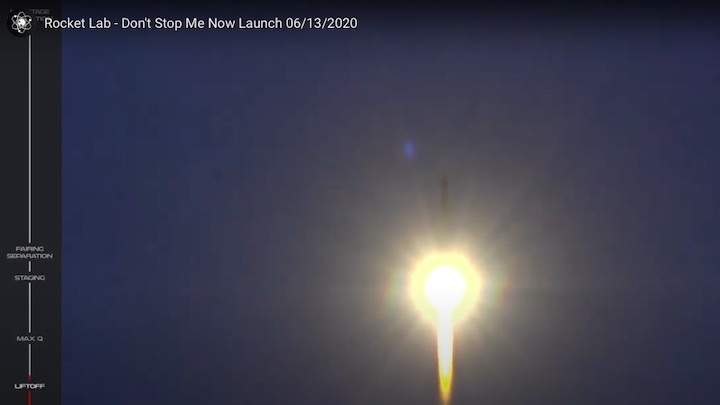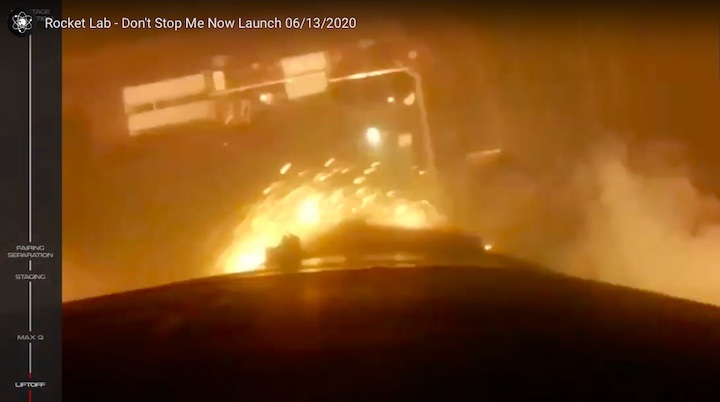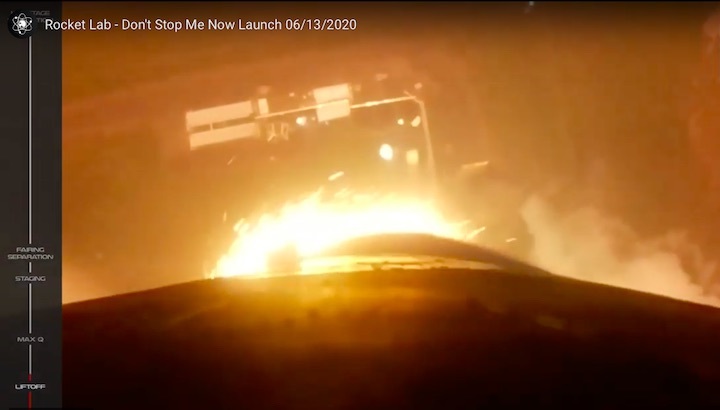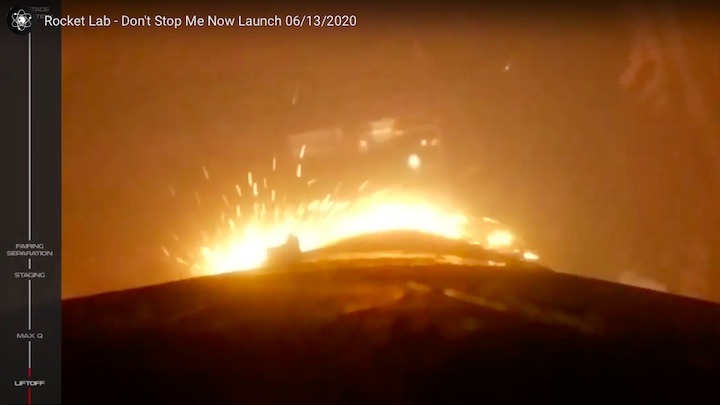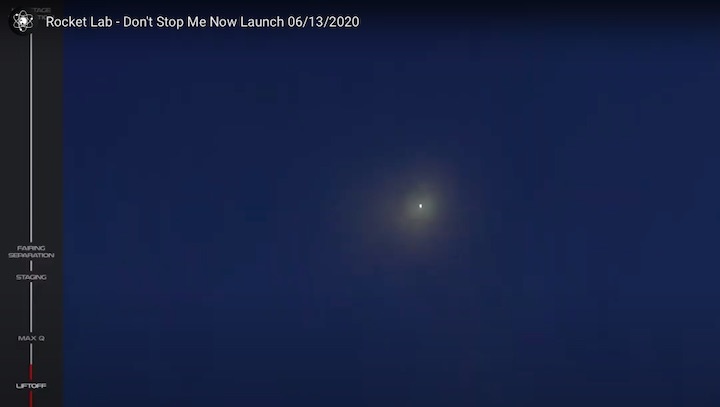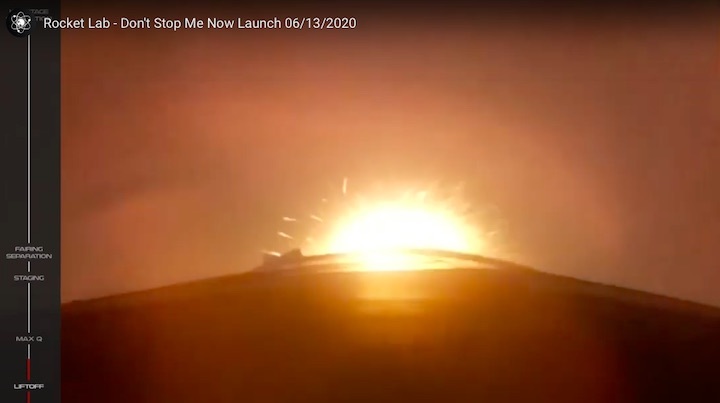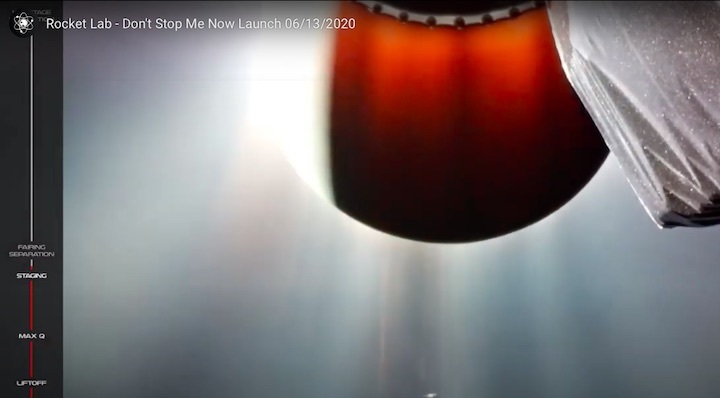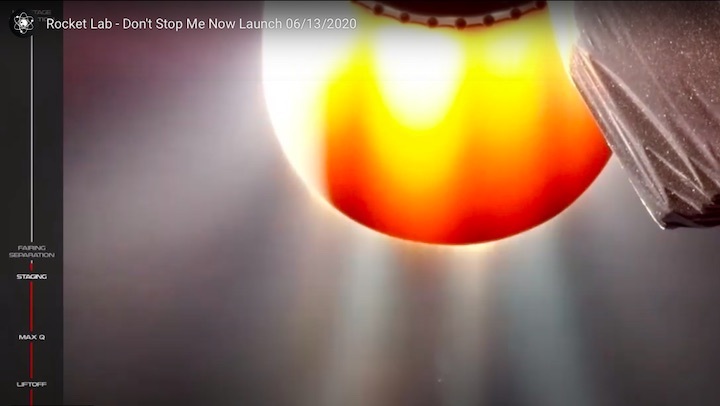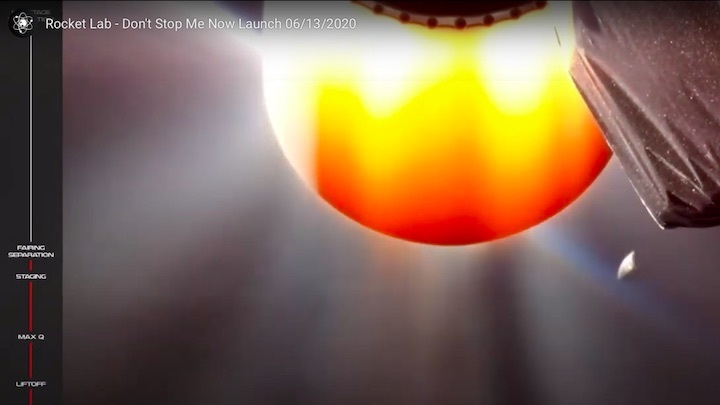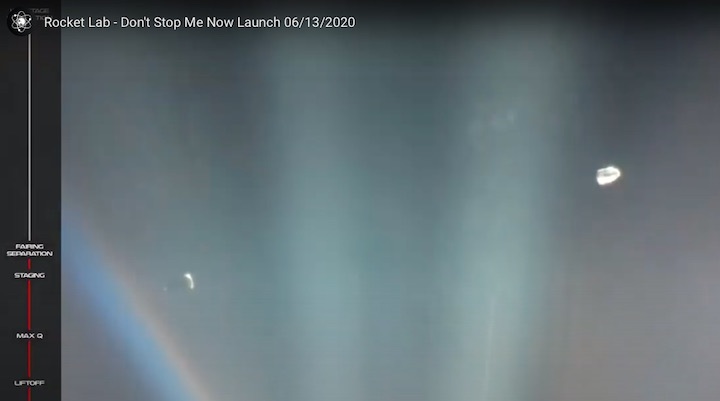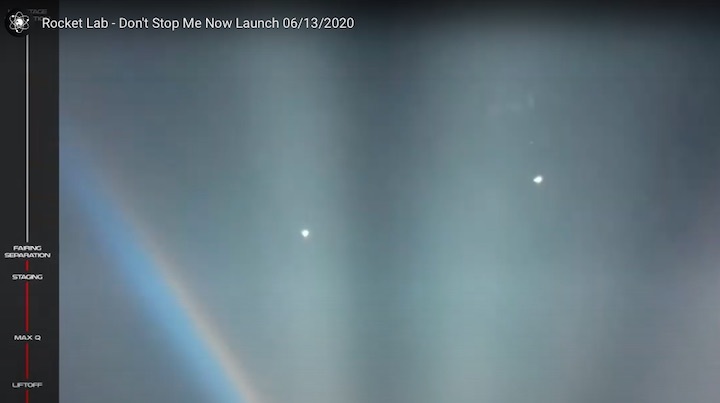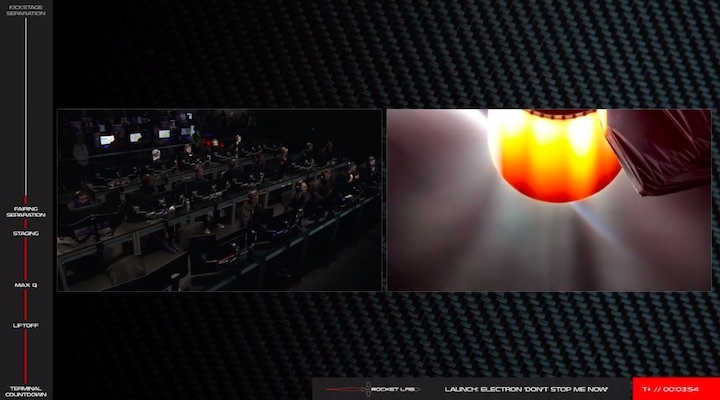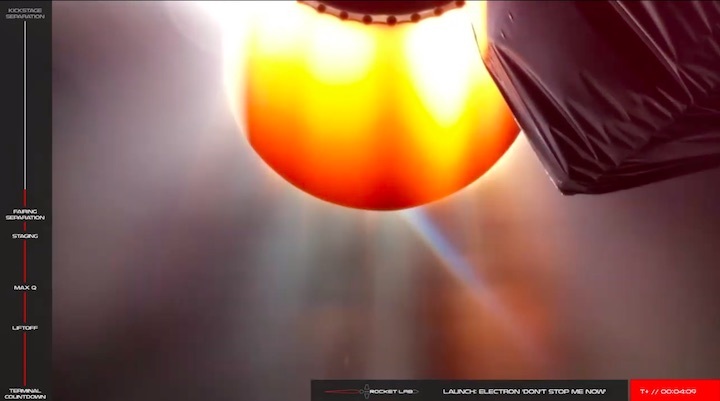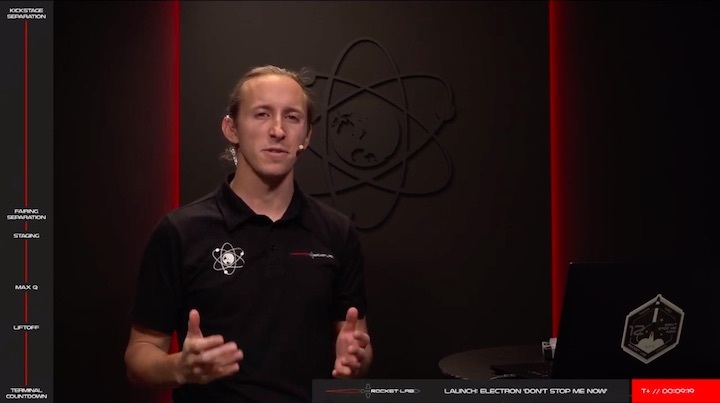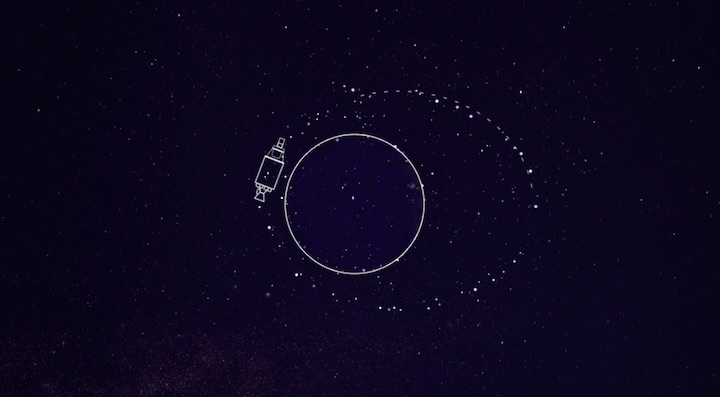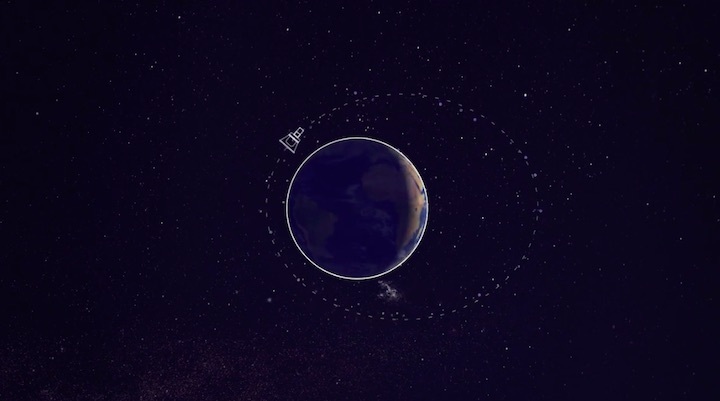 Quelle: RocketLab
3055 Views