22.02.2020
SLS debut slips to April 2021, KSC teams working through launch sims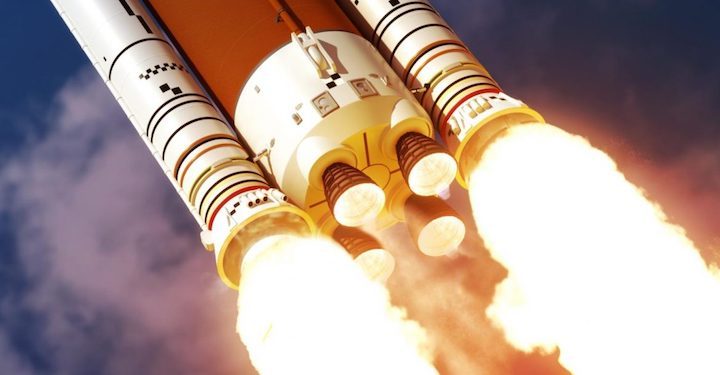 Preparations continue at the Kennedy Space Center in Florida for the first launch of the Space Launch System, or SLS rocket – NASA's gigantic rocket the agency hopes to use to launch humans to the lunar surface and to the commercial-rocket constructed Lunar Gateway.
But while Kennedy prepares for the rocket's arrival and first mission, various NASA centers are now actively planning for a No Earlier Than 18 April 2021 launch for the rocket's debut.
KSC launch teams practice countdown and launch ops:
An important part of any rocket's launch campaign, especially a maiden voyage, is the Launch Team undergoing numerous practice runs and countdown simulations of the launch campaign.
This month, under the direction of Charlie Blackwell-Thompson, Artemis 1 Launch Director, the Florida launch team simulated critical portions of the SLS countdown to ensure everyone is ready to handle any situation launch day throws their way.
The simulation occurred on 3 February inside the newly revamped Firing Room 1 at the Launch Control Center, located next to the Vehicle Assembly Building.
The practice countdown focused on the critical Terminal Count — the final portion of the countdown that begins when the clocks and systems come out of the Built-In Hold at T-10mins.
From there, the count continues through swing arm retractions, fuel tank pressurizations for flight, ignition of the four RS-25 liquid fueled Core Stage engines to T0 and the moment of Solid Rocket Booster ignition and liftoff.
In all, SLS's countdown is 45 hours 40 minutes long, about a day shorter than the Space Shuttle's countdown.
The SLS count has two Built-In Holds — one before fueling operations commence and a 30 minute hold at T-10mins.
(Read NASASpaceflight's overview of the SLS countdown via a one-on-one interview with Charlie Blackwell-Thompson here)
While anything can happen at any point in the count the launch team would have to react to, the critical T-10 minute to T0 terminal count is a complex and time-constrained period right before liftoff where last minute issues have to be identified, worked, discussed, and a path forward determined under extreme pressure for the team.
Especially when the given day's launch window might result in very little time to solve an issue before having to launch or scrub.
Charlie Blackwell-Thompson is a veteran of such counts. She served as the NASA Test Director and Assistant Launch Director at the end of the Shuttle Program when all launches were constrained to 5-minute Station launch windows.
Regarding the recent SLS terminal count simulation, Blackwell-Thompson said, "These are always great days as our team gets an opportunity to learn together. Our team got to work through a variety of problems while also completing the work steps in the launch countdown to get to T-zero."
The sims not only give the team an opportunity to practice the actual procedures they will use on launch day but are also an opportunity to test the team's ability to handle various anomalies and ground and vehicle hiccups and test the team's responsiveness and ability to learn and know their systems inside and out.
These issues are devised by an independent simulation team — a small group who plans the anomalies and situations and when to "introduce" them in the count to the launch team.
While the Launch Director and NASA Test Director have some input on the types of issues to throw at their team, they too are kept in the dark — as they would be on launch day — of the specific issues and timing of those issues the sim planners will actually give them.
The launch team must then solve the issues in real-time with a ticking clock to meet the simulated launch window.
"Each time you do a sim, you learn something and grow as a team," added Blackwell-Thompson.
Moreso, the sims allow the team to find actual issues with ground systems and software.
According to NASA, occasionally, an anomaly pops up that's not engineered by the sim team. When an actual problem is uncovered, managers and controllers will document it and collect any beneficial data to help understand and resolve the issue after the simulation.
If necessary, a "sim anomaly" will be declared so the launch team knows it's a real issue and not part of the exercise.
Once a sim is complete, the team remains on console to debrief on the day's events and discuss any issues they have with how the sim unfolded or that they personally encountered.
"We do a team debrief on the net and talk every problem, what we did well, what we need to improve upon, and any changes to procedures or requirements," Blackwell-Thompson said.
All of this will help the team be in top shape for the first launch of SLS and Orion on their uncrewed Artemis 1 test flight — which NASA is now publicly confirming will not happen this year.
SLS debut slips to NET 18 April 2021:
The 20 February 2020 NASA press release regarding the KSC launch team's performance of Artemis 1 countdown and launch simulations was the first NASA release to publicly confirm SLS will not fly this year, noting "NASA is preparing for the first uncrewed flight test next year of the agency's powerful new rocket and spacecraft in development for the Artemis lunar exploration program."
The previous NASA-provided No Earlier Than (NET) November 2020 launch date of Artemis 1 was always viewed as political in nature and not an accurate reflection of the rocket's readiness.
To this end, the Kennedy Space Center is now actively planning for a NET 18 April 2021 launch, and the Marshall Space Flight Center in Huntsville, Alabama, has been given direction from mission planners to begin developing trajectory data for Launch Period 7, stretching from 18 April to 4 May 2021.
Trajectory analysis for Launch Period 7 has not yet begun and, according to the Flight Readiness Analysis Cycle, will not begin until July 2020.
At Kennedy, realigning to this new NET launch date includes shifting timelines for the rocket's constituent component arrivals as well as stacking operations in High Bay 3 of the Vehicle Assembly Building.
At present, only the Interim Cryogenic Propulsion Stage provided by United Launch Alliance for Artemis 1 is at the Kennedy Space Center and in storage awaiting stacking.
The twin, five-segment Solid Rocket Boosters which have been completed and ready for shipment for well over a year at this point are in storage in Promontory, Utah, awaiting a NASA "need" date in Florida.
Orion and its European Service Module are currently at Plumbrook in Ohio undergoing vacuum and thermal testing as well as electromagnetic interference evaluations.
Moreover, the gigantic Core Stage is currently at the Stennis Space Center in Mississippi preparing for its Green Run full-duration hot fire test.
NASA has not revealed a target date for that test, but NASASpaceflight understands Stennis is preparing for that full-duration hot fire test No Earlier Than August 2020.
As of early-January, the Core Stage was not expected to arrive at the Kennedy Space Center from Stennis until January 2021.
Moreover, internal NASA discussions for several months now have revolved around a Spring or Summer 2021 launch campaign for Artemis 1 — with numerous centers discounting any realistic possibility of SLS launching in 2020.
Most of those notes continue to indicate a Summer 2021 "realistic" launch timeline, but make clear NASA has not given up on the Spring opportunity — which would match Marshall now receiving direction for launch and lunar trajectory planning for the 18 April to 4 May 2021 time frame.
Quelle: NS
----
Update: 26.02.2020
.
Fired Up! Final Test of Orion Motor Critical to Astronaut Safety a Spectacular Success

When NASA astronauts blast off for their voyage to the Moon on the Orion spacecraft during Artemis missions, they'll have protection in the form of the launch abort system (LAS). The LAS is designed to carry crew to safety in the event of an emergency during launch or ascent atop the agency's Space Launch System rocket.
On Feb. 25, NASA successfully tested the attitude control motor (ACM), which is built by Northrop Grumman and provides steering for Orion's LAS during an abort, at the company's facility in Elkton, Maryland. The 30-second hot fire was the third and final test to qualify the motor for human missions, beginning with Artemis II.
During the test, eight high pressure valves directed more than 7,000 pounds of thrust generated by the solid rocket motor in multiple directions while firing at freezing conditions, providing enough force to orient Orion and its crew for a safe landing.
The LAS consists of three solid rocket motors: the abort motor pulls the crew module away from the launch vehicle; the ACM steers and orients the capsule; then the jettison motor ignites to separate the LAS from Orion prior to parachute deployment and to ensure a safe crew landing. Last year, NASA demonstrated the LAS in a full-stress test known as Ascent Abort-2. During the test, a booster sent a representative Orion to an altitude of 31,000 feet to demonstrate the motors system worked as planned during the point of launch when the spacecraft experiences the greatest aerodynamic forces. In 2010, NASA tested the LAS' functionality in Pad Abort-1, a test that showed the motors can work if there's a problem on the pad before the rocket launches. These tests serve to assess and refine many of the systems critical to the safety of astronauts who will travel in Orion.
NASA has qualified the jettison motor, and has completed two of the three tests to qualify the abort motor. All three motors on the LAS will be qualified for crewed flights following the final abort motor test ahead of Artemis II, another step that brings NASA and Orion closer to sending the first woman and next man to the Moon by 2024.
Quelle: NASA
+++
Northrop Grumman Completes Final Qualification Test for NASA's Orion Launch Abort System Attitude Control Motor
Milestone demonstrates motor's readiness for Artemis II mission
ELKTON, Md. – Feb. 25, 2020 – Northrop Grumman Corporation (NYSE: NOC), along with NASA and Lockheed Martin, successfully completed its third and final qualification test of the Attitude Control Motor (ACM) for NASA's Orion spacecraft Launch Abort System (LAS).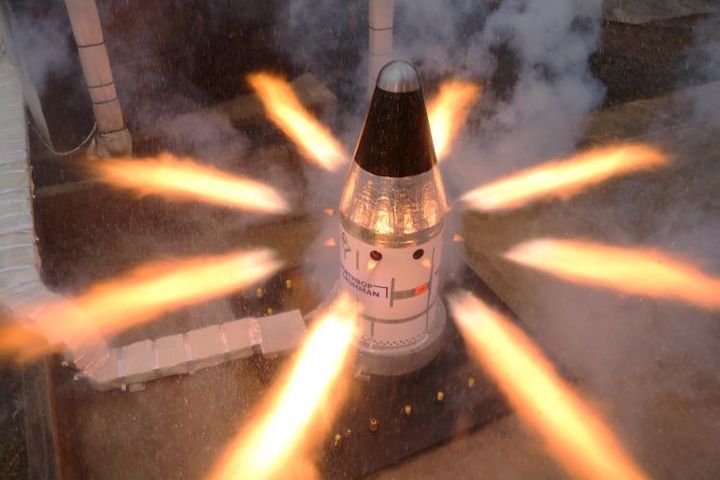 "The qualification test is a critical step toward Artemis II, Orion's first flight with astronauts," said Pat Nolan, vice president, missile products, Northrop Grumman. "Completion of this milestone emphasizes Northrop Grumman's commitment to deliver innovative and reliable technology that will keep our astronauts safe during launch."
The test was performed under cold operating conditions, to complement the earlier tests conducted at nominal and high-temperature conditions. In an effort to demonstrate worst case conditions, the motor was ignited using one of the two initiators and simulated high altitude vacuum conditions.
Preliminary results showed excellent performance, meeting the stringent design criteria for this critical application. All eight high thrust valves operated nominally over the 35 second motor burn time. The valves provided more than 7,000 lbs. of thrust during the high thrust portion of the duty cycle.
The ACM is one of three motors comprising Orion's LAS. The system is designed to carry astronauts inside the spacecraft to safety if an emergency arises on the launch pad or during Orion's climb to orbit. In the unlikely event of an abort, the attitude control motor would steer the Orion crew module away from the launch vehicle. The ACM also orients the capsule for parachute deployment once the crew module is clear of all hazards.
NASA is working to land the first woman and next man on the Moon by 2024. Orion is part of NASA's backbone for deep space exploration, along with the Space Launch System rocket and Gateway in orbit around the Moon. Orion will sustain astronauts in deep space, provide emergency abort capability, and support a safe re-entry from lunar return velocities.
Exploring the Moon helps create a vibrant future and advance technologies, capabilities and new opportunities for future missions to Mars. Northrop Grumman is responsible for the LAS ACM through a contract with Lockheed Martin, prime contractor for Orion.
Northrop Grumman solves the toughest problems in space, aeronautics, defense and cyberspace to meet the ever evolving needs of our customers worldwide. Our 90,000 employees define possible every day using science, technology and engineering to create and deliver advanced systems, products and services.
Quelle: Northrop Grumman
----
Update: 4.03.2020
.
First SLS launch now expected in second half of 2021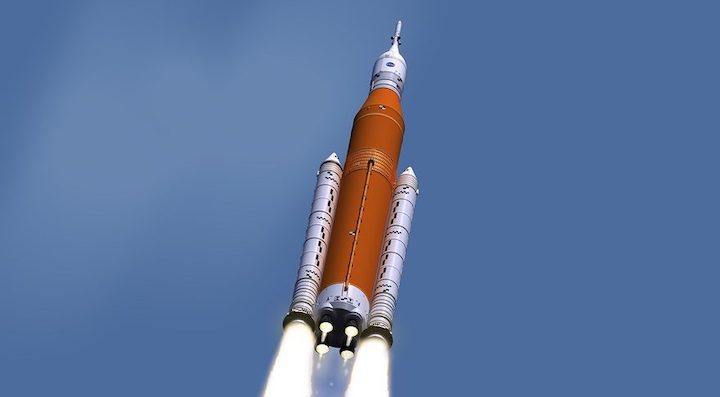 WASHINGTON — A top NASA official said Feb. 28 he expects the first flight of the Space Launch System to take place in the second half of 2021, a later date than prior agency statements.
Speaking at the kickoff meeting of the Lunar Surface Innovation Consortium at the Applied Physics Laboratory in Laurel, Maryland, NASA Associate Administrator Steve Jurczyk said that all of the elements needed for the Artemis 3 2024 human lunar landing are either under development or will soon be under contract.
That includes the Space Launch System rocket and Orion spacecraft. The SLS core stage for the Artemis 1 uncrewed test flight is currently at the Stennis Space Center for a "Green Run" static-fire test scheduled for later this year, while the Orion spacecraft for that mission is wrapping up testing at NASA's Plum Brook Station.
The SLS core stage, he said, should arrive at the Kennedy Space Center in late summer or early fall, allowing teams to begin "integrating for a launch hopefully in the mid '21 timeframe, mid to late '21 timeframe for Artemis 1."
NASA has yet to provide a new formal launch date for that mission, which has slipped by several years. In December, NASA Administrator Jim Bridenstine said that launch would take place in 2021after the agency had been holding on a November 2020 launch. Doug Loverro, the agency's new associate administrator for human exploration and operations, commissioned a review of NASA's exploration plans when he started work in December, including setting a new date for Artemis 1. The outcome of that review should be released in the coming weeks.
Jurczyk said NASA is moving ahead with other elements of its exploration plan, including development of modules and related systems for the lunar Gateway. NASA is in negotiations with Northrop Grumman for a contract for the Habitation and Logistics Outpost (HALO) module, after the agency announced last summer its intent to sole-source the module with that company. He added that the agency is "getting ready to award" a contract for Gateway logistics services, a cargo delivery service similar to the International Space Station's commercial cargo program.
What's left to award are study contracts for the Human Landing System program. NASA is expected to issue several such contracts for initial studies of commercially developed lunar landers for carrying astronauts to the lunar surface and back, and later select one or two companies to proceed in full development.
"We've very close to awarding, most likely, multiple contracts," he said. Those awards will come "within weeks," he added. That's in line with a Feb. 10 procurement update from NASA, which projected making awards in late March or early April.
The next nine to 12 months, he said, "will be critical to nail down the requirements and get to a preliminary design review," he said of that program. He noted later in his talk that NASA plans to gets those lunar lander requirements finalized with companies that win awards within 90 days. Companies can either elect to use NASA technical standards or offer an equivalent alternative. "But after 90 days, if we can't get agreement, you're going to use ours."
Jurczyk said NASA is not neglecting planning for the second, "sustainable," phase of the Artemis program for missions after Artemis 3. He said he was in a four-hour "pre-acquisition strategy meeting" the previous day to discuss what centers would lead various elements of that second phase of Artemis, and what would be developed in-house at NASA versus outside the agency.
Details about those plans, he said, should be released within a month. "If I was here a month from now, I would be doing that presentation on the current plan for Artemis phase 2."
Quelle: SN
----
Update: 10.03.2020
.
Artemis I Spacecraft Returns to Kennedy after Successful Ohio Tests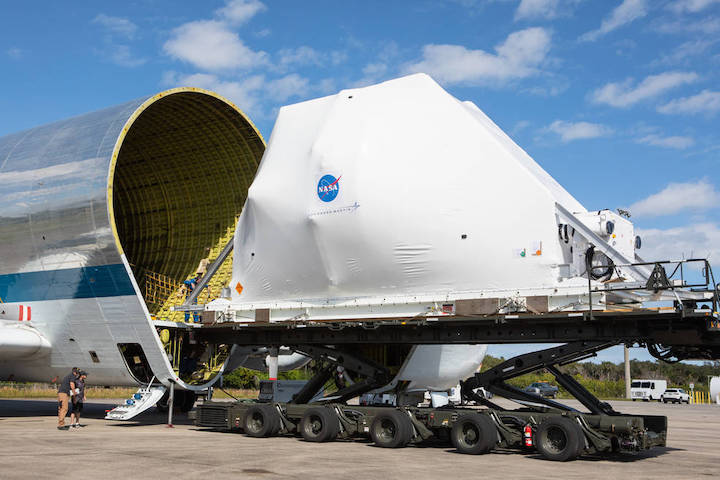 Credits: NASA/Kim Shiflett
Media are invited to NASA's Kennedy Space Center in Florida to watch the arrival of the Orion spacecraft for Artemis I. The crew and service module stack will be offloaded from NASA's Super Guppy aircraft after its return flight home from NASA's Plum Brook Station in Sandusky, Ohio. The offloading activity will happen the morning of March 24 at the Launch and Landing Facility at Kennedy, operated by Space Florida. Arrival and offloading are dependent on favorable weather conditions and are subject to change.
The recently completed spacecraft spent the last several months in the world's premier space environments test facility undergoing thermal vacuum and electromagnetic environment testing to certify the vehicle for Artemis missions to the Moon. Engineers and technicians at Kennedy stand ready to welcome the spacecraft back and begin performing final processing and integration for the launch of the Artemis I mission.
Quelle: NASA
----
Update: 15.03.2020
.
Orion has aced all its tests at NASA Glenn Research Center's Plum Brook Station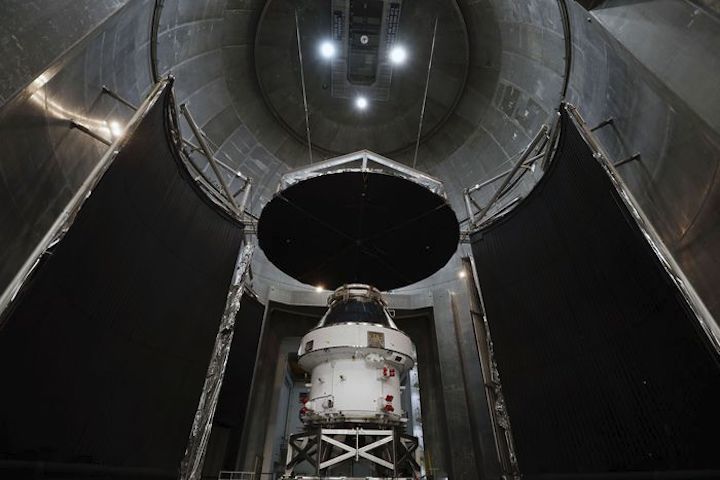 4127 Views