20.02.2020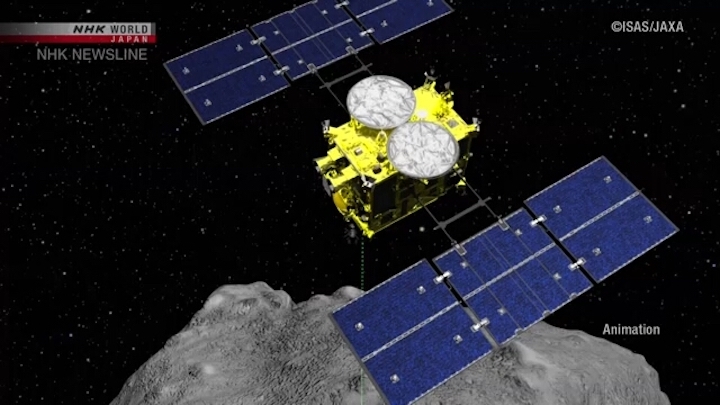 Japan's space agency says its asteroid probe is continuing its return to Earth as planned after the first injection of its main engines.
Hayabusa2 last December began its return after completing a mission on the asteroid Ryugu.
The Japan Aerospace Exploration Agency, or JAXA, on Thursday announced that Hayabusa2 completed the 880-hour injection of its ion engines.
Officials say the probe is about 239 million kilometers from Earth, traveling 24.35 kilometers per second as planned.
The engine's second injection is expected to start in May.
The agency plans to have the probe detach a reentry capsule expected to contain rock samples in November or December before landing in an Australian desert.
Agency officials say they're considering sending Hayabusa2 on a new mission, and hope to decide on concrete plans.
Mission manager Makoto Yoshikawa says the probe is working well, and that they will stay focused until the end through precise orbit control.
Quelle: NHK
----
Update: 29.02.2020
.
An iron-clad asteroid
Mineralogists from Jena and Japan make a surprising discovery on soil samples of the asteroid "Itokawa".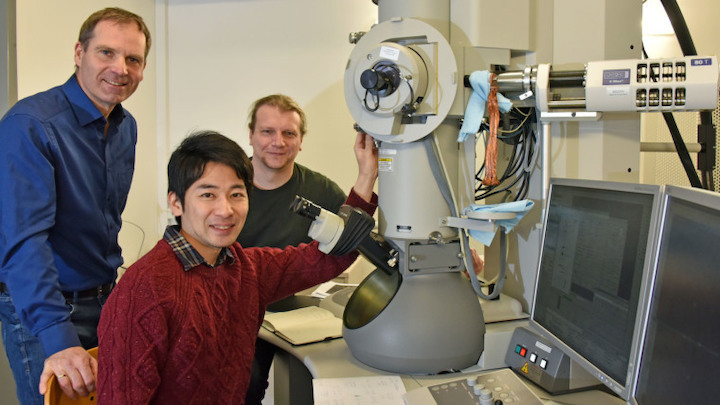 Mineralogists from Jena and Japan discover a previously unknown phenomenon in soil samples from the asteroid 'Itokawa': the surface of the celestial body is covered with tiny hair-shaped iron crystals. The team provides an explanation of how these were formed, and why asteroids can be unusually low in sulphur compounds, in the current issue of 'Nature Communications'.
Itokawa would normally be a fairly average near-Earth asteroid - a rocky mass measuring only a few hundred metres in diameter, which orbits the sun amid countless other celestial bodies and repeatedly crosses the orbit of the Earth. But there is one fact that sets Itokawa apart: in 2005 it became a visit from Earth. The Japanese space agency JAXA sent the Hayabusa probe to Itokawa, which collected soil samples and brought them safely back to Earth — for the first time in the history of space travel. This valuable cargo arrived in 2010 and since then, the samples have been the subject of intensive research.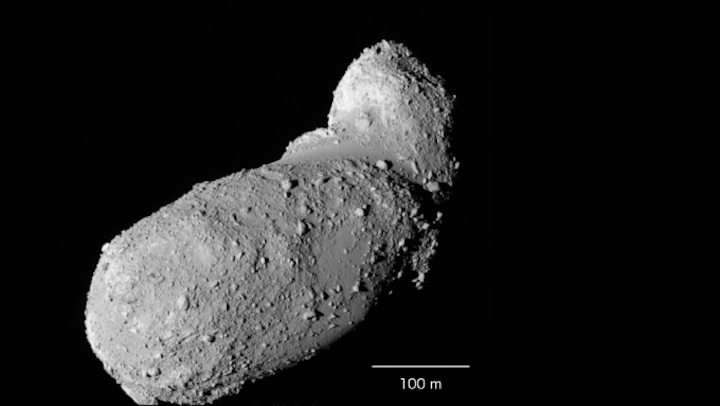 Asteroid Itokawa, recorded by the Japanese space probe Hayabusa in October 2005.
Image: JAXA
A team from Japan and Jena has now succeeded in coaxing a previously undiscovered secret from some of these tiny sample particles: the surface of the dust grains is covered with tiny wafer-thin crystals of iron. This observation surprised Prof. Falko Langenhorst and Dr Dennis Harries of Friedrich Schiller University in Jena. After all, over the last 10 years, research teams all over the world have exhaustively studied the structure and chemical composition of the dust particles from Itokawa, and no one had noticed the iron 'whiskers'. It was only when Japanese researcher Dr Toru Matsumoto, who is spending a year as a visiting scientist with the Analytical Mineralogy group at the Institute of Geosciences in Jena, examined the particles with a transmission electron microscope that he was able to locate the crystals using high-resolution images.
Solar wind weathers celestial bodies
This discovery is exciting not only because the tiny iron 'whiskers' - which have since been shown on other particles from the asteroid as well - had previously been missed. Of particular interest is how they were formed. "These structures are the consequence of cosmic influences on the surface of the asteroid," explains Falko Langenhorst. In addition to rocks, high-energy particles from the solar wind also strike the asteroid's surface, thus weathering it. An important constituent of the asteroid is the mineral troilite, in which iron and sulphur are bound. "As a result of space weathering, the iron is released from the troilite and deposited on the surface in the form of the needles that have now been discovered," says the mineralogist Langenhorst. The sulphur from the iron sulphide then evaporates into the surrounding vacuum in the form of gaseous sulphur compounds.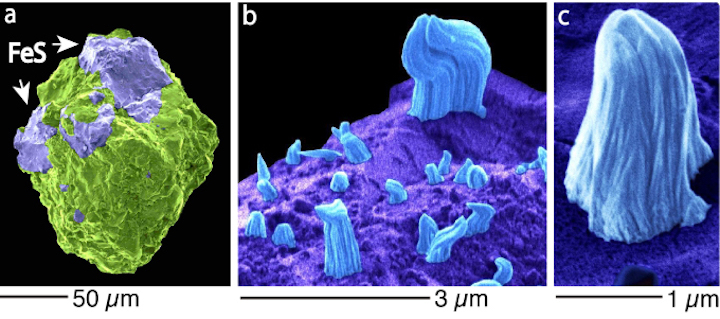 Microscopic images in false colours. (a) One of investigated Itokawa grain. The mineral troilite (FeS, violet) is surrounded by silicate minerals (green). (b) Troilite surface (violet) with iron whiskers (blue). (c) An enlarged image of an iron whisker.
Image: Toru Matsumoto
From the size and number of the ice crystals detected, the researchers can also estimate how quickly the asteroid loses sulphur. "The process is incredibly fast from a cosmic perspective," explains Toru Matsumoto. The crystals he analysed are up to two-and-a-half micrometres long, which is around one-fiftieth of the thickness of a human hair. "The tiny whiskers have already reached these sizes after around 1,000 years," adds the researcher from Kyushu University in Fukuoka. Over the long term, the analysis of the ice crystals can be used to gain a better understanding of weathering processes on other celestial bodies as well, and to determine their age.
To this end, the researchers already have specific asteroids in their sights. NASA's OSIRIS-REx probe is currently preparing to take samples from asteroid Bennu, while JAXA's Hayabusa2 is already on its way back to Earth. The Japanese probe visited the Ryugu asteroid last year and, as with Itokawa, it collected dust particles. The samples should land on Earth at the end of 2020 and the international team of Jena mineralogists and Toru Matsumoto are awaiting them with anticipation
Original publication:
Matsumoto T et al. Iron whiskers on asteroid Itokawa indicate sulfide destruction by space weathering. Nature Communications (2020), DOI: 10.1038/s41467-020-14758-3, https://www.nature.com/articles/s41467-020-14758-3
Quelle: Friedrich Schiller University Jena
----
Update: 18.03.2020
.
The asteroid Ryugu has a texture like freeze-dried coffee
This porous space rock could reveal details of how planets formed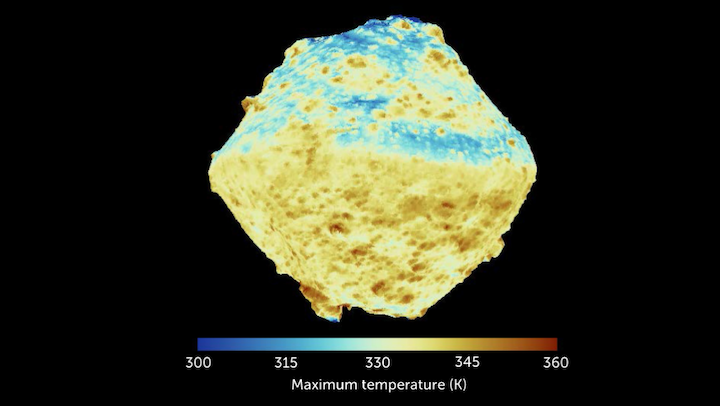 The Hayabusa2 spacecraft measured the maximum temperatures during one full rotation of the asteroid Ryugu and found that most of the asteroid stays cool. Blue regions are around 300 kelvins (27° Celsius) and yellow are around 330 kelvins (57° C). Just a few hot spots, in red, were dense boulders that reached 360 kelvins (87° C).
The asteroid Ryugu is light and fluffy. Images taken by Japan's Hayabusa2 spacecraft suggest the whole asteroid is highly porous, scientists report in Nature on March 16.
"It is something like freeze-dry coffee," says planetary scientist Tatsuaki Okada of the Japanese Aerospace Exploration Agency. If early protoplanets had similar structures, that could mean planets formed quickly.
As an ancient, carbon-rich asteroid, Ryugu is thought to be a time capsule of solar system history. To read that history, Hayabusa2 explored Ryugu from June 2018 to November 2019, and grabbed two samples from the asteroid to bring back to Earth (SN: 7/11/19).
Hayabusa2 observed how the asteroid's surface retained and released heat, a clue to its composition and structure. Dense rocks take in heat slowly and hold that heat for longer; more porous rocks change temperature quickly, like sand on a beach.
Ryugu's heat map shows that it's about 50 percent porous, meaning half of it is holes, Okada and colleagues report. Even most of the asteroid's large boulders appear porous.
That airiness fits with the idea that Ryugu is a rubble pile formed after the breakup of a larger body some 700 million years ago (SN: 3/20/19). But the new observations suggest that parent body might have been porous, too.
"This might be common for the asteroids and even for planetesimals in the early solar system," Okada says.
If true, it could have big implications for how quickly planets formed. Planetary scientists think the early solar system was a violent place, with protoplanets colliding, breaking up and re-accumulating all the time. Porous protoplanets might fall apart and come together again more easily than dense ones, Okada says. That means "the timescale of planetary formation may be changed drastically," and planets might have formed faster than scientists thought, he says.
Quelle: ScienceNews
+++
Rocks on Asteroid Ryugu Unexpectedly Porous: JAXA-Led Team
Thermal imaging data have shown that rocks on the surface of asteroid Ryugu are unexpectedly porous, a team of the Japan Aerospace Exploration Agency, or JAXA, and others said Tuesday.
The thermographic images indicate that "the asteroid's boulders and their surroundings have similar temperatures," the research team led by Tatsuaki Okada, associate professor at JAXA, said in an article published in the online version of science journal Nature.
"Contrary to predictions that the surface consists of regolith and dense boulders, this low thermal inertia suggests that the boulders are more porous than typical carbonaceous chondrites," the team said.
The thermographic images were taken by the Hayabusa2 unmanned spacecraft using a mid-infrared camera. Rocks on the asteroid "look like instant coffee powder that will easily fracture if you pick it up," Okada said.
The images also suggest that there are some dense boulders with colder temperatures, according to the research team.
Quelle: nippon.com
----
Update: 21.03.2020
.
Bombing asteroid Ryugu reveals it is a spritely 9 million years old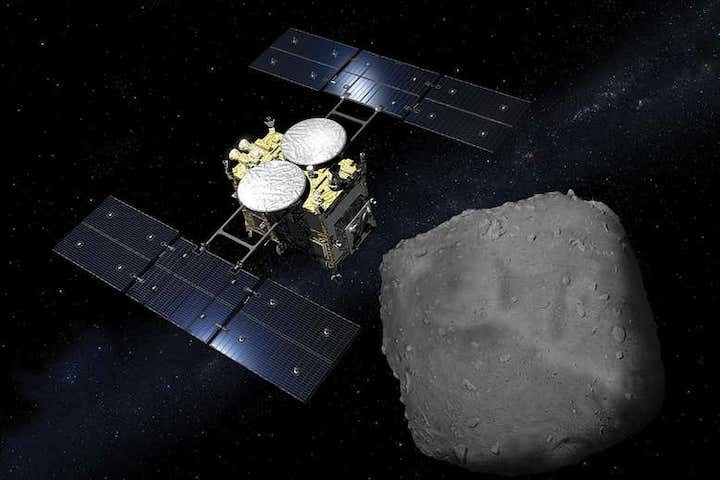 Bombing an asteroid has taught us its age. In April, the Japanese Hayabusa 2 spacecraft launched a copper projectile at the asteroid Ryugu, and now we have the first data on the crater it left behind.
The main purpose of the experiment was to collect a pristine sample of the material underneath the asteroid's surface. Masahiko Arakawa at Kobe University in Japan and his colleagues analysed images of the collision to study the crater formation process.
When the 2-kilogram projectile smashed into Ryugu, it blasted away the sand and rocks where it hit, and even moved a 5-metre wide boulder. The resulting crater was about 14.5 metres wide and 2.3 metres deep.
"This is the first time that we have observed the crater formation process in a microgravity environment," says Arakawa. Most of our understanding of how craters are formed is from laboratory experiments here on Earth, he says.
Asteroid age
That is important because we use the number and size of craters on asteroids to estimate how old they are. Previous studies of Ryugu determined that it was either about 9 million years old or about 160 million years old, depending on how much the size of craters there is limited by the strength of the asteroid's surface.
From observing the formation of this new crater, the researchers found that underneath its blanket of boulders Ryugu's surface isn't very sturdy. It is more like sand than rock. They say this confirms that Ryugu is only about 9 million years old.
Asteroids like Ryugu form when larger objects get smashed up and the remnants reaccumulate into "rubble piles". There is usually lots of debris left behind from such a smash-up, creating what astronomers call a family of objects that all come from the same parent body.
"We may recognise the family in the asteroid belt in the future," says Arakawa. That may be easier than we expected, because the parent body broke up relatively recently, suggesting the shattered pieces should be closer together.
Quelle: NewScientist
977 Views