27.01.2020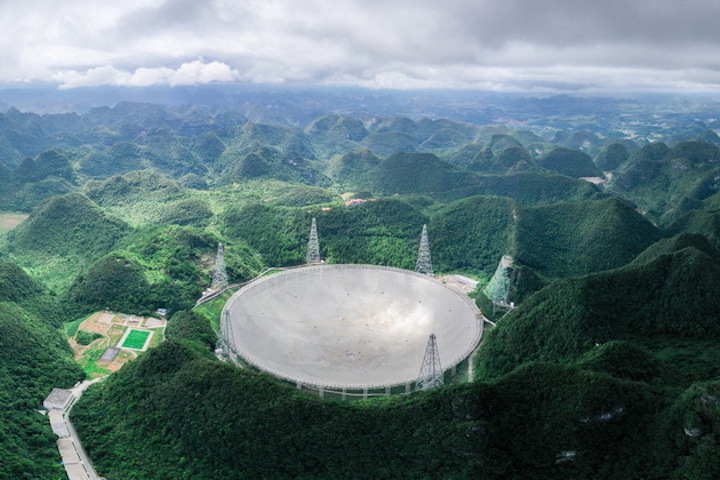 Graduate student Lin Quanwei did not immediately head home after the winter break began. Instead, he chose to stay at school to work on astronomy projects with his tutor.
In late December 2019, Guizhou Normal University, where Lin studies, formally established its Department of Astronomy and announced cooperation with the National Astronomical Observatories of the Chinese Academy of Sciences.
"We would not have set up the astronomy department, which is rare among Chinese universities, if it were not for FAST," said Dong Aijun, head of the department, referring to the acronym of the Five-hundred-meter Aperture Spherical radio Telescope, the world's largest and most sensitive radio telescope.
Earlier this month, China formally put the telescope into operation after a productive three-year trial. Located in a naturally deep and round karst depression in southwest China's Guizhou Province, FAST is a single-dish telescope with a diameter of half a kilometer and a receiving area equivalent to about 30 football fields.
Over the past years, Guizhou Normal University conducted a number of research programs on astronomy, seizing the unique opportunities provided by the powerful telescope.
"We plan to build the astronomy department into an influential astronomical education and research base in China," Dong said, adding that with the formal operation of FAST, the demand for Chinese astronomical researchers will greatly increase in the future.
Currently, there are 11 graduate students and more than 30 undergraduate students in the astronomy department. It plans to enroll more graduate students in the next three to five years and apply for doctoral programs.
Dubbed "China's Sky Eye," FAST is about 2.5 times as sensitive as the second-largest telescope in the world and capable of receiving a maximum of 38 gigabytes of information per second.
In over two years, FAST has identified 102 new pulsars, more than the total number of pulsars discovered by research teams in Europe and the United States during the same period.
To better tap the resources provided by the gigantic telescope, Guizhou Normal University has signed an agreement with the operators of FAST to make it a training base for student interns.
"We received new data at FAST every day, which was exciting for researchers like us," said Lin, who interned at FAST last summer. "It would be great for us to work there in the future. After all, it is the world's best platform."
Quelle: Xinhua
1284 Views