20.10.2019
New agency tasked with diversifying economy while bolstering military ties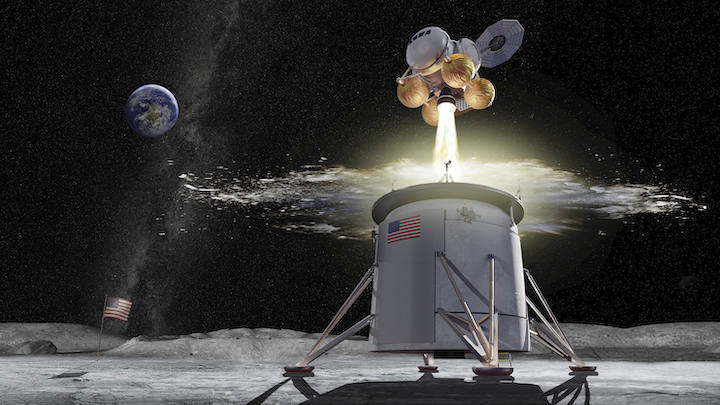 NASA rendering of an ascent vehicle of the Artemis program blasting off from the surface of the moon
SYDNEY -- When Australia announced a deal for $150 million Australian dollars ($102 million) to ensure its space industry's participation in NASA's Artemis mission, it was leveraging its 50-year collaboration with the U.S. space agency. It was also a show of shrewd but potentially risky space diplomacy as China readies to become America's most powerful space adversary.
The AU$150 million deal, spread over five years, was the minimum Australia would give its small but ambitious space sector to supply components and services to the Artemis mission.
Australia's space industry currently generates AU$3 billion to AU$4 billion a year. The Australian Space Agency, which was established only a year ago, has been tasked with growing the industry to around AU$12 billion a year in 10 years. It is part of Australia's plan to diversify the economy away from exporting iron ore, fossil fuels and farm products.
Through Artemis -- named after the twin sister of Apollo and the Greek goddess of the moon -- the U.S. space agency seeks to put a new space station in orbit around the moon, using it as an eventual gateway to build human settlements there. NASA expects the project will cost $20 to $30 billion over five years.
Australia has supported NASA space missions since the 1960s Apollo era, providing tracking and communications from its facilities in the Southern Hemisphere. Most notably, it relayed television and radio broadcasts from the Apollo 11 moon landing to the world.
The multiphase Artemis program is planned to mine the moon for water and materials to support future travel to Mars, where NASA intends to land human missions from around 2030. Water can be processed to provide hydrogen for rocket fuel and oxygen to support life.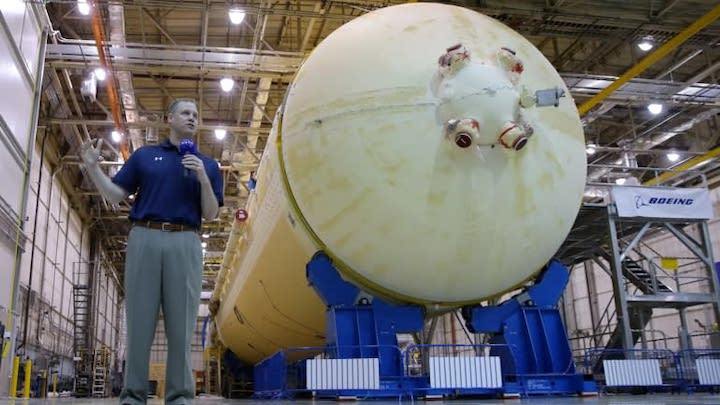 NASA Administrator Jim Bridenstine speaks to the media on Aug. 15 at a NASA assembly facility in New Orleans, in the U.S. state of Louisiana, while standing next to a section of the rocket that will power NASA's Artemis 1 lunar mission
Megan Clarke, head of the ASA, exchanged letters of intent with U.S. Commerce Secretary Wilbur Ross at NASA headquarters in Washington. The signing was part of Australian Prime Minister Scott Morrison's first visit to Washington as leader in September. In remarks to the media before arriving in the U.S., Morrison made his ambitions for the trip clear.
"Whether it's new opportunities for our space agency, locking us into a supply chain, to collaborating with businesses and groups in the United States through to the growth in quality-critical minerals and rare earths that our miners export, our trading relationship has been diversifying," he said. "We've got a foot in the door and I want to use this trip to crack it open."
Morrison's candid remarks resonate with Australia's plan to spend AU$200 billion on defense equipment, using procurement to massively scale up the domestic arms industry. It wants to surpass Italy as the world's 10th-largest exporter of military equipment.
Clearly, Morrison wants Australia to profit from extraterrestrial investment, even though its space capability is generally seen in the ground-based domain. The country deploys its expertise to process data from satellites and sensors for remote sensing used in mining, crop monitoring and "space situational awareness," which identifies space debris that can damage or destroy satellites and other spacecraft. Australian defense contractor Electro Optical Systems says it is currently tracking 15,000 pieces of space debris a week. It compares this to what it says was NASA's highest tracking rate of 30,000 objects a month.
Quelle: Asian Review
1085 Views