22.07.2019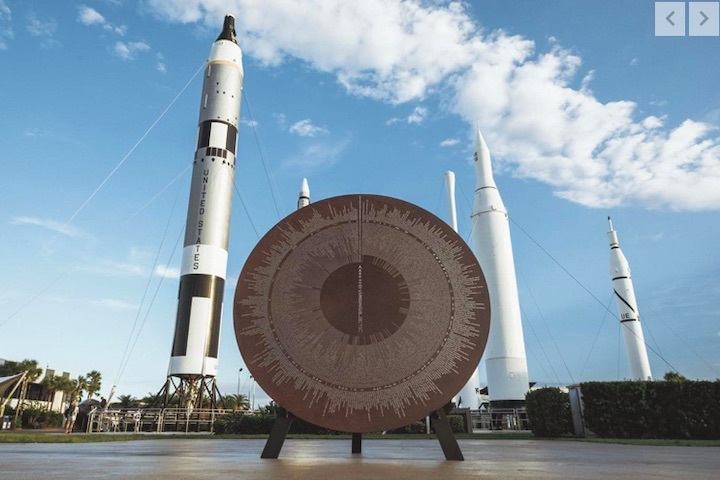 As part of the myriad festivities surrounding the 50th anniversary of the Apollo 11 moon landing this week, Virgin Galactic revealed its own memento to mark the occasion and to commemorate other important aviation and space achievements.
The sculpture, titled "On the Shoulders of Giants," marks 360 historic achievements and milestones, from gliders and balloons to the modern commercial space industry. At its center is a Virgin Galactic symbol representing the evolution of flight, showing silhouettes depicting flight from Icarus through the Wright Flyer to an Apollo lander and eventually SpaceShipTwo.
Made of steel and standing about six feet tall and wide, the disc was presented to Virgin Galactic founder Richard Branson at an event at the Kennedy Space Center in Florida on Thursday.
It will be on permanent display at Spaceport America in New Mexico, headquarters for the space company's commercial flight operations. The sculpture is made of the same Solanum weathered steel as the terminal building.
Virgin Galactic and its manufacturing firm, The Spaceship Company, have been developing the Space­Ship­Two suborbital spacecraft at the Mojave Air and Space Port.
With two successful spaceflights completed, the company announced earlier this year it was ready to move operations to New Mexico this summer to complete the flight test program and prepare for the start of commercial flights.
The sculpture "is a testament to, and celebration of humankind's historic achievements in air and space, from the beginning of time to the present day. This artwork commemorates that history and shows our space mission in the context of those who went before, showing that together, we open space to change the world for good," company officials said in a statement announcing the sculpture.
Recalling on how the moon landings impacted his own outlook, Branson said in a blog post that the astronauts and those who supported them "created a legacy that was far more significant and longer lasting than maybe they ever imagined. And at the heart of that legacy I believe, was an enduring and powerful sense of optimism for the future; even — and perhaps especially — at times when there appears so much cause for anxiety and concern."
"My hope is that by flying to space we too will understand on a personal level, what it means to discover the Earth," Branson wrote. "And like the Apollo giants, on whose shoulders we stand, when we return, we will make that discovery matter."
Quelle: Antelope Valley Press
2040 Views