5.06.2019
We know when the next rocket will launch from Vandenberg — and it's pretty soon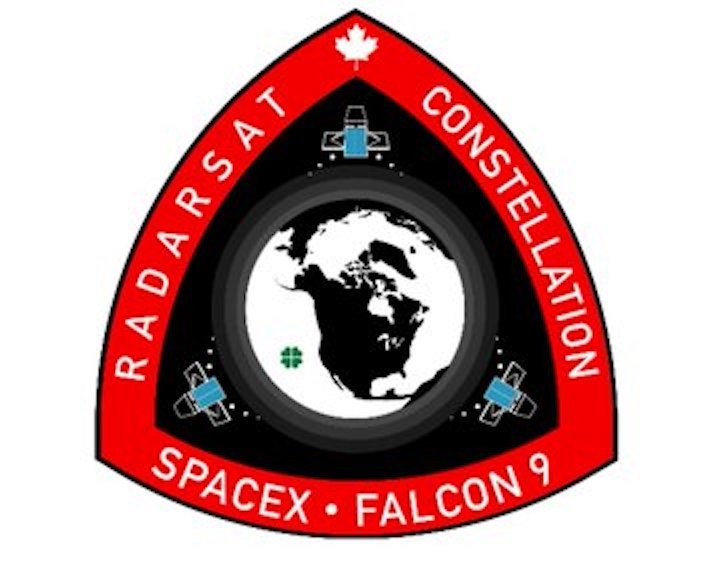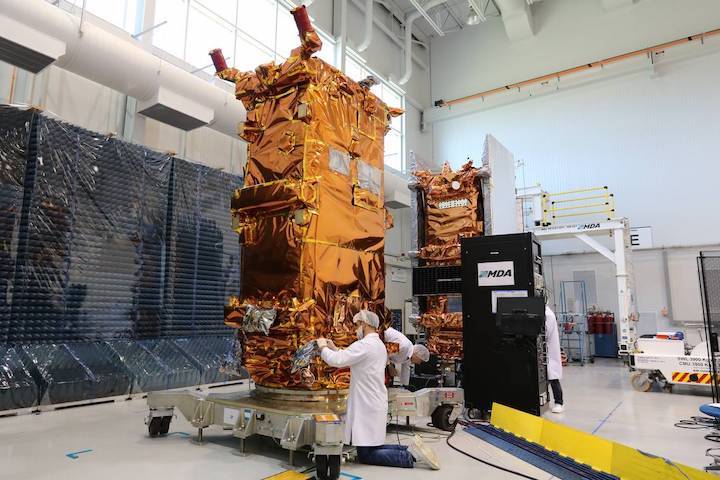 Two RCM spacecraft are prepared for vibration testing in the MDA facilities. The RADARSAT Constellation is Canada's new generation of Earth observation satellites. The three identical satellites work together to bring solutions to key challenges for Canadians. Canadian Space Agency
We now know the date of the next rocket launch from Vandenberg Air Force Base.
The Canadian Space Agency has confirmed that commercial space company SpaceX will launch its Falcon 9 rocket from the Lompoc base on June 11.
The launch has been delayed numerous times. Most recently, an anticipated mid-May launch was pushed to the new launch window.
It is unclear exactly what time the rocket launch will occur.
The mission will launch three earth-imaging satellites for the Canadian Space Agency.
The RadarSat Contellation Mission will provide Canada with maritime surveillance; information to help keep the ecosystem healthy; and emergency response data during hurricanes, storms and other natural disasters, according to the mission website.
If all goes as planned, this will be the third rocket launch out of the Vandenberg Air Force Base in 2019.
Space X launched its Falcon 9 rocket on Jan. 11, carrying 10 Iridium commercial satellites into orbit as the final push in SpaceX's Iridium-8 mission. On Jan. 19, United Launch Alliance sent its Delta IV rocket into space with a top-secrete payload for the National Reconnaissance Office.
The local Air Force base has also been host to a large number of missile test launches over recent months.
Quelle: The Tribune
----
Update: 9.06.2019
.
Wednesday SpaceX Rocket Launch, Return May Be Seen and Heard Around South Coast
Falcon 9 poised to carry Canadian Space Agency mission from Vandenberg Air Force Base, with subsequent landing likely to cause sonic booms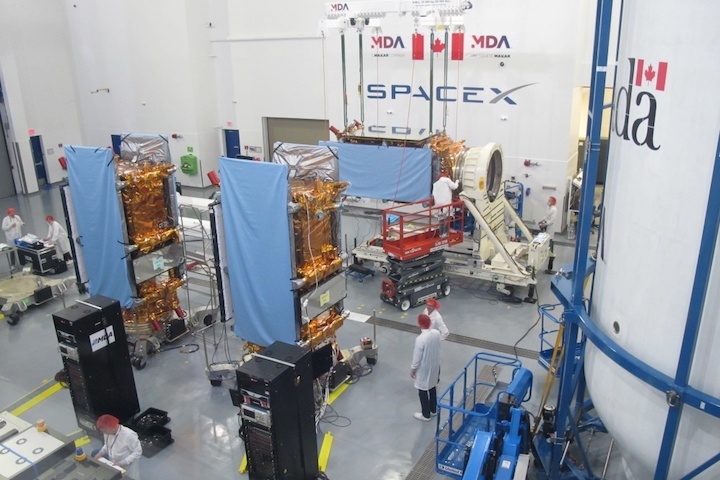 Three Radarsat Constellation Mission satellites undergo preparations for their Wednesday launch aboard a SpaceX Falcon 9 rocket at Vandenberg Air Force Base. (Canadian Space Agency photo)
A Falcon 9 rocket delivering a satellite trio for Canada could create a visual and audio show as it blasts off and returns to land at Vandenberg Air Force Base on Wednesday morning.
Liftoff of the SpaceX rocket from Space Launch Complex-4 East on South Base is planned for 7:17 a.m. Wednesday after being delayed a day.
On Saturday, SpaceX announced it had conducted a static fire test at Vandenberg, one key step toward clearing the way for the launch to occur. The test involves counting down to zero and firing the engines, with the rocket remaining in place.
The Falcon rocket's mission involves putting three identical Earth-observation satellites into orbit for the Canadian Space Agency.
The Radarsat Continuity Mission builds up on data collected by two earlier Earth-observation satellites, one of which blasted off from Vandenberg in 1995.
The newest Radarsat mission will collect 250,000 images annually, 50 times more than the first-generation satellite.
"As most of you know, Canada has the longest, largest coastline in the world and it's the second largest land mass in the world," said Magdalena Wierus, project engineer for the Radarsat mission.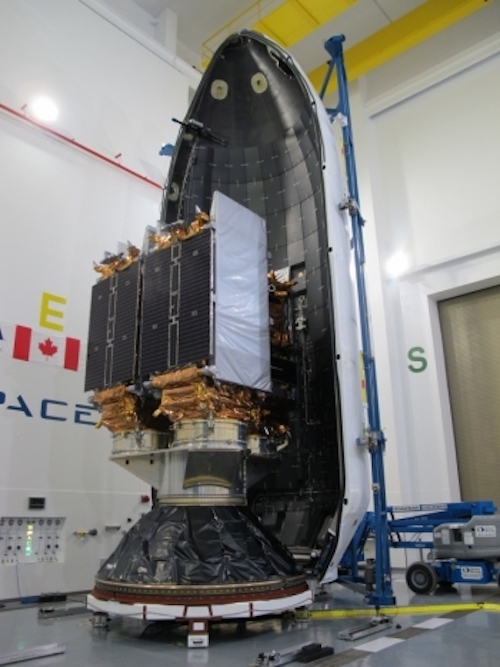 Wednesday's mission will place into orbit three identical Earth-observation satellites from the Canadian Space Agency. (Canadian Space Agency photo)
"With our local population density and large remote areas with varied geography, space-based EO (Earth observation) is a natural choice for monitoring our assets."
Data will help in monitoring assorted industries, including agriculture, forestry, mining and oil.
But the true purpose of the launch may get overshadowed.
Vandenberg officials confirmed that in addition to the rocket's launch, SpaceX plans for the first-stage booster to return to touch down at Landing Zone 4. That site is the former Space Launch Complex-4 West, previously the Titan II rocket pad, just west of Falcon's launch site.
Wednesday's flyback mission could create a show seen and heard on the Central Coast, Vandenberg officials advised.
"Local residents may see the first stage of the Falcon 9 returning to Vandenberg AFB, including multiple engine burns associated with the landing," base officials said.
"During the landing attempt, residents from Santa Barbara, Ventura and San Luis Obispo counties may hear one or more sonic booms."
A sonic boom is the sound stemming from shock waves created when an aircraft or vehicle travels faster than the speed of sound.
"Sonic booms generate a sound similar to an explosion or a clap of thunder," officials said. "The sonic boom experienced will depend on weather conditions and other factors."
Of course, just what spectators will see of the rocket launch and landing will depend upon Mother Nature and her morning marine layer, which has been hampering views on the Central Coast.
This will be the second flyback mission to the launch site. SpaceX successfully returned a first-stage booster following an October blastoff.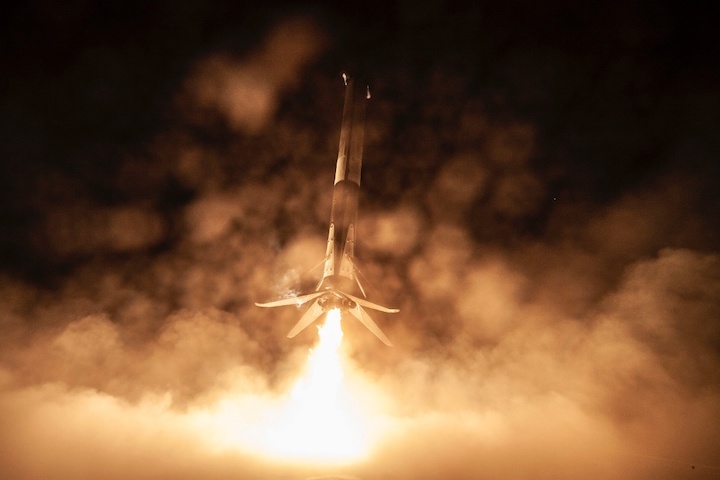 The booster blasting off Wednesday previously launched the Crew Dragon to the International Space Station in March from Cape Canaveral in Florida.
From the beginning, SpaceX has touted the reusability of its rockets with recycling key components intended to reduce costs and time between missions.
While access to Vandenberg is restricted, the public can view the launch from the Hawk's Nest on Azalea Lane off of Highway 1, a mile south of Vandenberg's main gate.
The viewing site will open at 6 a.m. and close after the conclusion of the landing of the first stage.
Other locations around the Lompoc Valley also offer views of the launch and landing site, which is visible when looking south of Ocean Avenue (Highway 246).
Popular viewing sites include along Ocean and Central avenues west of Lompoc, the peak of Harris Grade Road, and near the intersection of Moonglow and Stardust roads in Vandenberg Village.
However, law enforcement officers will establish a wider roadblock for this launch, which is expected to draw large crowds to the area.
A roadblock normally established at 13th Street on Ocean Avenue instead will be relocated to the east, at the intersection of Ocean and Floradale avenues.
A secondary roadblock will also be established at Floradale and Central avenues.
Drivers may see additional temporary traffic control measures implemented on local roadways to safely expedite expected traffic.
Personnel from Vandenberg have partnered with the Santa Barbara County sheriff'sand Lompoc police departments in an effort to ensure public safety surrounding the launch, base officials said.
Quelle: Noozhawk
----
Update: 11.06.2019
.
Canada's Three-Satellite Radarsat Constellation Stands Ready for Tuesday SpaceX Launch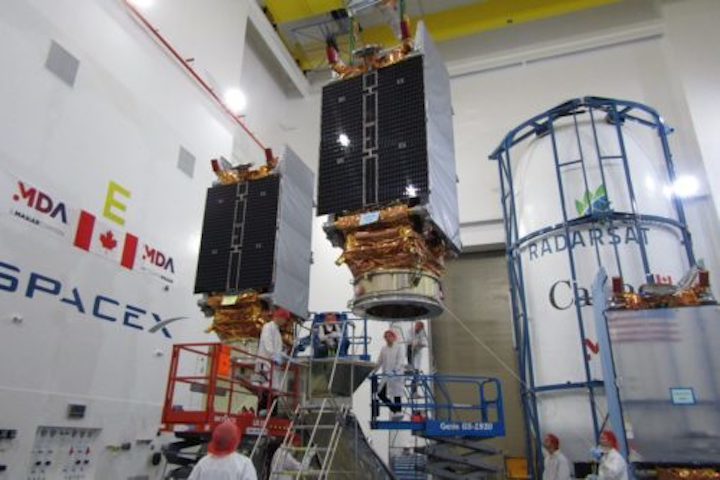 A trio of identical satellites, each bearing the maple leaf of Canada, will rise to orbit on Wednesday, 12 June, from Space Launch Complex (SLC)-4E at Vandenberg Air Force Base, Calif., on a mission to provide comprehensive maritime surveillance, disaster management and the assessment of various ecosystems across the Arctic region. The Radarsat Constellation Mission (RCM) will also provide daily coverage of more than 90 percent of the world's surface.
Liftoff of the Upgraded Falcon 9 booster—boasting the reflown B1051 core stage, which previously saw service on the March flight of the Crew Dragon Demo-1—is due to occur at 7:17 a.m. PDT and will kick off SpaceX's seventh mission of 2019 and its second of the year from the West Coast. In readiness for Wednesday's planned launch, a successful Static Fire Test of the nine Merlin 1D+ first-stage engines took place on Saturday, 8 June. Approximately nine minutes after liftoff, the B1051 core is scheduled to alight on Landing Zone (LZ)-4 at Vandenberg, marking only the second SpaceX landing on the West Coast landing pad since October 2018.
The long-awaited RCM will bring powerful C-band Synthetic Aperture Radar (SAR) capability to bear on the Canadian Arctic, providing daily revisit coverage, surveillance of ice, winds, oil pollution and shipping lanes, the early warning, response and recovery from natural disasters and the critical assessments of agriculture, forestry, wetlands and patterns of coastal change.
This will be SpaceX's 15th flight out of Vandenberg since September 2013 and its first foray from the California launch site since it triumphantly closed out the Iridium NEXT constellation back in January 2019. In addition to the final mission for Iridium, the Hawthorne, Calif.-headquartered organization has also delivered Crew Dragon Demo-1 and the CRS-17 Dragon cargo ship to the International Space Station (ISS), together with the first operational flight of the Falcon Heavy, Israel's ultimately-ill-fated Beresheet lunar lander and last month's inaugural batch of Starlink internet communications satellites. Following on from the RCM launch, the next flight of the Falcon Heavy—laden with a battery of payloads for the Air Force, NASA and other customers—is due to fly from historic Pad 39A at the Kennedy Space Center (KSC) later in June.
Built by MacDonald Detwiler and Associates (MDA) of Richmond, British Columbia—now a subsidiary of Westminster, Colo.-based Maxar Technologies, Inc.—the RCM represents the third generation of the long-running and highly successful Radarsat program. Its first component, the 6,000-pound (2,750 kg) Radarsat-1, was launched into a 500-mile-high (800 km) Sun-synchronous orbit atop a Delta II booster from Vandenberg back in November 1995.
Equipped with a powerful SAR instrument at a single microwave frequency of 5.3 GHz in the C-band, Radarsat-1 represented Canada's first commercial Earth observation satellite and was quickly put to use in the fields of agriculture, cartography, hydrology, forestry, oceanography, geology, ice and ocean monitoring, the detection of oceanic oil-slicks and surveillance of the Arctic Ocean region.
Its huge SAR antenna measured 49 feet (15 meters) in length and 5 feet (1.5 meters) in diameter and could cover areas of 31 x 31 miles (50 x 50 km) and achieve imaging resolutions down to just 33 feet (10 meters). Intended to remain operational for a half-decade, Radarsat-1 actually endured for more than 17 years until March 2013, when insurmountable technical difficulties in the aging satellite led it to be retired after almost quadrupling its anticipated orbital lifetime.
By this time, its successor, Radarsat-2, was aloft. Launched from Baikonur in Kazakhstan atop a Soyuz-FG/Fregat booster in December 2007, it occupied a similar orbit and remains active to this day, delivering imaging resolutions down to 3.3 feet (1 meter) in its "spotlight" mode and 10 feet (3 meters) in its "fine" mode. In addition to providing core capabilities in the areas of sea-ice mapping and ship-routing, iceberg detection, agricultural monitoring, marine surveillance for ships and detection of pollution, from mid-2009 onwards Radarsat-2 was put to work by the Canadian Forces for all-weather, day-and-night military surveillance of surface shipping in the Arctic, part of the Polar Epsilon project. In June 2016, MDA announced that it would extend this contract to RCM, through Polar Epsilon 2 (PE2), pledging to provide Canada's Department of National Defence "with daily maritime information over millions of square kilometres from SAR imagery, all within minutes of imaging".
More than a decade since Radarsat-2, the RCM mission offers a fundamental paradigm shift, with no fewer than three satellites—each weighing around 3,000 pounds (1,400 kg)—to be placed at an altitude about 370 miles (600 km) above the Home Planet, at a near-polar inclination of 97.74 degrees to the equator. Orbiting at intervals approximately 30 minutes apart, the RCM triplets will offer complete SAR coverage of the Arctic between four and six times daily, as well as the entire landmass of Canada at least once every 24 hours. The RCM's rapid revisit capability allows it to observe the exact same view and the exact same location on Earth's surface once every four days, as opposed to every 24 days presently achievable by Radarsat-2.
The RCM program extends back more than a decade, with initial cabinet approval from the Canadian government granted in December 2004, after which systems requirements and the overall mission concept were defined. Preliminary design of the satellites and ground segment followed and the Mission Critical Design Review (CDR) was accepted by the RCM stakeholders by November 2015. By this point, manufacturing of the satellite buses by Canada's Magellan Aerospace Corp. had begun, with around 300 people working on the effort at its peak.
Two years ago, the structural fabrication of the satellites was completed and in May 2017 the SAR antennas were successfully tested—by means of a Super Gantry Crane to hold them and counterbalance their weight to mimic microgravity conditions of low-Earth orbit—at MDA's facility in Montreal. During the late spring and early summer of 2018, the triplets underwent extensive Thermal Vacuum (TVAC) testing and last August Canadian Prime Minister Justin Trudeau inspected the almost-flight-ready RCM satellites and ceremonially helped install a sheet of thermal blanketing onto one of them. Between July and the end of September, the three satellites were delivered by road to the facilities of Space Systems/Loral (SS/L)—another subsidiary of Maxar—in Palo Alto, Calif., for pre-launch storage. They were then transported to Vandenberg earlier this spring.
Owned and operated by the Canadian government, the RCM satellites are visually distinct from their two Radarsat big brothers, with much smaller SAR antennas measuring only 22 feet (6.7 meters) long by 4.6 feet (1.4 meters) wide and capable of resolutions as fine as 3.3 x 10 feet (1 x 3 meters). They also boast only a single power-producing solar panel (as opposed to two for their predecessors).
When they have placed into orbit, the RCMs are each expected to remain fully functional for around seven years. Three major areas of focus include effective marine surveillance; natural disaster management; and the protection of ecosystems. RCM data will combine Automatic Identification System (AIS) technology with radar imagery to better identify surface shipping and distinguish between open water and coastal areas. They will help to ensure safe navigation in icy waters and aid the selection of suitable sites for future wind-farms and guard against illegal fishing.
RCM will also play a role in the forewarning and mitigation of natural disasters, including floods, landslides, hurricanes and earthquake damage, as well as alerting and routing search-and-rescue teams and first responders in a timely manner. Finally, the three satellites will accurately measure crop-yield characteristics over wide areas, monitor forest harvesting and regeneration, better protect land-use around protected wildlife habitats and provide data to support the conservation of wetlands and regions directly affected by coastal erosion.
Quelle: AS
----
Update: 13.06.2019
.
SpaceX launches Canadian radar satellites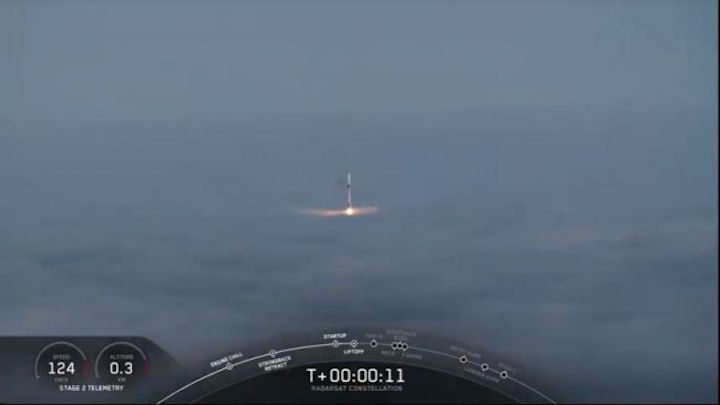 WASHINGTON — A SpaceX Falcon 9 successfully launched a trio of Canadian synthetic aperture radar (SAR) satellites June 12 that promise higher resolution imagery with shorter revisit times.
The Falcon 9 lifted off from Space Launch Complex 4E at Vandenberg Air Force Base at 10:17 a.m. Eastern. The launch took place on schedule and without any issues despite dense fog that prevented the rocket's liftoff from being seen.
The Falcon 9's first stage made a pinpoint landing nearly eight minutes after liftoff at the Landing Zone 4 next to the launch site. The launch was the second for that stage, which launched the company's Crew Dragon spacecraft on an uncrewed test flight called Demo-1 from Florida in March.
The rocket's upper stage deployed its payload, the three-satellite Radarsat Constellation Mission (RCM), about an hour after liftoff. The three satellites were released from the upper stage over a span of seven and a half minutes.
MDA, the Canadian subsidiary of Maxar Technologies, built the three RCM satellites for the Canadian government. Each satellite weights 1,430 kilograms will be spaced evenly in the same 600-kilometer sun-synchronous orbit. The satellites' C-band radars will be able to produce SAR imagery with resolutions as sharp as three meters.
The development of the constellation, rather than a single satellite, is intended to increase revisit times. The system will be able to view 90 percent of the Earth's surface every 24 hours, with enhanced coverage of Arctic regions. The satellites also carry Automated Identification System (AIS) sensors to identify and track ships.
The RCM satellites ensure continuity with Radarsat-2, launched in December 2007. That satellite remains in service but is far beyond its seven-year design life, hence the desire by the Canadian government to get RCM in orbit to avoid anydata gap.
The Canadian government expects to spend $1.2 billion Canadian ($900 million) on RCM, including the construction of the three satellites, their launch and operations over their projected seven-year lifetime. The government owns the full imaging capacity of the RCM constellation, unlike the Radarsat-2 mission where MDA Corp. sold imagery to the Canadian government and other customers.
Sylvain Laporte, president of the Canadian Space Agency, said in May that the decision to transfer ownership of the expected 250,000 images RCM will take annually to the Canadian government was not a poor reflection on Maxar, but a desire to try a new approach with the program.
"One of the primary reasons for the government owning the data is that we can then share it more freely," Laporte said at a May 22 at a Space Transportation Association luncheon here. "When you buy commercial data, there could be contracting restrictions with how you share it, but now that we own the data we will see how beneficial that is."
Laporte said the Canadian Space Agency has already started planning the next generation of Radarsat for when RCM reaches its planned end of life in 2026. How Radarsat data will be controlled could change again with that generation, he said.
"I've tasked them to be creative with respect to the business model," Laporte said. "It doesn't have to be a repeat of what we've done already. We could try something different, and who knows where that is going to take us."
The launch was the seventh this year for SpaceX, including six Falcon 9 launches and one Falcon Heavy launch. The company's next launch, of the U.S. Air Force's Space Test Program 2 mission on a Falcon Heavy, is scheduled for no earlier than June 24 from the Kennedy Space Center in Florida. The remainder of SpaceX's launches scheduled for this year will take place from Florida.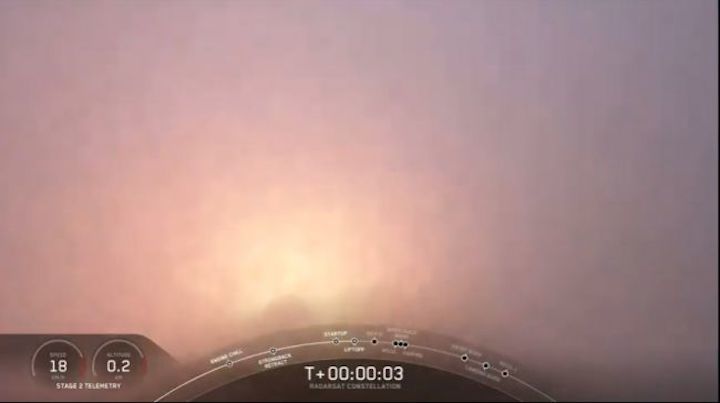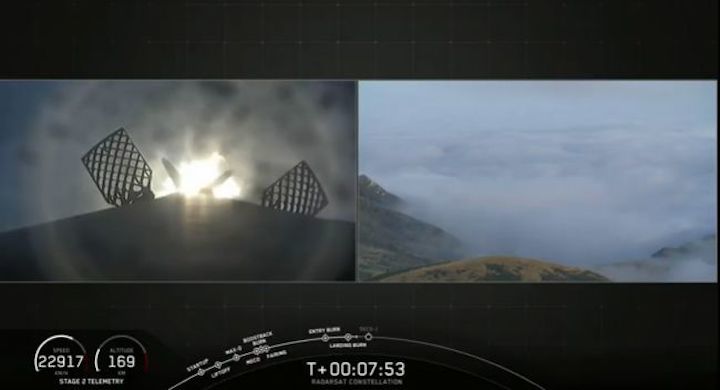 Quelle: SN
2729 Views