8.11.2018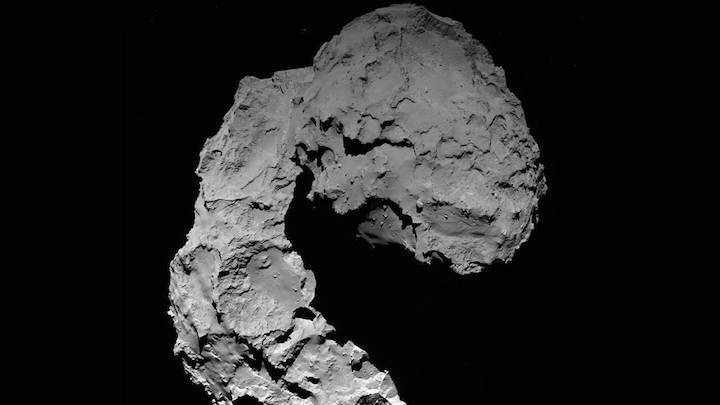 The entire history of human existence is a tiny blip in our solar system's 4.5-billion-year history. No one was around to see planets forming and undergoing dramatic changes before settling in their present configuration. In order to understand what came before us -- before life on Earth and before Earth itself -- scientists need to hunt for clues to that mysterious distant past.
Those clues come in the form of asteroids, comets and other small objects. Like detectives sifting through forensic evidence, scientists carefully examine these small bodies for insights about our origins. They tell of a time when countless meteors and asteroids rained down on the planets, burned up in the Sun, shot out beyond the orbit of Neptune or collided with one another and shattered into smaller bodies. From distant, icy comets to the asteroid that ended the reign of the dinosaurs, each space rock contains clues to epic events that shaped the solar system as we know it today -- including life on Earth.
NASA's missions to study these "non-planets" help us understand how planets including Earth formed, locate hazards from incoming objects and think about the future of exploration. They have played key roles in our solar system's history, and reflect how it continues to change today.
"They might not have giant volcanoes, global oceans or dust storms, but small worlds could answer big questions we have about the origins of our solar system," said Lori Glaze, acting director for the Planetary Science Division at NASA Headquarters in Washington.
NASA has a long history of exploring small bodies, beginning with Galileo's 1991 flyby of asteroid Gaspra. The first spacecraft to orbit an asteroid, Near Earth Asteroid Rendezvous (NEAR) Shoemaker, also successfully landed on asteroid Eros in 2000 and took measurements that originally hadn't been planned. The Deep Impact mission drove a probe into Comet Tempel 1 in 2005 and prompted scientists to rethink where comets formed. More recent efforts have built on those successes and will continue to teach us more about our solar system. Here's an overview of what we can learn:
Building Blocks of Planets
Our solar system as we know it today formed from grains of dust -- tiny particles of rock, metal and ice -- swirling in a disk around our infant Sun. Most of the material from this disk fell into the newborn star, but some bits avoided that fate and stuck together, growing into asteroids, comets and even planets. Lots of leftovers from that process have survived to this day. The growth of planets from smaller objects is one piece of our history that asteroids and comets can help us investigate.
"Asteroids, comets and other small bodies hold material from the solar system's birth. If we want to know where we come from, we must study these objects," Glaze said.
Two ancient fossils providing clues to this story are Vesta and Ceres, the largest bodies in the asteroid belt between Mars and Jupiter. NASA's Dawn spacecraft, which recently ended its mission, orbited both of them and showed definitively that they are not part of the regular "asteroid club." While many asteroids are loose collections of rubble, the interiors of Vesta and Ceres are layered, with the densest material at their cores. (In scientific terms, their interiors are said to be "differentiated.") This indicates both of these bodies were on their way to becoming planets, but their growth was stunted -- they never had enough material to get as big as the major planets.
But while Vesta is largely dry, Ceres is wet. It may have as much as 25 percent water, mostly bound up in minerals or ice, with the possibility of underground liquid. The presence of ammonia at Ceres is also interesting, because it typically requires cooler temperatures than Ceres' current location. This indicates the dwarf planet could have formed beyond Jupiter and migrated in, or at least incorporated materials that originated farther from the Sun. The mystery of Ceres' origins shows how complex planetary formation can be, and it underscores the complicated history of our solar system.
Small Worlds as Pit Stops, Resources for Future Exploration
There are no gas stations in space yet, but scientists and engineers are already starting to think about how asteroids could one day serve as refueling stations for spacecraft on the way to farther-flung destinations. These small worlds might also help astronauts restock their supplies. For example, Bennu likely has water bound in clay minerals, which could perhaps one day be harvested for hydrating thirsty space travelers.
"In addition to science, the future will indeed be mining," Green said. "The materials in space will be used in space for further exploration."
How did metals get on asteroids? As they formed, asteroids and other small worlds collected heavy elements forged billions of years ago. Iron and nickel found in asteroids were produced by previous generations of stars and incorporated in the formation of our solar system.
These small bodies also contain heavier metals forged in stellar explosions called supernovae. The violent death of a star, which can lead to the creation of a black hole, spreads elements heavier than hydrogen and helium throughout the universe. These include metals like gold, silver and platinum, as well as oxygen, carbon and other elements we need for survival. Another kind of cataclysm -- the collision of supernova remnants called neutron stars -- can also create and spread heavy metals. In this way small bodies are also forensic evidence of the explosions or collisions of long-dead stars.
Because of big things, we now have a lot of very small things. And from small things, we get big clues about our past -- and possibly resources for our future. Exploring these objects is important, even if they aren't planets.
They are small worlds, after all.
Quelle: NASA
2065 Views