2.08.2018
Parker Solar Probe Moved to Launch Pad for Aug 11 Flight to 'Touch' the Sun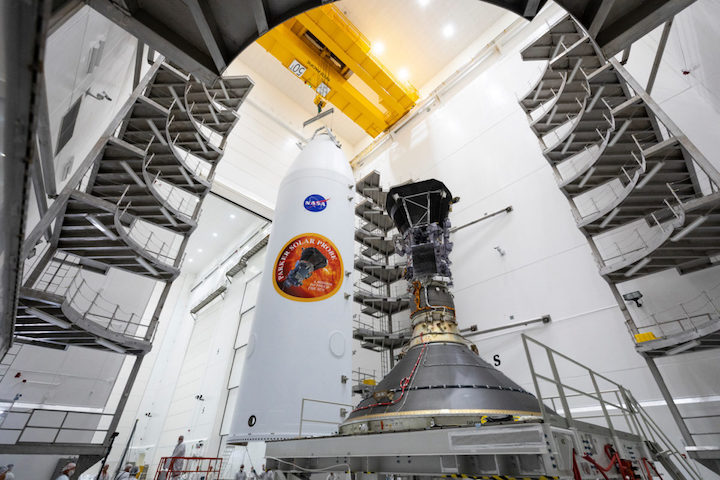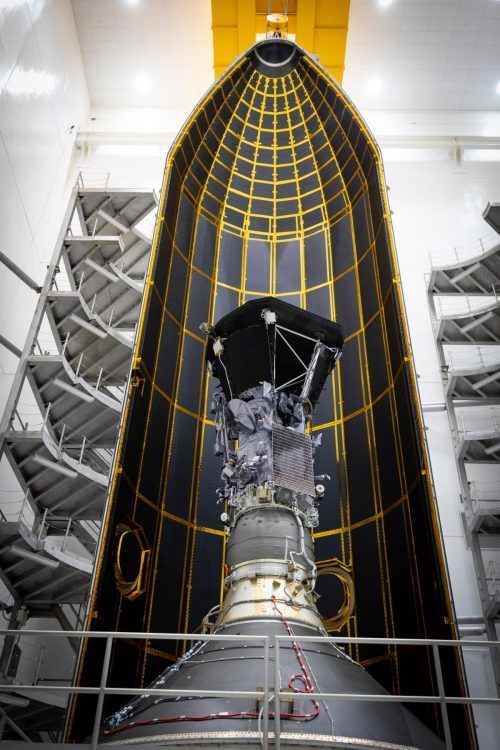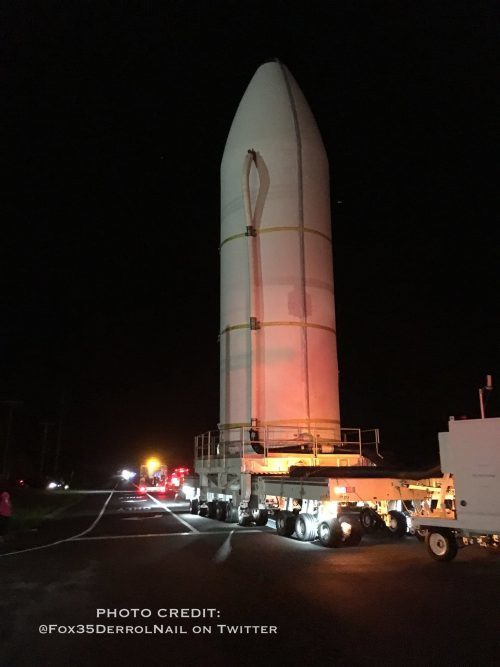 .
Humanity's first mission to 'touch' a star is rapidly approaching an opening launch attempt from Florida on August 11, and last night NASA's Parker Solar Probe (PSP) was transported from its clean room processing facility to Space Launch Complex-37 on Cape Canaveral Air Force Station to meet the rocket which will launch it to the sun, the triple-barreled United Launch Alliance (ULA) Delta-IV Heavy.
Built by the Johns Hopkins Applied Physics Laboratory in Laurel, Maryland, the lightweight car-sized PSP is the most autonomous spacecraft ever made, and will become the fastest human-made object in history when it makes its closest approach to the sun, traveling at speeds of up to 430,000 miles per hour (700,000 kilometers per hour) as it swoops through the Sun's atmosphere 24 times over a period of 7 years, or as fast as traveling from New York City to Tokyo in less than one minute.
And while everything on the spacecraft is now GO for flight, the $1.5 billion mission has faced several delays this summer, as it was originally scheduled to launch in late July. The most recent stemming from final inspections following the encapsulation of the spacecraft within its bullet-like payload fairing, when a small strip of foam was found inside the fairing, forcing workers to take additional time to look everything over. Additional time was also needed prior to that, to evaluate and modify the configuration of a cable clamp on the payload fairing.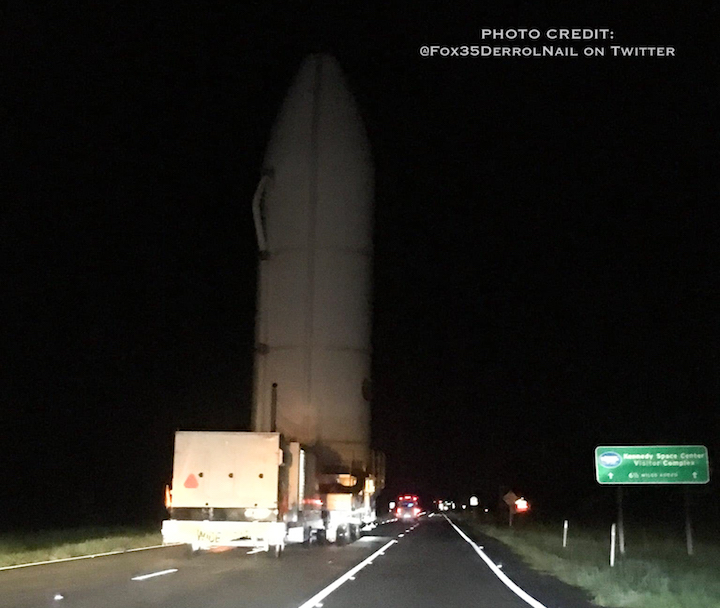 -
Teams also had to repair a leak in the purge ground support tubing on the third stage rocket motor, which was discovered during final spacecraft processing in mid-July, and prior to that, the launch date slipped from July 31 to accommodate further software testing of spacecraft systems.
The spacecraft was lifted and mated to the third stage rocket motor, a Star 48BV from Northrop Grumman, on July 11, which will help PSP gain the speed needed to reach the Sun, which takes 55 times more energy than reaching Mars according to NASA. It was then encapsulated within its 62.7-foot fairing on July 16.
PSP only has until August 19 to launch, otherwise it will miss the planet Venus, whose gravity the spacecraft will need to "steer" itself into the proper orbits of the sun for the mission's science objectives, getting closer and closer with each orbit. If they can't launch by then, they'll have to wait for the next window of opportunity in May 2019, when Venus is in position again to give PSP the gravity-assists it needs to reach the brutally hostile corona and sample the sun's atmosphere.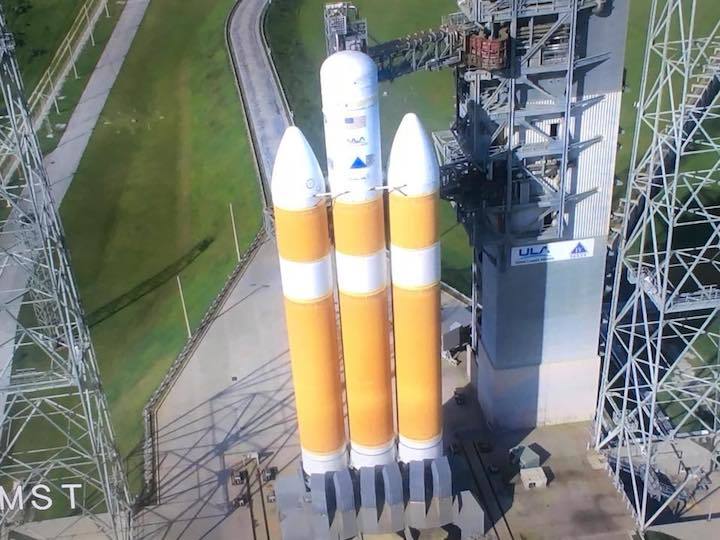 A United Launch Alliance (ULA) Delta-IV Heavy underling a Wet Dress Rehearsal on Space Launch Complex 37B for NASA's upcoming Parker Solar Probe launch, slated for no earlier than August 11, 2018. Photo Credit: ULA
-
ULA's 177-foot tall (without payload) rocket itself has been ready to go for some time, having already undergone critical pre-flight testing with two Wet Dress Rehearsals (WDR), or practice countdowns, in early July to uncover any issues and validate that the launcher, systems, launch team and ground support equipment are all ready to send the spacecraft on its mission to the sun.
Once the spacecraft is mounted on top and integrated with the full rocket, the vehicle will stand an impressive 232 feet tall (70.7m), and is aiming to lift-off during a 45-minute launch window opening at 3:48 a.m. EDT August 11. Once off the pad the rocket will head due East from Florida's Space Coast to deploy the probe on a path to touch the sun and study it in a way never before possible, to answer decades-old questions such as how energy and heat move through the solar corona, what accelerates the solar wind and solar energetic particles, and why is the temperature of the Sun's surface about 10,000 degrees Fahrenheit, while its corona, or "atmosphere", can reach millions of degrees Fahrenheit?
Space weather plays a vital role in the health of not only our home planet, but the entire solar system overall. The more we know about how the sun works, the more we can understand and predict how it affects our celestial neighborhood and life here. We've been lucky so far, but it's probably just a matter of time before a Coronal Mass Ejection cripples our satellites and power grids, and if we can have advanced warning that it will occur, it could save us all a lot of trouble. Not to mention, it could open our eyes as to how life on Earth developed and evolved, and teach us a lot about how stars across the universe behave.
Quelle: AS
---
Update: 7.08.2018
.
NASA to Host Briefings, Events for Aug. 11 Launch to Touch Sun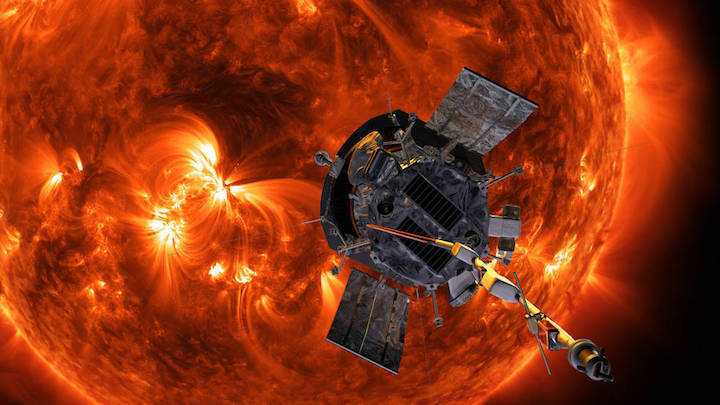 As NASA nears the launch of its Parker Solar Probe, the agency will host a series of media briefings beginning Wednesday, Aug. 8. These briefings, as well as special programs, the launch on Saturday, Aug. 11, and a postlaunch news conference all will air on NASA Television and the agency's website.
Parker Solar Probe will lift off on a United Launch Alliance Delta IV Heavy rocket from Space Launch Complex 37 on Cape Canaveral Air Force Station in Florida. The first launch opportunity is at 3:33 a.m. EDT, at the opening of a 65-minute window.
Although the deadline has passed for media to attend the launch of this historic mission to our Sun, journalists may participate in prelaunch and postlaunch news briefings via phone by contacting Kennedy's News Center at 321-867-2468 for dial-in information.
The following is a complete schedule of mission coverage, including opportunities for media participation. All time are EDT:
Wednesday, Aug. 8
NASA will host a full morning of foreign-language teleconferences for international media, during which they can discuss mission science with project researchers.
9 a.m. – Japanese
10 a.m. – Italian
11 a.m. – German
Noon – French
1 p.m. – Spanish
To participate, media must email their name and affiliation to Andrew Schurr at andrew.d.schurr@nasa.gov by 8 a.m. Aug. 8.
Thursday, Aug. 9
1 p.m. – Prelaunch mission news briefing
Friday, Aug. 10
6 p.m. – NASA Edge prelaunch broadcast
7:30 p.m. – What Parker Solar Probe Will Provide to Humanity
Saturday, Aug. 11
3 a.m. – Launch coverage begins
3:33 a.m. – Launch
TBD – Postlaunch news conference
Media may participate in the postlaunch news briefings via phone by contacting Kennedy's News Center at 321-867-2468 for dial-in information.
Parker Solar Probe will revolutionize our understanding of the Sun. The spacecraft will fly closer to the Sun's surface than any spacecraft before it, facing brutal heat and radiation. It will be the first spacecraft to fly directly through the Sun's corona – the part of the solar atmosphere visible during an eclipse – to answer questions about solar physics that have puzzled scientists for decades.
Gathering information about fundamental processes near the Sun can help improve our understanding of how our solar system's star changes the space environment, where space weather can affect astronauts, interfere with satellite orbits, or damage spacecraft electronics.
Quelle: NASA
---
Update: 9.08.2018
.
UCLA professor plays key role in historic mission to the sun
Parker Solar Probe will venture into the sun's outer atmosphere to advance understanding of space weather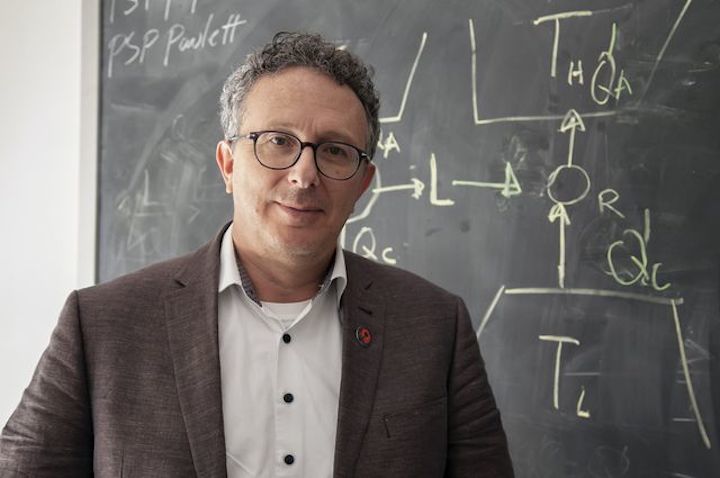 In just a few days, UCLA space physicist Marco Velli will take a deep breath, look to the skies and take his place in history as part of the monumental Parker Solar Probe mission, billed as humanity's first visit to the sun. The mission launch is scheduled for Aug. 11, although depending on conditions, it may be as late as Aug. 23.
The aim of the expedition, which has been 60 years in the making, is to take the Parker Solar Probe into the the sun's outer atmosphere, known as the solar corona. There the probe will collect data that will help scientists better understand how the corona is heated to its incredible 3.6 million degrees Fahrenheit and the solar wind — a supersonic flow traveling more than 450 miles per second — is accelerated, said Velli, whose first role as observatory scientist was to ensure that all the instruments work effectively in the harsh solar environment.
"The so-called surface of the sun — what we see — is at 12,000 degrees Fahrenheit, but the corona immediately above that expands via the subsonic wind all the way to the Earth, is at millions of degrees," said Velli, who has been a UCLA professor of Earth, planetary and space sciences since 2014 and teaches classes in space weather, space plasma physics and solar terrestrial physics. "Between the Earth and the corona is a solar wind filled with magnetic fields, radiation, electrified protons, ions, electrons and ionized helium. We can measure the solar wind, but can only learn how it is generated by going directly into the engine, the solar corona."
UCLA Broadcast Studio
The probe will beam data back to Earth in bursts to be analyzed by scientists, including faculty and students at UCLA who will be among the first to receive it. The students will be involved with data analysis, trying to better understand solar wind, where it comes from, what it is and what's happening during various types of space weather events.
Velli said that our ability to understand solar magnetic activity is fundamental to forecast space weather on Earth, where magnetic field changes and disruptions can damage satellites, including those responsible for air, sea and land navigation and may cause power plants to shut down. Space weather prediction is also fundamental to astronaut safety, and our ability to better predict space weather will play a critical role in the success of future space expeditions.
"We need to have a causal understanding of how the solar wind and magnetic eruptions are generated if we're ever going to be able to predict them," Velli said. "With increasing interest in space exploration, this will be necessary to understand, so that spacecraft and astronauts are kept safe. To protect, we need to warn."
Fellow University of California professor Stuart Bale, an astrophysicist from UC Berkeley, is also one of the principal investigators as well as scientists from the University of Michigan, NASA and Johns Hopkins University.
The 10-foot long spacecraft, which will launch from Cape Canaveral in Florida, will reach a top speed of about 450,000 miles per hour and complete seven flybys of Venus as it makes its way closer to the sun. The first flyby is expected at the end of September and the final one is scheduled for November 2024. The probe, Velli said, will use the gravity of Venus to slow itself down and gradually bring it within 3.6 million miles of the sun — eight times closer than any other mission.
"Marco's role on Parker Solar Probe is key to the success of the mission," said Jean-Luc Margot, chair of the department of Earth, planetary and space sciences. "We are thrilled that UCLA has such a leading role in this daring quest to understand the workings of our star."
Velli learned of the solar probe concept in 1990 while a post-doctoral researcher at the Observatory of Paris. Excited about the implications of such a project, he started working on a European solar probe that same year. A little more than a decade later, Velli was invited to work on the Parker Solar Probe mission science and technology definition team, due to his previous research on the origin and dynamics of the solar wind.
"The minute you start working in this field you realize that the thing you have to do is get into the solar corona and measure the plasma there," Velli said. He was fascinated by the possibility of solar exploration, but was cautiously optimistic of the reality of such efforts in light of those who had tried and failed over the decades. "You quickly start to get the idea that maybe you're chasing something that's not going to happen. But we actually made it happen; we actually have a launch date, so it's very exciting. This is a major thing."
The geophysics and space physics program at UCLA is considered one of the best in the United States, in part because its faculty members have been so successful leading investigations on NASA spacecraft missions, Margot said. Margaret Kivelson discovered an ocean under the icy crust of Europa nearly 20 years ago. Today, scientists are preparing the next mission to go explore Europa and evaluate its ocean's potential to host life, Margot said.
More recently, Chris Russell led the NASA Dawn mission, which was the first to explore the asteroids Ceres and Vesta, and Vassilis Angelopoulos led the THEMIS and ARTEMIS space weather missions, which discovered the power source for the aurora borealis, or northern lights. Angelopoulos also guided UCLA undergraduates in designing, building and testing the Electron Losses and Fields Investigation (ELFIN) CubeSats, scheduled for launch on Sept. 15 from Vandenberg Air Force Base. As UCLA's first student-run spacecraft mission, these twin micro-satellites will measure properties of Earth's magnetic field and radiation belts in response to the solar wind.
"UCLA benefits from this notoriety," Margot said. "It allows us to recruit the best students, postdocs, and researchers who are interested in working with the best people in their discipline."
Quelle: UCLA
+++
United Launch Alliance to Launch NASA's Parker Solar Probe
Launch window opens Aug. 11 at 3:33 a.m. ET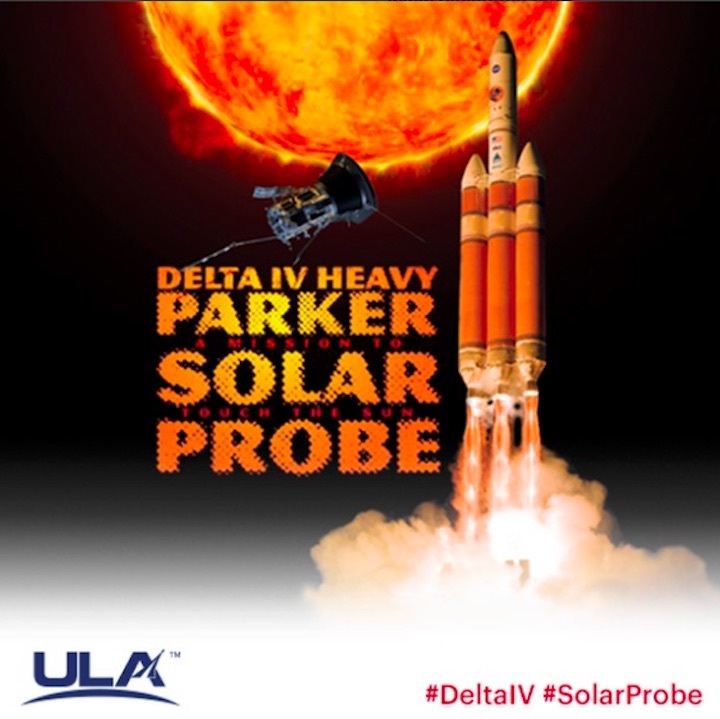 Cape Canaveral Air Force Station, Fla., (Aug. 7, 2018) – A United Launch Alliance (ULA) Delta IV Heavy rocket is in final preparations to launch NASA's Parker Solar Probe from Space Launch Complex-37 on Aug. 11. NASA selected ULA's Delta IV Heavy for its unique ability to deliver the necessary energy to begin the Parker Solar Probe's journey to the sun. After launch, the spacecraft will orbit directly through the solar atmosphere – the corona – closer to the surface than any human-made object has ever gone.

"ULA is honored to launch the one-of-a-kind Parker Solar Probe," said Tory Bruno, ULA president and CEO. "Only the Delta IV Heavy possesses the capability to deliver this unique mission to orbit, and we are proud to provide unmatched launch services to our NASA mission partners."

The Delta IV Heavy is the nation's proven heavy lifter, delivering high-priority missions for the U.S. Air Force, National Reconnaissance Office and NASA. With its advanced upper stage, Delta IV Heavy can take more than 14,500 pounds directly to geosynchronous orbit, as well as a wide variety of complex interplanetary trajectories.

This Delta IV Heavy is comprised of three common core boosters each powered by an Aerojet Rocketdyne (AR) RS-68A liquid hydrogen/liquid oxygen engine, producing a combined total of more than 2.1 million pounds of thrust. The second stage is powered by an AR RL10B-2 liquid hydrogen/liquid oxygen engine. Due to the extremely high energy required for this mission, the Delta IV Heavy's capability will be augmented by a powerful third stage provided by Northrop Grumman.

This will be the 37th launch of the Delta IV rocket, and the 10th in the Heavy configuration. To date ULA has a track record of 100 percent mission success with 128 successful launches.

With more than a century of combined heritage, United Launch Alliance is the nation's most experienced and reliable launch service provider. ULA has successfully delivered more than 125 satellites to orbit that aid meteorologists in tracking severe weather, unlock the mysteries of our solar system, provide critical capabilities for troops in the field and enable personal device-based GPS navigation.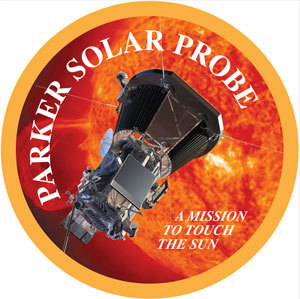 Quelle: ULA
---
Update: 10.08.2018
.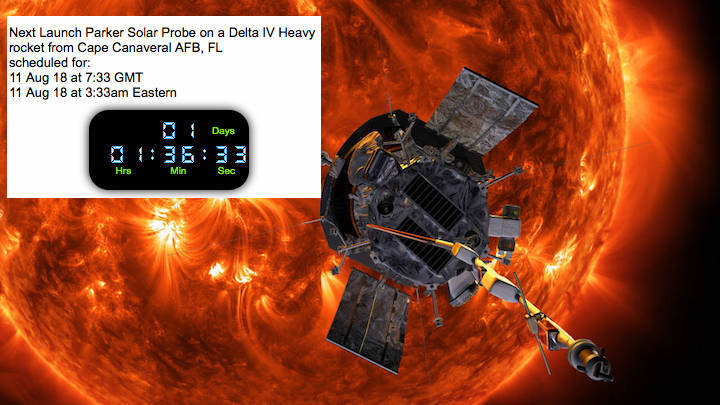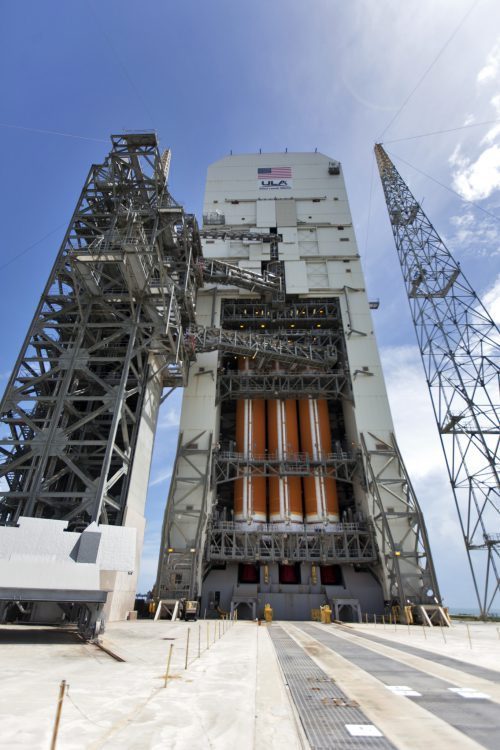 Quelle: AS
---
Update: 11.08.2018 / 7.30 MESZ
.
New Target Launch Time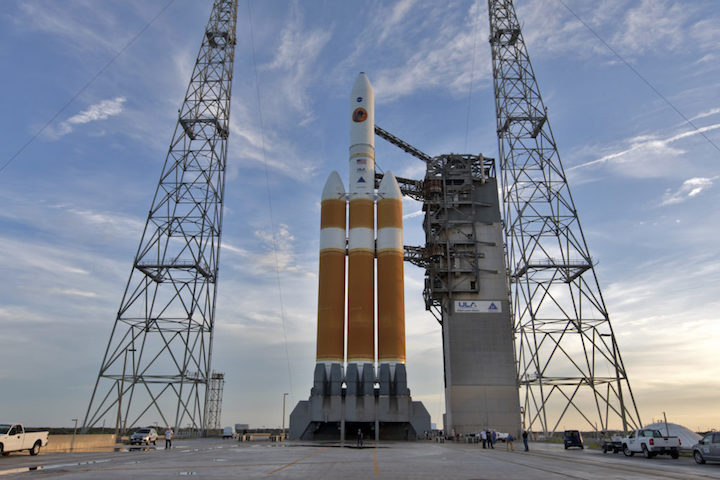 The launch team is targeting 3:53 a.m. EDT for liftoff of the United Launch Alliance Delta IV Heavy rocket carrying NASA's Parker Solar Probe. The countdown is in progress at Cape Canaveral Air Force Station's Space Launch Complex 37.
Join us here on the launch blog for updates from the countdown beginning at 3 a.m.
+++
Parker Solar Probe Ready for Launch on Mission to the Sun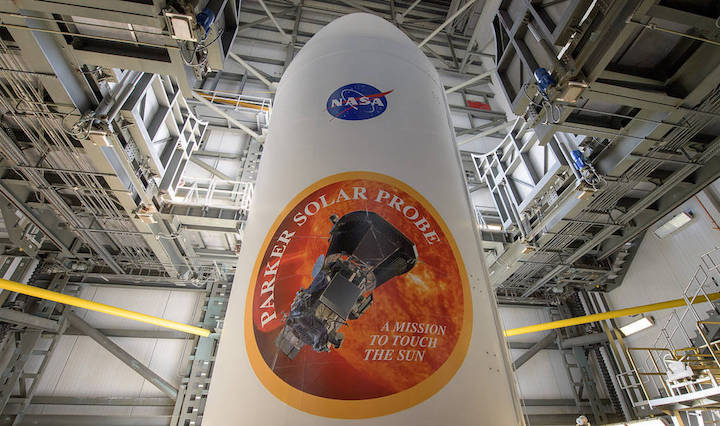 Packed safely inside the United Launch Alliance Delta IV Heavy rocket payload fairing, NASA's Parker Solar Probe is slated to launch on Saturday, August 11, 2018, at 3:33 a.m. EDT from Launch Complex 37, Cape Canaveral Air Force Station, Florida. The Parker Solar Probe will travel through the Sun's atmosphere, closer to the surface than any spacecraft before it. The mission will revolutionize our understanding of the Sun, where changing conditions can propagate out into the solar system, affecting Earth and other worlds.
+++
Update: 21.00 MESZ
.
Parker Solar Probe New Launch Date is Aug. 12
The launch of a United Launch Alliance Delta IV Heavy rocket carrying the Parker Solar Probe spacecraft was scrubbed today due to a violation of a launch limit, resulting in a hold. There was not enough time remaining in the window to recycle.
The launch is planned for Sunday, Aug. 12 from Space Launch Complex-37 at Cape Canaveral Air Force Station. The forecast shows a 60 percent chance of favorable weather conditions for launch. The launch time is 3:31 a.m. EDT.
Quelle: NASA
+++
Update: 12.08.2018
.
LIVE-Frams von NASA Parker Solar Probe Mission Start: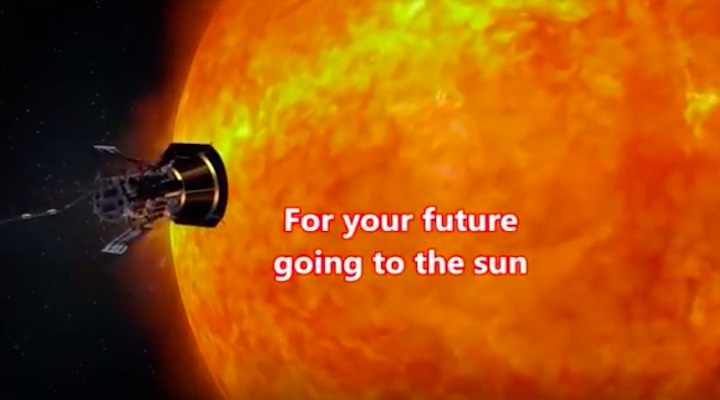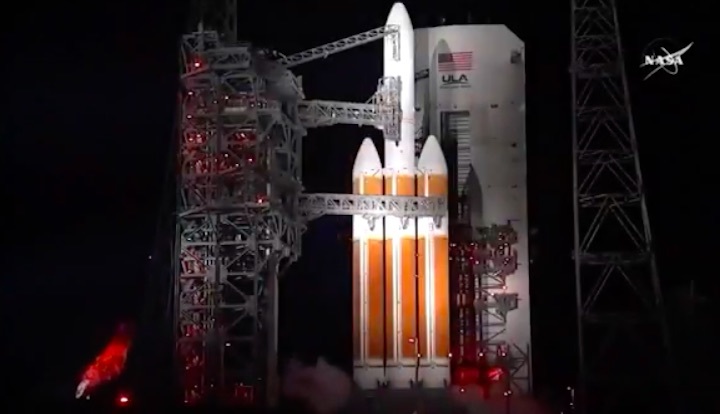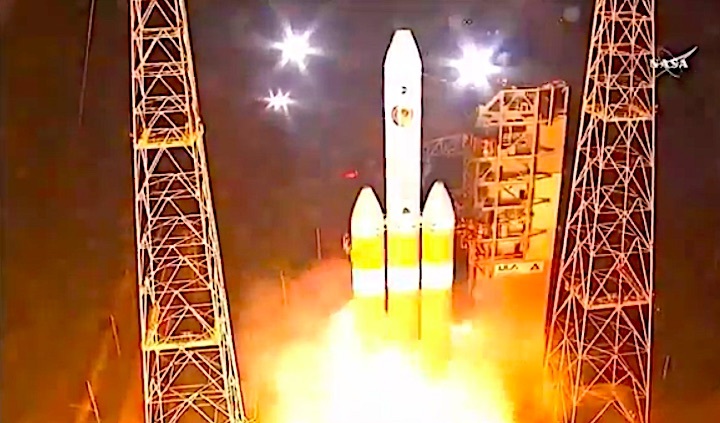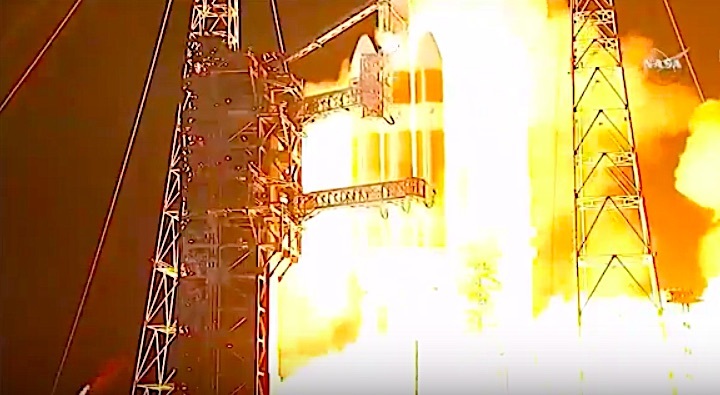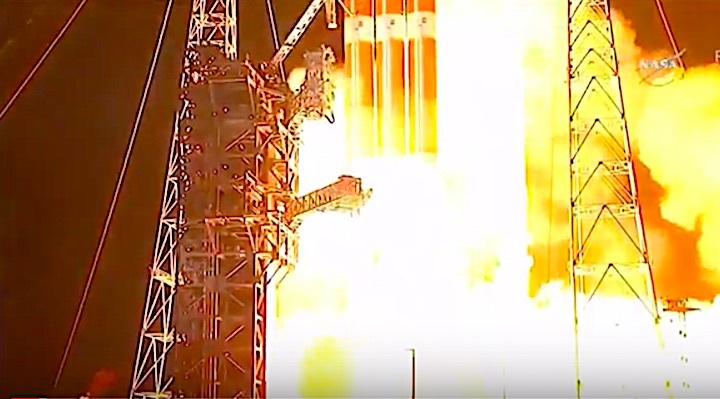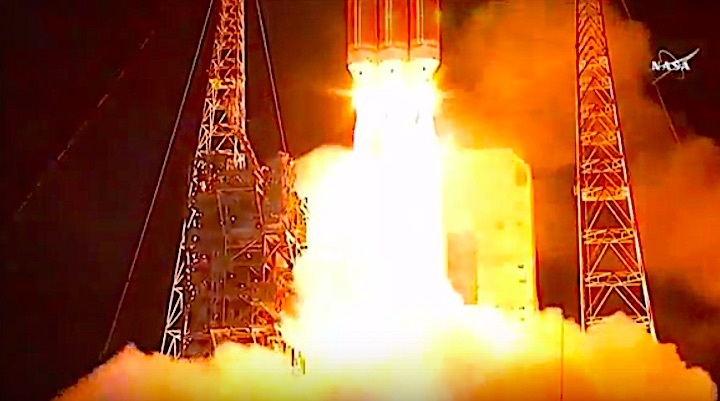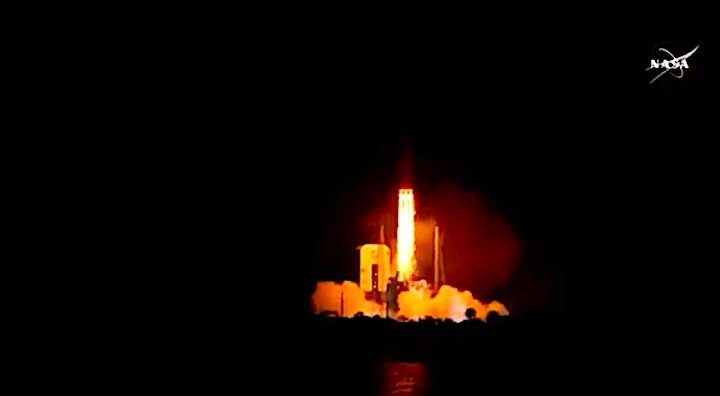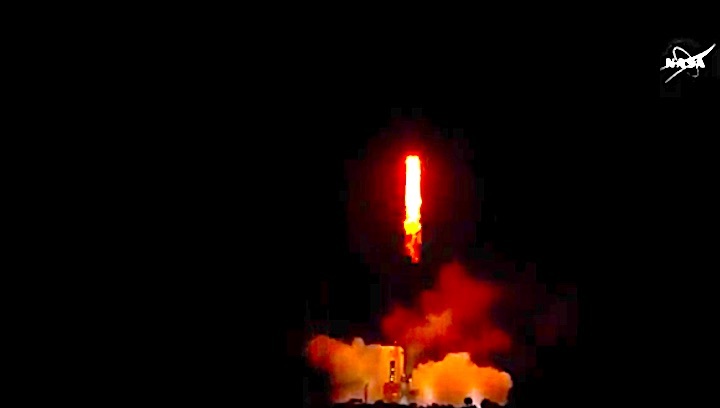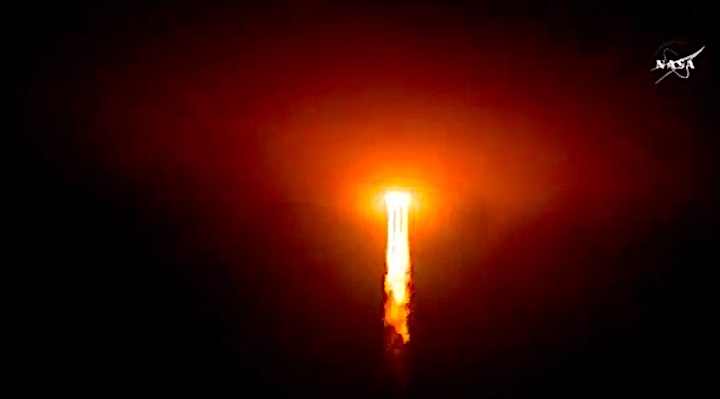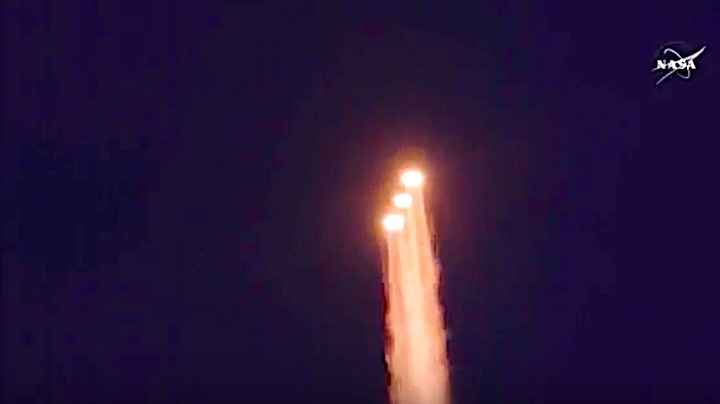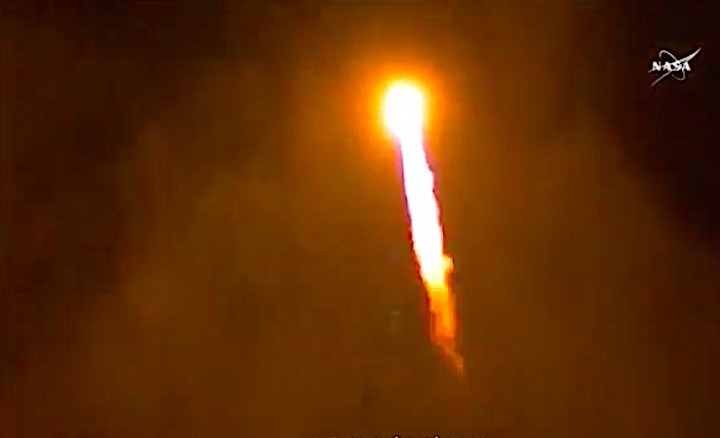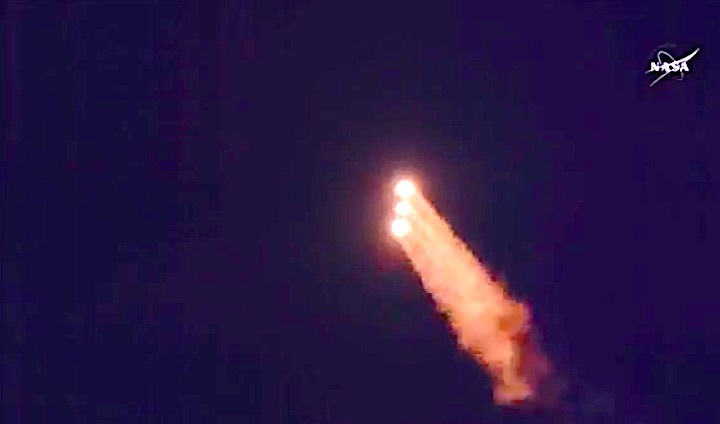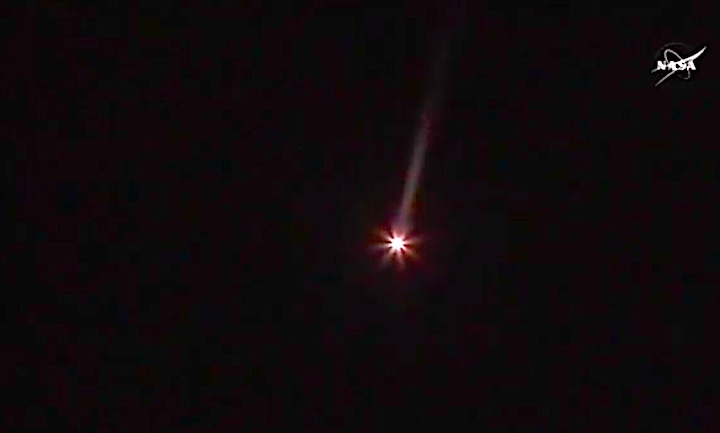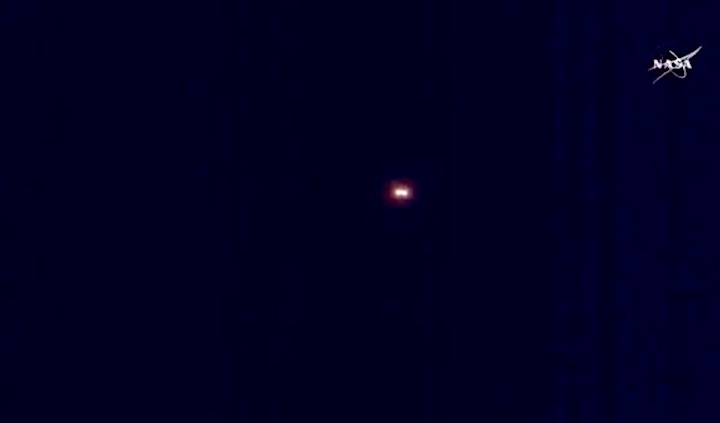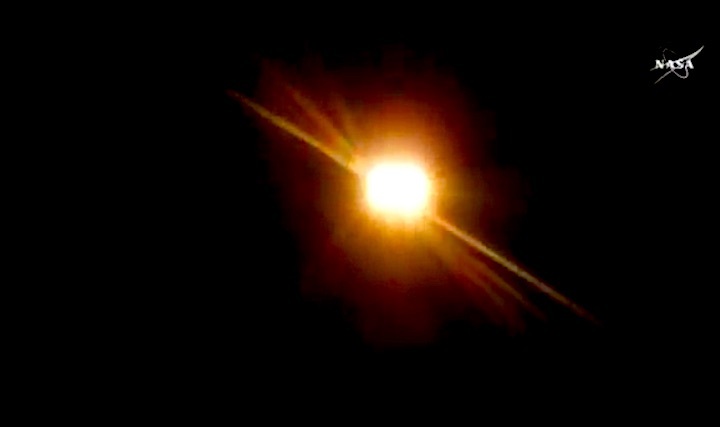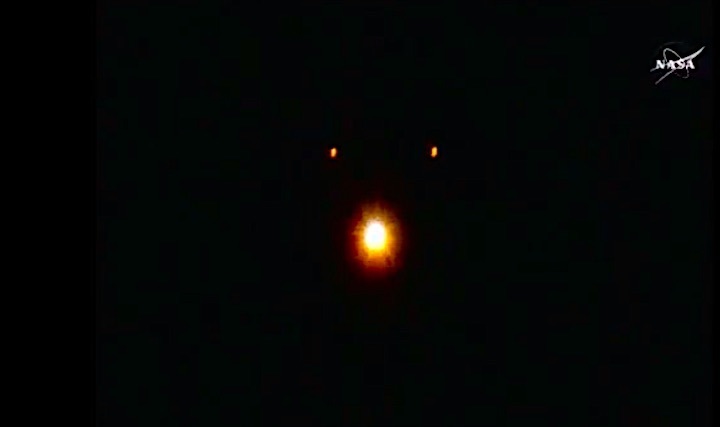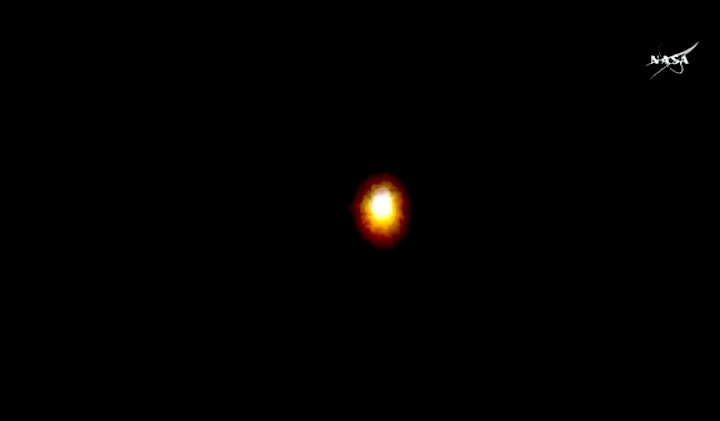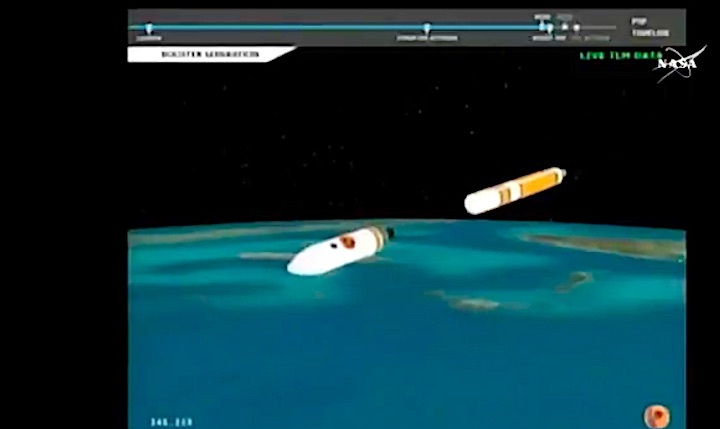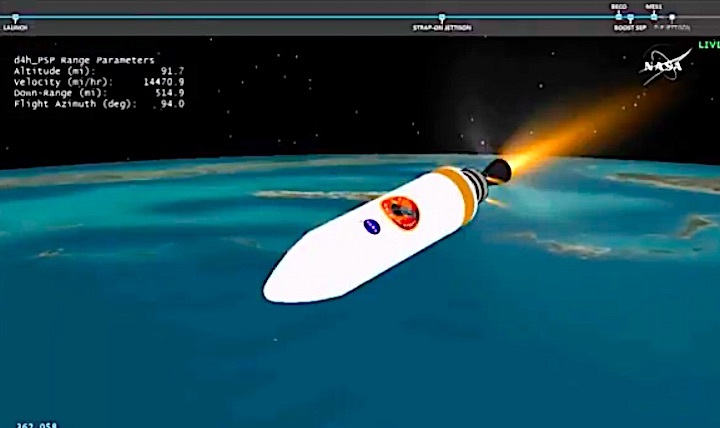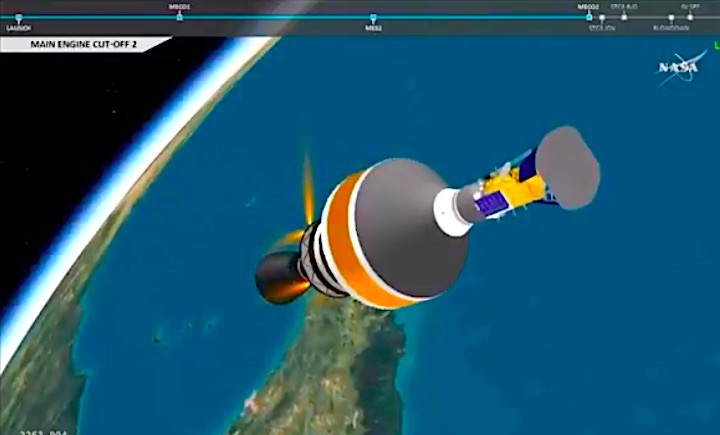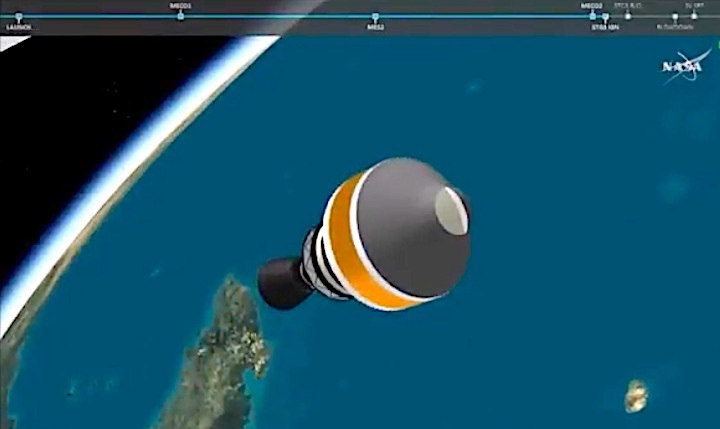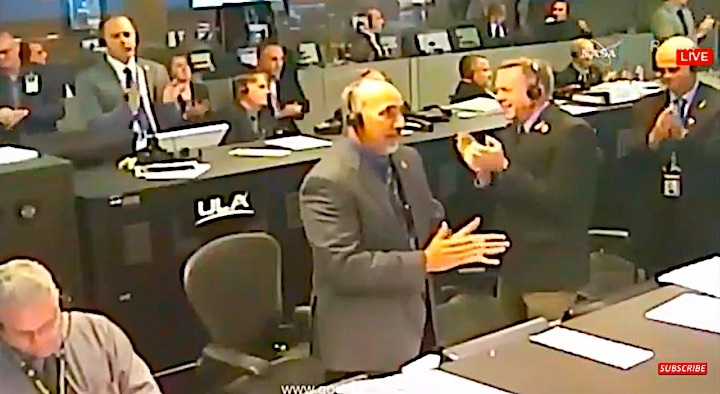 Quelle: ULA/NASA
+++
Delta IV Heavy rocket launches NASA's Parker Solar Probe to study the sun
Some scientists scoffed at University of Chicago physicist Eugene Parker's 1958 paper proposing the existence of a solar wind — a constant stream of particles flowing out from the sun that permeates the entire solar system.
Spacecraft quickly proved him right, and 60 years later, Parker looked on early Sunday as a NASA probe bearing his name rocketed from Cape Canaveral Air Force Station on a $1.5 billion mission to "touch" the sun and solve some of its persisting mysteries.
"All I have to say is, wow, here we go," said Parker, 91, after the launch he watched from Kennedy Space Center. "We're in for some learning over the next several years."
On its second attempt, the Parker Solar Probe — NASA's first mission named for a living person — rumbled from the Space Coast at 3:31 a.m. Sunday atop one of the most powerful American rockets, United Launch Alliance's 233-foot Delta IV Heavy.
A trio of first-stage boosters fired hydrogen-fueled engines to light up the night sky above Launch Complex 37, unleashing 2.1 million pounds of thrust to begin the probe's seven-year mission.
A second rocket stage fired and then an extra third stage provided the final kick needed to hurtle the relatively small, 1,400-pound spacecraft out of Earth's orbit and toward the sun, releasing it 43 minutes after liftoff.
"It went off like clockwork," said Omar Baez, the mission's NASA launch manager, said of Sunday's countdown and launch. "The energy of that (launch) vehicle, the immense size, and when you realize how tiny the Parker Solar Probe satellite is, and you have this big vehicle around it, it's just mind boggling."
In six weeks, the probe will use the first of seven flybys of Venus to perform the equivalent of a handbrake turn to fine-tune its trajectory. That will set up the first of 24 petal-shaped orbits around Earth's nearest star within a few months.
The first pass 15 million miles from the sun's surface will already be the closest by any spacecraft, a distance that will close to within 3.8 million miles by the closest approaches through the sun's super-heated outer atmosphere, or corona.
"While we have many missions dedicated to studying the sun from afar, we have never, ever had a mission to get this up close and personal," said Thomas Zurbuchen, head of NASA's Science Mission Directorate.
Parker's equations predicted the solar wind, but six decades later, scientists can't precisely explain the physics driving its acceleration or the corona's extreme heating.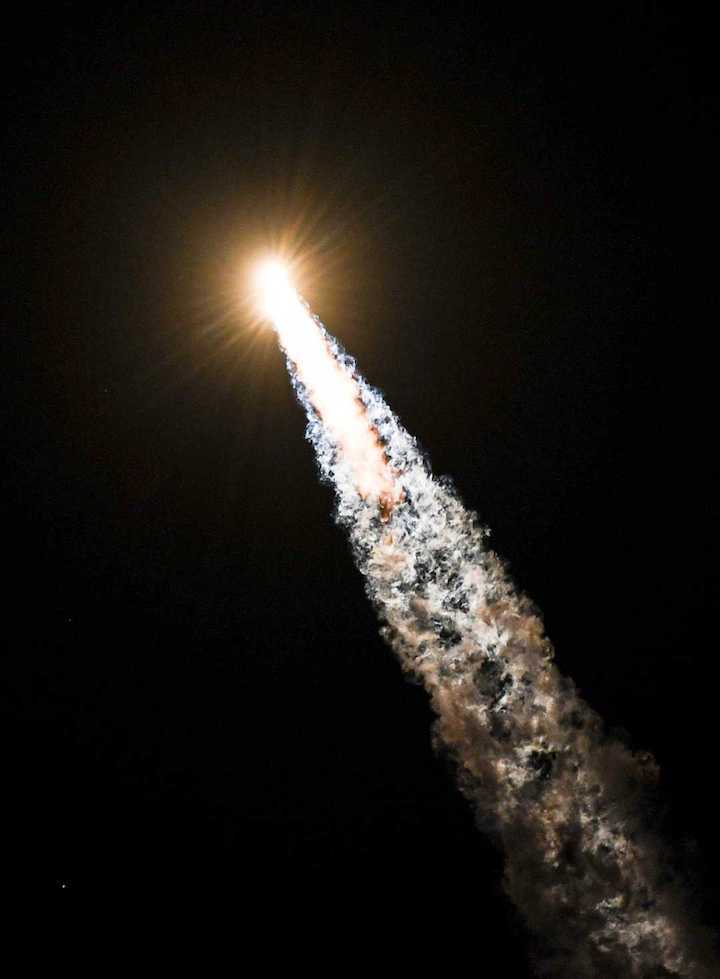 The corona, visible from Earth during last year's total solar eclipse as a fiery glow around the sun with wispy bands stretching outward, is far hotter than the roiling surface below it.
"We're used to the idea that if I am standing next to a campfire, and I walk away from it, it gets cooler," said Alex Young, a solar scientist at NASA's Goddard Space Flight Center in Maryland. "But this is not what happens on the sun. As we go from the surface of the sun, which is 10,000 degrees, and quickly move up into corona, we find ourselves quickly at millions of degrees."
It's also unknown what causes the solar wind to accelerate from a steady breeze to a supersonic flow, or what sparks violent solar storms that eject blobs of material at millions of miles per hour.
Theories have proposed waves and nanoflares, or a combination of them.
Pinning down those processes will advance understanding of how all stars work. It could also improve predictions of so-called space weather, which can damage satellites, endanger astronauts and disrupt power grids on Earth.
"It's of fundamental importance for us to be able to predict space weather much like we predict weather here on Earth," said Young.
[Will SpaceX Falcon 9 rocket three-peat?]
[Boeing Starliner astronauts make first official visit to Kennedy Space Center]
The Parker Solar Probe is equipped with four instrument suites to measure plasma, magnetic and electrical fields and energetic particles, and to image the regions the spacecraft is about to fly through.
The probe will charge into the sun's corona behind what engineers have nicknamed its "Eight-Foot Frisbee" — a heat shield measuring eight feet across and just four-and-a-half inches thick.
Consisting of two layers of carbon-carbon composite sandwiched around carbon foam, the front of the shield, coated with white ceramic paint, will withstand temperatures up to 2,500 degrees Fahrenheit. In the Frisbee's shadow, the spacecraft's body and most of its instruments will stay a comfortable 85 degrees.
How can the spacecraft survive in a region reaching millions of degrees?
"The corona is very tenuous plasma," said Nicola Fox, the mission's project scientist from the Johns Hopkins Applied Physics Laboratory in Baltimore. "If you think of putting your oven on and you set it at 400 degrees, and you can put your hand inside your oven and you won't get burned unless you actually touch a surface. And it really is the same."
But the Parker Solar Probe features multiple technologies to cope with the heat threat. It's the first spacecraft to actively cool solar array wings that are critical to generating power, and onboard sensors will react if any sensitive areas are exposed to excessive heat, commanding the probe to adjust its position.
Such automation is needed because sunlight takes eight minutes to reach Earth 93 million miles away. There's not enough time for engineers to receive signals, process them and return instructions before a problem could prove catastrophic.
"She has to be able to look after herself," Fox said of the probe.
By the time of its closest approach to the sun's surface, the Parker Solar Probe will be traveling at 430,000 mph, making it the fastest human-made object ever.
Mission scientists credited Eugene Parker with being the father of their field, heliophysics, calling him a superstar whose work underpins all of the mission's objectives.
Parker said he's particularly interested in learning more about the heating that occurs during explosive solar flares and storms.
"I suspect it's going to be complicated, and I suspect some of us will argue with each other as to exactly what's going on," he said before the launch. "But you've got data to work with, and you have a chance of getting it straightened out."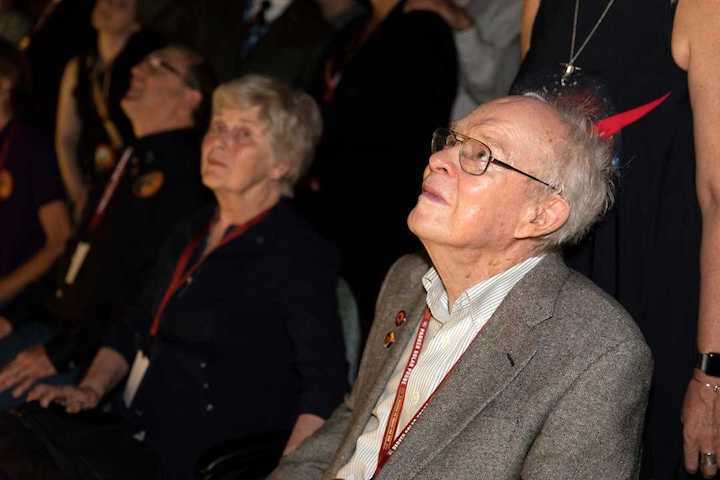 Sunday's flight of his namesake mission was the first rocket launch Parker had seen in person, an experience he likened to seeing the Taj Mahal up close rather than in pictures or on TV.
"Somehow when you're looking at the real thing, it's quite impressive," he told NASA TV.
Sunday's mission was United Launch Alliance's sixth of the year, and the third countdown in less than six days on the Eastern Range, starting with SpaceX's early Aug. 7 launch of an Indonesian satellite.
SpaceX is expected to shoot for its 16th launch of the year in the next two weeks, with a Falcon 9 rocket carrying a Canadian communications satellite.
Quelle: Florida Today
+++
NASA, ULA Launch Parker Solar Probe on Historic Journey to Touch Sun
Hours before the rise of the very star it will study, NASA's Parker Solar Probe launched from Florida Sunday to begin its journey to the Sun, where it will undertake a landmark mission. The spacecraft will transmit its first science observations in December, beginning a revolution in our understanding of the star that makes life on Earth possible.
Roughly the size of a small car, the spacecraft lifted off at 3:31 a.m. EDT on a United Launch Alliance Delta IV Heavy rocket from Space Launch Complex-37 at Cape Canaveral Air Force Station. At 5:33 a.m., the mission operations manager reported that the spacecraft was healthy and operating normally.
The mission's findings will help researchers improve their forecasts of space weather events, which have the potential to damage satellites and harm astronauts on orbit, disrupt radio communications and, at their most severe, overwhelm power grids.
"This mission truly marks humanity's first visit to a star that will have implications not just here on Earth, but how we better understand our universe," said Thomas Zurbuchen, associate administrator of NASA's Science Mission Directorate. "We've accomplished something that decades ago, lived solely in the realm of science fiction."
During the first week of its journey, the spacecraft will deploy its high-gain antenna and magnetometer boom. It also will perform the first of a two-part deployment of its electric field antennas. Instrument testing will begin in early September and last approximately four weeks, after which Parker Solar Probe can begin science operations.
"Today's launch was the culmination of six decades of scientific study and millions of hours of effort," said project manager Andy Driesman, of the Johns Hopkins University Applied Physics Laboratory (APL) in Laurel, Maryland. "Now, Parker Solar Probe is operating normally and on its way to begin a seven-year mission of extreme science."
Over the next two months, Parker Solar Probe will fly towards Venus, performing its first Venus gravity assist in early October – a maneuver a bit like a handbrake turn – that whips the spacecraft around the planet, using Venus's gravity to trim the spacecraft's orbit tighter around the Sun. This first flyby will place Parker Solar Probe in position in early November to fly as close as 15 million miles from the Sun – within the blazing solar atmosphere, known as the corona – closer than anything made by humanity has ever gone before.
Throughout its seven-year mission, Parker Solar Probe will make six more Venus flybys and 24 total passes by the Sun, journeying steadily closer to the Sun until it makes its closest approach at 3.8 million miles. At this point, the probe will be moving at roughly 430,000 miles per hour, setting the record for the fastest-moving object made by humanity.
Parker Solar Probe will set its sights on the corona to solve long-standing, foundational mysteries of our Sun. What is the secret of the scorching corona, which is more than 300 times hotter than the Sun's surface, thousands of miles below? What drives the supersonic solar wind – the constant stream of solar material that blows through the entire solar system? And finally, what accelerates solar energetic particles, which can reach speeds up to more than half the speed of light as they rocket away from the Sun?
Scientists have sought these answers for more than 60 years, but the investigation requires sending a probe right through the unrelenting heat of the corona. Today, this is finally possible with cutting-edge thermal engineering advances that can protect the mission on its daring journey.
"Exploring the Sun's corona with a spacecraft has been one of the hardest challenges for space exploration," said Nicola Fox, project scientist at APL. "We're finally going to be able to answer questions about the corona and solar wind raised by Gene Parker in 1958 – using a spacecraft that bears his name – and I can't wait to find out what discoveries we make. The science will be remarkable."
Parker Solar Probe carries four instrument suites designed to study magnetic fields, plasma and energetic particles, and capture images of the solar wind. The University of California, Berkeley, U.S. Naval Research Laboratory in Washington, University of Michigan in Ann Arbor, and Princeton University in New Jersey lead these investigations.
Parker Solar Probe is part of NASA's Living with a Star program to explore aspects of the Sun-Earth system that directly affect life and society. The Living with a Star program is managed by the agency's Goddard Space Flight Center in Greenbelt, Maryland, for NASA's Science Mission Directorate in Washington. APL designed and built, and operates the spacecraft.
The mission is named for Eugene Parker, the physicist who first theorized the existence of the solar wind in 1958. It's the first NASA mission to be named for a living researcher.
A plaque dedicating the mission to Parker was attached to the spacecraft in May. It includes a quote from the renowned physicist – "Let's see what lies ahead." It also holds a memory card containing more than 1.1 million names submitted by the public to travel with the spacecraft to the Sun.
Quelle: NASA
+++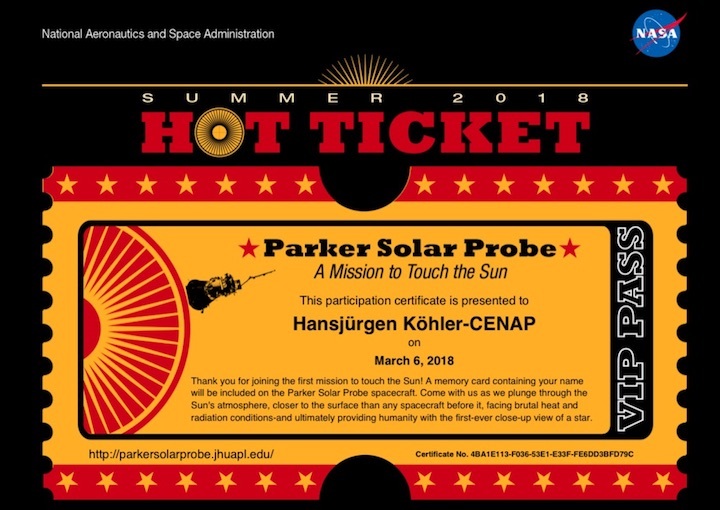 CENAP-Archiv
2877 Views