22.02.2018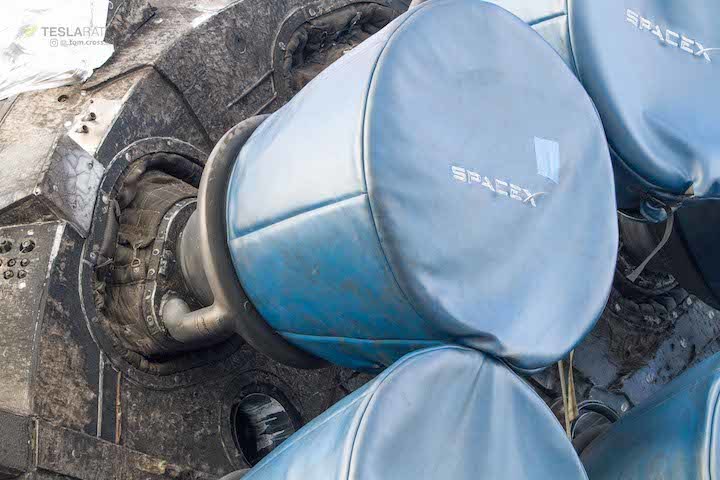 Less than two weeks after SpaceX's Falcon Heavy performed a simultaneous first-stage landing, the Elon Musk-led space company has completed the process of recovering the massive rocket's two side boosters, both of which can now lay claim to supporting two separate orbital missions. However, while fascinating in its own right, more interesting is the fact that SpaceX has chosen to very publicly display one of those two boosters front and center at the Kennedy Space Center Visitor Center (KSCVC).
It is likely no coincidence that the National Space Council is scheduled to have their second-ever meeting at Kennedy Space Center this Wednesday. One can readily imagine that SpaceX's vast, sooty, flight-proven Falcon rockets can be quite an imposing and impressive sight, and it appears that the launch company is hoping to thoroughly impress the Space Council on Wednesday.
Regardless of odd and interesting jockeying, the Falcon Heavy booster display is an absolutely unprecedented opportunity in SpaceX history, and Teslarati's East coast photographer Tom Cross jumped on it. This rocket display is easily the first time the general public has ever been allowed to get so close to fresh rocket hardware, let alone the entire booster of a brand new launch vehicle. Tom has captured some extraordinarily detailed photos of various flight-proven rocket hardware, ranging from titanium grid fins to Merlin engines and even more esoteric parts, like landing leg connecting points.
TITANIUM GRID FINS
Appearing nearly unscathed after exposure to reentry temperatures that are often less kind to aluminum, SpaceX's second flight-test of titanium grid fins has been a resounding success. It's been hinted by CEO Elon Musk that these massive pieces of cast metal are probably the most expensive individual components on a Falcon 9, and they certainly look every bit the part. Check out these pieces of metalworking art in the best detail yet.
1060 Views