18.01.2018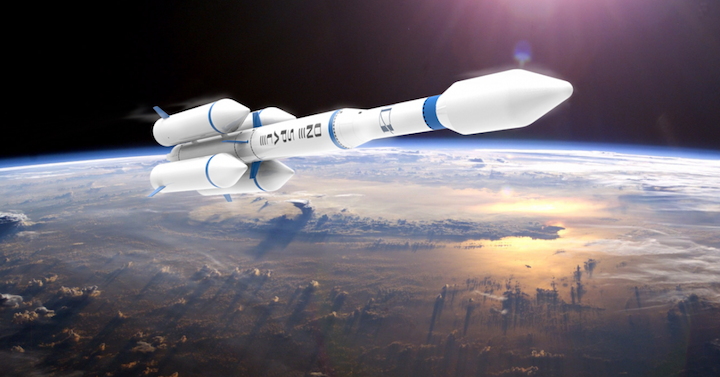 One of China's emerging commercial launch vehicle companies has its sights on June for the first launch of its new rocket series, which could mark a huge step towards the goal of providing a range of low-cost launch services.
OneSpace has said it expects to launch its first OS-X1 rocket, designed for suborbital flights to provide high-altitude research and test services, in June following successful tests of its solid-propellant engine last month.
The first of the larger OS-M rocket series, the OS-M1 rocket, will later provide low-cost, light-lift launch services for low Earth (LEO) and Sun-synchronous orbits (SSO).
OS-M1 will be capable of lifting 205 kg to 300 km altitude LEO, and 73 kg to 800 km SSO. It recently completed wind tunnel tests and will have a maiden flight around the end of the year. Future OS-M series rockets may be made reusable, the company says.
OneSpace Technology Co. has just received new financing from Qianhai Wutong Mergers and Acquisitions Funds, China Merchants Capital, Zhengxuan Investment and others to develop its products, assembly base and other plans.
The company has been described, like other commercial Chinese rocket companies, as China's SpaceX, but OneSpace has both a long way to go to establish itself, facing state-owned and commercial competition, and is looking to a different market.
The startup is targeting the market for small launch vehicles, carrying micro and nanosatellites, whereas SpaceX, with its Falcon 9 rockets - which have been landed and launched once again - is lofting much larger satellites to LEO and geosynchronous orbits. Its new Falcon Heavy rocket, meanwhile, is awaiting a static fire test and will become the world's largest active rocket upon launch.
Government contracts for space launches are fulfilled by the China Aerospace Science and Technology Corporation (CASC), while others are also eyeing up contracts from the nascent commercial satellite sector in China.
However, CEO Shu Chang says OneSpace has already received close to ten orders for launch services, including major customers in the domestic satellite sector and possible strategic partnerships with European satellite firms.
Commercial space opens in China
OneSpace, headquartered in Beijing, was established following the announcement of a government initiative to promote integrated military and civilian development, which included the opening up of the space sector to commercial participation.
OneSpace received support from the State Administration for Science, Technology and Industry for National Defence (SASTIND), and has raised 500 million yuan (US$77.6m) through finance rounds since its establishment in summer 2015, according to Tencent Technology.
In May 2017, OneSpace received government support in the form of funding from the municipal government of Chongqing, where the company is establishing a research and development centre and manufacturing and assembly base.
In December in Jiangxi Province, OneSpace successfully conducted an ignition test of the solid-propellant rocket engine for the OS-X.
The test lasted 35 seconds and verified the engine's design and components, clearing the way for the expected maiden launch in June.
China's commercial rocket players
OneSpace is far from alone. The China Aerospace Science and Industry Corporation (CASIC), the country's largest missile-maker, is looking to establish itself in the market through subsidiary Expace, which has flown early models of its Kuaizhou solid-propelled launch vehicles and is developing much larger and heavier rockets.
The Kuaizhou-1A debuted in January 2017 and this year will be used for four launches inside a week. The larger 78-tonne Kuaizhou-11 is expected to have its maiden flight in the first half of this year.
There are much bigger ambitions, too. Last year Expace began developing a solid rocket engine with a diameter of over 4 metres and a liftoff thrust of more than 1,000 metric tonnes.
The engine will be used with Kuaizhou 21 and Kuaizhou 31 rockets, with planned capabilities of lofting 20 and 70-tonne payloads to low Earth orbit, according to Liang Jiqiu, chief designer of Kuaizhou rockets at CASIC.
Two other companies, Landspace and Linkspace, will also soon have operational launch vehicles if all goes according to plan. Landspace's LS-1 rocket is another that could fly for the first time this year.
Linkspace is, more ambitiously, developing a launcher with a reusable first stage and succeeded early with a vertical takeoff and vertical landing (VTVL) test in early January.
The NewLine-1 rocket will use RP1 and liquid oxygen propellant and have a reusable first stage. It will be capable of lifting 200 kg of micro- and nanosatellites to 500 km altitude SSO and is expected to have its maiden flight in 2020.
Quelle: gbtimes
----
Update: 29.01.2018
.
China To Launch Its First Privately Developed Rocket In June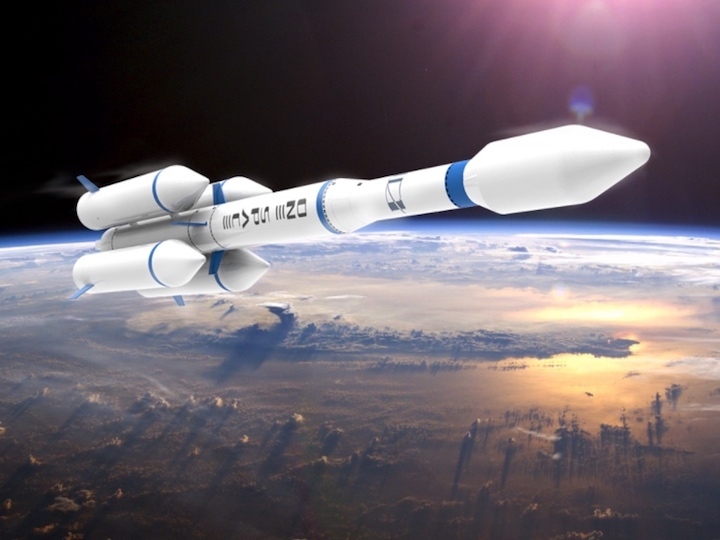 OneSpace, a Beijing-based start-up developing commercial rockets, is set to launch its first rocket in June this year, which will be the first privately-manufactured rocket to be launched in China.
The company plans to launch an eight-meter-long mini rocket, with a six-meter solid propellant rocket engine that can generate a thrust of 35 tonnes, according to state-owned media reports.
"Sophisticated programs like deep space exploration are for China's national rocket development team. As a private company, we focus more on commercial development, namely, efficiency and cost (benefits)," said Shu Chang, founder of OneSpace during an interview with Chinese media.
The market size of global commercial aerospace is expected to reach US$485 billion by 2020, and that number for China is estimated to reach around US$125 billion, according to state-owned media.
Chinese private space launch companies are developing rapidly in recent year. Last month, ExPace completed a new funding round of US$182 million to support its development and the launch of its solid-fueled carrier rocket Kuaizhou. Last January, another start-up Landspace formed a partnership with Danish firm Gomspace, aiming to launch its rocket LandSpace-1 carrying Gomspace's satellites later this year.
In addition, China also launched its first cargo spacecraft Tianzhou-1 last April to test the transfer of liquid propellant to the orbiting Tiangong-2 lab, as well as to carry out 14 experiments in space. In the same month, the country also launched a 100% self-made communications satellite named Shijian-13, which provides wifi coverage to the most remote areas in China, as well as on airplanes, high-speed rail trains and cruise ships in the country.
OneSpace was founded in 2016. It specializes in developing small carrier rockets and provides space launch services. The company claims to be the first private firm with solid-propellant rocket technology in China.
Earlier this month, OneSpace raised an undisclosed amount of new funding round led by Qianhai Wutong Mergers and Acquisition Funds, with participation from China Merchants Capital, Tongkong Investment Group and Zhengxuan Investment. At that time, the start-up said it has raised an aggregate of RMB500 million (US$79 million) since its establishment.
Quelle: CMN
1208 Views