Two of the teams competing in the Google Lunar X Prize competition have agreed to share a ride to the Moon next year. The Japanese team, HAKUTO, announced today that Indian group Team Indus will carry its four-wheeled lunar rover to the Moon's surface. Team Indus announced this month that its spacecraft — a lunar lander and rover combo — is slated to ride on a PSLV rocket, a proven vehicle developed by the Indian Space Research Organization. HAKUTO's rover will ride to space on the lander Team Indus is developing.
The ride-share agreement and launch contracts have been officially verified by X Prize, which means HAKUTO can move forward in the competition. "We're proud to verify HAKUTO's launch agreement and are pleased to see two Google Lunar X Prize teams collaborating on this mission to the Moon," Chanda Gonzales-Mowrer, a senior director at Google Lunar X Prize, said in a statement. "The purpose of this prize was, in part, to foster collaboration in the private sector and this is a great demonstration of teams coming together in the next giant leap in space exploration."
Hakuto's rover design. (Hakuto)
The Google Lunar X Prize is an international competition aimed at sending the first private mission to the Moon. In order to win, one of the 16 competing teams has to land a robotic spacecraft on the Moon, move the vehicle up to 500 meters (1,640 feet) on the lunar surface, and send back high-definition photos and videos to Earth. Additionally, each team has to fund its mission privately and can't receive more than 10 percent of funding from a government entity. The first team to meet all of this criteria before the competition's deadline — December 31st, 2017 — will win $20 million, while the second place team will receive $5 million. Other cash prizes will be given to teams that perform special feats on the Moon, such as visiting an Apollo landing site.
While the deadline to get spacecraft to the Moon is still a year away, there isn't much time left for the rest of the teams in the competition to secure a launch contract. One rule of the contest is that rides to space must be booked and verified by X Prize in before the end of 2016 in order for teams to move forward to the next phase of the competition. And so far, only a handful of teams have verified launch contracts.
The first team to receive verification for its launch contract was the Israeli nonprofit SpaceIL, followed by the American-based company Moon Express, which has already received regulatory approval for its mission. SpaceIL's lander will be flying as a secondary payload on one of SpaceX's Falcon 9 rockets, while Moon Express plans to fly its MX-1 lander on an experimental rocket called Electron, which is manufactured by a startup called Rocket Lab. The Electron has yet to fly for the first time, however.
Meanwhile, only two other teams — Team Indus and an international group Synergy Moon — have secured verified launch contracts. A German-based team called Part-Time Scientists says it has signed a deal with Spaceflight Industries to launch a pair of lunar rovers as a secondary payload on a rocket that hasn't been identified yet. But until X Prize announcement means just five groups have met all the requirements to move on to the next phase of the competition. But 2016 isn't over yet, so it's possible a few more teams may book a ride to space before the year is out.
Updated December 21st 7:30AM ET: This article was updated to clarify the agreement between HAKUTO and Team Indus.
Quelle: THE VERGE
---
Update: 17.03.2017
.
TeamIndus picks Italian, Indian experiments for moon
Space4Life, a student team from Naples in Italy, has won the contest to send an experiment to the moon on the TeamIndus spacecraft in December this year.
A second experiment from the Central University at Thiruvarur has also been chosen. It will be sponsored by Bengaluru-based biopharmaceuticals company Biocon Ltd., TeamIndus announced on Wednesday.
TeamIndus is itself taking part in the $20-million Google Lunar X Prize contest along with four other global teams. Its lander is scheduled to take off on the Indian PSLV rocket tentatively on December 28 and land on the moon on January 26 next year, carrying its own cameras and these experiments.
The GLXP contest is for the first private-funded spacecraft that will land on the moon, briefly roam its surface and send pictures and videos.
Announcing the results of the contest that was opened last year, Sheelika Ravishankar, a senior TeamIndus official, said six more teams can be accommodated if sponsored. They include three Indian, a Peruvian, a British and a U.S. proposal.
'Great potential'
Former ISRO Chairman and member of the three-person jury, K. Kasturirangan, was quoted as saying: "The data results from [Space4Life's] experiment have the potential to dramatically impact mankind."
Dr. Natarajan called them potentially transformational experiments, some of which had been tested only closer to earth, as on the International Space Station.
Quelle: The Hindu
+++
Italy's Team Space4Life wins Lab2Moon Challenge
Its experiment on using a bacteria shield against radiation will fly TeamIndus Spacecraft to moon
Italy-based Team Space4Life has won the first opportunity in more than 40 years to send an experiment to the lunar surface under the Lab2Moon Global Challenge for youth, called out by TeamIndus, in a privately funded initiative.
Earlier, Team Indus became the only Indian team to qualify for the $30-million Google Lunar XPrize, that will land a rover on the Moon by the year end.
Team Space4Life comprising Mattia (16), Dario (22) and Altea (18) proposed an experiment to test the effectiveness of using a colony of Cyanobacteria as a shield against harmful radiation in space. The team's prototype met the stringent criteria of weighing less than 250 gm, being the size of a regular soda can and being able to connect to the spacecraft's on-board computer.
Team Zoi from India, comprising a brother-sister duo — Santosh (25) and Sukanya Roychowdhury (22) along with Arizona-based Autumn Conner (24), which proposed an experiment to explore photosynthesis on the Moon, was placed second; their experiment will also fly to the Moon.
Both the teams will now work closely with TeamIndus engineers to make their experiments space worthy, for the journey of a lifetime. Lab2Moon inspired over 3,000 teams from 15 countries including the US, India, Italy, Spain, the UK and Peru, to send in ideas for experiments that will help build sustainable life on the Moon. Twenty five teams were shortlisted, of which 15 teams made prototypes that were presented over the last three days in Bengaluru to an international jury comprising K Kasturirangan, former Chairman of ISRO; Alain Bensoussan, former President of CNES and former Chairman of Council, European Space Agency and Priyamvada Natarajan, Professor, Department of Astronomy and Physics at Yale University.
On what made Team Space4Life the winning choice, Natarajan said: "We looked at the exploitation of the opportunity, the relevance to the potential future of human establishment on the Moon, the feasibility, scalability and the demonstration that this is workable. The rigour, creativity of the idea and how radical it is in terms of not just how it related to previous work but, the vision was a case of passion combined with vision." Providing perspective to what it means to future space exploration, she said: "If you look at the exploration of space in the last few years, with the discovery of all these extra solar planets, our cosmic vista of how important we are as a species has taken on a special urgency. The amazing space prophet Konstantin Tsiolkovsky realised 150 years ago that the problem of human beings colonising space is not going to be an engineering limitation but will be a biological problem."
The key issue therefore, she pointed out, is going to be whether we as human beings can survive in other climes — on the Moon, or in Mars or elsewhere. We were really impressed with the range of ideas that were biologically motivated and those that were motivated by Physics, she said. Six additional teams also qualified to fly to the moon, of which Team Callisto, TeamEARS and Team Kalpana are from India; Team Killa Lab (Peru), Team Lunadome (UK), Team Regolith Revolution (United States).
Quelle: BL
---
Update: 22.07.2017
.
TeamIndus vying to put a vehicle on the moon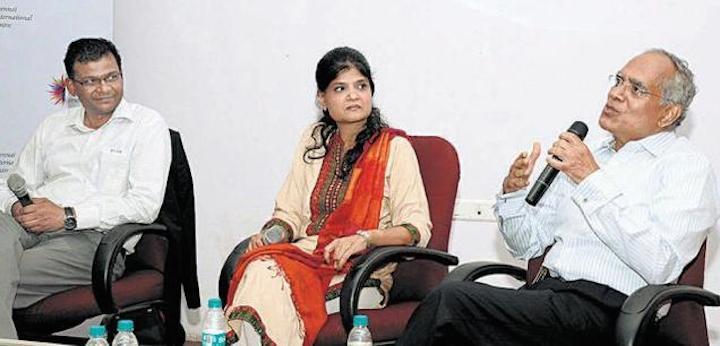 The ₹500-cr project will land a lunar vehicle using ISRO's PSLV rocket
In just a few months, India will probably lay claim to a small piece of real estate on the moon. That is once TeamIndus, the country's privately-funded space pioneers, land a rover on Earth's closest neighbour in space.
Yes, when earthlings land a craft on the moon, a two-km radius around the vehicle becomes sovereign territory. The US owns a piece of it, so do Russia and China.
As of now, there is a 80 per cent chance of that happening and in six to nine months when the actual launch happens the probability of success will go up to over 90 per cent, says Rahul Narayan, Founder, TeamIndus, who leads a 120-member group of young enthusiasts, including engineering students and those with a maximum of about five years experience, supported by about a couple of dozen scientists from ISRO. This is the Indian contingent that has been selected as one of 30 international teams that are vying to put a vehicle on the moon, through an entirely privately funded project.
Addressing the gathering at an event organised by the Chennai International Centre, Narayan, who is aiming for the moon literally, said the ₹500-crore project will not only land a lunar vehicle using ISRO's PSLV rocket, but the vehicle will have to move 500 metres and send back data to win the challenge. What he thought would be a two-month project back in 2011, is still a few months away after about seven years. But well on its way to achieving what no Indian has done before.
ISRO has set a vehicle in lunar orbit, but this will be for the first time someone is going to land a vehicle on the moon, he pointed out.
Sheelika Ravishankar, who goes by the designation of Jedi Master on the team, said there is a chance for nine cities to become a part of mission operation centres that can monitor the run-up to the launch and the rest of the programme. All it takes will be for 200 people to fork out about ₹5 lakh each for TeamIndus to set up a mission centre.
Lakshmi Narayanan, Co Founder, Cognizant Technology Solutions, said the space programme is not about a conventional investment opportunity but something that "needs to be done for the future".
Quelle: The Hindu
+++
Bengaluru firm eyes to land first private spacecraft on moon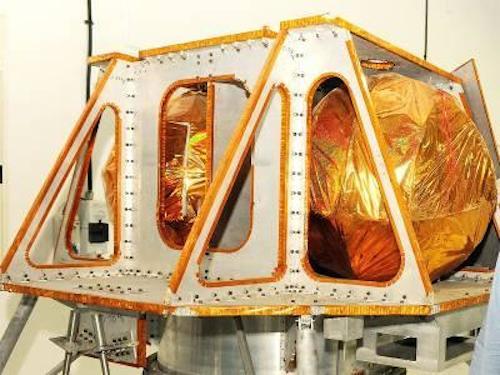 Team Indus has designed and developed the 600kg spacecraft and a 6kg rover.
CHENNAI: If everything goes as planned, this December,
the Bengaluru-based Team Indus+
will become the first private firm in the world to land a
spacecraft
on the
moon
. The company is now just a step away from building the flight model that will be flown onboard a PSLV from Sriharikota spaceport.
"We have built a qualification model of the spacecraft, which will undergo rigorous testing at Isro's test facility in August second week. The next step will be building the flight model, which will be flown," said Sheelika Ravishankar, in-charge of the firm's marketing. On Friday, founder of the company, Rahul Narayan, an IIT-Delhi alumnus, gave a presentation about the
lunar mission
at an interactive session
'Mission to the Moon: Fueled by Ambition'+
organised by the Chennai International Centre.
The company is
one of the five finalists in the Google Lunar X Prize competition+
that seeks teams to successfully land a 90% private-funded spacecraft on the moon, travel 500m on its surface and transmit images and videos back to earth. Other teams include two from the US and one each from Israel and Japan.
Guided by two dozen retired Isro scientists, a team of more than 100 have designed and developed the 600kg spacecraft and a 6kg rover. Besides carrying their own
rover
ECA or Ek Chhoti si Asha (a small hope), the spacecraft will also carry a rover built by the competing Japanese team — a student-built cube sat that will orbit the earth for 90 days and instruments that will conduct eight student-built experiments. The craft will also carry cameras for the French space agency CNES.
Explaining the lunar mission, Rahul Narayan said once the spacecraft gets separated from the launch vehicle — about 15 minutes after takeoff — it will circle the earth twice, each time raising its altitude. On board engines will then be fired to reach the trans-lunar injection, a trajectory leading to the moon. From there, the spacecraft will begin a five-day journey covering about 3.8 lakh km from earth to the moon. About 120km from the moon, the engines will be shut and fired again to get to a lower orbit where it will remain stationary for four days. At the crack of dawn, the spacecraft will make its descent.
"We will land on Mare Imbrium, a crater the size of Europe. Russia and China had landed there," he said.
The trickiest part in the entire mission is the landing. As the spacecraft manoeuvers and reduces its velocity from 1.3km per sec to 0km per sec while landing, it also has to simultaneously correct its altitude, select a landing area and avoid obstacles.
With expertise from Isro gone into making the spacecraft, Narayan said he sees a 93% probability of making a precise landing on the lunar surface. Isro has also planned its second lunar mission Chandrayaan-2 in the first quarter of 2018.
Quelle: The Times of India
---
Update: 18.08.2017
.
TeamIndus and competitors get three-month extension to land on moon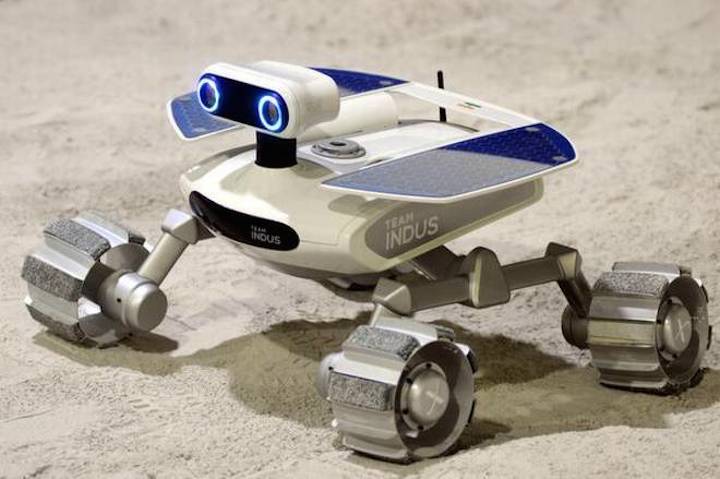 Team Indus, a Bengaluru based space startup, is one of the five global teams to qualify for the Google Lunar XPrize. | Photo Credit: Sudhakara Jain
-
The deadline to land on Moon is now extended to March 31 next year instead of December 31 this year, according to hosts Google and XPRIZE.
Lone Indian Moon landing contestant TeamIndus and its four global competitors on Wednesday got a three-month extension from contest organisers to complete their space feat.
-
The deadline to land on Moon is now extended to March 31 next year instead of December 31 this year, according to Google and XPRIZE who announced the contest a few years back.
Bengaluru-based TeamIndus had recently said it was readying a spacecraft version for qualification tests with ISRO. It has hired ISRO's PSLV rocket to send its spacecraft, ECA, to Moon on or around December 28.
Rahul Narayan, its board member and Fleet Commander, said, "While we have been working hard on an aggressive timeline, the change of date allows us to continue work with that fervour to make sure that the mission makes history."
(India's first private moon mission)
The winner who first lands on Moon, moves a rover for 500 metres and sends photos back as proof gets a grand prize of $ 20 million. Organisers said they had added a few more prizes worth $ 4.5 million for 'in space' milestones, as well as a second prize.
The other finalist teams who each have a verified launch contracts are: SpaceIL (Israel), Moon Express (USA), Synergy Moon (International) and HAKUTO (Japan).
Quelle: The Hindu
---
Update: 6.10.2017
.
Google Moon Mission Aspirants Want 'Every Indian's Shot At The Moon'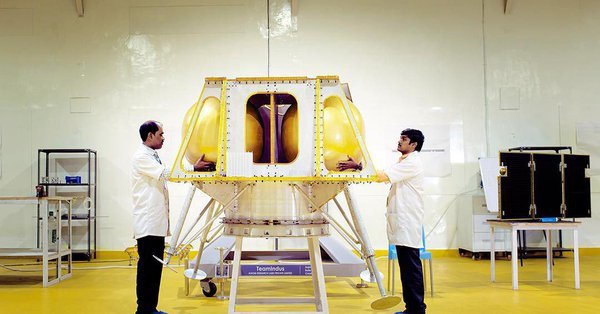 TeamIndus is taking part in the Google Lunar XPRIZE competition where private teams are rushing to meet the deadline for the launch.
NEW DELHI: The mission is called 'HarIndianKaMoonshot'. A group called TeamIndus is working away to be the first privately funded group to land on the moon and send a robot to travel at least 500 metres on the moon surface and send back high-quality images to Earth.

TeamIndus is taking part in the Google Lunar XPRIZE competition where private teams are rushing to meet the deadline for the launch.

Former ISRO scientists are bringing their experience to support the team.

This was a crucial week for TeamIndus as a panel of judges visited Team Indus's Bengaluru facility to see their progress and review their Mission Plan. The 5 day visit of space scientists and aerospace engineers included a look at the models of the spacecraft and the moon rover ECA. A simulation of the mooncast was also included.

The panel Chairman, Professor Alan Wells, winner of the Arthur C Clarke Lifetime Achievement Award, said they were impressed by the Team's progress. Independent judge, John Zarnecki, Director at the International Space Science Institute in Bern, Switzerland, told NDTV "We were checking parameters like whether the rover would actually be able to go and cover the required 500 metres. We can't go to the moon and check! We were very impressed with what we saw."


Amanda Stiles, Technical Director GLXP, told NDTV "After they won the one million dollar prize back in 2015, I knew this place deserved close attention. They are doing really well."


The journey began back in 2010. The team now has over 100 engineers and 20 former ISRO scientists. One of the veterans, V Perumal, whose designation is a rather jazzy Jedi Master spent 36 years with ISRO. He told NDTV, "I think the judges were more than satisfied with what they saw." His young colleague, Adithya, a Systems Engineer, said "It is so great to work with the experiences people from ISRO -the work of ISRO was what made me join this field. We don't know what the other 4 top teams are planning, but I think we have a good shot at winning.

TeamIndus has a contact with ISRO to launch its spacecraft on the PSLV - XL which will inject the spacecraft into the Earth's orbit. The team then needs to land the spacecraft on the moon and have its rover travel on the moon and send back images.

Two years ago, TeamIndus had won a million dollar prize for demonstrating the landing technology of its spacecraft on the moon.

The 30 million dollar Google Lunar XPRIZE was launched to encourage low cost robotic space exploration.

Quelle: NDTV
---
Update: 5.12.2017
.
To find $35 million to get to moon, Team Indus will try crowd-funding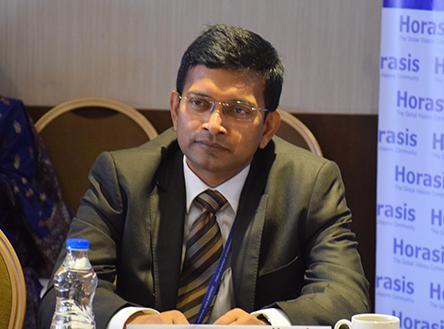 TeamIndus, a private aerospace start-up, and the only Indian team attempting to launch a spacecraft on the moon, is exploring crowd funding, sponsorship and ticketing route as possible fund raising options.
The start-up which has, so far, raised $35 million (approximately ₹250 crore), has to raise the other half of $35 million within a revised deadline of March 2018. The project is estimated to cost close to $ 65-70 million (approximately ₹ 500 crore).
According to Sheelika Ravishankar, Marketing and Outreach, TeamIndus, the company would launch a platform (for crowd funding) in the next couple of weeks inviting people to contribute towards its 'Moon Mission'.
The Bengaluru-based start-up, is among the five finalists in the $30 million race to the moon, under the Google Lunar XPRIZE competition. It invites privately funded teams to place a spacecraft on the moon's surface, travel 500 metres and transmit high definition video and images back to earth.
"We have raised half of our total requirement. For the balance, conversations are on, and will fructify soon," Ravishankar told BusinessLine.
The investors include Nandan Nilekani, co-founder Infosys, Rajiv Mody, CMD and CEO of Sasken Communication Technologies, Subrata Mitra and Shekhar Kirani, partners, Accel Partners and Sharad Sharma, co-founder, iSpirit. Investments have been made in their private capacities.
The firm got a breather with the competition deadline being extended by three months. The previous deadline was in December this year.
"Funding is an issue, which we are tring to figure out. We hope to put things together soon," Julius Amrit, co-founder, TeamIndus, India said.
The company will launch its spacecraft aboard ISRO's Polar Satellite Launch Vehicle (PSLV), from the Satish Dhawan Space Centre in Sriharikota. The team is in talks with its launch providers to get a suitable date.
The team, which has 100-odd members comprise young engineers and a dozen retired ISRO scientists.
Quelle: BL
---
Update: 22.12.2017
.
HAKUTO TO TEAM INDUS IN BENGALURU: KONNICHIWA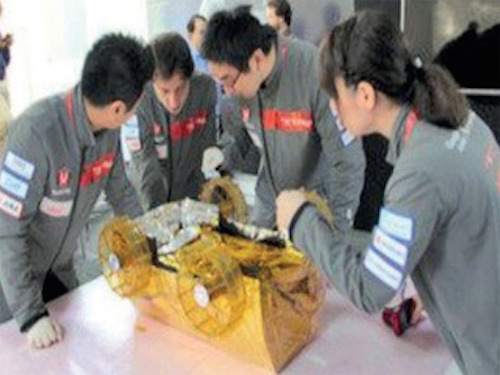 HAKUTO team posted the rover's pic on its Twitter page
-
The Japanese team's rover will hitch a ride in Isro's launch vehicle

Sorato, the rover developed by the Japanese Team HAKUTO, has arrived in Bengaluru.

HAKUTO's rover which is Team Indus's rival and co-passenger in the $30-million Google Lunar XPRIZE was shipped from Tokyo to Bengaluru.

The Sorato rover which is flight ready will be mounted on Team Indus lander at its facility in Jakkur.

HAKUTO, one of the five teams competing for the Google Lunar XPRIZE, has signed a ride share agreement with Team Indus (India's first private aerospace startup) for launching the Sorato along with the Indian rover.

Team Indus's spacecraft, along with the two rovers, will also carry a few payloads and will be launched onboard ISRO's workhorse, the PSLV-XL. The launch is expected to take place early next year (before March 8, 2018, the date set by Google to the five privately funded teams to launch the landers and the rovers on the Moon surface).

The PSLV-XL will inject the spacecraft into earth's orbit. From there on, the spacecraft will set course to the moon by switching on its own engines in a series of complex orbital manoeuvres.

The task before HAKUTO is the same as Team Indus's to win the prize - deploy the rover on the moon, move it for more than 500 meters on the moon surface and send high resolution images back to earth.

According to HAKUTO profile on its website, it is operated by ispace Inc., a Tokyo-based NewSpace startup, which is developing a lunar mining business. HAKUTO means "white rabbit" and comes from a Japanese folktale wherein the shape of a rabbit can be seen in the dark areas of the lunar surface. HAKUTO has raised $90.2 million towards the development of a lunar lander and future lunar missions which is said to be the highest ever among the competing teams.

Apart from TeamIndus and HAKUTO, the three other finalist teams with verified launch contracts are SpaceIL (Israel), Moon Express (USA) and Synergy Moon (International).
Quelle: Bengalore Mirror