The first spacecraft in the nation's next generation of polar-orbiting satellites is set for launch in the pre-dawn hours Tuesday, and the mission has strong Boulder ties.
The Joint Polar Satellite System-1, or JPPS-1, was designed and built by Boulder's Ball Aerospace, and once it enters polar orbit, it will be known as NOAA-20, feeding National Weather Service models for Boulder's National Oceanic and Atmospheric Administration.
The first in a series of four planned satellites in the nation's newest generation of polar-orbiting operational environmental satellite system, JPSS-1 had originally been slated for launch on Friday, but was rescheduled to take off on Tuesday to address a battery issue on the lift rocket's flight termination system.
Its launch, aboard a United Launch Alliance Delta II from Space Launch Complex-2W at Vandenberg Air Force Base, Calif., is set for 2:47 a.m. MST Tuesday. The mission is a joint effort between NOAA and NASA.
Ball also built one of the five instruments on the spacecraft, the Ozone Mapping and Profiler Suite.
Scott Asbury, program director at Ball Aerospace and formerly the JPSS-1 program manager, is among the roughly 10 Ball personnel who will be at the launch site, while about another 10 from Ball plan to be at the NASA satellite operations facility in Suitland, Md.
"It's always exciting to launch a satellite," Asbury said Friday. "This program started seven years ago. It's a complicated system that took a long time to design, build and test.
"A lot of people worked on it. In excess of 300 people touched this hardware."
As described on the NOAA website, the JPSS initiative provides global observations that become the backbone of short- and long-term forecasts, helping weather watchers predict severe weather events, such as the series of damaging hurricanes that left Houston, Puerto Rico and other regions reeling in recent months.
Improved speed and accuracy in forecasting is seen as critical to better preparing emergency managers to make the decisions that boost the chances of protecting lives and property, such as ordering evacuations as many as five to seven days in advance.
The satellite program is also viewed by NASA as a means to gain critical insights into the dynamics of the entire Earth system, including its clouds, oceans, vegetation, ice and atmosphere.
According to NOAA, JPSS satellites will also play a central role in both detecting and monitoring environmental hazards including droughts, poor air quality, harmful coastal waters and forest fires, and will be able to do so on a continuous basis through 2038.
Ball has also touted the fact that data from the JPSS spacecraft can provide advantages to an array of end users, ranging from businesses needing to know safe routes for shipping, to farmers requiring moisture data for agriculture, to even giving military troops in the battlefield a competitive advantage.
JPSS polar satellites are designed to orbit the Earth from pole-to-pole, crossing the equator about 14 times daily, and provide full global coverage twice a day.
"The JPSS-1 bus is based on our Ball Configurable Platform 200, a proven, agile spacecraft, which has 50 years of on-orbit operations and is designed for cost effective, remote sensing applications," Ball Aerospace JPSS-1 Program Manager Alex Chernushin stated in a news release.
He said the JPSS-1 is the 12th spacecraft built on the same core architecture, including the Suomi National Polar-orbiting Partnership spacecraft. Known as Suomi NPP, that satellite launched in October 2011.
NASA paid Ball about $400 million for building both the "bus" that supports the payload and its ozone mapping instrument.
According to NOAA, deployment of the JPSS-1 will give the United States the benefit of two sophisticated polar satellites in the same orbit, circling the globe only about 50 minutes apart.
Asbury said that because the goal is to "tuck" the new Ball satellite in right behind the already-orbiting Suomi-NPP, Tuesday's launch window is only about 1 minute. If a factor such as high-altitude winds forces a delay, then Wednesday morning at about the same time will be the fallback time to attempt a launch.
"The forecast looks pretty good," he said. "I'm pretty confident it will get off."
Quelle: DailyCamera
+++
Delta II to Launch JPSS-1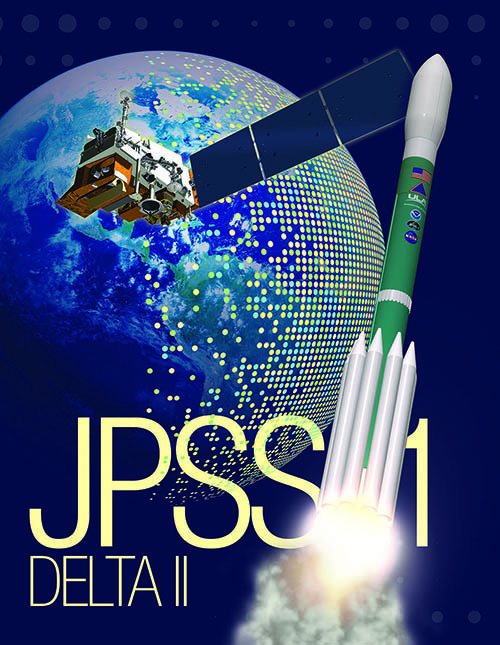 Rocket: Delta II
Mission: Joint Polar Satellite System (JPSS)-1
Launch Date: Tuesday, Nov. 14, 2017
Launch Time: 1:47 a.m. PST
Live Broadcast: Stay tuned for how you can watch live
Launch Location: Space Launch Complex 2, Vandenberg AFB, California

Mission Description: The Joint Polar Satellite System (JPSS) is the nation's advanced series of polar-orbiting environmental satellites. JPSS represents significant technological and scientific advancements in observations used for severe weather prediction and environmental monitoring. These data are critical to the timeliness and accuracy of forecasts three to seven days in advance of a severe weather event. JPSS is a collaborative effort between NOAA and NASA.

JPSS satellites circle the Earth from pole-to-pole and cross the equator 14 times daily in the afternoon orbit--providing full global coverage twice a day.

Launch Notes: This launch will be ULA's 123rd overall. This mission will mark the 53rd Delta II mission for NASA and 154th launch since the rocket's first launch in 1989. Previous Delta II missions for NASA include the Spirit and Opportunity Mars rovers as well as Suomi NPP, the first next-generation polar-orbiting satellite in the JPSS series.

Quelle: ULA
---
Update: 14.11.2017 / 8.00 MEZ
.
Almost three years since its last mission, the thunderous roar of a Delta II booster will rattle Vandenberg Air Force Base, Calif., on Tuesday, 14 November, carrying the first Joint Polar Satellite System (JPSS-1) into orbit for the National Oceanic and Atmospheric Administration (NOAA). The two-stage rocket—which is flying under the auspices of Centennial, Colo.-based United Launch Alliance (ULA)—will rise from Vandenberg's Space Launch Complex (SLC)-2W during a short "window", which opens at 1:47 a.m. PST (4:47 a.m. EST). After insertion into polar orbit, at an altitude of 512 miles (824 km), JPSS-1 will form the initial thrust of the United States' next-generation environmental monitoring network, increasing the timeliness and accuracy of climatic and weather-related forecasts and minimizing risks to human life and property. Upon entering service, JPSS-1 will be renamed NOAA-20, joining a long line of environmental monitoring satellites, with a heritage stretching back to 1970.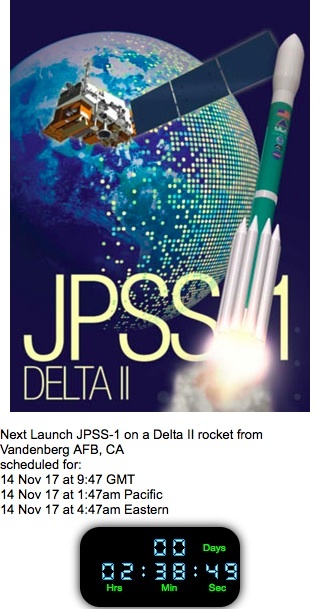 +++11.00 MEZ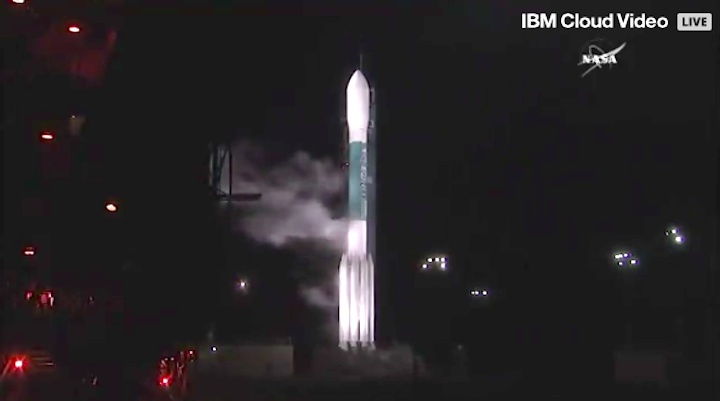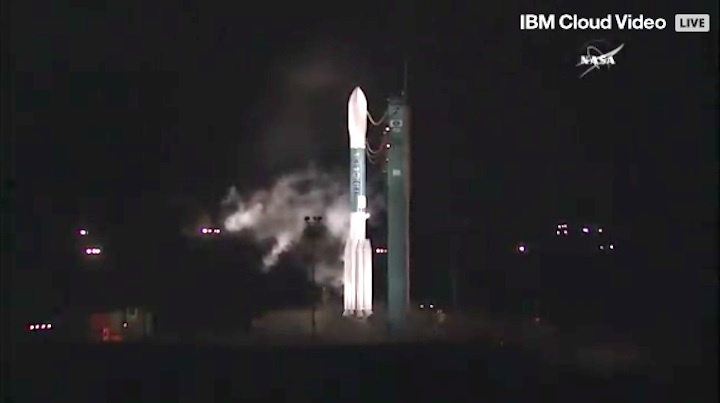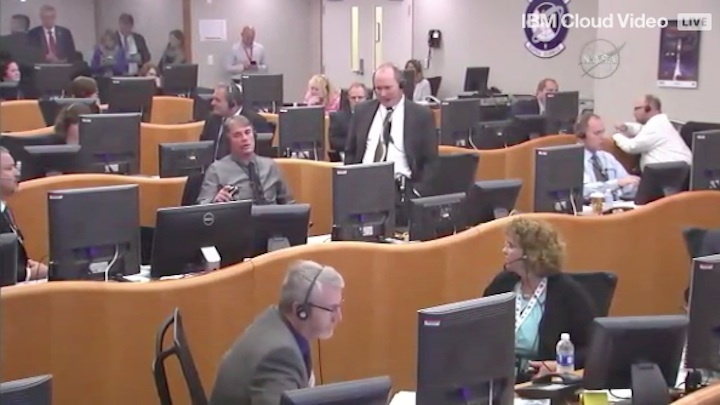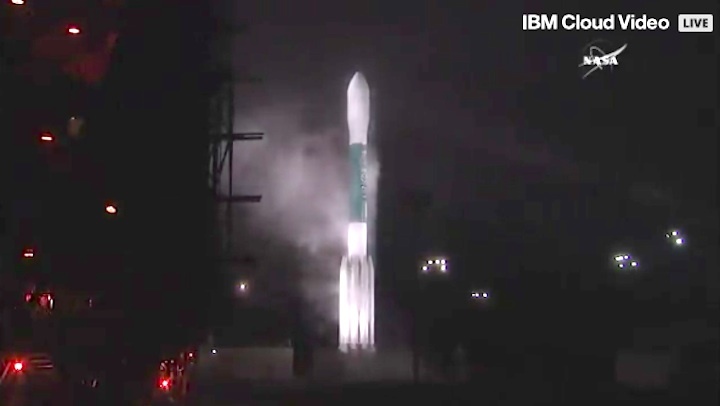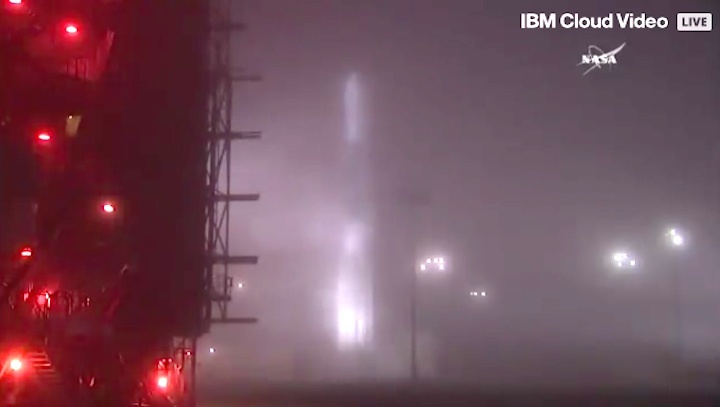 Start-Verschiebung um 24 Stunden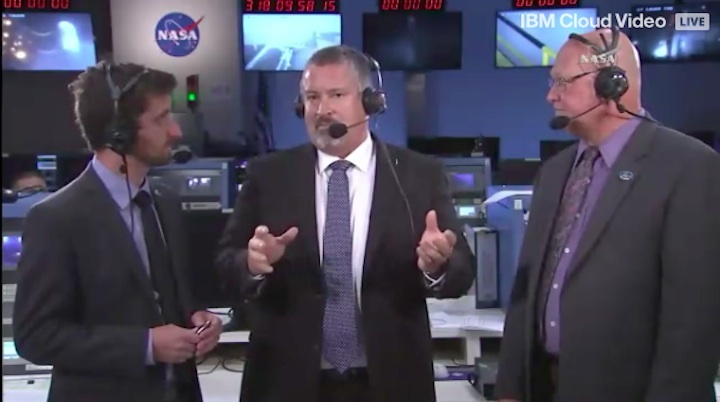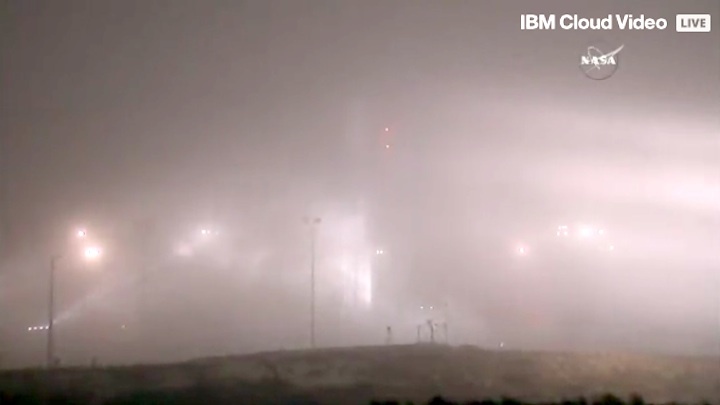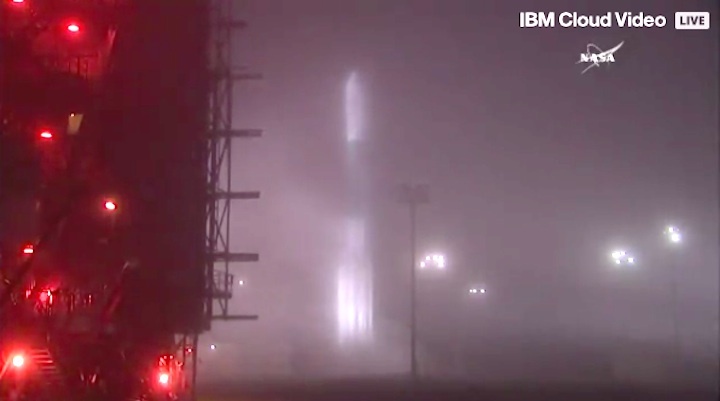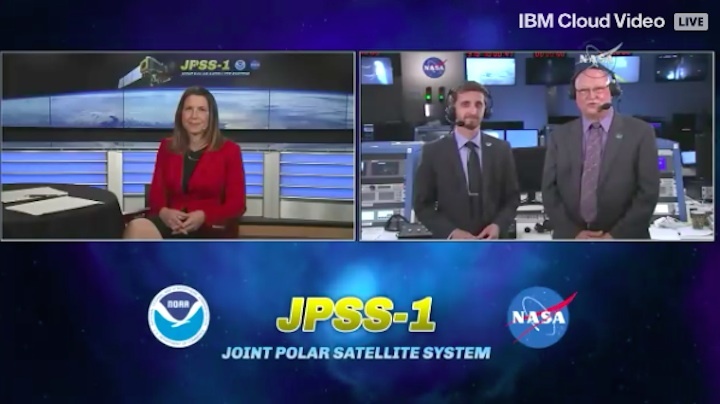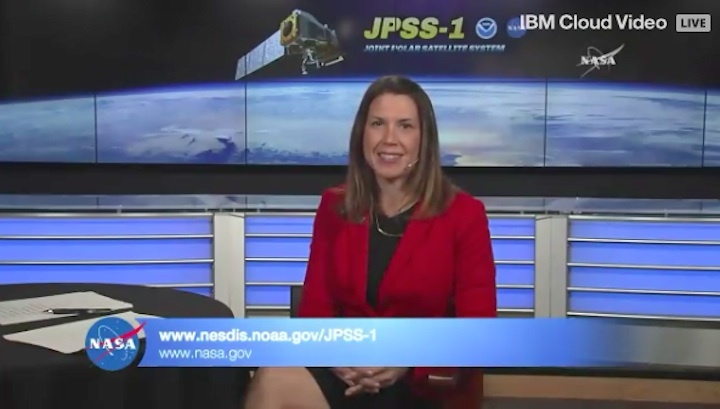 Quelle: NASA-TV
+++17.30 MEZ
Rocket Issue Delays Launch of Advanced New JPSS-1 Weather Satellite
A first-of-its-kind weather satellite will have to wait at least 24 hours to begin its mission for NOAA and NASA after a rocket issue prevented an attempted liftoff from Vandenberg Air Force Base in California today (Nov. 14).
The Joint Polar Satellite System-1 satellite, or JPSS-1, was set to launch into a polar orbit around Earth at 4:47 a.m. EST (0947 GMT) to begin measuring atmospheric temperature, moisture, ozone levels, vegetation and rainfall across the globe with five advanced instruments. But a bad reading on the first stage of satellite's United Launch Alliance Delta II rocket, as well as boats in the safety zone, forced NASA to call off the launch just minutes before liftoff. The next launch attempt will be on Wednesday (Nov. 15) at 4:47 a.m. EST.
"Just at the time we were expected to come out of hold at T-4 minutes, there were a couple of positions that reported that they were no-go, and with the very short launch window that we have this morning, there was not enough time to completely work the issues and clear them," NASA spokesperson Mike Curie said at about 4:43 a.m. EDT (0943 GMT) during live commentary. "The rocket is in a safe condition, the spacecraft, JPSS-1, is in a safe condition."
he Delta II rocket's window to launch JPSS-1 into the correct orbit was just over a minute long.
NASA launch manager Omar Baez confirmed that up until 4 minutes before liftoff, the only issue launch controllers were tracking were a few boats in the boat exclusion area off the coast near Vandenberg Air Force Base, but then one parameter on the first stage also went out of limits.
"There was some discussion, short, brief discussions, but with our short window there wasn't enough time to outbrief that issue and come to resolution," he said. "We're setting up for a 24-hour recycle; tomorrow's window will start one second later, at 9:43:03, versus :02, which was today's start, and the same window. That's where we stand today."
In addtion to the JPSS-1 satellite, the Delta II rocket is also slated to heft five small cubesats into orbit, including one that would use a microwave imager to monitor Earth's weather like its much larger satellite cousin.
NASA will webcast the JPSS-1 satellite launch on Wednesday, beginning at 4:15 a.m. EST (0915 GMT). You can watch the launch live here, courtesy of NASA TV.
Quelle: SC
---
Update: 15.11.2017 / 9.30 MEZ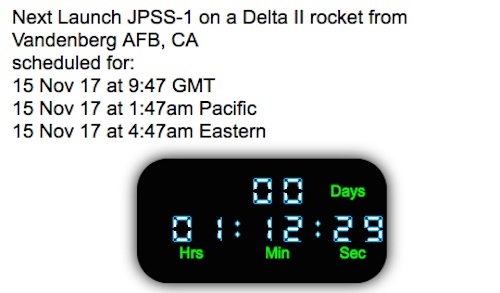 +++
Weitere Startverschiebung wegen Windstärke auf 16.11.2017: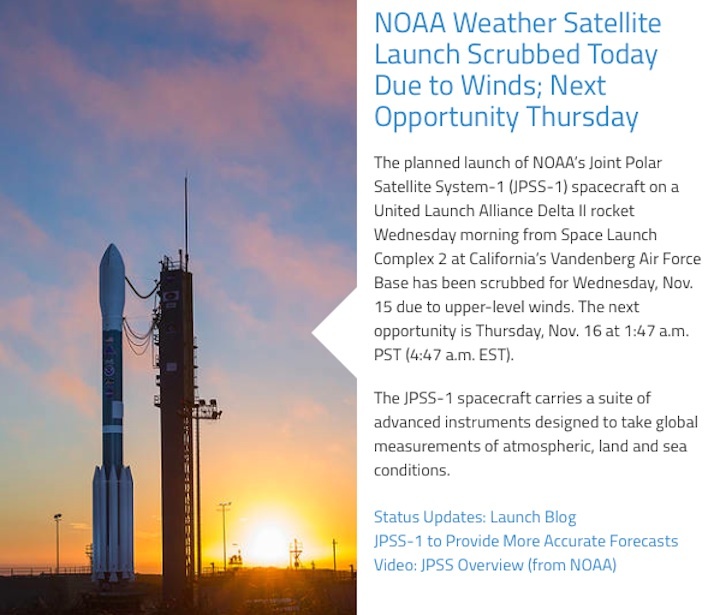 Quelle: NASA
---
Update: 16.11.2017
.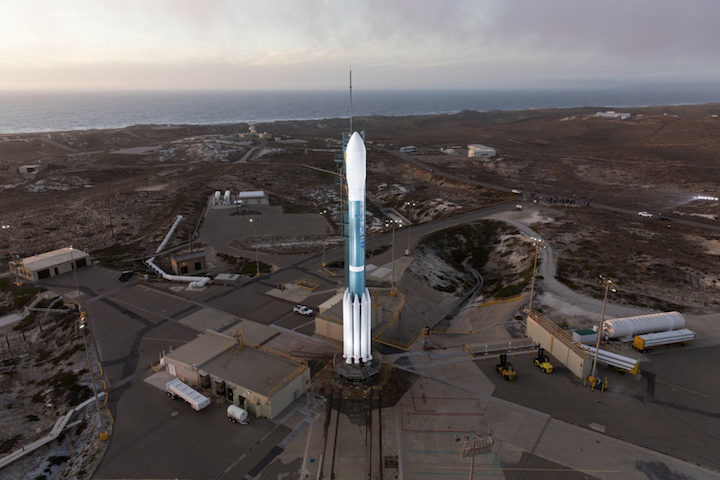 The launch of a United Launch Alliance Delta II rocket carrying the Joint Polar Satellite System-1 mission for NASA and NOAA is confirmed on the Western Range for Saturday, Nov. 18. The launch time is 1:47 a.m. PST (4:47 a.m. EST).
Join us for updates from the countdown beginning at 1:15 a.m. PST (4:15 a.m. EST) here on the blog and on NASA TV.
Quelle: NASA
---
Update: 18.11.2017 / 10.30 MEZ
.
Rocket launch at Vandenberg AFB rescheduled for Saturday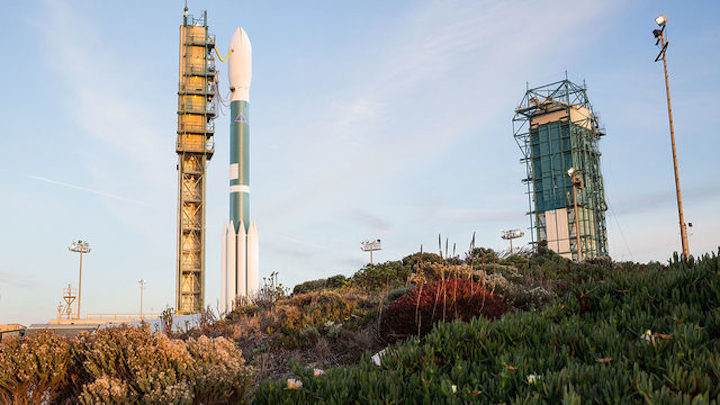 VANDENBERG AFB, Calif. - A rocket launch at Vandenberg Air Force Base had to be canceled at the last minute early Tuesday morning
According to NASA's blog, the launch of the United Launch Alliance Delta II Rocket was scrubbed due to a late launch vehicle alarm. Officials say due to the short window, there was insufficient time to fully coordinate a resolution.
The launch was initially rescheduled for Wednesday, however, base officials rescheduled the launch a second time for Saturday at 1:47 a.m.
The rocket will be carrying a satellite gathering data about the earth's atmosphere, land and oceans for NASA and the NOAA.
Quelle: KCOY
+++
Update... LIVE LAUNCH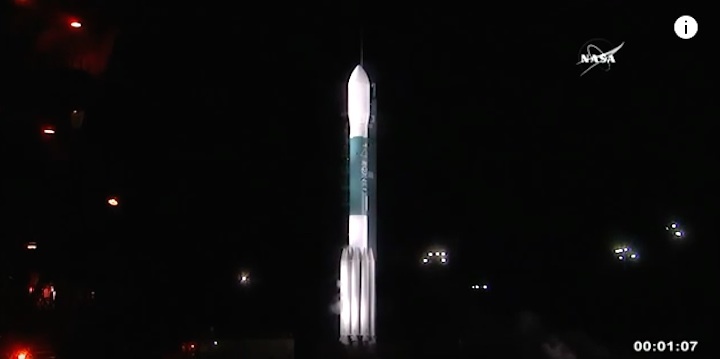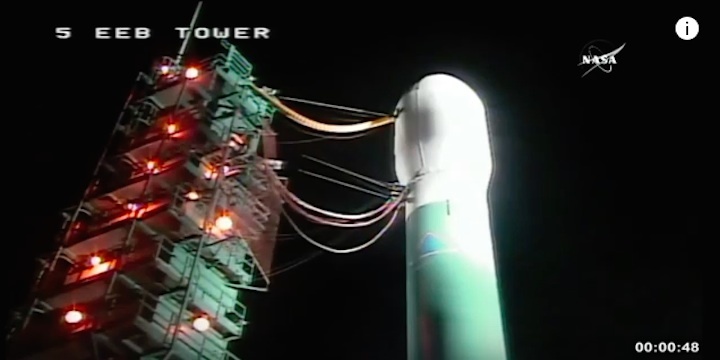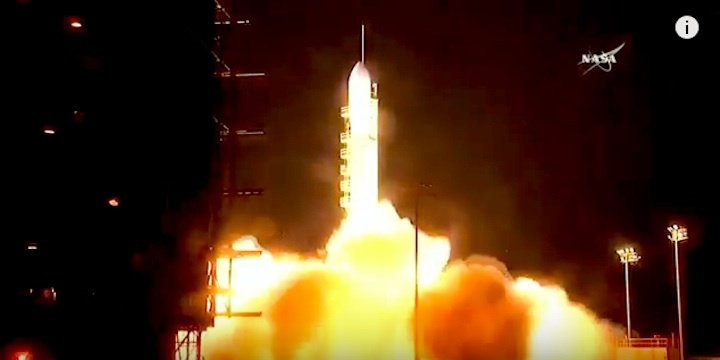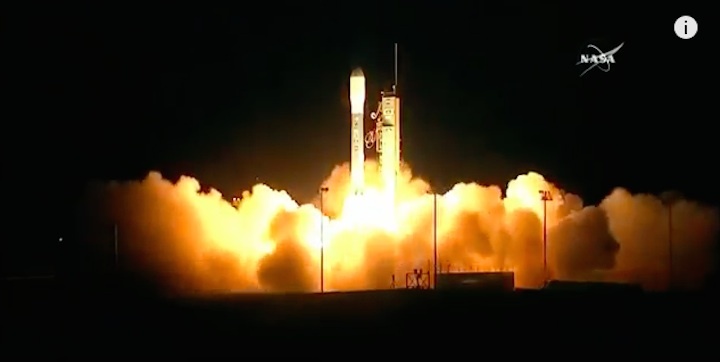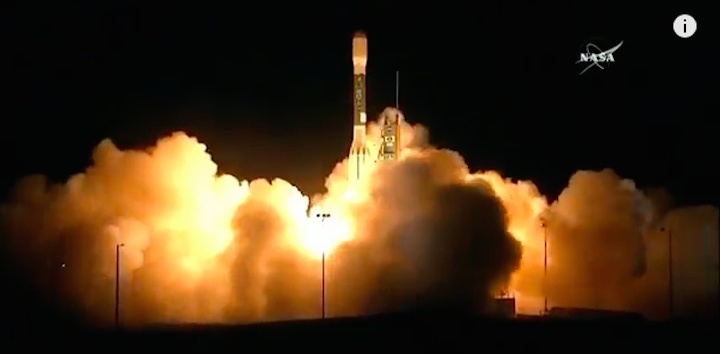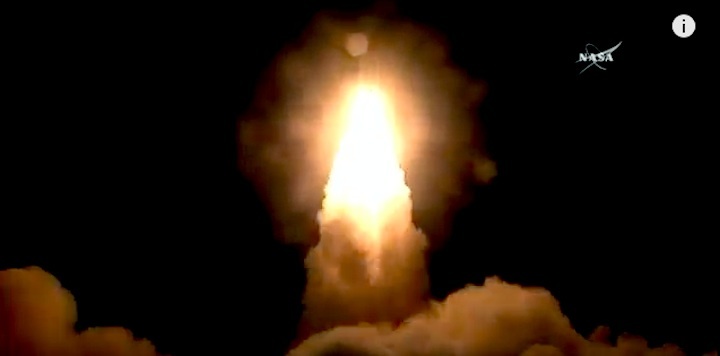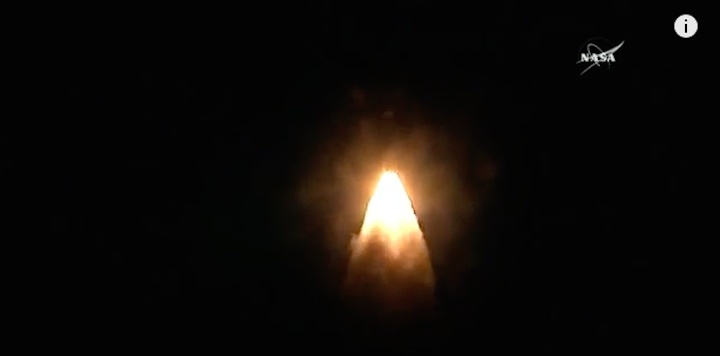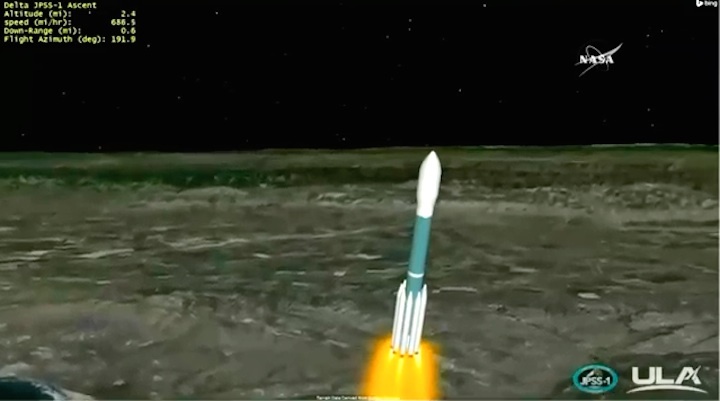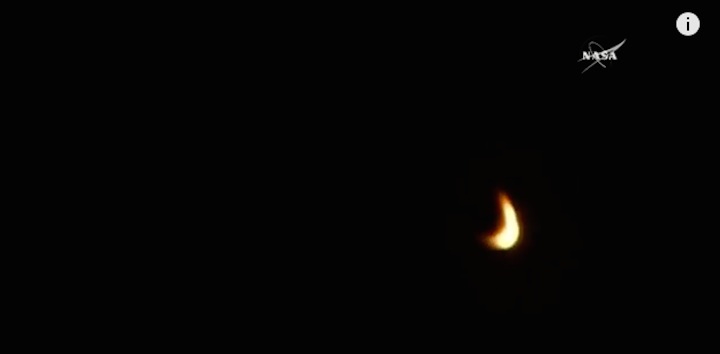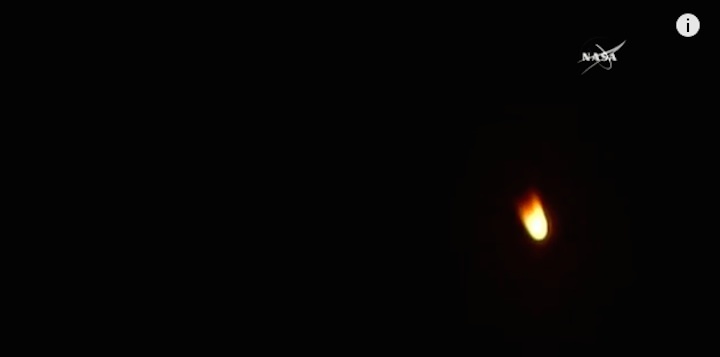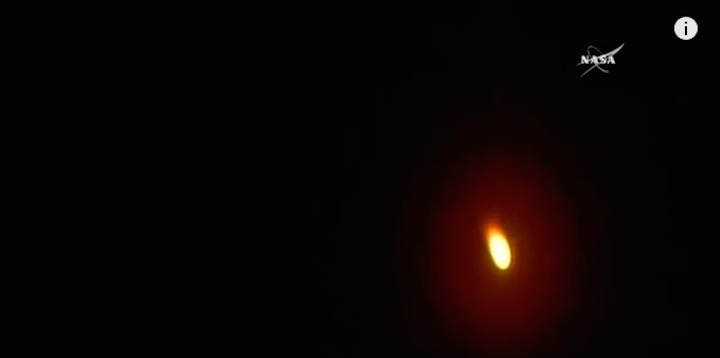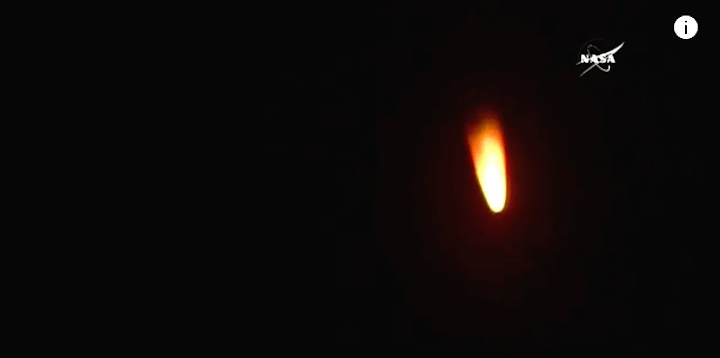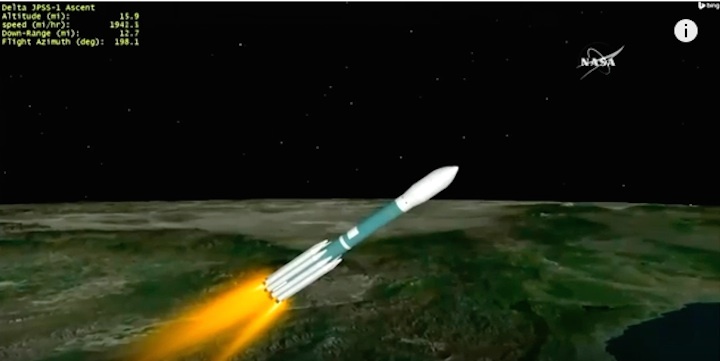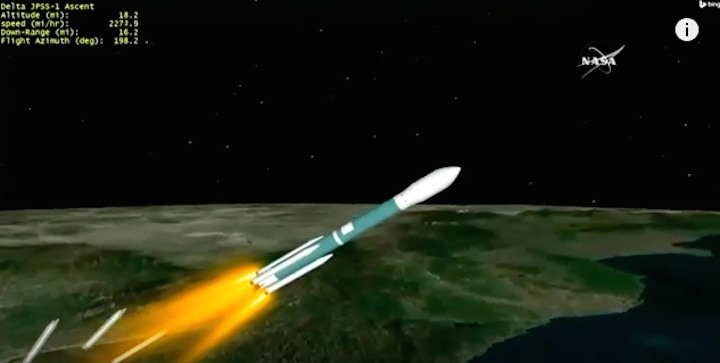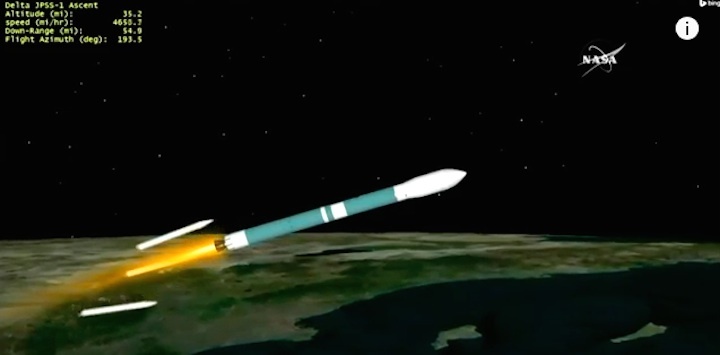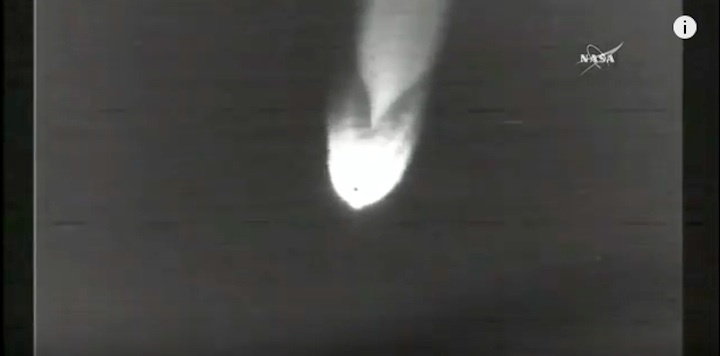 +++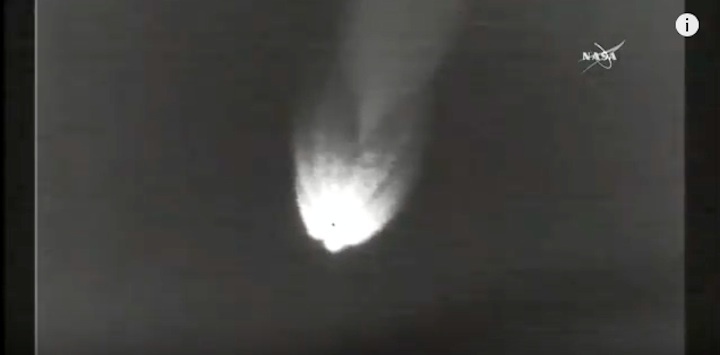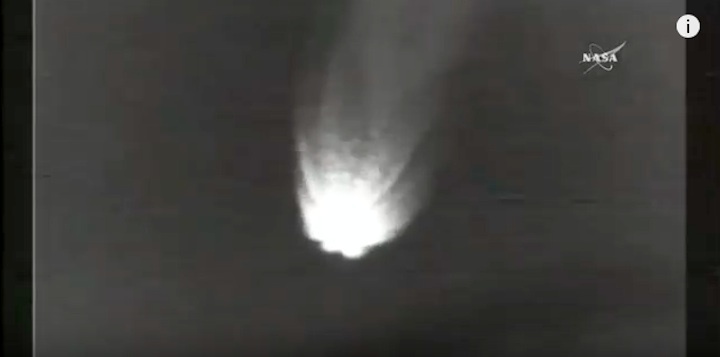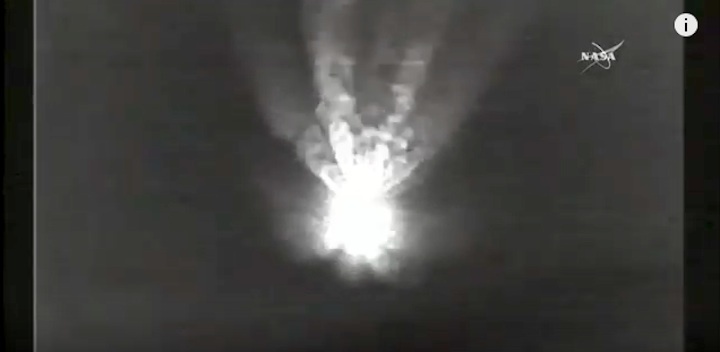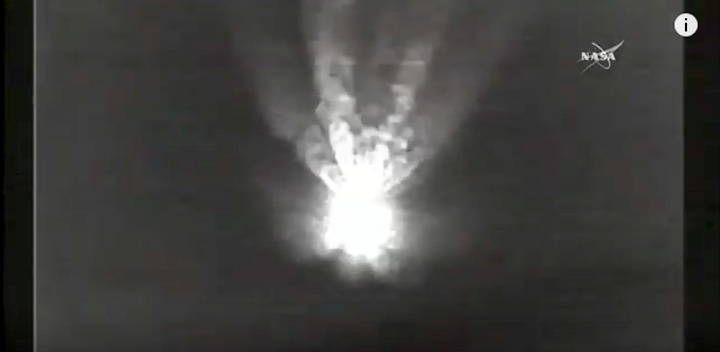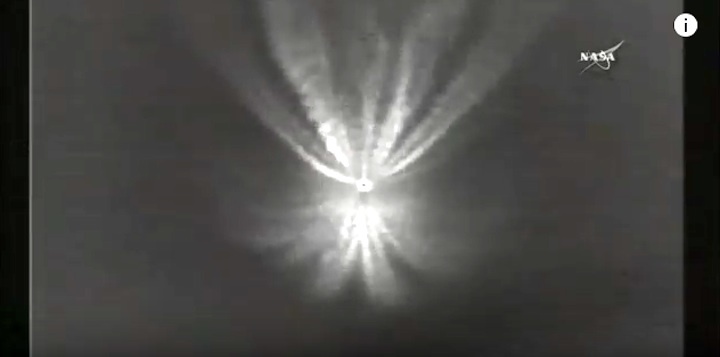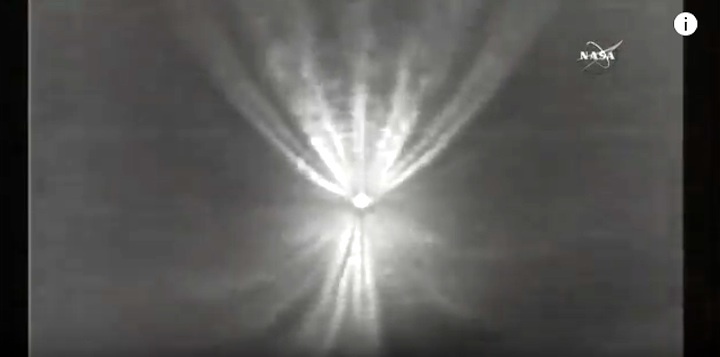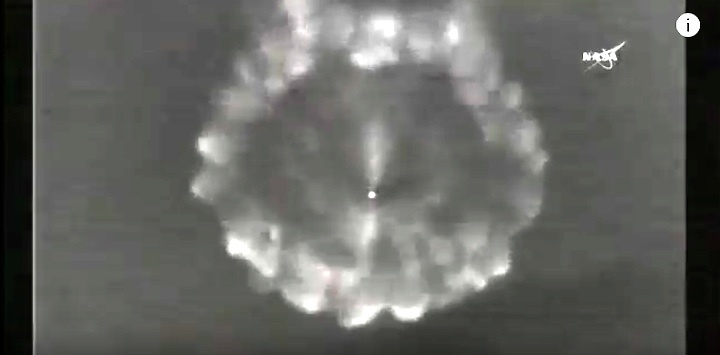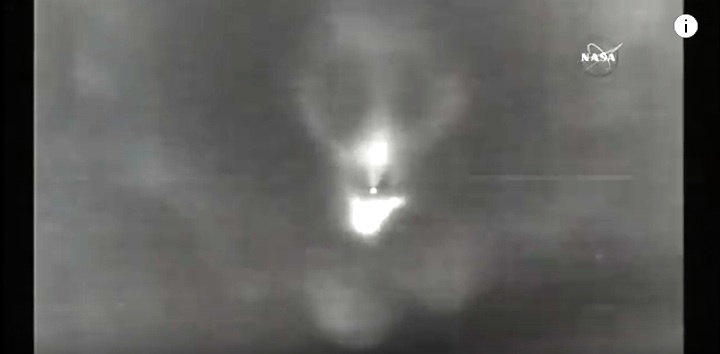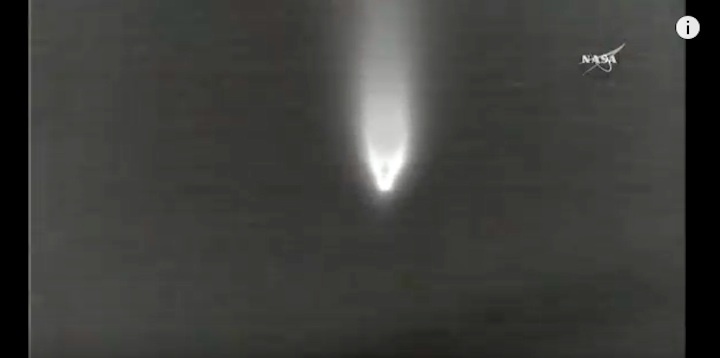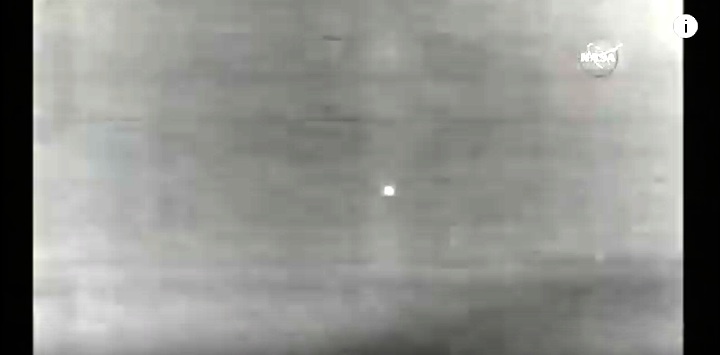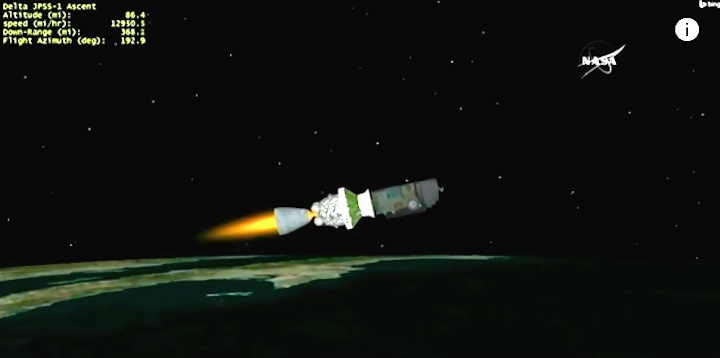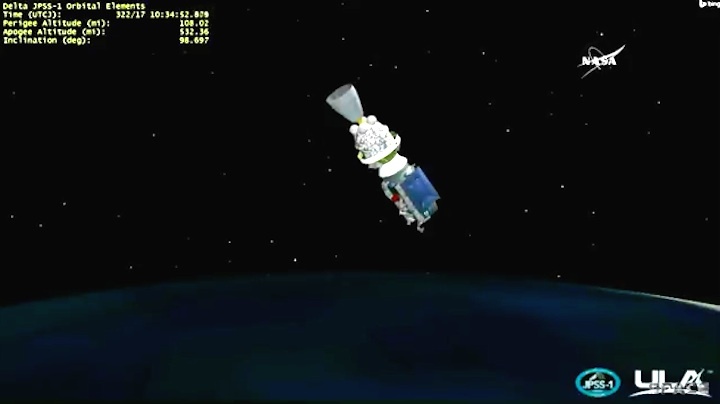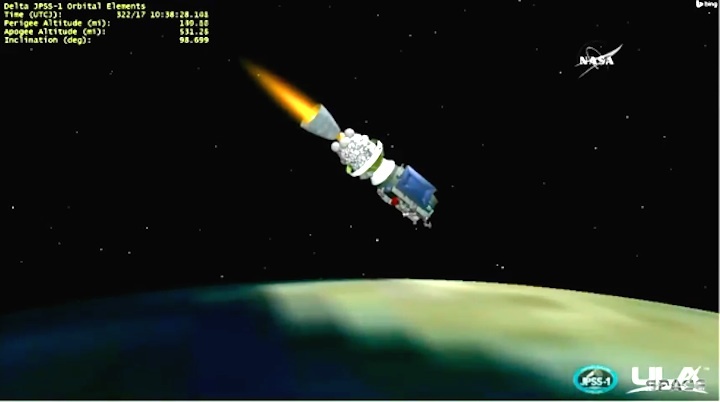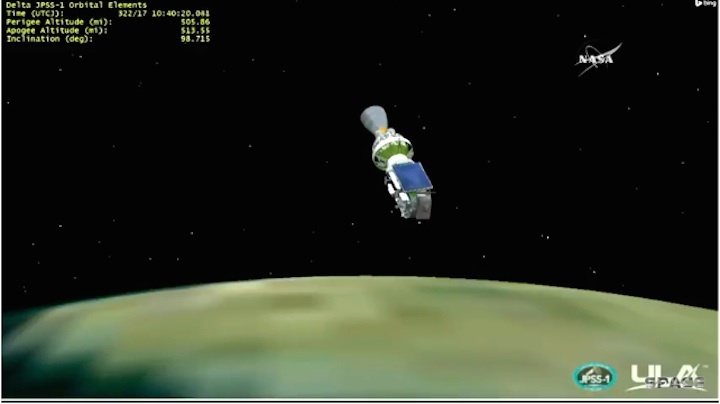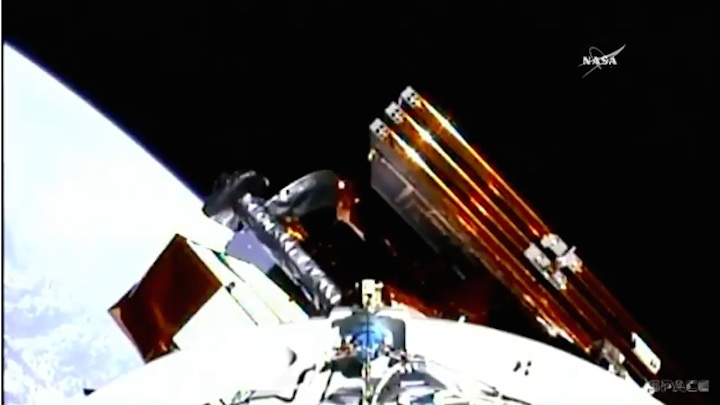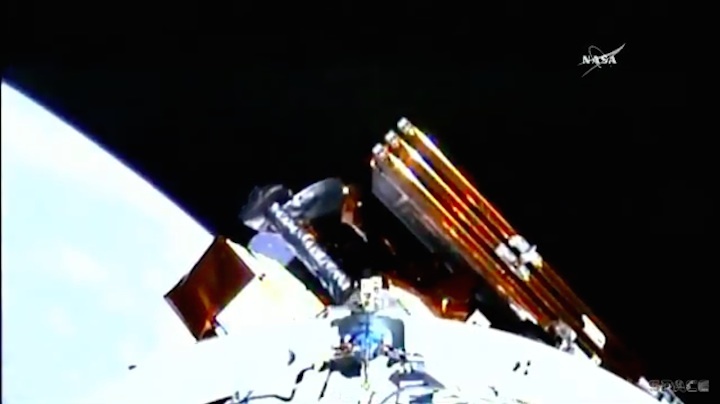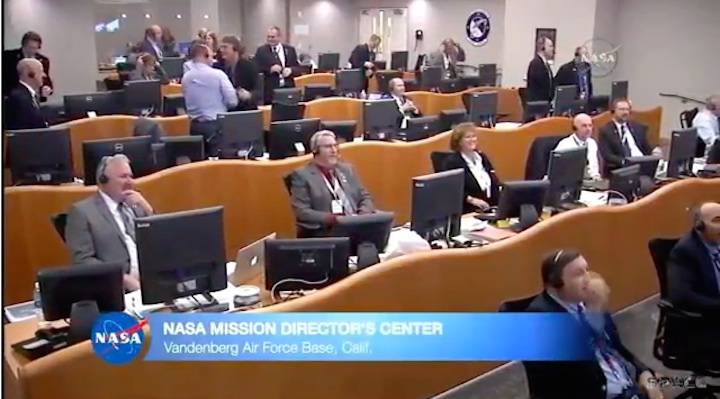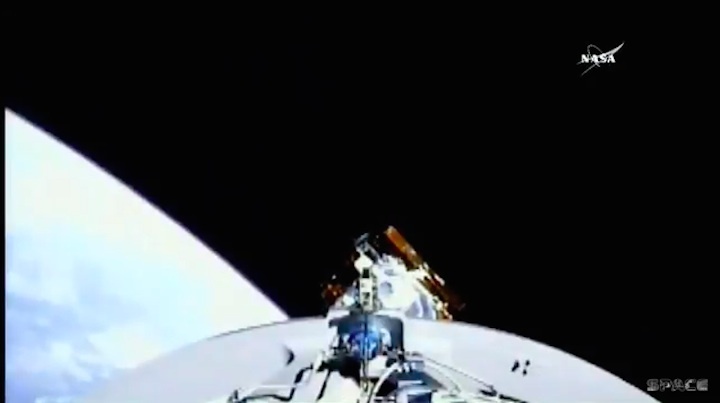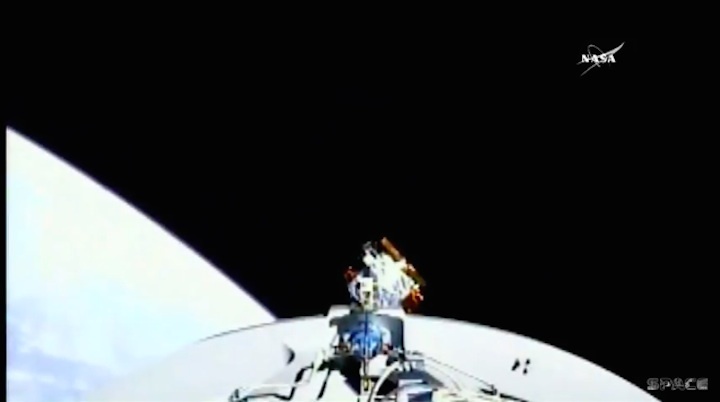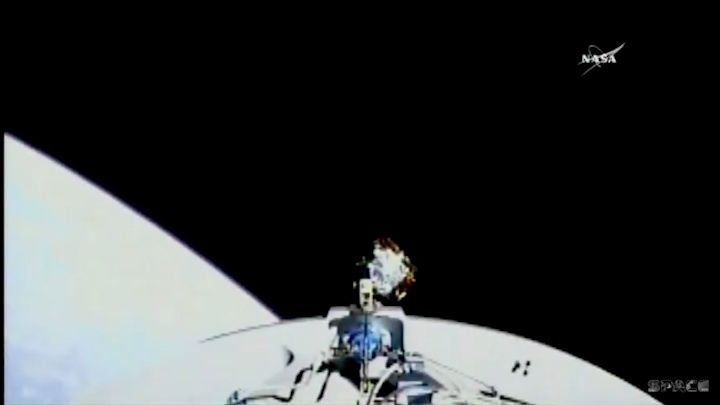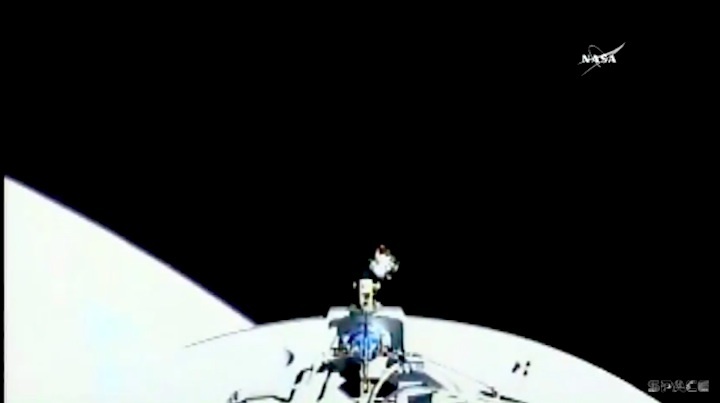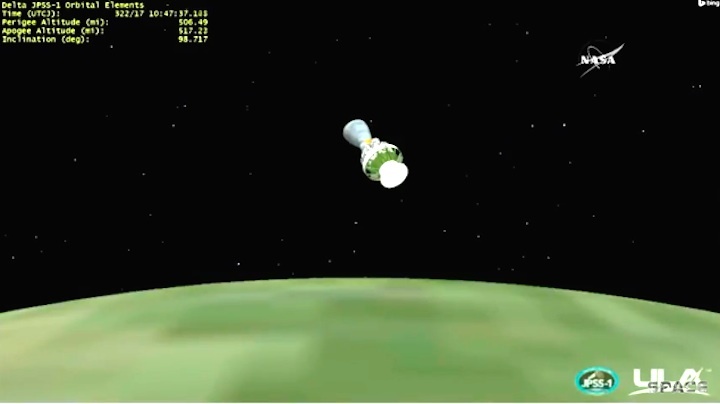 Quelle: NASA-TV
---
Update: 19.11.2017
.
NASA Launches NOAA Weather Satellite Aboard United Launch Alliance Rocket to Improve Forecasts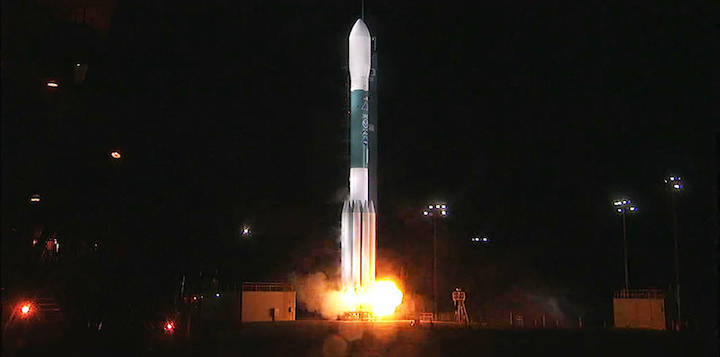 NASA has successfully launched for the National Oceanic and Atmospheric Administration (NOAA) the first in a series of four highly advanced polar-orbiting satellites, equipped with next-generation technology and designed to improve the accuracy of U.S. weather forecasts out to seven days.
The Joint Polar Satellite System-1 (JPSS-1) lifted off on a United Launch Alliance Delta II rocket from Vandenberg Air Force Base, California, at 1:47 a.m. PST Saturday.
Approximately 63 minutes after launch the solar arrays on JPSS-1 deployed and the spacecraft was operating on its own power. JPSS-1 will be renamed NOAA-20 when it reaches its final orbit. Following a three-month checkout and validation of its five advanced instruments, the satellite will become operational.
"Launching JPSS-1 underscores NOAA's commitment to putting the best possible satellites into orbit, giving our forecasters -- and the public -- greater confidence in weather forecasts up to seven days in advance, including the potential for severe, or impactful weather," said Stephen Volz, director of NOAA's Satellite and Information Service.
JPSS-1 will join the joint NOAA/NASA Suomi National Polar-orbiting Partnership satellite in the same orbit and provide meteorologists with observations of atmospheric temperature and moisture, clouds, sea-surface temperature, ocean color, sea ice cover, volcanic ash, and fire detection. The data will improve weather forecasting, such as predicting a hurricane's track, and will help agencies involved with post-storm recovery by visualizing storm damage and the geographic extent of power outages.
"Emergency managers increasingly rely on our forecasts to make critical decisions and take appropriate action before a storm hits," said Louis W. Uccellini, director of NOAA's National Weather Service. "Polar satellite observations not only help us monitor and collect information about current weather systems, but they provide data to feed into our weather forecast models."
JPSS-1 has five instruments, each of which is significantly upgraded from the instruments on NOAA's previous polar-orbiting satellites. The more-detailed observations from JPSS will allow forecasters to make more accurate predictions. JPSS-1 data will also improve recognition of climate patterns that influence the weather, such as El Nino and La Nina.
The JPSS program is a partnership between NOAA and NASA through which they will oversee the development, launch, testing and operation all the satellites in the series. NOAA funds and manages the program, operations and data products. NASA develops and builds the instruments, spacecraft and ground system and launches the satellites for NOAA. JPSS-1 launch management was provided by NASA's Launch Services Program based at the agency's Kennedy Space Center in Florida.
"Today's launch is the latest example of the strong relationship between NASA and NOAA, contributing to the advancement of scientific discovery and the improvement of the U.S. weather forecasting capability by leveraging the unique vantage point of space to benefit and protect humankind," said Sandra Smalley, director of NASA's Joint Agency Satellite Division.
Ball Aerospace designed and built the JPSS-1 satellite bus and Ozone Mapping and Profiler Suite instrument, integrated all five of the spacecraft's instruments and performed satellite-level testing and launch support. Raytheon Corporation built the Visible Infrared Imaging Radiometer Suite and the Common Ground System. Harris Corporation built the Cross-track Infrared Sounder. Northrop Grumman Aerospace Systems built the Advanced Technology Microwave Sounder and the Clouds and the Earth's Radiant Energy System instrument.
+++
ELaNa XIV CubeSats Launch on JPSS-1 Mission
NASA has launched four small research satellites, or CubeSats, developed by four universities as part of a broader mission launching the next generation polar-orbiting satellite to space. These CubeSat missions were selected through the CubeSat Launch Initiative (CSLI) as
4011 Views