Another alternative is to use JPL Horizons Ephemeris Generator to calculate a range of right ascension and declination positions for OSIRIS-REX based on your observing location. As with very close passes of near Earth asteroids, parallax for ground based observers and deflection of the object by Earth's gravity both play a significant role, often foiling desktop planetarium programs that fail to take these into account.
Hunting for OSIRIS-REX will be similar to tracking down satellites fainter than the naked eye limit. A good strategy is to simply note the time on a Heavens-Above star chart when the spacecraft is set to pass a bright star, aim a telescope at the star with a low power wide field of view, then sit and watch in an "ambush" as OSIRIS-REX drifts by.
Bob King describes a similar quest this week: tracking down satellites in geosynchronous orbit.
Clouded out, or simply live in the wrong hemisphere? NASA TV is carrying live media interviews during Friday's flyby, September 22 starting at 6:30 a.m. EDT. The OSIRIS-REX team is also encouraging the public to simply tweet photos of themselves waving to the spacecraft to hashtag #HelloOsirisREX (the mission is @OsirisREXon Twitter) or on Instagram as @Osiris_REX. Be sure to say hello — next time it visits Earth, it'll be with samples of an asteroid in hand.
Quelle: Sky&Telescope
---
Update: 27.09.2017
.
NASA shows off a drive-by snapshot of Earth from OSIRIS-REx asteroid probe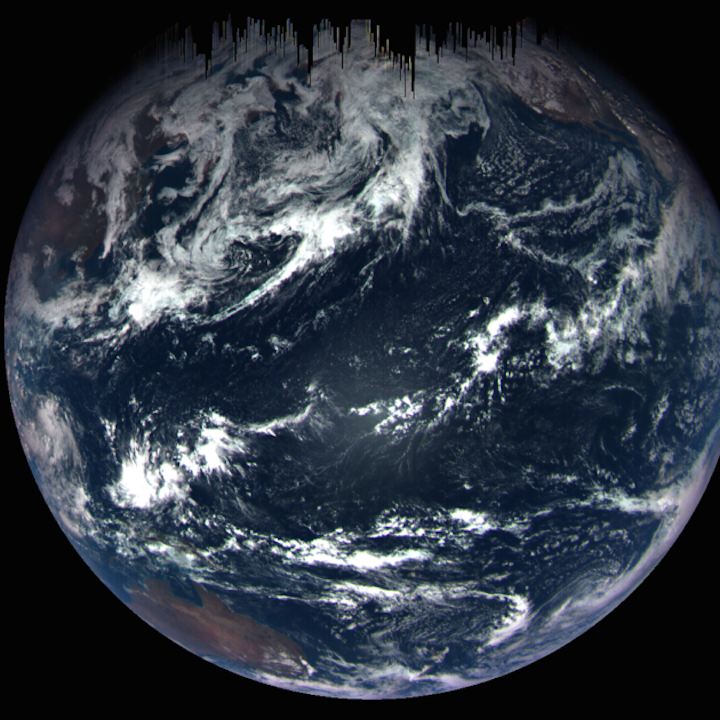 This color composite image of Earth was taken by the MapCam camera on NASA's OSIRIS-REx spacecraft on Sept. 22, just hours after the spacecraft completed its Earth gravity assist maneuver at a range of about 106,000 miles. (NASA GSFC / Univ. of Arizona Photo)
-
During last week's flyby, NASA's OSIRIS-REx spacecraft captured a stunning portrait of Earth's disk, spanning the Pacific from Australia to America's West Coast.
The color composite image, created from readings that were captured on Friday while the asteroid probe zoomed past at an altitude of 106,000 miles, was released by NASA and the University of Arizona today.
You can make out Australia at lower left, and the southwestern U.S. at upper right.
The photo op arose because OSIRIS-REx's mission navigators took advantage of Earth's gravitational field to slingshot the 20-foot-wide probe toward the asteroid Bennu, which it's due to reach in late 2018.
The science team, in turn, took advantage of the flyby to practice using the craft's suite of scientific instruments, including the MapCam camera.
It looks as if darkness is dripping down from the very top of the image, but those streaks are just data dropouts that occur when MapCam takes pictures with exposure times of less than 3 milliseconds. Earth shone so brightly during the flyby that the camera had to cut its clicks short, but that's not expected to pose a problem when OSIRIS-REx makes its rendezvous with the much darker asteroid.
OSIRIS-REx is an $800 million mission that will study Bennu for several years and grab a sample from its surface (also known as regolith) for return to Earth in 2023.
Imagery and other data about the asteroid could help scientists gain a better understanding about the origins of the solar system, the sorts of resources that near-Earth asteroids could offer, and strategies for diverting a potentially threatening asteroid.
The mission's name sums up all those objectives in an acronym that stands for "Origins, Spectral Interpretation, Resource Identification and Security – Regolith Explorer."
Quelle: GeekWire
---
Update: 30.09.2017
.
NASA's OSIRIS-REx Snaps Pictures of Earth and the Moon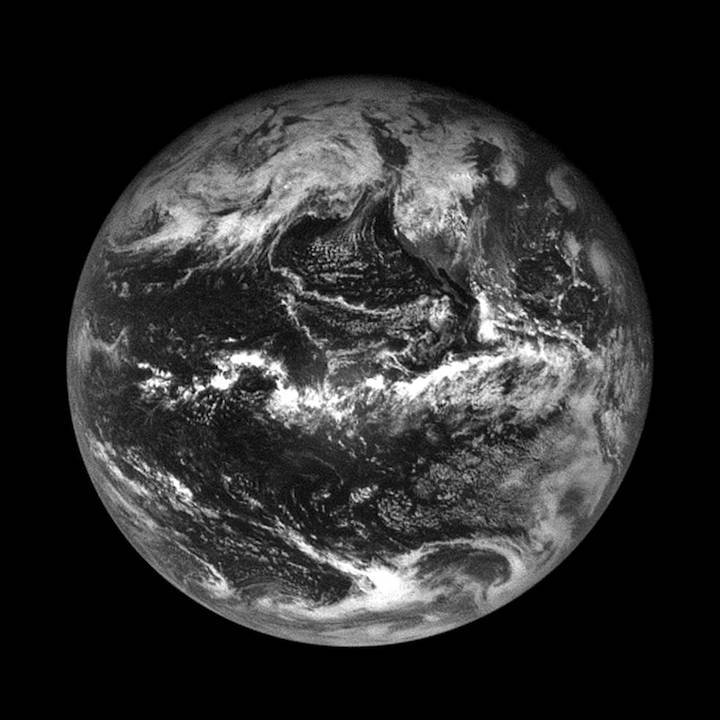 Credits: NASA/Goddard/University of Arizona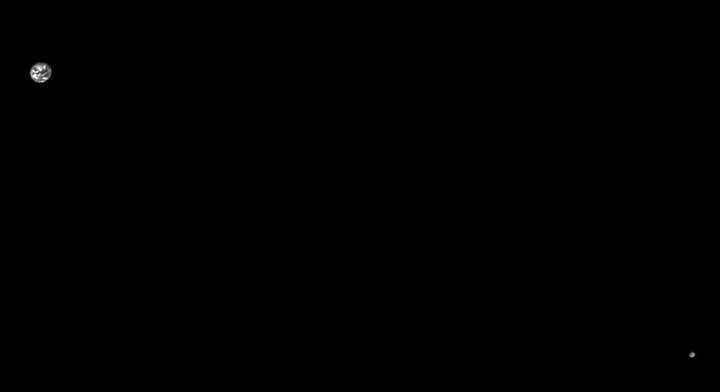 Credits: NASA/Goddard/University of Arizona
Quelle: NASA