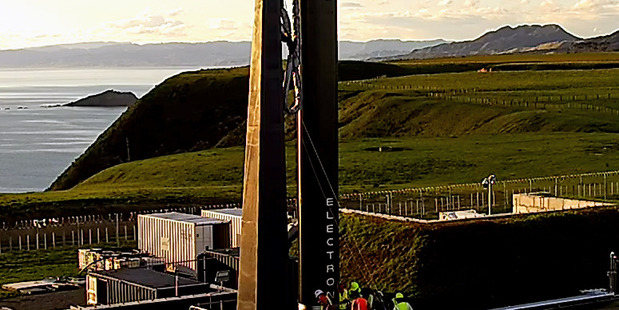 The historic rocket launch from Mahia Peninsula won't happen on Monday because of wind forecast for the area.
The first-day deferral was confirmed late today on Rocket Lab's twitter page, saying further announcements will be made as to whether it could go ahead on Tuesday.
Bring the space age to Northern Hawke's Bay, Rocket Lab last week announced a 10-day launch "window", from May 22-June 3, with few worries about a delay.
"If we get to orbit on the first flight, we will have done something most countries have never achieved," Rocket Lab founder Peter Beck told the Herald on Sunday.
"The vehicle will be in a state of readiness for the next week-and-a-half," he said.
Access to the Onenui Station site for the World's first launch from a private launch-pad has been limited with the closure of Mahia East Coast Rd from 9am to 8pm on launch day.
Weather agency Metservice was forecasting sunny weather in the Napier to Gisborne area through to at least Wednesday, but in the area around the launch site there were expected to be southwesterlies easing from 40 knots today, turning to northwesterlies up to about 20 knots on Tuesday and easing to variable 10 knot winds by early Wednesday.
Quelle: Hawke´s Bay Today
+++
Update: 22.05.2017
.
Rocket Lab launch postponed
Called off today because of high winds at Mahia.
AN attempt to launch a rocket into orbit from Mahia today has been cancelled due to high winds.
Aerospace company Rocket Lab last week announced it planned to launch the first test rockets from its launch complex at Onenui Station during a 10-day launch window.
However, a company spokeswoman confirmed there would not be a launch today.
"Due to high winds, vehicle roll out and launch preparations have been prevented."
With safety the company's main focus, Rocket Lab had previously issued a statement cautioning that a test launch would only proceed if conditions were ideal.
"Due to the nature of launching rockets, planned launches are often subject to multiple and subsequent postponements. History has shown it is common for launches to be scrubbed as small, technical modifications are often required, particularly during a test phase. Weather can also cause scrubs. Winds and heavy rain will likely result in a postponement."
Quelle: gisborneherald
---
Update: 24.05.2017
.
Rocket Lab's test launch delayed for third day running
Third time has not proven to be a charm for the billion-dollar satellite launch company Rocket Lab.
The company has been trying to do its first test-launch of its Electron rocket all week, but first high winds, and then icy high altitude clouds, have grounded its efforts.
On Wednesday, Rocket Lab tweeted its launch preparations were going well, but two hours later, postponed the launch again.
"Launch scrubbed for the day due to triboelectrification.
"Weather set to worsen throughout the day."
Rocket Lab would try again on Thursday.
Triboelectrification delayed the launch on Tuesday, which was the build-up of static charge through friction.
"Ice and other particles in high cloud strike the rocket transferring electrons, the atomic kind, and build up charge on the surface of the vehicle," Rocket Lab chief executive Peter Beck said.
"This can lead to large voltage potential and encourage electric discharges or lightning which may affect the avionics onboard."
Rocket Lab's test launch is a world-first attempt to send a rocket into orbit from a private launch pad.
The company has a 10-day launch window, which allows the test to be conducted between May 22 and June 2.
It planned to do three test launches ahead of its first commercial launch, and said it was common for launches to be postponed to wait for ideal conditions.
Quelle: BD
+++
Rocket Lab scrubs test launch attempt from Launch Complex
Rocket Lab scrubs test launch attempt from Launch Complex 1

Rocket Lab, an American-New Zealand aerospace company, has postponed the test launch of its Electron vehicle today due to weather conditions. The planned launch attempt will now take place on Thursday, May 25, 2017.

Peter Beck, CEO and founder of Rocket Lab, says poor weather is delaying the launch attempt of Rocket Lab's first test rocket titled 'It's a Test'.

"Similar to yesterday, high altitude cloud created a risk of triboelectrification. Our team were able to fuel the vehicle and prepare it for flight, but worsening weather conditions meant we were forced to delay. We'll have another go tomorrow. The team did a great job today, and our operations are running smoothly.

"We were targeting a 2pm launch where there was a window clear of triboelectrification, but a front quickly moved up the country and closed the window of opportunity to launch.

"We have weather scientists on site who advise us in real time about changing conditions, as well as using weather balloons and satellite data to assess if launch criteria is met.

"We'd like to thank local residents, supporters and emergency services for their patience.

"Because this is a test launch, our weather constraints are more restrictive than they will be during commercial operations. We are focussed on the best possible weather conditions for launch. This is so we can focus on testing the rocket as a priority, rather than its ability to deal with adverse weather conditions.

"Safety is Rocket Lab's number one priority and we are following guidelines set by the FAA and NASA around weather and launch safety."
During the test phase, it's common for planned launches to be postponed to ensure ideal conditions. The launch attempt will now occur on Thursday, May 25, 2017.
Quelle: SCOOP
---
Update: 25.05.2017
.
Rocket Lab puts its first low-cost Electron launch vehicle in space from New Zealand
Rocket Lab says its first Electron rocket "made it to space" after a test launch from a New Zealand pad, marking a big step toward its goal of putting payloads into orbit for $5 million.
Liftoff came at 4:20 p.m. Thursday New Zealand time (9:20 p.m. PT Wednesday), after earlier opportunities had to be passed up due to weather concerns.
In a statement, Rocket Lab founder and CEO Peter Beck said the rocket achieved an outer-space altitude but fell short of going orbital.
"It was a great flight," Beck said. "We had a great first-stage burn, stage separation, second-stage ignition and fairing separation. We didn't quite reach orbit, and we'll be investigating why. However, reaching space in our first test puts us in an incredibly strong position to accelerate the commercial phase of our program, deliver our customers to orbit and make space open for business."
Beck didn't say exactly how high the rocket rose, but the internationally accepted altitude for outer space is 100 kilometers, or 62 miles.
The Los Angeles-based company built its first launch pad on New Zealand's Mahia Peninsula – in part because Beck is a New Zealander, and in part because the licensing requirements and operating conditions were commercially advantageous.
The $5 million target price for an Electron launch to sun-synchronous orbit would compare favorably with the prices quoted by other launch providers, even SpaceX, as long as you don't need to launch more than 330 pounds or so (150 kilograms).
To drive down the cost of access to space, the Electron takes advantage of several technologies that might be considered experimental for the space business, including carbon-composite construction of its core and 3-D printing for most of the parts of its Rutherford rocket engine.
U.S. authorities have cleared Rocket Lab's New Zealand facility for launching U.S. payloads, but this first mission was meant to be merely a test, with no paying customers. As a joke, the rocket was nicknamed "It's a Test."
Once the 56-foot-tall rocket has been tested sufficiently, it could be used to put NASA-backed nanosatellites into orbit, and send Moon Express' lander on the first leg of its potentially prize-winning journey to the lunar surface. Seattle-based Spaceflight has already reserved a dedicated-rideshare launch next year.
In March, Rocket Lab reported that it had raised $75 million in a Series D financing round, resulting in a unicorn-level valuation of more than $1 billion. Investors include Data Collective, Promus Ventures, Khosla Ventures, Bessemer Venture Partners and K1W1.