17.10.2016
China launches longest-ever manned space mission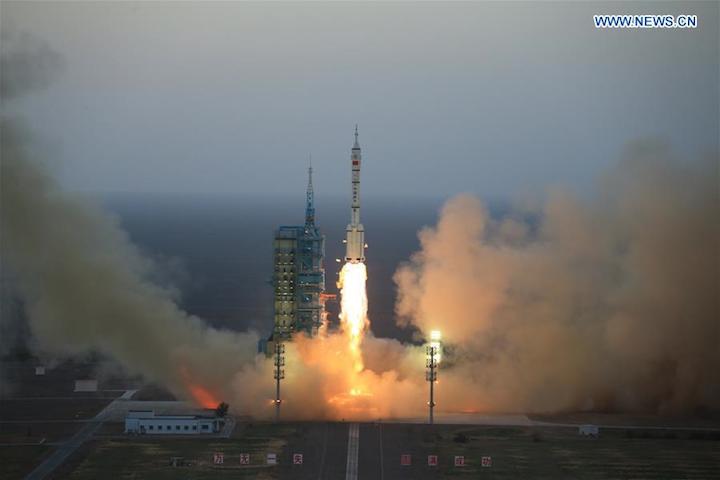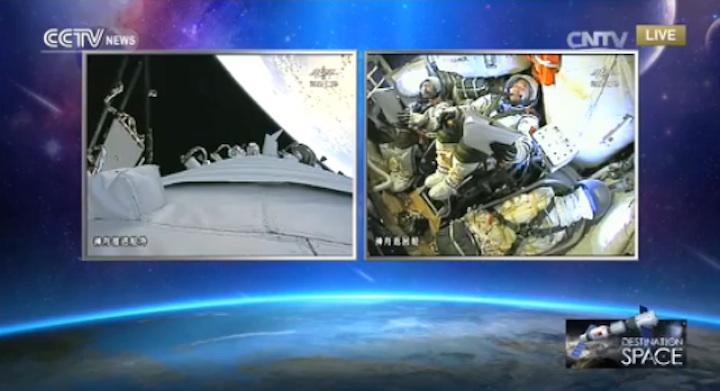 JIUQUAN, China on Monday successfully launched the manned spacecraft Shenzhou-11, carrying two astronauts who will remain in space for 33 days, the longest manned mission in the country's space program to date.
Shenzhou-11, China's sixth manned spacecraft, will dock with space lab Tiangong-2, marking a step closer to its space station ambitions.
The spacecraft was launched with a Long March-2F Y11 carrier rocket at the Jiuquan Satellite Launch Center in northwest China's Gobi desert at 7:30 a.m. Monday Beijing time.
The launch was declared a success by Zhang Youxia, commander-in-chief of China's manned space program, about 19 minutes after blast-off.
President Xi Jinping, also general secretary of the Communist Party of China (CPC) Central Committee, sent a message of congratulations for the successful launch, expressing hope that "Chinese people will take bigger steps and march further in space, to make a new contribution to the building of China into a space power."
Premier Li Keqiang and Liu Yunshan, both members of Politburo Standing Committee of the CPC Central Committee, watched the live broadcast of the launch at the command center of China's manned space program in Beijing.
After docking with Tiangong-2, the astronauts will enter the space lab and stay there for 30 days.
Shenzhou-11 will then undock from Tiangong-2 and return to Earth within one day.
The two astronauts are commander Jing Haipeng, a 50-year-old veteran who participated in the Shenzhou-7 and Shenzhou-9 missions, as well as Chen Dong, 38, who is on his first space mission.
A ceremony to see the two astronauts off was held at the Jiuquan Satellite Launch Center ahead of the launch on Monday morning.
In an interview with Xinhua, Chen said he was inspired by his idol, China's first astronaut Yang Liwei, to become one of the country's elite space explorers.
Tiangong-2 was launched into space on September 15. The rendezvous will happen at an orbit about 393 kilometers above Earth, the same height the future Chinese space station will operate at.
Wu Ping, deputy director of China's manned space engineering office, said at a press conference Sunday that Tiangong-2 has already reached its preset orbit 393 kilometers above the earth, adding that it was in stable condition and would meet the requirements for docking with Shenzhou-11 and accommodating the astronauts.
The mission aims to transport personnel and materials between Earth and Tiangong-2, as well as test meeting, docking and return processes.
Other objectives include aerospace medical experiments, space science experiments and in-orbit maintenance. The astronauts will conduct three experiments designed by middle school students from the Hong Kong Special Administrative Region, including raising silkworms in space.
Jing and Chen will also be special correspondents for Xinhua, sharing their work and life in space via text, photo, audio and video, using Xinhua's global media services.
During their 30 days in the space lab, the astronauts will work eight hours per day, six days a week, according to the Astronaut Center of China.
"It is synchronized with the sleep-wake cycle on Earth and marks a transitional design to long-term flight in a space station," said Huang Weifen, deputy chief designer of the astronaut system with the center.
As the last manned space flight before China's space station mission, Huang said Shenzhou-11 offers a precious opportunity to verify the technology needed to support astronauts' life, health and work, as well as to gather data for the space station mission.
The astronauts will have access to: almost 100 kinds of food; contact with Earth through video, audio and emails; and exercise through a stationary bike and treadmill.
The mission will prove China's capability of carrying out a medium-term manned space mission.
In June 2013, three astronauts spent 15 days in space with the Shenzhou-10 mission, which docked with Tiangong-1, the predecessor of Tiangong-2.
Zhang Yulin, deputy commander-in-chief of China's manned space program, said Shenzhou-11 marks the imminent end of the exploratory stage of China's manned space program. The program will carry out manned space missions on a regular basis with the establishment of its own space station.
China's space station, which is expected to debut around 2020, may become mankind's only foothold in space when the International Space Station retires in 2024.
SPACE STATION IN SIGHT
Tiangong-2 will remain operative in orbit after the Shenzhou-11 spacecraft returns to Earth, waiting for docking with Tianzhou-1, China's first cargo spacecraft to be launched in April 2017, to verify refueling technology, a key technology for any space station.
The mission will be a key step toward China's dream of building a permanent manned space station.
In 1992, China developed a three-step strategy for a manned space program.
The first step, to send an astronaut into space and return safely, was fulfilled by Yang Liwei in the Shenzhou-5 mission in 2003.
The second step was developing advanced space flight techniques and technologies including extra-vehicular activity and orbital docking. This phase also included the launch of two space laboratories -- effectively mini space-stations that could be manned on a temporary basis.
The next step will be to assemble and operate a permanent manned space station.
Zhou Jianping, chief designer of China's manned space program, said China's space station will be comprised of a core module and two experimental modules, each weighing about 20 tonnes.
It will accommodate three to six astronauts, Zhou added.
The core module is expected to be launched around 2018, and the space station will enter into full service around 2022, with an initial designed life of at least 10 years.
With the space station, China will become the second country after the former Soviet Union to have developed a space station with its own efforts.
Currently, China's astronauts, all selected from commissioned pilots of the People's Liberation Army Air Force, are mainly responsible for operating spacecraft, according to Zhou.
"In the future, we need astronauts from different backgrounds, engineers and scientists in particular, because we will carry out scientific experiments in the space station," Zhou said.
Zhang Bonan, chief designer of the Shenzhou-11 spacecraft, said China is exploring a new generation of manned spacecraft technology, aiming to lower the cost of space flight significantly, while ensuring its safety and reliability.
"I hope a spacecraft launch will just be ordinary news one day, and more Chinese citizens can embark in space flight, just like travelling by plane," Zhang said.
---
Spotlight: China closer to establishing permanent space station with launch of Shenzhou-11
BEIJING, The launch of a new manned space mission brings China closer to the establishment of a permanent space station, international experts say.
Chinese taikonauts, Jing Haipeng, 50, and Chen Dong, 37, were blasted off into space onboard Shenzhou-11 at 7:30 a.m. Monday (2330 GMT Sunday) and will spend 30 days in the Chinese space laboratory Tiangong-2.
The launch marks a key step toward China's plan to eventually operate a permanent space station, said Russia Today television.
The successful launch of the Shenzhou-11 spacecraft is another step forward to put China among leading players in space technology, said Alexander Zheleznyakov, a Russian expert on history of space flights.
China's experimental space lab will help provide solutions for spacecraft of different functions to approach and dock, and for a long-term operation of life support system, said Zheleznyakov.
Shenzhou-11 is scheduled to dock on Wednesday with Tiangong-2, which is part of China's plan to build a permanent space station by 2022.
Igor Lisov, a prominent Russian space expert and an editor at the industry magazine Cosmonautics News, spoke highly of China's launch of the manned space mission.
China can now test technologies for cargo spacecraft docking, life support system operation and water recycling to ensure a long-term continuous operation of its space station in the future with less dependance on replenishment from the Earth, he said.
If all goes well, China will launch the unpiloted Tianzhou-1 cargo ship next spring to autonomously dock with Tiangong-2. Tianzhou-1 will be capable of automatically transferring propellants, a crucial requirement for space station assembly and maintenance, according to a report by Columbia Broadcasting System (CBS).
"That will further their docking capabilities needed for the larger space station," Johnson Freese, a professor at the Naval War College and an expert on China's space program, was quoted as saying by the CBS.
"Tiangong-2 is supposed to be able to stay in orbit for two years or longer, so that's taking them (Chinese) really close to 2019 or so. I think this will be their last big technology test phase before going to their large space station," said Freese.
The steady progress of China's space program has aroused criticism against the United States, who refused to cooperate with China in the International Space Station program and forced China to develop its own.
While the European Space Agency and Russia are cooperating with China, NASA of the United States is currently largely prohibited from doing so by law, said the Finland-based news website gbtimes.com.
With the current U.S.-led International Space Station expected to retire in 2024, China could be the only country with a permanent presence in space, said the National Broadcasting Company (NBC).
China has already signed an agreement with the United Nations opening the Chinese Space Station to receive science payload, astronauts and even modules from countries around the world, the gbtimes reported.
China is "on the rise and the United States is in very real danger of falling behind in the future," Leroy Chiao, a former NASA astronaut and veteran of four space flights, was quoted by the NBC as saying.
Despite being decades behind the U.S. space program, China is clearly catching up and using what Chinese experts call the "latecomer's advantage," the NBC reported.
Quelle: Xinhua
-
Update: 21.45 MESZ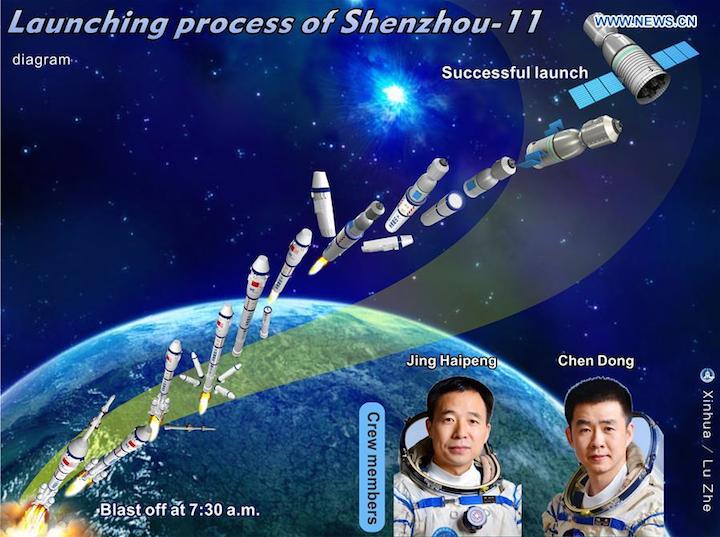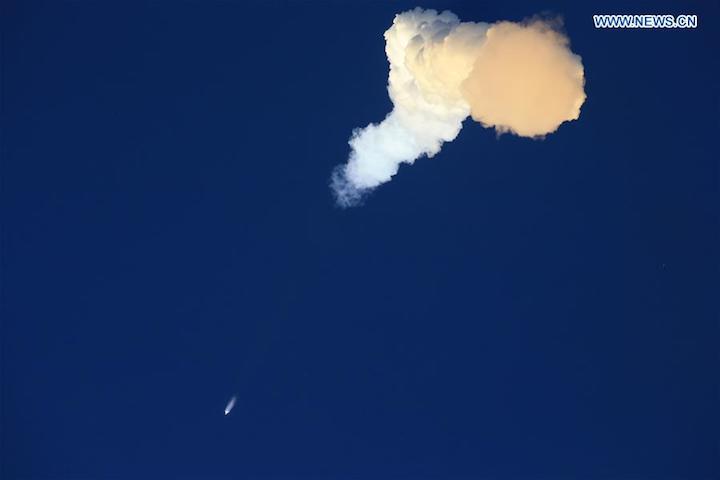 Inzwischen Bergung der Shenzou11-Reentry-Teile...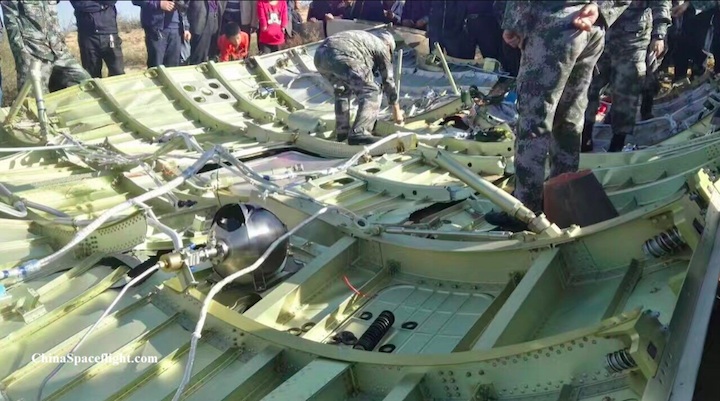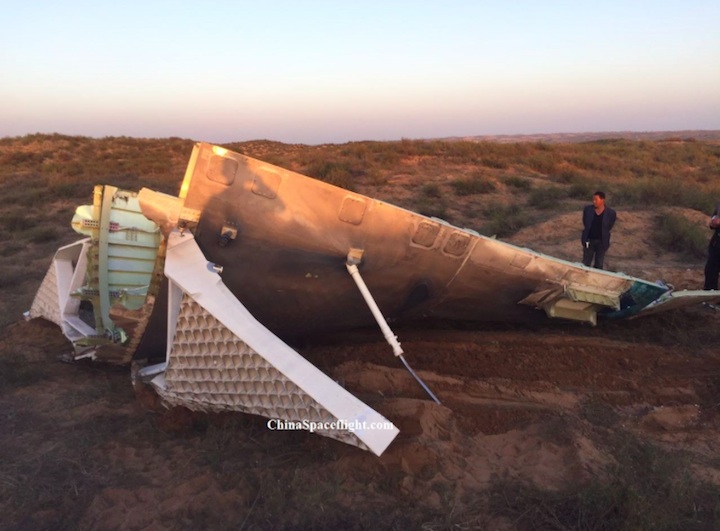 Quelle: Xinhua
-
Update: 18.10.2016
.
Shenzhou XI astronaut to spend 50th birthday in space
Astronauts Jing Haipeng (right) and Chen Dong salute inside the spacecraft at the moment of launching on Monday. [Photo/Xinhua]
China launched the Shenzhou XI manned spacecraft on Monday morning to transport two male astronauts – 49-year-old Jing Haipeng and 37-year-old Chen Dong to the Tiangong II space laboratory.
Jing Haipeng, commander of Shenzhou XI, will spend his 50th birthday in space during the 30-day mission and break the age record of Chinese astronauts in service.
The mission is Jing's third spaceflight following his 68-hour Shenzhou VII mission in 2008 and 13-day Shenzhou IX mission in 2012, making him the first astronaut to enter the space thrice and holding the record of most hours spent in space by a Chinese.
His companion, Chen Dong, with a safe flight record of 1,500 hours as an air force pilot, was named one of China's second generations of astronauts in May 2010, and was selected as a crew member for the Shenzhou XI mission in June 2016.
'Totally believe in each other, but do not totally believe each other'
Jing is 12 years older and more experienced than zero-space-experience Chen. How do they cooperate with each other?
Chen said they have trained together for six years. "We spent more than 10 hours every day after being selected as crew members, far beyond the time we spent with our family members."
"Brother Jing once told me to totally believe in each other, but not totally believe each other," said Chen. "We believe in each other because our lives depend on each other," he said.
"But mistakes can happen in anything, he added, "we have to offer strengths to complement the others' weaknesses and make sure every action and every order is right."
Jing Haipeng was deeply impressed by Chen's professionalism. Once during training, when Jing was about to carry out a maneuver, Chen suddenly said "No 01, wait a moment please". Jing immediately realized that he had almost made a mistake.
"Although I am the commander and an older brother and Chen has to listen to me, he never obeys me blindly and stopped me tactfully," said Jing.
Jing and Chen call each other "brothers" in private, but "No 01" and "No 02" at work.
"After taking into consideration the current status and the future of the space team, we combined veteran astronaut with new astronaut," said Huang Weifen, deputy chief designer of Astronaut Center of China, adding that he hopes more veteran astronauts will carry out future missions.
Raise silkworms in space in experiment designed by HK students
One of the striking characteristics of Shenzhou XI mission is to perform many tests and experiments, dozens of which require astronauts to do them by themselves.
Raising silkworms is one of them. It is based on the design of Hong Kong students, who asks astronauts to observe whether silkworm will spin silk in space the way they spin on earth and whether they will cocoon themselves.
Jing and Chen therefore learned how to raise silkworms and Jing thinks it is very interesting.
They will also carry out some professional experiments, including scans of internal organs.
"I spoke with a doctor and he told me you need at least a year of training before you can conduct a B-scan on a patient," Jing said, referring to a technique in which structures of the body are visualized by recording echoes of ultrasonic waves directed into tissue. "We were trained for less than six months, and we're about to do it on our own bodies-with no gravity."
The resulting images and data will be sent back to headquarters for experts to analyze, he said, adding that the purpose is to see how the cardiovascular system is affected in a zero-gravity environment."
He said that one of the goals of Shenzhou XI mission is to evaluate astronauts' physical signs and living condition.
To finish all these tasks, astronauts underwent extensive training in operating scientific experiments. "We are not scientists, but we will realize scientists' ideas and goals through our hands," said Jing, adding that these tests and experiments will pave way for the long-term manned flight of space station in the future.
Meet family through VR technology
Three weeks before the mission, the family members of Jing and Chen still did not know anything.
Chen Dong has been a pilot for many years before joining the space team. He got acquainted with his wife several years ago and now has a pair of five-year-old twin sons.
One-month mission is not the longest time Chen has stayed away from home. When he was a pilot, he once did not come back home for half a year during a mission. He described the experience as "no seeing, no missing".
But with the help of Virtual Reality (VR) technology, astronauts will meet their family during leisure time. "If I see them (family members), it will be different somehow," Chen said.
For Jing, he looks very calm. In his first space mission on Shenzhou VII, his wife was so nervous that she almost did not sleep during those three days. Now that it is his third mission, his wife has got used to it.
During the mission, the team on the ground will visits Jing and Chen's family. "I talked with my wife and I think she will not worry much," said Chen Dong with a smile.
---
Astronauts enjoy range of delicacies on Shenzhou XI
Astronauts Jing Haipeng (right) and Chen Dong salute inside the spacecraft at the moment of launching on Monday. [Photo/Xinhua]

The two astronauts headed for the Tiangong II space laboratory aboard the Shenzhou XI enjoyed their first meal about four hours after the spacecraft blasted off at 7:30am on Monday.
The lunch included eight types of food, ranging from grain crackers, canned apples, flatfish, spicy tofu, chicken sausages to lemon tea and stomach friendly beverage.
The recipe will change every five days during their 33-day stay in space, said Cao Ping, a nutrition researcher at the Astronaut Center of China in Beijing.
After Shenzhou docks at the space laboratory, the astronauts will have six types of meals thrice a day - staple and non-staple food, instant food, beverages, flavoring and functional food, and the meal time will synchronize with that on the earth.
Compared to previous space missions, the food on Shenzhou XI has a wider variety of Chinese delicacies.
In 2003, there were 20 or 30 types of food for China's first astronaut, Yang Liwei, who was carried aloft by Shenzhou V. On Shenzhou VII which blasted off in 2012, there were about 70 types of items.
Shenzhou XI, on the other hand, carries more than 100 types of food and beverages, including spiced beef and shredded pork in garlic sauce, a popular dish in almost every Sichuan-cuisine restaurant, and desserts such as ice cream, according to Cao.
Recipes were designed and arranged in accordance with nutritional requirements in different phases of the mission.
For example, the astronauts can eat congees if they lack appetite during their first days in space; Chinese food therapy will be adopted in the middle phase in line with the changes in the astronauts' physical conditions; while in the latter stage, food with low dietary fiber along with multivitamins will kick in.
The daily calorie intake, based on the working load of the astronauts, will be converted to the weight of food, equaling about one or two kilograms.
Cao said the ground crew of Shenzhou XI will keep a close eye on the meals and make evaluations so as to keep the astronauts posted.
The astronauts will use a food heater developed by the Fourth Academy of China Aerospace Science and Industry Corp.
Quelle: CHINADAILY
-
Update: Shenzhou11 dockt an Tiangong-2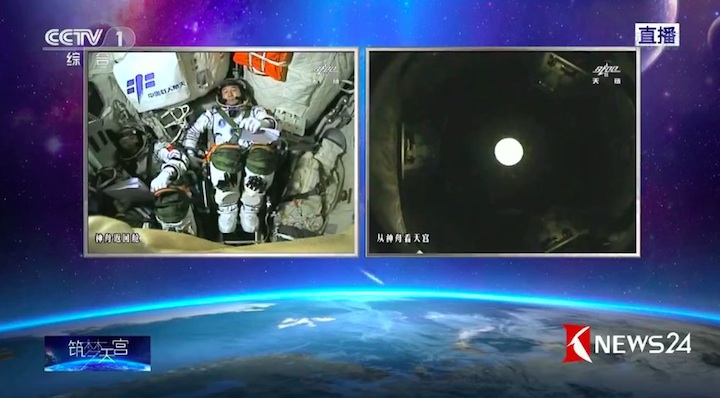 China's crewed Shenzhou-11 spacecraft docks with Tiangong-2 space lab
The Shenzhou-11 spacecraft carrying two Chinese astronauts has docked with the Tiangong-2 space lab, in a mission designed to pave the way for the future Chinese space station.
The successful procedure, performed with both craft travelling at around 7 kilometres per second, comes two days afterlaunch of Shenzhou-11 on a Long March 2F rocket from the Gobi Desert.
The automated docking occurred at 03:29 Beijing on Wednesday (19:29 UTC Tuesday) while the craft passed over southwest China at an altitude of 393 km.
Two to three hours after docking astronauts Jing Haipeng and Chen Dong will move through a one-metre-long passage to begin a 30-day mission aboard Tiangong-2.
The main aims of the Shenzhou-11 and Tiangong-2 missions are to test advanced life support and repair and maintenance capabilities required for China's planned large space station.
In the process the astronauts will more than double the national record for human spaceflight mission duration.
Tiangong-2 and Shenzhou-11 are also carrying a range of science experiments, some of which will be carried out by the astronauts.
The mission is the third for the 49-year-old Jing,while the 37-year-old Chen, who became the 547th person to enter Earth orbit on Monday.
Shenzhou-11 is China's sixth human spaceflight mission, with the first, Shenzhou-5, taking Yang Liwei to orbit in October 2003.
China is only the third country, after the United States and Soviet Union (now Russia), to develop and perform automatic and manual docking capabilities between spacecraft in orbit.

Above: Shenzhou-10 docking with Tiangong-1 in June 2013.

The first demonstration was with the uncrewed, automated Shenzhou-8 spacecraft and Tiangong-1 space lab in 2011, followed by the crewed Shenzhou-9 and 10 missions to Tiangong-1 in 2012 and 2013.
Space station plans
If all goes well with Shenzhou-11, China's first cargo supply vessel, Tianzhou-1, will launch on a new Long March 7 rocket in April 2017 to dock with Tiangong-2 to test on-orbit refueling technology required for maintaining a space station.
Together, the missions mark crucial steps towards China launching, in 2018, the core module of its planned 3-module, 60-tonne space station.
The space station is expected to be completed by around 2022 and share an orbit with a Hubble-class space telescope which can dock with the station.
-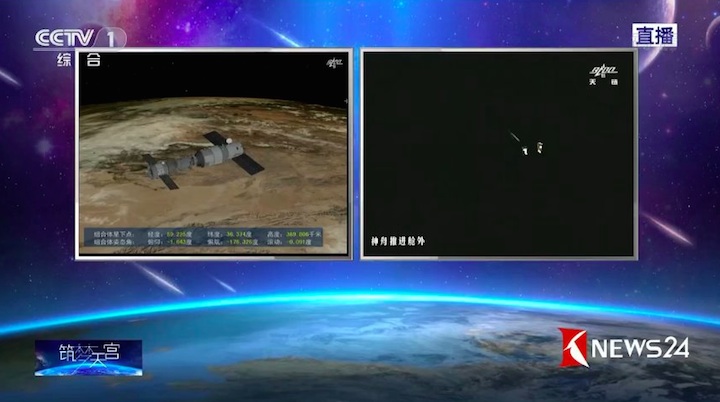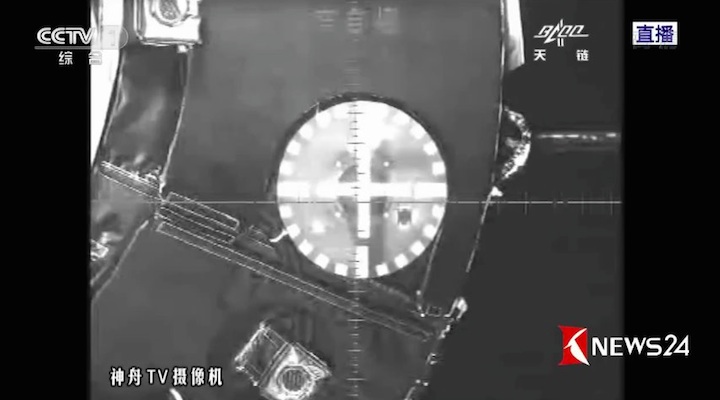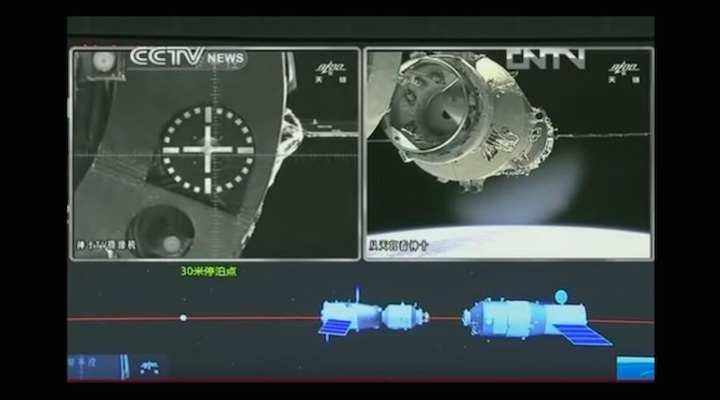 Quelle: gbtimes
-
Update: 19.10.2016
-
Shenzhou-11 astronauts enter Tiangong-2 space lab
Photo taken on Oct. 19, 2016 shows the screen at the Beijing Aerospace Control Center showing Chinese astronaut Jing Haipeng entering the space lab Tiangong-2. The two astronauts onboard the Shenzhou-11 spacecraft entered the space lab Tiangong-2 Wednesday morning. (Xinhua/Ju Zhenhua)
BEIJING, Oct. 19 (Xinhua) -- The two astronauts aboard the Shenzhou-11 spacecraft entered the space lab Tiangong-2 at 6:32 Wednesday morning Beijing Time, according to Beijing Aerospace Control Center (BACC).
Commander of the mission Jing Haipeng opened the hatch of Tiangong-2 and floated into the space lab, followed later by Chen Dong.
The two astronauts extended greetings to all the people of the nation in the space lab, and checked the status of the space complex formed by Shenzhou-11 and Tiangong-2.
Before entering the space lab, the two astronauts entered Shenzhou-11's orbital compartment and removed their intravehicular mobility unit spacesuits to change into blue jumpsuits.
They will live in the space lab for 30 days before returning to Earth.
Shenzhou-11 was launched on Monday morning from northwest China's Gobi Desert.
It approached Tiangong-2 and automatically docked with the space lab at 3:31 a.m. Wednesday.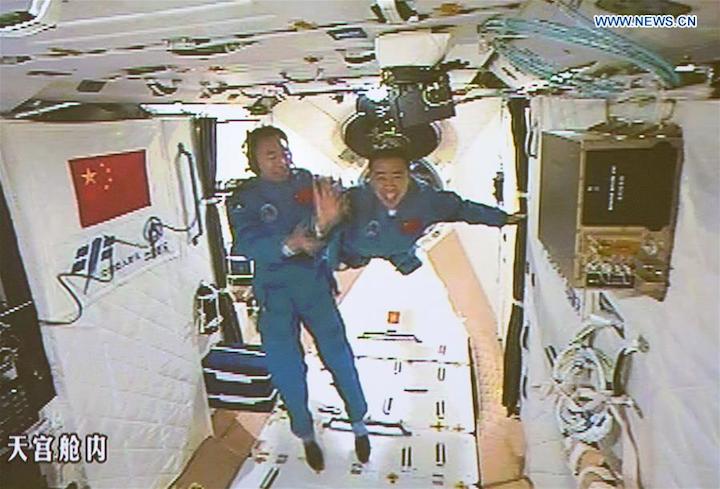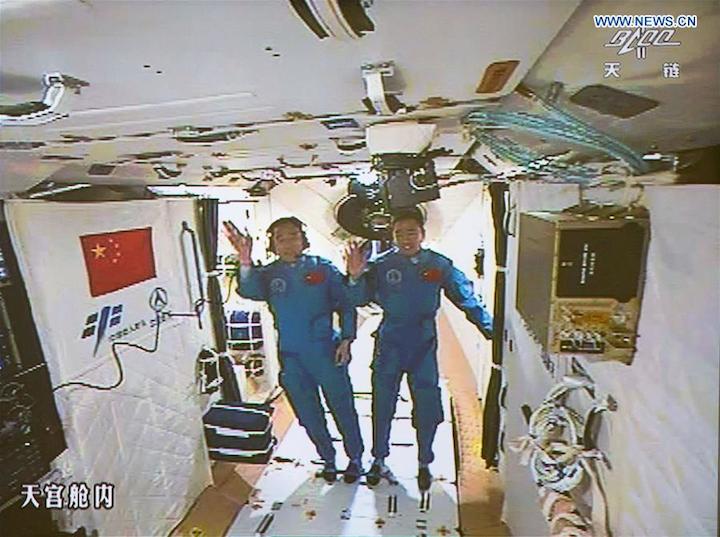 The graphics shows the procedure of Shenzhou-11 manned spacecraft automated docking with Tiangong-2 space lab on Oct. 19, 2016.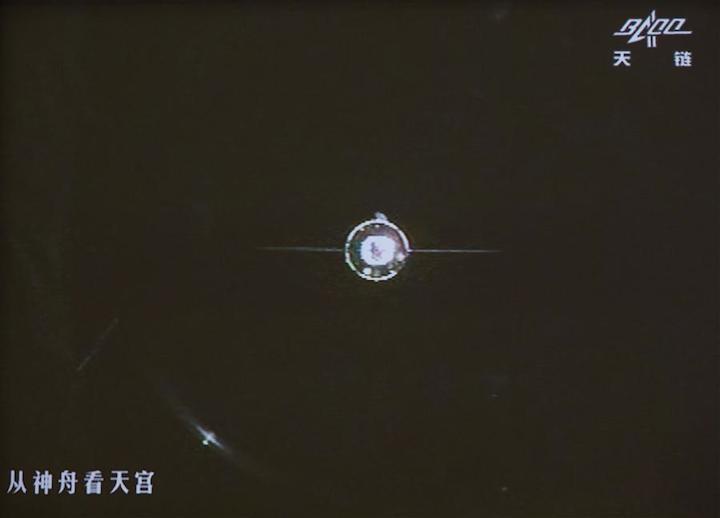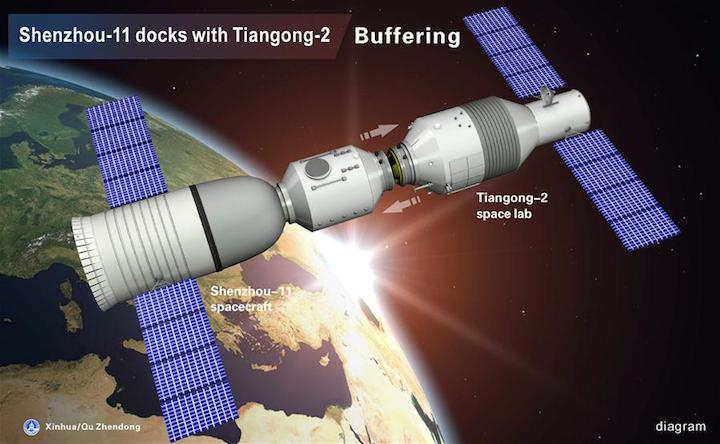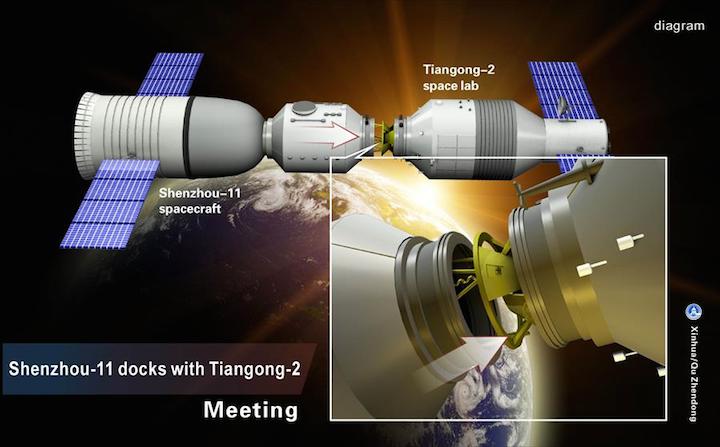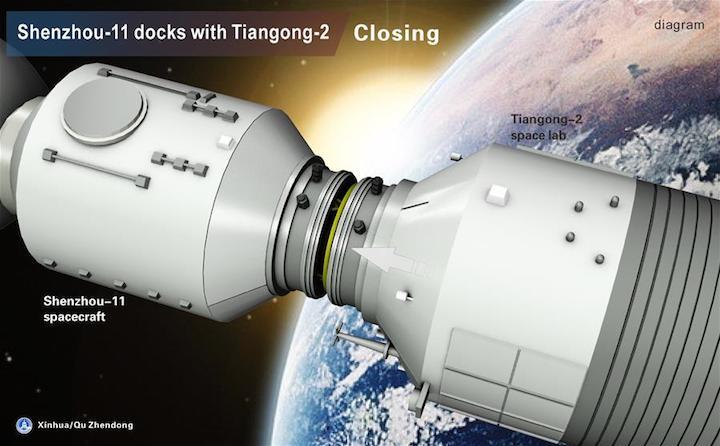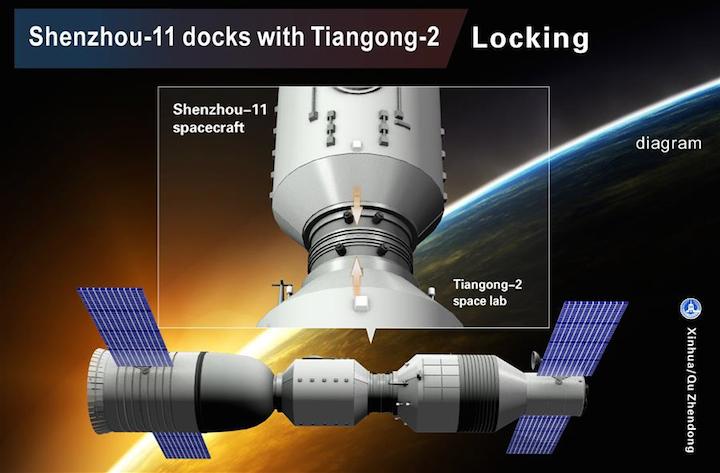 Quelle: Xinhua
-
Update: 20.10.2016
.
Astronaut's first diary from space: forget all about rice and noodle after they are heated
Photo taken on Oct. 19, 2016 shows the screen at the Beijing Aerospace Control Center showing the two Chinese astronauts Jing Haipeng (L) and Chen Dong saluting in the space lab Tiangong-2. The two astronauts onboard the Shenzhou-11 spacecraft entered the space lab Tiangong-2 Wednesday morning. (Xinhua/Ju Zhenhua)
-
ABOARD TIANGONG-2, Today is the first day that our flight crew moved into the space complex for the Shenzhou-11 mission. It is 10:05 p.m. now, and we haven't finished our work yet.
I'm told people are concerned about our life here in space. Tutuping'an, a net user of Xinhua mobile app, is curious about how we sleep and have meal in the space lab. I should say Chen Dong and I feel fulfilled in work, and we really want to go to bed now. As we were so busy in the morning, docking Shenzhou-11 and Tiangong-2 and then entering Tiangong-2 of the complex, we had no time for dinner. We ate only one meal for breakfast and lunch. They were largely ready-to-eat foods, or what we often say snacks. We took few staple food. We did heat rice and noodle, but in a little while forgot all about them. We are to make up for the meal at night.
This is my third time to fly into space. This is also my second time to enter Tiangong. Tiangong-1 was quite well, but Tiangong-2 is much more comfortable. It is perfect in layout, decoration and matching of colors.
Speaking of the family, I remember I said when meeting the press that half of the credit should be given to our family members. Chen Dong and I talked about it today, and we agreed with that.
At this very moment, Chen Dong and I miss you so much in Tiangong-2. I want to tell you, dear comrades from the astronaut brigade, that in the past 18 years, we have taken meals at the same table, attended class in the same room, and played basketball in the same court. In the 18 years, we have worked together, lived together, received training together, and chased dream together. We are as dear to each other as members of one family. I know you are standing guard, cheering us on, and on duty for us. And we salute you all!
Quelle: Xinhua
-
Update: 22.10.2016
.
Space Journal: Entry 2 -- I haven't seen aliens, or got space sickness
Photo taken on Oct. 19, 2016 shows the screen at the Beijing Aerospace Control Center showing the two Chinese astronauts Jing Haipeng (L) and Chen Dong saluting in the space lab Tiangong-2. The two astronauts onboard the Shenzhou-11 spacecraft entered the space lab Tiangong-2 Wednesday morning. (Xinhua/Ju Zhenhua)
ABOARD TIANGONG-Today is my third day aboard Tiangong-2. I am Xinhua space correspondent Chen Dong.
Being in space for the first time is unusual, to say the least, initially I felt that I could not control my body. I could not walk and certain actions just felt weird. My big brother Jing Haipeng has really helped me adjust to life up here, and I am slowly getting used to the feeling of zero gravity, and, you know what -- I'm starting to enjoy it more and more.
I sleep well but I think that is because during our waking hours we are busy so that I fall asleep as soon as I close my eyes at night. Have I dreamed? I think so, because of all the new things I am experiencing during the day. I definitely dreamed of the feeling of zero gravity.
Before being here, in space, I was most excited by the view from our porthole. Actually I saw it from our spacecraft when the fairing detached. I was so taken by this vision -- our beautiful planet -- that I made sure to take a few glances to really leave an imprint in my mind. While I was hypnotized by the view of Earth, bro Jing asked me how it made me feel. All I could say was that it was very beautiful. I had no more words for the way I felt at that moment. As being in space is not just about the view -- we have a lot of work to do after all -- I had to take as much in as I could in just a few moments. After all, I will always have the memory of this amazing moment.
I haven't seen the sunrise or sunset yet, just day and night. I'm sure the time will come for me to experience them both. And, as for taking photos or recording videos, I want to collect as much visual data as possible, as much for the world as for my own memories.
I heard that Xu Sidan, a student from Hangzhou school for the deaf asked me a question on Xinhua's mobile app. Xu asked whether I have seen aliens yet? What a beautiful imagination this child has. I haven't seen aliens, yet, but I do harbor a hope that I will see aliens, and many other peculiar things aside.
Another child asked me whether human get space sickness. Although a spaceship is a "ship," it is not at all like being at sea or onboard a car. This feeling of zero gravity will not cause sickness. It is just a wonderful feeling; very, very good.
Quelle: Xinhua
---
Update:
TIANGONG 2 SIGHTED FROM EARTH: China's new space station literally doubled in size on Oct. 18th when two Chinese astronauts (taikonauts) guided their Shenzhou 11 spacecraft into Tiangong 2's orbit and docked with it. This has made the growing outpost even easier to see from Earth. Last night, amateur astronomer Tom Harradine of Brisbane, Australia, took this picture of the joined spacecraft: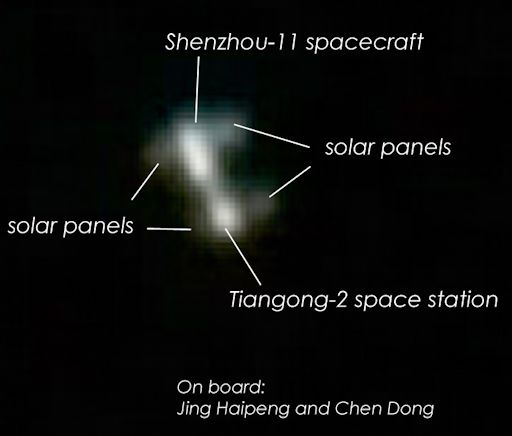 "I used a Skywatcher 14-inch Dobsonian telescope and a Canon EOS 70D digital camera to take this 1/3200 s exposure (ISO 800)," he explains. It was great to see the outlines of the space station with astronauts Jing Haipeng and Chen Dong on board."
Linked together, the merged spacecraft will orbit Earth for the next month providing a home in space about the size of a double decker bus. If all goes as planned, Haipeng and Dong will more than double the record for the longest-duration Chinese crewed mission, extending the mark from 15 days to 33 days. They will spend their time conducting science experiments and rehearsing procedures for future missions: Within a few years, China plans to start launching modules for a much larger Mir-class space station slated for completion in the 2020s.
Ready to see for yourself? Tiangong 2 flyby predictions may be found at Heaven's Above.
Quelle: Spaceweather
3001 Views