.
8.02.2016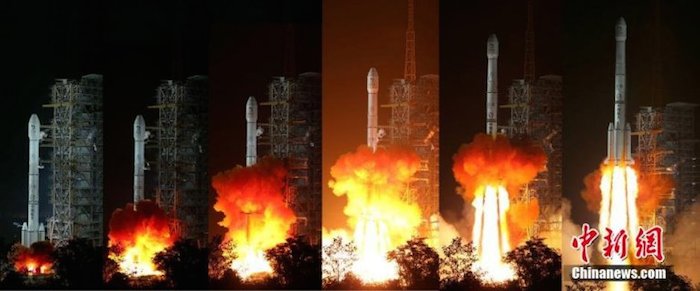 The launch of China's Chang'e-3 mission on a Long March 3B in late 2013, putting a lander and rover on the Moon. Long March 5 will launch a lunar sample return mission in 2017. (Photo: CNS)
.
China has concluded final testing on the Long March 5, the country's largest ever rocket, clearing the way for its debut launch in September.
Tests at the brand new coastal Wenchang launch centre totalled more than 130 days, and included the Chang'e-5 lunar probe designed for a Moon sample return mission next year.
Li Dong, a senior designer at the China Academy of Launch Vehicle Technology and head of the Long March 5 project, told China Daily the sophisticated tests involved about 300 engineers.
Results from the tests will be used to improve the first mass-production Long March 5, which will be manufactured by the Tianjin Long March Launch Vehicle Manufacturing Co, in North China and delivered by sea to Wenchang.
.
Space station and interplanetary missions
The 57m high, 5m diameter Long March 5 will have a weight at liftoff of around 800 metric tons, with the heaviest lift configuration capable of putting a 25 ton payload into low Earth orbit.
This makes it comparable to the most powerful rockets currently in service in the world today, such as the Delta IV Heavy, manufactured by United Launch Alliance of the United States.
The new rocket will increase China's space launch capabilities by 2.5 times by payload mass and pave the way for a number of ambitious missions and projects.
.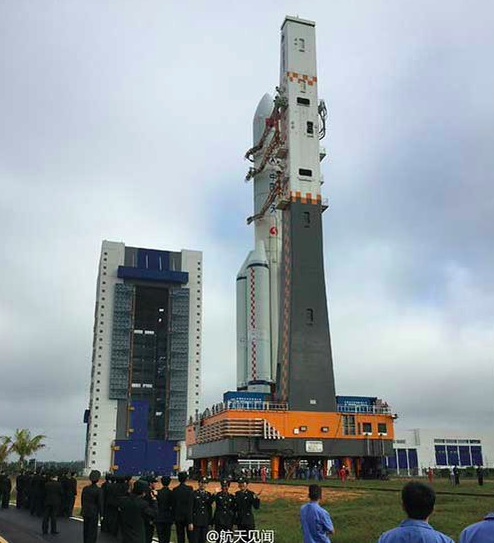 As well as the challenging and complex Chang'e-5 lunar sample return mission in 2017, the new carrier rocket will be used to launch the modules of the future Chinese space station.
The core module is expected to launched in 2018, and the CSS completed and fully operational by around 2023.
It will also likely be involved in future interplanetary missions outlined by Chinese scientists, such as a planned 2020 orbiter and rover mission to Mars.
Success of the debut Long March 5 launch is therefore crucial to China's future plans.
Long March 5 is part of a new series of next-generation cryogenic liquid oxygen/kerosene and liquid oxygen/liquid hydrogen fuelled rockets.
The medium lift Long March 7, pictured below, will have its maiden flight in June, while the much smaller Long March 6 successfully blasted off from Taiyuan in September.
Together they will replace the decades-old Long March 2, 3 and 4 rocket families, which are fuelled by highly toxic unsymmetrical dimethyl hydrazine.
.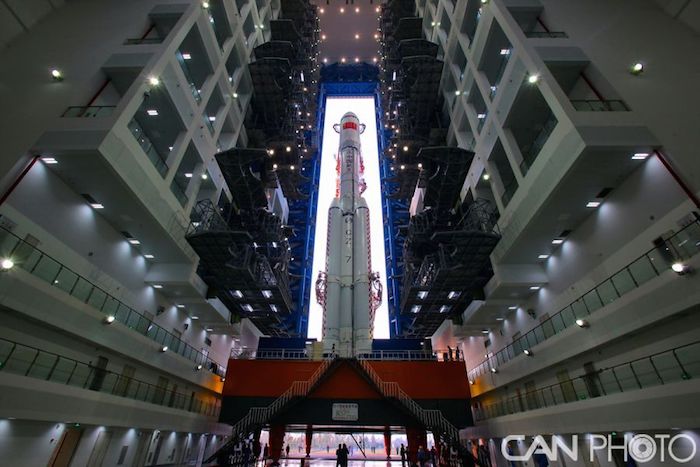 Long March-7
.
"Expanding capabilities"
Significantly, the new rocket families mark a step forward in China's ambitions and capabilities, according to Joan Johnson-Freese, a Professor of National Security Affairs at the US Naval War College, who expressed her personal views to gbtimes last year.
"What this means for the US and all space faring nations is another indicator that China is a long-term player in space with expanding capabilities. It cannot be denied or ignored, as the US has tended to do," Johnson-Freese said.
Professor Huang Jun at the Beijing University of Aeronautics and Astronautics says the rockets mark a technological breakthrough for the country, claiming they will improve reliability and launch preparation time and reduce launch costs.
Quelle: gbtimes
-
Update: 26.04.2016
.
Assembly of China's Heavy-lift Long March-5 Rocket Begins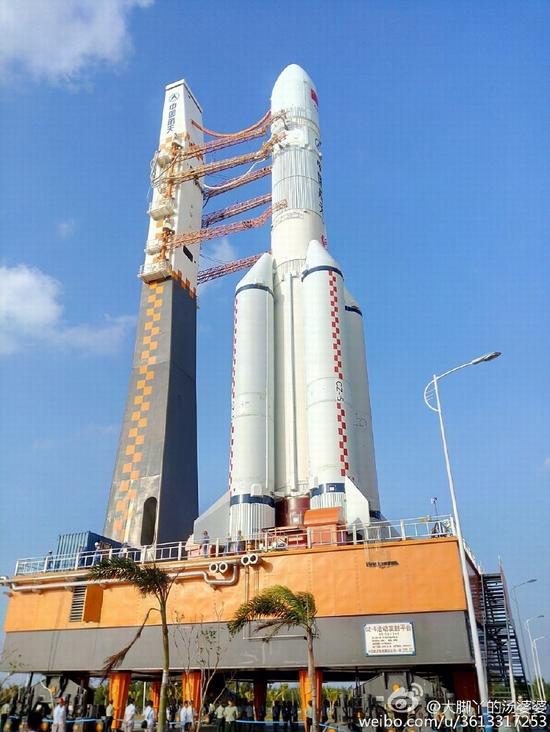 A file photo of heavy-lift Long March-5 carrier rocket. [Photo: weibo.com]
China has started to assemble a new generation of the heavy-lift Long March-5 rocket, which is scheduled for launch later this year.
Using non-toxic and pollution-free propellant, the 60-meter-long rocket with a liftoff weight of over 800 tons will be equipped with 4 thrusters.
Yang Hujun, vice chief engineer, has spoken about the next steps for the Long March-5 project.
"After the assembly is finished in the first half of this year, it will take a little more than a month to test it to ensure that the product is in good shape. The first launch will be made after it is out of the plant in the latter half of the year. "
The new generation of rockets will come in 6 slightly different models - for manned space travel, as well as for the lunar and Martian exploration programs.
Among planned missions, is the Chang'e-5 lunar probe, which will be launched by the high-thrust carrier rocket to collect samples of moon soil by the end of 2017.
China also plans to launch a medium-sized rocket Long March-7 into low Earth orbit this year, in a bid to transport cargo for the planned space station.
The announcement coincided with China's first "Space Day" on April 24th, which marks the date in 1970 when China's first satellite, the "Dongfanghong-1" was put into orbit.
It also comes hard on the heels of China releasing details of a series of ambitious plans for space exploration in the coming years.
They include the country's Mars mission probe set to be launched around 2020, as well as the completion of China's space station in 2022.
For more on this, CRI's Liu Kun earlier spoke with Morris Jones, an Australian space analyst and writer.
Quelle: CRI
1909 Views