.
24.11.2014

FRR Gives "Go" For Flight Test While Teams Prep for Recovery
NASA and Lockheed Martin completed the Flight Readiness Review (FRR) for Orion's upcoming flight test Dec. 4, giving a "go" Thursday afternoon to proceed. The FRR is a rigorous assessment of the spacecraft, its systems, mission operations and support functions needed to successfully complete Orion's first voyage to space.
Meanwhile, farther west, the NASA, U.S. Navy and Lockheed Martin team that will recover Orion when it splashes down in the Pacific Ocean about 600 miles southwest of San Diego continues preparing the necessary equipment. At Naval Base San Diego, two Navy ships, the USS Anchorage and the USNS Salvor, have been outfitted with the necessary tools and equipment needed to return Orion to land after the flight test.
.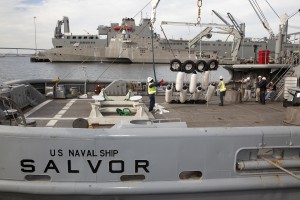 .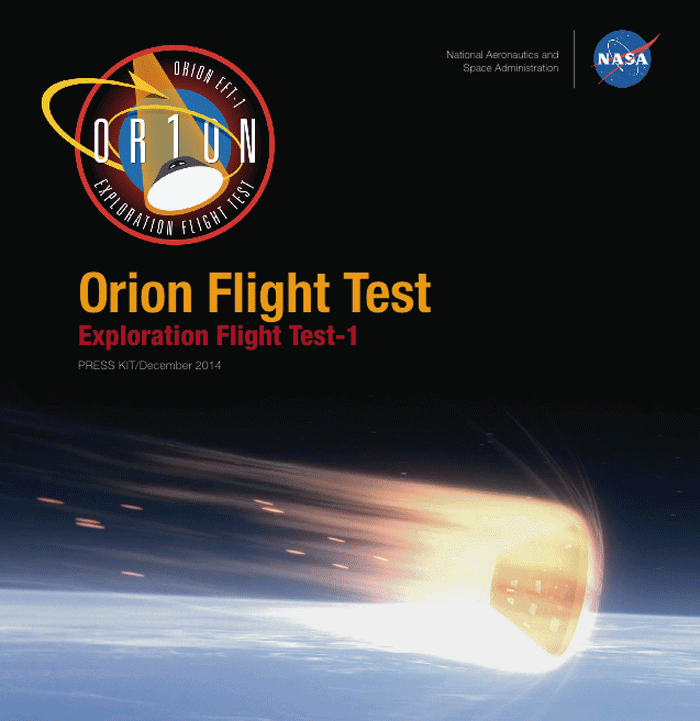 .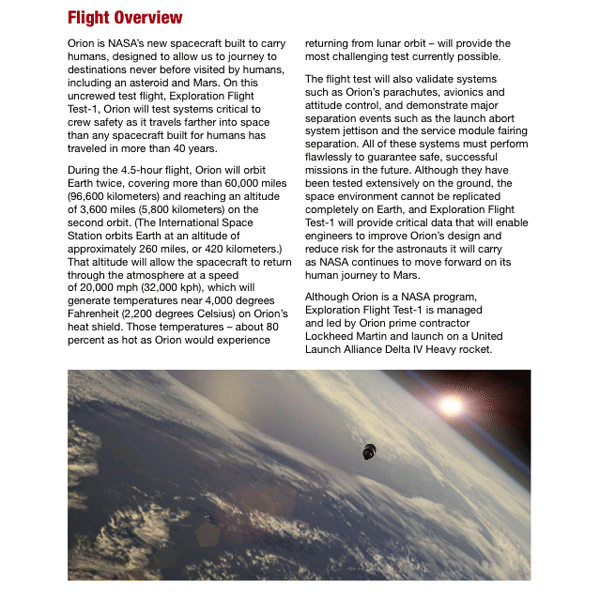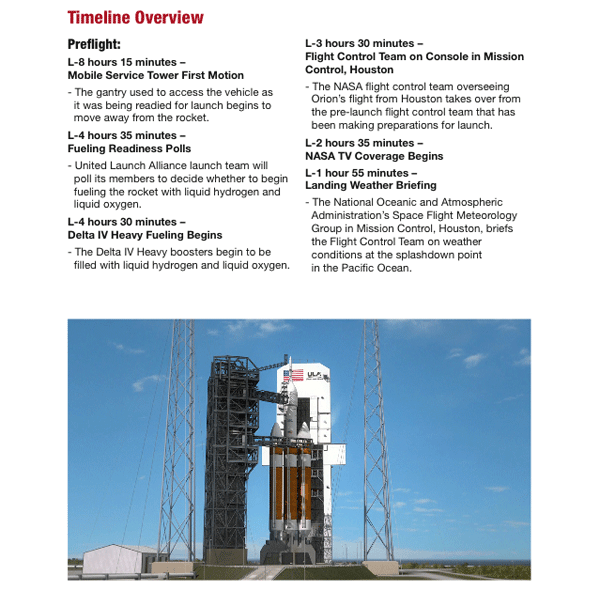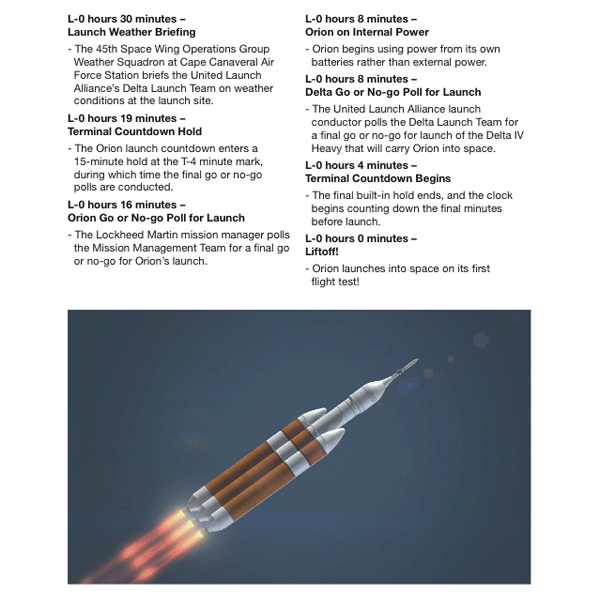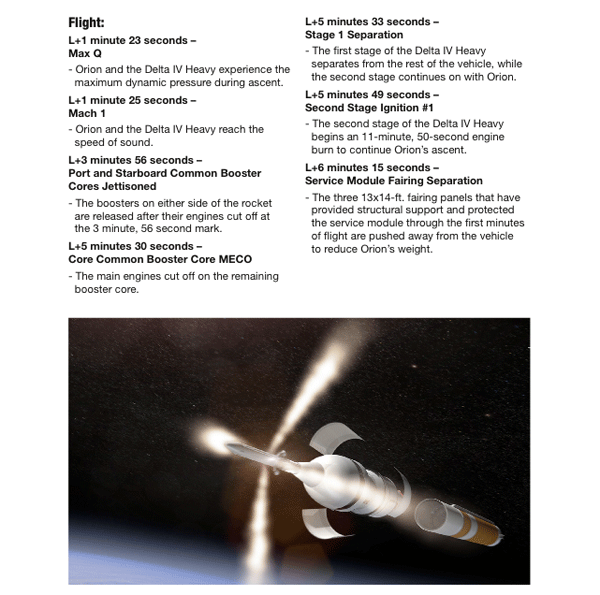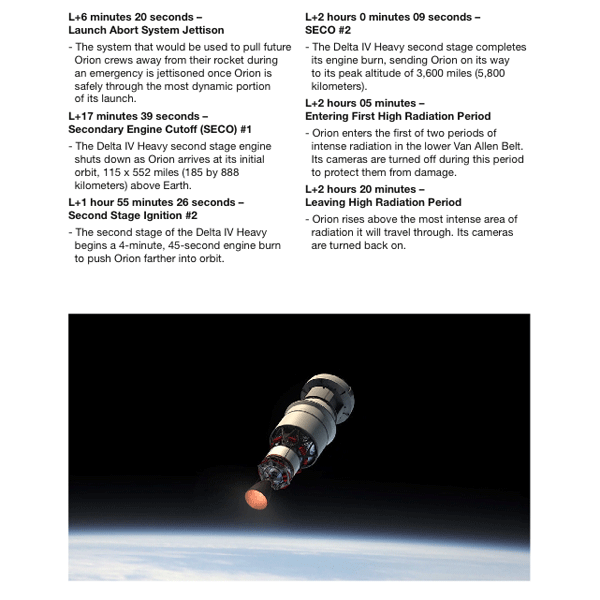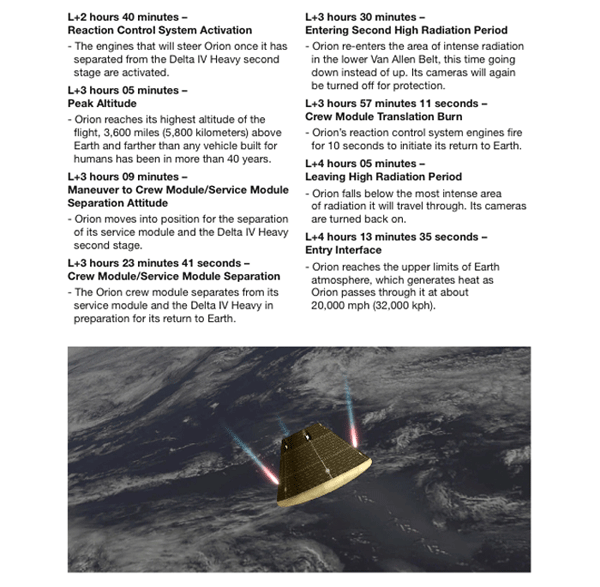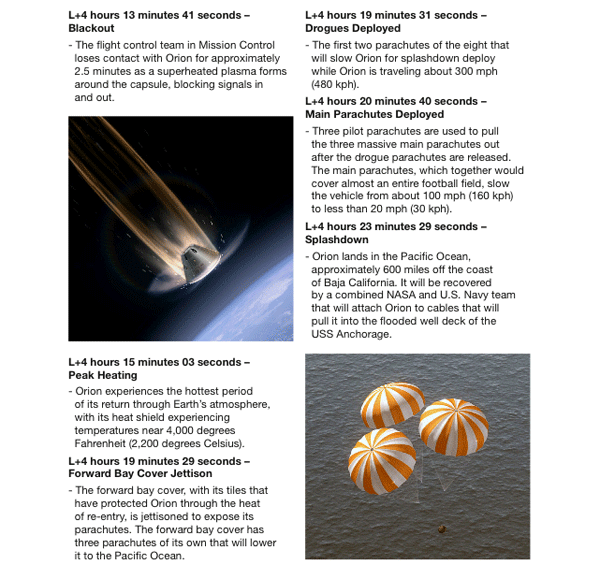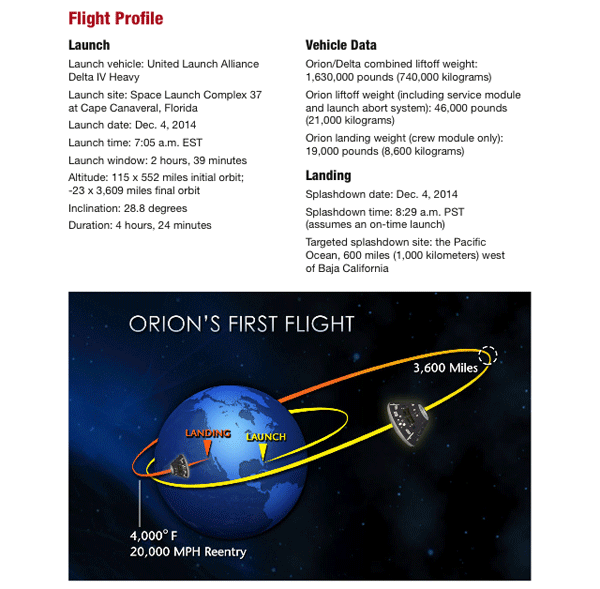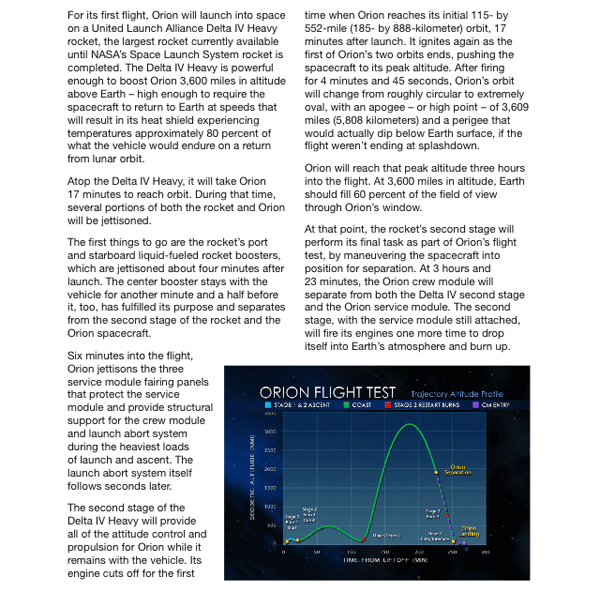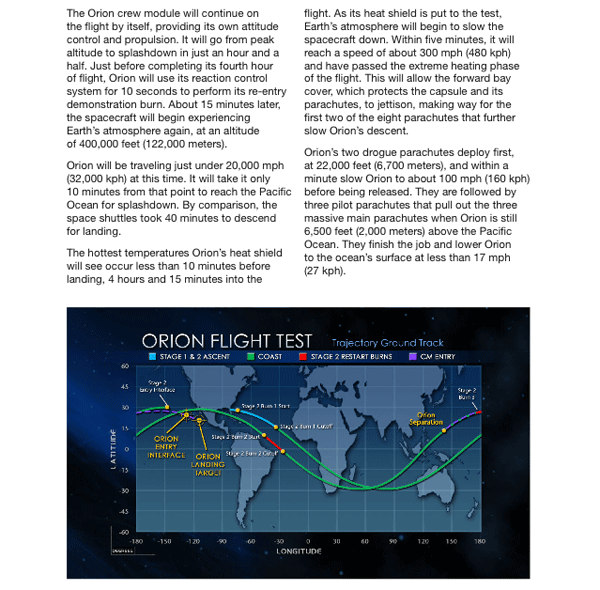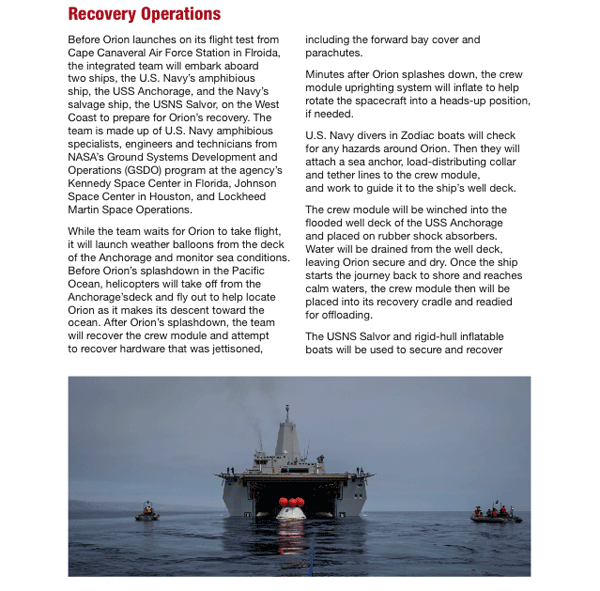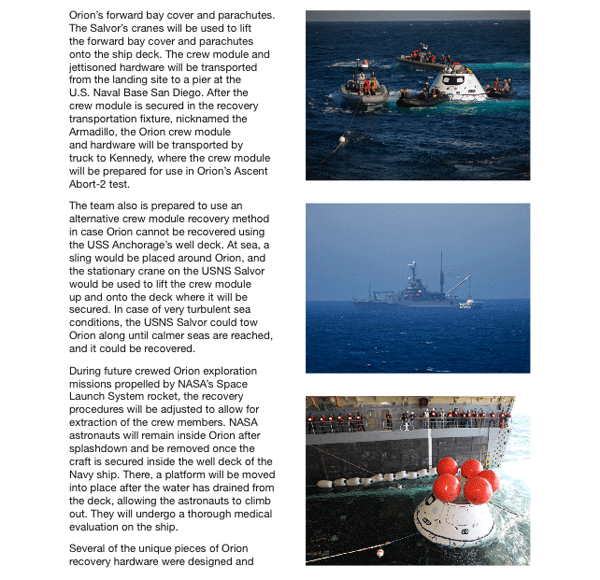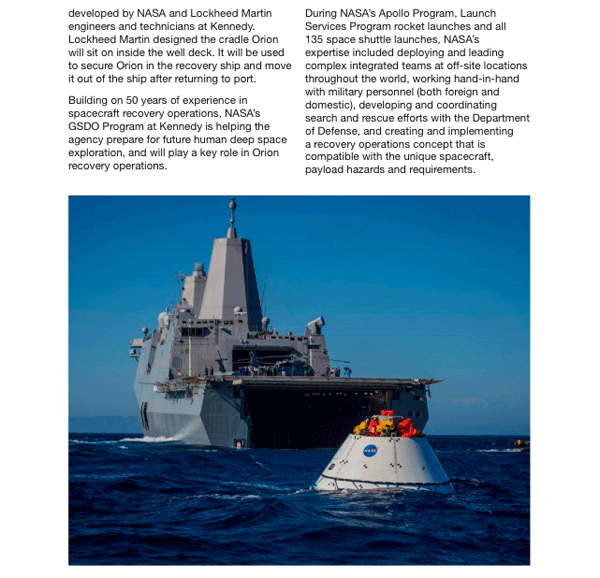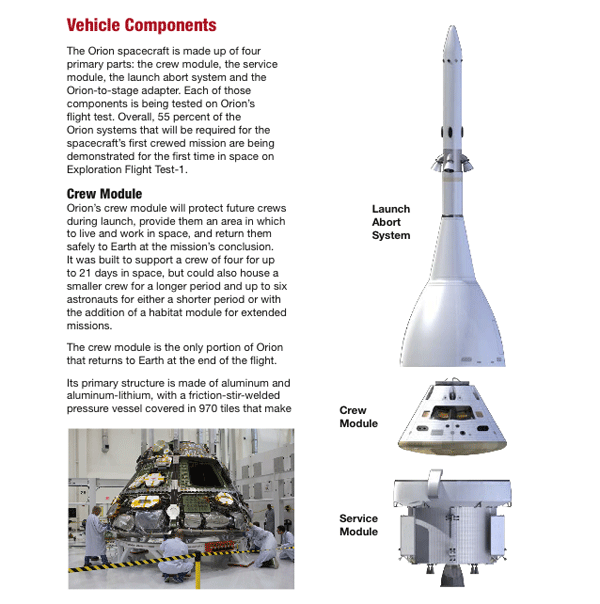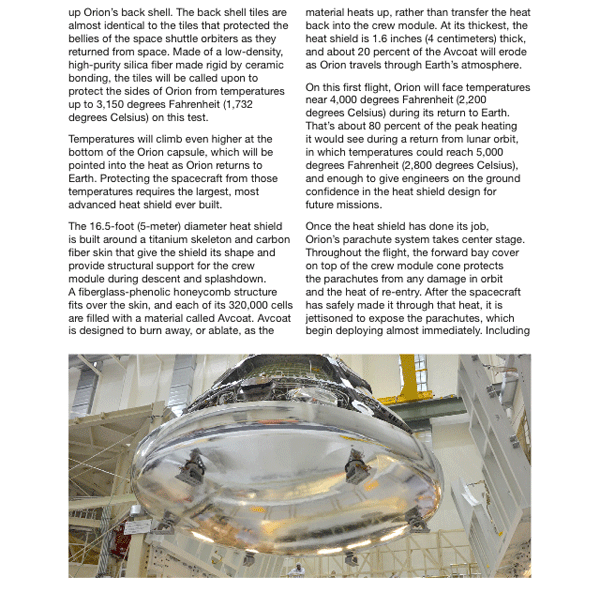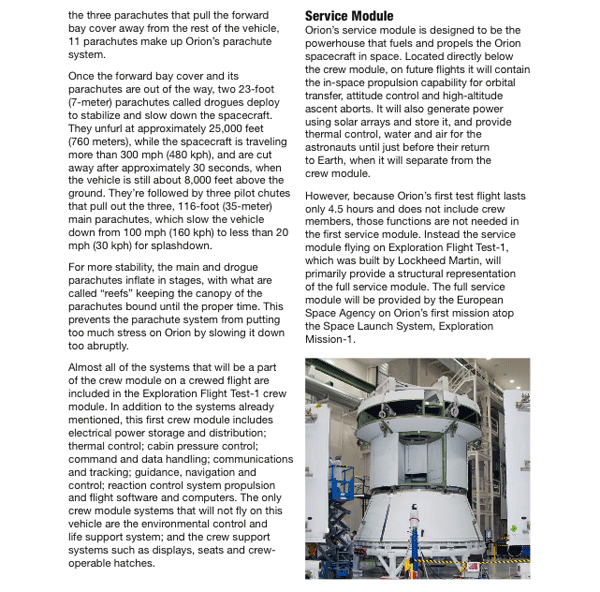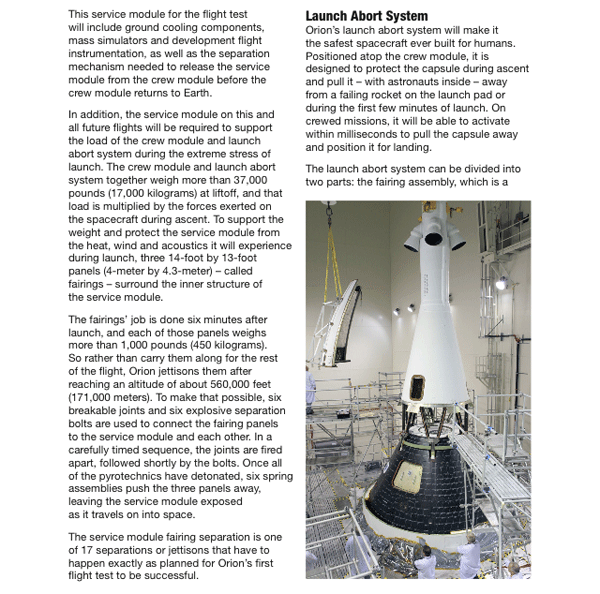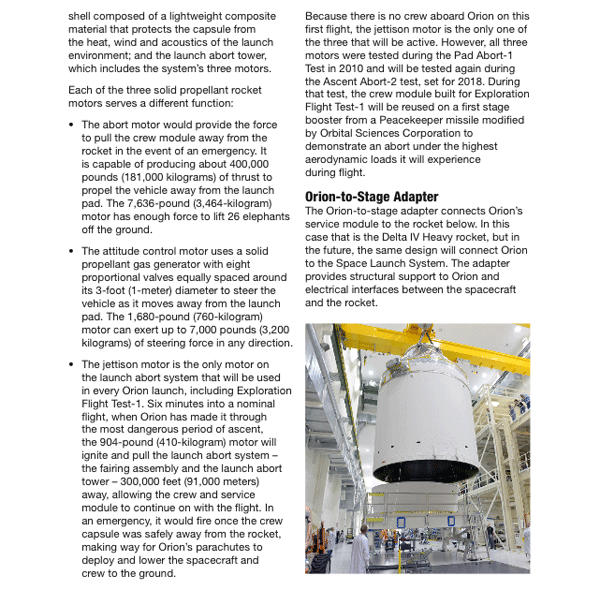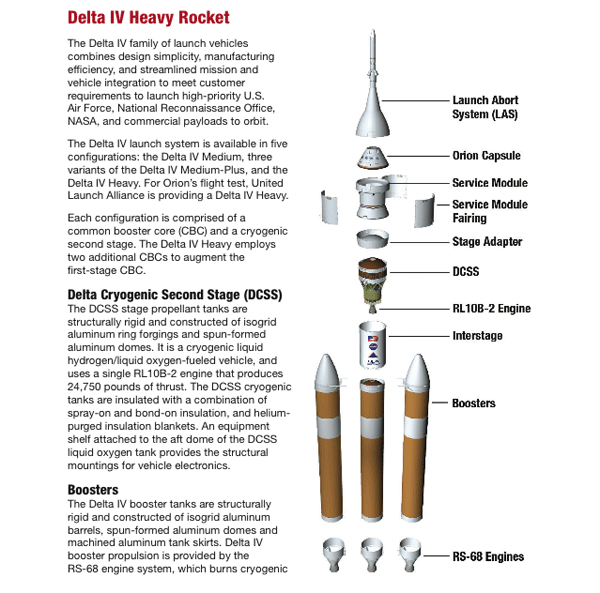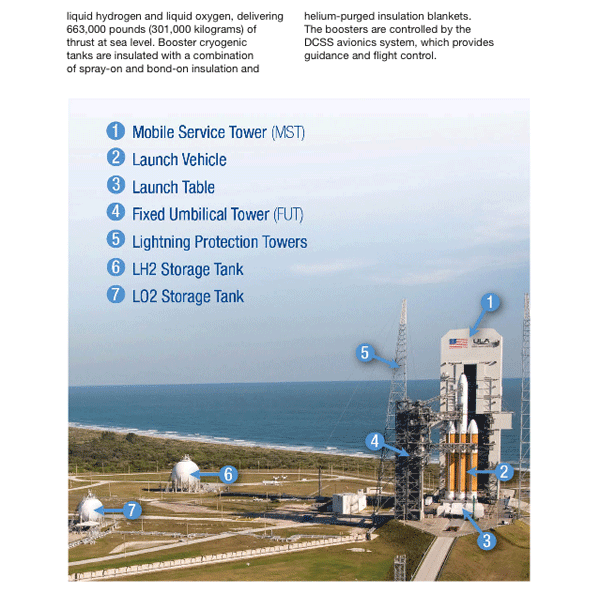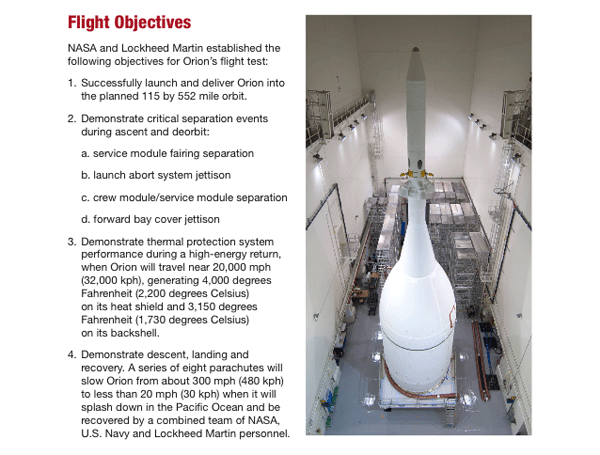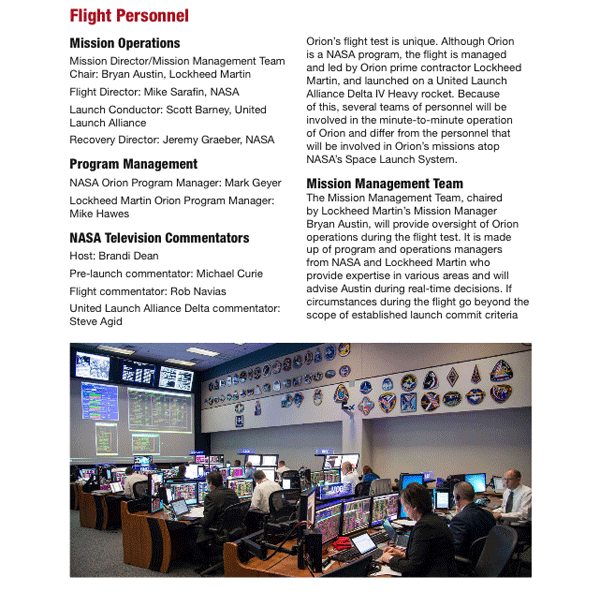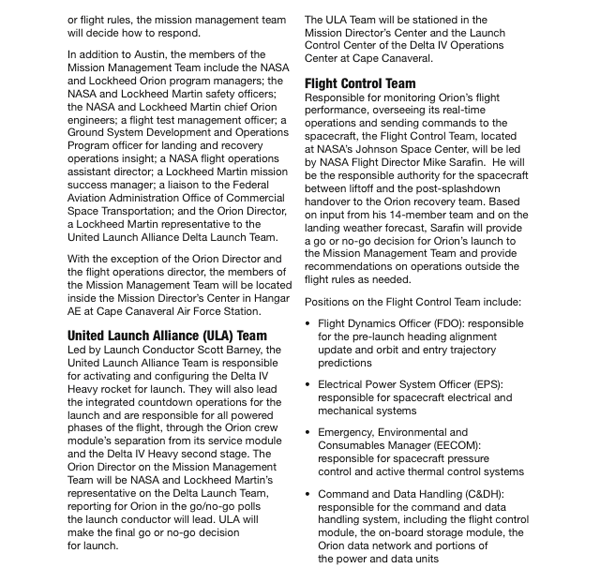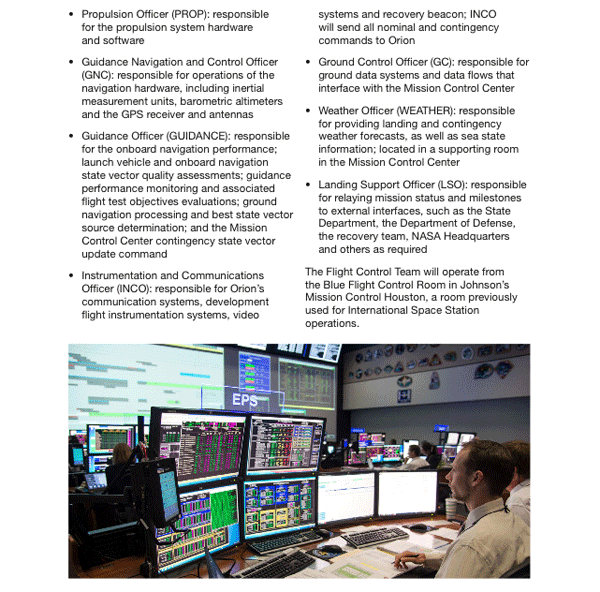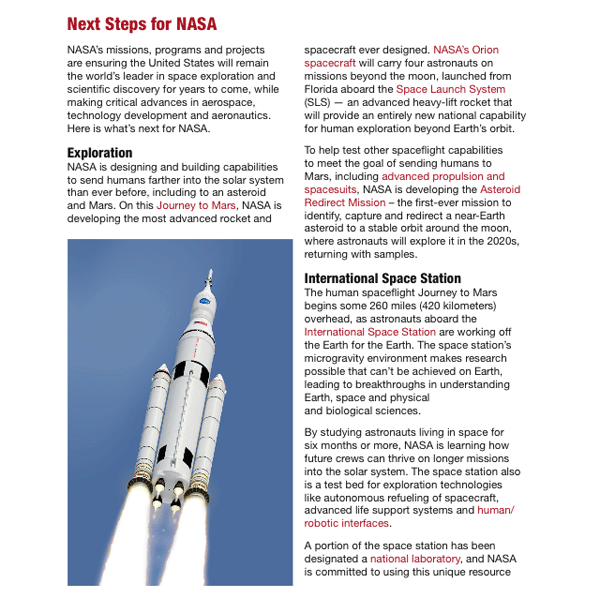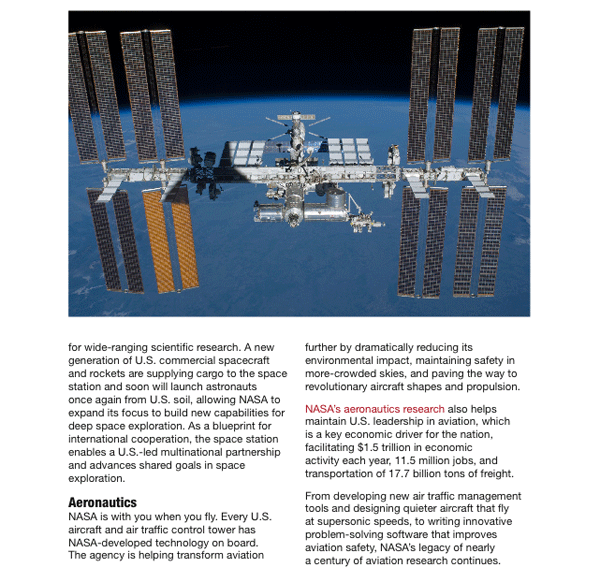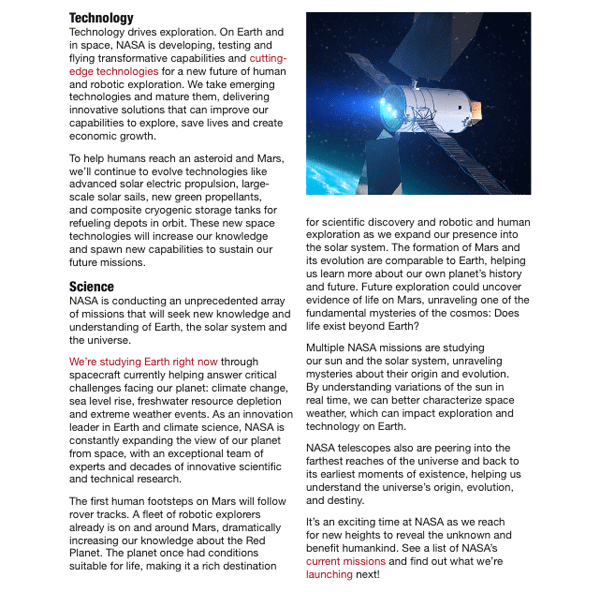 Quelle: NASA
.
Update: 25.11.2014
.
NASA Sets Prelaunch Activities, Television Coverage for Orion Flight Test
The first flight test of Orion, NASA's next-generation spacecraft that will send astronauts to an asteroid and onward to Mars, is scheduled for Thursday, Dec. 4. NASA will host a series of news conferences and flight test commentary on NASA Television, as well as media events at the agency's Kennedy Space Center in Florida.
Orion will launch, uncrewed, on a United Launch Alliance Delta IV Heavy rocket at 7:05 a.m. EST from Space Launch Complex 37 at Cape Canaveral Air Force Station (CCAFS) in Florida. The window for launch is two hours 39 minutes.
NASA TV launch commentary of the flight, designated Exploration Flight Test-1, begins at 4:30 a.m. and will continue through splashdown in the Pacific Ocean approximately 600 miles southwest of San Diego.
During its 4.5 hour trip, Orion will orbit Earth twice and travel to an altitude of 3,600 miles into space. The flight is designed to test many of the elements that pose the greatest risk to astronauts and will provide critical data needed to improve Orion's design and reduce risks to future mission crews.
Media events for the flight begin two days before launch.
7 a.m. -- Media tour of Kennedy facilities currently being prepared to support future launches of Orion and NASA's Space Launch System
Noon – Journey to Mars panel discussion on NASA TV from Kennedy and NASA Headquarters in Washington
1 p.m. -- Orion flight test status and overview briefing on NASA TV
8:30 a.m. -- Media availability with NASA Administrator Charles Bolden at Space Launch Complex 37 with Orion and the Delta IV Heavy in the background
11 a.m. -- Prelaunch news conference on NASA TV
1 to 3 p.m. -- NASA Social - Orion Overview Event on NASA TV
A post-flight test briefing on NASA TV also will be held approximately two hours after splashdown on Dec. 4.
Media events will take place at Kennedy and CCAFS. The deadlines for media to register to attend in person have passed. All registered media must present two forms of legal, government-issued identification to access Kennedy for launch events. One form must be a photo ID, such as a passport or driver's license. Media credentials will be accepted for access to mission activities at Kennedy.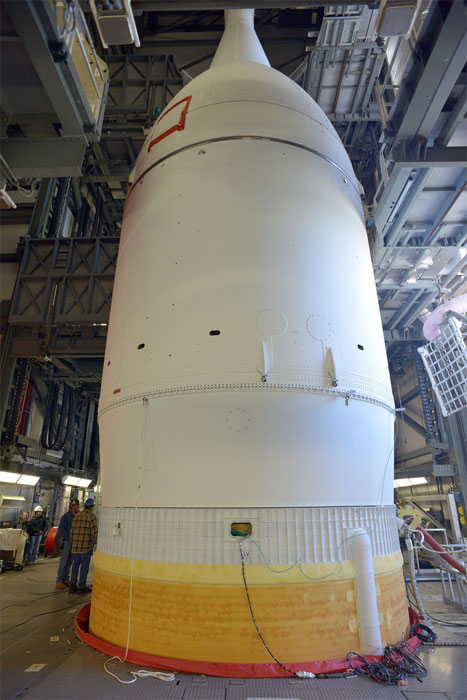 The Orion spacecraft was lifted on top of a United Launch Alliance (ULA) Delta IV Heavy launch vehicle at Space Launch Complex 37 at Cape Canaveral Air Force Station (CCAFS) in Florida. Over the next few days, a team of epxerts from Lockheed Martin and ULA will work to complete the connections between Orion and the launch vehicle in preparation for Orion's first flight on Dec. 4.
.
Update: 27.11.2014
.
Delta 4-Heavy ready for Orion flight test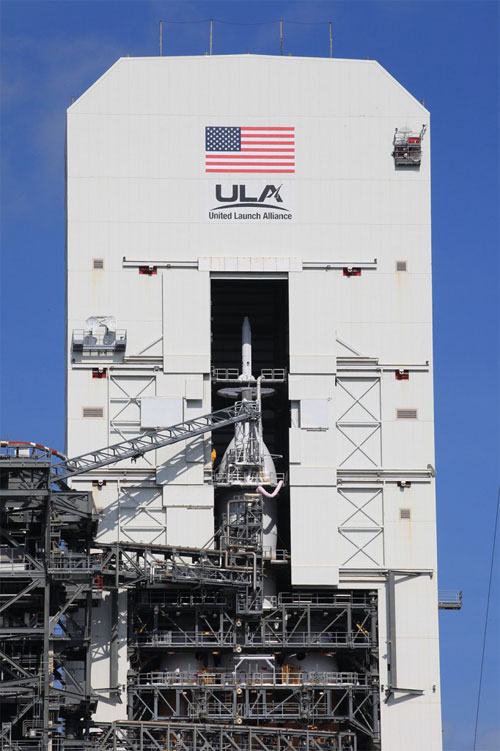 .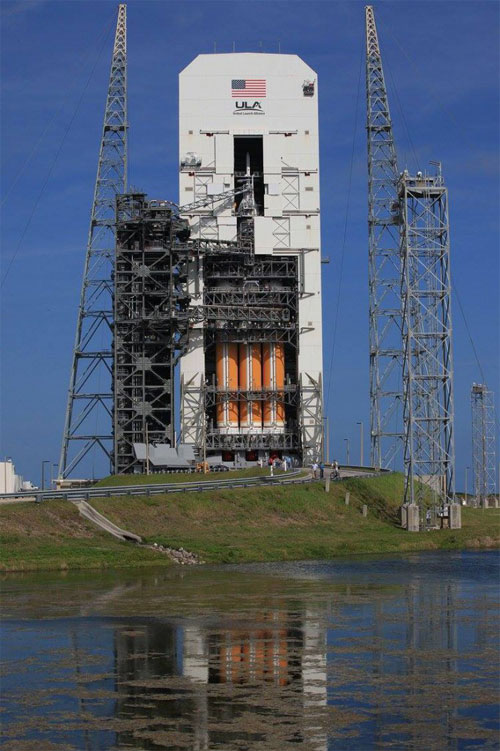 Quelle: ULA
.
Update: 28.11.2014
.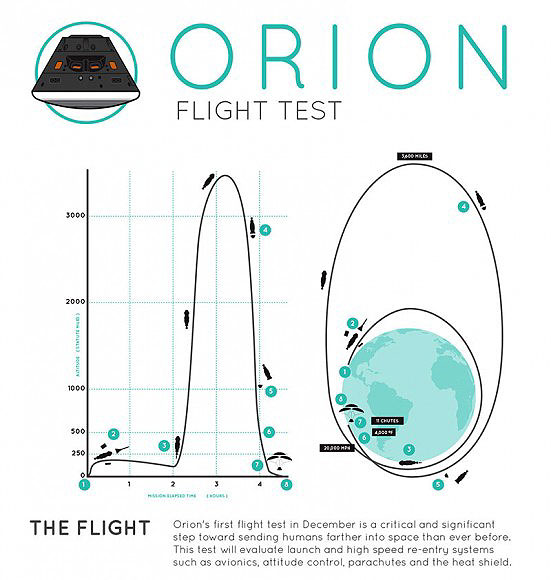 Orion flight test profile for the Exploration Flight Test-1 (EFT-1) launching on Dec. 4, 2014. Credit: NASA
Quelle: NASA
.
Update: 30.11.2014
.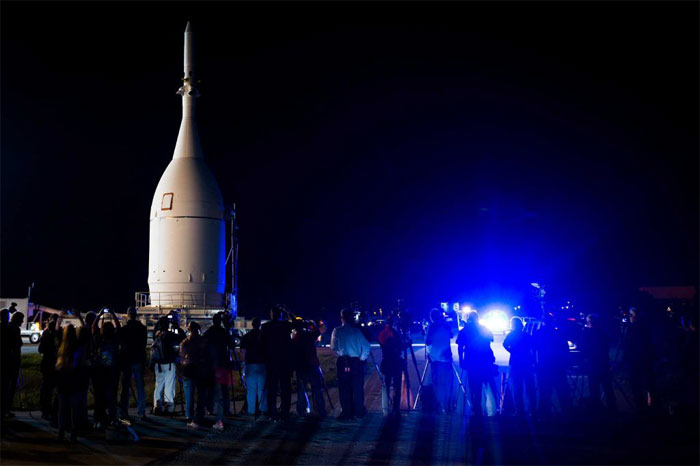 .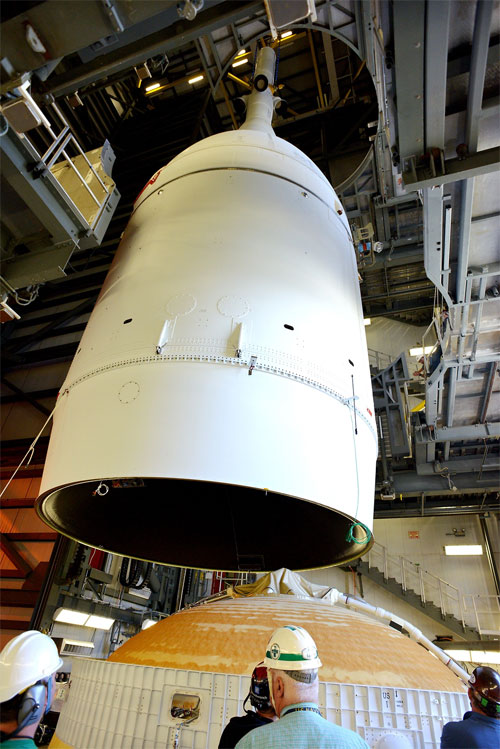 .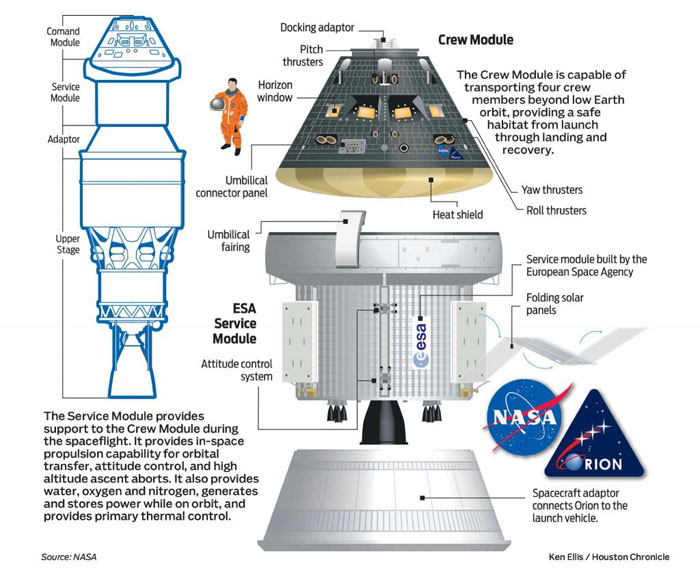 .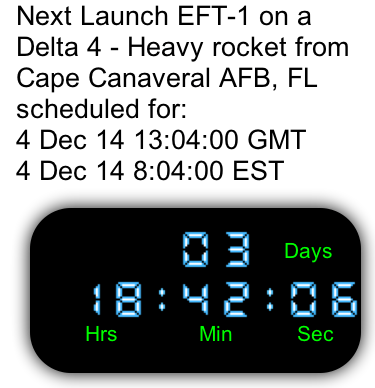 .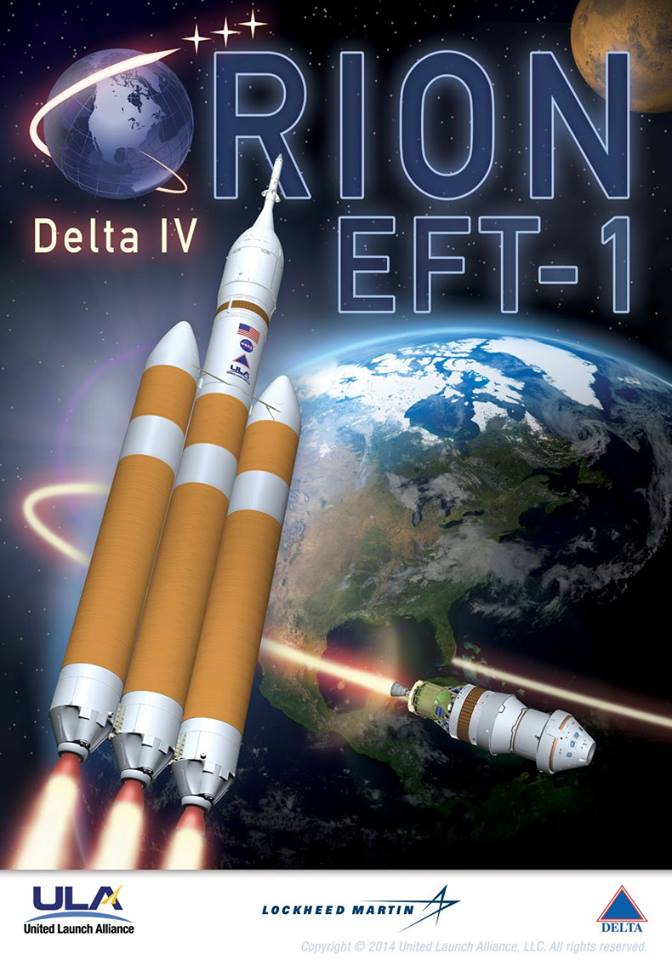 Quelle: ULA
.
Update: 2.12.2014
.
So lala Prognose für Erstflug am Donnerstag
There's a 60 percent chance of acceptable weather for Thursday's launch of NASA's Orion capsule from Cape Canaveral.
Wind and rain showers could pose a challenge during Thursday morning's attempt to launch NASA's Orion exploration capsule from Cape Canaveral on its first test flight.
Meteorologists predict a 60 percent chance of favorable weather for the unmanned launch planned at 7:05 a.m. Thursday, the opening of a window that lasts for two hours and 39 minutes.
A high pressure ridge moving into the area is expected to bring gusty, easterly winds, low clouds and occasional coastal showers, according to the Air Force's 45th Weather Squadron.
Conditions in the Pacific Ocean are expected to be fine for Orion's splashdown about four-and-a-half hours after liftoff.
If the launch doesn't go off Thursday, the odds are the same Friday: 60% "go."
NASA, Lockheed Martin and United Launch Alliance are attempting to launch Orion on a $375 million, two-orbit mission called Exploration Flight Test-1.
Boosted by a Delta IV Heavy rocket from Launch Complex 37, the test will send Orion 3,600 miles above the planet -- 15 times higher than the International Space Station -- to set up a 20,000-mph reentry through the atmosphere and parachute-assisted splashdown.
The flight will offer early insight into the performance of various Orion systems, most importantly the heat shield, at least seven years before astronauts are expected to climb aboard.
NASA has spent more than eight years and $9 billion developing the spacecraft the agency hopes will carry crews to an asteroid and eventually Mars. A second unmanned test flight is targeted for 2018 and a first flight with a crew is possible by 2021.
2922 Views