.
11.05.2014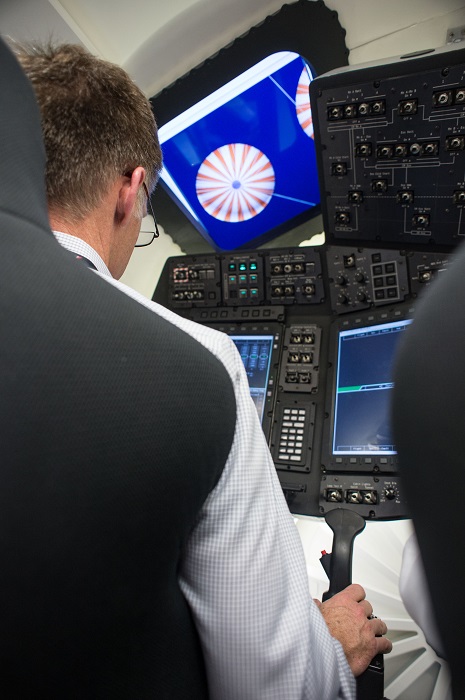 Chris Ferguson, last Space Shuttle Atlantis commander, tests the Boeing CST-100 capsule consoles which can fly US astronauts to the International Space Station in 2017. Ferguson is now Boeing's director of Crew and Mission Operations for the Commercial Crew Program vying for NASA funding. Credit: NASA/Boeing
.
KENNEDY SPACE CENTER, FL – Boeing expects to launch the first unmanned test flight of their commercial CST-100 manned 'space taxi' in "early 2017," said Chris Ferguson, commander of NASA's final shuttle flight in an exclusive one-on-one interview with Universe Today for an inside look at Boeing's space efforts. Ferguson is now spearheading Boeing's human spaceflight capsule project as director of Crew and Mission Operations.
"The first unmanned orbital test flight is planned in January 2017 … and may go to the station," Ferguson told me during a wide ranging, in depth discussion about a variety of human spaceflight topics and Boeing's ambitious plans for their privately developed CST-100 human rated spaceship – with a little help from NASA.
Boeing has reserved a launch slot at Cape Canaveral with United Launch Alliance (ULA), but the details are not yet public.
If all goes well, the maiden CST-100 orbital test flight with humans would follow around mid-2017.
"The first manned test could happen by the end of summer 2017 with a two person crew," he said.
"And we may go all the way to the space station."
Boeing is among a trio of American aerospace firms, including SpaceX and Sierra Nevada Corp, vying to restore America's capability to fly humans to Earth orbit and the space station by late 2017, using seed money from NASA's Commercial Crew Program (CCP) in a public/private partnership. The next round of contracts will be awarded by NASA about late summer 2014.
That's a feat that America hasn't accomplished in nearly three years.
"It's been over 1000 days and counting since we landed [on STS-135]," Ferguson noted with some sadness as he checked the daily counter on his watch. He is a veteran of three space flights.
.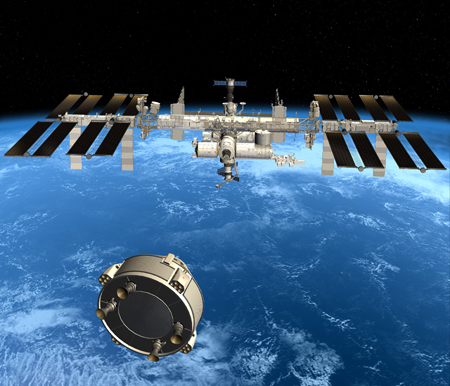 Boeing CST-100 commercial crew capsule approaches the ISS in this artist's concept. Credit: Boeing
.
Since the shuttles retirement in July 2011 following touchdown of Space Shuttle Atlantis on the last shuttle flight (STS-135) with Ferguson in command, no American astronauts have launched to space from American soil on American rockets and spaceships.
The only ticket to the ISS and back has been aboard the Russian Soyuz capsule.
Chris and the Boeing team hope to change the situation soon. They are chomping at the bits to get Americas back into space from US soil and provide reliable and cost-effective US access to destinations in low Earth orbit like the ISS and the proposed private Bigelow space station.
Boeing wants to send its new private spaceship all the way to the space station starting on the very first unmanned and manned test flights currently slated for 2017, according to Ferguson.
"NASA wants us to provide [crew flight] services by November 2017," said Ferguson, according to the terms of the CCP contact award."
The CST-100 will launch atop a man rated Atlas V rocket and carry a mix of cargo and up to seven crew members to the ISS.
"So both the first unmanned and manned test flight will be in 2017. The first unmanned orbital flight test is currently set for January 2017. The first manned test could be end of summer 2017," he stated.
I asked Chris to outline the mission plans for both flights.
"Our first flight, the CST-100 Orbital Flight Test – is scheduled to be unmanned."
"Originally it was just going to be an on orbital test of the systems, with perhaps a close approach to the space station. But we haven't precluded our ability to dock.
"So if our systems mature as we anticipate then we may go all the way and actually dock at station. We're not sure yet," he said.
So I asked whether he thinks the CST-100 will also go dock at the ISS on the first manned test flight?
"Yes. Absolutely. We want go to all the way to the space station," Ferguson emphatically told me.
"For the 1st manned test flight, we want to dock at the space station and maybe spend a couple weeks there."
.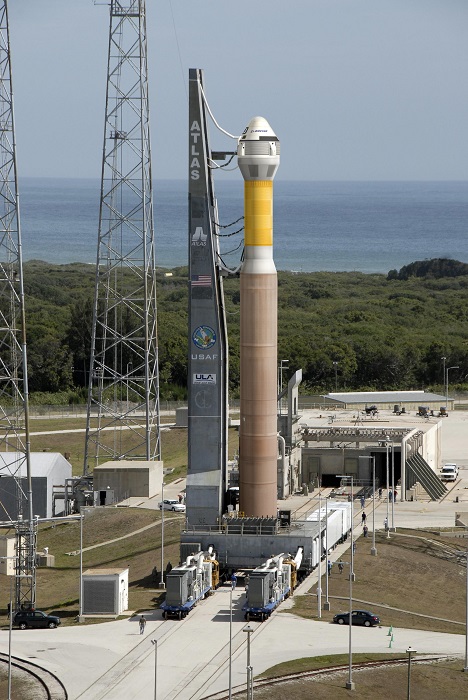 The Boeing CST-100 crew capsule awaits liftoff aboard an Atlas V launch vehicle at Cape Canaveral in this artist's concept. Credit: Boeing
Quelle: Universe Today
.
Update: 2.12.2014
.
Boeing erreicht ersten Meilenstein für das NASA Kommerzielle Besatzung Transportsystem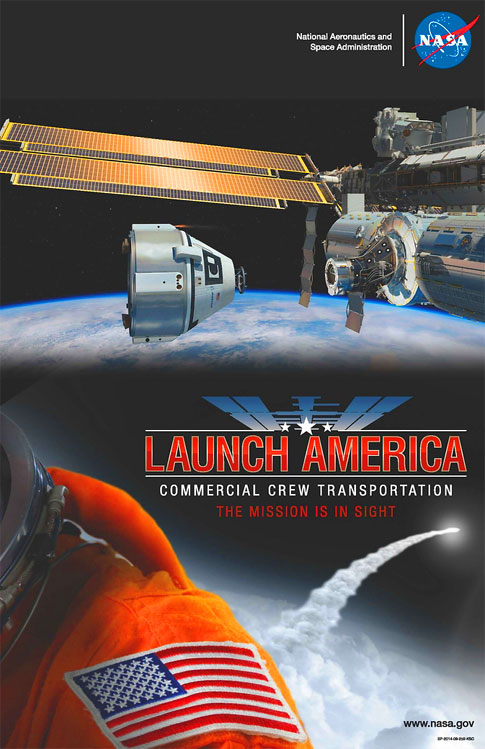 Commercial Crew Transportation. The Mission is in Sight.
Image Credit: NASA
NASA has approved the completion of Boeing's first milestone in the company's path toward launching crews to the International Space Station from the United States under a groundbreaking Commercial Crew Transportation Capability (CCtCap) contract.
The Certification Baseline Review is the first of many more milestones, including flight tests from Florida's Space Coast that will establish the basis for certifying Boeing's human space transportation system to carry NASA astronauts to the space station. The review established a baseline design of the Crew Space Transportation (CST)-100 spacecraft, United Launch Alliance Atlas V rocket, and associated ground and mission operations systems.
"The work done now is crucial to each of the future steps in the path to certification, including a flight test to the International Space Station," said Kathy Lueders, manager of NASA's Commercial Crew Program. "This first milestone establishes an expected operating rhythm for NASA and Boeing to meet our certification goal."
On Sept. 16, the agency unveiled its selection of Boeing and SpaceX to transport U.S. crews to and from the space station using their CST-100 and Crew Dragon spacecraft, respectively. These contracts will provide U.S. missions to the station, ending the nation's sole reliance on Russia and allowing the station's current crew of six to grow, enabling more research aboard the unique microgravity laboratory.
The CCtCap contracts are designed for the companies to complete NASA certification of their human space transportation systems, including a crewed flight test with at least one NASA astronaut aboard to verify the fully integrated rocket and spacecraft system can launch from the United States, maneuver in orbit, and dock to the space station, as well as validate all its systems perform as expected. Once the test program has been completed successfully and the systems achieve NASA certification, the contractors will conduct at least two, and as many as six, crewed missions to the space station. The spacecraft also will serve as a lifeboat for astronauts aboard the station.
During the review, Boeing provided NASA with a roadmap toward certification, including its baseline design, concept of operations and management and insight plans. The Boeing team also detailed how the CST-100 would connect with the station and how it plans to train NASA astronauts to fly the CST-100 in orbit.
"It's important for us to set a robust plan for achieving certification upfront," said Boeing Commercial Crew Program Manager John Mulholland. "It's crucial for us to achieve our 2017 goal, and the plan we've put in place will get us there."
By expanding the crew size and enabling private companies to handle launches to low-Earth orbit -- a region NASA has been visiting since 1962 -- the nation's space agency can focus on getting the most research and experience out of America's investment in the International Space Station. NASA also can expand its focus to develop the Space Launch System and Orion capsule for missions in the proving ground of deep space beyond the moon to advance the skills and techniques that will enable humans to explore Mars.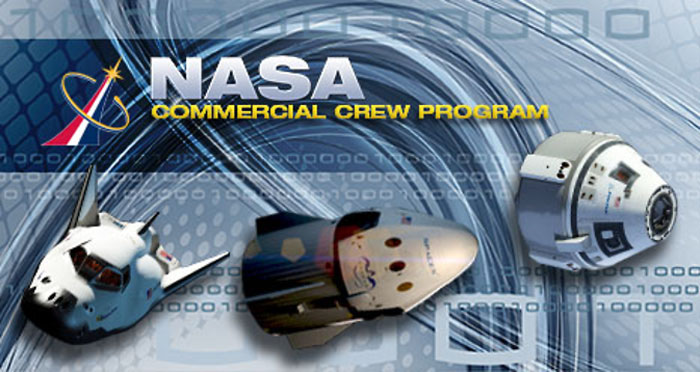 The new approach NASA is taking to get its crews to low-Earth orbit with commercial partnerships requires the space agency to closely examine the plans companies have for their own space transportation systems to ensure they are as safe and reliable as can be.
Reviewing software, for example, has become increasingly important in aerospace as technology has become more complex, and computers are required to take on more and more of the operation of systems. Simply put, computer programs can detect the need to make adjustments then execute those adjustments in a fraction of the time it would take a person to even turn his or her head to read an instrument. Software also can handle the mundane, everyday aspects of a spacecraft to free up astronauts and crew for unique tasks.
That's where a specialized team of software architecture analysts comes in. NASA's Independent Verification and ValidationProgram evaluates spacecraft software for weaknesses and identifies ways to fix problems from a number of perspectives. The work is done so the agency can offer insight into company plans throughout their partnerships with the Commercial Crew Program, or CCP.
"The team has a very strong software background in a variety of areas," said Norman Peters, one of the Safety and Mission Assurance project engineers working with CCP. "Whether it's human flight or touching down on Mars, they've been involved. So they'll look at a system like the environmental control system and if software is involved and it might be a cause of a problem they let us know."
It's a big task that involves analyzing sets of documents, scrutinizing each sentence and comparing it to NASA's historically stringent requirements. From standards to hazard reports to examinations of testing regimens, the plans for each subsystem, system and the spacecraft as a whole see intense inspections.
"Hazard reports are anywhere from a few dozen pages to hundreds of pages, and we've had several hundred that we've had to review between all partners," Peters said.
And that's just for the software that will operate the systems. Another whole other set of requirements and reviews is used to survey the hardware.
"There's no way one person could do it or know everything there is to know about these systems," Peters said.
The software reviews to this point have not taken a deep dive into coding or running a company's program through a simulator. Instead, the team has been looking over sets of standards each partner says it is using to guide software development and ensures they meet the intent of requirements NASA set up throughout the agency's decades of spaceflight experience.
"In some respects it is like translating between foreign languages, but generally we look at the prime software standard, which has roughly 140 requirements, and compare partner standards to that," Peters said. "And with multiple partners, we have to make sure we're being fair and consistent and we're looking at it the same way. We're looking at it from a safety and mission assurance perspective rather than from an engineering perspective."
Encouraged by NASA to add their own innovations into spacecraft systems, the partners developed everything from new thrusters and escape systems to different engineering guidelines specifically tailored to their corporate needs and culture.
"When a provider presents an alternate standard, we assess what they give us against what we believe is the intent of the NASA standards. We provide an analysis of the gap between the two and determine whether we think the alternate is meeting the intent of the standard," said Kathy Malnick, team lead in the Safety and Mission Assurance Support Office group at NASA's IV&V Program.
The evaluation criteria focuses on safety and reliability but is greatly reduced from the list NASA uses during its own spacecraft development because the commercial companies are not obligated to set up a management and related work force structure in the same manner NASA would.
"I think the total number of requirements levied has been reduced dramatically, so our job is to ensure that full level of intent has been met," said Chad Schaffer, who is with contractor TASC and reviews the hazard reports from CCP's aerospace partners. "CCP is definitely unique in that NASA's really trying to take a different approach, reducing the amount of overhead to try to streamline and let commercial space add value at a cost point that's going to work for the future."
The small support team also includes Ken Costello, Ryan Schmitt, Rhonda Fitz, Pat Cuyno and Mel Rother.
"The first time I got reviews back I was amazed," Peters said. "I never expected the quality of data that they provided, and later on, it got to be where I would call in and say we need something and I don't have much time, and they'd come through every time."
The group recently earned Spaceflight Awareness honors from the Safety and Mission Assurance branch at Kennedy Space Center, the parent organization for the group.
"The team provides invaluable expertise to the commercial crew safety and mission assurance effort with independent review and assessment of our commercial partner's software standards, processes and hazard reports," said Russ Deloach, deputy director of Safety and Mission Assurance at Kennedy. "Their work is extremely important to the overall safety and success of the program as software provides many critical control functions that could have catastrophic consequences if performed incorrectly. Their hard work and dedication is admirable."
3200 Views