.
3.11.2014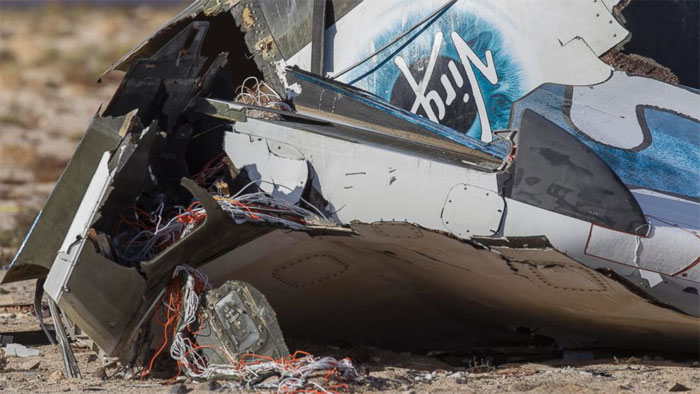 Wreckage lies near the site where a Virgin Galactic space tourism rocket, SpaceShipTwo, exploded and crashed in Mojave, Calif. Saturday, Nov 1, 2014. The explosion killed a pilot aboard and seriously injured another while scattering wreckage in Southern California's Mojave Desert, witnesses and officials said.
.
Virgin Spaceship's Descent System Deployed Early
.
An experimental rocket ship broke apart in flight over California's Mojave Desert after a device to slow the space plane's descent deployed too soon, federal investigators said.
The cause of Friday's crash of Virgin Galactic's SpaceShipTwo has not been determined, but investigators found the "feathering" system — which rotates the twin tail "feathers" to create drag — was activated before the craft reached the appropriate speed, National Transportation Safety Board Acting Chairman Christopher Hart said.
The system requires a two-step process to deploy. The co-pilot unlocked the system, but Hart said the second step occurred "without being commanded."
"What we know is that after it was unlocked, the feathers moved into the deploy position, and two seconds later, we saw disintegration," Hart said.
The finding moves away from initial speculation that an explosion brought down the craft.
The investigation is months from being completed, and officials are looking at factors that include pilot error, mechanical failure, design problems and whether pressure existed to continue testing, Hart said.
"We are not edging toward anything. We're not ruling anything out," he said. "We are looking at all these issues to determine the root cause of this accident."
The co-pilot, Michael Alsbury, 39, was killed in the crash. Pilot Peter Siebold, 43, parachuted to the ground and is hospitalized with injuries.
Investigators have not interviewed Siebold because of his condition, Hart said.
Virgin Galactic — owned by billionaire Richard Branson's Virgin Group and Aabar Investments PJS of Abu Dhabi — plans to fly up to six passengers at a time more than 62 miles above Earth, where they can experience weightlessness. The company sells seats on each prospective journey for $250,000.
Branson told Sky News on Monday that the company will move forward despite the crash. He said there would be a "whole massive series of test flights" before any trips are made.
He still plans to be on the maiden voyage, with his family.
"We need to be absolutely certain our spaceship has been thoroughly tested — and that it will be — and once it's thoroughly tested, and we can go to space, we will go to space," Branson said.
"We must push on. There are incredible things that can happen through mankind being able to explore space properly," he said.
SpaceShipTwo tore apart Friday about 11 seconds after it detached from the underside of its jet-powered mother ship and fired its rocket engine for the test flight. Initial speculation was that an explosion occurred, but the fuel and oxidizer tanks and rocket engine showed no sign of being burned or breached, the NTSB said.
The feathering system is a feature unique to the craft to help it slow as it re-enters the atmosphere. After being unlocked, a lever must be pulled to rotate the twin feathers toward a nearly vertical position to act as a brake. After decelerating, the pilots reconfigure the feathers to their normal position so the craft can glide to Earth.
A review of footage from a camera mounted to the ceiling of the spaceship's cockpit showed the co-pilot moving the feathering lever to the unlock position, Hart said.
The feathers activated at Mach 1.0, the speed of sound, or 760 mph, Hart said. They should not have deployed until the craft had reached a speed of at least Mach 1.4, or more than 1,000 mph.
Virgin Galactic CEO George Whitesides issued a statement Sunday to tamp down on conjecture about the cause of the crash.
"Now is the time to focus on all those affected by this tragic accident and to work with the experts at the NTSB, to get to the bottom of what happened on that tragic day, and to learn from it so that we can move forward safely with this important mission," he said.
SpaceShipTwo has been under development for years and has seen setbacks. In 2007, an explosion killed three people and critically injured three others during a ground test in the development of a rocket engine.
Quelle: abc
.
Update: 6.11.2014
.
Trotz Tragödie, Branson hofft noch immer, von NM Spaceport zu starten
.
LAS CRUCES, N.M - British billionaire Richard Branson's dream of launching a new space tourism industry out of Spaceport America, just 90 miles from El Paso, has suffered a devastating blow.
After already experiencing a series of delays, Virgin Galactic's Spaceship 2 crashed last week during a test flight, killing one pilot and seriously injuring the other.
But Branson still hopes to launch his dream in the southern New Mexico desert. After the crash, he told a weekend news conference, "We do understand the risks involved and we're not going to push on blindly. To do so would be an insult to all those affected by this tragedy." Branson's dream was born when he witnessed man's first steps on the moon 45 years ago, as a teenager in England.
The dream is now on hold at Spaceport America. Weeks before the deadly crash, the director of the New Mexico Spaceport Authority, Christine Anderson, gave KFOX14 a tour.
"It was built by the state of New Mexico. Virgin Galactic is our anchor tenant. And they lease the terminal building from the state. It really is unique, because it is a hangar and a terminal all in one building," she said.
The state, along with Dona Ana and Sierra counties, invested around $250 billion to build Spaceport America, 45 miles north of Las Cruces. Virgin Galactic leases the terminal building for $1 million a year.
With its desert surroundings as inspiration, the Spaceport is a fully self-contained community, with its own energy and water supply. It's designed to be as energy-efficient and environmentally-friendly as possible. And like airports, it even has its own fire station, manned around the clock.
When many people think of mission control, the traditional NASA image of a massive room filled with people in front of computer screens often comes to mind. In contrast, the spaceport's mission control is a small room built for two.
"We can see all around the Spaceport. We have 72 cameras on site. And we have 18,000 acres, so these cameras can tells what's going on at various areas," said Anderson.
The one place KFOX14 couldn't go during our visit to the Spaceport was inside the terminal Virgin Galactic has leased. The company won't reveal what's inside. Parts of it will only be available to passengers, who pay $250,000 per ticket. So far, more than 700 celebrities and the super-rich have bought tickets.
The company also said, despite last week's tragedy, less than 3 percent of ticket buyers have asked for refunds.
Anderson said the terminal is "110,000 square feet. It is a terminal and a hangar, all in one building. It can house up to two carrier crafts, or White Knight 2's, as they're called, and up to fiveSpaceship 2's, or the rocket. Each flight can hold up to six passengers. They'll come out of the Virgin Galactic Terminal, board the plane, which will then taxi down the runway, and on to the main runway, which, because this is a spaceport, is known as a spaceway. It runs 12,000 feet long. That's more than 2 miles."
White Knight 2 would take the spaceship up nearly 10 miles, then separate. The spaceship rockets will ignite, and take passengers more than 60 miles above the earth, to the edge of outer space and zero gravity.
Anderson described the experience.
"At that altitude, the passengers can unhook their seat belts. They can float around the cabin. They'll be able to see the curvature of the Earth. I mean, it'll be quite a wonderful experience. And then, when it's time, they'll hook back up and the Spaceship 2 will glide back down and it will land again at the spaceway," she said.
The whole trip should last about two-and-a-half hours. The passenger's guests will be able to watch the take-off and landing from a balcony at the terminal.
Just three days before Virgin Galactic's tragic crash, a commercial cargo rocket headed to the International Space Station exploded. The mishaps show space flight remains a dangerous business. That's a big reason for the constant delays of Virgin Galactic's inaugural flight.
In the wake of last Friday's deadly crash, it will likely mean many more months of waiting, before we learn whether Branson's dream will come true. But he promises to push forward, hoping to fly out of Spaceport America with his family, to the edge of outer space.
Following the deadly crash, Branson told reporters, "We've always known that commercial space travel is an incredibly hard project. We've been undertaking a comprehensive testing program for many years. And safety has always been our No. 1 priority. This is the biggest test program ever carried out in commercial aviation history, precisely to ensure this never happens to the public."
Quelle: KFOX14
.
Update: 13.11.2014
.
NTSB Investigative Update on Crash of Virgin Galactic SpaceShipTwo
.
The National Transportation Safety Board issued an investigative update today into the crash of SpaceShip Two on Oct. 31, 2014, in Mojave, Calif.
The on-scene portion of the investigation into the crash of Virgin Galactic SpaceShipTwo, a test flight conducted by Scaled Composites, has concluded and all NTSB investigators have returned to Washington, DC.
The SpaceShipTwo wreckage has been recovered and is being stored in a secure location for follow-on examination.
The NTSB operations and human performance investigators interviewed the surviving pilot on Friday. According to the pilot, he was unaware that the feather system had been unlocked early by the copilot. His description of the vehicle motion was consistent with other data sources in the investigation. He stated that he was extracted from the vehicle as a result of the break-up sequence and unbuckled from his seat at some point before the parachute deployed automatically.
Recorded information from telemetry, non-volatile memory, and videos are being processed and validated to assist the investigative groups.
An investigative group to further evaluate the vehicle and ground based videos will convene next week at the NTSB Recorders Laboratory in Washington, D.C.
The systems group continues to review available data for the vehicle's systems (flight controls, displays, environmental control, etc.). The group is also reviewing design data for the feather system components and the systems safety documentation.
The vehicle performance group continues to examine the aerodynamic and inertial forces that acted on the vehicle during the launch.
2943 Views