.
1.08.2014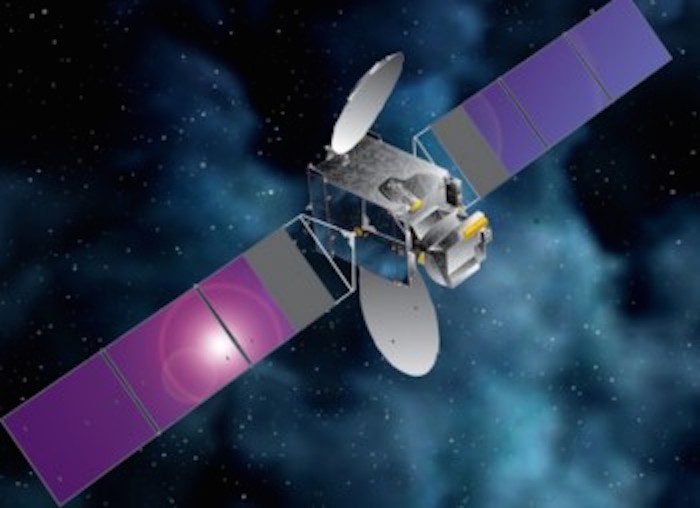 Falcon 9 conducts Static Fire test ahead of ASIASAT-8 mission
.
SpaceX conducted a Static Fire test on its Falcon 9 v1.1 rocket late on Thursday. The test – once reviewed – will pave the way for what is now an August 5 NET (No Earlier Than) launch of the ASIASAT-8 SATELLITE, the first of two missions for the same customer. The next satellite, ASIASAT-6, arrived at Cape Canaveral on Wednesday, flown in on an Antonov An-124 transport plane.
ASIASAT-8:
Quickly following on from the successful ORBCOMM OG2 mission last month, SpaceX is looking at a quick turnaround for what should be two launches in August.
Both missions will be for Hong Kong based ASIASAT TELECOMMUNICATIONS Co. Ltd.
The first launch is now set to take place on August 5, which is only a one day SLIP since the Eastern Range was originally requested, showing a very smooth pad turnaround since the ORBCOMM OG2 launch at Space Launch Complex 40 (SLC-40).
This latest mission involves lofting the ASIASAT-8 satellite into a Geostationary Transfer ORBIT(GTO), utilizing the power of the upgraded Falcon 9 v1.1, with the first stage requiring all of its propellant to get the job done. As such, there won't be a propulsive landing attempt of the core on this mission.
.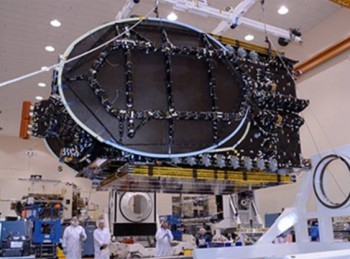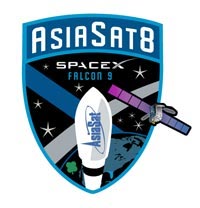 The satellite is based on the Space Systems/Loral 1300 series platform, equipped with 24 Ku-band transponders and a Ka-band payload.
Sporting additional Ku beam coverage with inter-beam switching capability for services including DTH television, private networks and BROADBAND SERVICES, this bird will be the most powerful member of ASIASAT's fleet, with a payload power of about 8,500 watts.
A key milestone for the rocket that will loft the spacecraft towards its eventual home at 105.5 degrees EAST is the Static Fire test, sometimes known as a Hot Fire test.
This effort relates to ensuring that the pad's fueling systems – and the launch vehicle – function properly in a fully operational environment, with numerous requirements to be successfully proven via such a test, such as the engine ignition and shut down commands, which have to operate as DESIGNED, and that the Merlin 1D engines perform properly during start-up.
The test, like the launch DATE, moved only slightly from the original schedule, with operations conducted on Thursday evening, within a four hour window.
The long window for a Static Fire allowed engineers some breathing space, in the EVENT the test suffers from any issues during what was a full propellant loading sequence, launch countdown operations, engine ignition operations and testing of the pad's high volume water deluge system.
The Static Test also PROVIDED a dress rehearsal for the actual launch, with controllers first conducting a poll to allow for the loading of Falcon 9′s RP-1 propellant with liquid oxygen oxidizer two hours and thirty five minutes before T-0.
This was followed with fuel and Thrust Vector Control (TVC) bleeding on the second stage, performed at T-1 hour.
At T-13 minutes, a final FLIGHTreadiness poll was required, with a final hold point at T-11 minutes.
Per the countdown procedures, the tasks then entered the terminal count ten minutes before ignition, followed by the launch vehicle being transferred to internal power at four minutes and forty six seconds before T-0.
The FLIGHT Termination System (FTS), used to destroy the rocket in the event of a problem during an actual launch, was armed three minutes and eleven seconds before launch, and seven seconds later oxidizer topping was concluded.
Pressurization of the propellant tanks followed, ahead of a short burst of the Merlin ID engines on the core stage of the F9, allowing for validation data to be gained on the health of the vehicle and pad systems.
With the required engine and vehicle data collected, detanking operations followed, before the rocket will be lowered on to the Transporter Erector (TE) and rolled back to the hanger.
Once inside the barn, she will be mated with the SATELLITE and fairing, both of which did not ride out to the pad for this test.
The satellite is currently encapsulated inside the FALCON 9 v1.1 fairing in the hanger.
While this is ongoing, a data review will be conducted at the Launch Readiness Review (LRR) – a key meeting that will confirm the launch DATE.
Currently, the August 5 launch date is expected to utilize a window that ranges from 01:25 through to 03:25 Eastern, with an ALTERNATE DATEof August 6 – with an indential window.
However, L2′s ASIASAT-8 flow information notes "SpaceX is working on an extension of the launch window to 04:11 local on both 8/5 & 8/6."
ASIASAT-6:
Should the ASIASAT-8 launch proceed as planned, SpaceX will refocus on the next Falcon 9 mission, tasked with the lofting of the ASIASAT-6 satellite.
The flow for this launch is already in full swing, with the first stage (F9S1-012) already SPOTTED at SpaceX's McGregor facility in Texas on Wednesday (photos taken by a L2 member from a public road), ahead of its shipping to Cape Canaveral.
As with the next Falcon 9 v1.1, the ASIASAT-6 mission will not result in the first stage making an attempt to propulsively land in the Atlantic Ocean, with SpaceX's next test towards their fully reusable launch system set for the CRS-4/SpX-4 mission involving the next Dragon spacecraft FLIGHT to the International Space Station (ISS) - currently scheduled for September.
The SATELLITE has now arrived in Florida, riding inside an Antonov An-124 transport plane that landed at the famous Shuttle Landing Facility (SLF).
"AsiaSat, SpaceX and SSL are teaming on two consecutive launches," said John Celli, President of SSL.
"I'd like to congratulate everyone involved in successfully executing the logistics of both AsiaSat 8 and AsiaSat 6 at launch base and to thank our customer, AsiaSat for its ongoing confidence in SSL."
AsiaSat 6 is designed to provide broadcasting, telecommunications and BROADBAND SERVICES across the Asia-Pacific region. When launched, AsiaSat 6 will be positioned at 120 degrees East longitude where it will help fulfill the demand for quality satellite services.
"SSL and AsiaSat designed AsiaSat 6 with the flexibility and capability to PROVIDE high quality and reliable satellite services across the Asia Pacific," noted William Wade, President and Chief Executive Officer of AsiaSat, marking the completion of the satellite's shipping.
"We are pleased that the satellite has arrived safely at the launch base and look forward to making new capacity available to our users and SERVICE providers."
Sporting 28 high-powered C-band TRANSPONDERS, with a design life of 15 years. It is based on the SSL 1300 platform, which provides the flexibility to support a broad range of applications and technology advances.
It is the fourth satellite that SSL has provided to AsiaSat and the company continues to build an additional satellite, AsiaSat 9, which SSL counts among its backlog of 23 geostationary satellites.
Thaicom Public Company Limited (Thaicom) is a partner of AsiaSat on AsiaSat 6 and will be using half of the satellite's capacity to provide services under the name of Thaicom 7.
Quelle: NS
.
Update: 4.08.2014
.
SpaceX, AsiaSat mission flies early Tuesday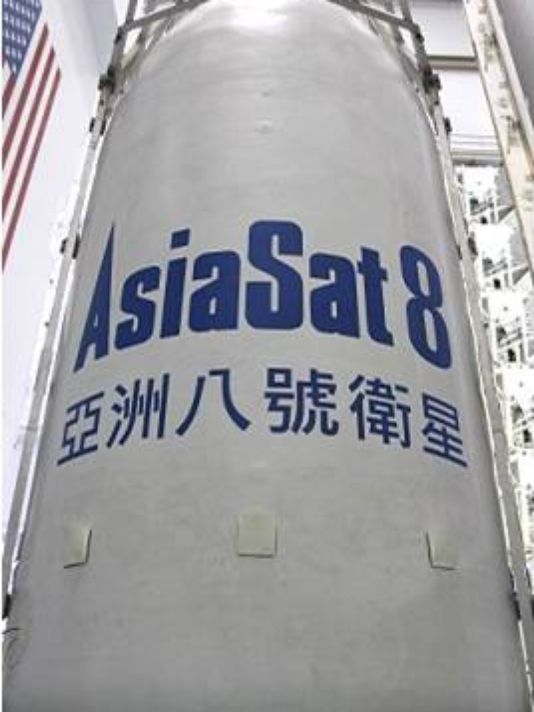 Two SpaceX launches this month — the first after midnight tonight — reflect the CAPE's opportunities and challenges as it seeks to recapture its lost share of commercial satellite missions.
The first launch, of the AsiaSat 8 communications SATELLITE on a Falcon 9 rocket at 1:25 a.m. Tuesday, will be SpaceX's fourth commercial mission from Cape Canaveral since December, when it ended a four-year drought in commercial launches here.
Launch of AsiaSat 6 follows later this month.
Hong Kong-based AsiaSat returns to the Cape after an 11-year hiatus during which it launched twice on Russian rockets — a shift to overseas launchers typical of the industry as a whole.
SpaceX's affordability and the Falcon 9's good FIT for these new satellites brought AsiaSat back to Florida.
William Wade, AsiaSat president and CEO, is excited for the upcoming launches, but confirmed the company's experience here has not been as easy as at other launch sites.
Access to Cape Canaveral Air Force Station for roughly 60 employees, shareholders and customers now in town — most not U.S. citizens and many who are Chinese nationals – has been difficult.
"That is proving to be somewhat cumbersome," Wade said. "We have to go through all the security clearances, which is expected, but we are finding as a foreign company that it is a bit more difficult conducting our launches there."
The company found the process easier when it last flew from the CAPE in 2003, on an Atlas IIIB rocket.
Here, Wade said, the company also worries more about the potential for launch delays because of federal government missions that may be given higher priority, which adds uncertainty to its financial forecasting and MARKETING of satellite services.
"The government launches, those are a little bit unpredictable," Wade said. "You don't really know whether you're going to get bumped, whether issues might come up that could create a situation where they take precedence. So that has proven to be a little bit more worrisome, whereas in some of our previous experiences elsewhere, we haven't seen that to be as big a FACTOR."
A desire for more CONTROL over range operations and customer access are among the key reasons why SpaceX wants to develop a private launch complex for commercial missions, separate from its two East Coast pads on federally controlled property at the Cape and Kennedy Space Center.
A site on Texas' Gulf Coast recently cleared an environmental review and is considered the front-runner among options in multiple states.
Space Florida has proposed an alternative at the north end of Kennedy Space Center and the Merritt Island National WILDLIFE Refuge that is now under environmental review.
In a speech last month, Space Florida CEO Frank DiBello bemoaned the Cape's inability to create an environment better suited for commercial missions, the best growth opportunity.
The Space Coast will continue to host these commercial launches — comprising six of SpaceX's next 10 from the Cape — in the near-term, but risks losing them if SpaceX commits to building a pad elsewhere.
A satellite operator's choice of a launch provider is based more on rocket reliability and cost than issues like access and scheduling. But all else being equal, said Wade, "certainly that could become FACTOR."
"If things were a little bit easier, more ACCOMMODATING, that would certainly be welcome," he said.
This month's planned launches will increase AsiaSat's SATELLITE fleet from four to six, allowing the company to expand its video and telecommunications services in China, India and the Middle East.
Company guests will be able to watch the launch from an approved facility, though not the one they ORIGINALLY wanted, and their experience will include a tour of KSC.
"We're looking forward to having an enjoyable and successful launch," Wade said.
Update: 5.08.2014
.
SpaceX Falcon 9 launches AsiaSat 8 relay station
.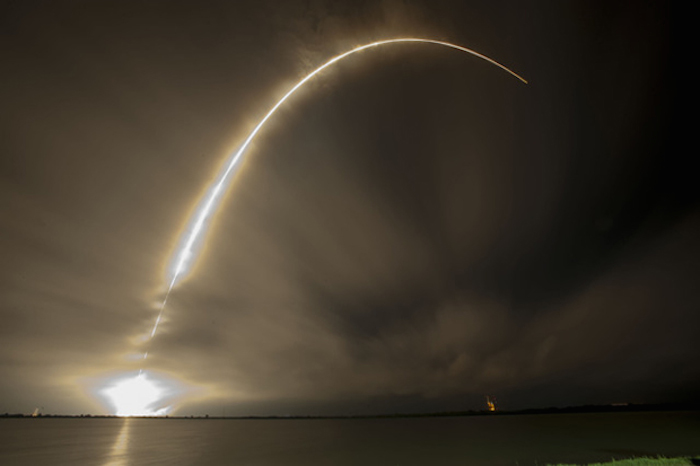 A SpaceX Falcon 9 rocket carrying the AsiaSat 8 communications satellite streaks away from Cape Canaveral through an overcast sky early Tuesday as seen in this time exposure.
.
A SpaceX Falcon 9 rocket boosted a powerful communications satellite into orbit early Tuesday after a sky-lighting liftoff from Cape Canaveral, the first of two commercial relay stations the company plans to launch this month before a cargo flight to the International Space Station in September.
Adding a bit of last-second drama, an initial attempt to launch the rocket at 1:25 a.m. EDT (GMT-4) was aborted with less than a minute to go because of an unspecified technical problem with the first stage. The countdown was reset and after resolving the issue, mission managers decided to press ahead for another launch try.
This time around, the countdown ticked all the way to zero and the Falcon 9's nine Merlin 1D first-stage engines ignited with a rush of flame at 4 a.m.
Generating a thunderous roar and 1.3 million pounds of thrust, the 224-foot-tall rocket majestically climbed away from pad 40 at the Cape Canaveral Air Force Station trailing a brilliant plume of fiery exhaust, arcing to the east toward orbit as it consumed its load of oxygen and kerosene propellant.
Live video from a "rocketcam" attached to the booster showed the first stage falling away about three minutes into flight. The rocket's second stage engine then ignited for the first of two planned "burns," its nozzle glowing bright orange as it continued the push to space.
The AsiaSat 8 communications satellite was released from the second stage about 32 minutes after launch. From an initially elliptical orbit, the satellite's on-board thrusters will fire over the next few weeks to put the craft into a circular geosynchronous orbit 22,300 miles above the equator.
Given the weight of the satellite and the requirements of the initial orbit, the Falcon 9 first stage was not expected to have enough propellant left to attempt a "soft landing" in the ocean as part of the company's on-going drive to perfect technques for recovery and resuse of Falcon 9 components.
SpaceX founder and chief designer Elon Musk says "rapid reusability" is the key to driving down launch costs. But stage recovery TESTS are only carried out during missions that don't demand the Falcon 9's full lift capability.
AsiaSat 8 will join four other relay stations currently operated by the Asia Satellite Telescommunications Co., or AsiaSat, which provides BROADBAND, data services and more than 450 radio and television channels to more than 710 million households in the Asia-Pacific region.
Built by Space Systems/Loral, AsiaSat 8 is the most powerful relay station yet launched for Hong Kong-based AsiaSat, featuriung 24 Ku-band transponders and a high-speed Ka-band beam.
The new satellite will be located near AsiaSat 7 at 105 degrees east longitude to "help meet the growing MARKET demand for quality satellite services in the Asia-Pacific region," the company said on its web page.
"AsiaSat 8's powerful Ku-band beams cover China, India, the Middle East and Southeast Asia (providing) flexibility to address market requirements and for services including DTH (direct-to-home) television, private networks and broadband services," the company said.
SpaceX plans to launch a second AsiaSat relay station -- AsiaSat 6 -- before the end of the month.
The FLIGHTS mark an unprecedented surge for SpaceX that began in mid July with the successful launch of six Orbcomm data relay satellites. That flight, plus the two AsiaSat missions this month, will lead into a fourth flight Sept. 12 to boost a Dragon cargo ship into orbit with supplies and equipment bound for the International Space Station.
SpaceX holds a $1.6 billion contract with NASA to deliver some 44,000 tons of cargo to the station over 12 flights. The September mission will be the company's fourth operational resupply mission with a fifth on tap in December.
Musk plans to build a company-owned launch site near Brownsville, Texas, to avoid potential launch conflicts and government restrictions imposed on rockets launched from the Cape Canaveral Air Force Station. SpaceX and Texas state officials announced an agreemment Monday, pending additional permits and unspecified local agreements.
"SpaceX is excited to expand our work in Texas with the world's first commercial launch complex designed specifically for orbital missions," Musk said in a statement issued by Gov. Rick Perry's office. "We appreciate the support of Gov. Perry and numerous other federal, state and local officials who have partnered with us to make this vision a reality."
AsiaSat president and CEO WILLIAM Wade was quoted by Florida Today saying that access to the Florida Air Force station for company employees and guests, many of them foreign nationals, "is proving to be somewhat cumbersome."
"We have to go through all the security clearances, which is expected, but we are finding as a foreign company that it is a bit more difficult conducting our launches there," he said.
Another issue is the possibility that a commercial flight could get delayed beause of a high-priority national security mission.
"The government launches, those are a little bit unpredictable," Wade told Florida Today. "You don't really know whether you're going to get bumped, whether issues might come up that could create a situation where they take precedence. So that has proven to be a little bit more worrisome, whereas in some of our previous experiences elsewhere, we haven't seen that to be as big a FACTOR."
Quelle: CBS
2613 Views