.
Studie: 'BioBots' kann dazu beitragen Karten zu erstellen von verborgenen, gefährlichen Umgebungen.
.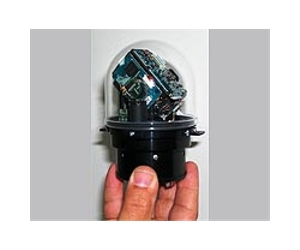 Study: 'Biobots' may help map hidden, dangerous environments
Raleigh, A swarm of insect cyborgs, or "biobots," may one day allow the mapping of unknown and dangerous environments such as collapsed buildings, U.S. researchers say.
Researchers from North Carolina State University say they have have developed software that could track a swarm of biobots, such as remotely controlled cockroaches, equipped with electronic sensors and released into a collapsed building or other hard-to-reach area.
"We focused on how to map areas where you have little or no precise information on where each biobot is, such as a collapsed building where you can't use GPS technology," electrical and computer engineering Professor Edgar Lobaton said.
Because the biobots couldn't be tracked by GPS, their precise locations would be unknown, but the sensors would signal researchers via radio waves whenever biobots got close to each other.
The researchers would send a signal commanding the biobots to keep moving until they encounter a wall or other unbroken surface, then keep moving along it, a technique called "wall following."
Repeating cycles of random movement and "wall following" would eventually allow the creation of a map of the unknown environment, they said.
"This would give first responders a good idea of the layout in a previously unmapped area," Lobaton said.
The researchers report they've tested the software using computer simulations and robots and have plans to test the program with biobots.
.
The Swiss Alps' iconic Matterhorn has been has been mapped in detail never possible before by a fleet of autonomous, fixed-wing drones, researchers say.
The Matterhorn, dominating the skyline of the Swiss/Italian border at 14,692 feet, has challenged climbers since it was first scaled in 1865.
The new mapping, conducted by unmanned aerial vehicle company SenseFly and aerial photography company Pix4D, was introduced at the Drones and Aerial Robotics Conference in New York City this past weekend, NewScientist.com reported.
Three drones were launched from the peak of the Matterhorn, flying down the mountain just 100 yards from the face while capturing data points just 8 inches apart.
When they reached the bottom of the mountain a second team of researchers recovered the drones and then relaunched them for additional mapping.
"Such a combination of high altitudes, steep rocky terrain and sheer size of data set has simply not been done before with drones, we wanted to show that it was possible," SenseFly's Adam Klaptocz said.
Tiny drone aircraft yielding detailed maps of coral reef ecosystems
Palo Alto, Calif. (UPI) Oct 17, 2013 - Camera-equipped flying robots can yield insights into climate change effects on important ecosystems like coral reefs, researchers in California say.
Many centuries-old living coral reefs remain unmapped and unmeasured, scientists at Stanford University said, and a shoebox-sized flying drone could help unlock mysteries of these marine ecosystems.
Stanford aeronautics graduate student Ved Chirayath has developed a four-rotor remote-controlled drone outfitted with cameras that can film coral reefs from up to 200 feet in the air.
In an initial study, Chirayath and follow Stanford researcher Stephen Palumbi used the drone to precisely map, measure and study shallow-water reefs off Ofu Island in American Samoa.
"Until now the challenges have been too high for flying platforms like planes, balloons and kites," Palumbi said. "Now send in the drones."
Just as surveys and maps of rainforests have resulted in new understanding of the vital role these ecosystems play in sustaining the biosphere, detailed maps of coral reefs oral maps could do the same for marine environments, the researchers said.
The low-level drones provide better maps that other technologies, they said; satellite imagery through water tends to be distorted by wave movement, radar can't penetrate the water's surface, and sonar doesn't work well in the shallow water where most corals reside.
.
Quelle:Spacedaily
3829 Views