The Zenit rocket with Angosat 1 rolls out to the Site 45 launch pad at the Baikonur Cosmodrome in Kazakhstan on Dec. 24. Video credit: Roscosmos
A Ukrainian-built Zenit booster and a Russian-made Fregat upper stage are set to launch an Angolan communications satellite Tuesday from the Baikonur Cosmodrome in Kazakhstan to an orbital perch more than 22,000 miles above Earth.
A nearly 20-story-tall Zenit rocket is set for liftoff with the Angosat 1 spacecraft at 1900 GMT (2 p.m. EST) Tuesday from Site 45 at the historic spaceport in Kazakhstan, where launch is scheduled for 1 a.m. Wednesday local time.
Russia's space agency plans to webcast the launch live.
Deployment of the 3,631-pound (1,647-kilogram) Angosat 1 satellite from the Zenit's Fregat upper stage is expected several hours later after a series of engine burns to eventually place the spacecraft into a circular geostationary orbit nearly 22,300 miles (nearly 35,800 kilometers) over the equator.
The Zenit rocket, running on an automatic countdown sequencer, will be fueled with kerosene and liquid oxygen propellants in the final hours of Tuesday's countdown at the Site 45 launch pad. The rocket rolled out to its launch pad in Kazakhstan on Sunday aboard a specially-designed rail car.
The Zenit 3F rocket set for launch Tuesday is powered by a two-stage booster designed by Yuzhnoye and manufactured by Yuzhmash in Dnipropetrovsk, Ukraine. The Zenit booster will release the Angosat 1 satellite and a Fregat SB upper stage in a preliminary low-altitude parking orbit around eight-and-a-half minutes after liftoff.
The Fregat SB stage, made by NPO Lavochkin's factory near Moscow, will fire multiple times to guide Angosat 1 to its targeted geostationary orbit, where the satellite's velocity will keep pace with Earth's rotation, allowing it to hover in the same position in the sky.
Angosat 1 is Angola's first communications satellite, the product of an inter-governmental agreement signed between the Angolan and Russian governments in 2009. Built by RSC Energia, a major Russian aerospace contractor, Angosat 1 is designed for a 15-year mission providing television broadcast, Internet, radio and other telecommunications services to Angola, the rest of Africa and parts of Europe.
The satellite carries 16 C-band and six Ku-band transponders, and controllers will position it along the equator at 13 degrees east longitude to start its mission.
Airbus Defense and Space reportedly supplied the communications payload for the Angosat 1 satellite.
Russian engineers also helped construct and activate a satellite control center near the Angolan capital of Luanda on the southwest coast of Africa, where officials will oversee Angosat 1 operations.
The launch of Angosat 1 aboard a Zenit rocket is a rare example of cooperation between Russia and Ukraine, whose relations have soured since 2014 with Russia's annexation of Crimea and involvement in an ongoing civil war.
Angosat 1 was originally supposed to blast off on a Zenit rocket from Sea Launch's commercial ocean-going platform in the Pacific Ocean. But Sea Launch flight operations ceased in 2014, and Russian officials considered launching Angosat 1 on the heavy-lift Angara 5 rocket before deciding last year to put the satellite on a fully-assembled Zenit booster already in storage at the Baikonur Cosmodrome.
At the time of the last Zenit launch in December 2015, there were no more missions on the Ukrainian-made rocket's manifest, leaving the Zenit program's future in question.
But with the switch of Angosat 1's launch to a Zenit rocket, and the purchase of Sea Launch infrastructure mothballed in Long Beach, California, by a commercial Russian airline company, there are plans for the resumption of Zenit missions in the future.
The new Sea Launch company, called S7 Sea Launch, ordered a dozen new Zenit launch vehicles from Yuzhmash in April for ocean-based missions and flights staged from the Baikonur Cosmodrome.
Another Zenit rocket is slated to launch a long-delayed Ukrainian telecom satellite from the Baikonur Cosmodrome next year.
Quelle: SN
+++
Update: 15.15 MEZ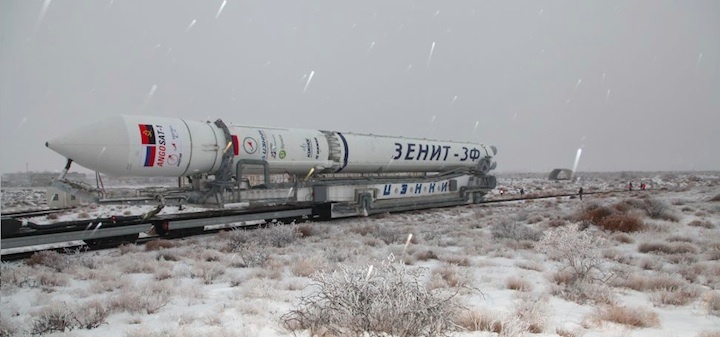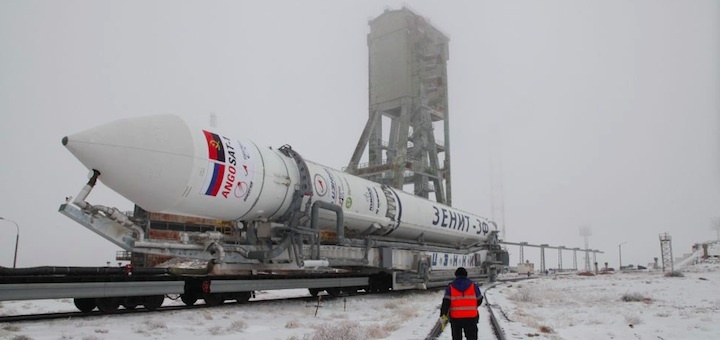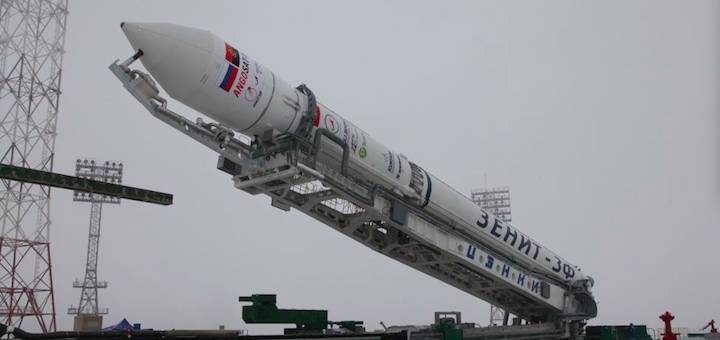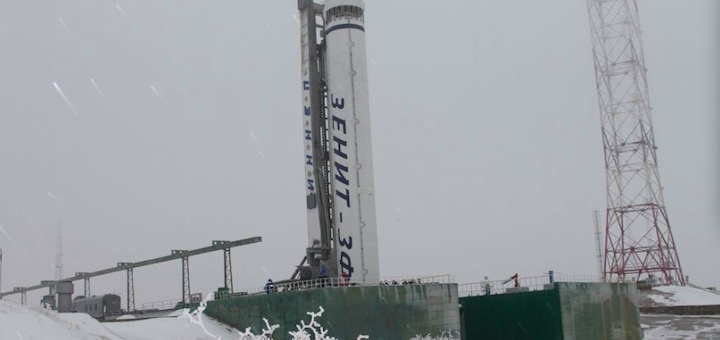 Quelle: Roscosmos
+++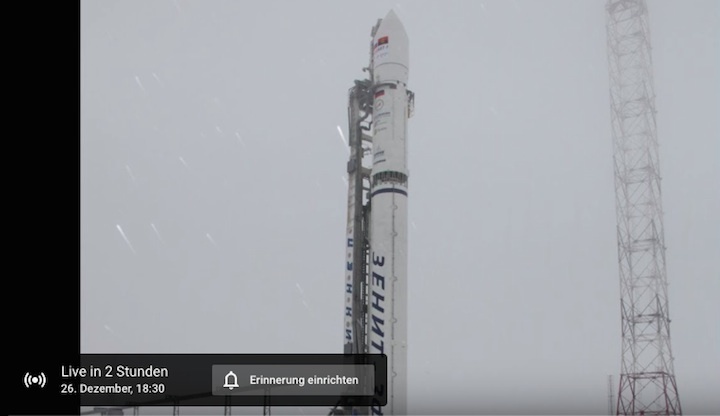 +++
Update: 19.00 MEZ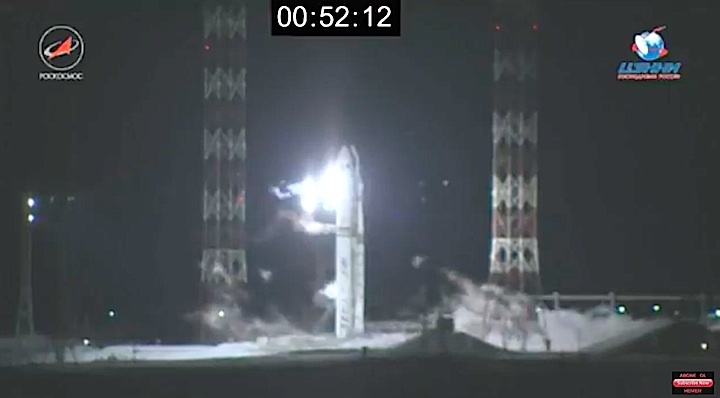 +++
20.00 MEZ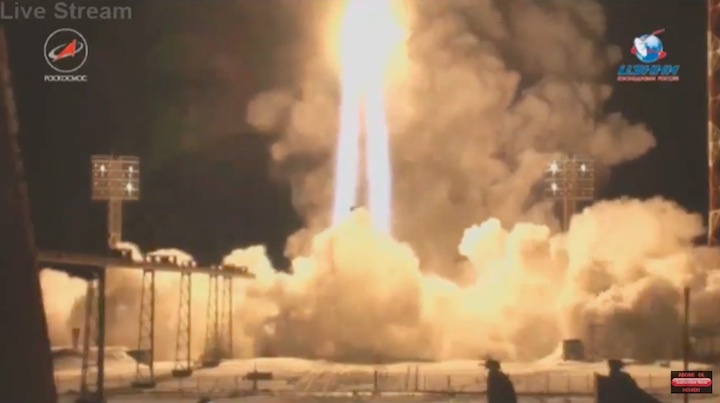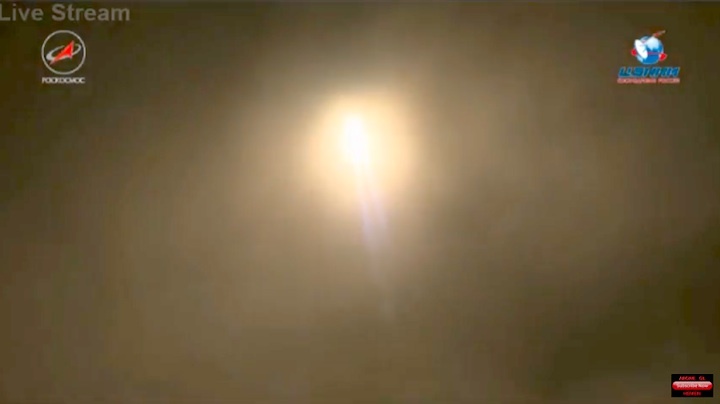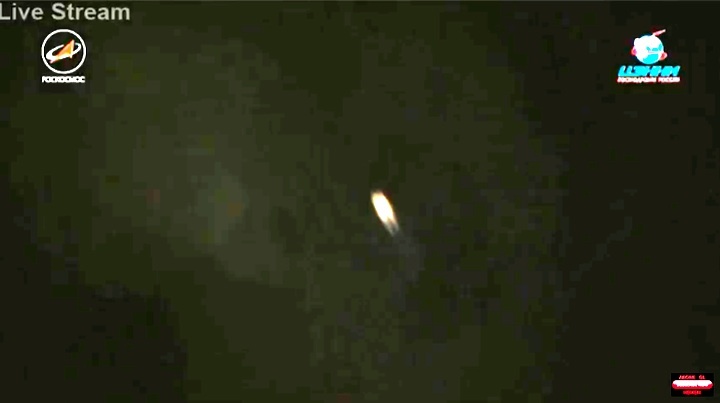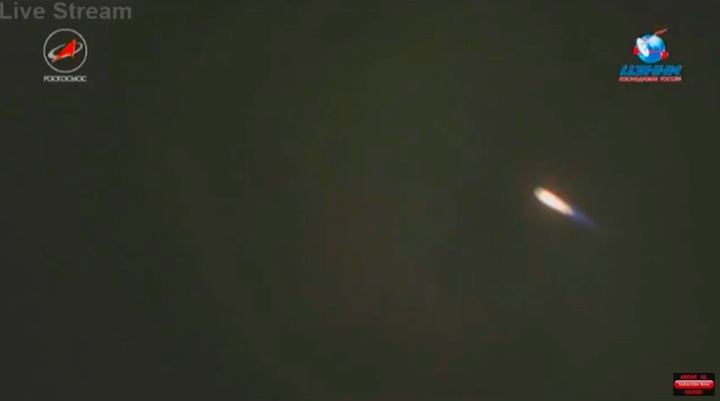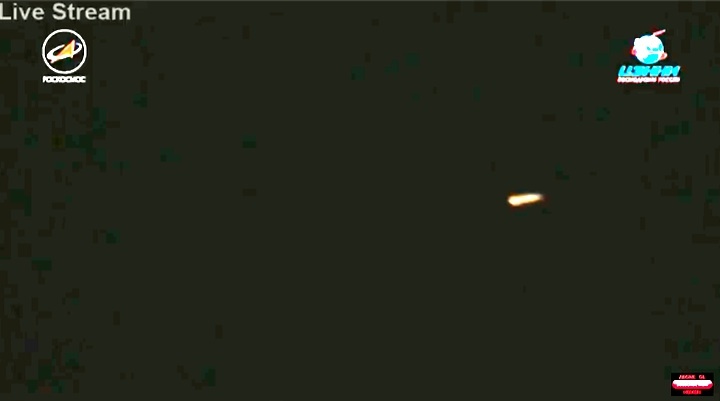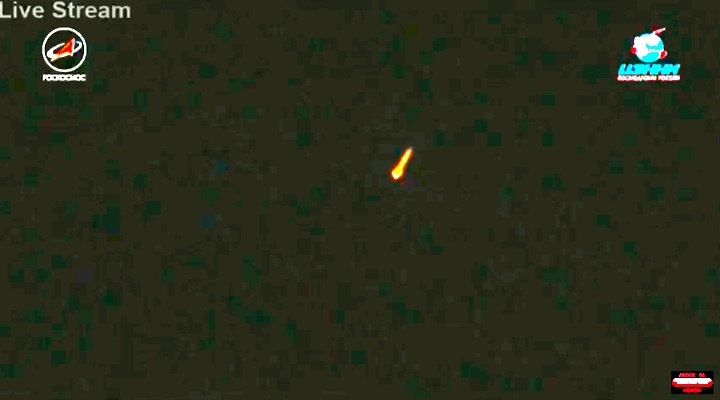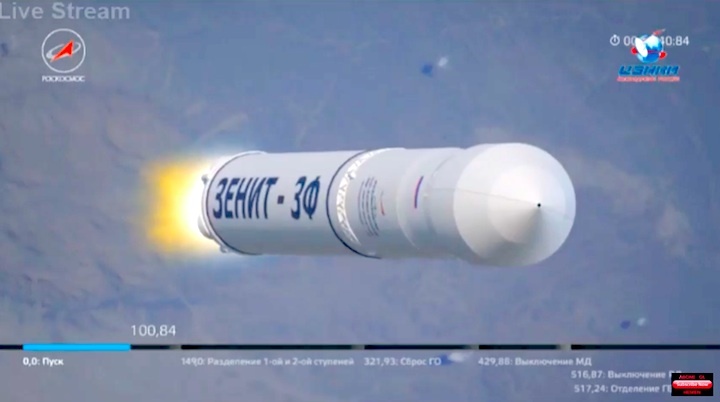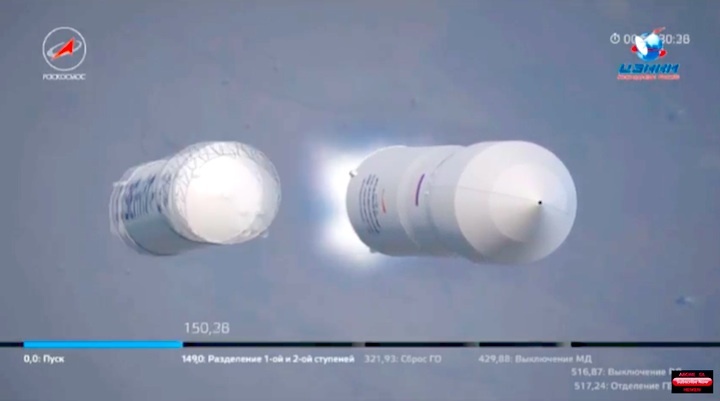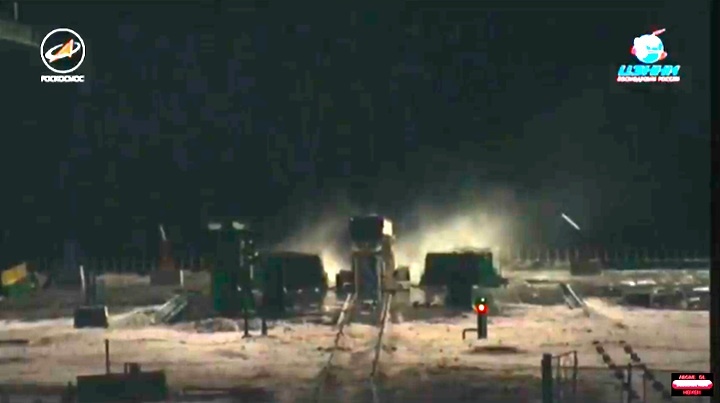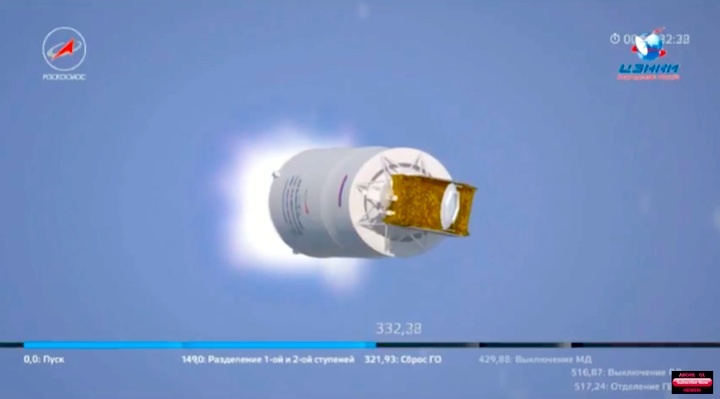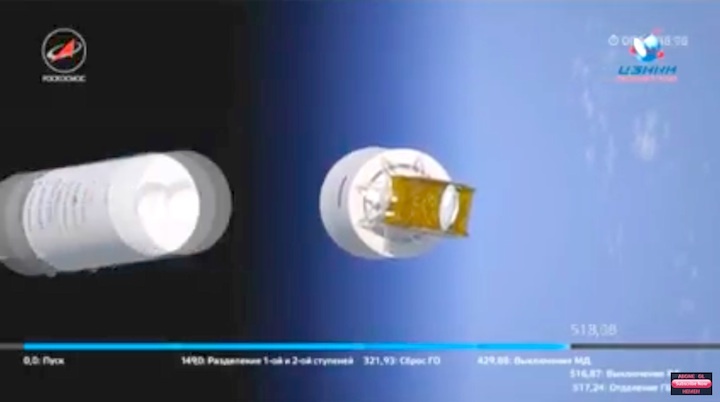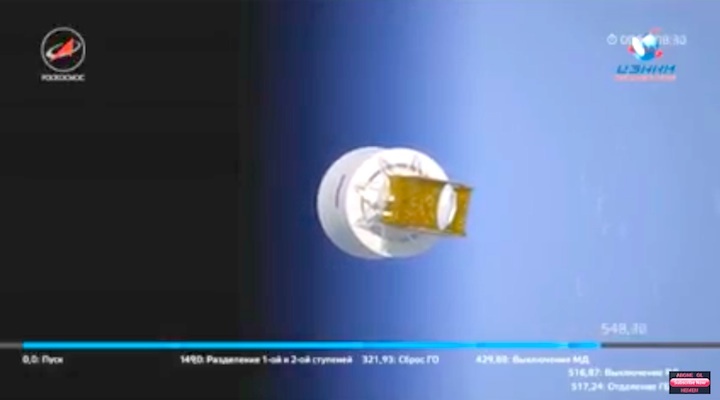 Quelle: Roscosmos
+++
Zenit rocket launches Angola's long-awaited first satellite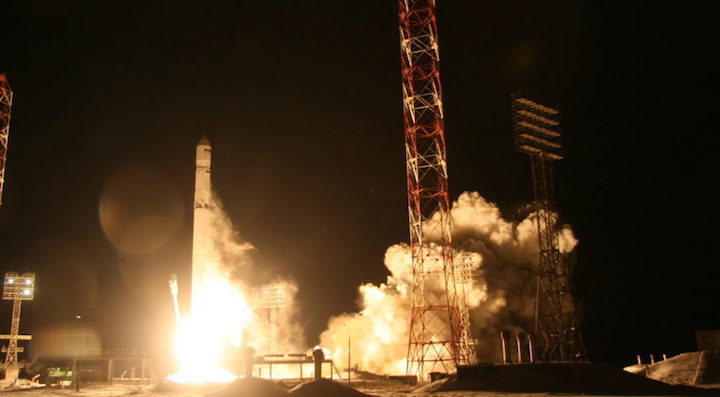 MT LAUREL, New Jersey — A Zenit rocket, flying for the first time in two years, successfully orbited Angola's debut satellite Angosat-1 on Dec. 26.
The land-launched Zenit lifted off from the Baikonur Cosmodrome in Kazakhstan at 2:00 p.m. Eastern on a nearly nine-hour mission to deliver the 1,647-kilogram satellite to geostationary transfer orbit. Russian state corporation Roscosmos confirmed spacecraft separation from the rocket's Fregat upper stage at 10:54 p.m. Eastern.
The Angosat mission is a first for both Angola, the oil-rich African country that gained its first new president in 38 years, Joao Lourenco, this summer, and S7 Group, the Russian aviation company that purchased Sea Launch in 2016 for around $150 million.
Angosat-1 carries 16 transponders in C-band and six in Ku-band, according to the Gabinete de Gestão do Programa Espacial Nacional (GGPEN), the Angolan National Office for Space Affairs. GGPEN said the satellite has a design life of 15 years, and can cover Angola, Africa and some of Europe from its orbital position at 13 degrees East.
Angosat-1 originated with a 2009 memorandum of understanding between three Russian banks and Angola's finance and telecommunications ministries, but made little progress until 2011 when Russia's Export Import Bank, Vnesheconombank, VTB Bank AG and Gazprombank agreed to finance the satellite with a 13-year, $278.5 million loan. RSC Energia began construction of Angosat-1 in 2012.
Angosat-1 was previously planned as a 2016 Sea Launch mission, but switched to a land-launched Zenit after Sea Launch halted operations in 2014 with its ocean-faring platforms.
A lack of business, change of ownership, and frayed bilateral relations between Russia and Ukraine stymied Sea Launch's Angosat mission, which was supposed to be a dual launch with the Energia-100 communications satellite. That mission would have been Sea Launch's first dual-launch, pairing together two satellites on the same rocket to split the price between customers. Of the world's leading commercial launch providers, only Arianespace has been able to normalize dual launches, most of which have been on the European Ariane 5 rocket.
S7 Group's goal is to revive Sea Launch, presumably with the Russian-Ukrainian Zenit rocket, though the company has entertained using a Russian-led alternative if needed. Sea Launch's last mission was Eutelsat 3B telecommunications satellite in May 2014, about three months after Russia annexed Crimea from Ukraine. Zenit has launched only once since that invasion, orbiting the Electro-L Russian weather satellite in 2015.
Quelle: SN
---
Update: 27.12.2017
.
Russia loses contact with Angolan satellite: space industry source

Russia has lost contact with Angola's first national telecoms satellite launched from the Baikonur space pad, a source in the space industry told AFP on Wednesday.
The incident involving the Russian-made Angosat-1 is a new embarrassment for the country's once proud space industry after Russia in November lost contact with a weather satellite after it was launched from a new cosmodrome in the country's far east.
"Contact has temporarily been lost," the source told AFP, adding specialists were now looking into the matter.
The source said officials had stopped receiving "telemetry data" but called it a "rather common situation" and expressed the hope that contact would be re-established.
The reason for the loss of contact was not immediately clear.
Earlier Wednesday the Russian space agency Roscosmos said that the satellite had been successfully launched and reached orbit.
The Zenit-2SB rocket carrying Angosat to orbit was supplied by Ukrainian maker Yuzhmash, making the launch a rare joint project between the two countries since 2014, when Moscow annexed Ukraine's Crimea peninsula.
The Angosat project was agreed by Russia and Angola in 2009 and includes the satellite, its launch, and on-ground infrastructure in a suburb of the capital Luanda.
The approximately $280 million project has been financed with a credit from Russia's state banks.
The satellite was designed for a 15-year mission to boost satellite communications, internet access and radio and TV service.
Around 50 Angolan aerospace engineers trained around the globe were meant to oversee the functioning of the satellite from a control centre built near Luanda.
Russia initially wanted to use its new Angara rocket to launch the satellite but opted for the Zenit rocket.
The launch was initially scheduled for the summer but had been pushed back several times due to delays.
In late November Russia lost contact with its Meteor-M weather satellite after its launch from the new Vostochny cosmodrome in the far east -- only the second such launch from the new spaceport.
Apart from the Meteor weather satellite, the rocket carried 18 payloads from institutions and companies in Canada, the United States, Japan, Germany, Sweden and Norway.
In October, Russia successfully launched from the northern cosmodrome of Plesetsk a European satellite dedicated to monitoring the Earth's atmosphere, the protective layer that shields the planet from the sun's radiation.
Quelle: SD
---
Update: 29.12.2017
.
AngoSat satellite stays in designated orbit — source

Experts from Russia's Energia Space Corporation are working to make Angola's AngoSat satellite operate normally again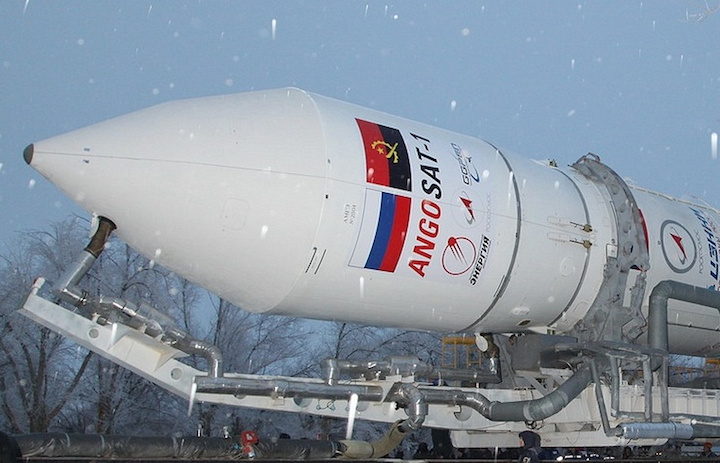 he AngoSat satellite launched from the Baikonur spaceport on December 26 stays in the designated orbit, a source in the rocket and space industry told TASS on Thursday.
"The Fregat booster operated in the normal regime [when delivering the AngoSat satellite into the designated orbit] and there are all confirmations that the space vehicle stays in the target orbit," the source said.
TASS does not yet have an official confirmation of this information.
According to data of the North American Aerospace Defense Command (NORAD), the second stage of the Zenit carrier rocket and the detachable fuel tank of the Fregat booster are staying in orbit. The NORAD has not registered any other objects so far.
Experts from Russia's Energia Space Corporation are working to make Angola's AngoSat satellite operate normally again, the corporation said in a statement published on its website.
According to sources in the Russian rocket and space industry, contact with the satellite was lost when its solar batteries began to unfold.
The Zenit-2SB carrier rocket with the Fregat booster and Angola's AngoSat satellite blasted off from the Baikonur spaceport in Kazakhstan at 22:00 Moscow time (19:00 GMT) on December 26. The Fregat booster and AngoSat separated from the third stage of the carrier rocket eight minutes after the launch.
The satellite separated from the booster at 06:54 Moscow time (03:54 GMT) on December 27. After that, the satellite started to move as planned and provide telemetry data, but when its solar batteries began to unfold, telemetry data stopped coming.
Russia's Energia Space Corporation created the AngoSat satellite for Angola's Ministry of Telecommunications and Information Technologies.
Quelle: TASS
+++
Communication with AngoSat satellite restored — source
Russia's Energia Space Corporation reported on Wednesday that its experts are working to make Angola's AngoSat satellite operate normally again