13.07.2019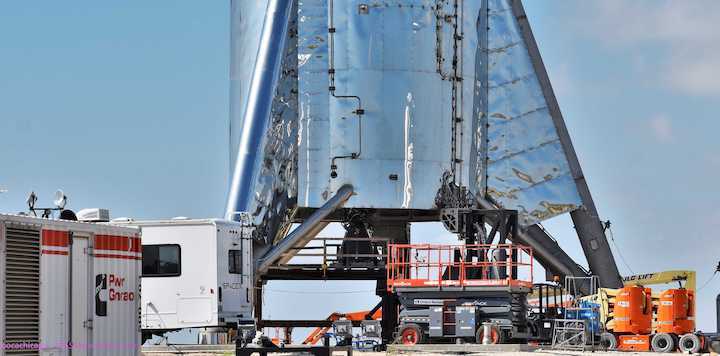 SpaceX CEO Elon Musk says Starhopper's first hover test is scheduled early next week
SpaceX CEO Elon Musk announced via Twitter that Starhopper's first untethered hover tests – flying as high as ~20 meters (65 ft) – could be attempted as early as Tuesday, July 16th.

SpaceX engineers and technicians have been working around the clock the last several months to prepare Starhopper for flight and – even more importantly – prepare the company's next-gen Raptor engine to ensure it is reliable enough to risk losing the Hopper in flight. Neither task is a small challenge, with both pushing SpaceX's workforce into new and (partially) unfamiliar territory, ranging from Starhopper's use of steel propellant tanks to Raptor's adoption of liquid methane and oxygen instead of the kerosene/oxygen or hydrazine SpaceX's workforce is familiar with
Back in April 2019, SpaceX – having installed Raptor SN02 roughly two weeks prior – static fired Starhopper for the first time ever, simultaneously lifting the massive craft a few inches off the ground as it strained against its tethers. Three and a half months later, SpaceX engineers appear to have finally solved a mechanical resonance (vibration) issue that plagued all Raptors that came before SN06, forcing aborts, limiting test length, and even destroying or damaging engines beyond repair.
As previously discussed on Teslarati, Starhopper's first true flight tests have been a long time coming. 9m (30 ft) in diameter and perhaps 25m (80 ft) tall, Starhopper is an extremely unusual and visually bizarre test article, effectively acting like a (vaguely) mobile Raptor test stand and a full-fidelity way for SpaceX's aluminum-focused welding and fabrication crews to gain experience building a moderately functional stainless steel rocket.

Last month, there was some hope that Raptor SN05 would be capable of supporting Starhopper's first hover tests as early as mid-to-late June, but it's understood that the vibrational issue described above by Musk damaged the engine during one of its final acceptance tests, delaying Starhopper testing by several weeks. Had that resonance issue been solved months ago, it's probable that Raptor SN02 could have taken Starhopper directly from its first static fires to untethered flight operations in April.
According to CEO Elon Musk, SpaceX's Raptor manufacturing team is rapidly moving from a development-focused line to something more like mass-production. Once the design has been more thoroughly pinned down, the production ramp could max out with up to two Raptor engines completed daily, averaging out to an annual production rate of an incredible ~500 engines.

Additionally, Musk tacitly acknowledged that SpaceX's recent development Raptors likely cost around $2M apiece, but the final mass-production cost could drop as low as $200,000 per engine, almost unfathomable for such a high-performance, cutting-edge engine.
For the time being, SpaceX will be focused on wringing out any subtler design flaws and general bugs in Raptor as the engines are gradually produced and tested at increasing volumes. This includes hop/hover tests like those Starhopper is scheduled to attempt next Tuesday, as well as even wilder ~20-km suborbital flight tests that could come once one or both of SpaceX's "orbital" Starship prototypes are fully integrated.
Quelle: TESLARATI
----
Update: 17.07.2019
.
Starhopper fires up for an eventful Static Fire test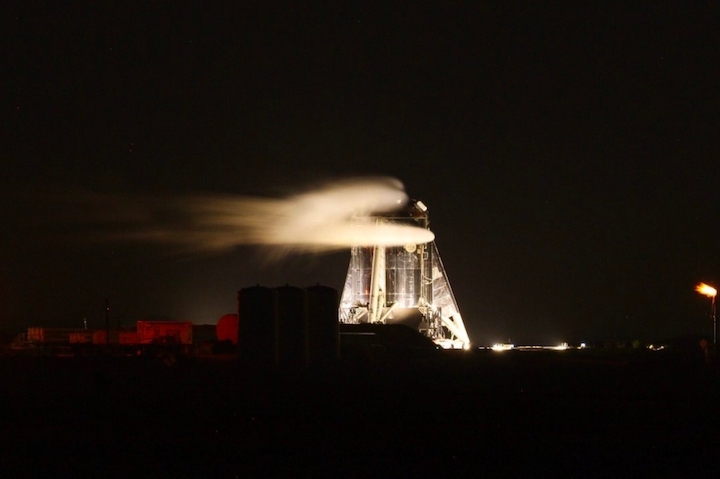 Following the arrival and installation of a new Raptor engine on to the Starhopper vehicle at SpaceX's test facility in Boca Chica, Texas – a Static Fire test was conducted late on Tuesday. This test was required ahead of what is expected to be a 20 meter hop for the vehicle. However, the Static Fire appeared to cause some secondary events that will have caused what is clearly expected to be some damage to the vehicle, which will, in turn, delay the hop test.
Resuming Starhopper testing is part of facilitating further development of Raptor, the orbital Starship spacecraft, and the Super Heavy booster.
Raptor is SpaceX's liquid methane and oxygen powered rocket engine, under development for the Starship and Super Heavy vehicles.
The engine that recently arrived in Boca Chica is the sixth full-scale Raptor built, succeeding previous builds that reached various phases of testing.
Raptor Serial Number 1 (SN-1) was disassembled for analysis and spare parts after testing at SpaceX's rocket development facility in McGregor, Texas. SN-2 was tested in McGregor and shipped to Boca Chica, where it powered two brief, tethered Starhopper flights in April. Both SN-2 and SN-3 were also disassembled for analysis and parts after testing.
SN-4 was, at one point, intended to power the upcoming hop tests. However, after encountering issues in McGregor, the engine was only used for fit checks and Thrust Vector Control (TVC) testing in Boca Chica.
The engine was installed on the Starhopper vehicle, and commanded to gimbal to various directions at various speeds. After these tests, the engine was removed and shipped away, and Starhopper waited for another Raptor.
Raptor SN-5, however, also ran into issues in McGregor. Two seconds into a planned 50-second test firing, the engine was damaged beyond repair. The failure prompted changes for engine SN-6, which would have to pass testing in McGregor before being shipped to Boca Chica.
The first and second test firings of SN-6 went well, lasting 20 and 10 seconds respectively. The third firing lasted 50 seconds before a "soft abort" occurred. The test program continued, though, and the engine was successfully fired a fourth time for 65 seconds. On the fifth and final firing, Raptor roared for 85 seconds, a new record for the Raptor engine.
Having aced its McGregor test program, Raptor SN-6 was shipped to Boca Chica and installed on the Starhopper vehicle.
The engine was first used for further TVC tests. Now, it will be used for the next phase of Starhopper tests, which will incrementally get closer to firing the engine and eventually flying untethered above the launch pad.
The first test saw Starhopper fueled with liquid methane and oxygen and put through Ox spin prime and Fuel spin prime testing – effectively testing how to start up the turbines, as required ahead of testing the preburner.
Once this is completed nominally, Raptor's preburner itself was tested, but without completely igniting the engine.
Only after successful preburner testing did SpaceX teams move towards the static fire test, which took place late on Tuesday at 10:25 pm Central time.
While the test itself appeared to fire for its full duration, events relating to this test appeared to cause some issues with Hopper, later seen when a secondary fire rose up to engulf the test vehicle.
Pad safing may take some time before crews can check on how much damage was sustained on the vehicle. However, it is clear the Hop test will be delayed for some time.
Starhopper has already completed two such static fire tests using Raptor SN-2. The engine will briefly fire while the vehicle is tethered to the ground, only allowing Starhopper to rise a few inches off of the pad.
When the hop test takes place, the tethers will be removed, and Starhopper will be ready to fly untethered for the first time.
The first free flight will reach an altitude of 20 meters. The vehicle will also "divert" sideways, similar to early flights of SpaceX's Grasshopper test vehicle that informed the development of the reusable Falcon 9 booster. Starhopper will then return to the same pad to land.
Looking farther ahead in the Starship development process, progress is continuing on both orbital prototypes, under construction in Texas and Florida. Construction of the Mk. 1 prototype in Boca Chica is continuing with the addition of more rings of stainless steel.
The most recent rings have had a protective covering, removed after the ring is welded to the cylinder.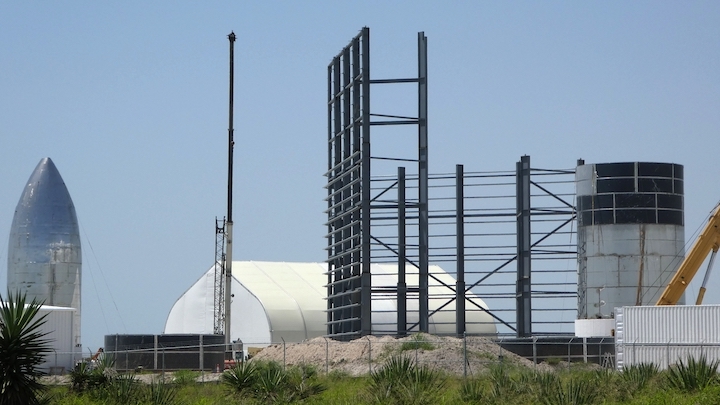 The Boca Chica team is also building a windbreaker structure, which will be covered in fabric once complete. The purpose of the structure is understood to be protection from coastal winds, which affects the quality of the welding between each steel section.
The plans for these orbital Starship prototypes are fluid. They also may not represent the latest design of the operational Starship vehicle, as SpaceX CEO Elon Musk has stated further design changes have been made to the fins/legs.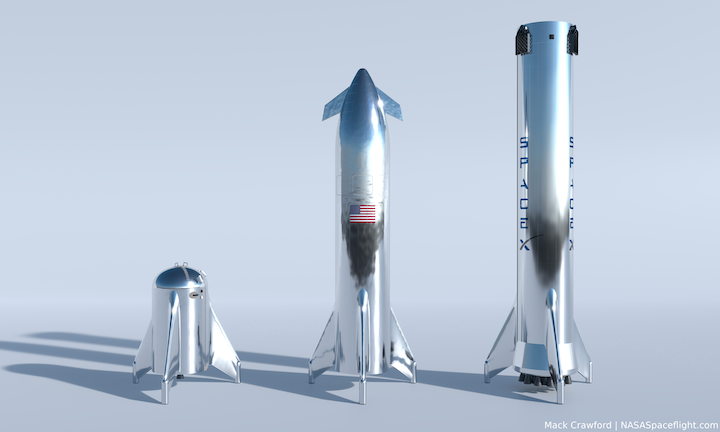 An official update by Musk, on both the vehicle's design and launch plans, is expected after Starhopper's first untethered test flight.
Although Musk did note the hop will be webcast by SpaceX – which has numerous internal use cameras around the pad that could be fed into a live stream – no official word on this option has yet been provided.
Quelle: NS
----
Update: 18.07.2019
.
SpaceX's Starhopper engulfed in fireball after critical Raptor static fire test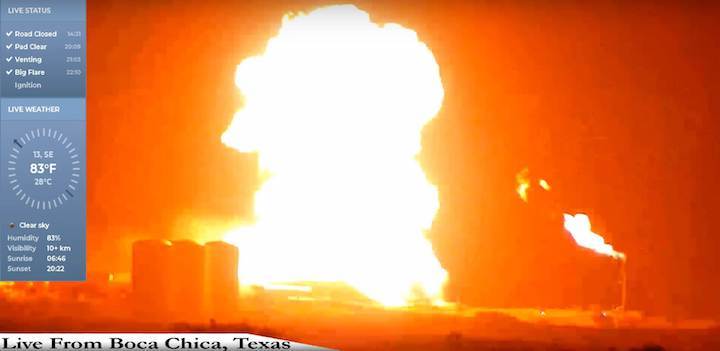 SpaceX's Starhopper was engulfed in a fireball shortly after a static fire ignition of its Raptor engine, almost certainly delaying the low-fidelity Starship prototype and testbed's first untethered flight.

With any luck, Raptor, Starhopper, and SpaceX's spartan Boca Chica facilities have escaped relatively unharmed. Regardless, even if Raptor's static fire was technically successful, some repairs will likely be necessary and the off-nominal behavior that occurred after the ignition test will have to be dealt with and understood to prevent such behavior during future Starhopper operations.
Aside from the anomalous behavior after the test, Starhopper's Raptor static fire looked downright brutal from local livestreams hosted by LabPadre and several other onlookers.
Due to the inherently low quality of video captured through thousands of feet of thick, humid Texas air, it's almost impossible to make specific details out. However, shortly after the static fire ignition and shutdown, some viewers believe that there was fire visible at one or several points on Starhopper, although what looks like fire could easily be a simple reflection of the active flare stack just a few hundred feet away.

By all appearances, the anomaly looks much worse than it was. More likely than not, some sort of leak began during or after Raptor's static fire test, creating a cloud of gaseous oxygen and methane that was eventually ignited by either the latent heat of Raptor components or a fire somewhere on or around the vehicle. What's important is that Starhopper appears to be fully intact after the incident, meaning that SpaceX should still be able to detank and safe the vehicle and analyze it to figure out what went wrong. Watch live as the rocket is safed and technicians (hopefully) begin to arrive on-site to begin inspections.
Quelle: TESLARATI
----
Update: 21.07.2019
.
Elon Musk: SpaceX Starship prototype to fly from Florida in coming months
A prototype of SpaceX's heavy-lift rocket that could one day send humans on deep-space missions could begin flying within the coming months, according to CEO Elon Musk.
Named "Starship," Musk responded via Twitter Friday night that the Texas and Florida prototypes are scheduled to fly in two to three months.
The aerospace company is currently building its Starship prototypes in two locations: Boca Chica as well as in the isolated dirt pathway on Cidco Road here in Cocoa.
Simultaneously building multiple Starships in both locations, Musk said in May, they would look to see which location is most effective.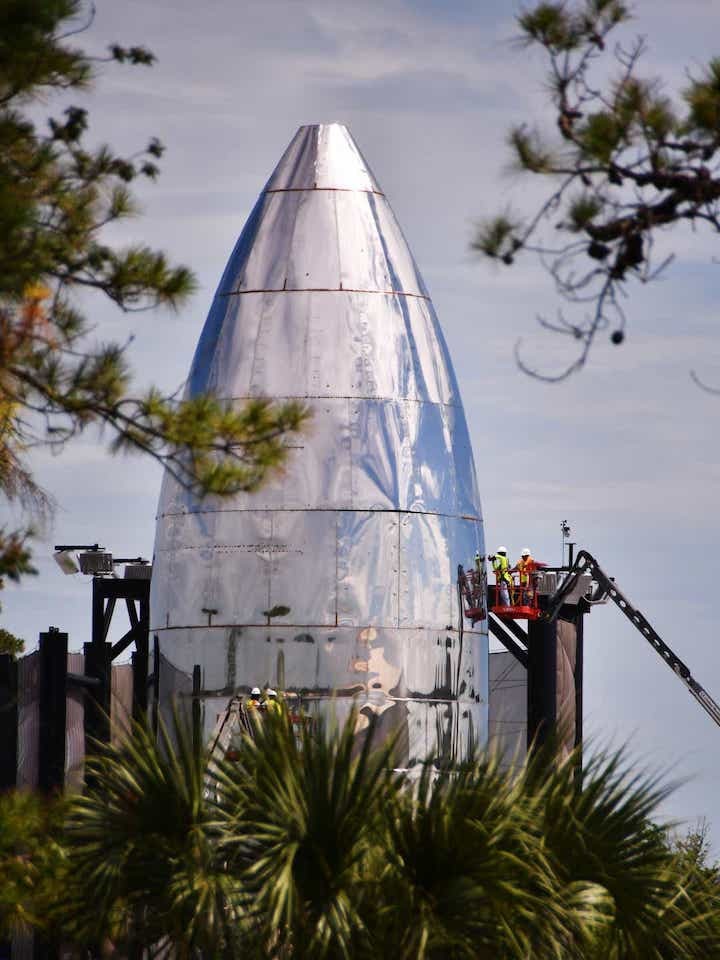 "Both sites will make many Starships," Musk said via Twitter. "This is a competition to see which location is most effective. Answer might be both."
In order to be ready to fly from Kennedy Space Center pad 39A, Musk said a separate Starship launch structure is being built off-site.
As for what will happen to the old launch tower in pad 39A. Musk said, "(It) won't change. Starship launch structure will be attached to the other side from tower."
The ultimate goal is to build a Starship and Super Heavy rocket – the massive booster that will carry Starship, which together would stand at nearly 400-feet in height and would send crewed and cargo missions beyond low-Earth orbit including to the moon and Mars.
SpaceX already has its first paying customer for Starship – a Japanese billionaire, Yusaku Maezawa, has paid for several seats on Starship for a trip around the moon scheduled no earlier than 2023, one year before NASA is scheduled to return humans to the moon.
The first full test flight is currently scheduled for no earlier than 2020.
Meanwhile, at Cape Canaveral Air Force Station Launch Complex 40, SpaceX is targetting to launch its cargo Dragon spacecraft atop its Falcon 9 rocket for the 18th mission under NASA's Commercial Resupply Services contract on July 24, the 50th anniversary of when Apollo 11 splashdown in the Pacific Ocean.
Quelle: Florida Today
437 Views