.
28.02.2013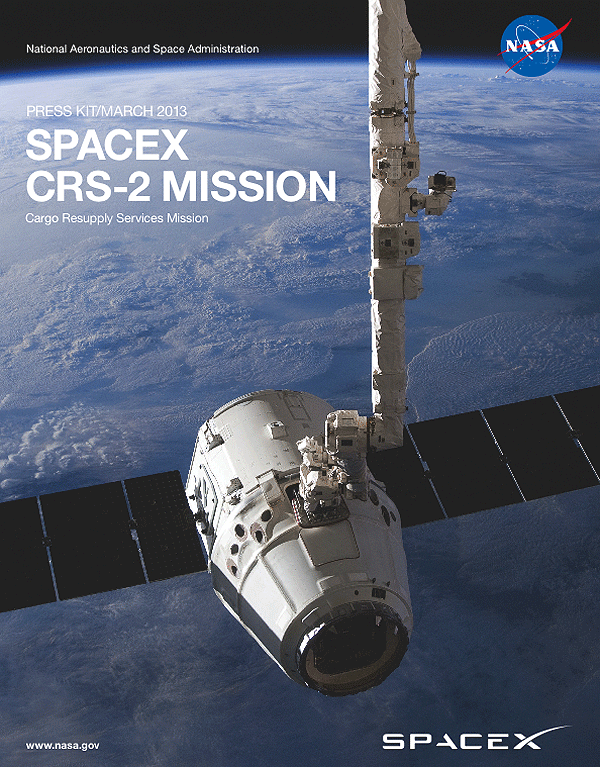 .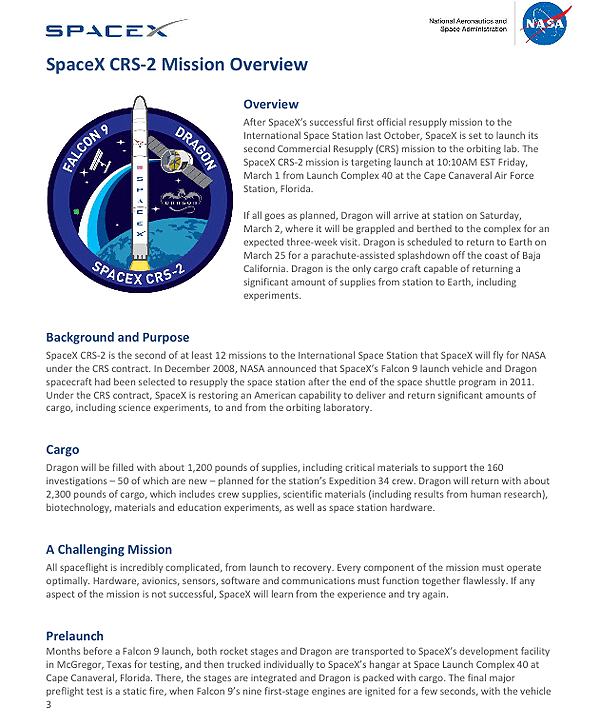 .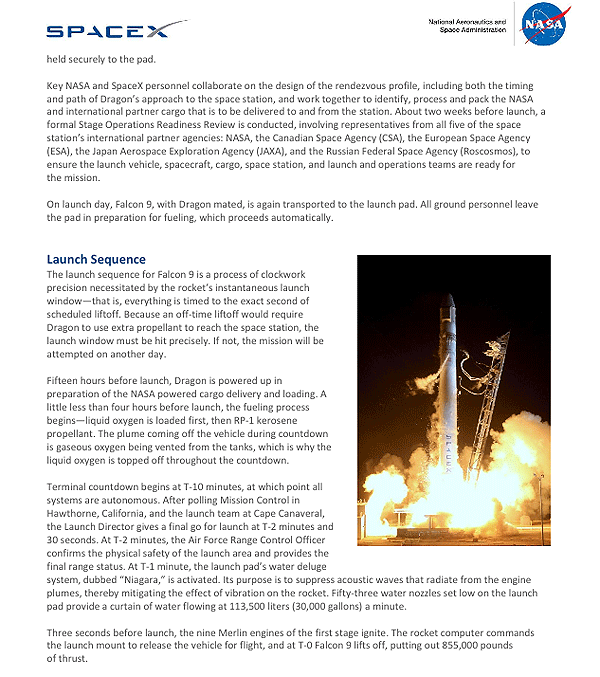 .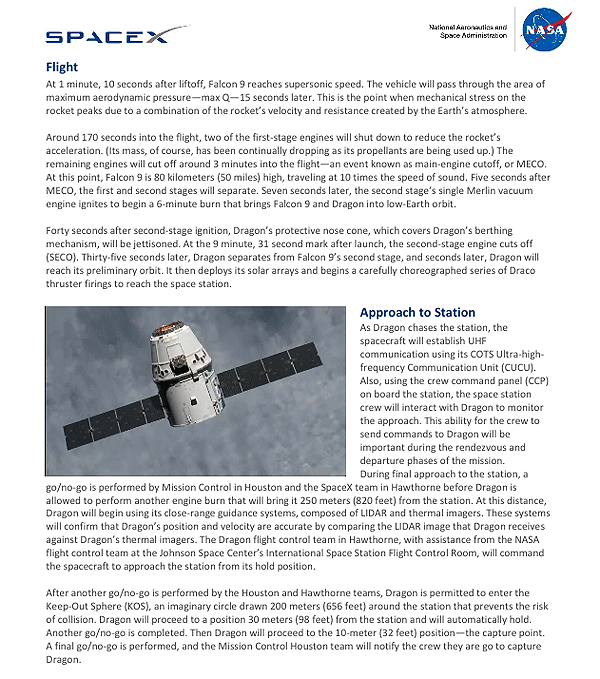 .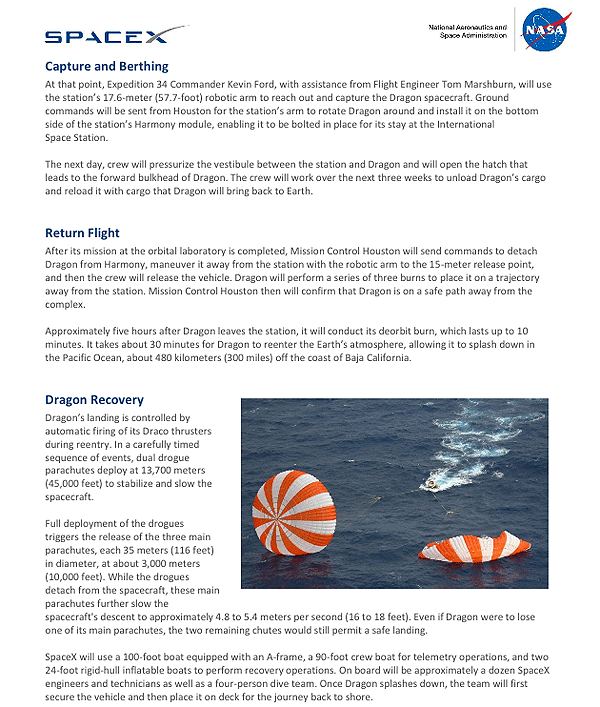 .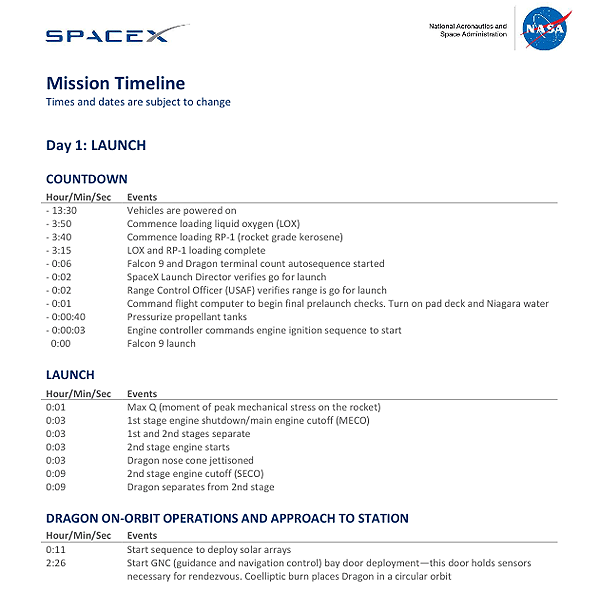 .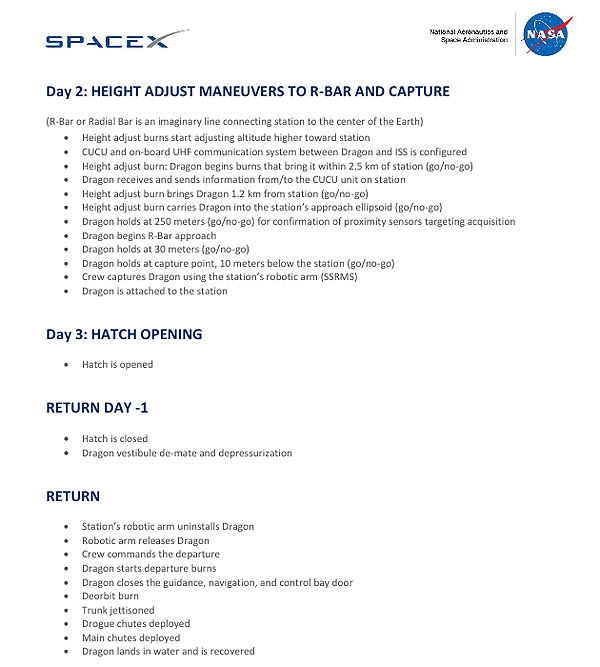 .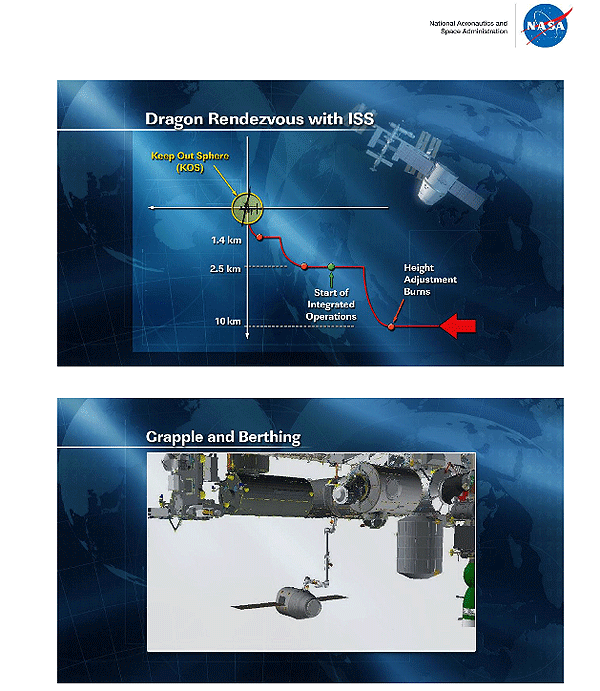 .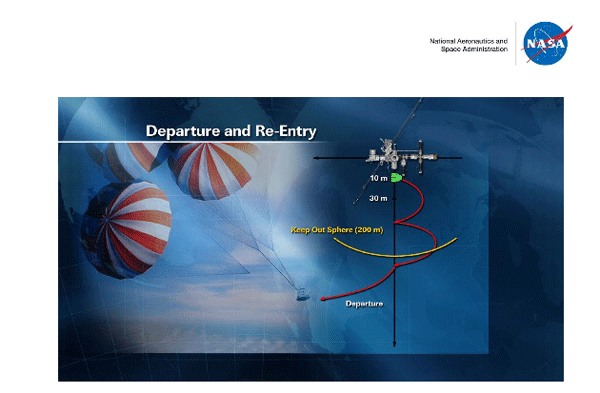 .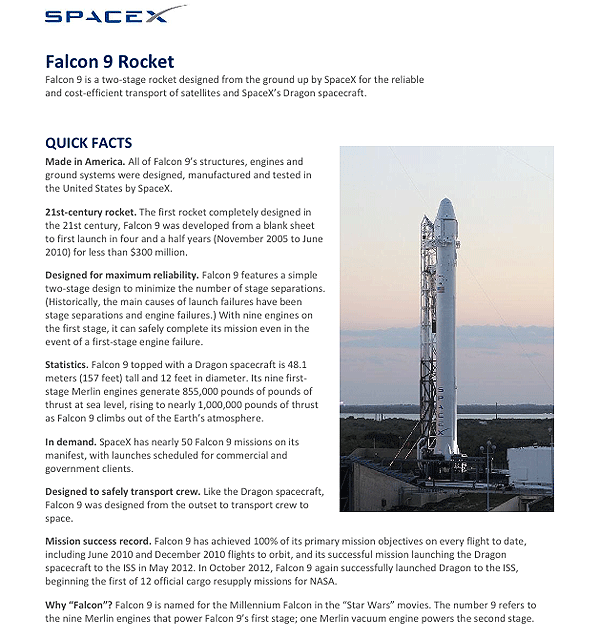 .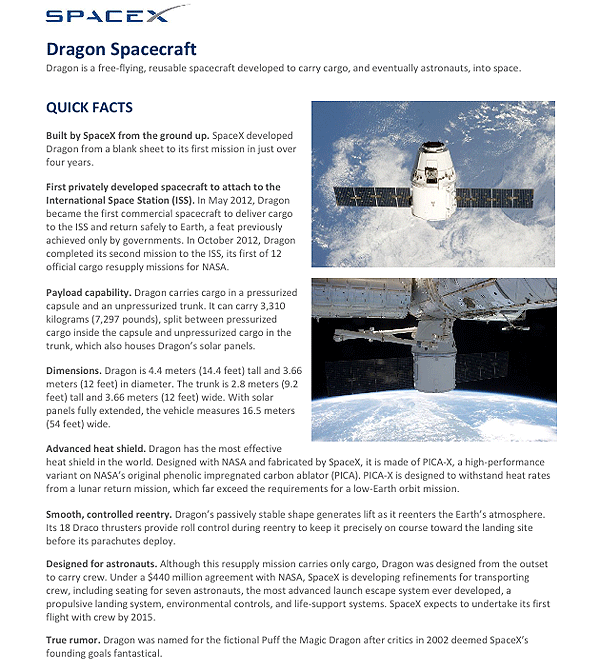 .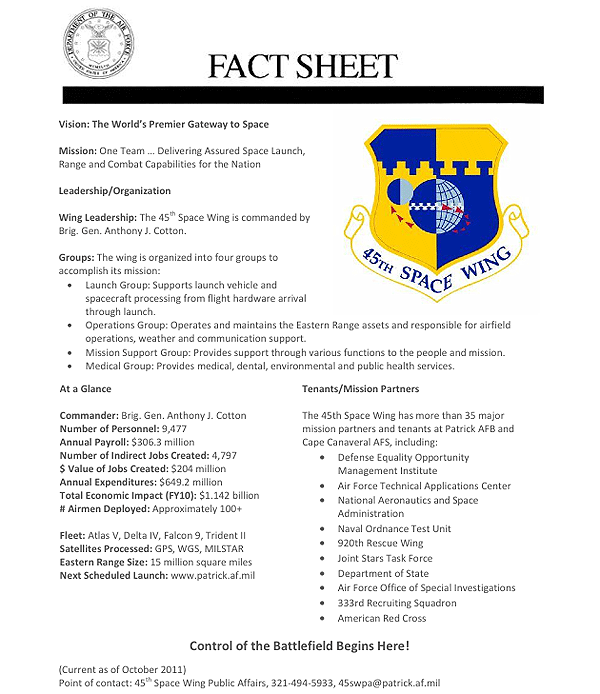 Quelle: NASA
.
Update: 1.03.2013
.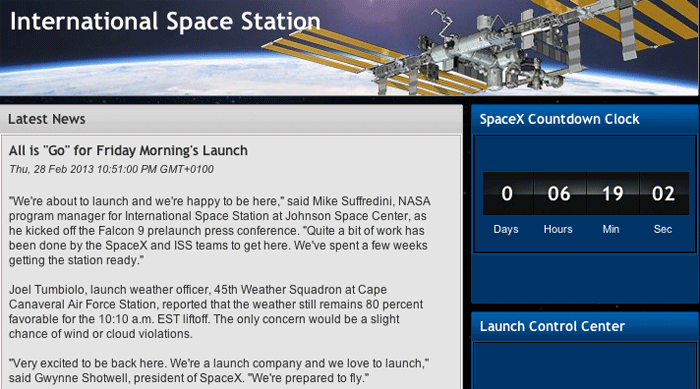 .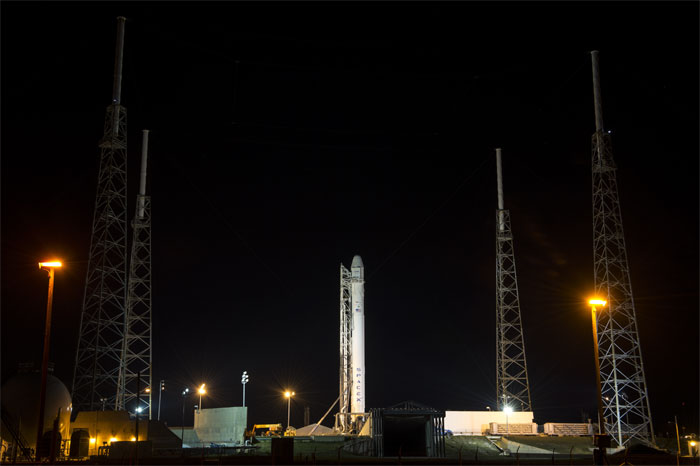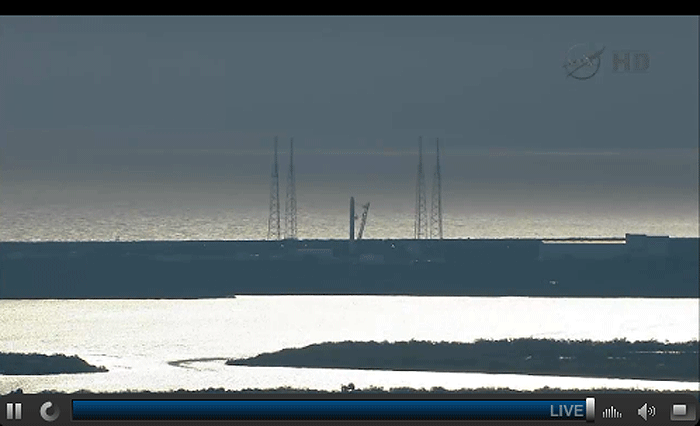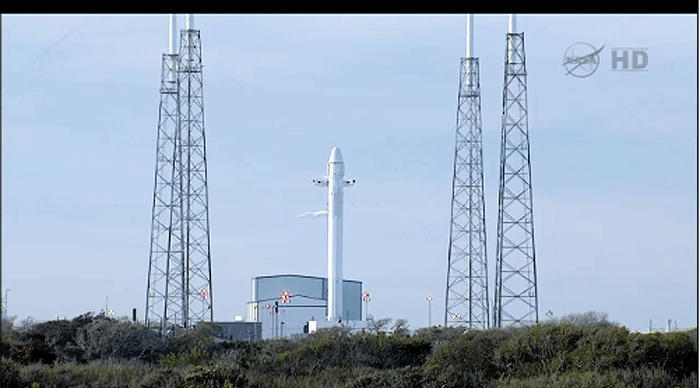 Update: Frams vom Start von Falcon-9 mit SpaceX-2-Dragon-Kapsel / NASA-TV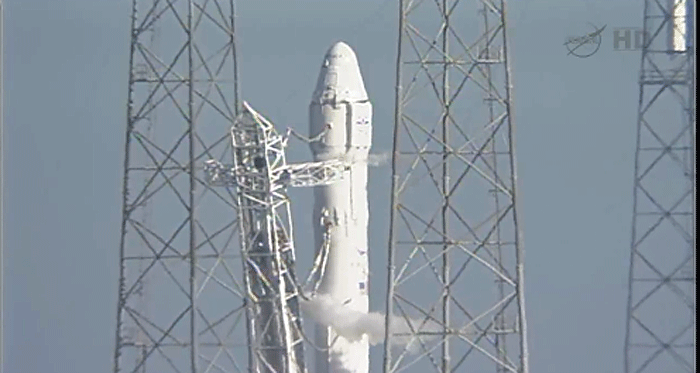 .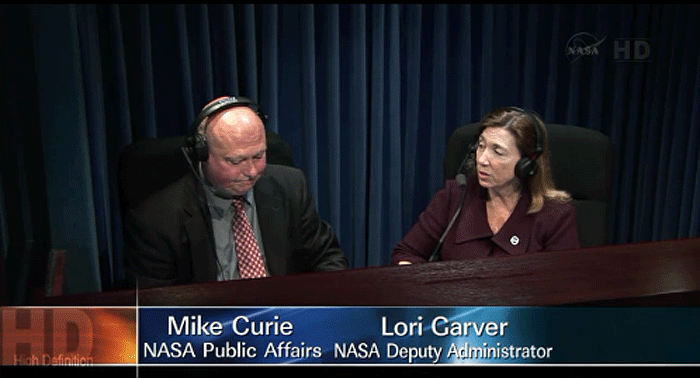 .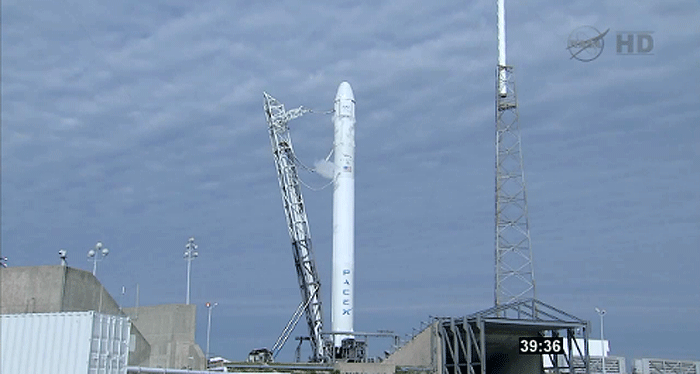 .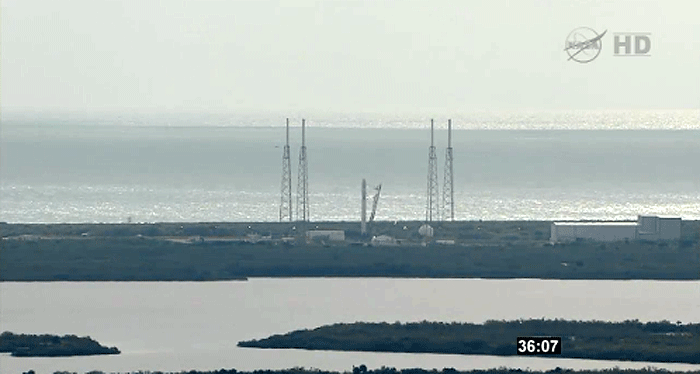 .
SpaceX has confirmed its Falcon 9 rocket lifted off as planned and experienced a nominal flight. After Dragon achieved orbit, the spacecraft experienced an issue with a propellant valve. One thruster pod is running. The company is trying to bring up the remaining three. Dragon's solar arrays deployed. Once SpaceX gets at least two pods running, it will begin a series of burns to get to the space station.
.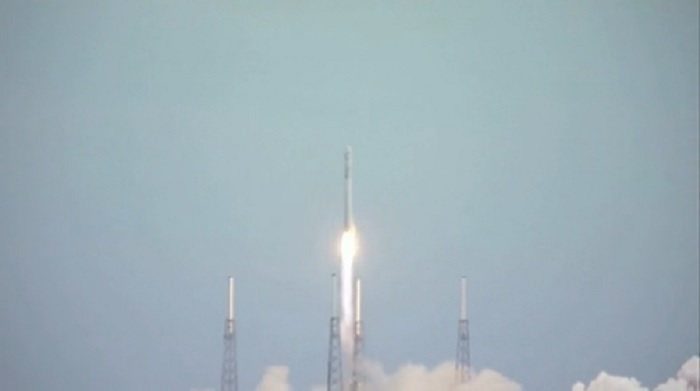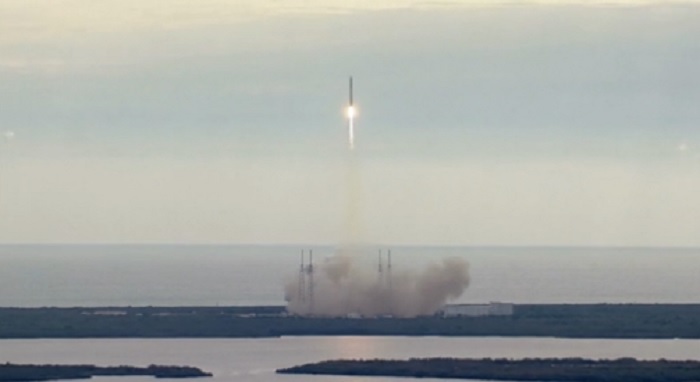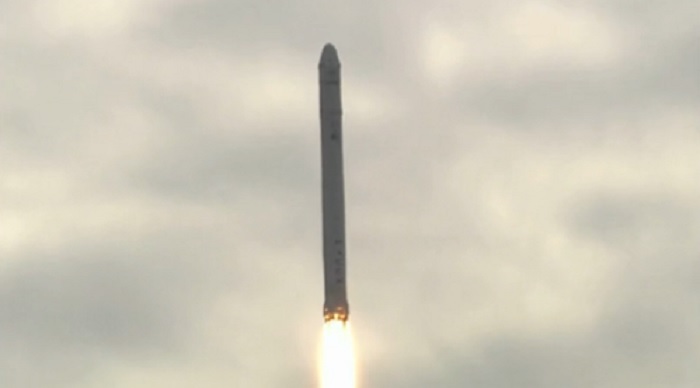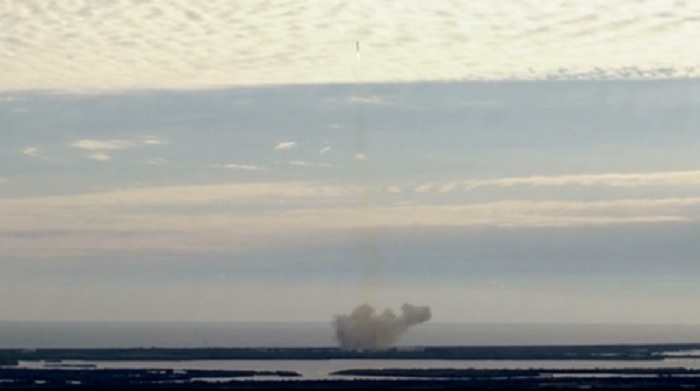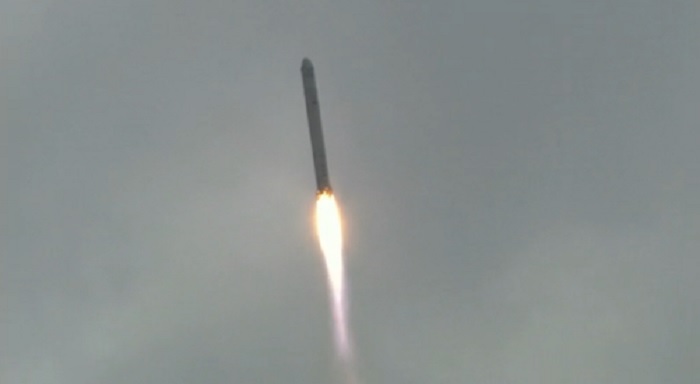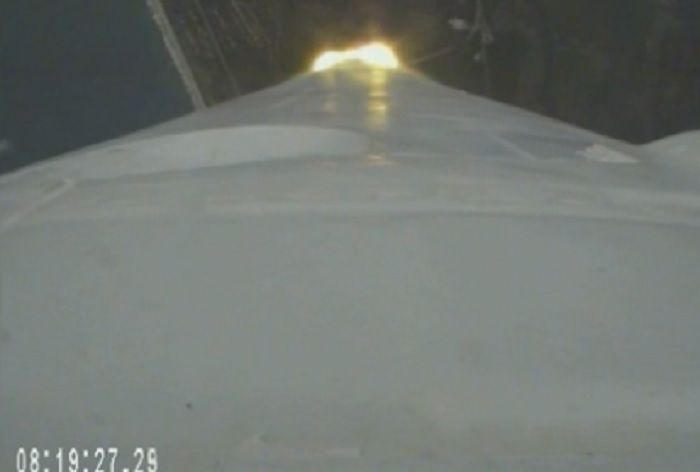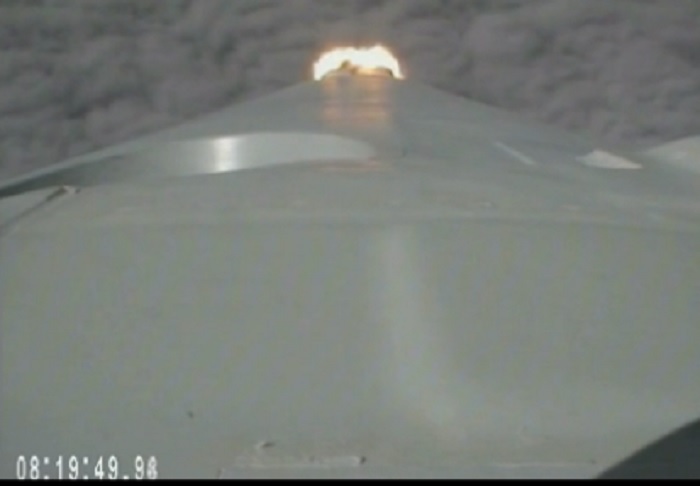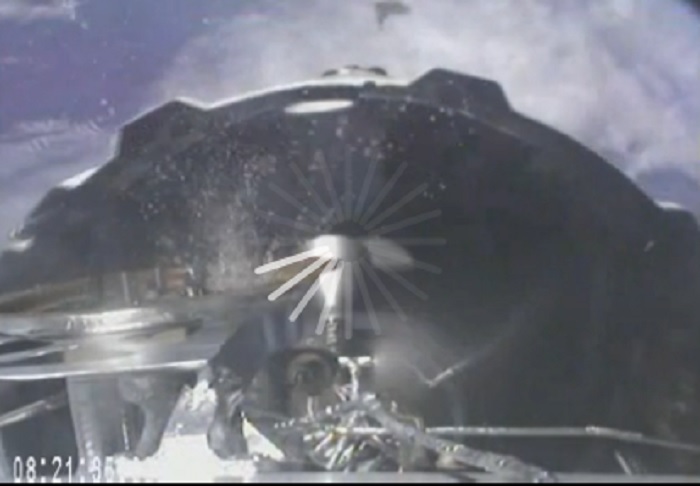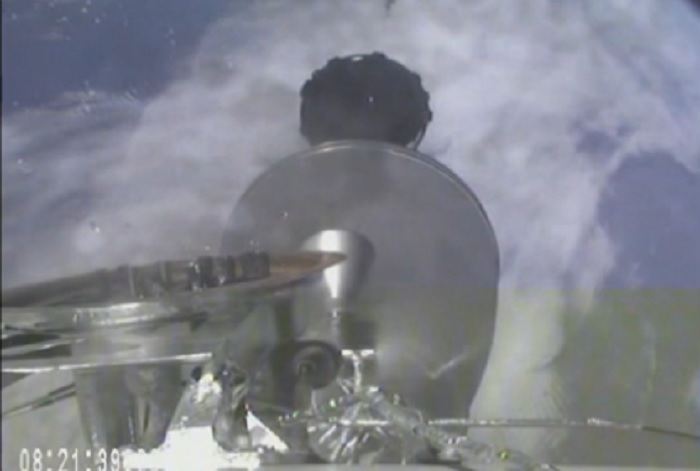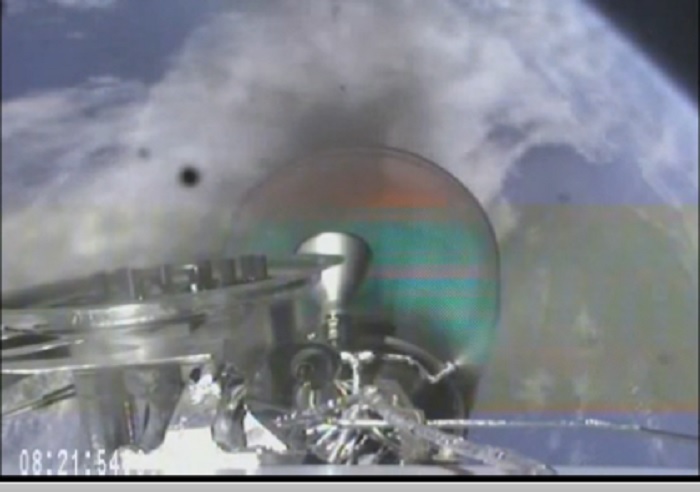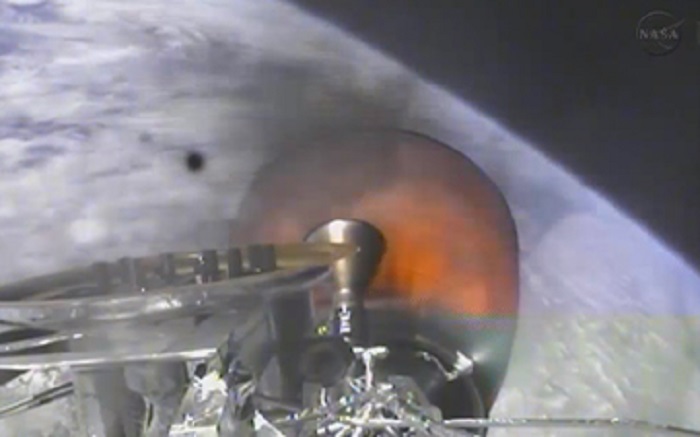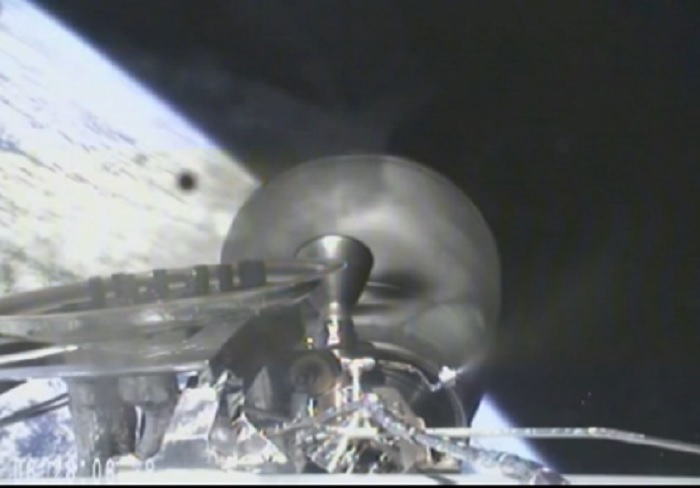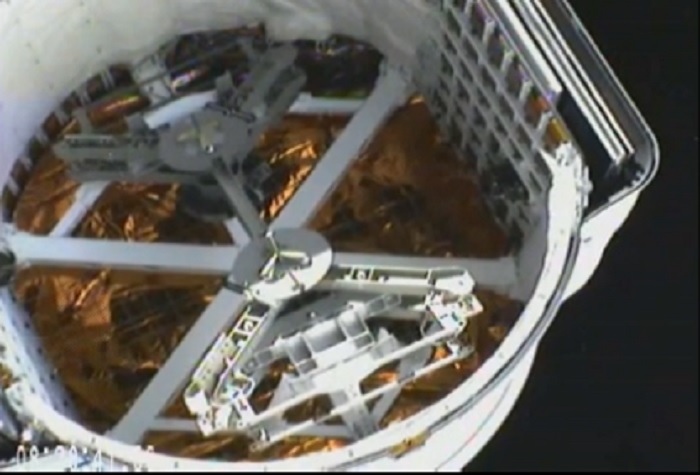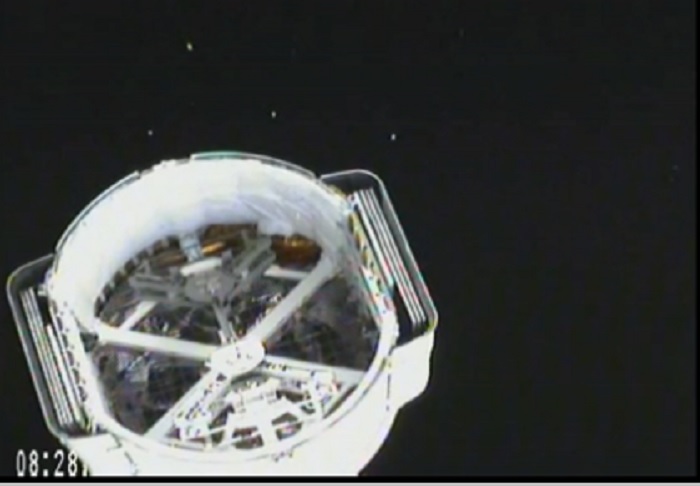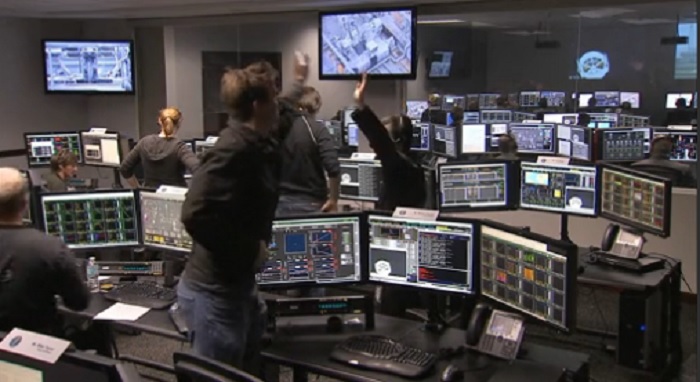 .
Update: 1.03.2013 / 22.30 MEZ
UPDATES: SpaceX launch nominal, but Dragon capsule encounters problems
A SpaceX Falcon 9 launched a Dragon capsule into orbit, but an anomaly with three of the four thruster pods on the capsule threatened to end the mission abruptly. Two thruster pods are now operating successfully, with the other two planned to follow shortly.
The Falcon 9's 1 March liftoff from Kennedy Space Center, Florida, went according to plan, but an anomaly was noted shortly after the Dragon separated from the second stage. The live feed from SpaceX and NASA both cut off immediately after the announcement.
One has to be careful about assessing root cause too early," says SpaceX CEO Elon Musk. "It looks like there was potentially some blockage in the oxidizer pressurization, and it looks like we've been able to free that blockage, or maybe a stuck valve, and we've been able to free that up by cycling the valves and essentially pressure-hammering the valves to free that up.
The four thruster pods contain 18 Super Draco thrusters, which are crucial to guiding the capsule towards the International Space Station, where it is scheduled to deliver supplies. Three of the four pods must be operating in order to approach the ISS with sufficient safety margins, says NASA. Should the two remaining thrusters come online, the earliest docking opportunity is on 3 March.
"There's no debris or fluid or gas leakage that we're aware of, all systems appear to be intact and functioning quite well at this point," says Musk. "Hopefully things keep going in that direction."
Several thruster burns are planned to raise the perigee, or lowest point of orbit, as well as position the communications antenna and put the spacecraft on an approach trajectory to the ISS.
.
SpaceX: Dragon's Four Thruster Pods Online
Fri, 01 Mar 2013 10:04:57 PM GMT+0100

SpaceX says all four of Dragon's four thruster pods are now online. Dragon is not expected to berth at the International Space Station tomorrow as planned. NASA and SpaceX are assessing the next steps and berthing opportunities.
Quelle: NASA
Update: 2.03.2013
SpaceX Says Cargo Mission to Space Station Back Online
The engines on a Space Exploration Technologies Corp. unmanned spacecraft are working again after a post-launch glitch that will delay a cargo delivery to the International Space Station by at least a day.
Elon Musk, chief executive officer of the Hawthorne, California-based company known as SpaceX, announced the engine problem in a Twitter posting about a half hour after today's 10:10 a.m. launch of the Dragon craft from Cape Canaveral, Florida.
Three of the four groups of engines known as thrusters didn't initially activate. After the ship orbited in space for about five hours, SpaceX was able to turn on a second set and regain control, Musk said. The rest were activated later, he said.
"It looks like we're going to be back on track here," Musk said during a press conference organized by the National Aeronautics and Space Administration.
The ship was supposed to link up with the station tomorrow. That rendezvous was delayed until March 3 at the earliest, said Michael Suffredini, NASA's program manager for the space station.
The agency requires at least three sets of thrusters on the craft to be working to connect with the space station, Suffredini said.
Fuel Valve
Musk said a preliminary review suggests the malfunction may have stemmed from a blocked or stuck fuel valve. He announced that the engines were coming back online about 3 p.m. East Coast time in a Twitter posting.
"Pods 1 and 4 now online and thrusters engaged," he tweeted. "Dragon transitioned from free drift to active control. Yes!!"
James Oberg, a space consultant in Dickinson, Texas, and a former mission-control specialist for NASA, described the malfunction as a "routine contingency" and one "that all good flight-control teams prepare for."
With one set of engines, the supply craft still managed to successfully deploy its solar arrays, which supply electrical power.
The craft was launched from a Falcon rocket. It is carrying more than 1,200 pounds of scientific experiments, food and other cargo. It's scheduled to return March 25 with more than 2,300 pounds of equipment.
The mission is the company's second regular cargo delivery and third trip to the space station. SpaceX completed its first resupply mission in October following a test flight in May. The company has a $1.6 billion contract with the NASA for at least a dozen resupply flights.
NASA is relying on SpaceX and Orbital Sciences Corp. (ORB), based in Dulles, Virginia, to help resupply the station after retiring its shuttle fleet in 2011. The agency depends on Russia to carry astronauts to space at about $63 million per seat.
Quelle: USAF
4724 Views