26.05.2019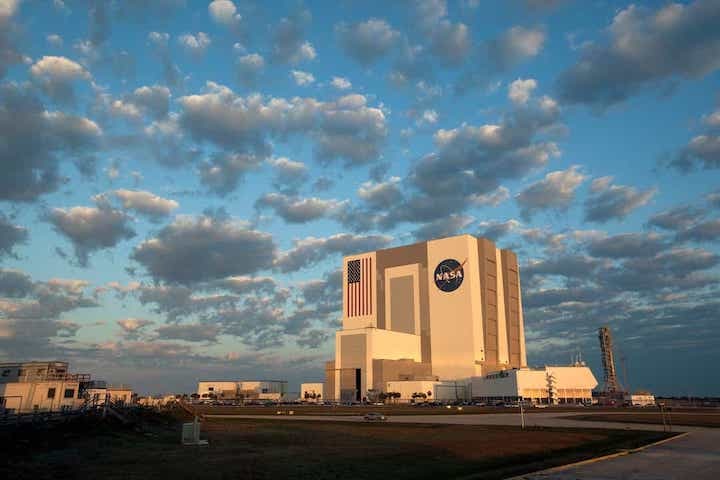 NASA/Bill White
Vero Beach resident Philip Franklin Moyer has had quite a life.
At 95 years old, he is not only a World War II veteran, but he also designed and constructed the largest single-story building in the world: the Vehicle Assembly Building at Kennedy Space Center.
Completed in 1966, the white and grey building, adorned with a 209-foot-tall American flag painted on the south side along with a 12,300-square-foot NASA logo, is a national landmark. It has stood the test of time throughout the duration of the Apollo missions and space shuttle program, and remains the only facility that has assembled a rocket that carried humans beyond low-Earth orbit and to the moon.
It's probably not a surprise then that for Moyer, it's his proudest accomplishment.
After serving in World War II, Moyer worked as an architect on numerous government projects but it was this one on the Cape that he remembers most fondly.
"Of the 12 projects, the most interesting of course, was where I got to meet all the astronauts," Moyer said to a group of reporters on Thursday at KSC for NASA's "Apollo - Then and now" Media Day event. "You really sank your life into it at the Vehicle Assembly Building here and the Launch Control Center next door."
At 525 feet tall and 518 feet wide, the iconic building covers eight acres and was constructed for the assembly of the 363-foot-tall Saturn V rocket that took men to the moon.
Since it's only one story and doesn't have multiple floors to help support the building, Moyer said this is most likely why the VAB has more structures like steel and cement than any other building in the world. In fact, to make sure the VAB is able to stand upright, it was built using 98,000 tons of steel, 65,000 cubic yards of concrete and 45,000 steel beams, according to NASA.
"It's funny, because just two days ago, I got a call from the American Institute of Architecture here in Florida and they had a contest of what building in Florida over 25 years old is known to the most people," Moyer said. "We got elected as the top building in Florida to be remembered over 25 years in age."
Nowadays, the building is undergoing extensive refurbishment for NASA's next deep space exploration mission to send humans back to the lunar surface.
"My whole life has been wrapped up in this thing," Moyer said. "It's very rewarding before I check out to see it going further."
Some changes being made include: Replacing old communications, power and vehicle access resources; installing a new fire protection system; as well as adding 10 levels of new work platforms in High Bay 3, one of four high bays in the building that each have a 456-foot-high door — the largest doors in the world that take about 45 minutes to open or close completely.
The new platforms will serve to surround NASA's Space Launch System rocket and the Orion spacecraft, which is scheduled for its first uncrewed test flight no earlier than next year.
"My knowledge of the building is only in building this, not in what they've done with it since then," Moyer said. "Although, I have to say that they've taken care of it."
Currently, Moyer is an active member of two aviation clubs: Quiet Birdmen and the Florida Aero Club of the Treasure Coast.
When asked how long he thinks the VAB will last, Moyer joked and replied, "longer than I will."
Quelle: Florida Today
2474 Views