29.08.2020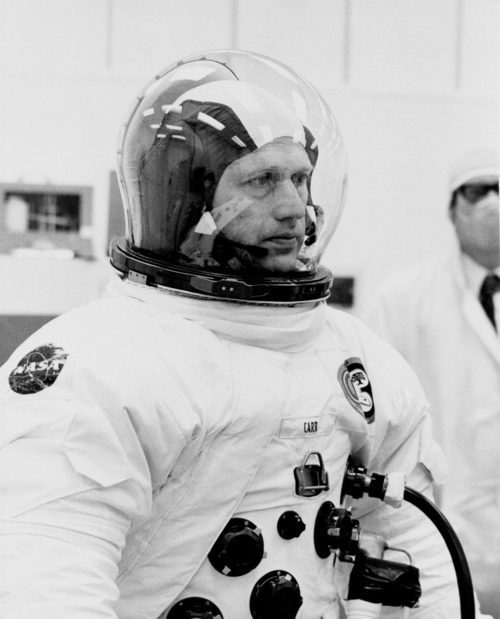 The United States has lost a pioneer of its early human space program with Wednesday's passing of Skylab astronaut Jerry Carr, at the age of 88. The retired Marine Corps colonel served for more than a decade in NASA's astronaut corps and commanded the final manned voyage to the Skylab space station, which established a new world endurance record of 84 days off the planet between 16 November 1973 and 8 February 1974. Not for almost four years after the return to Earth of Carr and his Skylab 4 crewmates Ed Gibson and Bill Pogue was their record finally eclipsed by the Soviet Union. "NASA and the nation have lost a pioneer of long-duration spaceflight," said NASA Administrator Jim Bridenstine. "We send our condolences to the family and loved ones of astronaut Gerald "Jerry" Carr, whose work provided a deeper understanding of life on Earth and in space."
Gerald Paul Carr came from Denver, Colo., where he was born on 22 August 1932. He grew up in Santa Ana, Calif., where he received much of his education. In his teens, the boy and a friend cycled from their homes to Orange County Airport—now John Wayne Airport—to wash the aircraft in exchange for a 20-minute flight in an old Martin Aviation Taylorcraft. For Carr, the flying bug bit him early.
An active Boy Scout, he became an Eagle Scout and junior assistant scoutmaster, participating in student government and playing high school football. He became a Navy reservist in 1949, during his final year of high school, and recalled in a NASA oral history that his duties included cleaning the F-6F Hellcat, checking its oil and fuel, starting its engine and warming it up each morning.
He entered the University of Southern California to study mechanical engineering, as part of the Reserve Officers Training Corps (ROTC) detachment. Decades later, Carr remembered one of his commanding officers giving him two choices: if he wanted to join the Navy, he could go to the Naval Academy in Annapolis, Md., or if he wanted to join the Marine Corps, he could select a university of his own choice.
The benefits of taking the second option, the commanding officer told him, were twofold. Firstly, the Marines cared not a jot where he came from or if he was an Academy graduate. And secondly, there seemed little point in locking himself up in the Bastille-like regimen of the Naval Academy for four years, when Carr could go to a normal college with girls for four years. After some thought, Carr picked the Marines.
He received his degree in 1954 and entered basic school in Virginia, undertook flight instruction in Florida and Texas and was assigned to the All-Weather Fighter Squadron, VMF-114, also known notoriously as the "Death Dealers".
This squadron had earned renown for providing close aerial support during the bloody Battle of Peleliu in Japan in 1944. For three years, Carr flew the Grumman F-9F Cougas and Douglas F-4A Skyray and deployed to the Mediterranean Sea aboard the USS Franklin D. Roosevelt as part of efforts to qualify himself to operate from aircraft carriers.
1524 Views