16.06.2020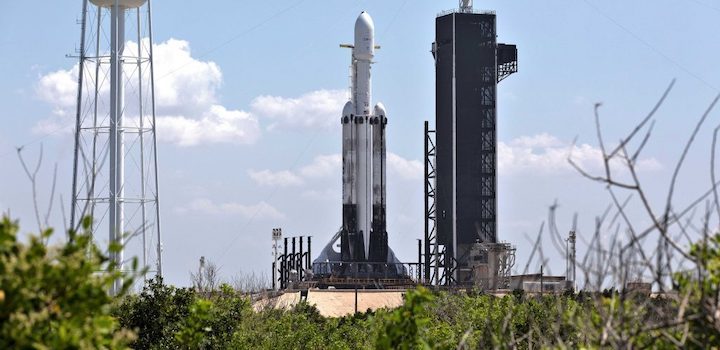 GPS III SV-08 Core Mate Complete, Space Vehicle Named for NASA Trailblazer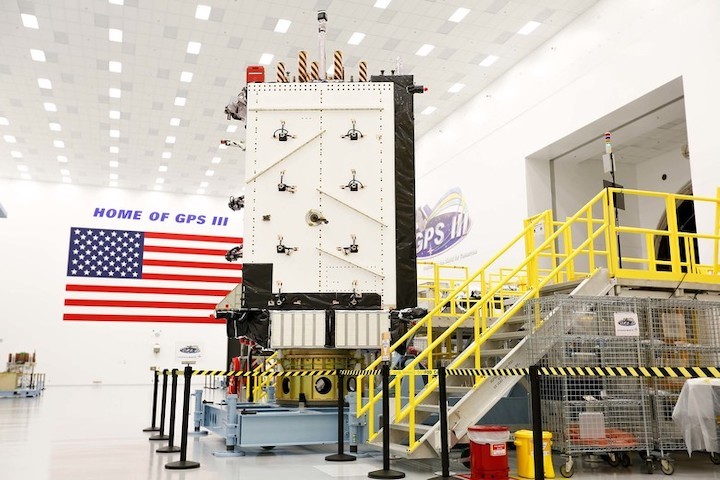 GPS III SV-01 sits in Lockheed Martin's GPS III Processing facility after its successful core mate. The satellite is currently part of the on-orbit GPS constellation. SMC's eighth next-generation GPS III satellite completed core mating on April 15 and was named after NASA trailblazer Katherine Johnson. (Photo courtesy of Lockheed Martin)
LOS ANGELES AIR FORCE BASE, Calif. --
The United States Space Force's Space and Missile Systems Center's Global Positioning System (GPS) III program reached a major milestone with the successful core mate of GPS III Space Vehicle 08 at Lockheed Martin's GPS III Processing Facility in Waterton, Colorado, April 15. With core mate complete, the space vehicle was named in honor of a NASA trailblazer.
The two-day core mate consisted of using a 10-ton crane to lift and complete a 90-degree rotation of the satellite's system module, and then slowly lowering the system module onto the satellite's vertical propulsion core. The two mated major subsystems come together to form an assembled GPS III space vehicle.
Despite the COVID-19 pandemic, SMC and its mission partner Lockheed Martin ensured that SV08 core mate took place – in accordance with all Centers for Disease Control and local guidelines to minimize exposure or transmission of COVID-19. The GPS III Processing Facility's cleanroom high bay was restricted to only key personnel directly supporting the operation.
"Core mate is the most critical of the GPS space vehicle single-line-flow operations," said Lt. Col. Margaret Sullivan, program manager and materiel lead for the GPS III program. "Despite the restrictions presented by the COVID-19 pandemic, our team adapted and worked tirelessly to achieve this essential milestone."
When the core mate operation is successfully completed, a GPS III satellite is said to be "born." In keeping with the team's tradition of naming GPS III satellites after famous explorers and pioneers, SV08 was named "Katherine Johnson" in honor of the trailblazing National Aeronautics and Space Administration (NASA) mathematician and "human computer" who designed and computed orbital trajectories for NASA's Mercury, Apollo and space shuttle missions. One of four African-American women at the center of the nonfiction book by Margot Lee Shetterly and the movie titled"Hidden Figures," Katherine Johnson was awarded the Presidential Medal of Freedom in 2015 for her groundbreaking contributions to the U.S. Space program.
Other GPS III satellites have been named in honor of explorers including GPS III SV01 "Vespucci" after Amerigo Vespucci; GPS III SV02 "Magellan" after Ferdinand Magellan; and GPS III SV03 "Columbus" after Christopher Columbus.
The next step for the newly christened "Katherine Johnson" is the post-mate Systems Performance Test (SPT) scheduled to begin in August. SPT electrically tests the performance of the satellite during the early phase of build and provides a baseline test data set to be compared to post-environmental test data.
GPS III SV08 is currently scheduled to launch in 2022.
GPS III is the most powerful GPS satellite ever developed. It is three times more accurate and provides up to eight times improved anti-jamming capability over previous GPS satellites on orbit. GPS III brings new capabilities to users as a fourth civilian signal (L1C), designed to enable interoperability between GPS and international satellite navigation systems, such as Europe's Galileo system. GPS III satellites will also bring the full capability of the Military Code (M-Code) signal, increasing anti-jam resiliency in support of the warfighter. These continued improvements and advancements to the GPS system makes it the premier space-based provider of positioning, navigation, and timing services for more than four billion worldwide.
Launched in December 2018 and August 2019, GPS III SV01 and SV02 became part of today's operational constellation of 31 satellites, on January 13 and April 1, 2020 respectively. GPS III SV03 is scheduled to launch on June 30.
The Space and Missile Systems Center, located at the Los Angeles Air Force Base, California, is the center of excellence for acquiring and developing military space systems. Its portfolio includes the Global Positioning System, military satellite communications, defense meteorological satellites, space launch and range systems, satellite control networks, space based infrared systems, and space situational awareness capabilities.
Quelle: USAF
----
Update: 29.06.2020 / 21.00 MESZ
.
SpaceX Set to Launch GPS III-03 Satellite on Tuesday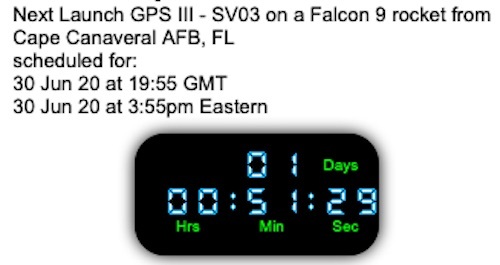 Hopes of seeing four Falcon 9 rockets launch within a single calendar month have evaporated, following SpaceX's decision to postpone its Starlink/BlackSky rideshare flight by a few days. This puts a high-profile Air Force mission to launch the third Global Positioning System (GPS) Block III timing and navigation satellite in pole position to wrap up an action-packed June.
Liftoff is timed for 3:55 p.m. EDT on Tuesday. And for only the second time in 2020, a never-before-used Falcon 9 core will be employed to deliver the 8,500-pound (3,900 kg) GPS III-03 satellite into a Medium Earth Orbit (MEO) at a mean altitude of 12,550 miles (20,200 km). The launch had previously been delayed since late April in response to the worldwide COVID-19 coronavirus pandemic.
Follow our GPS III-03 LAUNCH TRACKER for updates and live coverage on launch day!
It has been a dramatic half-year for SpaceX, which flew ten missions between 6 January and 13 June, delivering over 400 Starlink internet communications satellites into low-Earth orbit, lofting the CRS-20 Dragon cargo ship to the International Space Station (ISS) and staging a dramatic In-Flight Abort Test of Crew Dragon, ahead of the first launch of U.S. astronauts, atop a U.S. rocket, and from U.S. soil, since the end of the Space Shuttle era.
And although SpaceX has flown three Falcon 9s in a single calendar month several times before, launching four times—essentially once every week—posed a substantial challenge which the Hawthorne, Calif.-based company almost achieved. Two back-to-back Starlink missions on 3 June and 13 June were expected to be followed by another on the 26th and GPS III-03 to close out the month on the 30th.
In readiness for these flights, the previously-flown B1051 core for the Starlink/BlackSky mission underwent its customary Static Fire Test on historic Pad 39A at the Kennedy Space Center (KSC) on 24 June, and the sparkling-new B1060 core for GPS III-03 did likewise on neighboring Space Launch Complex (SLC)-40 at Cape Canaveral Air Force Station just 24 hours later on 25 June.
With the weather outlook for the 26th showing increased promise, peaking at a 70-percent probability of acceptable conditions, it seemed that June would go SpaceX's way. It therefore came as a surprise on Friday afternoon, three hours before the scheduled launch, when SpaceX announced that a scrub had been declared. "Standing down from today's Starlink mission; team needed additional time for pre-launch checkouts," it was noted, "but Falcon 9 and the satellites are healthy."
As such, first-time-flyer B1060—looking particularly shiny and without a trace of the sootiness which characterizes the lowermost halves of its reflown sisters—is now "No. 1 on the runway" for its important Air Force mission, scheduled to fly at 3:55 p.m. EDT Tuesday. The "launch window" lasts just 15 minutes. A landing of the B1060 core on the Autonomous Spaceport Drone Ship (ASDS), "Just Read the Instructions", is anticipated at the end of Tuesday's mission.
GPS III-03 is part of a next-generation constellation of global positioning, velocity and timing satellites bound for Medium Earth Orbit (MEO) at a mean altitude of 12,550 miles (20,200 km). Building upon a GPS Navstar heritage which dates back to the 1970s, Block III got underway almost two decades ago and the Air Force awarded Lockheed Martin a $1.4 billion contract in May 2008 to develop the first two Block III satellites in what will eventually comprise a 32-satellite network, with the first launch initially targeted for 2014. However, payload difficulties would ultimately push the program's maiden flight back by almost five years and it did not launch until December 2018.
In the meantime, contracts to build GPS III-03 were awarded to Lockheed Martin in January 2012. The giant satellite was assembled in the company's GPS III Processing Facility, near Denver, Colo., and its system module, navigation payload and propulsion core were integrated in August 2017. This set the stage for a punishing series of environmental and Thermal Vacuum Chamber (TVAC) tests to evaluate its ability to withstand the high-vacuum and high-radiation conditions of MEO. These were completed by the second half of 2018.
Finally, in February 2020 the satellite was shipped from Buckley Air Force Base in Aurora, Colo., to Cape Canaveral Air Force Station, Fla., aboard an Air Force C-17 Globemaster III airlifter, for final processing ahead of its scheduled 29 April launch atop a Falcon 9.
SpaceX had earlier been selected in March 2017 to fly GPS III-03 for a fee of $96.5 million. The Air Force reportedly insisted that none of its payloads should ride previously-flown Falcon 9 cores and the brand-new B1060 booster underwent a test firing of its nine Merlin 1D+ first-stage engines in McGregor, Texas, in February 2020.
However, launch schedules do not always cater for unforeseen circumstances on Earth. The COVID-19 coronavirus pandemic and its potential impact both on the launch crews and early-orbit operators prompted a decision to postpone the launch until the end of June. According to Lt. Gen. John F. Thomspon, program executive officer for space and commander of the Space and Missile Systems Center (SMC) at Los Angeles Air Force Base in Los Angeles, Calif., the decision was taken because the existing GPS on-orbit system was strong enough to absorb the delay. "Protecting our people," he said, "is just as important as cost, schedule and performance."
On 21 June, GPS III-03 was encapsulated inside its bulbous payload fairing to await the completion of B1060's Static Fire Test on SLC-40. Upon the satisfactory completion of the test last Thursday, the booster was returned to the nearby Horizontal Integration Facility (HIF) for the installation of its payload. This would clear the way for rollout to the pad for launch.
The weather outlook for Tuesday's opening launch attempt looks iffy, with only a 60-percent probability of acceptable conditions for the 15-minute "window", which extends from 3:55 p.m. through 4:10 p.m. EDT. A low-pressure area is expected to move into the Eastern Seaboard on Tuesday, creating stronger low-level southwesterly flows and hindering the inland progression of the sea-breeze. This will keep storm activity much closer to the Space Coast.
"This more unfavorable pattern will continue with more storm coverage each day," noted the 45th Weather Squadron at Patrick Air Force Base in its L-2 update on Sunday, "until the low-pressure area moves away to the northeast." Launch teams are particularly concerned by the chance of possibility of violating the Cumulus Cloud Rule, the Anvil Cloud Rule and the Surface Electric Field Rule associated with anticipated Tuesday-afternoon convection to the west of the Spaceport. This is expected to be particularly apparent towards the end and after the closure of Tuesday's window.
Based upon Lockheed Martin's tried-and-true A2100 "bus", whose modular framework can support 15 kilowatts of electricity via high-efficiency solar cells, radiation-cooled traveling-wave-tube assemblies and improved heat-pipe design, each GPS Block III weighs around 8,500 pounds (3,900 kg). Its 15-year operational life span also represents a 25-percent leap over the earlier GPS IIF satellites. And with 500 times the transmitting power of earlier GPS systems, Block III benefits from improved navigational warfare abilities, with three times greater accuracy and eight times enhanced anti-jamming functionality.
This enables the satellites to shut off GPS service to limited geographical locations, whilst maintaining uninterrupted provision for U.S. and allied forces. Block III features a cross-linked command and control architecture, which allows the entire constellation to be updated from a single ground station. Furthermore, the satellites showcase a spot-beam capability for enhanced military ("M-Code") coverage and increased resistance to hostil jamming. All told, these enhancements are expected to produce improved accuracy and assured availability for military and civilian users worldwide.
----
Update: 30.06.2020
.
ICYMI, GPS III SV03 is ready for launch. The U.S. Space Force's Space and Missile Systems Center is ready to launch the third GPS III satellite aboard a SpaceX Falcon 9 rocket on June 30. The 15-minute launch window opens at 3:55 p.m. EDT.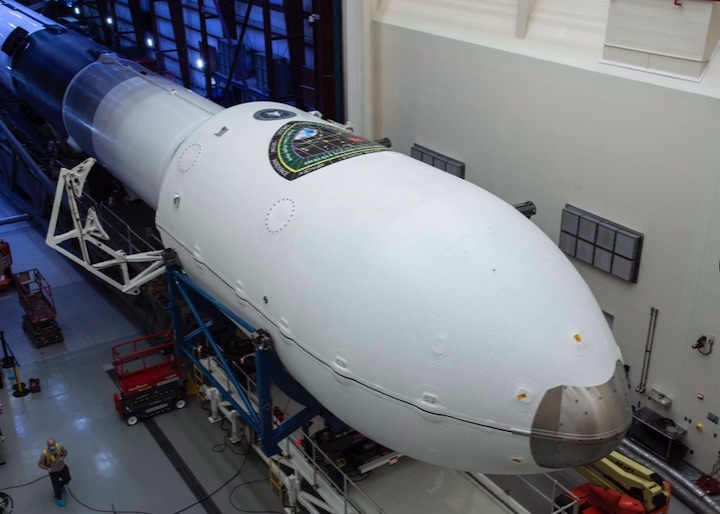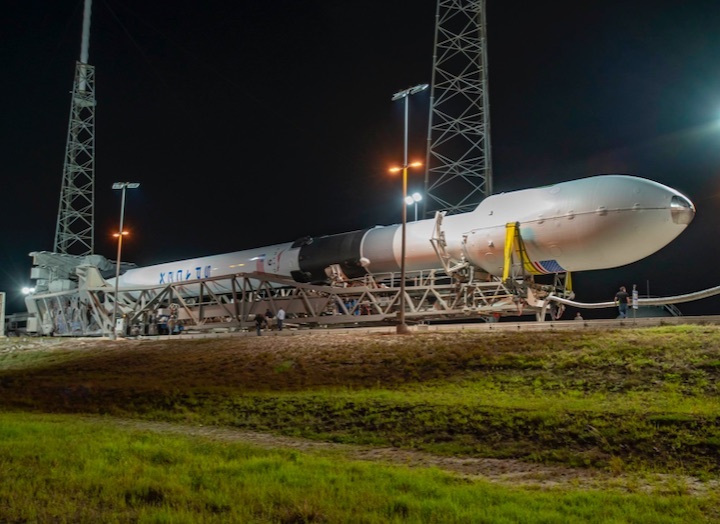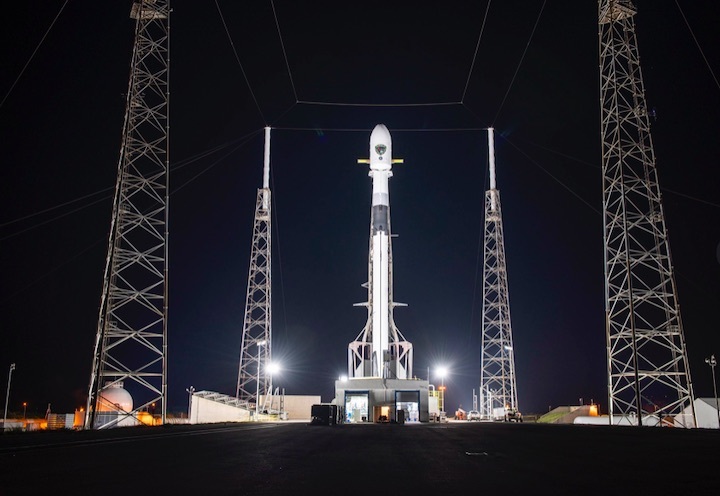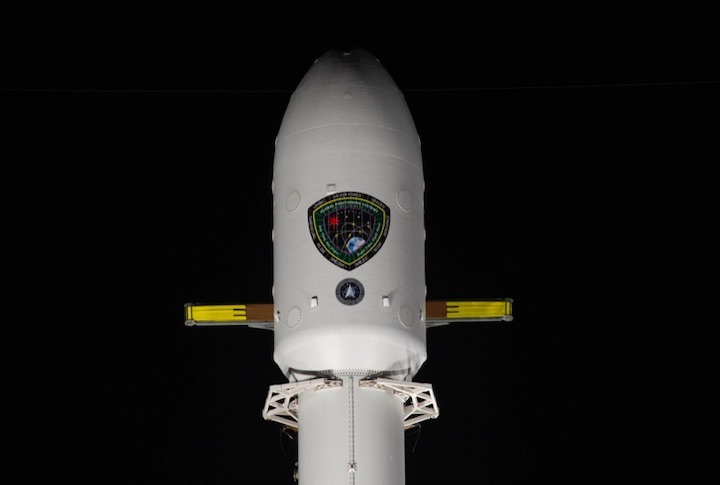 Quelle: USAF
+++
Update: 21.00 MESZ
.
SpaceX 'excited' for first U.S. Space Force launch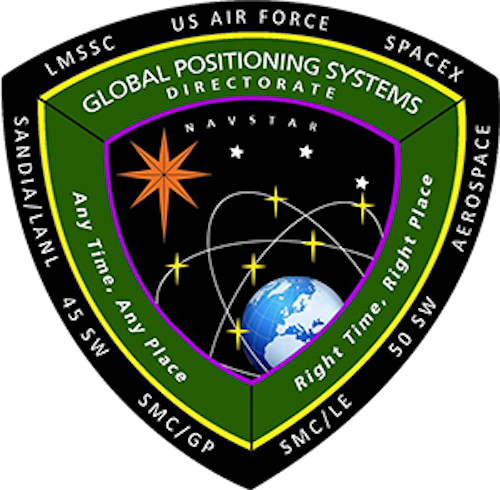 Despite not getting a batch of Starlink satellites off the ground last week, SpaceX is full steam ahead to launch its first U.S. Space Force mission from Cape Canaveral Air Force Station on Tuesday.
On board the SpaceX Falcon 9 is the third GPS III satellite part of a constellation of 10 improved satellites for the military.
"This is our first U.S. Space Force launch and we're really excited about it and hope that this is the first of many, many of those launches in the future," said Lee Rosen, SpaceX vice president of customer operations and integration, on a call with reporters last week.
It's also the first time SpaceX is recovering a booster for a National Security Space Launch, which saved the military several million dollars according to Dr. Walter Lauderdale, mission director of the Space Missile Center's Launch Enterprise.
SpaceX launched the first GPS III satellite in Dec. 2018 for the U.S. Air Force. The GPS III constellation now falls under the domain of the U.S. Space Force which was formed in Dec. 2019.
Built by Lockheed Martin in Colorado, the GPS III is the most powerful Global Positioning System satellite ever made. It boasts anti-jam capabilities eight times more robust that earlier models and is three times more accurate than the currently operating GPS constellation.
After liftoff, about two minutes and 38 seconds into the flight, SpaceX will fire the second stage and get the GPS satellite off into the proper orbit. Approximately nine minutes after that, the first stage booster will land on the newly refurbished drone ship known as Just Read the Instructions fresh off its trip across the Panama Canal into the Atlantic.
This launch was rescheduled from April due to coronavirus concerns but a new surge of positive cases in Florida means the timing of future launches could still be iffy. The commander of the 45th Space Wing Brig. Gen. Doug Schiess thinks the safety protocols they have in place have been working and they continue to take precautions.
"We're three months into this and we've done an incredible job, I think, working with our launch teams, Schiess said. "We've had several launches including Space Force 7 and then with our partners at SpaceX and NASA, the Crew Demo during this coronavirus situation and we haven't had any off-center people be sick."
A bigger concern back in April was the tight quarters at the Lockheed Martin Waterton facility near Denver where the the launch and early orbit operations take place. The delay gave the teams time to revamp their operations in accordance with CDC guidelines.
"We did certain things such as reduce the crew size, relocated some of the terminals to allow for 6 foot separation. We put in some partitions that separated the actual mission crew from the technical support team. We added an additional entryway again to keep those teams separated " Col. Edward Byrne, senior materiel leader at the GPS Space Systems Division told reporters.
They also provided personal protective devices and dedicated headsets to the crew.
Back on the Space Coast, the weather is currently 60% "go" for Tuesday, but begins to worsen as the week progresses if the launch is delayed.
If the mission is successful, it will be SpaceX's fourth launch in a little over 4 weeks and the 11th launch of 2020. If the company can keep up this pace it could break the current company record for most launches in a year which currently stands at 13 in 2019.
Launch Tuesday
Rocket: SpaceX Falcon 9
Mission: GPS III SV03
Launch time: 3:55 p.m.
Launch window: 15 min.
Launch pad: Launch Complex 40 at Cape Canaveral Air Force Station
Quelle: Florida Today
+++
Start von Falcon Heavy mit USAF GPS-III Satelliten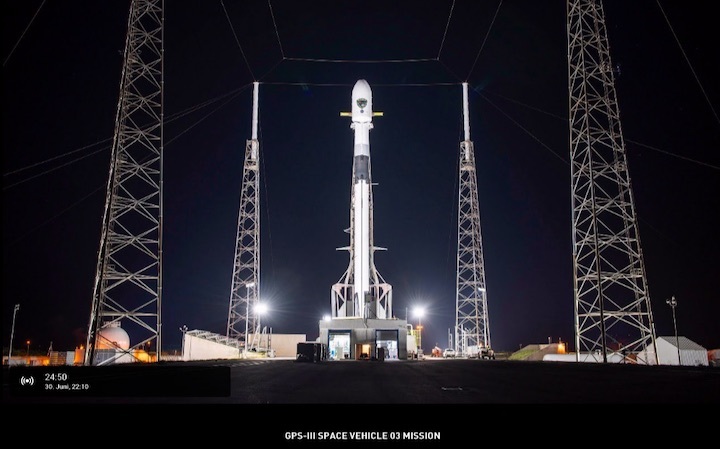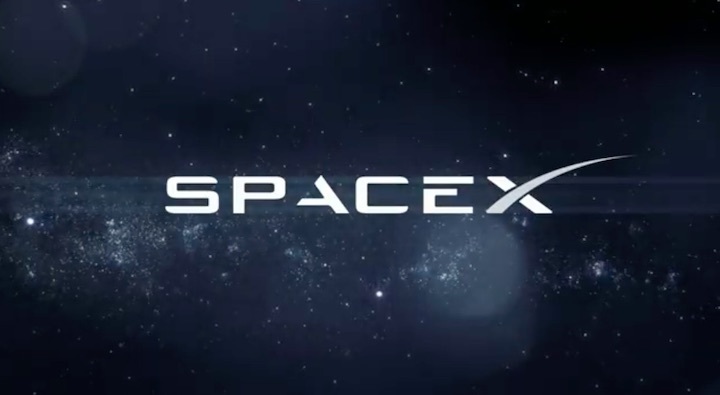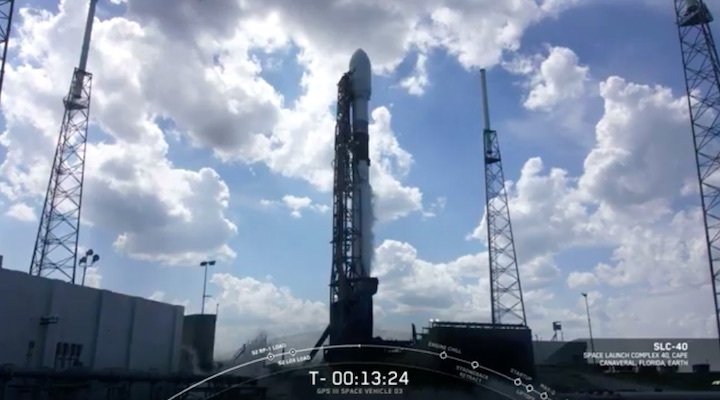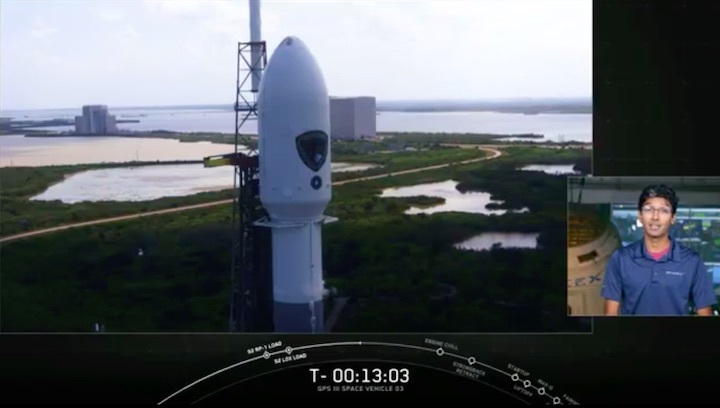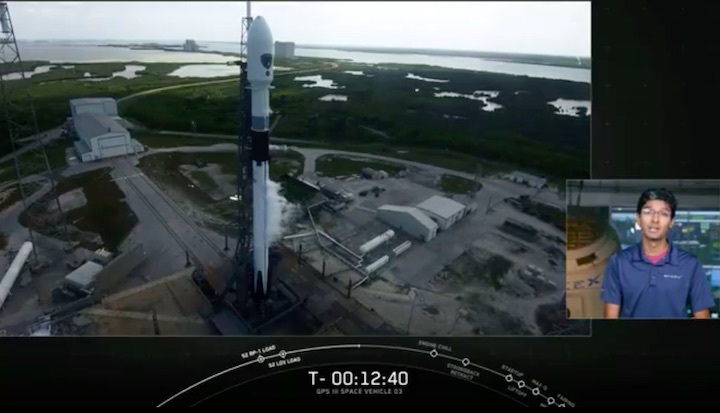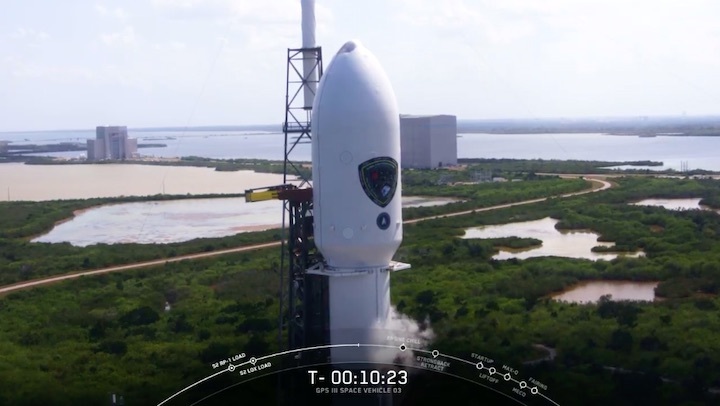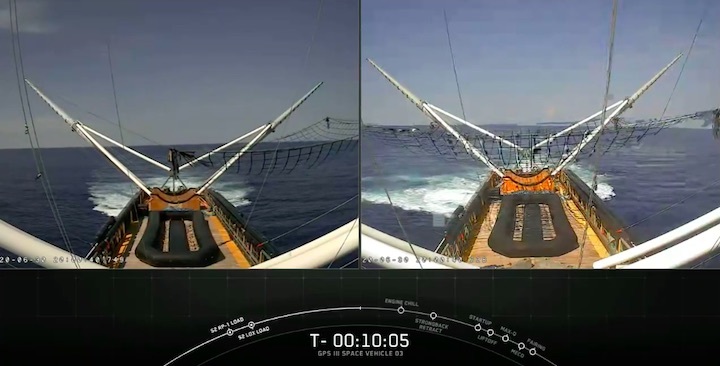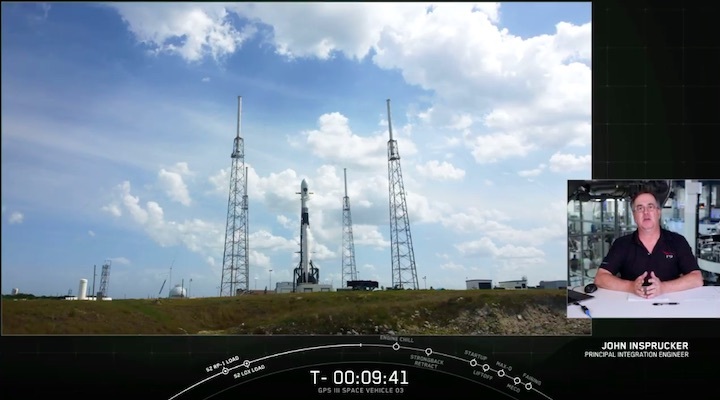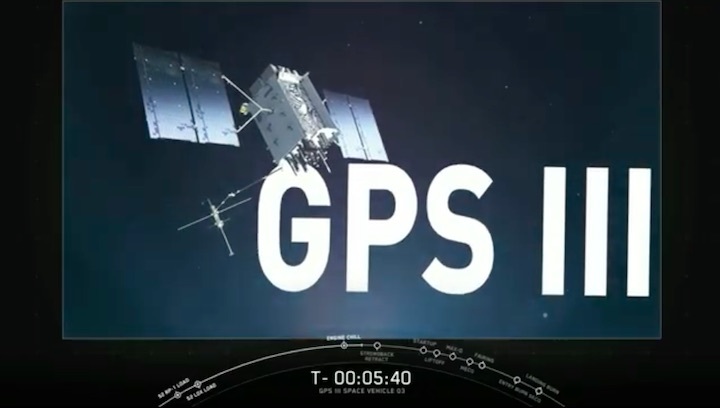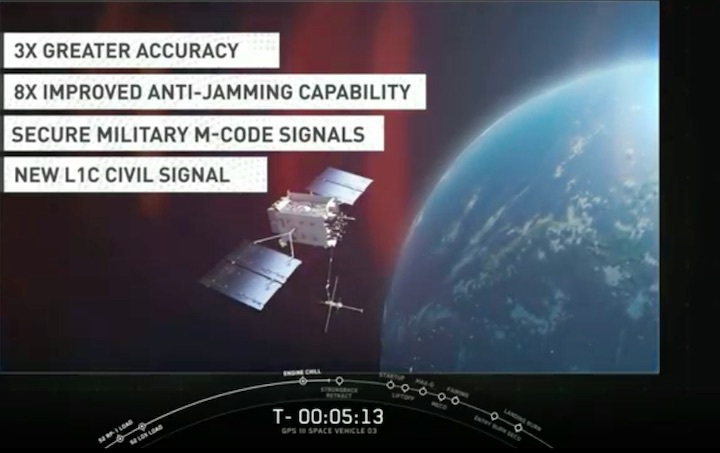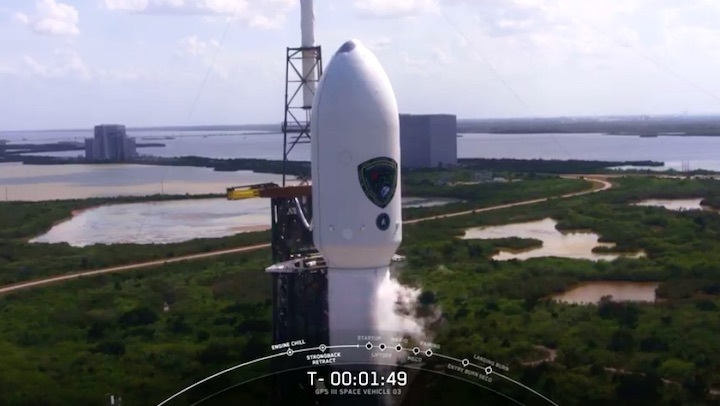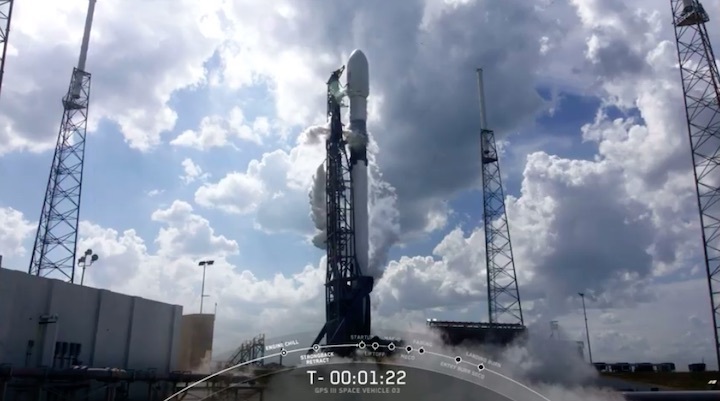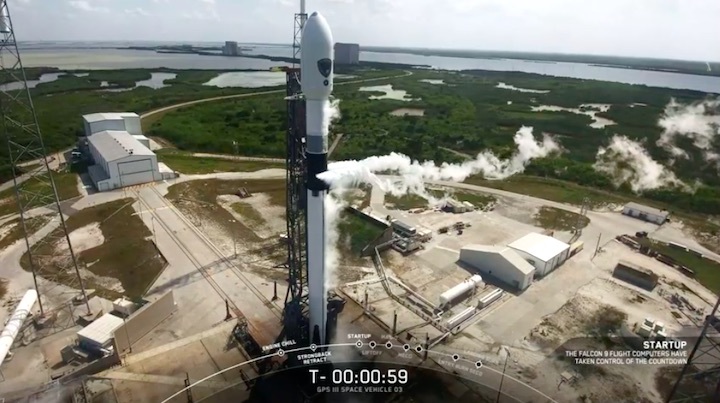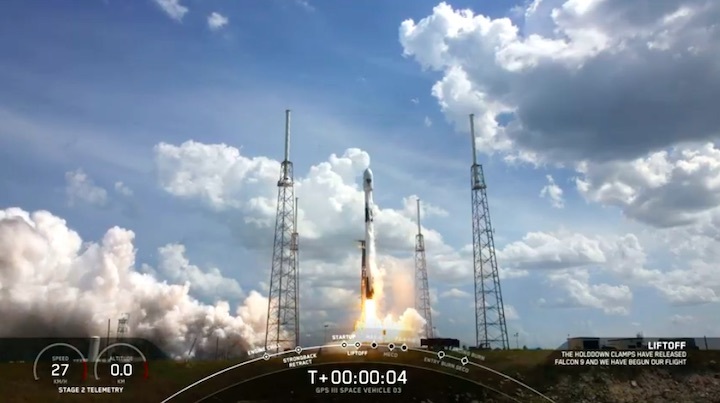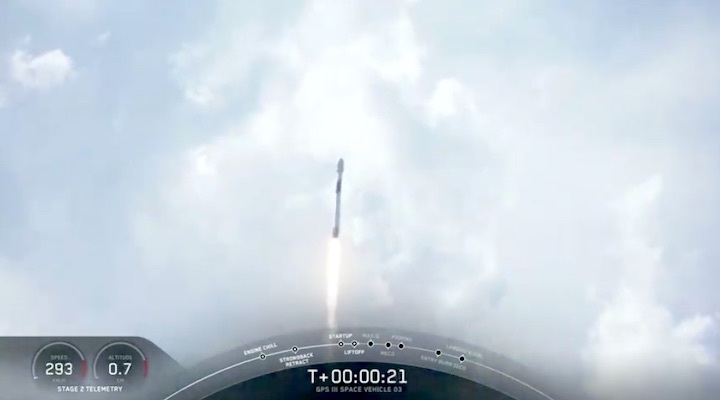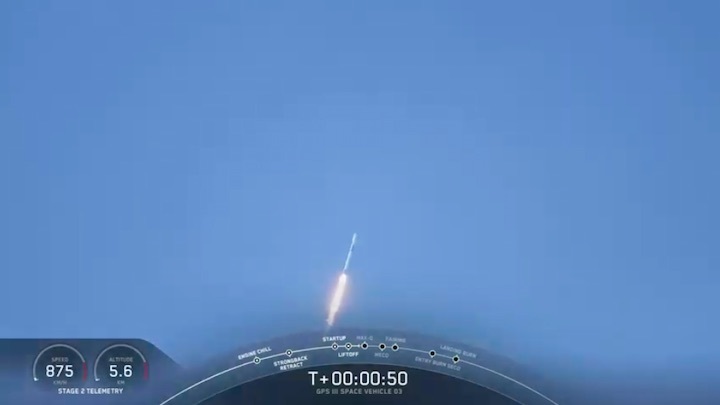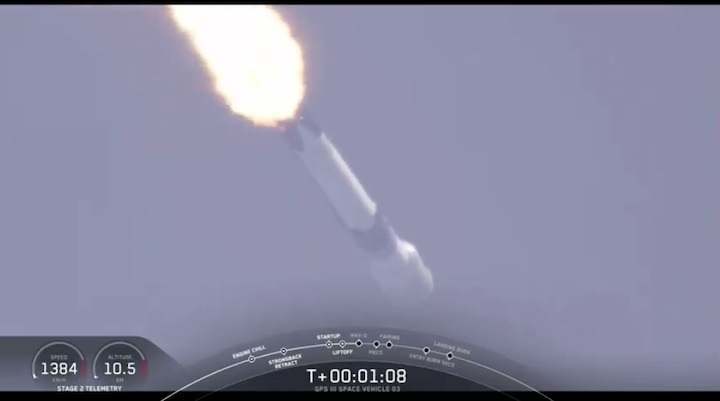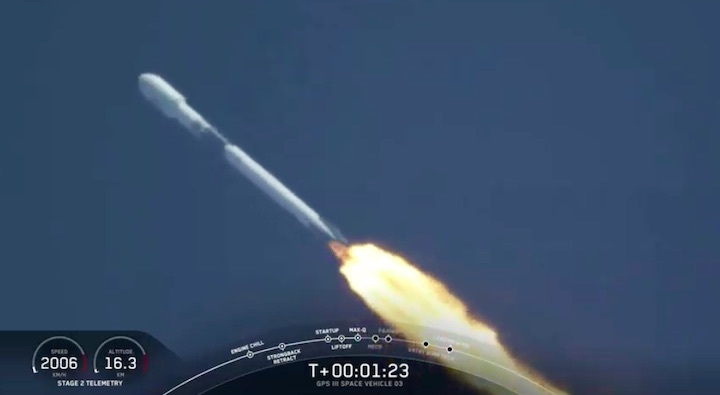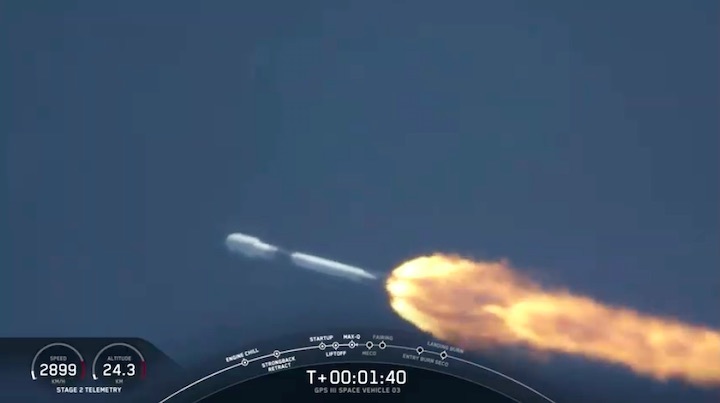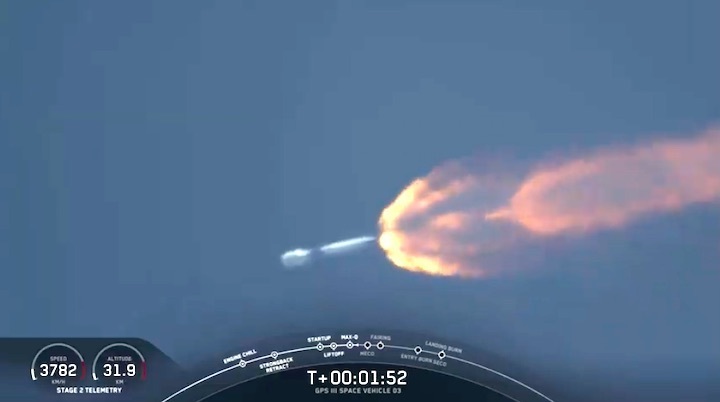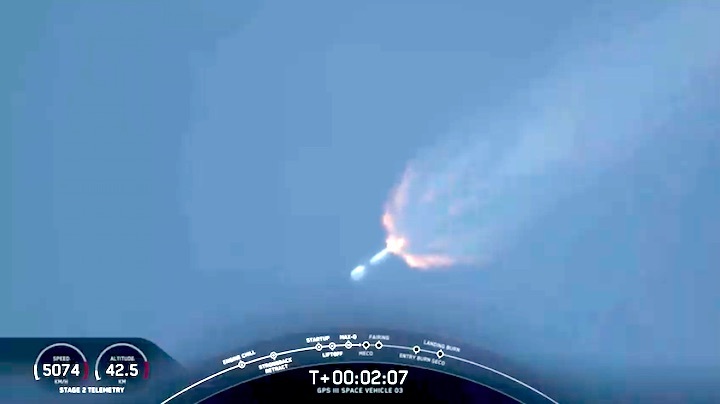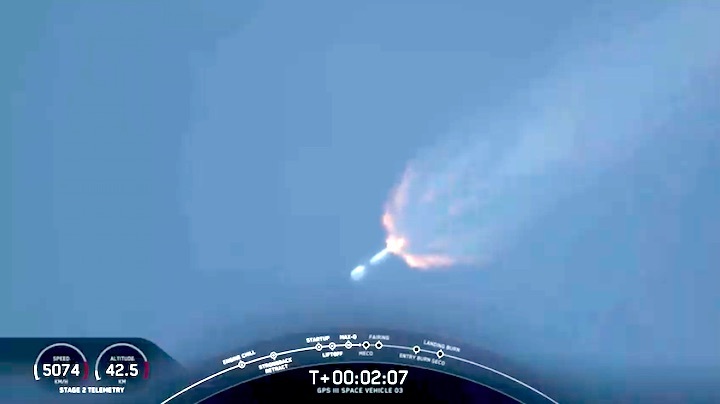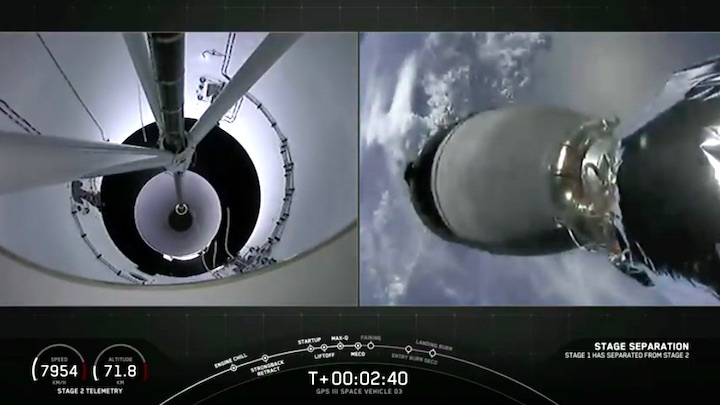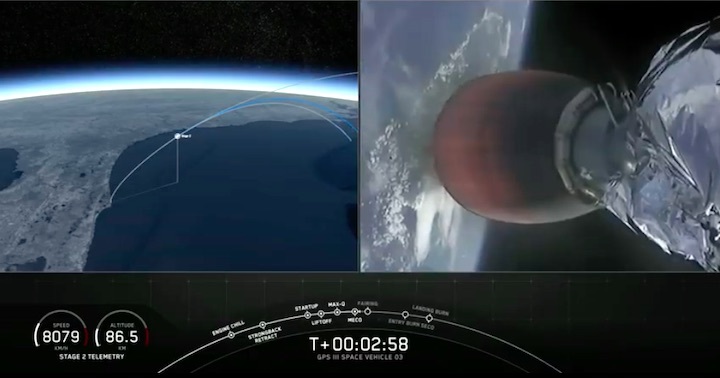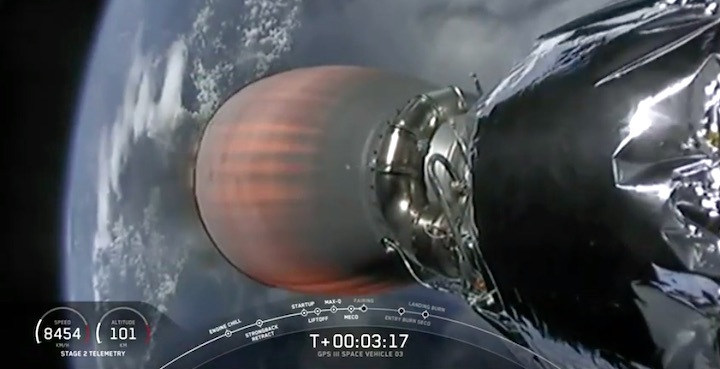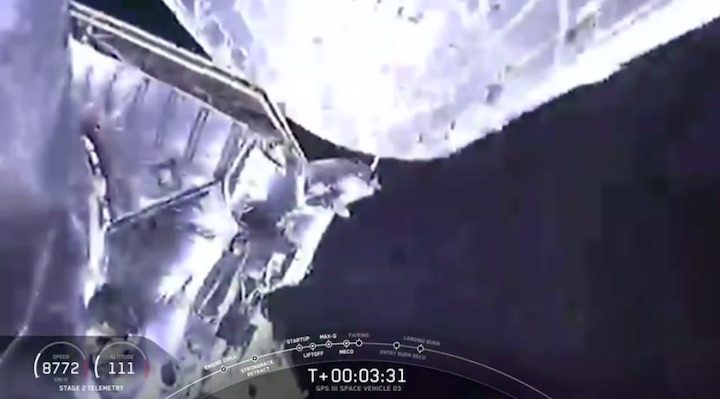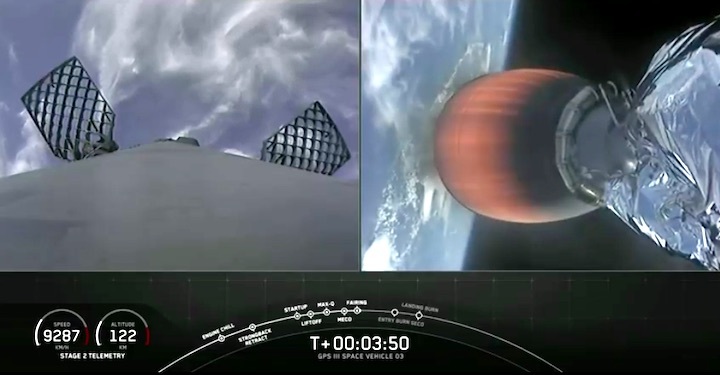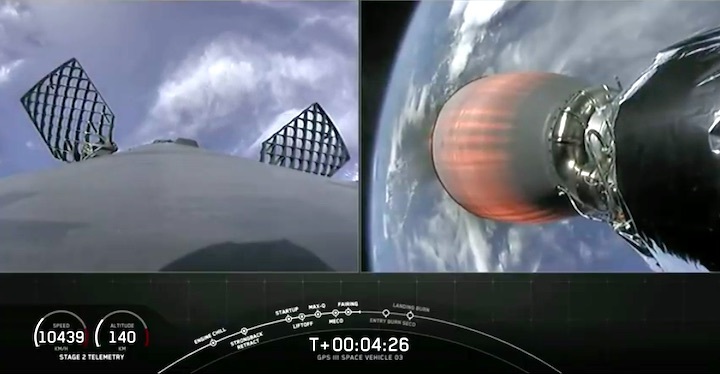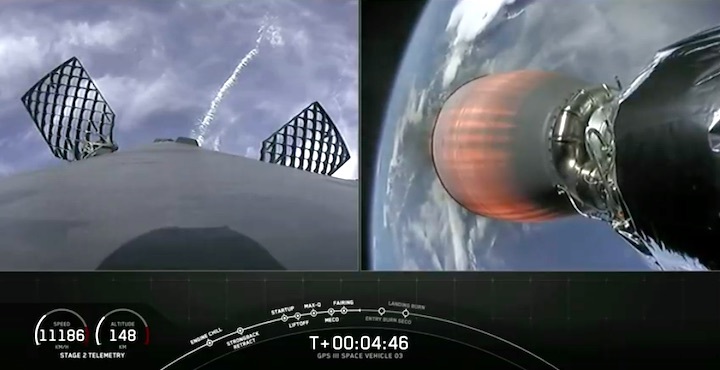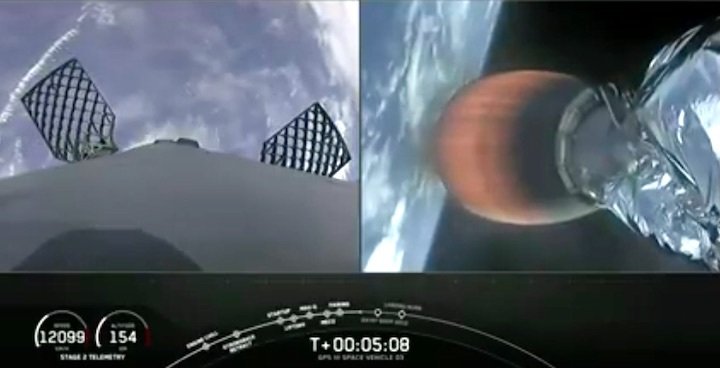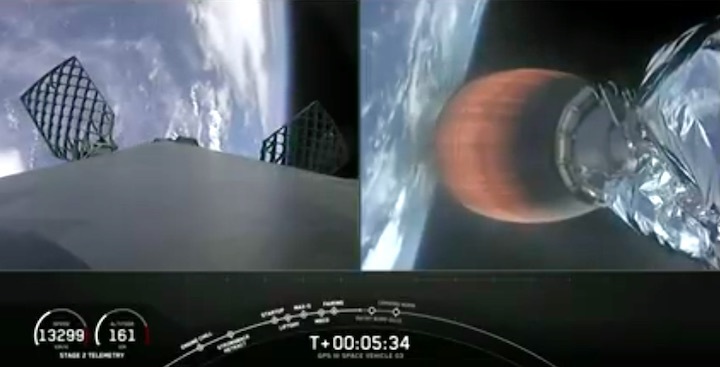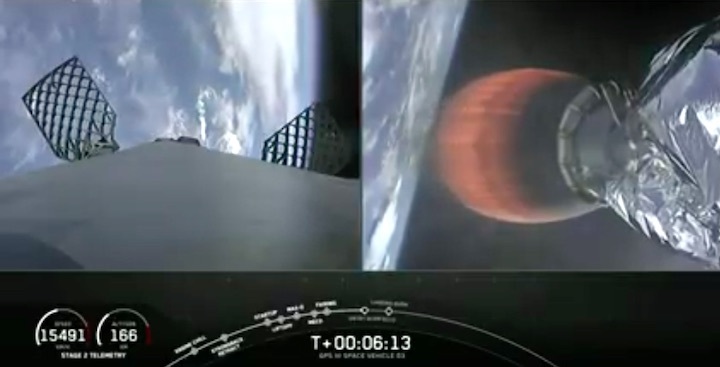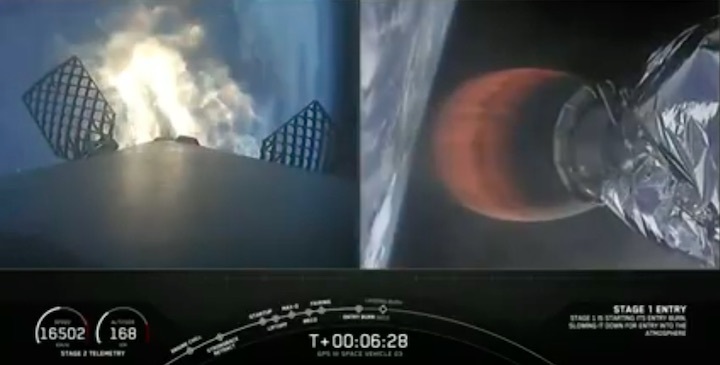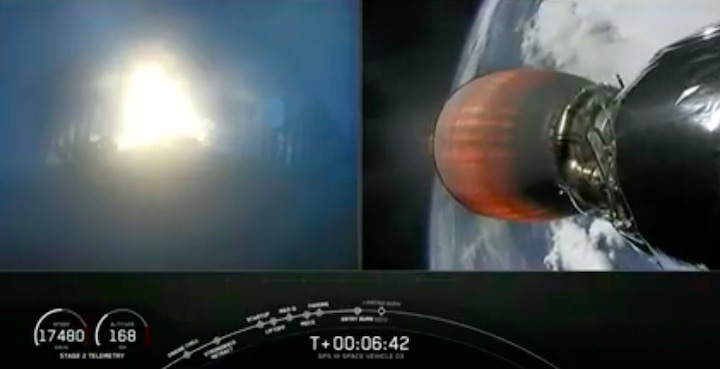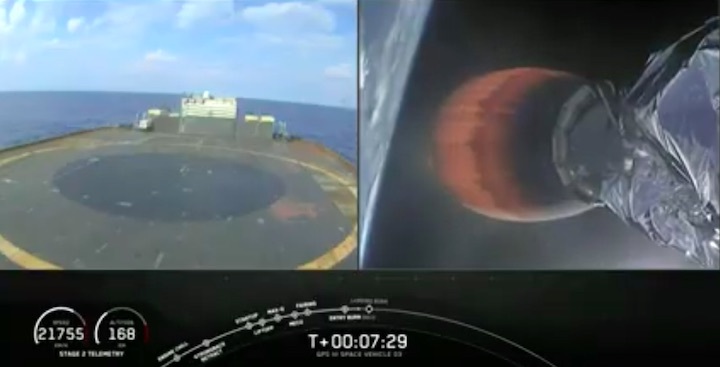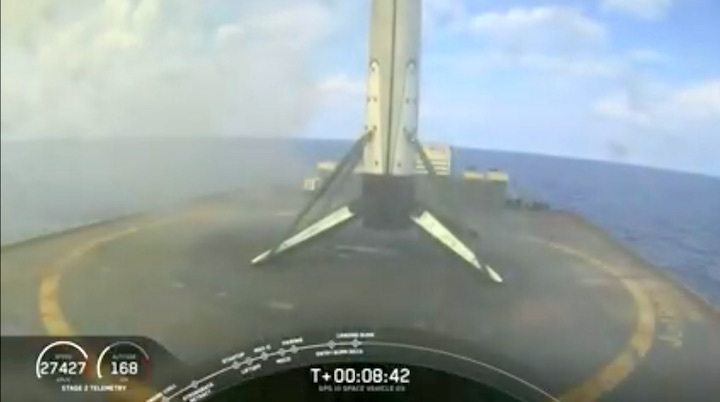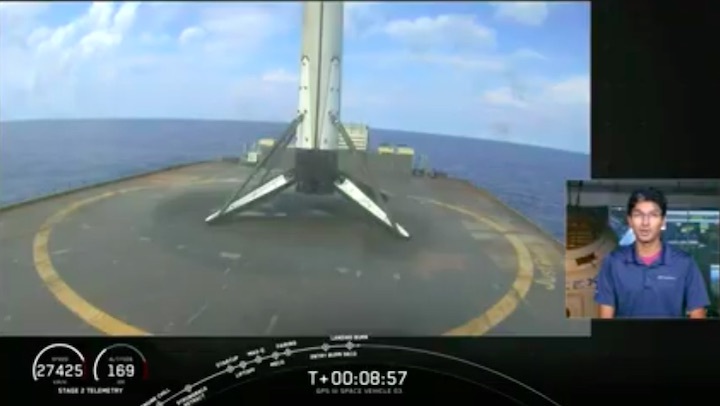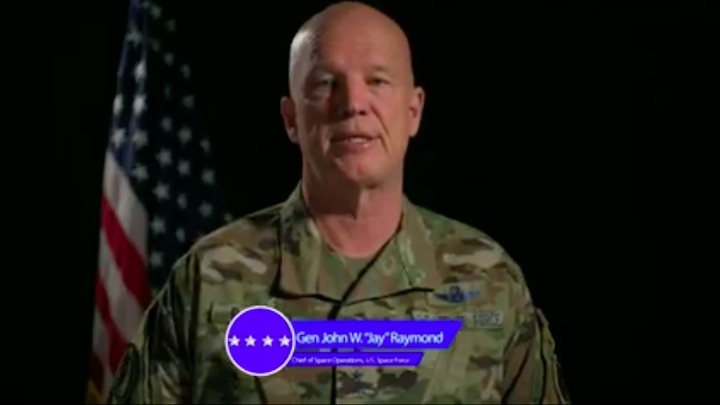 Quelle: SpaceX
3801 Views