-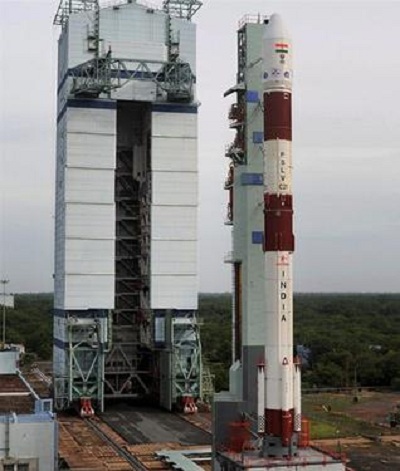 The Indian Space Research Organisation (ISRO) on Friday said it was all set to launch the historic PSLV-C21 on Sunday morning.
The wholly commercial launch will be the space agency's 100th mission in 49 years. So far it has built 62 satellites and flown 37 launch vehicles.
Prime Minister Manmohan Singh is slated to arrive at the space port of Sriharikota, some 120 km from Chennai and located in coastal Andhra Pradesh, on Saturday evening and witness the launch on 9.51 a.m. on Sunday, ISRO officials said.
The PSLV will carry France's SPOT-6 earth observation satellite as the primary payload and PROITERES, a small spacecraft built by a team of Osaka Institute of Technology in Japan, as a secondary rider. They will be put into their respective pole-to-pole orbits at a distance of 655 km from Earth.
Scientists at the launch site, Satish Dhawan Space Centre at Sriharikota, began a 51-hour countdown at 6.51 a.m. on Friday, a release said.
The Launch Authorisation Board met on Thursday and cleared the event.
During the run-up, teams associated with the launch will complete filling liquid propellants in the second and fourth stages (PS2 and PS4) of the launch vehicle. The rocket and the spacecraft will be checked. Batteries will be charged and the fuel tanks on the satellites will be pressurised, the ISRO officials said.
"Readiness of various ground systems such as tracking radar systems and communication networks will also be ascertained," they said.
Quelle: ISRO
Update: 9.09.2012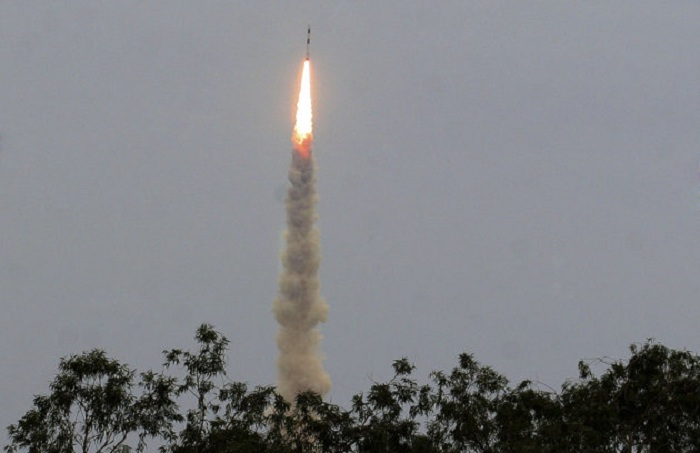 India's Polar Satellite Launch Vehicle PSLVC-21 lifts off carrying one French and one Japanese satellite from a launch pad in Sriharikota, southern India, Sunday, Sept. 9, 2012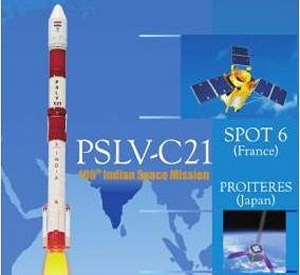 Dr. Singh, who watched the launch of two foreign satellites onboard PSLV-C21 from the mission control centre at Sriharikota, said, "As Isro's 100th space mission, today's launch is a milestone in our nation's space capabilities."
"The launch of these satellites on board an Indian launch vehicle is testimony to the commercial competitiveness of the Indian space industry and is a tribute to Indian innovation and ingenuity," he said.
He warmly congratulated EADS Astrium of France and Osaka Institute of Technology of Japan, whose satellites SPOT 6 and PROITERES were placed in orbit by Isro's workhorse Polar Launch Satellite Vehicle (PSLV) in a perfect textbook launch.
"India is justly proud of its space scientists, who have overcome immense odds to set up world class facilities and develop advanced technologies," Dr. Singh said, noting that this year also marks the 50th anniversary of the country's space programme.
---
An Indian rocket Sunday successfully put into orbit two foreign satellites, marking Indian space agency ISRO's 100th mission in the presence of Prime Minister Manmohan Singh.

"As ISRO's 100th space mission, today's launch is a milestone in our nation's space capabilities," the prime minister said here after the launch. Exactly at 9.53 a.m., Polar Satellite Launch Vehicle-C21 (PSLV-C21), 44 metres tall and weighing around 230 tonne, with a one-way ticket, hurtled itself towards the skies ferrying the two satellites - SPOT 6, a 712-kg French earth observation satellite, and Proiteres, a 15-kg Japanese micro satellite.

The PSLV, costing around Rs.90 crore, blasted off from the Satish Dhawan Space Centre in Sriharikota, around 80 km from Chennai. The Indian Space Research Organisation (ISRO) has now completed its 100th mission since the launch of its first satellite, Aryabhata, in 1975 by a Russian rocket.

With a rich orange flame at its tail and plume of white smoke, PSLV-C21 ascended towards the sky amid cheers of ISRO scientists and media team assembled at the launch centre.

People perched atop nearby buildings too clapped as the rocket went up. Scientists at ISRO's new mission control room were glued to their computer screens watching the rocket escape the earth's gravitational pull.

At around 18 minutes into the flight, PSLV-C21 delivered SPOT 6 and a few seconds later Proiteres into their intended polar orbits. On the successful ejection of the satellites, scientists at mission control were visibly relieved and started clapping.

Manmohan Singh, who along with Minister in Prime Minister's Office, V. Narayanasamy, witnessed the launch, congratulated ISRO scientists and engineers and EADS Astrium of France and Osaka Institute of Technology of Japan for the successful launch of their satellites.

"Questions are sometimes asked about whether a poor country like India can afford a space programme and whether the funds spent on space exploration, albeit modest, could be better utilised elsewhere.

"This misses the point that a nation's state of development is finally a product of its technological prowess," the prime minister said. The remote sensing satellites send back pictures and other data.

SPOT 6 is the heaviest foreign satellite to be carried by a PSLV since 1999 when ISRO started launching satellites of foreign agencies. Proiteres will study powered flight of another satellite and observe Japan's Kansai district with a high-resolution camera.

Speaking to reporters later, ISRO Chairman K. Radhakrishnan said discussions were on with the French space agency to carry SPOT 7, a similar remote sensing satellite slated for launch soon.

He said there were 13 more satellites of similar class and some other satellites could go as co-passengers to the main cargo that ISRO/Antrix Corporation (ISRO's commercial arm) would target.

Declining to reveal the carriage fee received from French and Japanese agencies for launching their satellites, Radhakrishnan said the mission revenue had recovered the rocket's cost.

Agreeing that there was a two-minute delay in the rocket's lift off (the scheduled time was 9.51 a.m.), Radhakrishnan said it was to avoid possible space debris impacts. He said ISRO had decided to set up a Multi Object Tracking Radar (MOTR) to track space debris and time its rocket launches precisely.

ISRO was also planning to have a second vehicle (rocket) assembly building to increase launch frequency, he said. ISRO would also build two more communication satellites - GSAT 15 and GSAT 16 - to augment its transponder (transmitters that receive and send signals) capacity, he added.

Till date, ISRO has successfully launched 27 foreign satellites and the Sunday mission took the tally to 29.
Quelle: ISRO
4957 Views