.
5.02.2015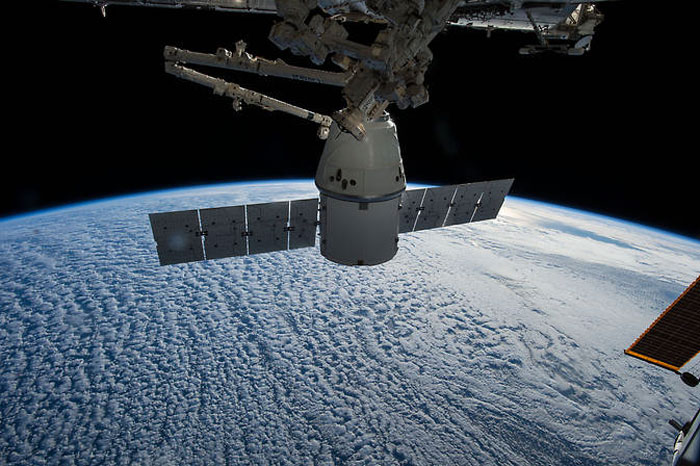 Expedition 42 commander and NASA astronaut Barry Wilmore and European Space Agency astronaut Samantha Cristoforetti used the Canadarm2 robotic arm to grapple the SpaceX Dragon (CRS-5) ship on Jan. 12 2015, two days after its launch from the Cape Canaveral Air Force Station, Florida. Dragon was attached to the station's Harmony module three hours after it was grappled, where it spent a month being unloaded.
.
After delivering more than 5,000 pounds of supplies and experiments to the International Space Station last month, the SpaceX Dragon cargo spacecraft is set to leave the orbiting laboratory on Tuesday, Feb. 10.
NASA Television will provide live coverage of Dragon's departure beginning at 1:45 p.m. EST.
The Dragon spacecraft is scheduled to detach from the Earth-facing side of the station's Harmony module and release through commands sent by ground controllers in mission control at NASA's Johnson Space Center in Houston operating the Canadarm 2 robotic arm. Mission control will maneuver Dragon into place for its release, which is scheduled for 2:09 p.m.
Dragon will execute three thruster firings to move a safe distance from the space station for its deorbit burn at approximately 7 p.m. The spacecraft will splash down in the Pacific Ocean around 7:44 p.m. The deorbit burn and the splashdown will not air on NASA TV.
In the event that weather at the landing zone does not permit a Feb. 10 departure, the next available opportunity is on Feb. 11 with a 1:17 p.m. departure time with NASA TV coverage beginning at 12:45 p.m.
Dragon currently is the only spacecraft able to return cargo from the space station to Earth. It will return about 3,700 pounds of cargo, including science samples from human physiology research, biology and biotechnology studies, physical science investigations and education activities sponsored by NASA and the Center for the Advancement of Science in Space (CASIS) in Melbourne, Florida. CASIS, a nonprofit organization, is responsible for managing research performed in the U.S. national laboratory portion of the space station.
Dragon launched on the SpaceX Falcon 9 rocket from Cape Canaveral Air Force Station in Florida on Jan. 10 on the company's fifth commercial resupply mission to the station. It arrived at the station Jan. 12.
Quelle: NASA
.
Update: 10.02.2015
.
Crew Prepares for Dragon Release After Hatches Closed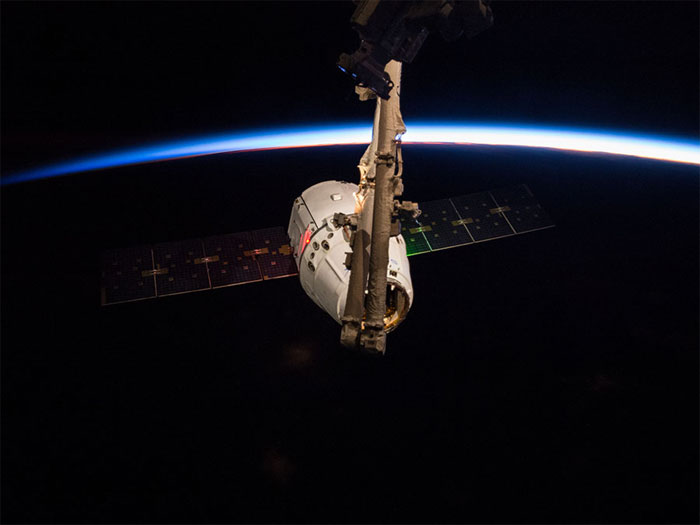 Expedition 42 Commander and NASA Astronaut Barry Wilmore and European Space Agency Astronaut Samantha Cristoforetti used the Canadarm2 robotic arm to grapple the SpaceX Dragon (CRS-5) ship on Jan. 12 2015. Photo Credit: NASA
The Expedition 42 crew closed the hatches to the Dragon commercial cargo craft today after loading it with critical gear and research. Dragon will be unberthed from the Harmony module then released from the grips of the Canadarm2 Tuesday afternoon. It will splashdown off the Pacific coast of Baja California for recovery by SpaceX engineers a couple of hours before sunset.
Meanwhile, a trio of cosmonauts worked in the Russian segment of the International Space Station on their set of science investigations. They studied ways to locate punctures caused my micro-meteoroids on the Russian side of the station; they looked at the behavior of charged macroparticles inside a magnetic trap; they also explored crew training methods using interactive 3D manuals, or virtual manuals.
Another resupply spacecraft is counting down to its undocking from the space station this weekend. Europe's Automated Transfer Vehicle-5 (ATV-5) is set to undock from the Zvezda service module Saturday for a fiery deorbit over the Pacific about two weeks later. Italian astronaut Samantha Cristoforetti installed internal cameras inside the ATV-5 that will record its breakup during the reentry. Engineers will use this data to understand the mechanics of a deorbiting spacecraft.
.
Update: 11.02.2015
.
SpaceX Dragon returns home, Falcon rocket grounded by weather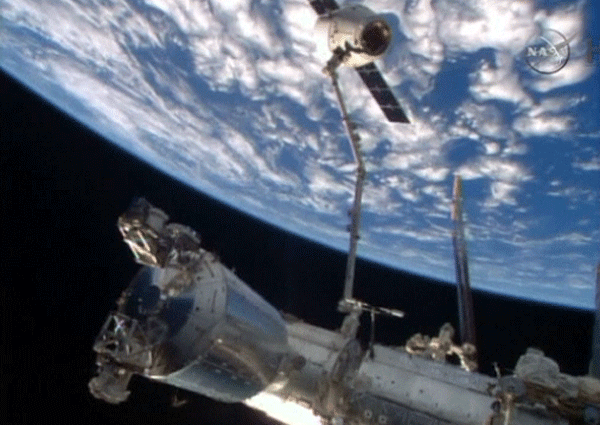 A SpaceX Dragon cargo ship returned from a month-long stay at the International Space Station Tuesday, splashing down off the coast of California to complete the company's fifth mission to the orbital outpost for NASA.
Dragon's 4:44 p.m. PST/0044 GMT parachute landing came less than two hours after the company canceled plans for a Falcon 9 rocket launch from Florida to put the U.S. government's Deep Space Climate Observatory (DSCOVR) into orbit.
Winds over the Cape Canaveral Air Force Station launch site were too high for the rocket to safely navigate through the upper atmosphere.
"Extreme wind shear over Cape Canaveral. Feels like a sledgehammer when supersonic in the vertical. Hoping it changes," Elon Musk, SpaceX founder and chief executive Elon Musk posted on Twitter as the launch countdown proceeded.
But it was not to be. Launch of the company's 15th Falcon rocket was retargeted for 6:03 p.m. EST/2303 GMT on Wednesday. If weather or technical problems delay launch on Wednesday, the next attempt will not come until Feb. 20 so the satellite can avoid flying too close to the gravitational field of the Moon.
DSCOVR eventually will end up in an orbit about 930,000 miles (1.5 million km) from Earth – nearly four times farther than the Moon.
SpaceX had hoped to launch DSCOVR on Sunday, but an Air Force radar system needed to track the rocket during flight failed minutes before the planned liftoff. The company passed on a launch attempt Monday due to expected bad weather.
Once DSCOVR is off the launch pad, SpaceX plans to attempt to land the Falcon's first stage on a platform floating in the Atlantic Ocean northeast of the launch site, part of a series of tests to develop the technologies to reuse its rockets.
Tuesday's delay left SpaceX with one ocean recovery to manage instead of two, though the company said it was prepared for simultaneous operations.
Dragon returned with almost 4,000 pounds (1,814 kg) of experiment results and equipment, including two fan pump separators for U.S. spacesuits.
NASA wants to analyze the devices before clearing station astronauts Barry Wilmore and Terry Virts for a trio of spacewalks to begin re-configuring the station for planned commercial space taxis. The first outing is targeted for Feb. 20.
.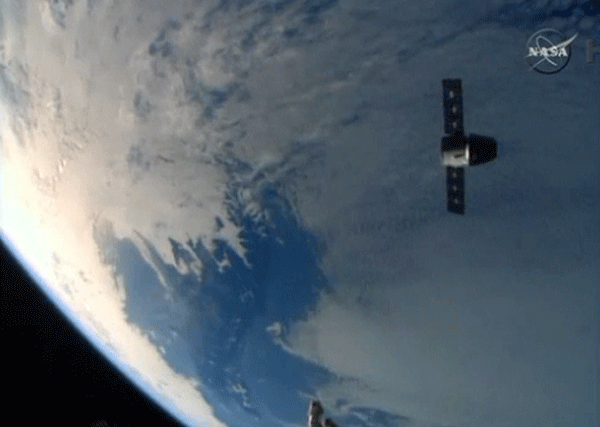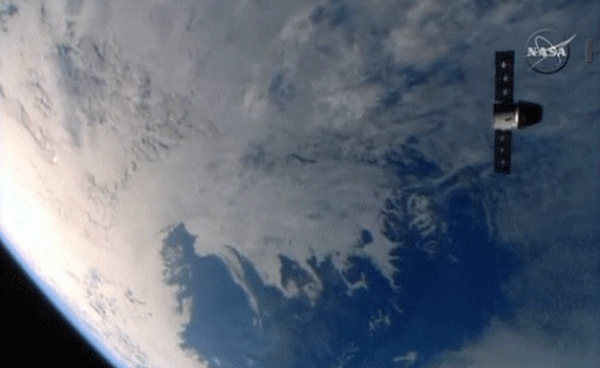 Quelle: SEN
-
Commercial Dragon supply ship returns to Earth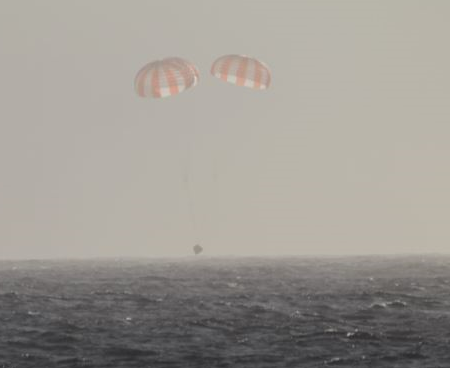 SpaceX's Dragon supply ship wrapped up a 29-day stay at the International Space Station on Tuesday, departing the complex with nearly 3,700 pounds of research specimens, a balky spacesuit and experimental 3D printed parts before re-entering the atmosphere and splashing down in the Pacific Ocean.
The splashdown at 7:44 p.m. EST Tuesday (0044 GMT Wednesday) concluded SpaceX's fifth operational resupply flight to the space station — and the sixth Dragon mission to the complex including a 2012 demonstration flight.
The spaceship's return to Earth occurred about two hours before sunset at the splashdown site about 260 miles southwest of Long Beach, California. The recovery of the capsule by SpaceX engineers on boats in the Pacific Ocean was expected to continue after nightfall, marking the first time the cargo craft has splashed down in the evening.
"The ability to resupply and return this critical research continues to be an invaluable asset for the researchers here on Earth using the International Space Station as their laboratory in orbit," said Kirt Costello, deputy chief scientist for the International Space Station program at NASA's Johnson Space Center in Houston.
The Dragon spacecraft is the only vehicle capable of returning to Earth with a significant cargo load. Russia's Soyuz ferry craft lands with limited cargo when it returns with space station crew members, and other logistics vehicles burn up in Earth's atmosphere to dispose of trash that would otherwise congest the lab's interior.
Gear packed inside the capsule's pressurized module include refrigerated blood and urine samples to help researchers study how spaceflight affects the human body, parts produced by an experimental 3D printer on the space station, and specimens from other biology and biotechnology studies, physical science experiments and education activities sponsored by NASA and the Center for the Advancement of Science in Space.
-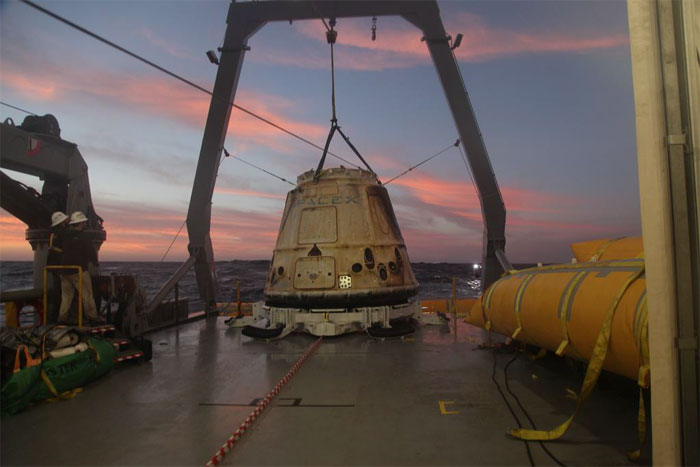 The Dragon spacecraft is lifted on the deck of a recovery ship in the Pacific Ocean. Credit: SpaceX via Elon Musk
"Experiments like 3D printing in space demonstrate important capabilities that allow NASA and humanity to proceed farther on the journey to Mars," Costello said in a statement. "Other investigations such as those focused on protein crystal growth take advantage of the unique microgravity environment and offer us new avenues to investigate troubling diseases back on Earth."
The SpaceX supply ship also brought back experiments developed by secondary school students and reflown on the Dragon flight after the investigations were destroyed in an explosive launch failure of an Antares cargo rocket in October.
Some items packed inside the Dragon's pressurized module will be repaired or refurbished for launch again, including a spacesuit with a problem with its fan motor that will be returned for analysis by engineers. NASA wants to study the issue before sending astronauts outside the space station later in February for a series of spacewalks to help configure the complex for dockings of new commercial crew spaceships built by SpaceX and Boeing.
The Dragon spacecraft blasted off Jan. 10 from Cape Canaveral on a Falcon 9 rocket, reaching the space station two days later for an automated laser-guided rendezvous.
It was snared by the space station's robotic arm and bolted to the lab's Harmony module for 29 days. Astronauts unpacked food, experiments and provisions, and the station's robotics systems removed a NASA Earth science instrument from Dragon's unpressurized trunk to measure aerosols in the Earth's atmosphere from space.
After stowing items tagged for return to Earth, the station crew closed hatches between the complex and the SpaceX supply ship Monday.
European Space Agency astronaut Samantha Cristoforetti released the Dragon capsule from the outpost's 58-foot robot arm at 2:10 p.m. EST (1910 GMT) Tuesday, and the spacecraft performed three rocket burns to fly a safe distance from the space station.
"This is the end of a very, very successful Dragon mission," Cristoforetti radioed mission control after the Dragon spaceship's departure. "We'd like to think our guys for working hard on this, and of course the folks in Hawthorne (SpaceX headquarters). It's a privilege working with Dragon, doing a bunch of science — lots of samples are coming back on it — and of course sending her on her way."
Dragon's navigation bay door closed later Tuesday, setting the stage for a 10-minute de-orbit burn beginning at 6:49 p.m. EST (2349 GMT).
The capsule plunged back into the atmosphere a few minutes later, encountering temperatures near 3,000 degrees Fahrenheit as it streaked from southwest to northeast over the equatorial Pacific Ocean.
It deployed three 116-foot-diameter main parachutes to slow down before splashdown.
SpaceX will return the capsule to Long Beach later this week, then begin handing over its contents to NASA for distribution to engineers and scientists around the world. The capsule will eventually be trucked to SpaceX's test facility in Central Texas for post-flight processing.
Quelle: SN
-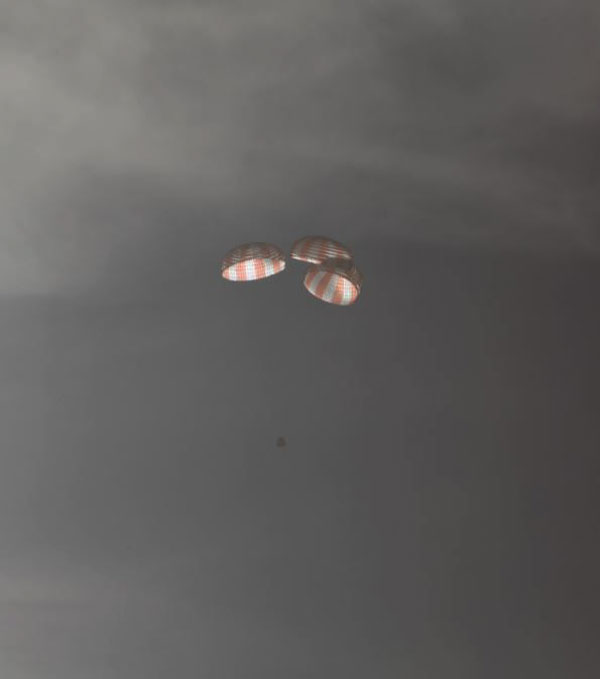 .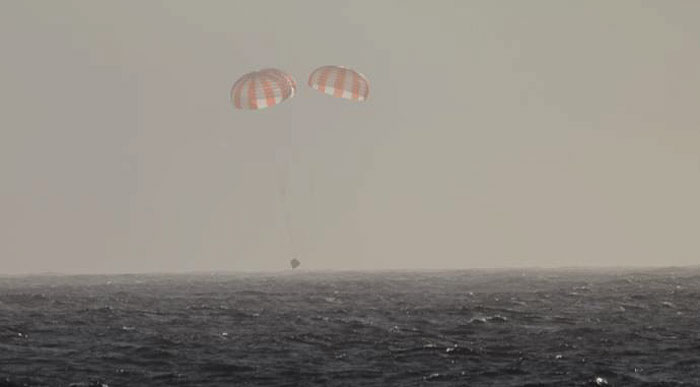 .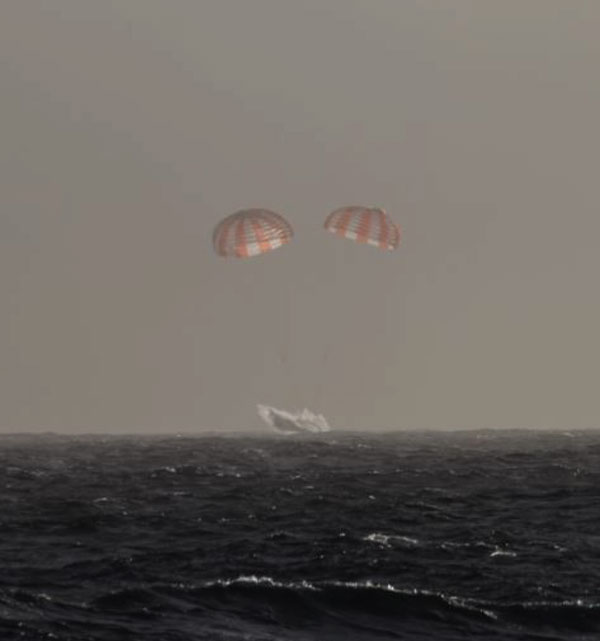 Quelle: SpaceX
3882 Views