20.11.2019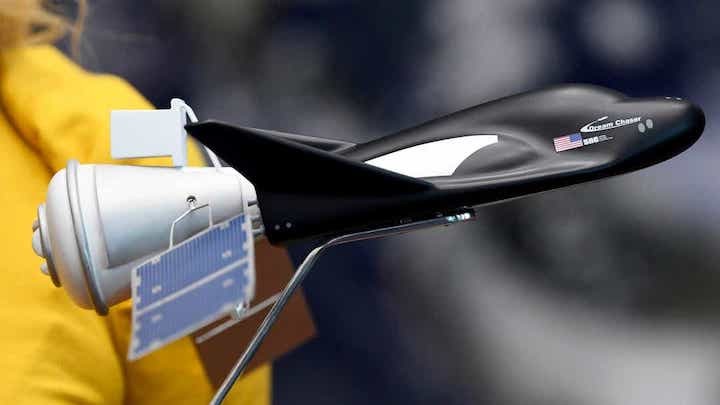 Craig Bailey/FLORIDA TODAY
Eagle-eyed skywatchers who just happen to be in the middle of the Pacific Ocean in 2021 might notice a streak of light dash across their field of view, the result of a cargo module burning up in Earth's atmosphere after a visit to the International Space Station.
Sierra Nevada Corporation's Dream Chaser, a space shuttle-inspired spaceplane that will launch vertically from Cape Canaveral and land horizontally at Kennedy Space Center, was designed to include a detachable cargo module that will burn up on re-entry with waste and leftovers from the ISS.
At KSC on Tuesday, SNC unveiled the name of that cargo module: Shooting Star.
"When the cargo module's done with its mission, one of the requirements we had from the Commercial Resupply Services contract from NASA is that we had to be able to dispose of cargo," said Steve Lindsey, a former space shuttle astronaut and a current vice president at SNC. "The cargo module burns up as it comes in the atmosphere, so we thought it was appropriate to call it Shooting Star."
The 15-foot-long, conical cargo capsule will be able to take 10,000 pounds of supplies and science experiments to the ISS when it launches. That's on top of the cargo that will already fly in Dream Chaser itself, which currently is not a human-rated spacecraft and will only be used for supplies.
With the cargo module attached, the Dream Chaser system measures at 60 feet in length. Dream Chaser on its own is about 30 feet long.
"You can certainly see that from the ground if you're in the right place," Lindsey said of the capsule's atmospheric entry. "It'd be a lot bigger, though, than a shooting star."
SNC earlier this year announced that it had chosen United Launch Alliance's Vulcan Centaur rocket for its ride to orbit. The next-generation vehicle isn't slated to launch on its maiden flight from Cape Canaveral Air Force Station's Launch Complex 41 until 2020.
Quelle: Florida Today
+++
SNC'S "SHOOTING STAR" ARRIVES AT NASA'S KENNEDY SPACE CENTER
SPARKS, Nev., November 19, 2019 – Sierra Nevada Corporation (SNC), the global aerospace and national security leader owned by Eren and Fatih Ozmen, delivered a test version of its Shooting Star cargo module to NASA's Kennedy Space Center for testing ahead of its planned launch with SNC's Dream Chaser® spacecraft in 2021.
Shooting Star is a 15-foot attachment to Dream Chaser that will be used on NASA's Commercial Resupply Services 2 (CRS-2) contract to provide extra storage for payloads and to facilitate cargo disposal upon re-entry into Earth's atmosphere.
"With the addition of Shooting Star we add a capability for NASA, sending even more critical science, food and cargo to the International Space Station, and contributing to the important work the astronauts are doing every day," said Eren Ozmen, SNC's Chairwoman and President.
Dream Chaser will execute its first of at least six launches to the International Space Station in fall of 2021 under the CRS-2 contract. The cargo module will carry an additional 10,000 pounds of pressurized and unpressurized payloads to the International Space Station.
A key capability for Dream Chaser is performing cargo disposal upon re-entry. SNC's Shooting Star cargo modules will burn up in the earth's atmosphere, discarding unwanted material offloaded from the International Space Station.
"Shooting Star's ability to deliver additional cargo and provide a disposal service makes it and Dream Chaser extremely effective and versatile," said former NASA space shuttle commander and retired USAF pilot Steve Lindsey, now senior vice president of strategy for SNC's Space Systems business area.
For additional versatility, Shooting Star can support logistics services to other LEO destinations, including future commercial outposts, and for the lunar Gateway. SNC has also developed a concept for a free flying version that can act as a satellite to carry large payloads, with high-power capacity.
About Dream Chaser Spacecraft
Owned and operated by SNC, the Dream Chaser spacecraft is a reusable, multi-mission space utility vehicle. It is capable of transportation services to and from low-Earth orbit and is the only commercial, lifting-body vehicle capable of a runway landing. The Dream Chaser Cargo System was selected by NASA to provide cargo delivery and disposal services to the International Space Station under the Commercial Resupply Services 2 (CRS-2) contract. All Dream Chaser CRS-2 cargo missions are planned to land at Kennedy Space Center's Shuttle Landing Facility.
About Sierra Nevada Corporation
Owned by Chairwoman and President Eren Ozmen and CEO Fatih Ozmen, SNC is a trusted leader in solving the world's toughest challenges through best-of-breed, open architecture engineering in Space Systems, Commercial Solutions, and National Security and Defense. SNC is recognized among the three most innovative U.S. companies in space, as a Tier One Superior Supplier for the U.S. Air Force, and as one of America's fastest growing companies. SNC's 55-year legacy of state-of-the art civil, military and commercial solutions includes delivering more than 4,000 space systems, subsystems and components to customers worldwide, and participation in more than 450 missions to space, including Mars.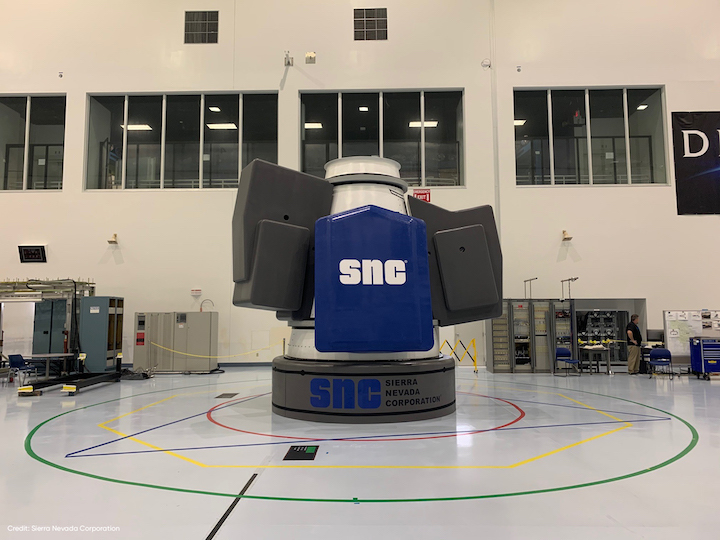 Quelle: SNC
1122 Views