29.01.2018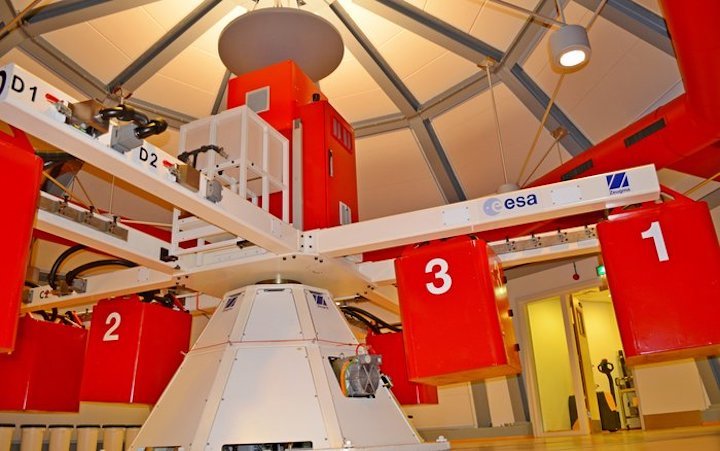 A decade ago, as Europe's Columbus laboratory module was attached to the International Space Station for microgravity research, ESA's Large Diameter Centrifuge began offering lengthy experiments in hypergravity.
The principle is simple: the 8 m-diameter four-arm centrifuge is set spinning at up to 67 revs per minute, creating up to 20 times normal Earth gravity for weeks or even months at a time.
As part of ESA's Life and Physical Sciences Instrumentation Laboratory at the Agency's technical centre in the Netherlands, the centrifuge's development was supported by the Dutch government and its use is encouraged by the European Low Gravity Research Association.
For the last decade it has been a place of pilgrimage for researchers, including student experimenters on regular Spin Your Thesis campaigns.
Tomorrow sees a celebration of the centrifuge's first decade, giving its team the opportunity to hear from their users about desired upgrades and new research ideas.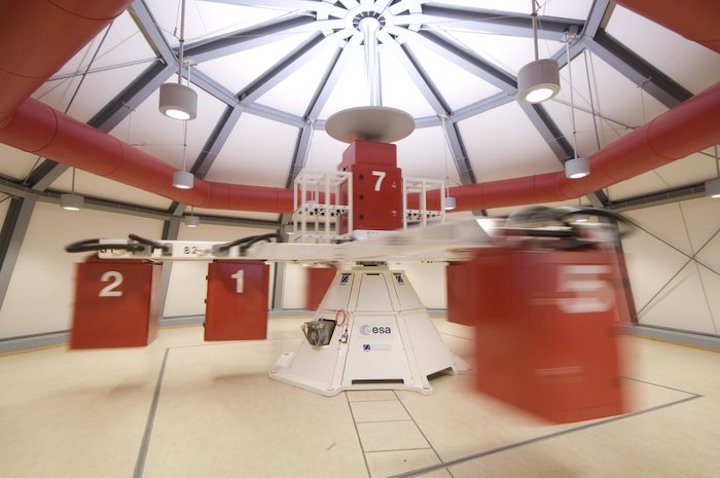 ESA's centrifuge is one of the attractions on view to the public at the ESTEC Open Day on Sunday 4 October.
Scientists interested in hypergravity need to create it for minutes, days or even weeks at a time. Fortunately, ESA's Large Diameter Centrifuge does just that. Based at ESA's ESTEC technical centre in Noordwijk, the Netherlands, the centrifuge is designed not for astronaut training but for scientific research.
The 8 m-diameter centrifuge can create up to 20 g, with four gondolas holding up to 80 kg of experiments. Two more gondolas can be attached half way along the arm to provide different g-levels at the same time. Its operators observe the centrifuge from behind bulletproof glass, for safety.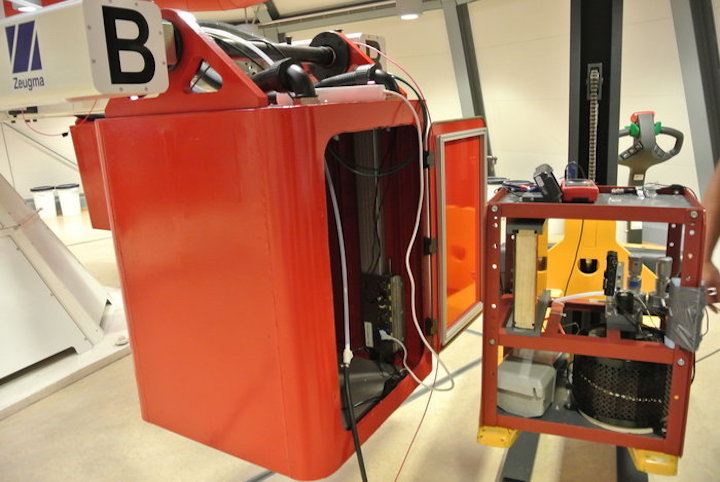 The Large Diameter Centrifuge gondolas are equipped to provide power and data links to the experiments fitted aside. These might include physical, biological, geological and even astrogeological tests – one team investigated how crater impacts vary under higher gravity. Experiments can be spun for up to six months at a time non-stop, at changing g-profiles if needed. After that, the Centrifuge has to stop for routine maintenance.
Student teams from across Europe are given access to the Centrifuge through regular 'Spin your Thesis' campaigns, organised through ESA's Education Office. Student teams are selected to take part by experts from ESA and the European Low Gravity Research Association. The 2014 Spin Your Thesis campaign is due to take place in September - October; the deadline for submitting your team's ideas is on 3 March.
Quelle: ESA
987 Views