.
.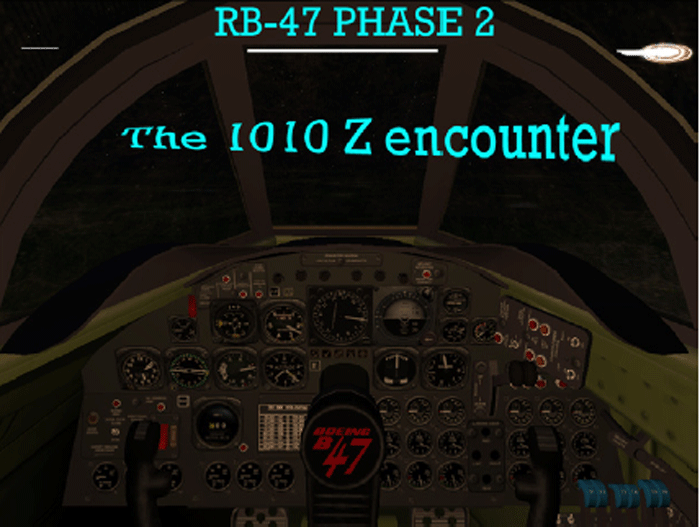 After the up-scope incident, the plane proceeded due north until it reached Meridian, where it turned westward. The plane then proceeded on, what was described in Chase's UFO report as, a course with a bearing of 265 degrees. The flight seemed to be uneventful until 1010Z (0510 CDT or 0410 CST), when the pilot and copilot saw the UFO appear at their 10 O'clock position and move northward to their 2 O'clock position.
The UFO then simply vanished. The description he gave in his UFO report can be seen below1. McClure stated he first realized there was a UFO present when Tuchsherer told him that the pilot was chasing flying saucers. McClure, remembering the anomalous signal near the coast, began searching for it. However, was it really that unusual an object that initiated this search?
.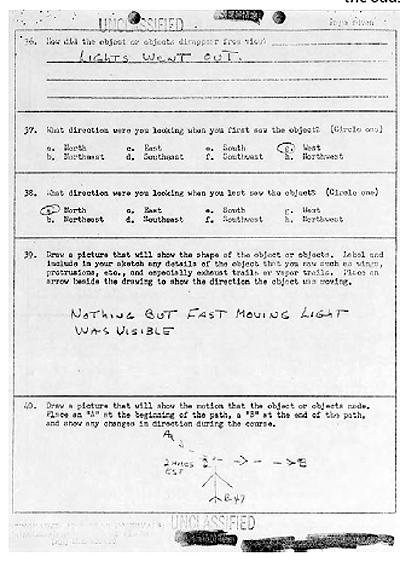 It seems that it was Klass that first suggested that this was just a bright meteor. That morning, the moon was a waning gibbous in the southwestern sky and would be washing out faint stars and meteors. For a meteor to be prominently visible it would certainly be near or greater than the brilliance of the planet Venus. Such events are unusual for the casual observer. The sudden disappearance of the object is consistent with the actions of a meteor. When Klass mentioned this potential explanation to Colonel Chase, he responded:
I certainly do not rule out the possibility. All I ever had to comment was that it was once in a lifetime occurrence. Don't know the odds??2
It is most interesting that this is the sort of comment one sees in UFO reports of bright meteors.
For instance, in a MUFON UFO report for the very bright September 14, 2011 fireball, the witness stated:
But I've seen shooting stars and meteors before and this was like nothing I've ever seen. It looked huge and it was very bright. I've also never seen a meteor that was green like this one (although I have heard of their existence).3
Klass and Chase butted heads over several issues during their letter exchanges but, at this point, Chase seemed willing to accept the idea that what they saw was an unusually bright meteor. In October 1976, Dr. Hynek contacted Chase about the Klass analysis. At this point, Chase disagreed:
I don't accept the explanation that what I saw was a distant meteor. The visual sighting was approaching from head-on, 11 O'clock, not left to right, for a long enough time, apparently at our altitude, for me to discuss it with the crew, and warn them I might have to take evasive action.
Its course changed nearly 90 degrees, flashed in front of us so quickly, that I had not time for evasive action….4
His comment about alerting the crew may be an inaccurate recall as McClure stated he knew nothing until #3 operator told him they were chasing flying saucers. The event may have only lasted a few seconds. If that is true, the UFOs behavior would have been consistent with a meteor.
Surprisingly, Brad Sparks agrees with the meteor explanation so there is no need to beat this dead horse any longer. This part of the incident can be considered explained.
Notes and References
USAF Project Blue Book - UFO investigations1. . Fold 3 Web site. Available WWW: http://www.fold3.com/image/#6962379
Letter from Lewis Chase to Phi Klass dated16 2. October 1971. American Philosophical Society.
Philip Klass Collection. Box Series II-6.
MUFON UFO report database3. . Available WWW: http://mufoncms.com/cgi-bin/report_handler.
pl?req=view_long_desc&id=31819&rnd=
Herb, Gert. "A rebuttal to Philip J. Klass's analy4.
sis of the RB-47 incident of July 17, 1947." Center
for UFO Studies (CUFOS) Bulletin. CUFOS. Evanston, Ill. Summer 1977. P. 4.
.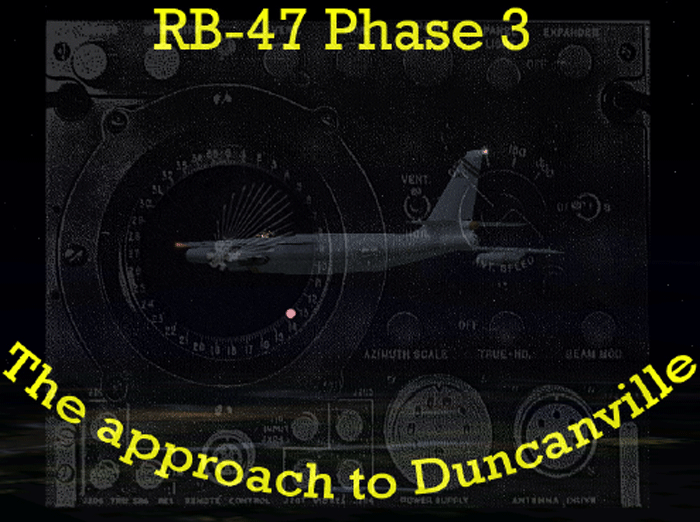 After the meteor/UFO event at 1010Z, Chase continued his flight westward.
It was always accepted that the flight path was a 265 bearing towards Waco based on what was written about the case in the 1957 reports. Dr. McDonald, Phil Klass, and CUFOS all used that value but it really did not work with the subsequent path the plane would take towards the northwest. As a result, Brad Sparks came up with a new and interesting approach to the problem.
Straight and narrow
According to the intelligence report made shortly after the event, the RB-47 was flying in the direction of Waco, Texas from Meridian, Mississippi.
If this was true, they were probably navigating towards James Connally Air Force Base. To go from Key Field, to Connally AFB, one needs to fly at a true heading of 266.6 degrees, which is close to the 265 true heading that Chase stated in his report concerning the 1010Z sighting.
In describing the flight, Lewis Chase told Phil Klass:
We actually turned over Meridian, but by the time we got over Jackson we have to be very accurately on course, straight and level for the work to be done. So Meridian would have been the actual turning point with the ECM mission starting at Jackson, in other words the Navigator would have to have a precise fix and you're on course with no turns so he chart the points along the line.1
It was important to maintain a constant bearing during these kinds of exercises. The sensor equipment did not measure the true bearing of the signals but, instead, measured the bearing relative to the heading of the aircraft. As long as the plane maintained a constant heading, the values obtained by the operators could be easily converted to the actual azimuth relative to the position of the aircraft.
However, if the plane was constantly changing direction, it became very difficult to obtain precise measurements.
The golden path?
Brad Sparks' flight path is based on reaching a point northwest of Fort Worth and working backwards to compute a flight path that matches. There is absolutely no solid evidence that the plane actually made it to this point northwest of Fort Worth other than this being the location of the UFO some two minutes before 1050Z. Are we led to believe the UFO just remained stationary at this point or is it possible it moved TOWARDS or AWAY from the RB-47? Are we even sure that the estimated location is correct from dozens of miles away of a light at night and the radar actually painted the same object? We are not sure but Sparks has simply assumed that this was all accurate
and made the flight path fit this pre-determined conclusion rather than seeing other possibilities.
In order to get the plane to this point, Sparks has determined that the plane was not flying on a true bearing of 265 degrees. Despite Chase's statement of the heading of 265 being a true heading in his report, Sparks states it was actually a magnetic bearing. According to Sparks, a 265 degree magnetic bearing actually means that the RB-47 was flying due west at 1010Z (actually the true heading would be about 271.5 degrees for a magnetic heading of 265 at that longitude). This implies that the plane was actually flying due west along the 32nd parallel. His proof that this was correct is the 1042Z bearing listed by Chase (again this value is stated to be a true heading) being 260 degrees, which is close to the magnetic reading if the true heading was 270 degrees (the actual true heading for 260 magnetic would be about 269 degrees).
Sparks takes some other liberties in creating his path. In his computation, he uses speeds of Mach 0.75-0.87 mach during the time period of 1010-1042Z. These are assumptions based on what Colonel Chase would mention in his interviews, where he stated he had decreased/increased his speed. However, in his report, the last speed listed they were traveling at was Mach 0.74 until they took up pursuit towards the northwest. As previously noted, the cruise speed of Mach 0.73-0.76 was what one would expect until there was a need to change that speed. Even if Chase did increases his speed as he states, he would not have exceed the rated speed of Mach 0.85 because he would not want to enter a high speed stall.
There are also problems with trying to fly along a parallel line of latitude as Sparks suggests. It is not quite as simple as flying along a 270 degree bearing and you will stay along the latitude line. The upper level winds will push the aircraft off course. In this case, Shreveport, LA had a wind from about 51 degrees of about 6.5 mph and Jackson, MS had a wind of 11.5 mph from about 0 degrees. Both of these winds would push the aircraft off track towards the south. In order to maintain this type of track, the pilot would have to fly a zigzag path to maintain his latitude. This sort of makes it difficult for the crew of the RB-47 to obtain precise measurements.
To add to this problem, the pilot would also have to keep altering his magnetic bearing (assuming he was using a magnetic bearing as Sparks suggests) to compensate for the changing magnetic declination as he flew west.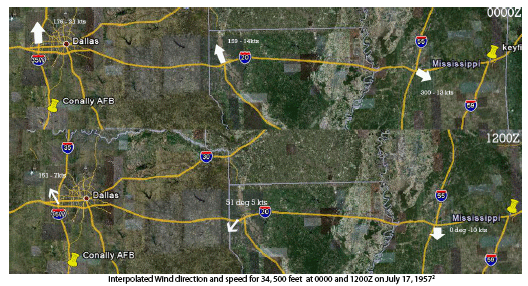 As noted by Chase, the goal of this part of the flight was to try and maintain a constant heading with no turns. Sparks' flight path along a line of latitude using a magnetic
heading does not seem to match this goal. Instead, it introduces constant changes in the plane's true heading. As a result, I don't think Chase was following a magnetic heading or a constant line of latitude.
Problems galore!
There are many factors to consider when trying to compute a potential flight path for the RB-47. The first of these are the margins for error.
The times given are, at best, approximate. Was the time 1010Z actually 1010.0Z or 1010.5Z or 1009.5Z? At Mach 0.74, thirty seconds of travel (about 4.1 miles) in longitude
will cause a change in about four minutes of arc. The same speed will cause about 3.5 minutes of arc in latitude. As speed increases for the plane, the margins of error increases. For the purpose of this section of the flight, it would be best to consider any location given to be +/-3-4 minutes of arc.
Another factor to consider is that we really only have two data points to work with in computing a flight path from the 1010Z position. The report states the general course of the RB-47 but we only know the heading of the aircraft at times 1010Z and 1042Z. Can one really determine exactly what the craft was doing between these two data points (and these values were produced two months later)? All we know is the craft ended up somewhere southeast of Dallas-Fort Worth.
At this point, I don't think anybody's path is going to be that accurate because of all the potential errors associated with the data, which is far from being complete. However, I believe that I may have discovered something that indicates Sparks was half-correct in his flight path computation.

Course correction?
Previously, I noted that the 265 degree true heading does not take the RB-47 towards Connally field. If one draws a line along this path from Key Field, they discover
that they end up south of Waco by a few miles. Did the Navigator give Chase the wrong course?
The potential explanation for this is that the navigator was trying to plot a course that takes into consideration the upper level winds he expected to encounter. In addition to being briefed about what to expect prior to the flight, the navigator also would have noted the winds as the plane flew south in the early part of the flight. When the plane turned towards the west at Key Field, the navigator probably gave a heading to Chase that compensated
for these winds, which is why the plane was on a bearing to the south of Waco.
However, at time 1010Z, things were not right. If one uses the 265 degree true heading from Key Field and flies towards 91 degrees 28 minutes longitude, the plane arrives at 32.1 degrees and not 32.0 degrees. This is about 7 miles north of their actual location. It appears they were off course! This was probably due to the high level winds, the navigator did not consider in his flight planning. According to the 1200Z radiosonde data for Jackson, the winds were blowing from the north at 10 knots. This is the kind of wind that would throw the course off track. After this 1010Z point, the navigator probably issued a new heading to Chase to compensate for this error. This correction probably would put the RB-47 on a 270 degree heading. Once the navigator got to a point where he could take a course towards Waco/Connally, he would then have changed the course to 260 degrees true heading to get to the way point. Considering how important it was to maintain a fixed heading, there were probably only two course changes one to a true heading of 270 and another back to a true heading of 260. When those exactly occurred is unknown but they were after 1010Z and before 1042Z.
A possible ground track
One thing the pilot mentioned during his interviews was that he was adjusting the speed of his aircraft between 1030 and 1042Z. Chase told Dr. Roy Craig:
So I reached up and pulled the power back on the airplane-slowed way down. Oh, maybe a hundred knots. He stayed at exactly the same azimuth - 2 O'clock. So, then I speeded back up, only this time to max speed. Same thing. Stayed there. So I called the center and told them...And they gave me at this time ten miles range....So again I go through the procedure, when he calls the ten-mile range, of the slow up, the speed up, and everything, and they keep calling, "ten mile range." Regardless of what I do, it stays at ten miles.3
When asked if he turned during this time period, Chase stated "No, not at this time"4. According to Dr. McDonald's notes from his interview with Chase:
He only did speed changes, but didn't do any heading variations in that interval in the first part.5
So, when did this occur? Sparks starts these speed adjustments around time 1030Z. However, the intelligence report does not mention any visual observation until 1039Z. As a result, we really can't say for sure exactly when those speed changes were made. I chose to split the difference between when the radar signal was received and when the visual observation was made for increasing the speed of the RB-47 (time 1035Z). I used the speed of Mach 0.83 since this is the value that Chase lists for his time mark of 1042Z.
In the following table, I compared this corrected path (Using Ed Williams Great circle calculator on-line) with the path presented by Sparks. The two columns to the right involve two course adjustments.
The first happened at 1015Z to bearing 270 and the second to a bearing 260 at time 1040Z. In the course adjusted path, the RB-47 is estimated at flying Mach 0.74 until time 1035. After that point, I decided to use Mach 0.83 as that was the value described by Chase in his report for time 1042Z. I did not add any winds to the computation although I did use the track from Key Field to the 1010Z position (bearing 262.5 degrees) to compute the position at 1015Z.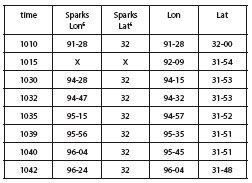 I would consider the values listed as approximate at best. For the purpose of evaluating the radar signals, they will serve as a reference but I do recognize there are margins for error.
Radar signal characteristics
One of the most interesting aspects of this case are the various radar signals that were documented in Piwetz report. At least one of the signals mentioned had the following characteristics7: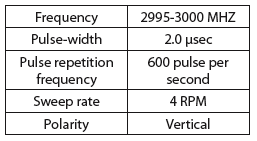 However, the report never really states that all of these signals had the same characteristics. It does mention that at 1030Z the same signal was received as the one at Meridian, which supposedly had the characteristics listed. However, recall that McClure stated he never wrote anything down until after he started seeing
all of these signals around Dallas-Fort Worth.
I did not write anything down until the #3 Raven said the remark about the front end "chasing flying saucers".8
And I wrote it down on a piece of paper, we didn't have any logs, we didn't carry any logs on this mission....Those times came from what I just told you. I wrote it down on a piece of paper and we gave it to Piwetz the next day. 9
At some point, McClure probably received a signal like the one described. However, since these values apparently come from hand written notes and a verbal debriefing
the next morning, there is going to be potential for error and confusion. As it is, the intelligence report contained some errors, so there is reason to question that the value given in the report might have come from only one or some of the signals detected by McClure.
With this assumption, I considered the possibility that several of the signals received may have been at a frequency other than the one listed. It is important to note that before the Intelligence report surfaced, the general consensus of the crew was the actual frequency seen was around 2800 MHZ. Why would that frequency be so fixed in their minds?
If one reads McClure's statements to Klass about these signals, he appears to confirm that more than one frequency was involved on two occasions:
I will be anything that the signals intercepted when we were in the Dallas area were all CPS-6B signals.10
After that I am sure we were turning so much that it would have made it move funny. By this time we were deluged with CPS-6B/FPS-10 signals.11
If they were signals from different radars, they could not possibly be using the same frequency. This implies that McClure was sweeping over a range of frequencies other than one specific frequency. With that in mind, we have to consider the possibility that these radar signals were from a range of frequencies in a band of about 2700-3000 MHZ or greater.
Tracking the beams
At some point near 1030Z, McClure began to look for radar signals similar to the one he had seen earlier. He then wrote these bearings on a piece of paper. This was the primary source of information for Piwetz's report, which described the following signal bearings12: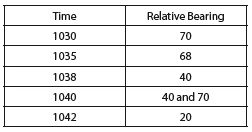 McClure told Klass that the accuracy of these bearings were "Within 3-5 deg"13. So we have to give at least a +/- 3 degree margin of error on these values. There are other margins for error. These values are relative to the heading of the aircraft. If it was pointed to 270 degrees, then one would add the number to 270 to get the azimuth relative to the aircraft of the signal. What if the plane was not pointed exactly at the heading recalled?
Chase might think that he did not deviate his course but is it possible that he might have shifted one or two degrees in his flight path? The exact heading of the aircraft at the time of the measurement must have a margin of error associated with it. In my opinion, one has to give +/-2 degree course error as well. As a result, one should expect the total margin for error for these bearings to be at least about five degrees and possibly more.
If McClure had swept back and forth looking for signals in the range of 2700 -3000 MHZ, he could pick up signals from other radar beams nearby. It seems probable that he would note any signals he received that were similar to the one he recalled from the upscope encounter.
With all of that in mind, let's give a rough idea of where the radar signals came from using the course I described (Note: these bearings are similar if one uses Sparks' positions except for the 1042Z bearing):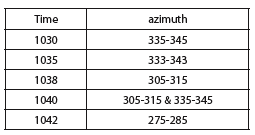 According to Sparks, many of these signals came from the UFO and some came from the Duncanville CPS-6B near Dallas Texas.
McClure made a point in his discussion with Klass that there were a lot of radar beams present and he felt he knew the sources of these signals.
I feel sure that at some altitude near 40000 ft I could have intercepted any of the sights (sic) of OK city, Duncanville and Houston.14 From his experience, he apparently felt that the equipment was more than capable of detecting these radar beams from great distances. Is it possible these radars played a role here? Houston was to the south and it really is not to be considered since McClure was focusing his attention towards the northwest. However, what about OKC's radar, which was about 300 miles away at time 1030Z?
According to the radar horizon calculation, a plane at 34,500 feet can potentially see a radar signal from OK City (elevation 1325 feet) from as far as 314 miles away. McClure was only trying to detect a radiated radar signal. As long as the RB-47 was in the radar beam, and it was strong enough, he probably could detect it.
So exactly what did he detect if it was the OKC FPS-10? There are three beams that were at a low angle with respect to the ground: The Vertical lower beam at 2965-1. 2992 MHZ The EW beam at 2860-2900 MHZ.2.
The Vertical center beam or its lower 3. side lobe. A tropospheric duct might allow it to be seen at a much greater distance than previously calculated.
So what were the bearings the OKC and Duncanville radar?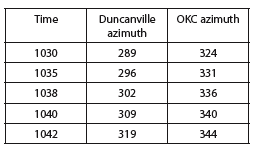 Look at the OKC radar position of being 325/324 and 333/331 at the times when the UFO was at an azimuth of 333-345 degrees. The time 1030Z signal is a marginal
match for the OKC radar at best but the 1035Z bearing seems reasonably close.

There is another possibility for the 1030Z reading and that is the Bartlesville FPS-10 radar near Tulsa. It was at an elevation of about 1000 feet, which would make its radar horizon of 307 miles. It had a bearing of 343 degrees, which closely matches the azimuth reported. Unfortunately, it was 350 miles away from the RB-47, which is 43 miles beyond the radar horizon. Even closer at 307 miles with a bearing of 342 degrees was a WSR-1 at Tulsa, which had become operational in 1956. At an elevation of about 650 feet, its radar horizon was about 299 miles. As previously stated regarding the OK City radiosonde data, there were potentially unusual propagation conditions at the 2000 foot level that might have allowed for signals to be seen beyond the radar horizon. Either radar site might have been detected and could have been the source of the signal measured.
At 1038Z, the signal reported appears to be close enough to the Duncanville azimuth to be a match (Sparks agrees that this was Duncanville). At this point they were only about 100 miles away. McClure
should have seen the signal sooner. He probably did but did not record it because it was not towards the northwest, where the UFO was supposedly located. Only when it began to appear in the northwest sector, did he suddenly consider it something worth recording. Because this signal was so strong, he probably was able to record the characteristics of it and this is where the values listed in the intelligence report come from.
Both Klass and Sparks assumed the 1040Z signals were two signals seen on the display at the same time but the report does not state this. It simply states that two signals were detected at these two bearings:
AT 1040Z ECM OPERATOR NR 2 REPORTED HE THEN HAD TWO SIGNALS AT RELATIVE BEARINGS OF 040 AND 070 DEGREES.15
Another interpretation is that McClure went between the two frequency ranges to see if the signal he previously detected was still there. His hand written notes then noted the two signals were seen at these two bearings. That 30 degree difference is also interesting because the difference between the two azimuths for Duncanville and OKC at time 1040Z is 31 degrees. Is this just a coincidence or is it a potential clue?
.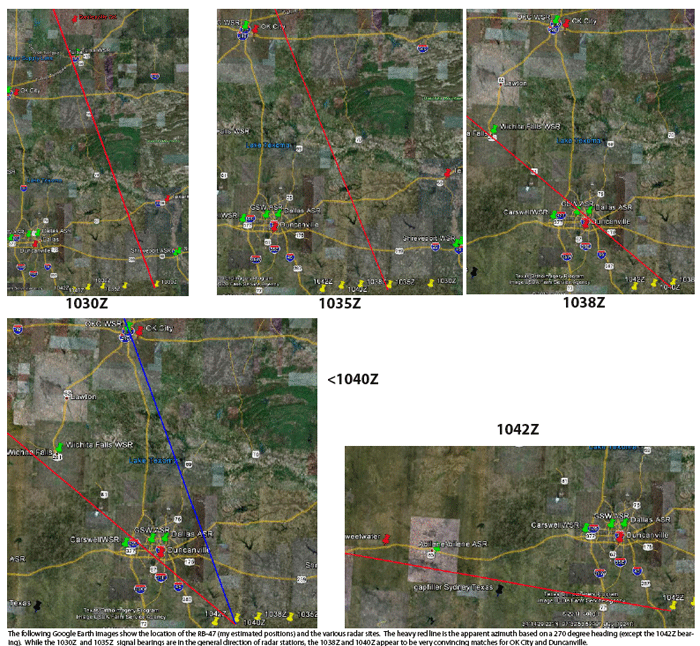 The final contact is interesting in that it appears to be unrelated to the Duncanville and OKC radars. Looking at the sketch in Chase's UFO report, we see him marking the visual contact at this point in time as being at the one O'clock position (roughly 30 degrees). If McClure was looking for a radar contact to match the visual bearing, he apparently found one ten degrees away at a true bearing of 280 degrees. On that bearing, approximately 250 miles distant, was Sweetwater AFS. However, they only operated non-S band radars (MPS-11 and TPS-10D) in 1957. In 1960, a gapfiller S-band radar (FPS-18) was located at Sidney, Texas (about 150 miles at 270 azimuth) but that probably wasn't operating in 1957. A probable source is the Airport Surveillance radar (2700-2900 MHZ) at Abilene, 220 miles away on a bearing of 282 degrees. There is also the possibility that an unknown S-band ground or airborne radar was present at this bearing (Dyess AFB is located in Abilene). It gives reason to speculate that the source of this signal might have come from something other than an "unknown intelligence".
Ghost light!
Starting at 1039Z, the pilot Chase and copilot McCoid are recorded as seeing a light to their Two O'clock position that was an estimated 5000 feet below their airplane. The color appears to have been reddish and very bright. In the intelligence report, Piwetz states that they observed two lights. Chase and McCoid deny that they ever stated they saw two different lights and it has been accepted that this was an error on Piwetz's part.
This light/UFO was supposedly tracked by the Duncanville radar from a distance of about 100 miles (about time 1038Z). As previously described by Chase, the light/UFO maintained a fixed distance of 10 miles at the same position relative to his plane (2 O'clock = 60 degrees relative) no matter what his speed. This seems rather interesting. It is almost as if the radar contact was mirroring the RB-47's motions like a "ghost". One wonders if this wasn't just a ghost echo of some kind.
Only as they approached Dallas did the light's relative position change. Chase stated the object moved towards the dead ahead position. However, his UFO report states it was at a relative bearing of roughly 30 degrees (290 degrees true) at 1042Z. According to Chase, the UFO then turned towards the northwest:
...it veered to the right, not by a very large angle (10° to 20°, Chase estimated) and went up the "valley" between Fort Worth and Dallas.17
Did this happen before or after the position in his sketch? Based on this visual description it would have been after since the bearing to the gap between Fort Worth and Dallas was a true bearing of 320 degrees.
It is important to note that most of these visual bearings (which are ball park figures and not precise measurements) are in the direction of the Fort Worth/Dallas area. Was there anything over those cities that might have produced the light? Potential sources of the light will be discussed in another section.
The mystery signal
Much is made about the signal described in the Piwetz report as if it were proof of an "unknown intelligence". Compare the mystery signal to the AN/CPS-6B: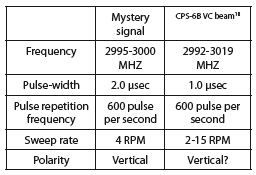 The polarity of the CPS-6B is never listed in any of the documentation I could find. However, based on what I could find about the polarization of electromagnetic
waves, it seems that the CPS-6B was probably vertically polarized.
About the only significant difference between the two signals is the measured pulse-width. Phil Klass suggested that the signal may have been smeared, based on information provided by radar expert Rod Simons.
Pulse width is one of the least accurate parameters measured on ALA-6 type equipment.
Two possible causes of inaccuracy: one is ground-bounce which causes pulse-smearing; another possibility is that equipment is not tuned up properly.19
Sparks implies it was impossible for this smearing to occur and I am sure that he feels the equipment was tuned properly. However, is it just a coincidence that the other characteristics are the same as the AN/CPS-6B/FPS-10?
What about other possibilities for the pulse width not being the same? Since these were hand-written notes on a piece of paper, what prevented this value from being a simple mistake on the paper, illegible number, or transcription error? All can be possible reasons for the mismatch.
Stating the mystery signal could not be the CPS-6B/FPS-10 because of one characteristic being off while the others are matches for that radar is being overly dismissive. It ignores the nature of the data and how it was recorded.
Summary
While the "ghost light" will be discussed later, the radar signals were the component that was addressed here. There is no evidence presented to date that shows the light was actually emitting the signal. However, there seems to be sufficient information to conclude that most, if not all, the radiated signals received came from terrestrial sources if one assumes that all the signals did not have the same exact frequency. If this is accurate, then the only thing mysterious about this part of the incident is a nocturnal light that nobody could readily identify. If this is true, can this case really be considered solid evidence of anything exotic?
Quelle: SUNlite 1/2012
2741 Views