.
13.11.2013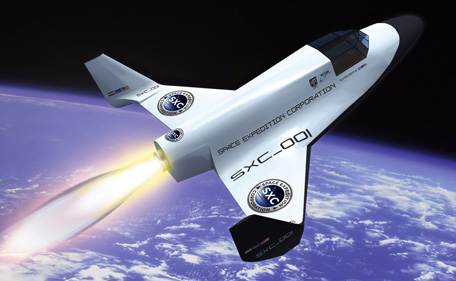 UAE bookings for space trip open: $100,000 a seat on Lynx Mark II
250 bookings already made as race to space takes off
The UAE in general, and Dubai in particular, is one of the world's biggest travel hubs.
So, a travel agency officially opening bookings for an out-of-this-world holiday– for anybody who meets the health specifications – is only natural; even if the trip on offer is anything but.
The engine starts running, but instead of vertically, you move horizontally.
At a speed of 4,000kmph you travel to an altitude of 103km.
The engine switches off. You have become weightless. You are now officially in space.
At $100,000 (Dh367,000) a head, tickets are now available in the UAE. Return ticket, i.e.
Only one person will be permitted in the space ship per trip and this person will share the cockpit with the pilot.
Local travel agent Alchemy Tourism and Travel and the Netherlands-based Space Expedition Corporation (SXC) this week jointly launched their Space Tourism Programme in the GCC.
The flights are scheduled to take off by end of 2014.
Currently, there are two stations from where the SXC will take off; one in Mohavy, USA and one in Curacao, in the Caribbean.
Although Mohavy is a common departure place for space travel, Curacao is a destination selected by SXC for its suitable circumstances.
The space shuttle will take off four times per day.
There are several travel packages available with possible accommodation at the take-off location and transportation arrangements.
.
Crossing all barriers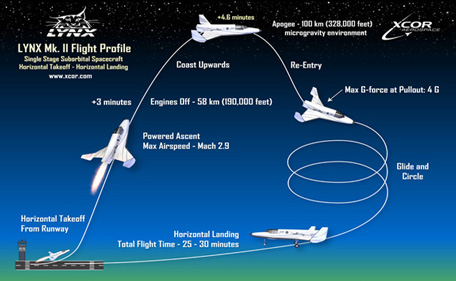 Crossing the 100km barrier promises entry to space, explains Michiel Mol, co-founder of SXC.
"It is internationally agreed that crossing the 100km barrier means that you are officially in space.
"Anybody who has crossed 100km is officially an astronaut," he says.
Only 560 people in the world have been there so far, but with 250 tickets already sold, this is soon to change.
"This is not just for those with a high-net income. There are people who have saved for years to be able to do this.
"If you ask people if they would like to go to space, in 50 per cent of the cases they answer with yes," said Michiel.
Lynx Mark II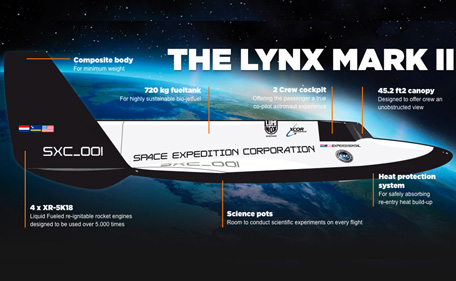 The space shuttle –named Lynx Mark II - will reach space in four minutes.
For the next five-six minutes, its passengers will experience weightlessness.
During this time, the space shuttle will turn upside down, offering the spectacular view of earth.
"This is a life-changing experience. You feel vulnerable while you find yourself in the thin layer around earth," Michiel describes.
His description is based on the conversations he has had with astronauts, who have all been there.
"Surprisingly astronauts are very enthusiastic about space tourism. They want everybody to experience what they have experienced. "
Apart from the costs, there is little that can stand in the way of the common man to go where, until now, not many have gone.
Health and training
Travelers must be above the age of 18, not taller than 2 meters and preferably not weighing more than 125kg.
Apart from pregnancy or heart disease, there are no medical conditions that would complicate the trip.
A mandatory training is included in the ticket price, explaining the basic procedures.
For an optimised space travel experience, SXC offers three recommended one-day training programmes, discussing unearthly concepts such as weightlessness and G-force.
"When the shuttle returns to earth the body weight becomes four times as much as the original body weight, which is a feeling we are not used to.
"During the training participants are prepared for this feeling so they can fully enjoy the trip," explained Michiel.
.
The future
.
In the future, more stations might be opened in other parts of the world, not leaving out the UAE as an option.
A bit further ahead in the future space travel might exceed the leisure purpose, Michiel expects, revealing that plans are in the making for space transportation. "We want to be able to reach any place in the world within 2 hours," he says.
A leap into the future also promises of a space hotel, trips to Mars and possibly drive-your-own space ships.
"Space travel is the future and this century is certainly that of a colonisation of space. Humans want to explore, and I think this is a good thing," Michiel concludes.
.
Quelle: EMIRATES 24
.
Dh367,000 for an hour in space: Dubai chosen for aerospace programme
Dutch firm Space Expedition Corporation launches commercial space travel in UAE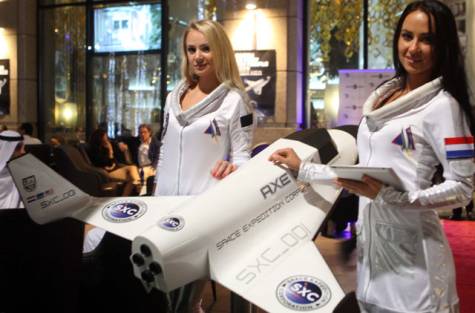 Models during the launch of the GCC's first space tourism programme at Fashion Cafe, Downtown Dubai.
.
Dubai: At 4,000 kph, outer space is just four minutes away and the thrill of a lifetime could be all yours for an hour at a cool Dh367,000.
Dutch aerospace firm, Space Expedition Corporation (SXC), has launched a campaign to sign up people from the UAE for their ambitious space tourism programme that will see four daily trips to space and back from April 2014.
As many as 250 people have already signed up globally, including one from Dubai, apart from several celebrities such as rockstar Bob Geldof, world renowned DJ Armin Van Buuren as well as the second man to step on moon Buzz Aldrin.
The trip will involve travelling at an exhilarating speed of 4,000 kph, experiencing 22 seconds of weightlessness, 20 seconds of G-Force that is four times the body weight as well as an exclusive view of the earth that only 560 people have experienced before.
"It is truly an experience of a lifetime and if you can afford it, there is nothing like it. Those five to six minutes in outer space could be the best one can have. It will be dark and silent all over, and you will be looking down on earth as you have never before, it's the most peaceful feeling one can have. I have spoken to many astronauts and they all say that there is no better feeling. Every astronaut comes back a changed man," said Michiel Mol, the chief executive officer of SXC, speaking to Gulf News as he launched the sign up drive.
SXC, in association with Excor Aerospace, has spent 13 years in building a spacecraft, Lynx Mark I that can make the trip possible.
"It has been my dream to travel to space since childhood and I believe Lynx Mark I will make it possible, we have former Nasa scientists working on it. Our idea is to make space accessible for everyone and the spacecraft we are building will be a game-changer in this regard. The most interesting thing about it is that it can take off and land independently, unlike the conventional spacecraft," added Mol.
Lynx's four revolutionary engines can be used 5,000 times and the other important advantage that Lynx has over its competitors is that the spacecraft is propelled by normal jet fuel unlike solid fuel used by conventional spacecraft and it can achieve speeds of Mach 3.
"The real game-changer is the fuel that we are using, which is making it possible for us to make as many trips as we can, while also keeping it relatively affordable," he further explained.
The spacecraft will carry one passenger at a time and will blast off from SXC's Mojave space port in 2014, while in 2015 SXC will begin its operations from its second space port at Dutch Caribbean island Curacao.
"The spacecraft will reach an altitude of 100 kilometres in space, where it will stay for five to six minutes. The passenger, who will also be a co-pilot, would be allowed to manoeuvre the spacecraft during the stay in space. After five-six minutes in space the descent will begin and the spacecraft will glide back in circles before it touches down at the space port in a horizontal landing just like a normal aircraft," Mol explained the experience.
Interested would-be astronauts can sign up for the trip through Alchemy Tourism, who are representing SXC in the UAE.
Quelle: gulfnews
.
Update: 28.12.2013
.
Space trips open to Chinese travelers
BEIJING, Dec. 27 -- Chinese travelers will be able to take space trips by the end of 2014 thanks to an agreement signed on Friday in Beijing between a Chinese travel agency and Netherlands-based space tourism firm Space Expedition Corporation (SXC).

Travelers will pay a minimum of 580,000 yuan (about 95,000 U.S.dollars) to board the Lynx Mark I spacecraft produced by the U.S. private aerospace company XCOR, said Zhang Yong, chief executive officer of Dexo Travel, a Chinese travel agency focusing on high-end travelers.

Participants will receive one week of physical training at Royal Dutch Airlines or Air France before their space trip, said Zhang.

"The spaceship only carries one tourist, who sits in the co-pilot seat, and a pilot astronaut," he said.

"The spaceship arrives in outer space 60 minutes after its take-off and will fly in space for 20 minutes while the tourist enjoys the view of the earth and space," he said.

The Lynx Mark I spacecraft, which is expected to begin flights in the fourth quarter of 2014, will take participants into sub-space to a height of 60 km. The Lynx Mark II spacecraft, which is expected to start flights in 2015, will take participants into space to a height of 103 km, said Alex Tang, CEO of SXC Asia.

A total of 100 travelers will board the Lynx Mark I. There will be no quota for the number of participants on the Lynx Mark II, said Tang.

As Chinese customers have shown great interest in space trips, SXC has reserved at least six spots for Chinese on the Lynx Mark I, he said.

The spacecraft is constructed of lightweight materials and is powered by common bio-fuels and reusable rocket propulsion. The engines are designed for more than 5,000 flights, instead of just one, which is a breakthrough in the history of rocket development, according to the SXC official website.
Quelle: People's Daily
3154 Views