-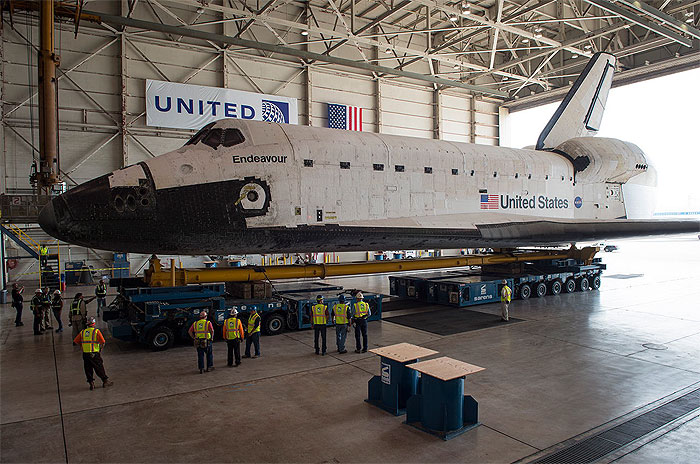 A space shuttle is set to make its first-ever parade through city streets this Friday and Saturday (Oct. 12 and 13), and anyone in the Los Angeles area can get a front-row seat.
The retired shuttle Endeavour, which made its last trip to space in May 2011, is soon set to join the ranks of museum displays at the California Science Center (CSC).
The orbiter flew to California in September from its previous home base at the Kennedy Space Center in Cape Canaveral, Fla. Since then, it's been waiting at the Los Angeles International Airport (LAX) until the museum is ready to receive it. The final leg of its journey is set for later this week.
The space shuttle is due to make the 12-mile (19 kilometer) trip from LAX to the CSC during a two-day parade beginning before dawn on Friday morning. Over the course of its parade through the streets of Inglewood and Los Angeles, Endeavour will stop for celebrations outside The Forum, the former L.A. Lakers arena, and at a street intersection where "Fame" actress Debbie Allen has choreographed a tribute performance.
Endeavour will roll through the streets atop a special NASA transporter pulled by four computer-controlled vehicles. For a small part of its trip, the shuttle will be towed by a Toyota Tundra pickup truck. The whole progression is being dubbed "Mission 26: The Big Endeavour," as the shuttle previously made 25 missions to orbit.
Public viewing will be possible only from select locations, as safety and logistics concerns have forced the police to shut down many streets and sidewalks.
The giant orbiter, which has a 78-foot (24 meter) wingspan and a 58-foot-tall (18 m) tail, will be a tight squeeze through many roads, where several hundred trees have had to be felled in preparation for the shuttle's passage. (The CSC Foundation is sponsoring the replanting of up to four trees in place of each downed one, as well as two years of tree maintenance.)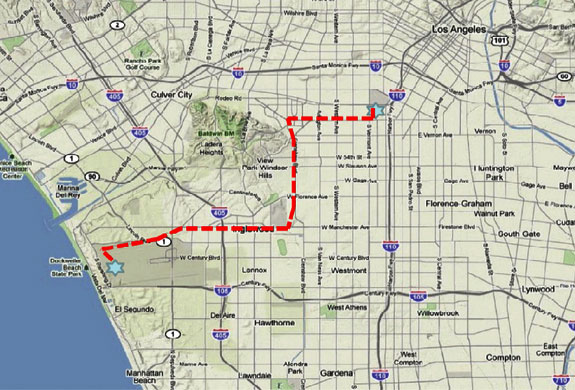 This map shows the 12-mile route the space shuttle Endeavour will take from Los Angeles International Airport (lower left) to the California Science Center on Oct. 12-13, 2012.
CREDIT: California Science Center
-
Here's an outline of Endeavour's expected route:
Friday (Oct. 11), 2 a.m. PDT: Endeavour to depart LAX
Friday, mid-morning: Endeavour will take Westchester Boulevard to Sepulveda, where it will stop for about nine hours for power lines to be raised.
Friday, afternoon: Endeavour will continue down Manchester Boulevard, crossing into Inglewood, where it will stop for another six hours for more power line work.
Friday, overnight: Endeavour will cross the 405 freeway.
Saturday, 8 a.m. PDT: Endeavour will pass by Inglewood City Hall, where the public can see it, and continue to The Forum for a public ceremony.
Saturday, 2 p.m. PDT: Endeavour will stop at Crenshaw Boulevard and Martin Luther King, Jr. Boulevard for the Debbie Allen production, which will also be open to the public.
Saturday, afternoon: Endeavour will take King to Bill Robertson Lane and then turn left into Exposition Park.
Saturday, 9 p.m. PDT: Endeavour is expected to arrive at the California Science Center, where the public can view it roll in.
-
Update-Update-Update : 15.45 MESZ
-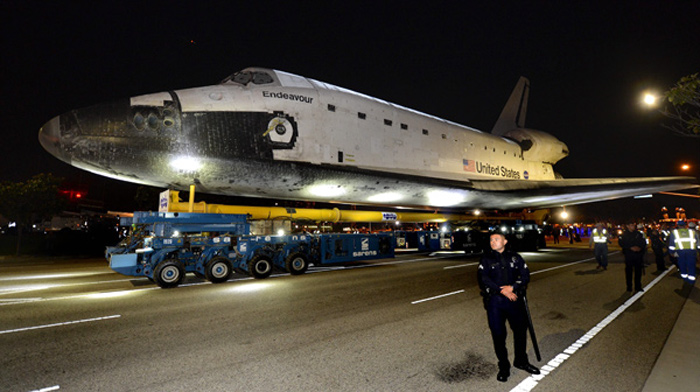 The space shuttle Endeavour has left the grounds of the Los Angeles International Airport and is now on city streets, heading east toward Inglewood.
The massive spacecraft, rolling at under 2 mph, left the airport at 2 a.m. exactly. "Right on time, it just cleared the gates," said airport spokeswoman Nancy Castles.
The weathered shuttle -- its blemishes easy to see -- took up two of the four lanes of the road as it rolled down Northside Parkway, and a handful of vehicles led the procession, including a truck that had a U.S. flag fluttering behind it.
At the first sight of Endeavour, scores of onlookers waiting patiently on city streets began running on Westchester Parkway, some with camera tripods in tow, snapping photos furiously.
They had been waiting hours in the dark, some perched on top of car roofs, and others on ladders and step stools yearning, in the crisp autumn darkness, for their first glimpse of America's last space shuttle.
About 100 people whooped and hollered from the corner of Westchester Parkway and McConnell Avenue.
"Welcome Endeavour! You're ours now!" a young woman wearing a lavender jacket shouted before melting back into the crowd.
Half a dozen firefighters on top of their engine snapped photos on Westchester. A woman wearing furry tie-dyed legwarmers gazed at the shuttle, wearing a bike helmet with U.S. and California flags sticking out.
People on sidewalks scrambled to follow the shuttle as it moved to the east. The sides of the road were littered with abandoned bicycles as shuttle fans rushed to follow Endeavour just a little bit more.
Los Angeles Police Capt. Jon Peters stopped in front of a couple marveling at Endeavour, and paused for a moment as it negotiated a turn around a tree -- a delay long enough for spectators to catch up.
"You see that guy in the front there, with the joystick? Amazing. Tell your kids to stay on those video games," Peters said.
Earlier, the mood was anxious, if a bit weary, as the spectators stood in the cool night air, nearby light stands creating patches of brightness in the darkness. A few bicyclists sauntered down the pathway that the still-distant shuttle would take, prompting a couple of yells from officials in hardhats.
Others lingered at a corner, not quite sure if or when they would be told to leave.
Earlier in the night, TV trucks and camera crews outnumbered pedestrians at the first viewing spot along the shuttle's 12-mile trek. "I'm surprised there isn't a mob of people around here," said David Loudenback, 66, a retired engineer who lives a mile down the road. He said that he is no night owl, but that he decided the spectacle was worth a little lost sleep. "This is one of the little perks of living by the airport, said Loudenback, who is familiar with the nightly hum of jet engines passing over his home.
He and a handful of others continued to look over their shoulders for the first sign of authorities.
There were soft groans when a tram full of nearly 50 uniformed officers pulled up. "I feel like I'm in 'I, Robot,'" said Helen Pans, 45, of Playa del Rey. Pans had just been shooed down the road by a police officer. "They were really touting it when Endeavour was flying by, saying it would be a parade, and now all of a sudden you've got people coming up to you telling you you have to leave," she said.
Pans said even as a child, she was fascinated by the space shuttles. She said she clearly remembers the day of the Challenger disaster. She was working on Capitol Hill at the time, and she recalled her entire office crowding around a tiny screen after the disaster. "People were in tears," she said.
Endeavour, which was built to replace Challenger, landed for the final time at Los Angeles International Airport on Sept. 21. Pans was at the Grove at the time, and sprinted to the top of the parking garage to catch a glimpse.
"I've always wanted to see a takeoff or see a landing," she said. Perhaps, she added, this would be good enough.
For Ali Hart, though, the spectacle was only worth so much. Her brother, Nathan, had roused her from bed before midnight and persuaded her to come with him to try to see the shuttle's passage. Their parents had been at the site of Endeavour's first landing at Edwards Air Force Base, just yards away from President Reagan.
"I thought it would be cool to see it," said Hart, 21. "But I'm not going to chase it all over L.A."
Over the next two days, the 170,000-pound shuttle is expected to travel at no more than 2 mph along the 12-mile route that includes Westchester Parkway, La Tijera Boulevard, Crenshaw Boulevard and Martin Luther King Jr. Boulevard. The shuttle is moved by four computer-controlled transporters that will help it negotiate complex turns and avoid streetside obstacles.
At points along the way, the space vehicle will be inches away from buildings and protrude onto driveways and sidewalks. Because of the enormous weight of the shuttle, thousands of heavy steel plates have been used to reinforce city streets.
Endeavour is scheduled to arrive at the California Science Center by 9 p.m. Saturday.
En route, the public can see the shuttle on Friday at a number of public viewing areas along Manchester Boulevard in Inglewood, including Isis, Hindry and Glasgow avenues as well as La Cienega Boulevard.
On Saturday, there will also be several designated public viewing areas, including the Forum in Inglewood, the intersection of Crenshaw and Martin Luther King Jr. Boulevard, and certain parking lots in Exposition Park.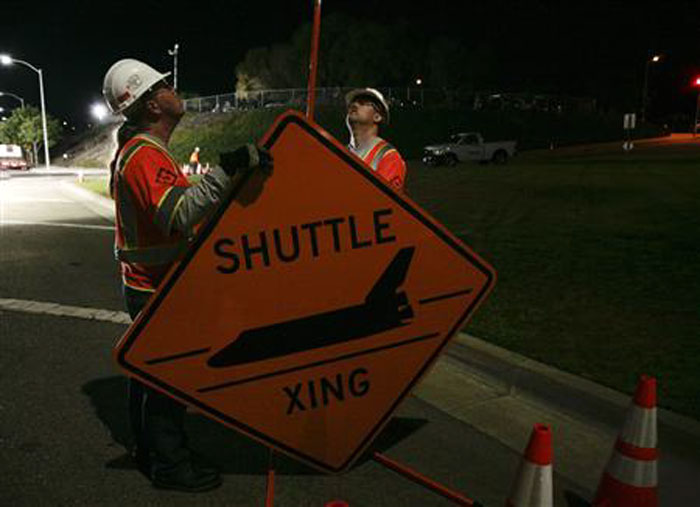 -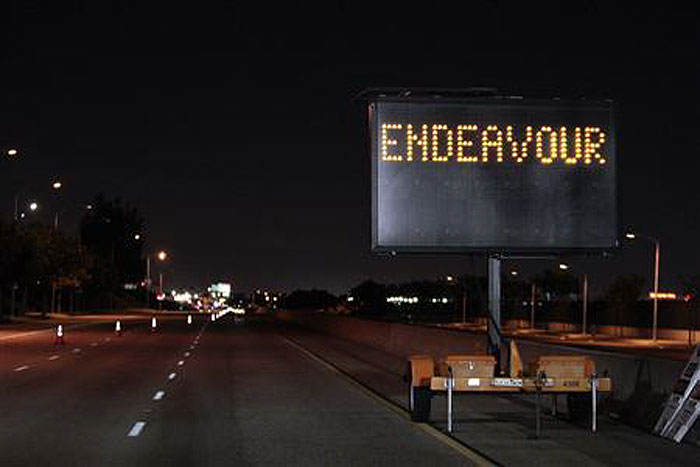 -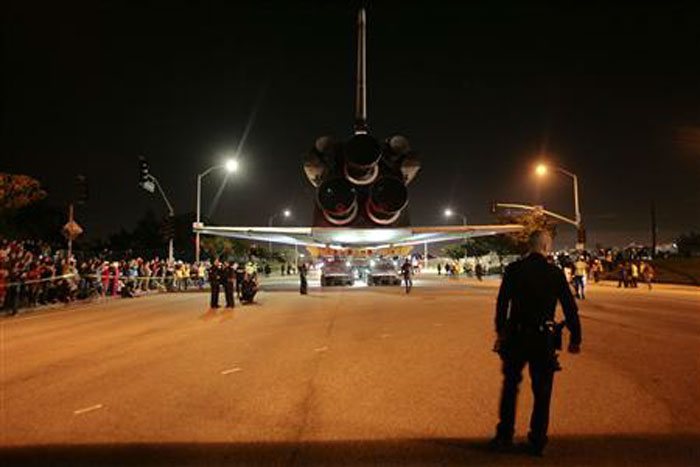 -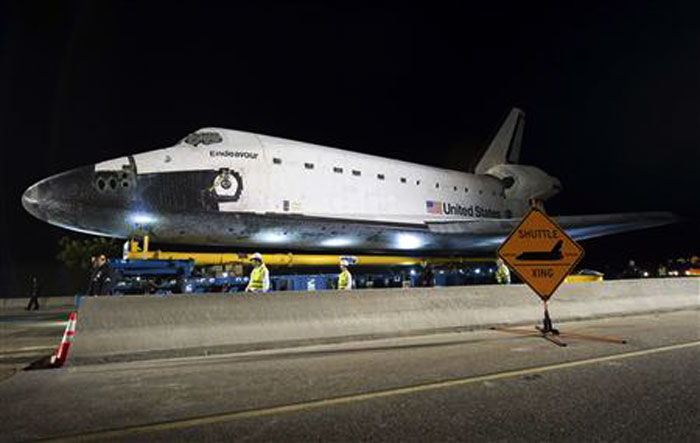 -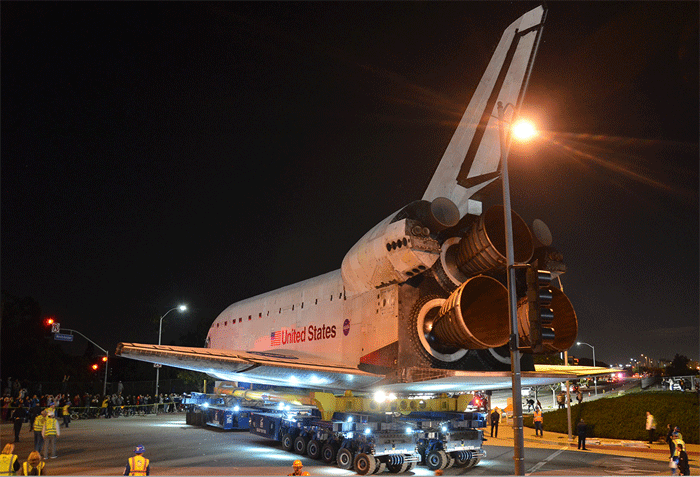 -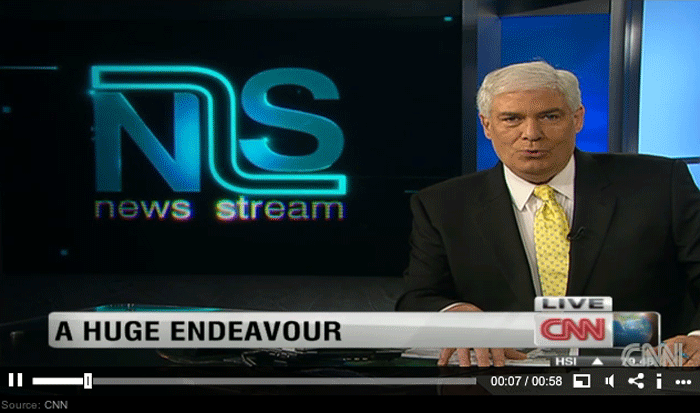 -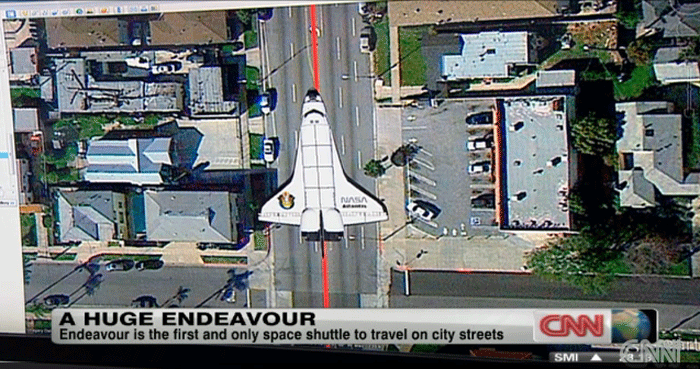 -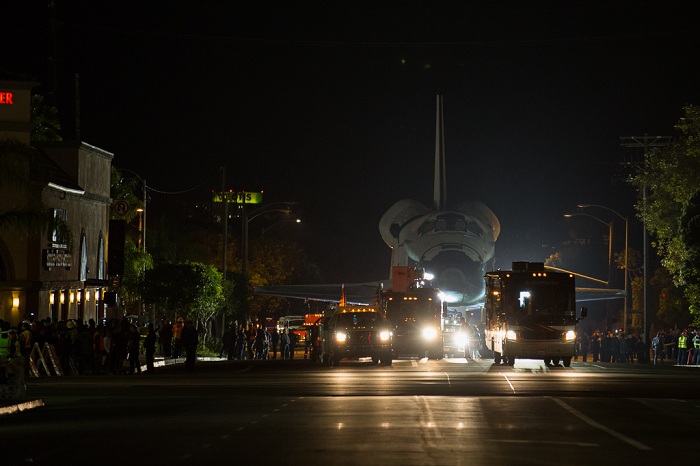 -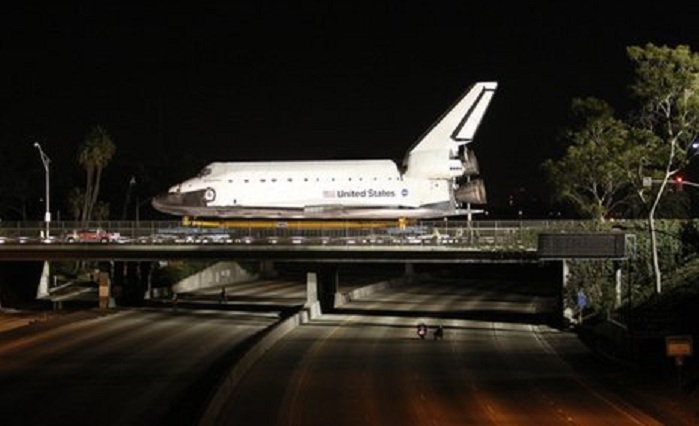 -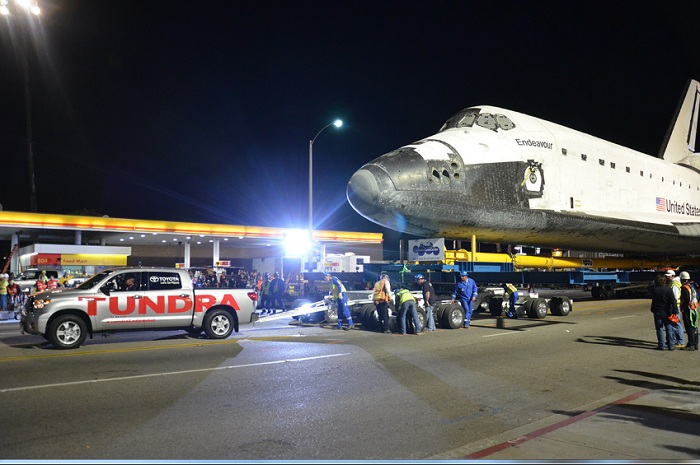 -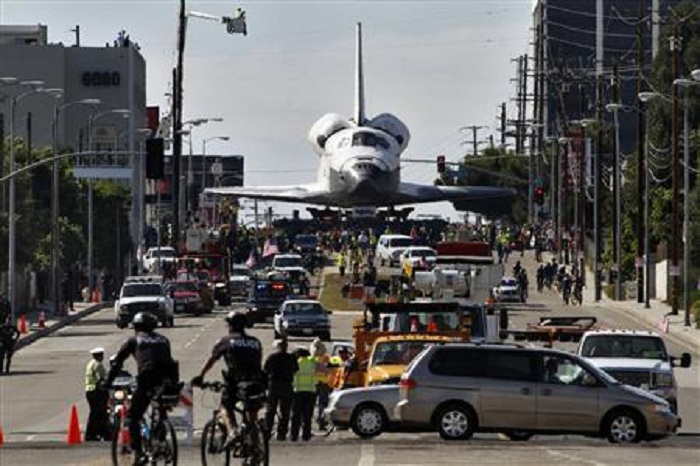 -
Update: 14.10.2012
-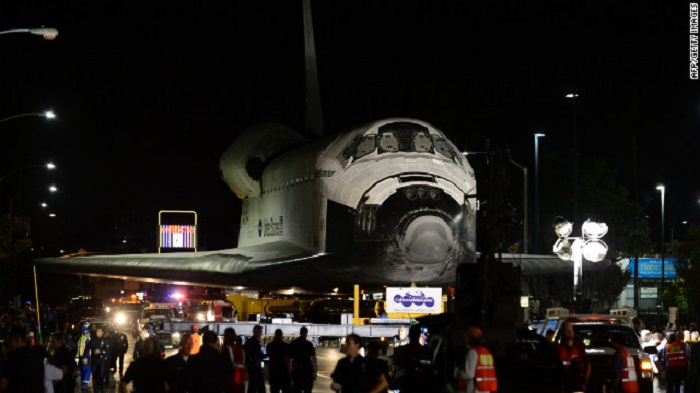 -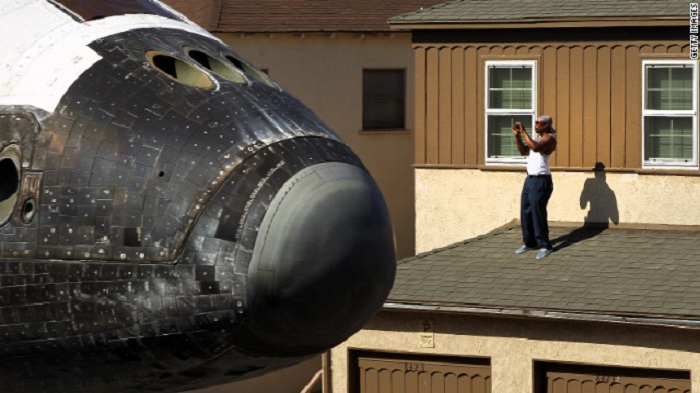 -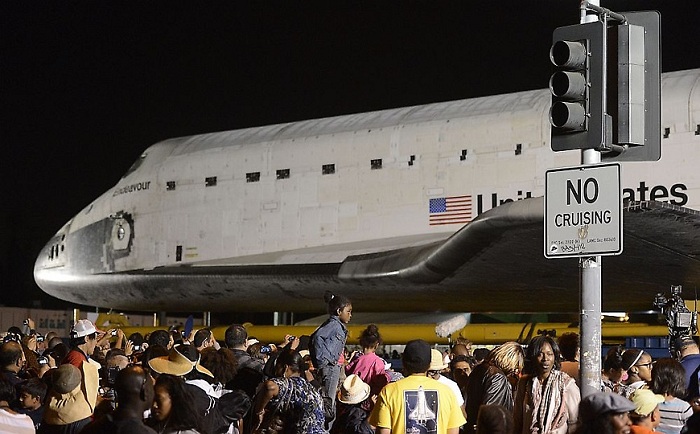 -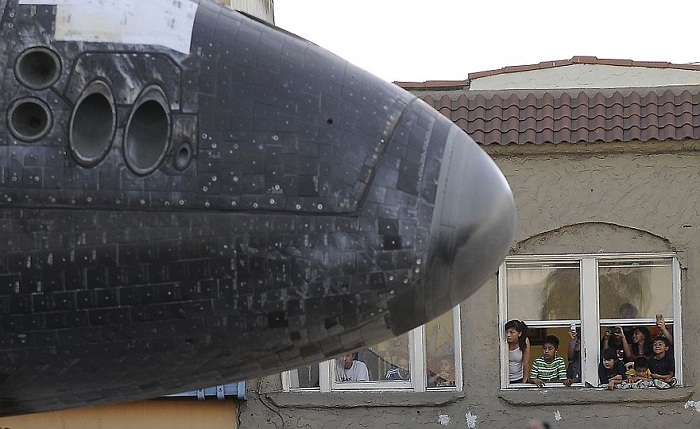 -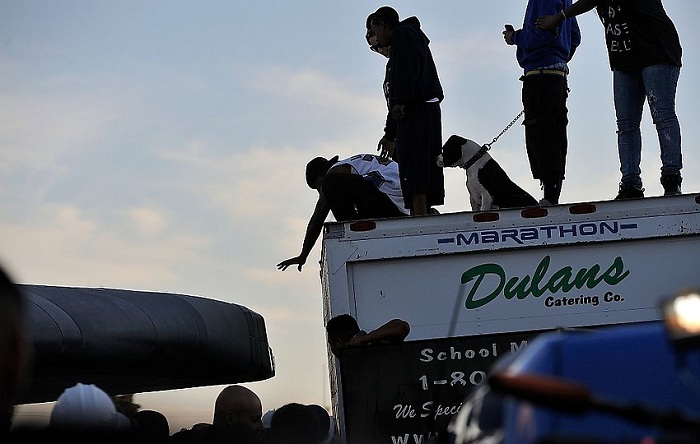 -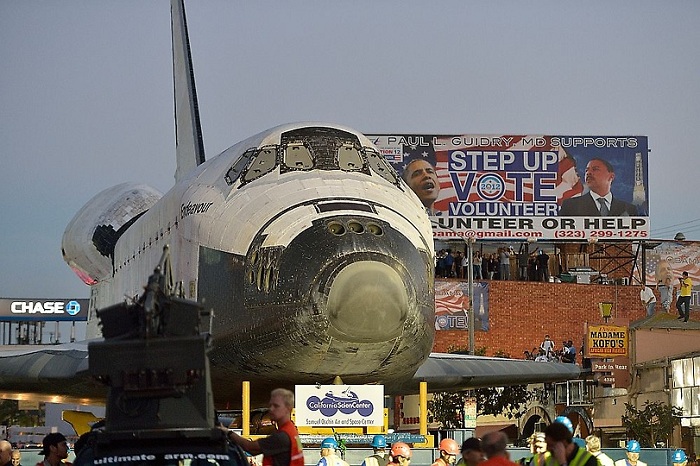 -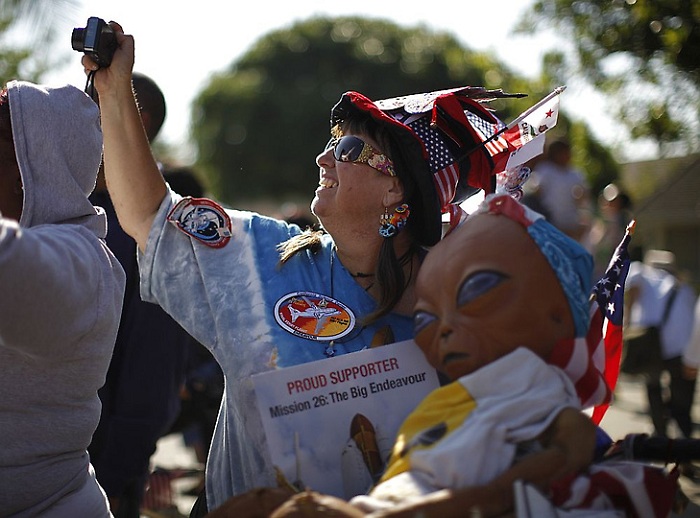 4409 Views