2.07.2020
NASA delays Mars rover launch to no earlier than July 30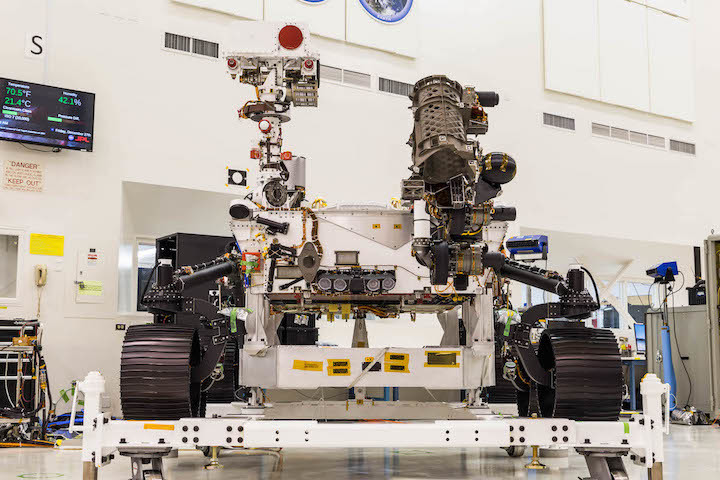 A technical issue with the United Launch Alliance Atlas 5 rocket that will send NASA's $2.4 billion Perseverance rover toward Mars has pushed the mission's launch date back to no earlier than July 30, nearly two weeks into a month-long window for the rover to head to the Red Planet, or else face a two-year delay.
NASA confirmed the launch delay to no sooner than July 30 in a statement Tuesday.
"Due to launch vehicle processing delays in preparation for spacecraft mate operations, NASA and United Launch Alliance have moved the first launch attempt of the Mars 2020 mission to no earlier than July 30," NASA said. "A liquid oxygen sensor line presented off-nominal data during the Wet Dress Rehearsal, and additional time is needed for the team to inspect and evaluate."
ULA performed the Wet Dress Rehearsal on June 22. The exercise involved rolling the Perseverance rover's Atlas 5 launcher out of its vertical integration hangar to Cape Canaveral's Complex 41 launch pad, then loading the rocket with kerosene, liquid hydrogen, and liquid oxygen propellants.
The launch team practiced countdown procedures, testing the Atlas 5's systems before halting the pre-launch sequence seconds before ignition of the rocket's RD-180 main engine.
After draining cryogenic propellants from the rocket, ULA returned the Atlas 5 to the Vertical Integration Facility south of pad 41 on June 24 to await the arrival of the Perseverance rover, the centerpiece of NASA's Mars 2020 mission. ULA ground crews are also assessing the liquid oxygen sensor line that behaved unexpectedly during the Wet Dress Rehearsal.
The launch window July 30 opens at 7:50 a.m. EDT (1150 GMT). The Atlas 5 assigned to launch the Perseverance rover will fly in a configuration with four strap-on solid rocket boosters, a single-engine Centaur upper stage, and a 5.4-meter-diameter (17.7-foot) payload fairing.
The Mars 2020 mission was originally scheduled for launch July 17, the opening of an interplanetary launch period stretching several weeks in length. But several problems have delayed the launch date, eating into the limited period NASA has to vault the Mars 2020 mission off Earth on a trajectory toward Mars.
The launch period for the Mars 2020 mission originally ended Aug. 5, but NASA said earlier this month that additional analysis of the rover's trajectory extended the available launch dates through Aug. 11. On Tuesday, NASA said flight analysis teams have added more days to the launch period, which now extends to Aug. 15.
Engineers are examining if the launch period may be extended further into August, according to NASA.
Spaceflight Now requested an interview Tuesday with NASA's launch director for the Mars 2020 mission, but a NASA spokesperson could not provide the interview opportunity.
Nevertheless, the clock is ticking for the Mars 2020 team. Assuming the launch period closes Aug. 15, the mission has now used up nearly half of its launch period this year. The next chance to launch the Perseverance rover after this August will come in 2022.
"When you talk about Earth and Mars being on the same side of the sun, that happens once every 26 months," said NASA Administrator Jim Bridenstine in a Mars 2020 pre-launch press conference earlier this month. "So it's very expensive, if we have to take Perseverance and put it back into storage for a period of two years, it could cost half a billion dollars."
NASA initially delayed the launch to July 20 after a problem with a crane held up assembly of the Atlas 5 rocket inside the VIF. A contamination concern issue with ground support equipment in NASA's Payload Hazardous Servicing Facility — the ultra-clean room where the Perseverance rover is being readied for launch — delayed encapsulation of the spacecraft inside the Atlas 5's aerodynamic payload shroud.
With the contamination concern resolved, NASA and ULA intended to transport the Mars 2020 spacecraft inside its payload fairing to the VIF on Saturday for installation on top of the Atlas 5 rocket.
But ULA needed extra time to address liquid oxygen sensor line issue, and a NASA spokesperson said Tuesday she did not know when the Mars rover could be transported to the Atlas 5 hangar. After the spacecraft is mated to the Atlas 5 rocket, teams need around 25 days to ready the vehicle for launch.
Tory Bruno, ULA's president and CEO, tweeted Tuesday that the Atlas 5 and Mars 2020 teams have "been working through a couple of challenges."
He identified the ground facility issue at the PHSF, and characterized the liquid oxygen system problem as a "misbehaving pressure sensor." He also wrote that current status of the COVID-19 pandemic in Florida has been a concern.
Once the spacecraft is hoisted atop the Atlas 5 rocket, ground crews will install the Perseverance rover's plutonium-fueled power source through a port in the side of the Atlas 5's payload fairing. The Mars rover — about the size of a small car — will be powered by the Multi-Mission Radioisotope Thermoelectric Generator, or MMRTG, throughout its mission.
Assuming it launches this year, the Perseverance rover will land on Mars on Feb. 18, 2021, aiming for a region known as Jezero Crater. Scientists say Jezero is home to an ancient dried-up river delta, where the rover will get to work with its scientific instruments studying Martian geology and climate.
One of the rover's primary missions is to gather dozens of rock and soil samples inside hyper-sterile tubes, which the rover will hermetically seal and drop in caches on the Martian surface for retrieval by a future robotic sample return mission.
Quelle: SN
----
Update: 3.07.2020
.
Launch of NASA's Mars Perseverance rover gets delayed again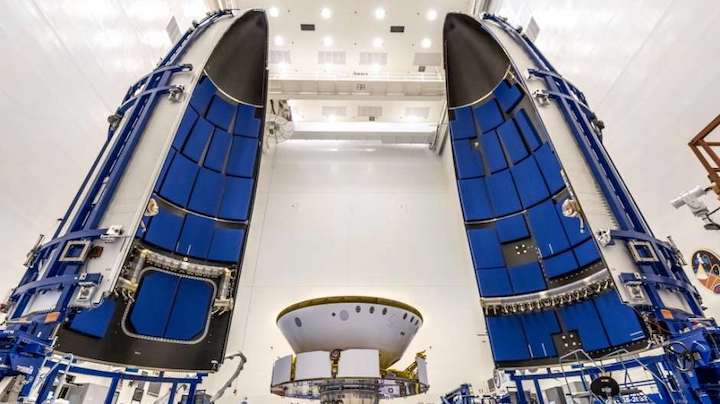 NASA is now targeting "no earlier than" July 30 for the launch of its Mars Perseverance rover, another delay for the time-sensitive launch.
The launch must occur during a window that allows for a direct path to Mars as both planets are aligned on the same side of the sun. This window was originally set to end Aug. 11, but flight analysis teams have expanded launch opportunities to Aug. 15 and are examining if the launch period could be extended further into August, according to a NASA blog post.
More on the mission: NASA prepares to launch Perseverance rover seeking signs of ancient life on Mars
If the rover is not launched within this window, Perseverance will have to wait another 26 months for the next launch opportunity.
Perseverance is traveling to Mars to search for signs of ancient life and to test technologies that could one day help humans land on Mars. It's set to launch on United Launch Alliance's Atlas V rocket.
This most recent delay was caused by rocket processing issues in preparation for attaching the rover's spacecraft. During a wet dress rehearsal, where the rocket is loaded with propellant to check out its various systems, a liquid oxygen sensor line presented "off-nominal data" that will require extra time to inspect and evaluate.
Quelle: Houston Chronicle
----
Update: 4.07.2020
.
Mars Perseverance launch delayed; NASA not asking people to stay at home for launch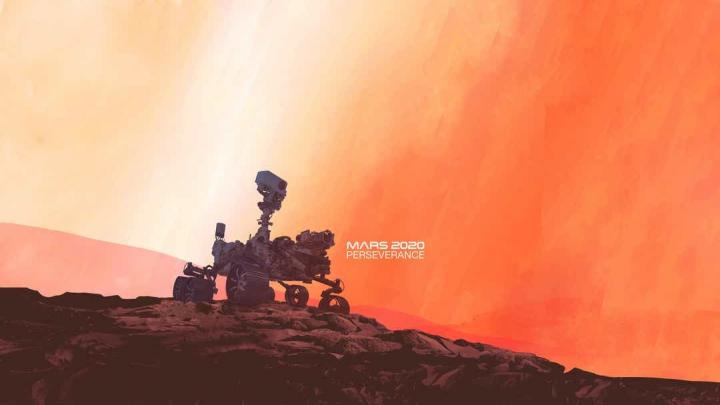 NASA's Mars Perseverance launch, which will send a rover and a helicopter to the red planet later this month has been delayed. Again.
The mission is now slated to launch atop United Launch Alliance's Atlas V rocket July 30 from Cape Canaveral Air Force Station Launch Complex 41.
Originally scheduled to launch July 17, the mission pushed to July 20 to allow ULA teams to make repairs to ground system equipment.
The launch date was then pushed again to July 22 due to a ground support systems issue identified during the packing of the spacecraft in the rocket's fairing. On Tuesday, NASA announced the launch was again delayed due to an issue during the Wet Dress Rehearsal, which is a test to verify the rocket is ready for flight.
NASA and ULA have until August 15 to launch Mars Perseverance, however, teams are looking to see if they could potentially launch later in August if the need arises.
In order to launch to Mars, Earth and Mars must be on the same side of the sun, which only happens every 26 months. That means if teams are unable to launch during this specific time window, the spacecraft will be forced to go into storage for two years until the next possible opportunity.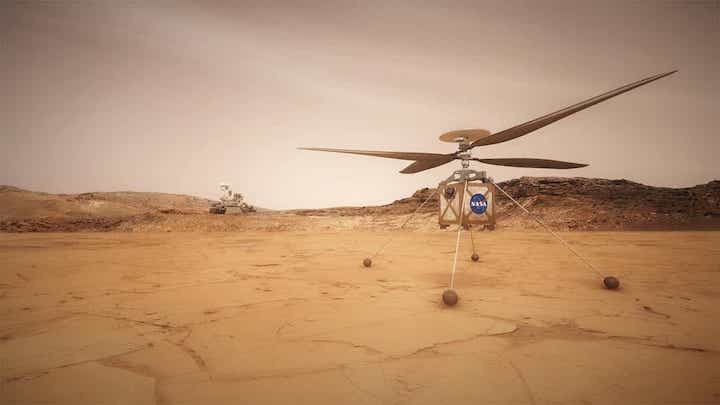 This is problematic because it could cost the space agency roughly half a million dollars to store Mars Perseverance, which is why this launch was considered an essential mission when the coronavirus pandemic first struck.
Unlike with SpaceX's historic mission, which sent NASA astronauts Bob Behnken and Doug Hurley to the International Space Station from American soil — a feat not seen since the shuttle days — the space agency is not asking people to stay at home to view the Mars Perseverance launch.
"Certainly, people are going to travel. We asked people not to travel for DM-2, which was, of course, the launch of the Falcon 9 rocket with the Crew Dragon and Doug Hurley and Bob Behnken in the capsule, but it appears people didn't listen to us," NASA Administrator Jim Bridenstine told reporters during a media teleconference last month. "So, we're asking people to follow all of the necessary guidelines to keep themselves safe and we're trusting them."
NASA's Mars missions have always drawn crowds. For its last rover mission — named Curiosity — which launched in 2011, over 13,000 people were at Kennedy Space Center to view the launch and thousands more watched along the banks of the Indian River in Titusville, Jetty Park, Cocoa Beach and other prime public viewing sites.
Though KSC will be closed to outsiders for this launch, viewers can still watch the launch at the KSC Visitor Complex or any of the beach access points.
Yet as cases of COVID-19 continue to rise in Florida — there were over 10,000 new recorded cases reported in the state and 218 in Brevard as of Thursday — health officials urge people to avoid big crowds and to wear masks to help stop the spread of the virus.
The Mars Perseverance rover and Ingenuity helicopter will attempt to search for signs of past life on the Martian surface and will collect rock samples to return back to Earth, something that has never been attempted before.
The mission will also be the first time a helicopter flies on Mars.
"Perseverance is the most sophisticated mission we've ever sent to the red planet surface," NASA's Planetary Science Division director Lori Glaze said during the teleconference.
In total, the mission is expected to last about ten years from the time Perseverance lands on Mars to when the sample returns are sent back to Earth.
Quelle: Florida Today
----
Update: 10.07.2020
.
NASA's Perseverance Rover Attached to Atlas V Rocket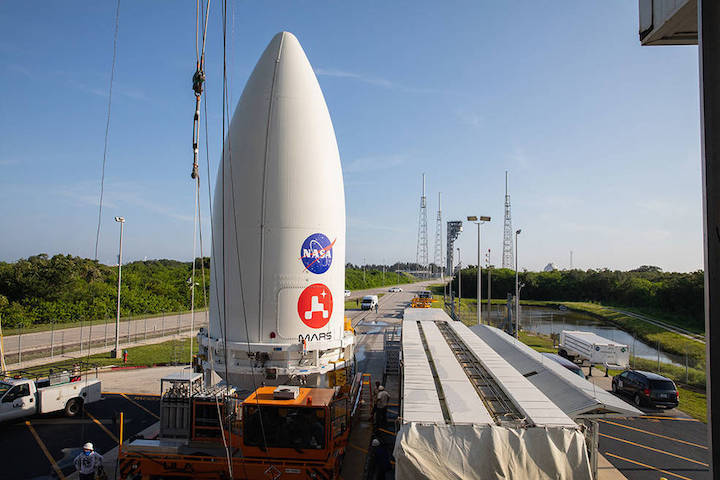 NASA's Perseverance Mars rover has been attached to the top of the rocket that will send it toward the Red Planet this summer. Encased in the nose cone that will protect it during launch, the rover and the rest of the Mars 2020 spacecraft – the aeroshell, cruise stage, and descent stage – were affixed to a United Launch Alliance Atlas V booster on Tuesday, July 7, at Cape Canaveral Air Force Station in Central Florida.
The process began when a 60-ton hoist on the roof of the Vertical Integration Facility at Space Launch Complex 41 lifted the nose cone, otherwise known as the payload fairing, 129 feet (39 meters) to the top of the waiting rocket. There, engineers made the physical and electrical connections that will remain between booster and spacecraft until about 50 to 60 minutes after launch, when the two are pyrotechnically separated and Perseverance is on its way.
"I have seen my fair share of spacecraft being lifted onto rockets," said John McNamee, project manager for the Mars 2020 Perseverance rover mission at NASA's Jet Propulsion Laboratory in Southern California. "But this one is special because there are so many people who contributed to this moment. To each one of them I want to say, we got here together, and we'll make it to Mars the same way."
With the mating of spacecraft and booster complete, the final testing of the two (separately and as one unit) will be underway. Then two days before the July 30 launch, the Atlas V will leave the Vertical Integration Facility for good. Traveling by rail, it will cover the 1,800 feet (550 meters) to the launch pad in about 40 minutes. From there, Perseverance has about seven months and 290 million miles (467 million kilometers) to go before arriving at Mars.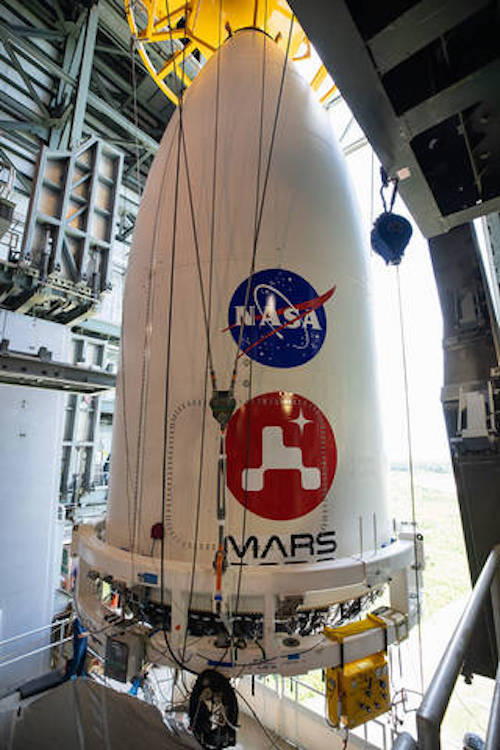 Credits: NASA/KSC
The Launch Period
NASA and United Launch Alliance recently updated the mission's launch period – the range of days the rocket can launch in order to reach Mars. It now spans from July 30 to Aug. 15.
The launch period opening changed from July 17 to 30 due to launch vehicle processing delays in preparation for spacecraft mate operations. Four days were also added to the previously designated Aug. 11 end of the launch period. NASA and United Launch Alliance Flight Teams were able to provide those extra days after final weights of both the spacecraft and launch vehicle became available, allowing them to more accurately calculate the propellant available to get Perseverance on its way.
No matter what day Perseverance lifts off during its July 30 to Aug. 15 launch period, it will land in Mars' Jezero Crateron Feb. 18, 2021. Targeting landing for one specific date and time helps mission planners better understand lighting and temperature at the landing site, as well as the location of Mars-orbiting satellites tasked with recording and relaying spacecraft data during its descent and landing.
More About the Mission
Managed by JPL, the Mars 2020 Perseverance rover's astrobiology mission will search for signs of ancient microbial life. It will also characterize the planet's climate and geology, pave the way for human exploration of the Red Planet, and be the first planetary mission to collect and cache Martian rock and regolith (broken rock and dust). Subsequent missions, currently under consideration by NASA in cooperation with the European Space Agency, would send spacecraft to Mars to collect these cached samples from the surface and return them to Earth for in-depth analysis.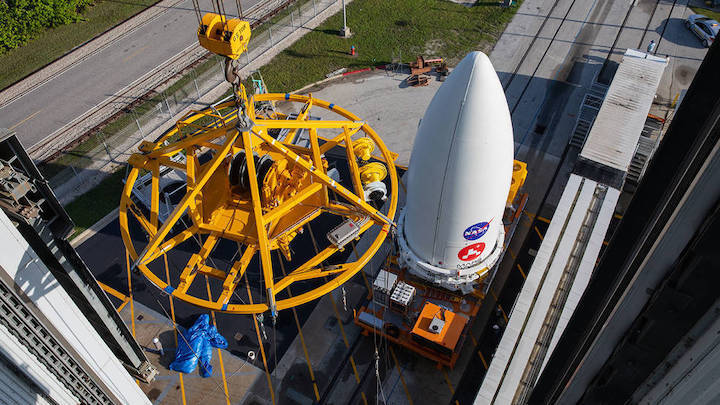 Credits: NASA/KSC
The Mars 2020 mission is part of a larger program that includes missions to the Moon as a way to prepare for human exploration of the Red Planet. Charged with returning astronauts to the Moon by 2024, NASA will establish a sustained human presence on and around the Moon by 2028 through NASA's Artemis lunar exploration plans.
Quelle: NASA
----
Update: 14.07.2020
.
Northrop Grumman to Provide Extended Life Capability for Perseverance Mars Rover Mission
This summer, Northrop Grumman is playing an important role in a historic phase of Mars exploration. Northrop Grumman's LN-200S inertial measurement unit (IMU) will provide extended life inertial navigation for NASA Jet Propulsion Laboratory's (JPL) Perseverance Mars Rover, a mission that will seek signs of ancient life on the Red Planet.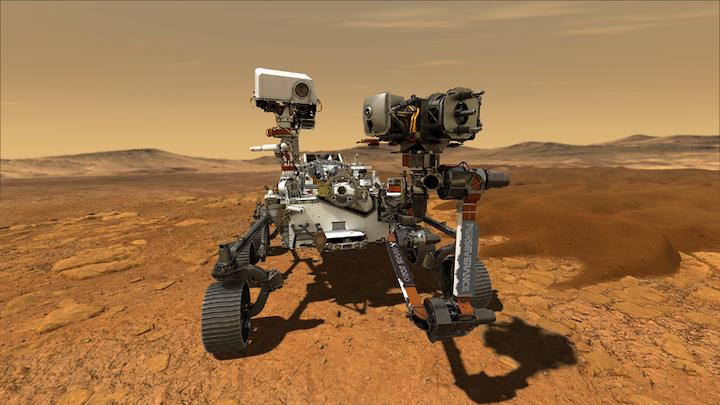 The Perseverance Rover will feature Northrop Grumman's LN-200S inertial measurement unit. Photo courtesy of NASA/JPL-Caltech.
The design life of the Perseverance Rover mission is about 1,071 Earth days (1.5 Mars year); however, NASA JPL required Northrop Grumman's technology to be rigorously tested to double that time. This is a performance threshold the company felt confident it could meet after the success of the Mars rovers Spirit and Opportunity, which launched in 2003 and featured the LN-200S. Both missions had a 90 Earth day design life, but the Opportunity rover ended up stretching to almost 15 Earth years (8 Mars years).
"Northrop Grumman's LN-200S has significant space heritage, offering proven capability and reliability in the demanding space flight environment on board many spacecraft in low earth, GEO orbit, and has travelled to a variety of heavenly bodies including Earth's moon, Mars and asteroids," said Brandon White, vice president, navigation and positioning systems, Northrop Grumman. "Our IMU will play an essential part in the Perseverance Rover's navigation as NASA pursues its long-term scientific mission."
The LN-200S — part of the LN-200 product line of fiber-optic gyroscope (FOG) IMUs — will provide attitude and acceleration information throughout the Perseverance Mars Rover surface mission. It will be mounted deep inside the Rover as the vehicle traverses the planet's surface and drills to collect core samples. The low cost, small size, weight and power (SWAP) LN-200S features three FOG gyroscopes and three silicon Micro Electro-Mechanical Systems (MEMS) accelerometers in a hermetically sealed package ideal for space applications, including asteroid and planetary probes.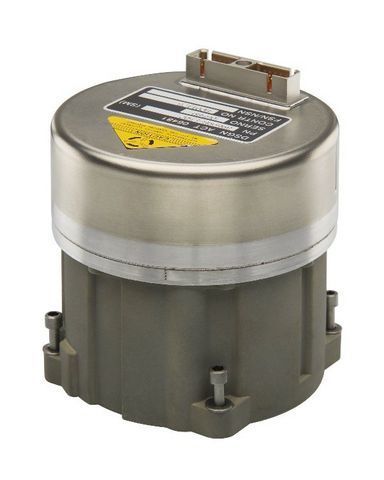 The rigorous process to test the IMU's extended life capability began more than three years ago. Ultimately, NASA JPL concluded that the standard LN-200S product met the requirements for the Perseverance Rover without any modification.
Northrop Grumman's proven reliability in previous Mars Rovers missions, which also includes the still operating Curiosity that has been working on Mars almost eight years beyond its initial two-year mission, is a result of extensive collaboration between Northrop Grumman teams in Woodland Hills, California and Salt Lake City, Utah. The Perseverance Rover mission is currently expected to launch out of Cape Canaveral, Florida in July or August.
More than 35,000 LN-200 IMUs have been delivered since 1994, and they have been used on a variety of applications from undersea to outer space. The small, lightweight IMU product line is available in several configurations including the base LN-200, ITAR-free LN-200C, the enhanced LN-200E (with ~2X increased performance), and upcoming LN-200HP (with ~7X increase performance).
Quelle: Northrop Grumman
----
Update: 16.07.2020
.
6 Things to Know About NASA's Ingenuity Mars Helicopter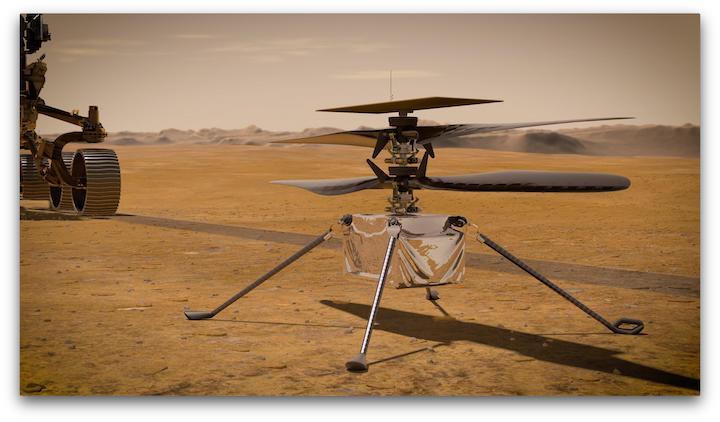 In this illustration, NASA's Ingenuity Mars Helicopter stands on the Red Planet's surface as NASA's Perseverance rover (partially visible on the left) rolls away. Image Credit: NASA/JPL-Caltech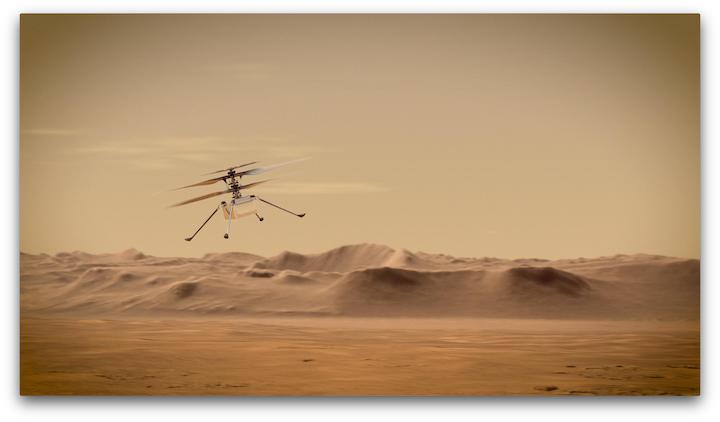 When NASA's Mars 2020 Perseverance rover launches from Cape Canaveral Air Force Station in Florida later this summer, an innovative experiment will ride along: the Ingenuity Mars Helicopter. Ingenuity may weigh only about 4 pounds (1.8 kilograms), but it has some outsize ambitions.
"The Wright Brothers showed that powered flight in Earth's atmosphere was possible, using an experimental aircraft," said Håvard Grip, Ingenuity's chief pilot at NASA's Jet Propulsion Laboratory in Southern California. "With Ingenuity, we're trying to do the same for Mars."
Here are six things you should know about the first helicopter going to another planet:
1. Ingenuity is a flight test.
Ingenuity is what is known as a technology demonstration - a project that seeks to test a new capability for the first time, with limited scope. Previous groundbreaking technology demonstrations include the Mars Pathfinder rover Sojourner and the tiny Mars Cube One(MarCO) CubeSats that flew by Mars in 2018.
Ingenuity features four specially made carbon-fiber blades, arranged into two rotors that spin in opposite directions at around 2,400 rpm - many times faster than a passenger helicopter on Earth. It also has innovative solar cells, batteries, and other components. Ingenuity doesn't carry science instruments and is a separate experiment from the Mars 2020 Perseverance rover.
2. Ingenuity will be the first aircraft to attempt controlled flight on another planet.
NASA's Ingenuity Mars Helicopter will make history's first attempt at powered flight on another planet next spring. It is riding with the agency's next mission to Mars (the Mars 2020 Perseverance rover) as it launches from Cape Canaveral Air Force Station later this summer. Perseverance, with Ingenuity attached to its belly, will land on Mars February 18, 2021.
What makes it hard for a helicopter to fly on Mars? For one thing, Mars' thin atmosphere makes it difficult to achieve enough lift. Because the Mars atmosphere is 99% less dense than Earth's, Ingenuity has to be light, with rotor blades that are much larger and spin much faster than what would be required for a helicopter of Ingenuity's mass on Earth.
It can also be bone-chillingly cold at Jezero Crater, where Perseverance will land with Ingenuity attached to its belly in February 2021. Nights there dip down to minus 130 degrees Fahrenheit (minus 90 degrees Celsius). While Ingenuity's team on Earth has tested the helicopter at Martian temperatures and believes it should work on Mars as intended, the cold will push the design limits of many of Ingenuity's parts.
In addition, flight controllers at JPL won't be able to control the helicopter with a joystick. Communication delays are an inherent part of working with spacecraft across interplanetary distances. Commands will need to be sent well in advance, with engineering data coming back from the spacecraft long after each flight takes place. In the meantime, Ingenuity will have a lot of autonomy to make its own decisions about how to fly to a waypoint and keep itself warm.
3. Ingenuity is a fitting name for a robot that is the result of extreme creativity.
High school student Vaneeza Rupani of Northport, Alabama, originally submitted the name Ingenuity for the Mars 2020 rover, before it was named Perseverance, but NASA officials recognized the submission as a terrific name for the helicopter, given how much creative thinking the team employed to get the mission off the ground.
"The ingenuity and brilliance of people working hard to overcome the challenges of interplanetary travel are what allow us all to experience the wonders of space exploration," Rupani wrote. "Ingenuity is what allows people to accomplish amazing things."

In February 2021, NASA's Mars 2020 Perseverance rover and NASA's Ingenuity Mars Helicopter (shown in an artist's concept) will be the agency's two newest explorers on Mars. Both were named by students as part of an essay contest. Image Credit: NASA/JPL-Caltech
› Full image and caption
4. Ingenuity has already demonstrated feats of engineering.
In careful steps from 2014 to 2019, engineers at JPL demonstrated that it was possible to build an aircraft that was lightweight, able to generate enough lift in Mars' thin atmosphere, and capable of surviving in a Mars-like environment. They tested progressively more advanced models in special space simulators at JPL. In January 2019, the actual helicopter that is riding with Perseverance to the Red Planet passed its final flight evaluation. Failing any one of these milestones would've grounded the experiment.
5. The Ingenuity team will count success one step at a time.
Given the firsts Ingenuity is trying to accomplish, the team has a long list of milestonesthey'll need to pass before the helicopter can take off and land in the spring of 2021. The team will celebrate each time they meet one. The milestones include:
Surviving the launch from Cape Canaveral, the cruise to Mars, and landing on the Red Planet
Safely deploying to the surface from Perseverance's belly
Autonomously keeping warm through the intensely cold Martian nights
Autonomously charging itself with its solar panel
And then Ingenuity will make its first flight attempt. If the helicopter succeeds in that first flight, the Ingenuity team will attempt up to four other test flights within a 30-Martian-day (31-Earth-day) window.
6. If Ingenuity succeeds, future Mars exploration could include an ambitious aerial dimension.

When NASA's Ingenuity Mars Helicopter attempts its first test flight on the Red Planet, the agency's Mars 2020 Perseverance rover will be close by, as seen in this artist's concept. Image Credit: NASA/JPL-Caltech
› Full image and caption
Ingenuity is intended to demonstrate technologies needed for flying in the Martian atmosphere. If successful, these technologies could enable other advanced robotic flying vehicles that might be included in future robotic and human missions to Mars. They could offer a unique viewpoint not provided by current orbiters high overhead or by rovers and landers on the ground, provide high-definition images and reconnaissance for robots or humans, and enable access to terrain that is difficult for rovers to reach.
"The Ingenuity team has done everything to test the helicopter on Earth, and we are looking forward to flying our experiment in the real environment at Mars," said MiMi Aung, Ingenuity's project manager at JPL. "We'll be learning all along the way, and it will be the ultimate reward for our team to be able to add another dimension to the way we explore other worlds in the future."
Quelle: NASA
----
Update: 20.07.2020
.
Gearing up for a 'monumental' mission to Mars