8.06.2020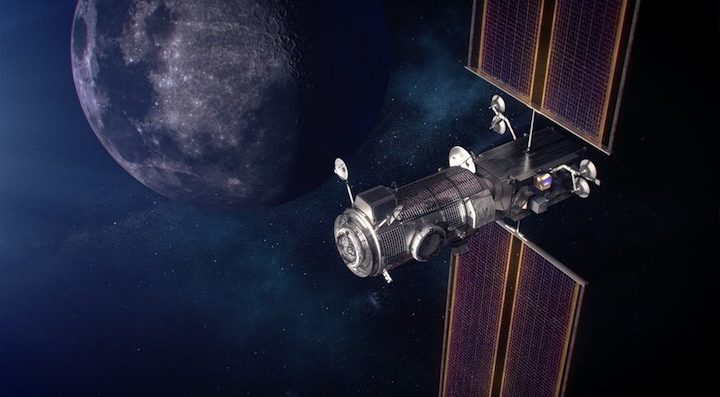 WASHINGTON — NASA announced June 5 that it awarded a contract to Northrop Grumman to begin work on a habitation module for the lunar Gateway, nearly a year after the agency announced its intent to sole-source that module to the company.
NASA said it issued a contract to Northrop Grumman valued at $187 million for the Habitation and Logistics Outpost (HALO) module, which will serve as an initial habitat for crews visiting the lunar Gateway. The module, described by NASA as the size of a small studio apartment, will be able to support short stays by crews arriving on Orion spacecraft.
The contract does not cover all the work needed for HALO. Instead, the award announced June 5 funds design of the module through a preliminary design review late this year. The contract also allows Northrop Grumman to issue subcontracts for hardware with long lead times. A contract modification will come later to fund full development and testing of HALO.
The only surprise about the contract is the time it took NASA to formally issue it. In a July 2019 procurement filing, NASA announced its intent to issue a sole-source award to Northrop Grummanafter concluding that the company was the only one who would have a module ready to support the agency's plans to return humans to the moon by 2024.
Orbital ATK — later acquired by Northrop Grumman — was one of six companies that received awards for NASA's Next Space Technologies for Exploration Partnerships (NextSTEP) program in 2016 to study habitation modules. NASA later said it would use that NextSTEP program, formally known as NextSTEP Appendix A, for selecting the HALO contractor.
Northrop's module is based on its Cygnus spacecraft used to transport cargo to the International Space Station. "The success of our Cygnus spacecraft and its active production line helps to enable Northrop Grumman to deliver the HALO module," said Steve Krein, vice president of civil and commercial satellites at Northrop Grumman, in a company statement.
Northrop, though, will make significant modifications to the Cygnus design for HALO, such as installing several docking ports to accommodate Orion spacecraft or other Gateway elements. It will also have new command and control systems and an enhanced life support system to support visiting crews.
Neither NASA nor Northrop Grumman explained the long gap between the sole-source announcement and the contract, although the agency said last fall it was allowing Northrop Grumman to work on "urgent HALO-related requirements" pending the finalized contract.
Since that sole-source announcement last year, NASA has changed plans on how it will launch HALO. Initially it was to launch on a commercial rocket and use a propulsion module to reach lunar orbit, where it would dock autonomously with the first Gateway module, the Power and Propulsion Element (PPE), built by Maxar and launched separately.
However, at a meeting May 13 of the NASA Advisory Council's human exploration and operations committee, NASA officials said they would now launch the two modules together on a single launch. Doing so, they said, would eliminate one of the two launches and also avoid the risk of an autonomous docking in lunar orbit.
It also simplifies the design of HALO. "We're eliminating the service module that we had as part of HALO," said Dan Hartman, NASA's Gateway program manager, at that meeting. Combining the two modules on the ground, he noted, means optimizing systems, like communications and batteries, that each element needed as a separate spacecraft but may be redundant now they will be combined before launch. "We are simplifying the architecture between those two."
NASA currently plans to procure a launch for the combined PPE and HALO in November, with that launch expected to take place in November 2023. The modules will use the electric propulsion system in the PPE to spiral out to the near-rectilinear halo orbit around the moon.
"This contract award is another significant milestone in our plan to build robust and sustainable lunar operations," said NASA Administrator Jim Bridenstine in an agency statement. "The Gateway is a key component of NASA's long-term Artemis architecture and the HALO capability furthers our plans for human exploration at the moon in preparation for future human missions to Mars."
However, the initial Gateway is unlikely to be used as part of NASA's Artemis 3 mission in 2024. NASA originally envisioned using the Gateway to aggregate elements of a lunar lander. The Artemis 3 Orion spacecraft would dock to the Gateway and astronauts would then board the lander for the trip to the lunar surface and back.
Despite the contracting measures like sole-sourcing HALO to Northrop Grumman to meet that 2024 deadline, NASA no longer expects to have astronauts on that mission go to the Gateway. Instead, the Orion spacecraft will dock directly with the lunar module, most likely in the same near-rectilinear halo orbit around the moon as the Gateway.
"Even though Gateway remains critical to our long-term needs," said Doug Loverro, NASA associate administrator for human exploration and operations at the time of that May 13 advisory committee meeting, "we're not intending to use for the Artemis 3 mission in order to make that mission have a higher probability of success."
He added that Gateway would be used for later missions as NASA seeks to create a more sustainable infrastructure for human lunar exploration, one that will include adding modules from international partners to the Gateway. The Gateway could also support the Artemis 3 mission, he said, as a communications relay.
Quelle: SN
+++
Company adapts proven Cygnus technology for human habitation
DULLES, Va. – June 5, 2020 – Northrop Grumman Corporation (NYSE: NOC) has been awarded a contract by NASA to execute the preliminary design and development of the Habitation and Logistics Outpost (HALO). It is to be deployed in lunar orbit as the first crew module of the NASA Gateway, a space station orbiting the moon providing vital support for long-term human exploration of the lunar surface and deep space. This award is a follow-on to the Next Space Technologies for Exploration Partnerships 2 (NextSTEP-2) Appendix A contract. A subsequent modification will be definitized for the fabrication, assembly, and delivery of the HALO module.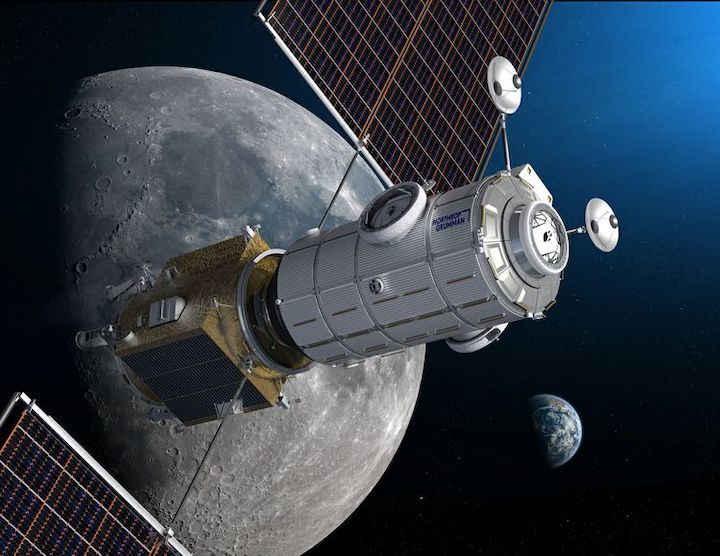 The HALO design is derived from Northrop Grumman's highly successful Cygnus spacecraft, a human-capable vehicle that delivers supplies, spare equipment and scientific experiments to the International Space Station with 13 successful missions to date.
"The success of our Cygnus spacecraft and its active production line helps to enable Northrop Grumman to deliver the HALO module," said Steve Krein, vice president, civil and commercial satellites, Northrop Grumman. "HALO is an essential element in NASA's long-term exploration of deep-space, and our HALO program team will continue its work in building and delivering this module in partnership with NASA."
Building off of Cygnus' heritage pressurized cargo module, Northrop Grumman added command and control capabilities, including environmental control and life support systems, which, when coupled with NASA's Orion spacecraft capabilities, can sustain up to four astronauts for up to 30 days as they embark on, and return from, expeditions to the lunar surface. By leveraging the active Cygnus production line, Northrop Grumman has the unique capability of providing an affordable and reliable HALO module in the timeframe needed to support NASA's Artemis program.
The HALO module represents a critical component of NASA's Gateway serving as both a crew habitat and docking hub for cislunar spacecraft, or spacecraft that navigate between the Earth and the moon. HALO will feature three docking ports for visiting spacecraft, including the Orion spacecraft and other lunar support vehicles.
From the first lunar lander to the space shuttle boosters, to supplying the International Space Station with vital cargo, Northrop Grumman has pioneered new products and ideas that have been put into orbit, on the moon, and in deep space for more than 50 years. As a part of NASA's Artemis program, we are building on our mission heritage with new innovations to enable NASA to return humans to the moon, with the ultimate goal of human exploration of Mars.
Northrop Grumman solves the toughest problems in space, aeronautics, defense and cyberspace to meet the ever evolving needs of our customers worldwide. Our 90,000 employees define possible every day using science, technology and engineering to create and deliver advanced systems, products and services.
Quelle: Northrop Grumman
773 Views