13.10.2019
NASA shows interest in SpaceX's Starship orbital refueling ambitions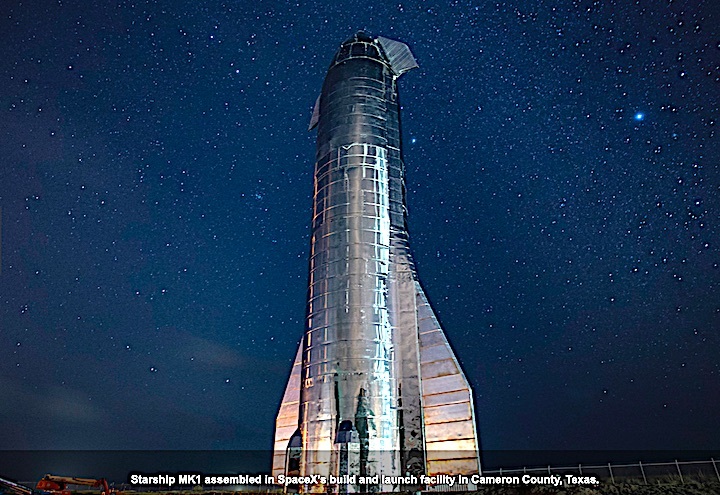 If SpaceX wants its massive next-generation spacecraft to reach the moon and planets beyond, CEO Elon Musk says it'll need to be refueled in orbit around Earth – and NASA wants to know more.
Now in the prototype and early test flight phase, Starship is a stainless steel crewed craft that will launch atop a Super Heavy booster. But because of its size and potentially heavy payloads – like dozens or hundreds of astronauts – in the future, it will need to be refueled in orbit around Earth before it begins longer voyages.
SpaceX, Musk said, is developing the technologies necessary to dock two Starships together in orbit – one without much in the way of crew or payloads – and transfer fuel to the one venturing beyond low-Earth orbit.
To further the technology, NASA recently awarded SpaceX a $3 million contract to study the concepts, Administrator Jim Bridenstine said during a joint press conference with Musk on Friday.
"Starship is a really big vehicle," Bridenstine told FLORIDA TODAY on Thursday. "Being able to refuel it will be necessary to become a vehicle that can get to the moon."
"SpaceX can use it for their reasons and we can use it for our reasons," he said.
The technology to dock spacecraft and transfer propellants or other necessities has a history in spaceflight, but doing so autonomously and in more modern ways has long been sought after by NASA, commercial satellite operators, and even the Department of Defense.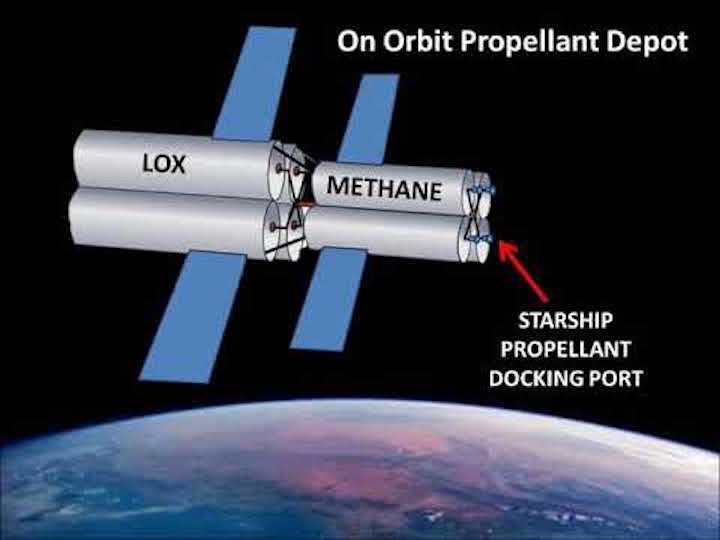 Having that ability could mean spacecraft such as Starship go on longer voyages; or it could help existing satellites in orbit around Earth stay in their positions longer without having to shut down due to fuel depletion. And it doesn't have to just be fuel – such docking maneuvers could help pave the way for in-orbit repairs and servicing, too.
Quelle: Florida Today
----
Update: 25.10.2019
.
SpaceX says Starship Mk1 will test 'skydiver' landing before the end of 2019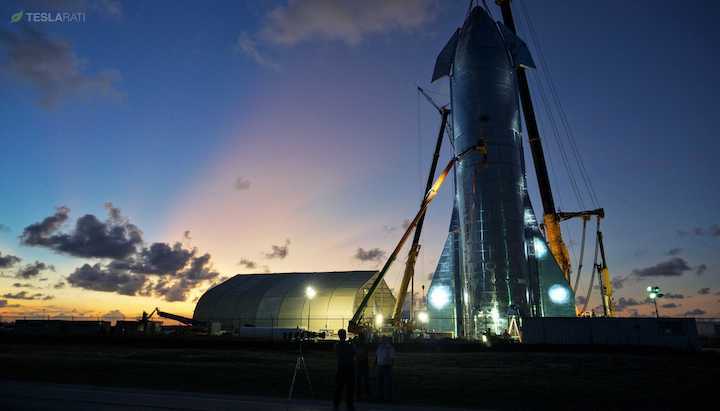 A senior SpaceX director says that the Starship Mk1 prototype could lift off for the first time before the end of 2019, a flight debut SpaceX hopes will successfully demonstrate the next-generation spacecraft's exotic 'skydiver' landing method.
SpaceX is in the late stages of building the first full-scale Starship prototypes, known as Mk1 (situated in Boca Chica, Texas) and Mk2 (Cocoa, Florida). The Texas-based Mk1 prototype is by far the furthest along and featured prominently at CEO Elon Musk's Starship update presentation on September 28th, having been stacked to its final height of ~50m (165 ft) for the first time just days prior.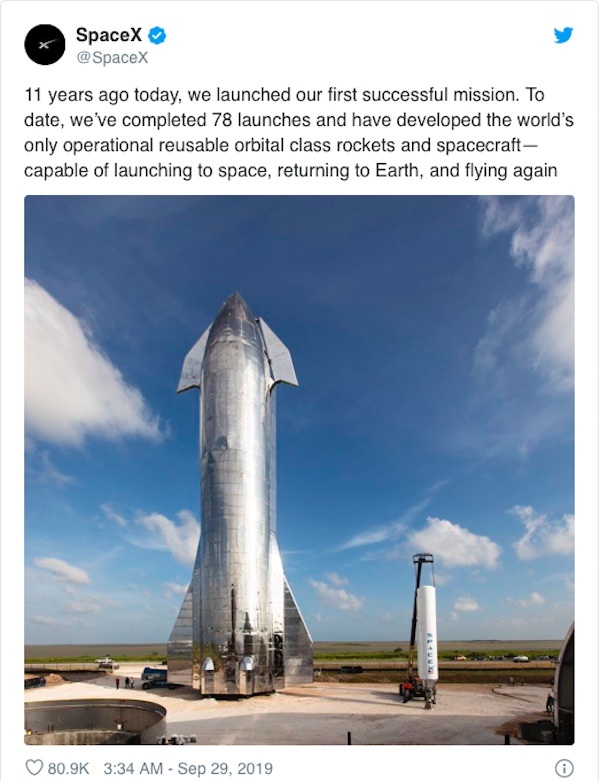 It's clear now that more than a little showmanship was involved in the work that lead up to Starship Mk1's unveiling. Within a week or two of the event, SpaceX technicians had separated Starship's nose and tail sections, removed all three Raptor engines, and uninstalled the ship's wings and canards, among other things.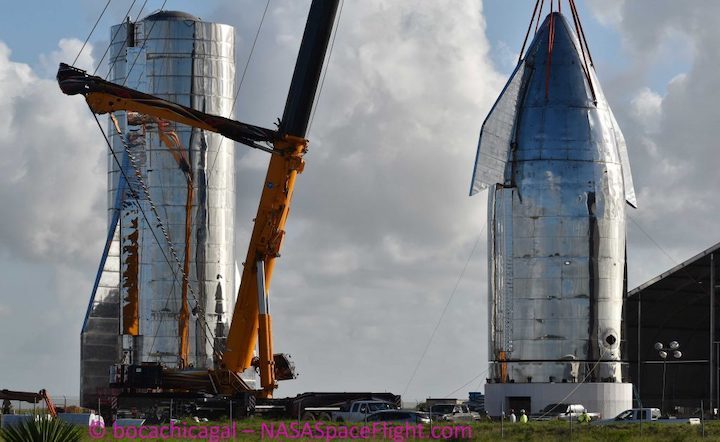 Starship Mk1's nose and tail sections were separated on October 1st. (NASASpaceflight – bocachicagal)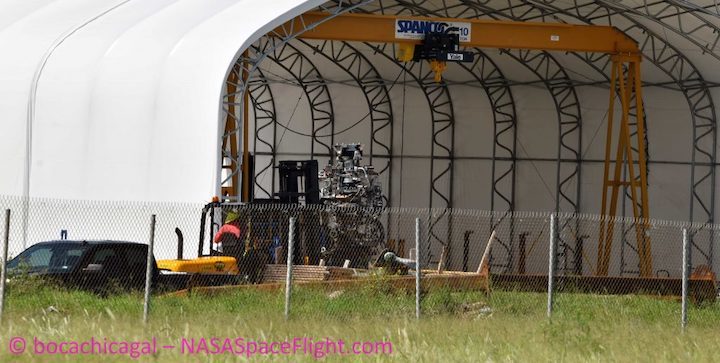 Starship Mk1's Raptor engines were removed and shipped to McGregor, TX or Hawthorne, CA on October 5th and 6th. (NASASpaceflight – bocachicagal)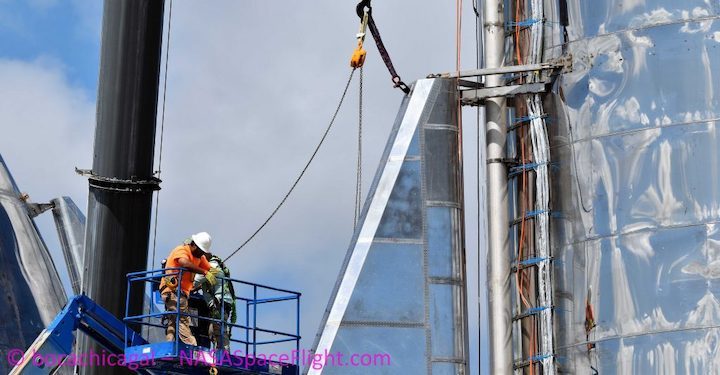 Both Starship body flaps were removed on October 9th. (NASASpaceflight – bocachicagal)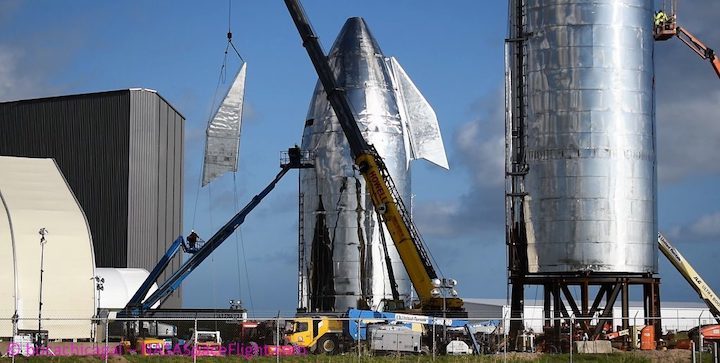 Starship Mk1's canards were removed on October 11th. (NASASpaceflight – bocachicagal)
Aside from the nose and tail section demate and removal of flaps, canards, and Raptors, the aero covers that were briefly attached to Starship's exterior (raceways, canards, flaps, legs) were also removed. One raceway cover may or may not have been a casualty of high winds but all of the above hardware was carefully stored on the ground surrounding Starship Mk1 and is clearly meant to be installed more permanently in the coming weeks.

Nevertheless, Starship Mk1 obviously has a decent ways to go before it can be seriously considered flight-ready. On a positive note, aside from several days spent undressing Starship, SpaceX's South Texas team (and others traveling from Florida and California) have been working 24/7 in the weeks since Musk's presentation.
The last two weeks of Starship Mk1 activity have centered around installing the numerous crucial bits and pieces the rocket will need to function. This has included thousands of feet of power cables, avionics wiring, and propellant feed and transfer pipes; industrial-scale power controllers and flight computers, and much more.
The sheer quantity and range of sizes of piping being installed on Starship Mk1 all but confirms that the rocket will be a high-fidelity prototype capable of testing a wide range of capabilities related to autogenous pressurization and Raptor engine ignition. The mirrored presence of three sets of smaller pipes on the vehicle's raceway (essentially a utility corridor) is a strong sign that Raptor and Starship's smaller header tanks and COPVs (located in Mk1's nose section) are closely related.

Some of the excess hot gas produced by Raptor may be tapped to supply COPVs that can then be used to reignite the engines in-flight. More likely, the small pipes are more of a one-way feed line from Starship's header tanks to its Raptor engines and – as Musk has indicated – the cryogenic liquid propellant in those header tanks will be gasified with electric heaters or gas generators.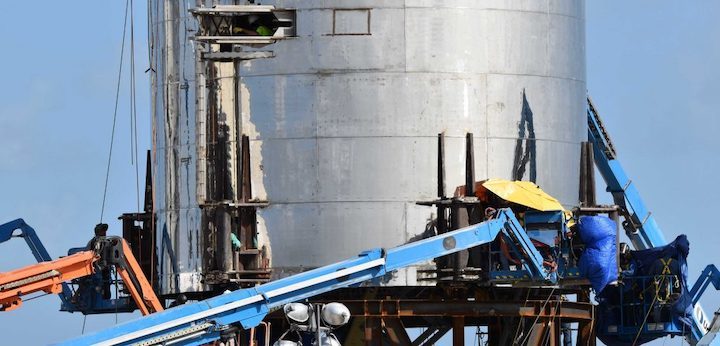 STARSHIP GYMNASTICS
Given all of the above, close followers were already readily aware of the fact that Starship Mk1 needed some significant work done before it would be ready for flight. On October 22nd, SpaceX Senior Director Gary Henry confirmed these suspicions, indicating that Starship Mk1's 20 km (12 mi) flight test debut was now scheduled no earlier than two months from now (December 2019).
According to CEO Elon Musk and other SpaceX engineers, that 20 km flight debut is designed to prove that Starship's radical new approach to flight and landing is viable. Musk has repeatedly described that Starship will in no way be an actual space plane and has stated that its 'wings' and 'canards' are not intended to be airfoils or wings. Instead, Starship will reenter Earth's atmosphere, slow its horizontal velocity to near-zero, and proceed to free-fall straight down, using its fore and aft flaps to control its trajectory in the same way that skydivers use their body and limbs.
This bizarre approach will be capped off with an aggressive landing maneuver in which Starship will ignite its engines, wildly thrust-vector and swerve to cancel out the horizontal velocity imparted by that sideways ignition, and land vertically on Earth (or Mars). In theory, this strategy will radically reduce the amount of fuel Starship needs to land in atmospheres, but it's far removed from anything SpaceX has attempted with Falcon 9 and Starship Mk1's first flight will hopefully prove it to be a viable solution.
Quelle: TESLARATI
----
Update: 31.10.2019
.
Starship Mk1 arrives at launch site ahead of flight test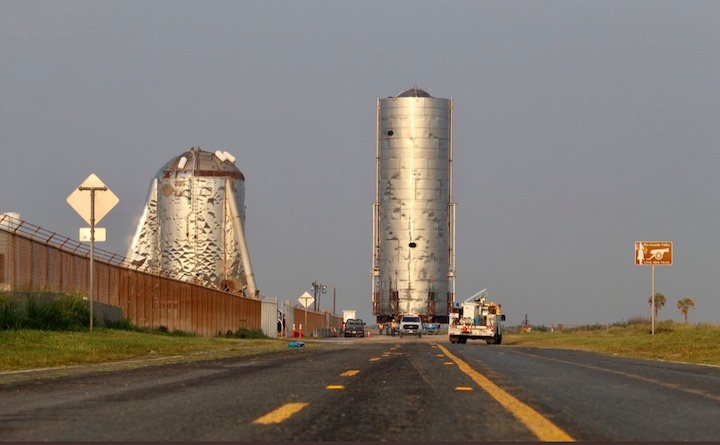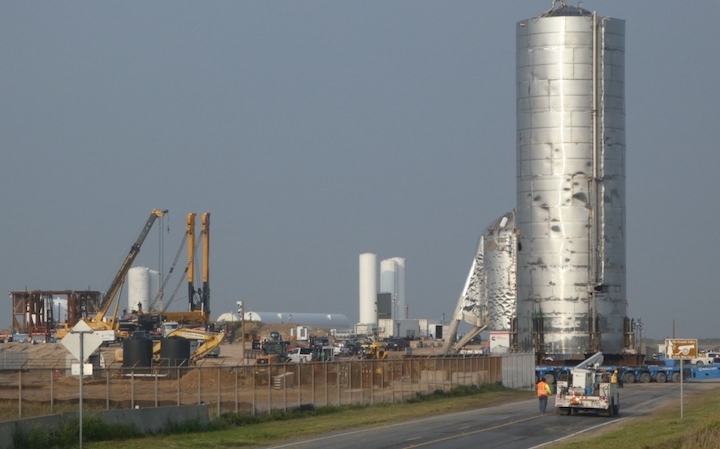 SpaceX's Mk1 Starship enjoyed a short road trip to its Boca Chica launch site on Wednesday, a key milestone ahead of its upcoming test flight. Soon to be joined by its fairing, Starship will undergo several weeks of preparations for the test flight to 20 KM that will include an ambitious landing attempt.

The Boca Chica facility has grown in notoriety since SpaceX started to construct what was initially thought to be a water tower. This became a running joke, with Elon Musk celebrating the milestones of the Starhopper test vehicle by tweeting "Water Towers Can Fly".
Starhopper successfully conducted numerous achievements, not least the 150 meter hop and landing back in August.
That was its only launch as SpaceX opted to "retire" the test vehicle into the role of becoming a vertical test stand for Raptor engines.
Eventually, SpaceX will have four Raptor test stands, with the two horizontal stands already in operation at the company's McGregor test site soon to be joined by the conversion of the Tripod Stand into a vertical test facility along with Starhopper's new role in Boca Chica.
Starhopper is still at the launch site in Boca Chica, albeit moved to the side of the perimeter to make way for modifications to take place in the area – such as the installation of additional commodity tanks for the thirstier Starship.
A launch mount has also been constructed for the Mk1 vehicle.
This work took place while Starship was undergoing an interesting series of modifications surrounding its star role at Elon Musk's update presentation.
For the September event, Mk1 performed the role of a mock-up, with the stacking of the fairing, fins, canards and the installation of three Raptor engines – although these were not the three engines that will fly with the vehicle during the test flight.
Following the event, Starship underwent partial disassembly processing, with the engines, fins, canards and nose cap removed before the fairing half was destacked. That, in turn, led to engineers spending most of October hard at work installing additional hardware that will play a part in Mk1's actual test flight.
The most notable addition has been the installation of the six landing leg mounts that will have a key role during Starship's first landing attempt. Unlike SpaceX's Falcon rockets, the legs will deploy vertically from the mounts.
This week saw the arrival of the Roll-Lift vehicle, pre-empting Mk1's move down the road to the launch site. With the aid of the "Big Yellow" crane, the aft section was lifted on to the Roll-Lift for its road trip, which began early on Wednesday.
With "Big Yellow" already transferred to the launch site, the aft section was lifted off the Roll-Lift, carefully "driven" down the road and installed on to the launch mount.
The Roll-Lift has since departed the launch site and will next deliver the fairing section, allowing for a near-repeat of the processing tasks seen during the mock-up stacking ahead of Elon Musk's presentation.
The timing of the pre-launch processing flow milestones is unknown. However, numerous roadblock notices – which are usually published ahead of "pad clear-level" events – have been filed for November.
While Mk1's test launch won't take place next month, with numerous tasks to complete – not least the mating and installation of the three Raptor engines – the next major milestone will be the tanking of Starship for pressurization testing, which will be the first time this vehicle will be filled with liquid oxygen and liquid methane.
It is expected Starship's launch site flow will pick up at pace during November, with the arrival and installation of its three Raptors, followed by an igniter hot fire and spin prime tests, mirroring the testing that occurred with Starhopper. If all goes well, a static fire will then follow shortly thereafter.
Mk1's testing will also feed into the processing towards the launch of its sister ship in Florida.
Mk2 is also in an advanced state of production ahead of also undergoing a journey – albeit a much longer journey – from its Cocoa construction site to the Kennedy Space Center.
The launch of Mk2 will take place from a new launch and landing facility being built within the perimeter of Pad 39A. While a landing pad has already been constructed, engineers need to install Starship's launch mount and commodity tanks.
As such, most of the attention remains in Texas as Mk1 prepares for the hugely anticipated test flight to 20 KM and, probably more so, the first landing of a Starship prototype that sees it return like a skydiver before swinging its aft towards the pad for a landing.
Quelle: NS
----
Update: 5.11.2019
.
SpaceX installs Starship Mk1 rocket's flaps for the second time in build-up to flight debut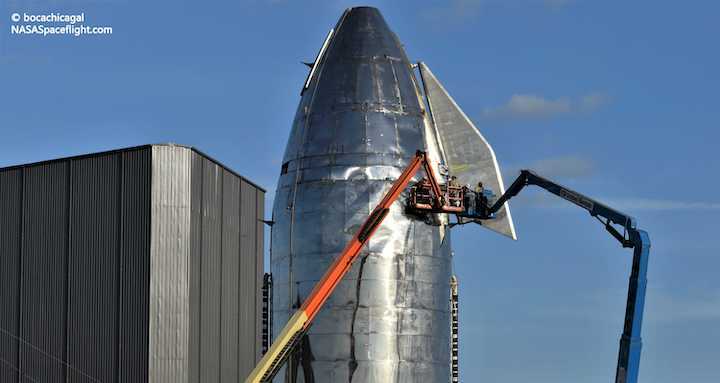 A little over a month after SpaceX CEO Elon Musk presented an update on Starship in Boca Chica, Texas and technicians dressed the rocket up for the show, SpaceX has begun to install Starship Mk1's flaps for the second time.

This time, with any luck, those flaps are here to stay until Starship Mk1's inaugural launch debut, an ambitious flight test with a target altitude of 20 km (12 mi).
Around the second half of September, SpaceX technicians appeared to begin working around the clock to fully assemble Starship, outfitting the exterior with the beginnings of plumbing, power lines, and avionics harnesses, stacking the Mk1 prototype's two halves, and installing the vehicle's large fore and aft flaps. During SpaceX CEO Elon Musk's September 28th Starship update, what looked to be the largely finished Starship Mk1 served as the main backdrop – an undeniably impressive one, at that.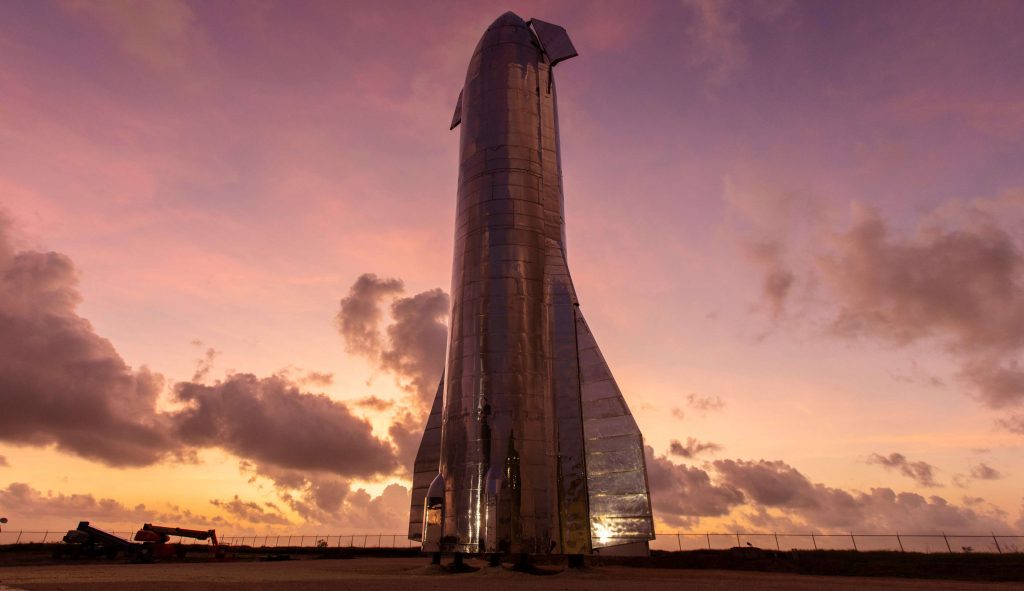 As would soon become clear, SpaceX's September 2019 Starship Mk1 integration was actually more of a mock-assembly – all the parts involved appear to genuinely be real flight hardware, but almost all of it was only temporarily attached to Starship to give the partial appearance of a finished ship. By October 1st, technicians began removing Starship Mk1's four flaps, flap shrouds, and leg shrouds, finally culminating in the separation of the rocket prototype's upper and lower halves.

The fact that neither Musk or SpaceX spokespersons noted that Starship wasn't actually complete is at least a little unsavory, although it's admittedly unsurprising given CEO Elon Musk's known affinity for grand gestures and events. On a positive note, Starship's mock-assembly likely served as an excellent learning experience for the Boca Chica team and thankfully only seems to have caused a week or two of delay.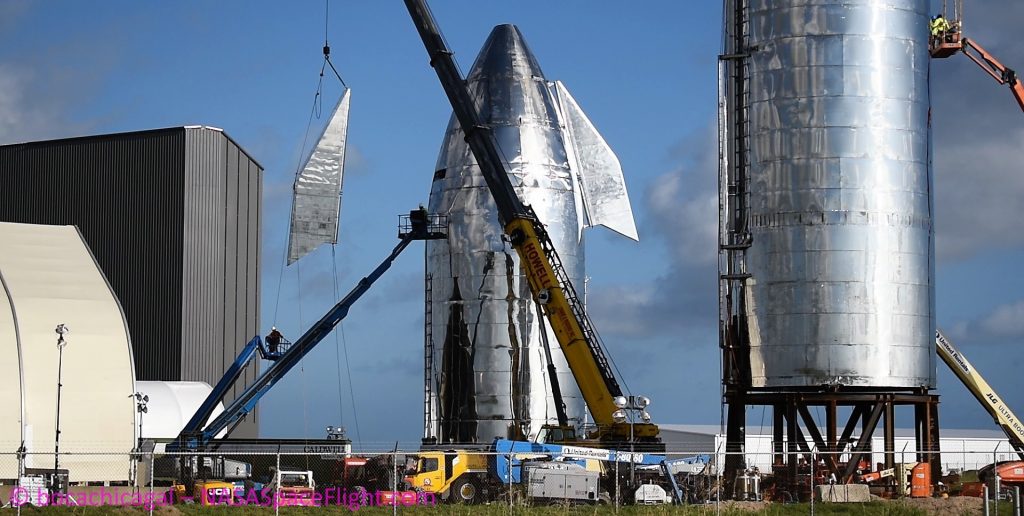 RAPID PROGRESS IN BOCA CHICA
Despite the mild disruption of dressing Starship Mk1 up for Musk's presentation, SpaceX Boca Chica has made a huge amount of progress in the five weeks since. Barely three weeks after the rocket's forward flaps (canards) were removed, SpaceX technicians began the reinstallation process with one major visible difference: a massive motorcycle-sized actuator.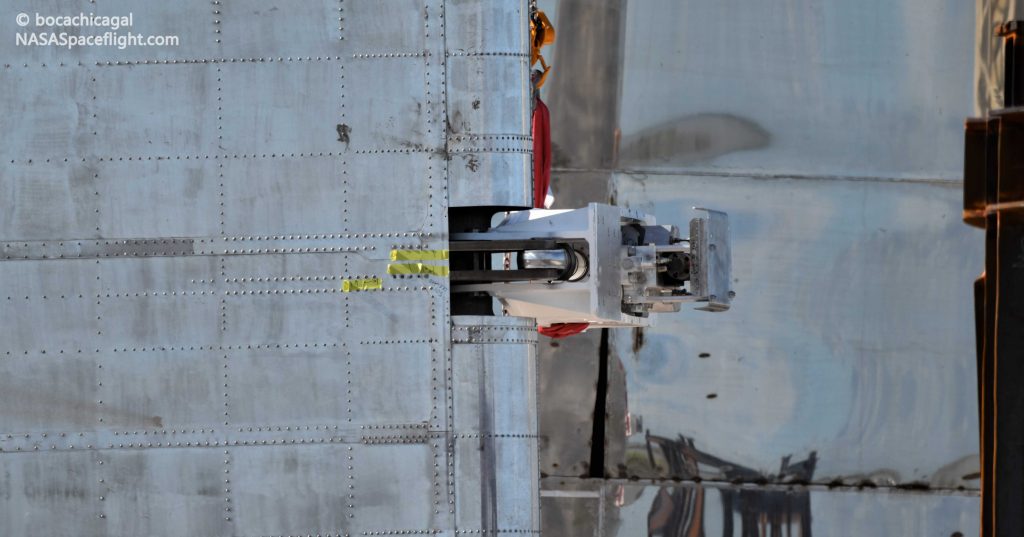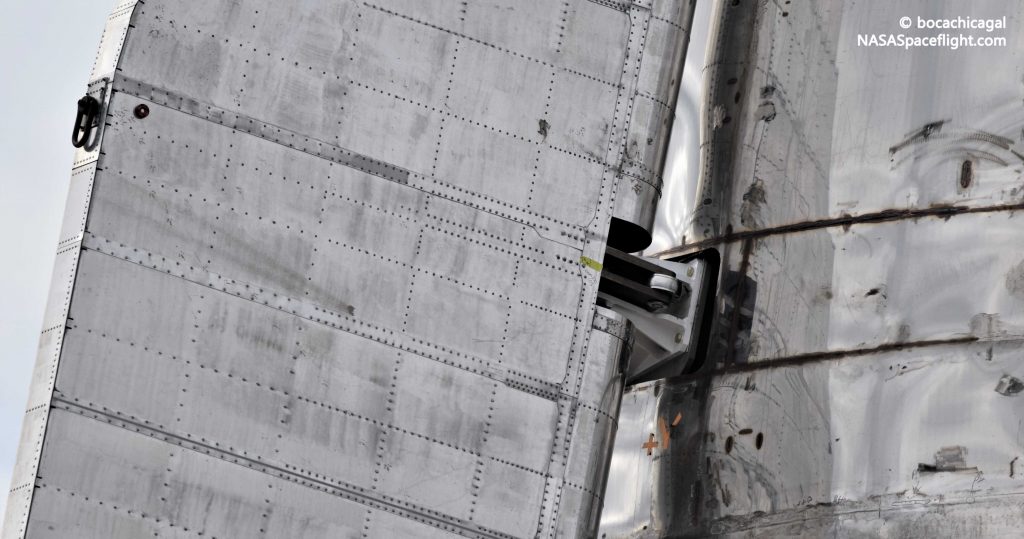 On the first round of installations-for-show, Starship Mk1's flaps featured no such mechanism, confirming suspicions that much of the hardware installed at the last second was not quite finished or was only being installed for Musk (and practice). The appearance of a previously unseen actuator mechanism on the first reinstalled canard suggests that this time around, SpaceX is installing Starship's flaps with their final purpose of controlling Starship's free-fall in mind.

Instead of copying Falcon 9's proven method of vertical launch and vertical landing, SpaceX is taking a more radical approach with Starship that will see the spacecraft reenter Earth's atmosphere belly-first, slow its forward speed to near-zero, and fall directly down for approximately 25 km (15.5 mi), using its flaps like a skydiver's limbs. Perhaps just a few hundred meters above the ground, Starship will finally perform an aggressive flip maneuver, igniting its Raptors while sideways, swerving to neutralize that horizontal velocity, and finally landing on six small legs.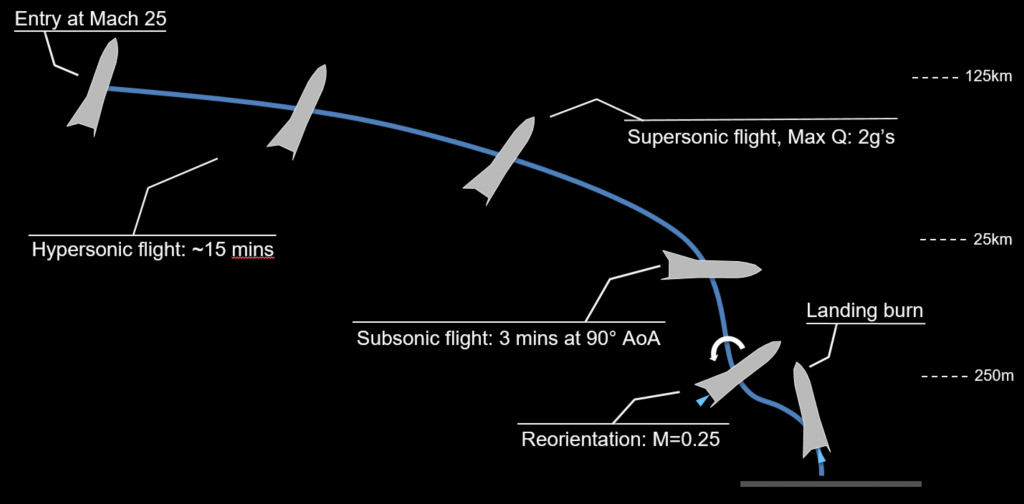 In this sense, although they certainly look the part, Starship's aerodynamic control surfaces are very explicitly not wings and are instead meant to interact with the atmosphere at an almost 90-degree angle of attack (AoA). In line with that strategy, they only have to actuate with a single degree of freedom, drastically simplifying Starship's control surfaces.

Similar to Starship Mk1's newly filled-out canard actuators, SpaceX technicians have installed two massive hinges/mounts for Starship's larger after flaps. Aft flap installation will likely start as soon as SpaceX technicians have installed the bulk of Starship Mk1's external plumbing and wiring, a milestone that appears to be fast approaching.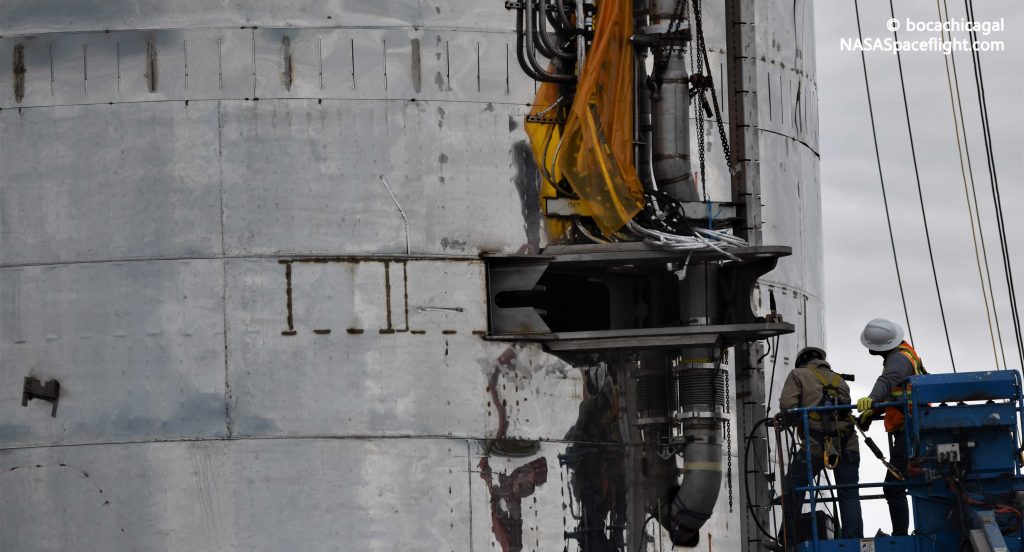 Starship Mk1's lower half was unexpectedly moved about a mile to SpaceX's nearby launch facilities prior to the installation of its nose section, meaning that SpaceX will likely have to transport the nose to the launch pad for final mating. It's unclear what tests SpaceX specifically plans to kick off Starship Mk1's pre-flight preparations with, but it's safe to assume that the most imminent milestone is a wet dress rehearsal (WDR), possibly preceded by a tank proof test.

The latter procedure would be designed to prove that Starship Mk1's pressure vessel is both leakproof and structurally sound and would nominally involve filling the spacecraft's tanks with a neutral fluid (likely water or liquid nitrogen). A WDR would see SpaceX load Starship as if preparing for launch (requiring liquid oxygen, methane, nitrogen, and helium) but stopping just prior to the engine ignition and liftoff that would otherwise follow. Although unlikely, a WDR could result in a massive fire or explosion if Starship were to lose structural integrity during the test, which is why the aforementioned neutral testing is typically performed first when handling brand new launch vehicles.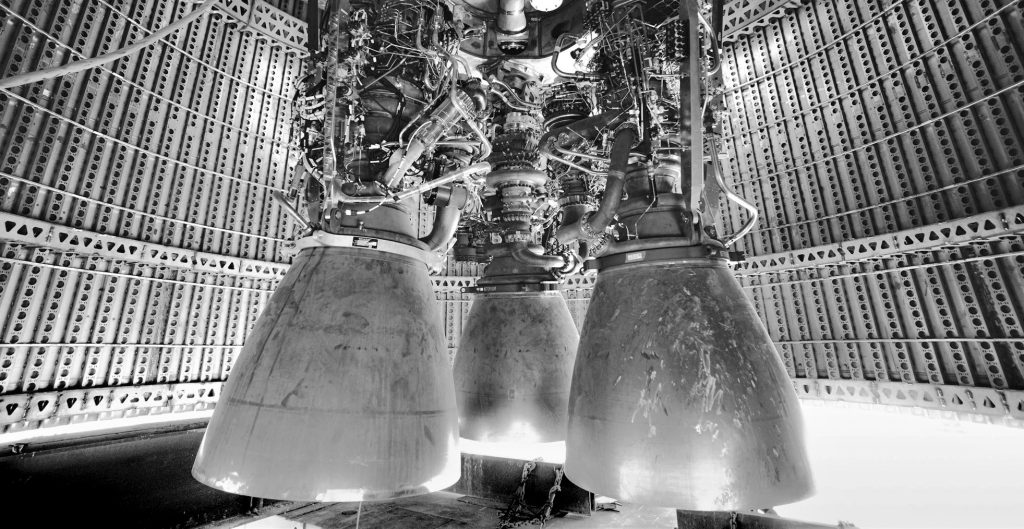 Finally, assuming Starship Mk1 successfully passes the above tests, SpaceX will use the vehicle to perform Raptor's first triple-engine static fire test. That static fire will likely be the final major test activity before SpaceX readies Starship Mk1 for its 20-km flight debut, which will serve as a more or less full-fidelity test of Starship's exotic skydiver-like landing.
Regardless of how exactly Starship Mk1's imminent test campaign will play out, SpaceX has road closures scheduled on November 7th, 8th, and 12th. Right now, it's anyone's guess what is planned for Thursday and Friday, but it could potentially involve a tank proof test, launch pad checkouts, propellant loading, or something more benign, like transporting Starship's nose section to the pad for final installation. Stay tuned!
Quelle: TESLARATI
----
Update: 18.11.2019
.
SpaceX Starship Mk1's most important tests yet could begin just hours from now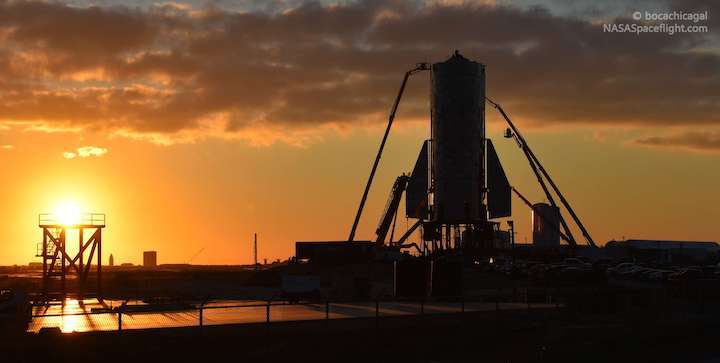 SpaceX's South Texas Starship Mk1 prototype is on the verge of kicking off a critical period of ground tests, ranging from tank pressurization and propellant loading to the rocket's first triple-Raptor engine static fire. The campaign could begin soon – perhaps as soon as later today, in fact.
Over the last two weeks, SpaceX's South Texas team has faced bad winter weather, among the many other challenges associated with building giant rockets almost entirely out in the elements. Nevertheless, company technicians and engineers continue to check off task after task along the path towards Starship Mk1 completion, the next-generation launch vehicle's first full-scale, high-fidelity prototype.
In the month of November alone, SpaceX has (re)installed Starship Mk1's nose and aft section flaps (this time outfitted with heavy-duty actuator mechanisms), nearly completed the process of routing and integrating the vehicle's external liquid and gas plumbing, and more or less finished a barebones launch mount. Starship Mk1 was snugly attached atop that launch mount around the start of the month and workers have continuously swarmed around the rocket and pad in scissor and boom lifts and ever since, closing out umbilical connections, insulating cryogenic propellant pipes, and much, much more.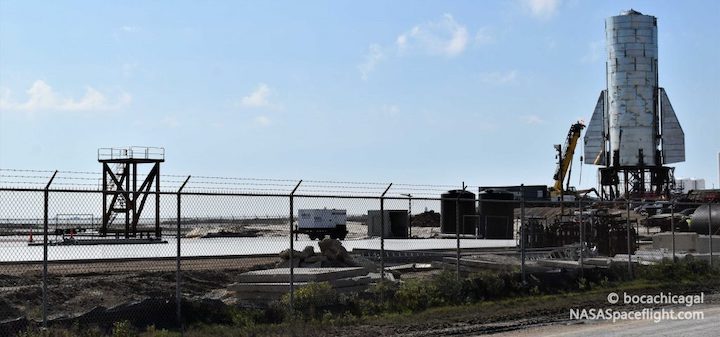 Within the last week or so, SpaceX has apparently also begun the process of expanding its presence around its existing Boca Chica pad facilities, where Starship Mk1 is preparing for testing. The purpose of that expansion is unclear, but the first phase – extending the existing square landing pad – is essentially complete and will presumably give Starship Mk1 a better chance of successfully landing in the event that its first skydiver-style landing attempt is not as accurate as predicted.
Based on official renders/mockups in SpaceX's updated 2019 launch animation, it could also eventually become the foundation of a much more permanent integration and processing hangar, much like the hangars that SpaceX uses to integrate Falcon 9 and Heavy at its Florida and California launch sites. It could even be the foundation for a dramatically larger Super Heavy-class launch mount and water-cooled flame deflector like the one shown in that same video. For now, Starship Mk1 will begin testing (and presumably first flights) off of a minimal steel mount that was built up from almost nothing in barely two months.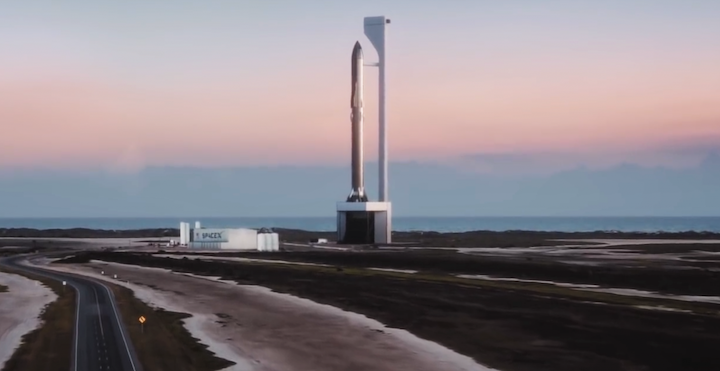 NO NOSE, NO PROBLEM?
As previously discussed on Teslarati, the testing Starship Mk1 is preparing for could take a number of routes to completion, but all of those routes will likely involve several main events. First, SpaceX may or may not decide to do a preliminary tank proof test with neutral (i.e. non-explosive) liquid nitrogen, which would verify the structural integrity and determine if there are leaks in what is essentially a building-sized pressure vessel.
SpaceX may instead skip that – it would require a vast and unwieldy quantity of liquid nitrogen – and move directly into the first cryogenic propellant loading test, in which SpaceX would attempt to fully fill Starship's tanks with liquid oxygen and liquid methane. Assuming Starship Mk1 is 1:1 scale, that could involve as much as 1200 metric tons (2,650,000 lbs) of propellant, more than twice as much fuel as a Falcon 9.
In other words, Starship's inaugural propellant loading attempt will be almost at the same scale as Falcon Heavy's, which took several attempts, broke some hardware, and was a major learning experience and challenge on its own. A structural failure or explosion could be absolutely catastrophic, as those ~1200 tons of fuel and oxidizer could act as a massive bomb under the right conditions.
According to road closure notices published by Cameron County, SpaceX is expected to begin operations that require road closures as early as November 18th from noon to 8 pm CST, with backups on the 19th and 20th. Another window opens on the 25th at the same time, with backups on the 26th and 27th. To be clear, there is no official word that SpaceX actually means to start cryogenic ground testing with Starship Mk1 today, but it's not necessarily out of the question.
Whenever SpaceX does decide to start Starship Mk1 ground testing, it will be an immensely important milestone, signifying the start of the period that will essentially determine whether SpaceX's deeply unusual manufacturing methods can build a structurally-sound, high-performance rocket prototype for pennies on the dollar. In simple terms, if Starship Mk1 behaves as planned, commercial spaceflight may never be the same.
Quelle: TESLARATI
----
Update: 20.11.2019
.
SpaceX's Starship comes to life for the first time in lead-up to launch debut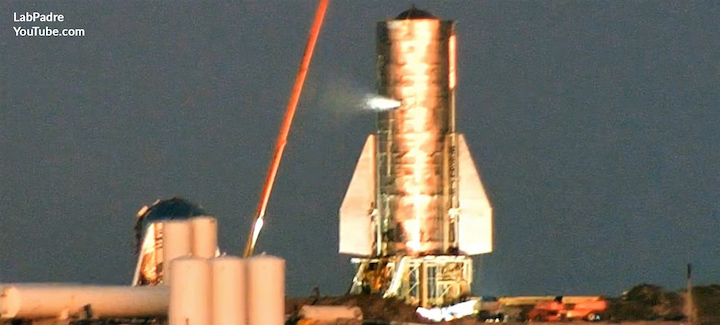 For the first time ever, SpaceX has pressurized Starship Mk1's building-sized propellant tanks, a critical test that culminated in the rocket prototype essentially taking its first 'breaths'.
3039 Views