18.10.2019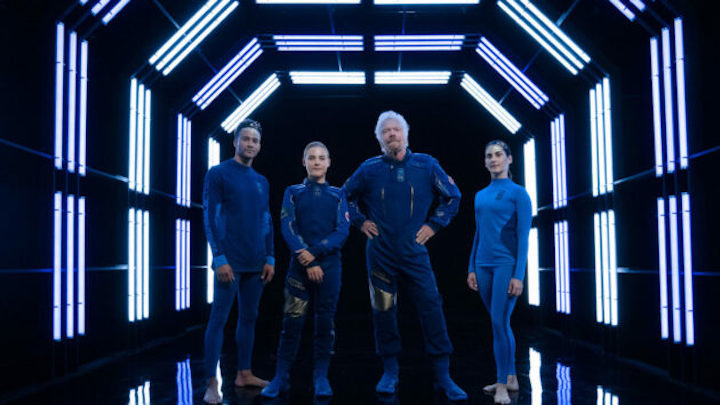 It's a bit of a stretch to call them spacesuits, but the "spacewear" clothing line unveiled today by Virgin Galactic and Under Armour looks comfortable enough to wear even if you're not rocketing to the edge of space.
The Under Armour clothing line — which includes a base layer, a spacesuit that's really a beefed-up flight suit, and zippered flight boots — made its debut at a New York runway show, and will get its space premiere during test flights for Virgin Galactic's SpaceShipTwo rocket plane.
Next year, Virgin Galactic's customers are due to wear the custom-made space duds when they climb on board for suborbital trips past the 50-mile space milestone at Spaceport America in New Mexico.
"I love the way the spacewear looks, and I love the way it feels," Virgin Galactic's billionaire founder, Richard Branson, said in a news release. "I also love the fact that the next time I put it on, I will be on my way to space."
Under Armour's founder and CEO, Kevin Plank, said the clothing line builds on his company's long experience with designing athletic wear — and could set a precedent when it goes up on Virgin Galactic's first commercial spaceflight.
"What we've engineered utilizing our key technologies will define the future of spacewear and puts us at the forefront of this history-making event," he said.
The color scheme is deep-space blue, tricked out with touches of gold. The design makes liberal use of Virgin Galactic logos and graphic elements, including the company's "DNA of Flight" insignia, but there are also spots set aside for astronaut-style patches displaying the flag of the wearer's home nation and the emblem of their space mission.
The base layer is made with Under Armour's breathable Intelliknit fabric, while the spacesuit combines layers of Tencel Luxe, SpinIt and Nomex, with a proprietary form-fitting fabric called UA Clone added to the elbows and knees. There's extra cushioning built into the shoulder pads and neck region, to help Virgin Galactic's fliers deal with the strain on their harness straps during high-G portions of the flight.
Passengers will be able to stash their personal items in zippered suit pockets — including a clear pocket above the heart on the inside of the flight jacket, where photos of loved ones can be kept. Another pocket holds the integrated communications system that's connected to a push-to-talk button.
But don't expect to bring your smartphone aboard for a zero-G selfie. Virgin Galactic won't allow any sharp items, electronic devices or anything that could cause interference with the spaceship. The company says there'll be plenty of cameras installed inside the passenger cabin to take selfies and space views automatically.
The lightweight, high-top space boots, styled in blue, gold and black, draw inspiration from the classic astronaut look as well as the footwear for race car drivers. The boots' zippers are artfully concealed with a "DNA of Flight" fabric strip, and the graphic on the sockliner reads, "We Stand on the Shoulders of Giants," inspired by a quote from Sir Isaac Newton.
Virgin Galactic says passengers won't need any space helmets, because SpaceShipTwo's cabin is fitted out with soft finishings. And because the rocket plane spends just a few minutes outside the atmosphere, the suits won't be pressurized.
Even if you're not planning to fly with Virgin Galactic, there may be a chance to get in on the fashion look: Under Armour is planning to market consumer versions of the spacewear and footwear sometime in the future.
Quelle: GeekWire
+++
The first commercial spacesuits are like soft, high-tech pajamas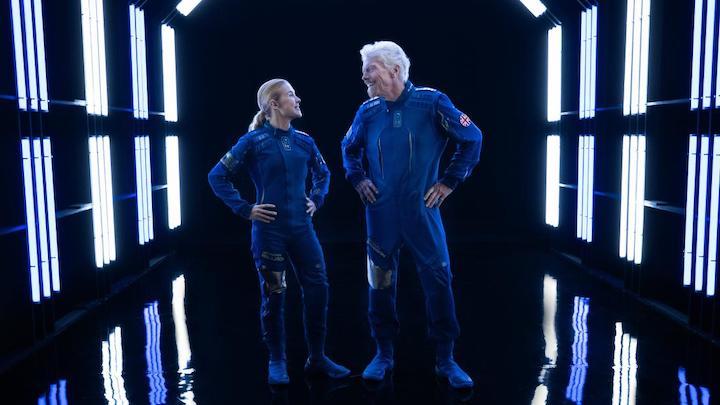 The first travelers to depart Earth on board a Virgin Galactic space flight won't look like the astronauts of years past, with their bulky pressure suits and large domed helmets. They will be wearing soft, flexible jumpsuits that, up close, stand somewhere between a flight suit and a pair of thick pajamas.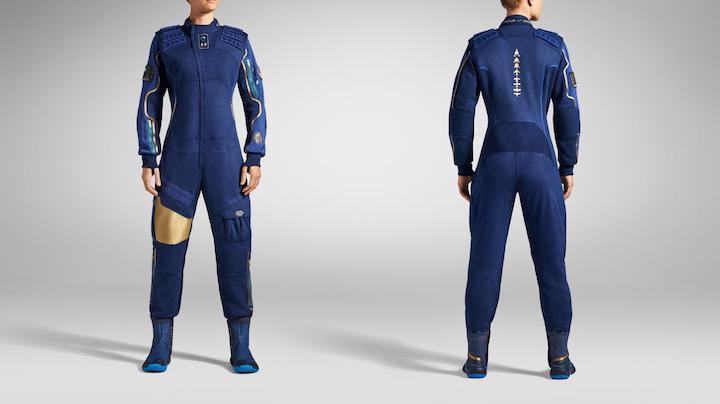 It's a sign of how far apart the missions of those career astronauts and these soon-to-be space tourists really are. "The big difference between suits of the past and this suit is that those suits were to perform a task, and this suit is to enjoy and savor space on your own terms, in a bespoke way," said Beth Moses, the chief astronaut trainer at Virgin Galactic—the space tourism venture of billionaire Richard Branson—at an unveiling event today (Oct. 16).
Created by sports clothing company Under Armour, the suit—included as part of the $250,000 trip cost—is really multiple pieces, starting with a top and bottom base layer. According to Nick Cienski, Under Armour's chief innovation apparel designer, they're made of materials that keep the wearer cool and dry while promoting blood flow during the zero-gravity and high G-force portions of the flight. The bottoms, for example, squeeze the legs gently to keep blood moving above the waist, Cienski said.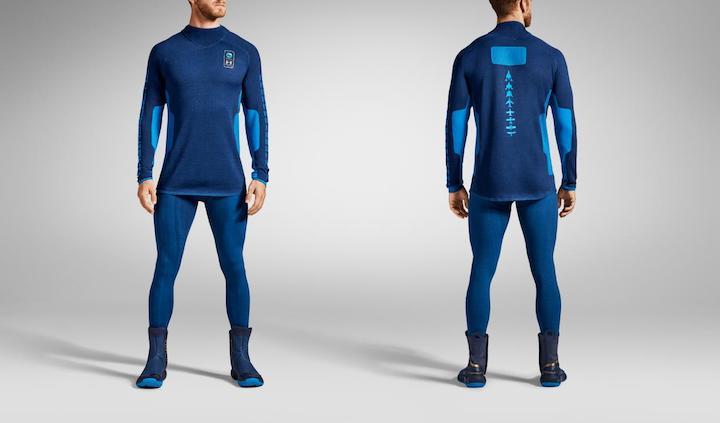 The suit itself, he said, is lined in different fabrics to manage temperature and moisture. It has articulated knees and elbows for mobility, and is made from material that's knit rather than a woven. It's like the difference between wearing cotton sweatpants and wearing jeans. The unveiling took place at an indoor skydiving facility in Yonkers, New York, which included a dramatic presentation involving classical music and performers in the suits doing aerial acrobatics—not quite zero-G, but it made the point.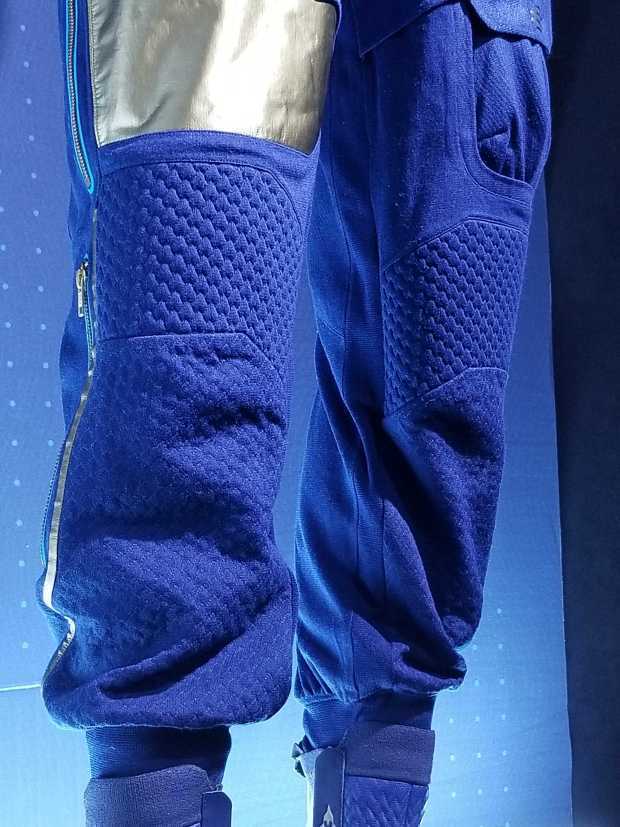 The clothing for the first space tourists doesn't just have to function. It's also a piece of historic branding. George Whitesides, CEO of Virgin Galactic, pointed out during the presentation that, in a hundred years, these suits may be in a museum. Trevor Beattie, who signed up to fly on Virgin Galactic back in 2004, noted that one of the most famous photos in history contains a spacesuit.
Under Armour and Virgin Galactic designed the suits to be practical enough so the astronauts could wear them after their trips. Asked when she might wear hers, Jennifer Rallison, another signed-up amateur astronaut, replied "Every Halloween for the rest of my life." The astronauts will get flight jackets to wear more casually too.
The project is also a showcase for Under Armour. Kevin Plank, the company's CEO, said the suit uses at least eight signature Under Armour technologies, such as Hovr, its popular sneaker cushioning, which here doubles as padding around the suit's shoulders and neck, the areas where a buckled-in astronaut will need some cushioning during high-G parts of the trip. The company has plans to release derivative products that the general public can buy. This is, after all, about making space travel commercial.
Quelle: QUARTZY
1177 Views