16.10.2019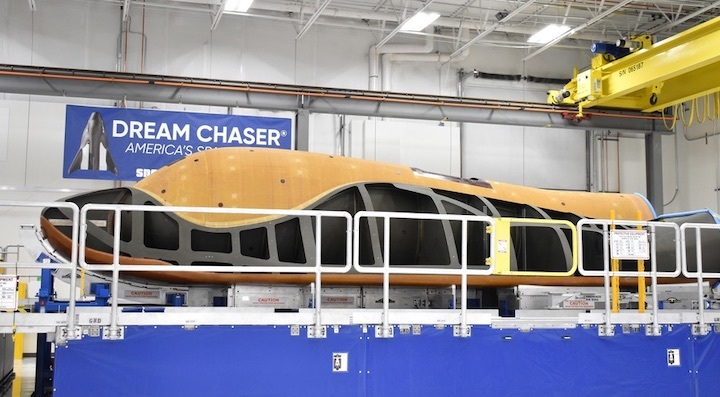 LOUISVILLE, Colo. — Sierra Nevada Corporation (SNC) says it's ready to proceed into final assembly and testing of its first Dream Chaser cargo spacecraft, as the company retains plans to eventually develop a crewed version of the vehicle.
At a media event at a company facility here, SNC took possession of the primary structure of the first orbital Dream Chaser vehicle. That structure was built for SNC by Lockheed Martin and recently shipped from a Lockheed facility in Fort Worth, Texas, to SNC.
"This is a really, really complex structure," said Steve Lindsey, SNC senior vice president of space exploration systems. The company described the structure as one of the most complex all-composite structures ever built in the aerospace industry, serving as the fuselage of the vehicle and the structure around which the rest of the vehicle will be assembled.
Lockheed Martin contributed to the construction using both its space and aeronautics expertise, the latter coming from a facility that makes composite structures for the F-35 fighter aircraft. "We took our space knowhow in our Lockheed Martin space business area and integrated that with our aeronautics division and their manufacturing capabilities to bond composites together," said Lisa Callahan, vice president and general manager of commercial civil space at Lockheed Martin.
John Curry, the Dream Chaser program director for its Commercial Resupply Services (CRS) 2 contract with NASA, said the other components of the vehicle, including the two wings and a separate cargo module, will arrive late this year and early next year. The goal, he said, is to have the vehicle fully assembled and tested by April 2021.
SNC will then fly the vehicle on a C-5 Galaxy cargo aircraft to NASA's Plum Brook Station in Ohio for three months of environmental testing. That will include acoustics, vibration and thermal vacuum tests. From there, the spacecraft will be flown to the Kennedy Space Center for final preparations for its launch on a United Launch Alliance Vulcan rocket no earlier than September 2021.
That mission is the first of at least six under the company's CRS-2 contract to transport cargo to and from the International Space Station. It will join Northrop Grumman's Cygnus and SpaceX's Dragon spacecraft, which have been providing cargo delivery services for several years under the original CRS contract and will continue to do so, with some upgrades, under CRS-2.
Kirk Shireman, NASA's ISS program manager, welcomed the upcoming addition of the Dream Chaser to the fleet of vehicles supporting the station. "This vehicle really offers unique capabilities," he said. Its cargo capacity to the station of 5,500 kilograms will be the largest of any of the cargo vehicles, and its ability to land on runways will give crews immediate access to cargo. "We're really looking forward to having this capability."
Those missions can, in theory, be handled by a single Dream Chaser vehicle. Curry noted that the vehicle is designed to fly at least 15 times. However, the company expects to build more to meet additional demand it foresees developing.
"We're already working with Lockheed and others, looking at that second structure and when we're going to start that. Our intent has always been to build a second vehicle," Lindsey said. Additional vehicles will depend on demand, but, he said, "our intent is to build a fleet of these."
While SNC received some NASA commercial crew awards to start development of Dream Chaser, Lindsey said the company has invested a "huge amount of money" to complete this first orbital vehicle. "We're investing over a billion dollars of our own money into this program."
SNC is still holding out hope that it will still be able to develop a crewed version of the vehicle that was set aside after losing out to Boeing and SpaceX for commercial crew contracts in 2014. The CRS-2 contract, Lindsey said, allows SNC to complete development of the cargo version of the vehicle, whose design is about 85% common with the crewed version.
"I do think this is a great people mover," Curry said. "So I think one of these days, once we fly our missions to the space station, it'll be like 'Field of Dreams': build it and they will come. I think we'll be flying crew soon enough."
While there's no near-term NASA opportunity for a crewed version of Dream Chaser, Shireman said with an extension of the ISS beyond 2024, which looks likely, there may be opportunities to add new commercial crew providers in much the way SNC was added to the contracts for cargo delivery. "We haven't forgotten about it," he said.
Quelle: SN
+++
Dream Chaser on a path to maiden flight as primary structure arrives at SNC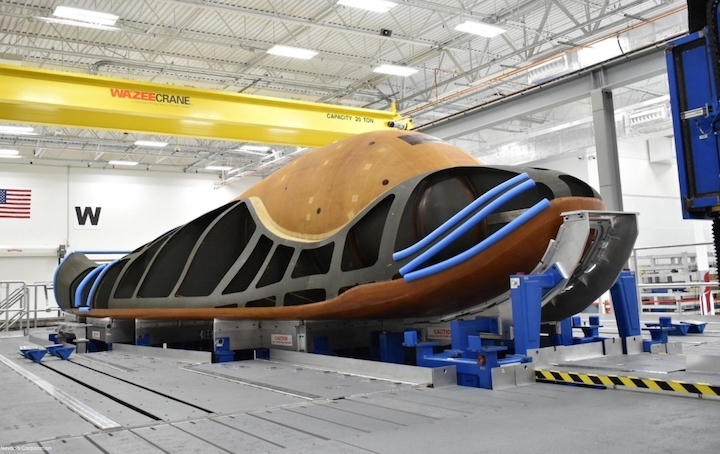 Sierra Nevada Corporation's Dream Chaser spacecraft is about to enter final assembly, integration and testing after the primary structure was delivered from Lockheed Martin. Marking the event, SNC officials are confident their vehicle will conduct her first ISS resupply mission in the latter part of 2021 under NASA's Commercial Resupply Services 2 (CRS2) contract.

The structure – 30 feet long by 15 feet wide and approximately 6 feet high and weighs roughly 2,200 pounds – is the largest piece of technology to make up Dream Chaser and the most advanced high-temperature composite spaceframe ever built.
It is a pressurized composite structure that will contain pressurized payloads heading to the ISS. It will also host a large amount of critical down mass returning to Earth.
The structure was manufactured by subcontractor Lockheed Martin, where it was "baked" in an autoclave.
Following structure's completion at Lockheed Martin, it recently shipped from their Fort Worth, Texas facility to Louisville, Colorado, where Dream Chaser is being built and integrated by SNC.
"As the first building block of the spacecraft, it represents the first critical path hardware to be received in Colorado and launch of the assembly, integration and test (AI&T) phase of the program," said former NASA space shuttle commander, Steve Lindsey, now senior vice president of strategy for SNC's Space Systems business area.
"Dream Chaser is truly a state-of-art vehicle with cutting edge technology. This structure exemplifies its unique design and complexity."
Under the CRS2 contract, SNC will be launching six missions to the ISS on United Launch Alliance's Vulcan Centaur rocket out of Cape Canaveral.
The Dream Chaser Cargo System can carry up to 12,000 pounds of supplies and other cargo and returns delicate science to Earth with a gentle runway landing. Dream Chaser is going to utilize the famous Shuttle Landing Facility (SLF) at the Kennedy Space Center.
Landing on the SLF adds to the numerous comparisons made to her big sister, the Space Shuttle. SNC officials cited the Shuttle's vast database of "space plane" understanding, which have been fed into the Dream Chaser program.
However, while Dream Chaser is a much smaller vehicle, she'll be a game-changer, according to John Curry, Dream Chaser CRS-2 Program Director.
As with the Shuttle orbiters, Dream Chaser will be reused numerous times. Currently, the vehicle is certified to fly 15 times, which will be useful if SNC gains additional flights via the likely extension of the CRS2 contract if the ISS's lifetime is also extended.
At present, the focus is on the path to this maiden flight of Dream Chaser The final assembly, integration and testing flow timeline has been laid out towards the late 2021 debut, of which the arrival of the primary structure deemed to be a major milestone.
According to Mr. Curry – the cargo module is expected to arrive in February. The left wing – also built by Lockheed Martin – could be at SNC by the end of the year – followed by the right wing in January of next year.
All the assembly and integration work should then be completed by April 2021, which will allow Dream Chaser to take a trip on a C-5 aircraft to NASA Glenn's Plum Brook Station for protocol testing. Plum Brook has hosted most new vehicles ahead of their first trip into space.
Over a three month period, Dream Chaser will be subjected to space-like environments – "Shaking it, baking it, EMI, acoustics, shock and vibrations – all that stuff", according to Mr. Curry – in the in-space propulsion facility.
Dream Chaser will then take a ride to Florida where she'll land in the C-5 on the SLF in July of 2021 as a preview to her maiden return from space.
While SNC does not need to conduct another free-flight test, thanks to the successful gathering of data from the crew version of the vehicle, known as the Engineering Test Article (ETA), some runway testing will be conducted ahead of being transported to meet up with the launch vehicle.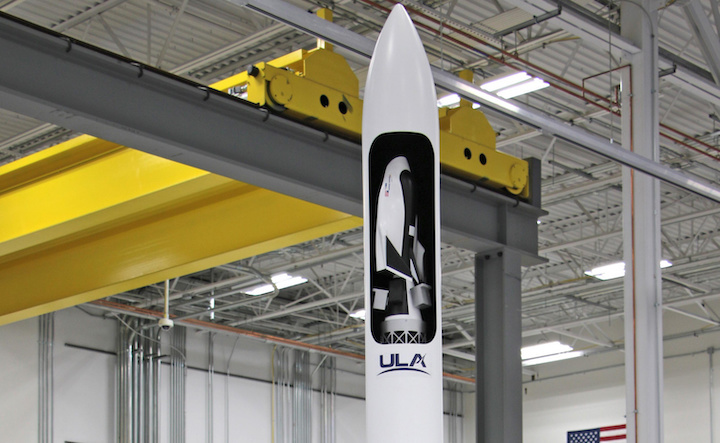 Following those tests, ULA will become heavily involved as they prepare Dream Chaser for encapsulation inside the large Vulcan fairing.
For her return home, former Shuttle commander Lindsey added that there will be some commonality with a Space Shuttle landing. However, despite the steep final approach that was a trademark of an orbiter landing, Dream Chaser's will be even steeper.
The main takehome from the event is Dream Chaser is moving forward through her milestones and is on track to support the ISS cargo requirements under the CRS2 contract on schedule.
"It's an extraordinary engineering and manufacturing accomplishment," said Eren Ozmen, chairwoman and president of SNC.
"Our team has been looking forward to this day for a long time so that we can fully assemble America's spaceplane in preparation for its first mission for NASA."
Quelle: NS
1216 Views