27.07.2019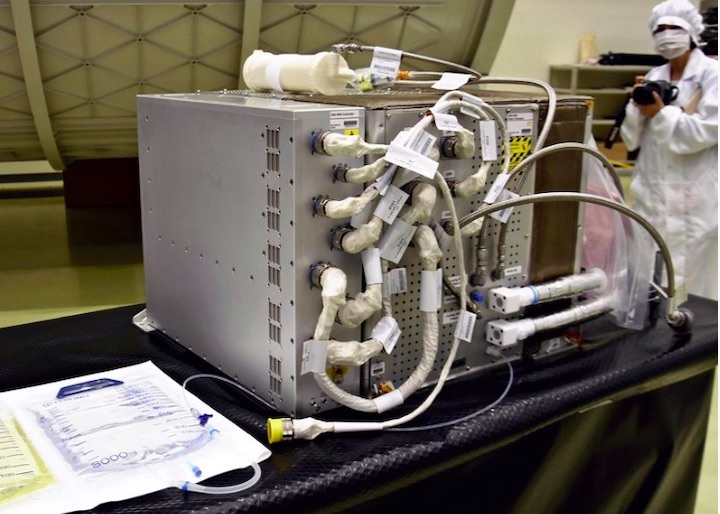 Jiji Press,The Japan Aerospace Exploration Agency, or JAXA, has unveiled a new water recycling device, which purifies astronauts' urine into drinking water.
The equipment, developed jointly with Tokyo-based Kurita Water Industries Ltd., was shown at JAXA's Tsukuba Space Center in Tsukuba, Ibaraki Prefecture, on Wednesday. It will be sent to the International Space Station around autumn this year for a test of its performance.
The government-affiliated space agency hopes that the device will be used in projects including a moon exploration mission now being studied mainly by the United States.
A U.S.-made water recycling system currently in use at the ISS has a recycling rate of 70 to 80 percent and requires the filter and other parts to be replaced every six months.
As frequent water replenishment will be difficult during explorations of the moon and Mars, for example, a system with a high recycling rate and for which maintenance is easy needs to be developed.
The equipment developed by JAXA and Kurita turns urine into drinkable water through the process including removing calcium using an ion exchange resin and electrolyzing organic matters.
While the system, with a recycling rate of 85 percent, is capable of producing 800 milliliters of water a day, JAXA hopes to develop in the future a device capable of recycling over 90 percent of water content emitted from four astronauts and moisture in the air.Speech
Quelle: The Japan News
1941 Views