11.07.2019
Divisive telescope to restart building next week in Hawaii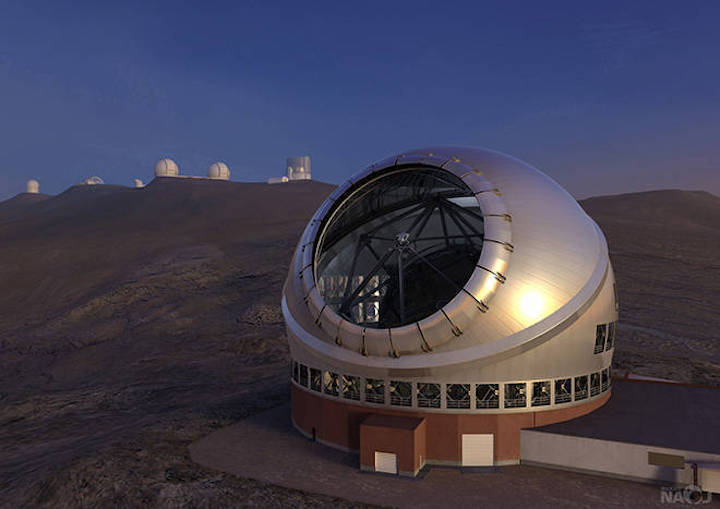 Construction on a giant telescope will start again next week after lengthy court battles and passionate protests from those who say building it on Hawaii's tallest mountain will desecrate land sacred to some Native Hawaiians.
State officials announced Wednesday that the road to the top of Mauna Kea mountain on the Big Island will be closed starting Monday as equipment is delivered.
Scientists revere the mountain for its summit above the clouds that provides a clear view of the sky with very little air and light pollution. Astronomers say it will allow them to reach back 13 billion years to answer fundamental questions about the advent of the universe.
The Thirty Meter Telescope project got approval to move forward last month. While it was the final legal step, opponents vowed to keep fighting and even get arrested if necessary to stop construction.
Gov. David Ige said unarmed National Guard units will be used to transport personnel and supplies and enforce some road closures, but they will not be used in a law enforcement capacity during planned protests.
"We just are asking people to be safe ... we certainly would ask that they be respectful of those who have to work on this project," Ige said. "We certainly are being respectful of those who choose to voice their disagreement with the project — we understand that that's important as well."
Four protesters held signs in the reception area of the governor's office after officials announced construction plans. Protests at the mountain will be peaceful, Healani Sonoda-Pale said.
Rhonda Vincent said closing the road to the mountain is like blocking access to a church.
"If we can't access our own gods, our own spirituality, isn't that wrong?" she said.
The American Civil Liberties Union of Hawaii sent a letter to Ige and other state officials expressing concern that the state recently purchased a long-range acoustic device known as a "sound gun" or "sound cannon." The letter demanded that the state not use it for any anti-protest efforts or crowd control during telescope protests.
Hawaii Attorney General Clare Connors said the device isn't intended for any forceful use and will be used to communicate with large groups of people.
Opponents say the $1.4 billion telescope will desecrate sacred land. Supporters say the cutting-edge instrument will bring educational and economic opportunities to Hawaii.
"We aim to build the TMT for the benefit of all mankind and to understand the universe in which we all live," said Henry Yang, chairman of the Thirty Meter Telescope International Observatory board of governors.
A group of universities in California and Canada make up the telescope company, with partners from China, India and Japan. The instrument's primary mirror would measure 98 feet (30 meters) in diameter. Compared with the largest existing visible-light telescope in the world, it would be three times as wide, with nine times more area.
Plans for the project date to 2009, when scientists selected Mauna Kea after a five-year, around-the-world campaign to find the ideal site.
It won a series of approvals from Hawaii, including a permit to build on conservation land in 2011.
Protests disrupted a groundbreaking and Hawaiian blessing ceremony at the site in 2014. After that, the demonstrations intensified.
Construction stopped in April 2015 after protesters were arrested for blocking the work. A second attempt to restart construction a few months later ended with more arrests and crews pulling back.
The state Supreme Court upheld the project's construction permit last year.
Because the telescope is such a divisive issue in Hawaii, some say they're afraid to publicly support the project because they fear blowback from activists.
the divided opinions have been challenging, said David Lassner, president of the University of Hawaii, which is subleasing land near Mauna Kea's summit to the telescope project.
"There are also many, many people who see the benefits of the project, including many kanaka maoli," he said, referring to Native Hawaiians. "Many of whom choose not to speak out in support but many of whom do want to see this project built for the contributions to human knowledge, for the contributions to education, for the contributions to the economy and the sheer impact of discovery."
It's not yet clear what protesters plan to do. Kahookahi Kanuha, who has been arrested three times while protesting the project, said he's not sure yet if he'll go to Mauna Kea next week, but he hopes that a lot people do show up.
"We all know this is a contentious issue. We all know people on all sides of it," he said, adding that he wants supporters and opponents to remain committed to non-violence.
Quelle: abcNews
+++
Update: 14.07.2019
.
GOVERNOR'S OFFICE – JOINT NEWS RELEASE – THIRTY METER TELESCOPE SET TO START CONSTRUCTION
Posted on Jul 10, 2019 in Latest News, Press Releases
HONOLULU – Gov. David Ige and the Thirty Meter Telescope International Observatory (TIO) today announced that construction of the Thirty Meter Telescope (TMT) will begin the week of July 15, 2019.
The State Department of Transportation announced that Mauna Kea Access Road will be closed and there could be lane and other road closures associated with large equipment movement beginning July 15. In addition, hunting units A, K, and G in the Mauna Kea Forest Reserve area will be temporarily closed to hunting effective July 15. Both measures are being taken to ensure the safety and security of the public and personnel involved in moving equipment for the TMT project up the Mauna Kea Access Road.
David Y. Ige, Governor, State of Hawaiʻi:
"We have followed a 10-year process to get this point, and the day for construction to begin has arrived. At this time our number one priority is everyone's safety. As construction begins, I continue to be committed to engaging with people holding all perspectives on this issue and to making meaningful changes that further contribute to the co-existence of culture and science on Mauna Kea."
Henry Yang, Ph.D., Chair, TIO Board of Governors:
"After being given all the necessary clearances by the State of Hawai'i and respectfully reaching out to the community, we are ready to begin work on this important and historic project.
"We have learned much over the last 10-plus years on the unique importance of Maunakea to all, and we remain committed to being good stewards on the mountain and inclusive of the Hawaiian community.
"Hawai'i is a special place that has long pioneered and honored the art and science of astronomy and navigation. We are deeply committed to integrating science and culture on Maunakea and in Hawai'i, and to enriching educational opportunities and the local economy.
"We acknowledge those who disagree with our project and express our respect for their views. Lastly, we are grateful for our many friends and supporters in the community during this journey. We also thank our project partners for their steadfast commitment to build the Thirty Meter Telescope in Hawai'i."
TMT will be constructed on UH-managed lands on Mauna Kea located in the conservation district regulated by the Board of Land and Natural Resources (BLNR). On June 19, 2019, the state Department of Land and Natural Resources (DLNR) issued a notice to proceed to the University of Hawaiʻi at Hilo for the TMT project. The permit was issued after DLNR confirmed the completion of the pre-construction conditions and mitigation measures required of the project in the Conservation District Use Permit.
About TMT:
The TMT International Observatory LLC (TIO), a non-profit organization, was established in May 2014 to carry out the construction and operation phases of the Thirty Meter Telescope (TMT) Project. The Members of TIO are Caltech, University of California, the National Institutes of Natural Sciences of Japan, the National Astronomical Observatories of the Chinese Academy of Sciences, the Department of Science and Technology of India, and the National Research Council (Canada); the Association of Universities for Research in Astronomy (AURA) is a TIO Associate. The Gordon & Betty Moore Foundation has provided major funding.
Quelle: State of Hawaii.
----
Update: 15.07.2019
.
Hundreds of Thirty Meter Telescope opponents on Mauna Kea in attempt to block construction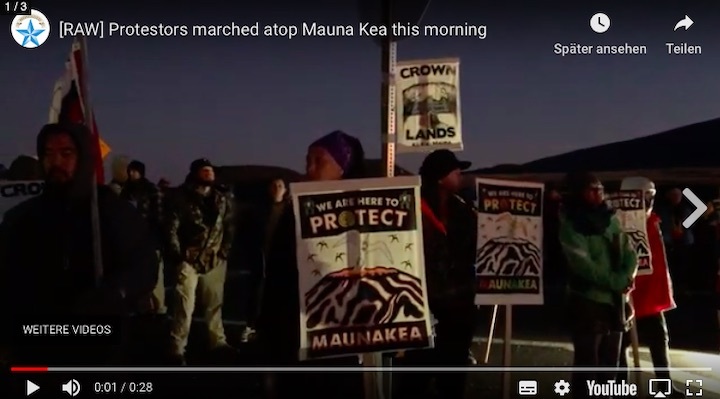 https://www.youtube.com/watch?time_continue=1&v=yOTZNER8Mos
State and local officials will try to close a road to the summit of Mauna Kea Monday morning to allow trucks carrying construction equipment to make their way to the top to begin construction of the Thirty Meter Telescope on land that some Native Hawaiians consider sacred.
Hundreds of demonstrators have gathered to protest the construction.
Officials say anyone breaking the law will be prosecuted.
Protesters who blocked the roadway during previous attempts to begin construction have been arrested.
Scientists hope the massive telescope will help them peer back to the time just after the Big Bang and answer fundamental questions about the universe. But some Native Hawaiians consider the land holy, as a realm of gods and a place of worship.
PREVIOUS COVERAGE
Gov. David Ige assured opponents of the Thirty Meter Telescope that there will be no sweep of protesters on Mauna Kea Sunday night.
"There's no intention to intervene by law enforcement on any activity as long as participants are behaving in a lawful manner on open public lands and abiding by lawful instructions from any law enforcement officers," he said at an afternoon news conference at the State Capitol to dispel rumors of an impending sweep at 8 p.m.
Ige said he was informed by organizers of a 12-hour vigil on Mauna Kea to protest the construction of the Thirty Meter Telescope, which is slated to start Monday.
The vigil went from at 6 a.m. and will end at 6 p.m. Sunday at Puʻu Huluhulu, which is near the dormant volcano.
Ige said he had no problems with the vigil, which will not interfere with the TMT's construction, and stressed that there are no sweeps planned.
"As construction begins, our No. 1 priority is to keep our community safe. Law enforcement's mission is to ensure that everyone can do their job, that truck drivers can drive and deliver equipment and materials as they are asked to do," he said.
He wasn't sure of the number of police officers there, but noted that there were hundreds of protesters and many parked cars on Mauna Kea.
"We are concerned that these false rumors and speculation about state law enforcement activities creates anxiety in our community, and we just really want to remind people that the men and women in law enforcement are your neighbors," he said.
Ige didn't mention what equipment that available for law enforcement officers on Mauna Kea or what agencies are present there, but said, "Law enforcement has been preparing in a number of different way, and we are prepared to respond to whatever the situation may be … We don't expect protesters to get out of line, but in terms of preparation, law enforcement has gone through and prepared for every scenario you might be able to imagine."
Ige mentioned training to manage large groups of people, but said he couldn't comment on what law enforcement officers have one hand when asked if officers had tear gas.
The Hawaii Supreme Court approved a Conservation District Use Permit to build and operate the TMT in October. On June 20, the Department of Land and Natural Resources issued a notice to proceed to the University of Hawaii at Hilo.
On Saturday, the Office of Hawaiian Affairs demanded that construction stop to avoid harm to Native Hawaiians and ensure everyone's safety.
Quelle: Star Advertiser
----
Update: 19.07.2019
.
Hawaii telescope protesters don't back down after arrests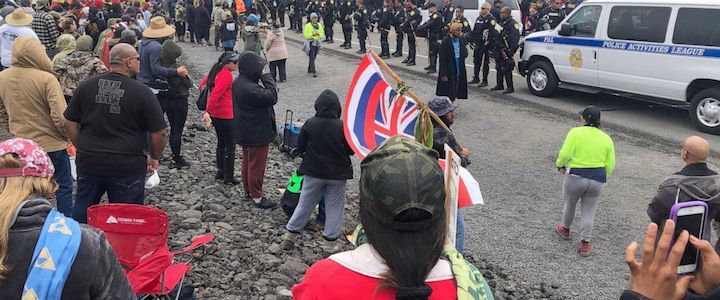 Police in riot gear are lined up on a road in Hawaii where an estimated 2,000 people are gathered to protest construction of a telescope on a mountain that some Native Hawaiians consider sacred, on Mauna Kea on the Big Island of Hawaii, Wednesday, July 17, 2019. Hawaii County Managing Director Wil Okabe says officials on Wednesday closed a highway leading to the protest site so a convoy of construction equipment can be brought up Mauna Kea. Protesters are off to the side of the road, singing.
Protesters didn't back down from their long-running effort to stop construction of a $1.4 billion telescope, blocking a road Thursday to the top of a mountain sacred to some Native Hawaiians a day after authorities arrested nearly three dozen people.
Activists have fought the Thirty Meter Telescope in the courts and on the streets for years, but the latest protest could be their final stand as they run out of legal options. The state Supreme Court has given the green light to the project that would put one of the world's most powerful telescopes atop Mauna Kea on the Big Island.
Gov. David Ige has signed an emergency proclamation to broaden the state's power to keep activists off Hawaii's tallest peak. It came after police negotiated with protesters for days before arresting a small group of 34 activists who refused to move from the road Wednesday.
"The number of protesters have swelled and their blockage of roads and highways creates a dangerous situation," Ige said. "This affects the ability of first responders to address emergencies."
Ige also said the protest is affecting the public's ability to move "freely and safely" across the Big Island. A critical highway that cuts across the center of the island and leads to the road up Mauna Kea was closed for several hours Wednesday because of the protests.
Officials haven't yet decided whether to oust the protesters entirely, but the proclamation makes that possible, Ige said.
"We are certainly committed to ensuring the project has access to the construction site," Ige said. "We've been patient in trying to allow the protesters to express their feelings about the project."
The state said construction equipment planned to go up the mountain starting Monday, but the protests have delayed it. It's unclear when the work would begin.
After the arrests, most of the protesters have been allowed to stay, and many were camping out at night on public land.
A group of existing telescopes sit atop Mauna Kea and have been used by NASA and other scientists to make discoveries about space for decades. The mountain has consistently clear weather and very little light pollution.
Plans to build the new telescope began in 2009, but Native Hawaiian opponents who say the mountain is sacred have slowed construction with drawn-out legal battles and by physically blocking crews from starting work.
They have sued again to argue that the project must post a security bond equivalent to the construction contract cost before starting to build.
Telescope officials said the challenge lacks merit and is another delay tactic.
Quelle: abcNews
----
Update: 20.07.2019
.
Hawaii officials want a peaceful end to telescope protests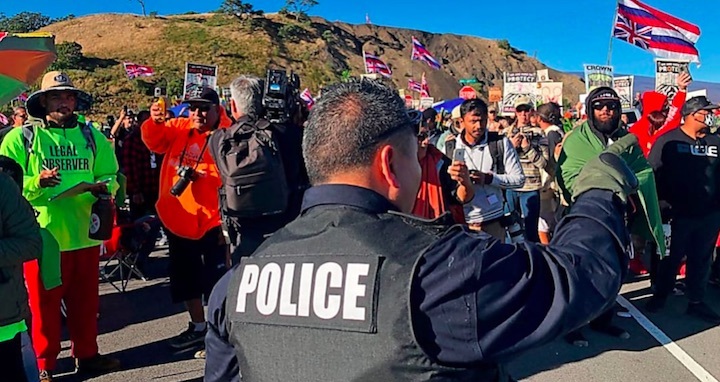 Officials in Hawaii said Friday that they will not call up additional National Guard troops or use force on peaceful telescope protesters blocking access to the state's highest peak.
Gov. David Ige said that his priority is to keep everyone in the community safe, including the activists at the base of Mauna Kea. The 80 guard members on the Big Island since the start of the protests will remain, state officials said.
"We will not be utilizing tear gas, as some of the rumors have been (saying)," Ige said. "We are looking for the best way forward without hurting anyone."
The governor said last week that National Guard units would be used to transport personnel and equipment as well as to enforce road closures.
Ige said Friday no more troops would be called in to the Big Island, but he stopped short of removing an emergency proclamation that he enacted Wednesday. The emergency order broadened the state's authority to remove protesters from the mountain, including the use of National Guard for security.
Big Island Mayor Harry Kim, who met with Ige Friday morning as about 800 to 1,200 activists gathered on the mountain, said he hopes the protesters and state officials will take some time to discuss a better way forward.
"We all need to step back a little bit," Kim said. "This is still our home, this is still our family. On both sides."
The move comes after some notable politicians weighed in on the issue Friday.
U.S. Rep. Tulsi Gabbard of Hawaii followed fellow Democratic presidential candidate Bernie Sanders in supporting protesters.
She said in a statement that Gov. Ige should withdraw the emergency declaration and sit down with protesters to find a peaceful way forward.
"Trust must be earned — it is wrong that state leaders have approved the development of a new telescope on a new site on Mauna Kea, without first ensuring the timely removal of decommissioned facilities along with full restoration of those sites," Gabbard said. "This failure and a history of broken promises has resulted in the standoff that we are seeing today."
Earlier in the day, Sanders said in a tweet that has since been deleted: "We must guarantee native people's right to self-determination and their right to protest. I stand with Native Hawaiians who are peacefully demonstrating to protect their sacred mountain of Mauna Kea."
Sanders' campaign didn't immediately respond to an email asking why the tweet was deleted.
Protest leader Kaho'okahi Kanuha said protesters have been bracing for law enforcement to show up in force ever since Gov. David Ige signed the emergency proclamation. That was the day officers arrested 34 protesters.
Hawaii Lt. Gov. Josh Green said he plans to meet with people about the issue.
"I believe that this struggle is more about the heart of Hawaii and our sense of self and dignity, especially for the Hawaiian people, than it is about a telescope. It is about cultural recognition and people's self worth," he said in a Facebook post.
It's the fifth day of protests at Mauna Kea in response to closing the road to the summit so that construction equipment for the Thirty Meter Telescope can be taken up. No trucks have gone up.
The Thirty Meter Telescope obtained permits from the state to build after a decade-long review process. Last year the state Supreme Court ruled the permits were obtained legally, allowing construction to move ahead.
There have been protests in other parts of Hawaii, including on Maui and at the state Capitol in Honolulu.
The Honolulu Star-Advertiser reported protesters slowed traffic on Honolulu's main highway, the H-1, for a second straight day on Thursday. A caravan of vehicles and mopeds forced other cars to slow to a crawl for several minutes until police cars entered the freeway in front of the procession.
Quelle: abcNews
545 Views