15.05.2019
SpaceX's Starship could launch secret Turkish satellite, says Gwynne Shotwell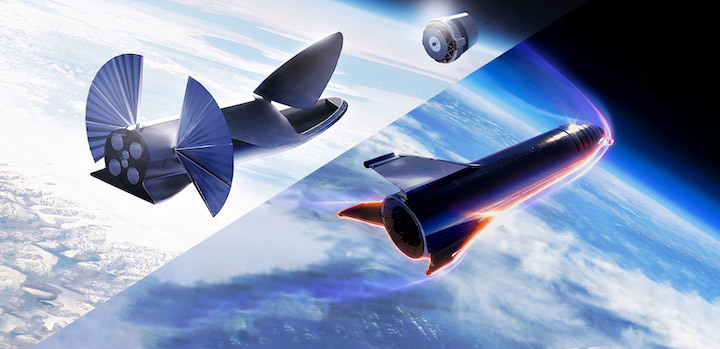 According to SpaceX COO/President Gwynne Shotwell and a Turkish satellite industry official, Starship and Super Heavy may have a role to play in the launch of Turksat's first domestically-procured communications satellite.

Per Shotwell's specific phrasing, this comes as a bit of a surprise. Built by Airbus Defense and Space, SpaceX is already on contract to launch Turksat's 5A and 5B communications satellites as early as Q2 2020 and Q1 2021, respectively. The spacecraft referred to in the context of Starship is the generation meant to follow 5A/5B: Turksat 6A and any follow-on variants. Turksat's 6-series satellites will be designed and manufactured domestically rather than procured from non-Turkish heavyweights like Airbus or SSL. However, the Turksat 6A satellite's current baseline specifications would make it an extremely odd fit for a launch vehicle as large as Starship/Super Heavy.
Curiously, in written statements to Turkish media outlets, Turkish Aerospace Industries (TAI) referred to a "Turksat 6A2" satellite for the first time ever. Prior to comments made at the Satellite 2019 conference, Turksat's prospects beyond 5A/5B were simply referred to as "Turksat 6A", a ~4300 kg (9500 lb) domestically-built communications satellite scheduled for completion no earlier than the end of 2020. Turksat 5A and 5B will both be approximately 4500 kg (9900 lb), well within the capability of the flight-proven Falcon 9 rockets they are expected to launch on.

Why, then, might Starship "[potentially] work for the next Turksat project", as suggested by Shotwell? Referring to what Turksat GM Cenk Sen then described as "6A2", Shotwell noted that the satellite would be "quite a large, complex satellite." While undeniably massive relative to almost anything else, the 4300-kg Turksat 6A is actually in the middle of the road (maybe even on the smaller side) relative to most geostationary communications satellites built and launched in the last few years.
WE'RE GONNA NEED A BIGGER SPECULATION…
SpaceX COO and President Gwynne Shotwell would know this as intimately as anyone, given her essential role at the head of the launch services provider. Most recently, SpaceX used Falcon Heavy to launch Arabsat 6A (6500 kg/14,300 lb) to a uniquely high transfer orbit of ~90,000 km (56,000 mi). In the second half of 2018, Falcon 9 was also tasked with launching Telstar 18V (7060 kg/15,560 lb) and 19V (7076 kg/15,600 lb) to geostationary transfer orbits (GTO), with 19V technically becoming the heaviest commercial communications satellite ever launched.

SpaceX is also just a few days away from launching 60 Starlink test satellites, reportedly set to become the company's heaviest payload ever with a mass greater than ~13,000 kg (30,000 lb). Put simply, SpaceX is about as familiar as one can possibly get with not only launching – but even building – truly massive and complex satellite payloads.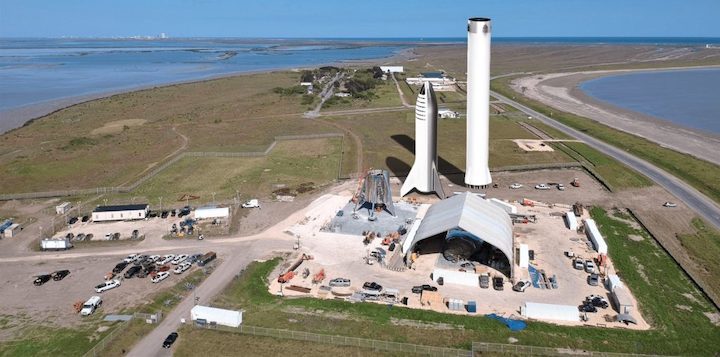 A rough visualization of the size of Starhopper, Starship, and Super Heavy, pre-steel. (Austin Barnard, Teslarati)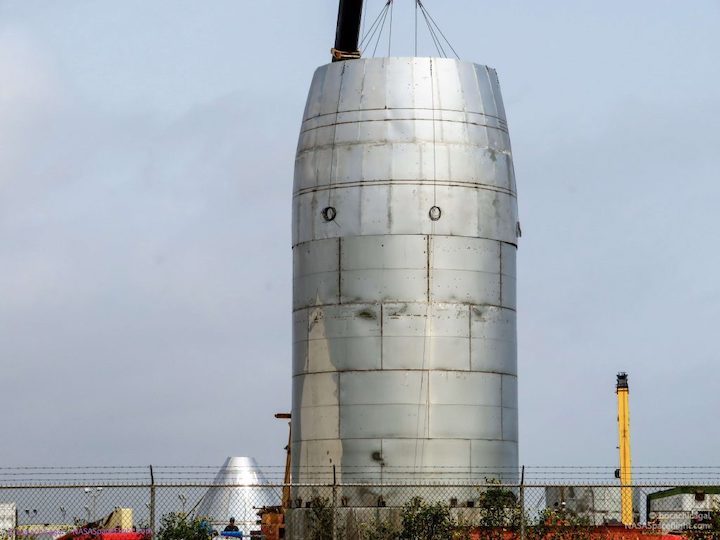 The first orbit-capable Starship prototype is currently being built in South Texas. (NASASpaceflight – bocachicagal)
In short, it appears that "Turksat 6A2" may refer to an extremely ambitious follow-on to Turksat 6A (perhaps 6A1?). To warrant the use of Starship over the then highly-proven and well-paved Falcon 9 or Heavy, Turksat 6A2 would indeed have to be what Shotwell referred to as "quite a large, complex satellite". In a recoverable configuration, Falcon 9 is capable of placing about 5500-6000 kg into a full GTO. Falcon Heavy allows for 8000-10000 kg, with the latter option assuming that all three boosters land on drone ships. Steel Starship's performance – with or without tanker refueling – is effectively an unknown quantity at this point in time, although SpaceX CEO Elon Musk says more Starship info will be provided this year at a dedicated June 20th event.

Aside from questions of payload performance of Starship/Super Heavy relative to Falcon 9/Heavy, it's unclear when the next-gen SpaceX rocket will actually be ready to start launching commercial payloads. Back in December 2018, Musk estimated that Starship had a 60% chance of reaching orbit by the end of 2020, with confidence on the rise as the company transitioned BFR's structure from carbon composites to stainless steel. Four months after that estimate, a low-fidelity Starship prototype – nicknamed Starhopper – successfully completed two Raptor-powered test fires, straining a few feet into the air against large tethers. Meanwhile, Raptor testing continues in McGregor, Texas, while progress is also being made on what is said to be the first orbit-capable Starship prototype a few thousand feet from Starhopper.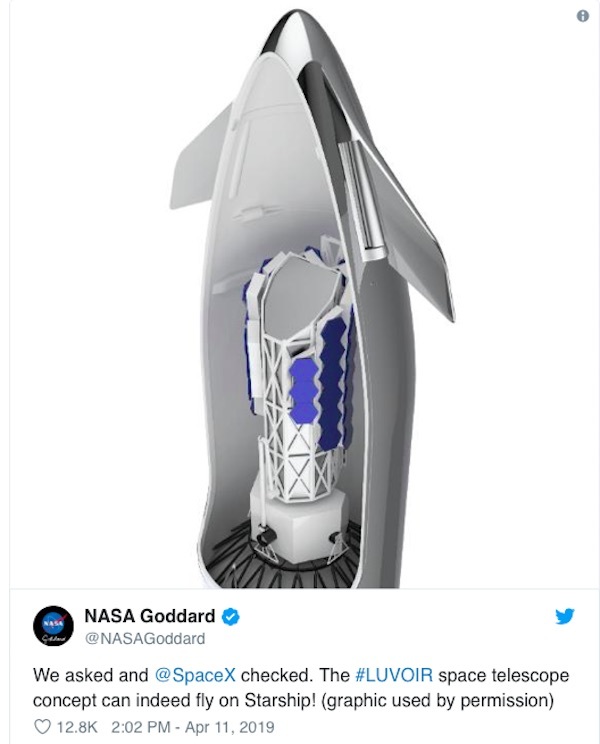 A LONG PATH TO ORBIT
Before SpaceX can begin orbital launch attempts with Starship, the company will need to build a new launch complex (or develop a floating launch platform), complete with processing and integration facilities also built from the ground up. Additionally, at least one massive Super Heavy booster will be needed for Starship to deliver more than just itself to orbit. Starship's unprecedented metallic heat shield will need to be made flight-ready, while a minimum of 38 Raptor engines will need to be built and tested. In short, a huge amount of work needs to be done before Starship and its associated facilities will be capable of launching high-value customer payloads.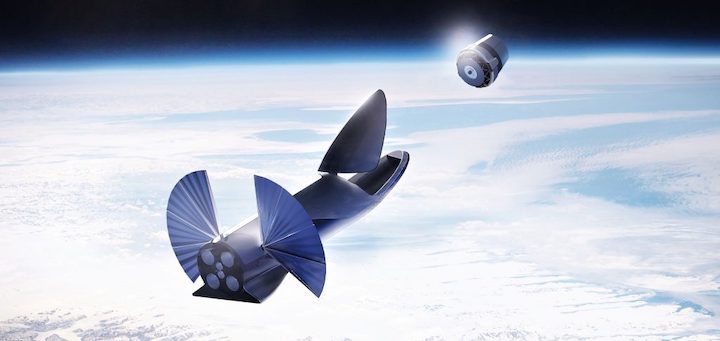 An official render of a cargo Starship (formerly BFS), circa 2017. (SpaceX)
n other words, any prospective Cargo Starship customers will necessarily be shopping for launches in 2021-2022 at the absolute earliest. According to TAI's Sen, SpaceX and its Starship vehicle will be just "one of the candidate[s]" eligible to compete for the Turksat 6A2 launch contract, hinting that these new comments are just the first of many more to come.
Quelle: TESLARATI
----
update: 18.05.2019
.
SpaceX is building a Starship prototype right here on the Space Coast
The unmistakable sounds of heavy machinery permeate the air around Cocoa's industrial area west of U.S. Highway 1, but there's a gleaming new entrant here.
Rising at this site on Cidco Road: A prototype of SpaceX's Starship, the company's next-generation vehicle aimed at taking humans and cargo into the depths beyond low-Earth orbit.
If the Starship prototype, also known as "Starhopper," sounds familiar, that's because it is – another has been under construction for months at SpaceX's facility in Boca Chica, Texas. Plans aren't to build a full-scale version of the stainless steel vehicle that will launch atop a Super Heavy booster, but instead smaller prototypes that can achieve sub-orbital flights to test engines, other hardware, and software.
And it's an intracompany competition, too.
"SpaceX is doing simultaneous competing builds of Starship in Boca Chica, Texas, and Cape Canaveral, Florida," CEO Elon Musk said this week. "Both sites will make many Starships. This is a competition to see which location is most effective. Answer might be both."
"Any insights gained by one team must be shared with the other, but other team not required to use them," he said.
In March, SpaceX filed permitting documents with the Florida Department of Environmental Protection indicating it planned on kicking off "plasma cutting operations" at the Cidco Road location. The communications obtained by FLORIDA TODAY show the department granted SpaceX air-related permissions.
Earlier this year, Musk confirmed both sites will ultimately construct the final versions of Starship and Super Heavy, the entirety of which will stand nearly 400-feet in height and target missions to the moon, Mars and beyond. Its first paying customer, a Japanese billionaire, has paid for several seats on a Starship to fly around the moon no earlier than 2023.
It remains unclear whether the Cocoa prototype will actually fly on sub-orbital "hops," but SpaceX could transport it to Cape Canaveral Air Force Station for testing. The two sites are separated by about 15 miles in a straight line, but nearly double that if transporting over roads.
Also on Cidco Road is Rocket Crafters, a Space Coast-based company aiming to produce 3D-printed rocket fuel for its future Intrepid-1 rocket designed to launch small satellites.
At Launch Complex 40, meanwhile, SpaceX is targeting sometime next week for the launch of 60 Starlink satellites on a Falcon 9 rocket. The mission was delayed Thursday night due to software issues with the internet-beaming spacecraft, and a fix will push the launch "about a week," SpaceX said.
Quelle: Florida Today
----
Update: 22.05.2019
.
Rio Grande Valley, Florida compete in construction of SpaceX Starship prototypes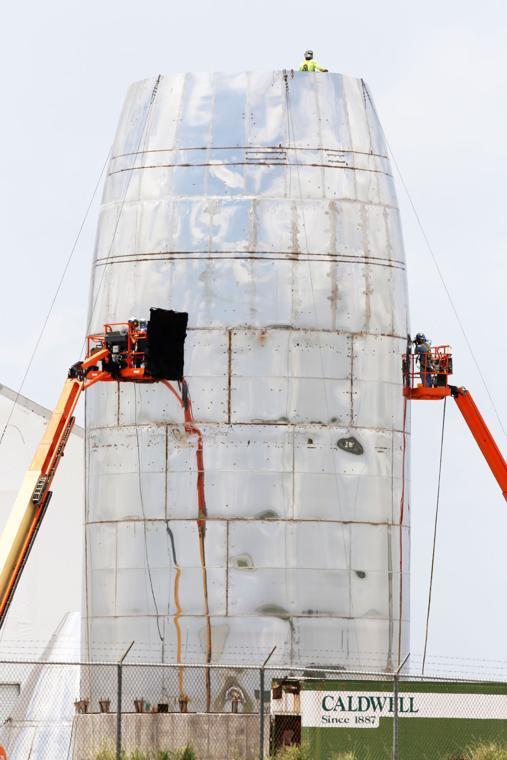 Elon Musk, CEO and lead designer of SpaceX, confirmed via Twitter on May 14 that Starship prototypes are being built at Cape Canaveral in Florida as well as the company's Boca Chica Beach site near Brownsville.
"SpaceX is doing simultaneous competing builds of Starship in Boca Chica Texas & Cape Canaveral Florida," he tweeted in response to a photo posted of a Starship prototype under construction at a Cocoa, Fla., industrial park.
The process is also cooperative, Musk noted, writing that "any insights gained by one team must be shared with the other," though neither team is required to incorporate the other's ideas.
The first Starship prototype, dubbed "Starhopper," was constructed at Boca Chica. The first tethered test firing of the non-orbital prototype's single Raptor rocket engine took place on April 3. A follow-up test took place late on April 5, a brief video posted by Musk clearly showing the hopper lifting off the pad a few feet to tether limit.
April 5 was the most recent test at Boca Chica. Musk tweeted on April 26 that crews were preparing for untethered hover tests at the site. Earlier this month, Starhopper was fitted with appear to be attitude-control thrusters, necessary to helping maintain control during hover tests.
Cameron County, meanwhile, has approved another round of closures this month for SpaceX to resume testing. County Judge Eddie Trevino Jr. announced May 14 the temporary closing of S.H. 4 from Oklahoma Avenue to Boca Chica Beach on May 28 between 2 p.m. and 10 p.m. Alternative closure dates are May 29 and/or May 30, according to a statement from Trevino.
A second Starship prototype, this one with orbital capability, according to Musk, is under construction at SpaceX's Boca Chica yard, about a mile and a half inland from the launch site, which lies less than 3,000 feet from the waters of the Gulf. The company is moving quickly to develop its Starship and Super Heavy (formerly Falcon Spaceship and Big Falcon Rocket, respectively), with the ultimate goal of getting humans to Mars.
The two Starhopper tests so far have involved one methane and liquid oxygen-powered Raptor engine. Musk also tweeted on May 14 that a fourth Raptor has been completed at SpaceX's engine works in Hawthorne, Calif., a fifth is under construction and the company's focus now is upping the build rate of Raptors Serial No. 6 through 10. The engines are being tested at SpaceX's testing facility in McGregor.
The actual Super Heavy booster will require 31 Raptor engines to push the 100-passenger Starship into space, while Starship itself will feature another seven engines, according to SpaceX. Musk said in March that both the Starship and Super Heavy will be built simultaneously at Boca Chica and Cape Canaveral.
In addition to gearing up for more Starhopper testing at Boca Chica and making progress on an orbital prototype, SpaceX has poured a large concrete slab for a second hangar-sized metal building, under construction, at the Boca Chica yard.
"Both sites will make many Starships," Musk tweeted on May 14. "This is a competition to see which location is most effective. Answer might be both."
Quelle: The Monitor
+++
SpaceX's Starhopper moves closer to its first flight
The test rocket might finally see some air
SpaceX hopes to launch its Starhopper test vehicle skyward on its first flights soon. The short tests, which will take place out of SpaceX's launch site in Boca Chica, Texas, will send the rocket to just under 1,640 feet (500 meters) high for its low-altitude flights and up to 16,400 feet (5,000 meters) high for its high-altitude flights, according to a modified application filed with the Federal Communications Commission. The heights match those that the company indicated in a similar filing last year.
The Starhopper is a very basic version of Starship, the massive passenger rocket that SpaceX wants to build to send people to the Moon and Mars. In order to prepare for the first Starship's flight to space, SpaceX has been tinkering with the test Starhopper in Boca Chica. The vehicle boasts a similar structure to the final rocket, though it's slightly smaller in size. Starhopper's most important task is to test out the new, powerful Raptor engines that SpaceX has developed for the future deep-space rocket.
SpaceX fired up a Raptor engine on the bottom of the Starhopper for the first time in April. It only lifted a few inches since the vehicle was tethered to the ground. But now, SpaceX plans to perform what are known as "hop" tests with the vehicle (hence the nickname Starhopper), which will send the rocket to a low altitude above the Earth. The company will then attempt to touch the Starhopper back down on the ground with the vehicle's three landing legs. The idea is to test out the landing capabilities the rocket's going to use to touch down on Earth and other worlds. SpaceX performed similar tests with a vehicle known as Grasshopper back in 2012 and 2013 to try out the landing technique its Falcon 9 rockets now use.
Starhopper's tethered tests only had one Raptor engine attached, but SpaceX CEO Elon Musk indicated that, eventually, three engines would be added to the vehicle for higher flights. For now, images of the vehicle show that the Starhopper in Boca Chica doesn't have any engines attached. That will change as the company gears up for the inaugural flights.
Cameron County, which is where Boca Chica is located, issued road closures around the launch site for May 28th, indicating that the flights could take place as soon as a week from now. However, SpaceX's first round of tests occurred many weeks after the first round of road closures were issued, so it's possible the first hop tests may still be a few weeks out.
Quelle: The Verge
----
Update: 3.06.2019
.
SpaceX readying Starhopper for hops in Texas as Pad 39A plans materialize in Florida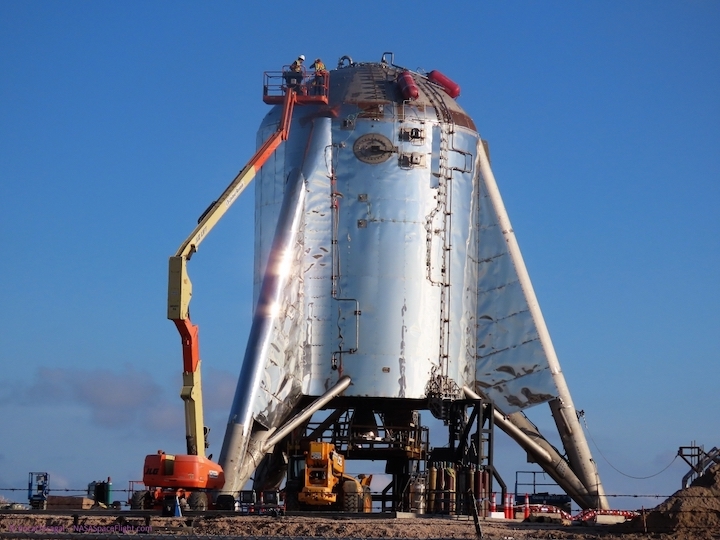 With the arrival of a new Raptor engine at their Boca Chica launch facility, SpaceX is gearing up for a second round of testing with the Starhopper vehicle in South Texas. The latest test campaign is slated to begin in mid-June and is expected to include the first untethered hop of Starhopper. Meanwhile, on the Florida side, SpaceX continues to make progress with their plans to utilize Pad 39A for the Starship program.
Starhopper
The Starhopper vehicle is a testbed for the development of SpaceX's upcoming Starship spacecraft. The launch provider hopes to one day utilize the fully reusable Starship system to launch humans and cargo to the Moon and Mars.
Starhopper performed its first two hot-fire tests at the beginning of April. During the tests, a single Raptor engine was fired for a couple of seconds to verify that Starhopper was ready for more rigorous testing including untethered hops to higher altitudes.
Following the April events, the Raptor engine – designated SN2 – was trucked away for post-testing analysis. Then, work quickly began to prepare the Starhopper vehicle for the next phase of testing.
This work included the installation of quick disconnect umbilicals, attitude control systems, and shock absorbers on the legs of the Starhopper.
These systems will allow Starhopper to perform untethered hops from SpaceX's launch facility in Boca Chica, Texas.
The first untethered hop is currently scheduled for mid-June – with the Starhopper expected to target an altitude of around 20 meters. However, prior to the hop, SpaceX is also set to perform fueling, ignitor, and preburner testing along with a static fire of the Raptor engine.
That being said, it should also be noted that the test plans for the Starhopper vehicle are rapidly evolving, so the events are heavily subject to change.
For instance, up until recently, the company was planning to utilize Raptor SN4 for the untethered hops. However, the company has now decided to utilize this engine only for fit checks, and will instead perform the hops with SN5 – the latest Raptor to come out of SpaceX's factory in Hawthorne, California.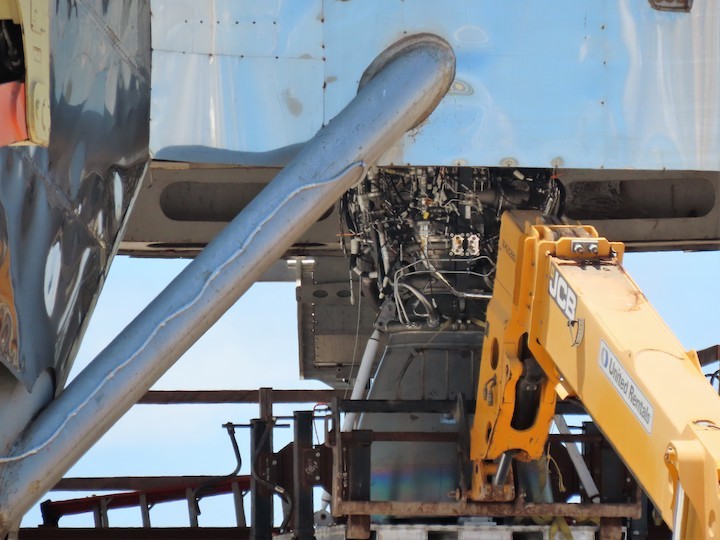 SN4 arrived in Boca Chica for the fit checks on Friday afternoon. Meanwhile, SN5 is already at SpaceX's test facility in McGregor Texas for verification testing before being shipped south.
While the precise reason for the engine change is unknown, by still shipping SN4 to Boca Chica first, SpaceX will be able to ensure that the Starhopper is ready for hopping ahead of SN5's arrival. This should help to reduce the delays caused by waiting for SN5.
Once SN5 arrives, SpaceX is expected to quickly dive into the test campaign. However, as seen with the previous round of hot fire testing at Boca Chica, it may take several attempts to conduct each of the various tests.
Raptor is a full flow staged combustion cycle engine running on methane. An engine of that class has never been used to launch a vehicle into space. Therefore, its development is heavily subject to growing pains. Furthermore, the methane ground support systems are also new to SpaceX, as their currently operational vehicles use RP-1 for propellant.
Subsequently, it is anticipated that the teams will encounter issues during the testing in Boca Chica.
Starship
The lessons learned from the Starhopper vehicle will be used to influence the design of the more advanced Starship prototypes. The vehicles are currently being built simultaneously in both Boca Chica Texas and Cocoa Florida.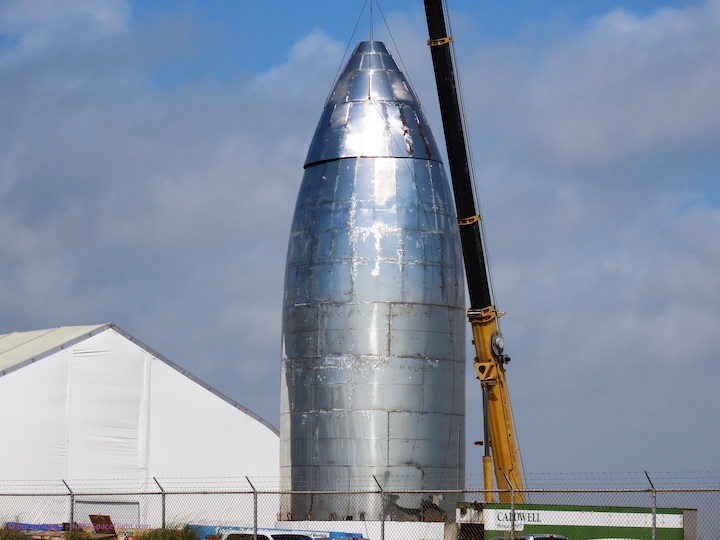 It is understood that the Texas-based vehicle has been designated Mk.1 while the Florida-based vehicle has been designated Mk.2.
The Texas and Florida-based teams are competing to see which is most effective at building and launching the spacecraft.
While the Mk.1 prototype has had SpaceX's launch site in Boca Chica lined up for its test flights, the launch site for the Mk.2 vehicle had been slightly more uncertain.
SpaceX already has two launch pads in Florida, but both are being actively used to support the Falcon 9 and Falcon Heavy rockets. Therefore, the company had been looking at a variety of options for launching Starship.
However, Pad 39A has recently become the frontrunner to support Starship. While it is perhaps the obvious choice when considering its large size, the launch complex is also needed to support critically important Falcon launches.
These include national security missions for the U.S. Air Force on Falcon Heavy and Crew Dragon launches for NASA's Commercial Crew program on Falcon 9.
NASA and the Air Force are SpaceX's largest customers, and thus it is vitally important that the Starship testing does not pose a significant risk to the launch provider's ability to support its existing manifest.
The good news is that Air Force and NASA missions will likely only be launching from Pad 39A a couple of times a year, and thus there will be plenty of downtime for the Starship testing.
Therefore, as NASASpaceflight.com reported last month, SpaceX is exploring the addition of a second launch mount to the east of the existing Falcon infrastructure.
Since then, more details about the proposal have emerged including plans for a landing zone.
Due to Starship's large diameter of approximately nine meters, transporting it will be difficult. Consequently, SpaceX wants to land the vehicle following launches at a proposed landing pad inside the fence of Launch Complex 39A.
5670 Views