28.09.2018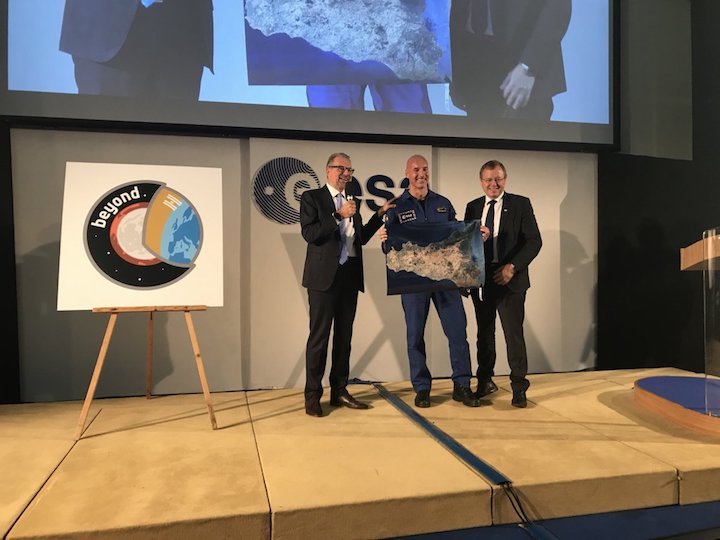 Luca Parmitano Beyond mission event
-
Today ESA astronaut Luca Parmitano announced the name of his second mission and logo during an event at ESA's ESRIN establishment in Italy. Luca will be going 'Beyond' when he returns to the International Space Station in 2019 as part of Expedition 60/61, alongside Andrew Morgan of NASA and Alexander Skvortsov of Roscosmos.
Luca was the first of the 2009 astronaut class to fly to the Space Station. His first mission Volare, meaning 'to fly' in Italian, took place in 2013 and lasted 166 days, during which time Luca conducted two spacewalks and many experiments that are still running today.
Been there, beyond that
In selecting Beyond, Luca was inspired by his fellow ESA astronauts. From the nearness to Earth of Thomas Pesquet's Proxima mission to the broadening scope of Alexander Gerst's current Horizons mission, Luca saw a path that will push humankind even farther, for the benefit of all.
"What we do in orbit is not just for the astronauts or for the International Space Station programme, it is for everybody," Luca explains. "It is for Earth, it is for humankind, and it is the only path for us to learn what we need in terms of science and technology in order to go beyond."
The mission logo illustrates this trajectory. An astronaut looks out into space through a helmet visor. Earth and the Space International Station are reflected in this visor. In the distance, the Moon is poised for humankind's return, with the Orion spacecraft and exploratory rovers. Beyond is Mars, the Red Planet, currently being studied by satellites such as ExoMars, Mars Express and, one day, by humans.
The research Luca will be running on the Space Station will contribute to keeping humans safe on longer exploration missions. Also on the agenda for Luca are demonstrations that will develop the technological and operational knowledge that will allow humans, together with robots, to explore the Moon and Mars from orbit and on their surfaces.
Commanding space
It is not all experiments for Luca. He will serve as Space Station commander during the second half of his mission. This is the third time a European astronaut has held this leadership role, but the first by an Italian astronaut.
How does Luca plan to take on this exciting yet challenging responsibility?
"I see myself as a facilitator. My goal will be to put everybody in the condition to perform to the best of their capability."
Luca is currently training for his upcoming mission at NASA's Johnson Space Center in Houston, at Star City near Moscow, and at the European Astronaut Centre in Cologne. In addition to running simulations on the Soyuz spacecraft he is also familiarising himself with the experiments he will conduct in the orbital outpost.
Luca is excited to return to Europe's Columbus laboratory, launched 10 years ago this year. Columbus houses as many disciplines as possible in a small volume, from astrobiology to microbiology through metallurgy and psychology. Countless papers have been published drawing conclusions from experiments performed in Columbus, and Luca will continue the research during his mission.
Follow Luca as he prepares for Beyond via lucaparmitano.esa.int.
Luca Parmitano's Beyond mission name and logo
Quelle: ESA
----
Update: 11.06.2019
.
NASA's administrator will not attend Soyuz launch from Baikonur on July 20 — Roscosmos
On July 20, the Soyuz MS-13 spacecraft will deliver Russian cosmonaut Alexander Skvortsov and astronauts Andrew Morgan (US) and Luca Parmitano (Italy) to the ISS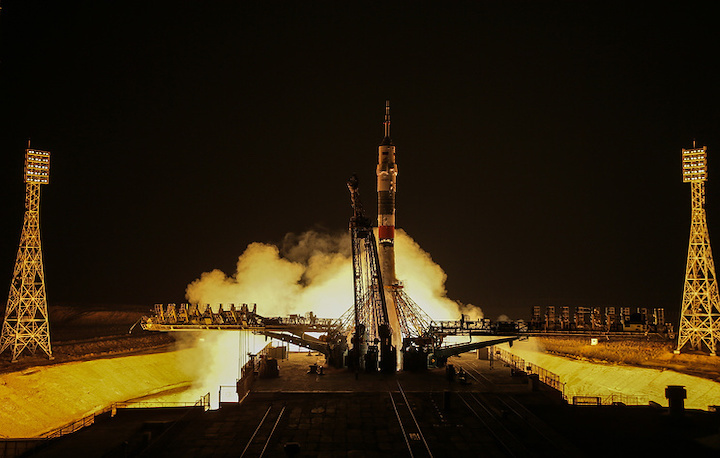 NASA's Associate Administrator for Human Exploration and Operations William Gerstenmaier will lead the US delegation to the launch of the Soyuz MS-13 manned spacecraft to the International Space Station (ISS) on July 20, the press service of Russia's Roscosmos space corporation told TASS on Tuesday.
"According to the US delegation's lists of participants in the launch of the Soyuz MS-13 manned spacecraft with the members of the 61st expedition onboard, William Gerstenmaier, [NASA Administrator Jim] Bridenstine's deputy, will lead NASA's delegation," the press service said.
Bridenstine also did not attend the last launch from the Baikonur spaceport in mid-March. Spokesman for Roscosmos Vladimir Ustimenko told TASS then that this could be due to Bridenstine's busy schedule.
On July 20, the Soyuz MS-13 spacecraft will deliver Russian cosmonaut Alexander Skvortsov and astronauts Andrew Morgan (US) and Luca Parmitano (Italy) to the ISS.
Quelle: TASS
----
Update: 19.06.2019
.
NASA Astronaut Available for Interviews Before First Space Mission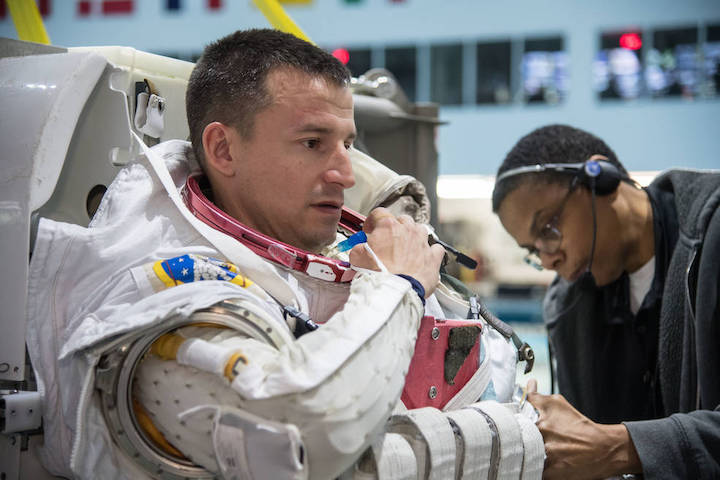 NASA astronaut Andrew Morgan prepares for spacewalk training Jan. 24, 2018, in the Neutral Buoyancy Laboratory at NASA's Johnson Space Center in Houston.
NASA astronaut Andrew Morgan will be available from 7 to 8:15 a.m. EDT Monday, July 1, for live satellite interviews from Star City, Russia, before launching on his first space mission, a nine-month expedition aboard the International Space Station.
The interviews will air live on NASA Television and the agency's website, preceded at 6:30 a.m. by video of Morgan's training.
Morgan and his crewmates, Alexander Skvortsov of the Russian space agency Roscosmos and Luca Parmitano of ESA (European Space Agency), are scheduled to launch aboard the Russian Soyuz MS-13 from the Baikonur Cosmodrome in Kazakhstan at 12:28 p.m. July 20 – the 50th anniversary of the Apollo 11 Moon landing.
They will arrive at the station about six hours after launch, joining Expedition 60 Commander Alexey Ovchinin of Roscosmos and Flight Engineers Nick Hague and Christina Koch of NASA. Morgan is scheduled to remain aboard the station until April 2020.
To interview Morgan, media must contact Sarah Volkman no later than 5 p.m. Wednesday, June 26, at 281-483-9071 or sarah.e.volkman@nasa.gov. Media participating in the interviews must tune to the NASA TV Public Channel (NTV-1) or Media Channel (NTV-3). Satellite tuning information is available at:
There are roughly 250 ongoing research experiments at NASA at any given time, many of which require astronauts' hands. On Morgan's mission, he and his crewmates, will facilitate research on various projects, including tests for the BioFabrication Facility on 3D-printing organs to see if microgravity affects the ability to build complex tissue shapes. Other experiments include the Biorock project, which focuses on mining materials in the solar system; the Space Mossstudy, a look into methods for engineering plants to grow better on Earth; and the Space Tango-Induced Pluripotent Stem Cells experiment, which will be the first examination in space of cells from patients with Parkinson's to better understand neurodegenerative diseases.
These are only a snapshot of the research Morgan and his crewmates will support during their expedition, and each experiment they conduct in space has practical application back on Earth.
Morgan joined NASA as a member of the 2013 astronaut class. He was born into a military family, but considers New Castle, PA to be his hometown. Morgan is a Colonel in the U.S. Army, and prior to his selection served as an emergency physician in special forces. He is the first Army Medical Corps officer to be selected as an astronaut.
In addition to Morgan's board certification in emergency medicine, he also is certified in primary care sports medicine (CAQSM) and has national registry in musculoskeletal ultrasound (RMSK). He is a qualified military freefall parachutist, combat diver and flight surgeon. Over the course of his career Morgan has deployed to combat zones in Iraq and Afghanistan.
Quelle: NASA
----
Update: 13.07.2019
.
NASA to Broadcast Launch, Arrival of Astronaut Andrew Morgan at Space Station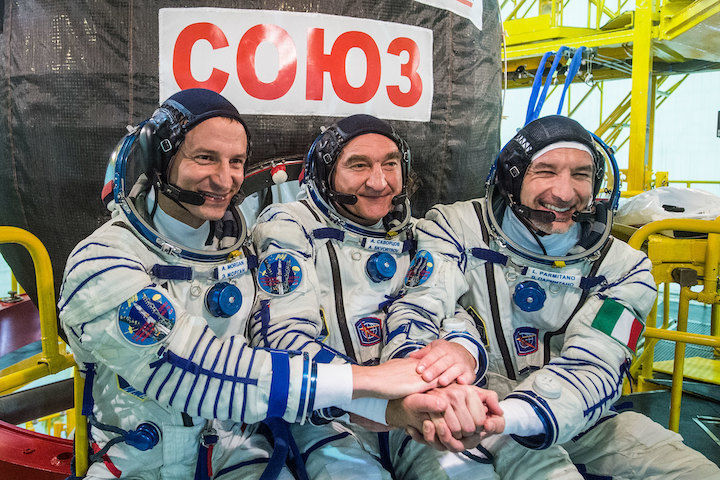 At the Baikonur Cosmodrome in Kazakhstan, Expedition 60 crew members Drew Morgan of NASA, Alexander Skvortsov of the Russian space agency Roscosmos and Luca Parmitano of ESA (European Space Agency) pose for pictures July 5, 2019, in front of their Soyuz MS-13 spacecraft during prelaunch preparations. They will launch July 20, 2019 from Baikonur for their mission on the International Space Station.
A multinational crew of space travelers, including NASA astronaut Andrew Morgan, is scheduled to arrive at the International Space Station on Saturday, July 20 – the 50th anniversary of Apollo 11's historic landing on the Moon. NASA Television and the agency's website will provide live coverage of the crew's launch and arrival.
Morgan, Luca Parmitano of ESA (European Space Agency) and Alexander Skvortsov of the Russian space agency Roscosmos are preparing to launch from the Baikonur Cosmodrome in Kazakhstan aboard the Soyuz MS-13 spacecraft at 12:28 p.m. EDT July 20 (9:28 p.m. Kazakhstan time). The four-orbit, six-hour journey will be the first spaceflight for Morgan, the second for Parmitano and the third for Skvortsov.
The trio's arrival will return the orbiting laboratory's population to six, including three NASA astronauts. The new crew members will dock to the station's Zvezda service module at 6:50 p.m. About two hours later, hatches between the Soyuz and the station will open, and the arriving crew will be greeted by Expedition 60 Commander Alexey Ovchinin of Roscosmos and NASA Flight Engineers Nick Hague and Christina Koch, who have been aboard the complex since March.
The Expedition 60 crew will continue work on hundreds of experiments in biology, biotechnology, physical science and Earth science aboard humanity's only permanently occupied microgravity laboratory.
TV coverage of the July 20 launch and docking activities is as follows (all times EDT):
11:30 a.m. – Soyuz MS-13 launch coverage
6 p.m. – Docking coverage
8 p.m. – Hatch opening and welcome coverage
Quelle: NASA
----
Update: 19.07.2019
.
Soyuz crew vehicle arrives at launch pad in Kazakhstan
A Russian Soyuz rocket rolled out to a launch pad in Kazakhstan early Thursday in preparation for liftoff Saturday with a Russian commander, Italian flight engineer and U.S. astronaut heading for the International Space Station.
The three-stage Soyuz-FG rocket rode a rail car from an assembly building to Launch Pad No. 1 at the Baikonur Cosmodrome in Kazakhstan, the same pad from which Yuri Gagarin launched on humanity's first voyage into space in 1961.
Following a procedure executed hundreds of times at Launch Pad No. 1 since the dawn of the Space Age, the Soyuz booster rolled up to the launch complex Thursday, and an erector raised the rocket vertical over a flame bucket carved from the Kazakh steppe.
Ground teams raised retractable service towers into position around the rocket, providing access to the vehicle for final preflight checkouts, and for the three-man crew set to ride the Soyuz into orbit Saturday.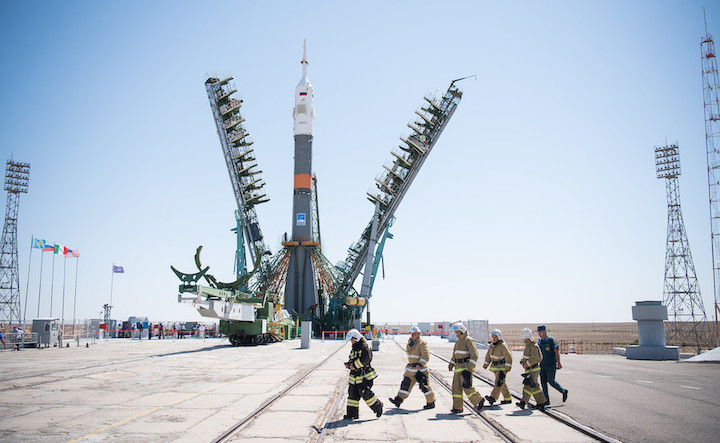 Russian commander Alexander Skvortsov, Italian-born flight engineer Luca Parmitano and NASA astronaut Drew Morgan are set for liftoff at 1628:21 GMT (12:28:21 p.m. EDT) Saturday on top of the Soyuz rocket.
The three crew members will ride into orbit inside the Soyuz MS-13 spacecraft in pursuit of the International Space Station.
The kerosene-fueled Soyuz booster will climb away from the barren Central Asia spaceport with more than 900,000 pounds of thrust. Liftoff is scheduled for 9:28:21 p.m. local time at the Baikonur Cosmodrome.
The Soyuz third stage will inject the spacecraft and crew into a preliminary orbit less than nine minutes after liftoff. After extending its solar arrays and navigation antennas, the Soyuz MS-13 spaceship will kick off a series of orbital adjustment maneuvers to reach the space station's altitude more than 250 miles (400 kilometers) above Earth.
Docking with the aft port of the space station's Zvezda service module is scheduled for 2250 GMT (6:50 p.m. EDT) Saturday. Skvortsov, Parmitano and Morgan will float into the station a couple of hours later to boost the station crew size back to six, joining Expedition 60 commander Alexey Ovchinin and flight engineers Nick Hague and Christina Koch.
Skvortsov will sit in the center seat of the Soyuz spacecraft. The 53-year-old cosmonaut is set to fly on his third space mission, following two expeditions on the space station in 2010 and 2014. Skvortsov, a former military fighter pilot who was born in the Moscow region, has logged 345 days in space on his previous two missions.
Luca Parmitano is representing the European Space Agency and will occupy the left-hand seat of the Soyuz spacecraft, filling the role of primary flight engineer.
Parmitano, 42, considers Catania, Sicily, as his hometown. He earned a bachelor's degree in political sciences from the University of Naples Federico II and holds a master's degree in experimental flight test engineering from the Institute Superieure de l'Aeronautique et de l'Espace in Toulouse, France. Parmitano served as a combat pilot and test pilot in the Italian Air Force before his selection as an ESA astronaut in 2009.
This will be Parmitano's second mission to the space station, following a 166-day flight in 2013. Parmitano will become commander of the Expedition 61 crew on the station later this year.
U.S. Army Col. Drew Morgan, 43, is making his first trip into space after his selection to join NASA's astronaut corps in 2013. Born in Morgantown, West Virginia, to a military family, Morgan grew up at different locations across the United States and Great Britain and graduated from the U.S. Military Academy at West Point with a bachelor's degree in environmental engineering.
Morgan earned a medical degree in from the Uniformed Services University of the Health Sciences in Bethesda, Maryland, and deployed in support of combat operations in Afghanistan, Iraq and Africa.
Skvortsov and Parmitano are slated to spend 201 days in space before returning to Earth in their Soyuz MS-13 spaceship on Feb. 6, 2020. NASA flight engineer Christina Koch, who launched in March on a previous Soyuz mission, will also come home on the Soyuz MS-13 spaceship to conclude a 328-day expedition.
Morgan will remain on the station until next April before returning to Earth with a Soyuz crew set for launch in September.
More photos of Thursday's rollout are posted below.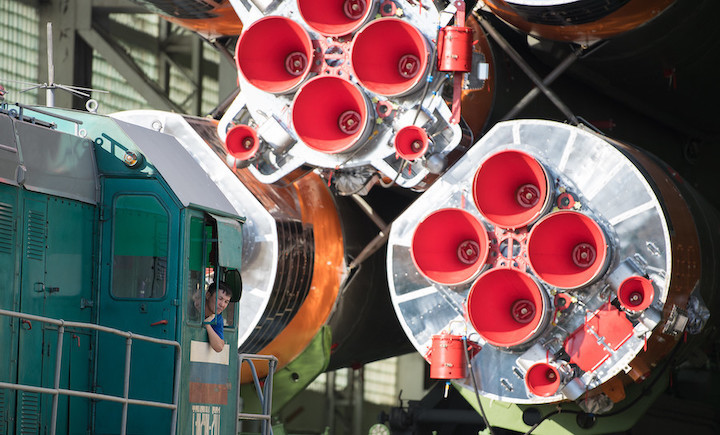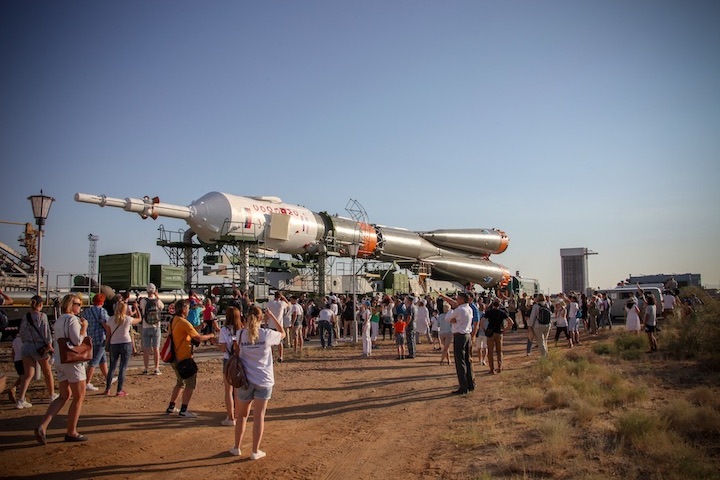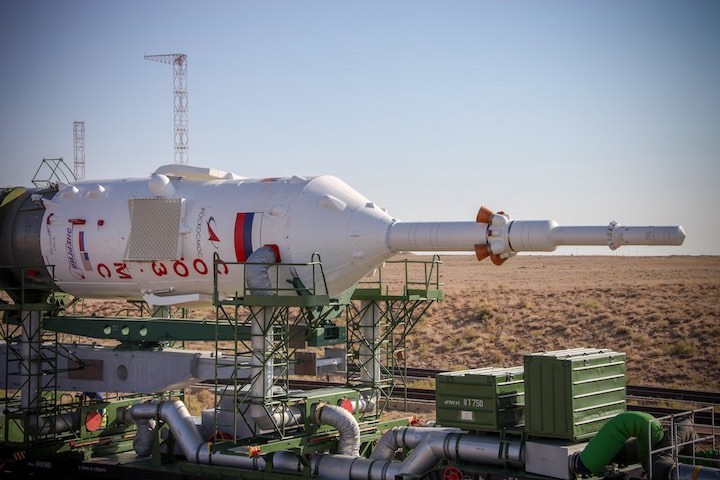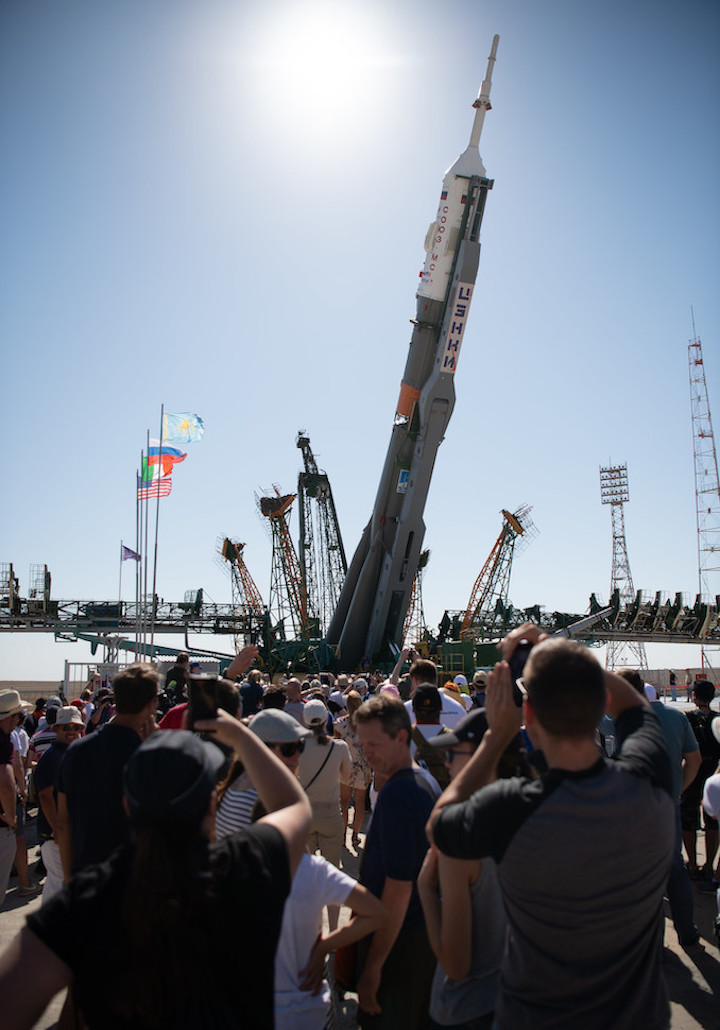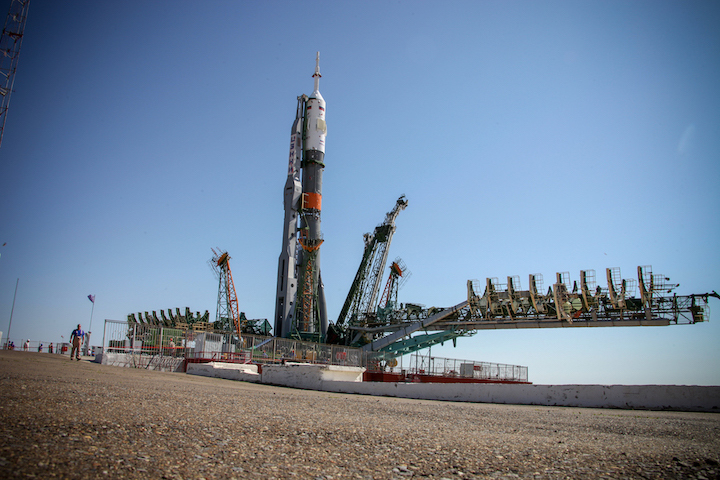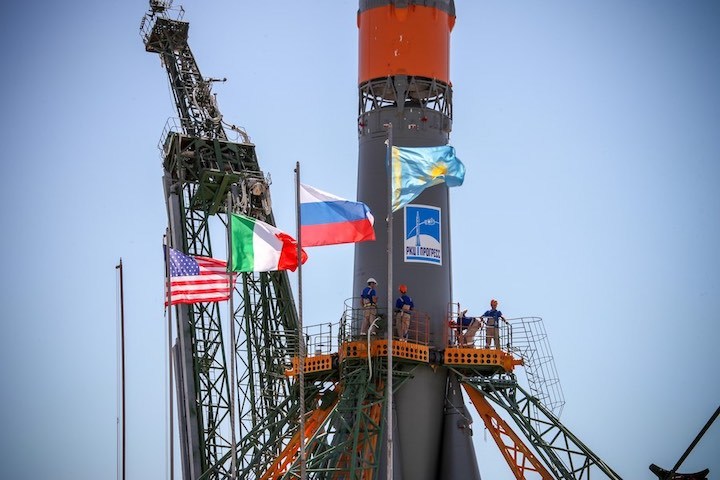 Quelle: NS, Roscosmos
+++
50 Years After Moon Landing, Soyuz MS-13 Crew Launches to Space Station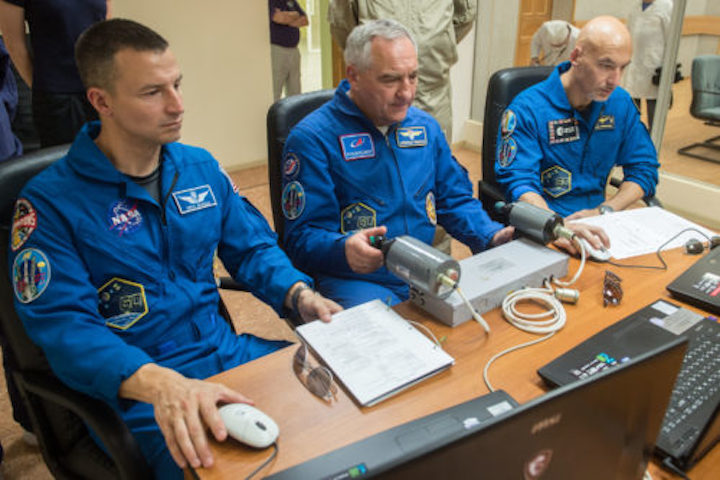 Three spacefarers from a trio of nations will launch aboard Soyuz MS-13 on Saturday, 20 July, bound for a multi-month tour of the International Space Station (ISS). First-time NASA flyer Drew Morgan, seasoned Russian cosmonaut Aleksandr Skvortsov and Italy's only spacewalker, Luca Parmitano, will rise from Site 1/5 at the Baikonur Cosmodrome in Kazakhstan at 9:28 p.m. local time (12:28 p.m. EDT), exactly 50 years to the day since Apollo 11 crewmen Neil Armstrong and Buzz Aldrin alighted on the Moon's Sea of Tranquility. The moment that Lunar Module (LM) Eagle touched down on alien soil falls at 4:18 p.m. EDT, as the three spacefarers are midway through a six-hour transit to their off-planet home.
Although many crews have observed the date of the first manned lunar landing—including the STS-65 shuttle astronauts, who were in orbit for the 25th anniversary in July 1994—the mission of Morgan, Skvortsov and Parmitano is the first to actually launch on the historic date itself. In their pre-flight press conference, the three men were philosophical about the anniversary. Morgan noted that the launch of an international crew on this momentous date provides an "interesting contrast" to the wholly U.S. achievement of Apollo 11. Parmitano explained that humans "can achieve a lot more by co-operating together than competing" and Skvortsov added that the international partners are "all united by one goal; by one main task".
The mission patch for Expedition 60 crew prominently includes the waxing crescent Moon, an L-shaped constellation of three stars to honor the Latin symbol for "50" and the shape of an eagle in the same poise as Apollo 11's iconic flight emblem, whose Lunar Module (LM) was named for the national bird of the United States. "#Expedition60 patch modeled its symbology after #Apollo11 mission patch," Morgan recently tweeted. "Prominent Eagle, no crew names, but reversed the moonscape in the foreground with Earthscape, and the distant Earth for a distant Moon."
Commanding Soyuz MS-13 and serving as a flight engineer aboard the current, in-progress Expedition 60 and, from October, on Expedition 61, is 53-year-old Aleksandr Aleksandrovich Skvortsov, making his third trip into space. The son of unflown cosmonaut Aleksandr Skvortsov, he grew up in the Moscow region with a love of aviation and pursued a military career in his father's footsteps. "It's basically our family tradition," Skvortsov once remarked to a NASA interviewer, "because I became a military pilot and my brother is a military pilot, too."
He graduated as a pilot-engineer in 1987 and flew the L-39, MiG-23 and Su-27 aircraft as a pilot, senior pilot and chief of aircraft formation. Selected for cosmonaut training in 1997, "specifically for the ISS", Skvortsov served as the flight engineer on Expedition 23, launched in April 2010, before rotating into the command of Expedition 24, ahead of his return to Earth the following September. He retired from the Russian Air Force as a colonel in 2012, but remained a cosmonaut, serving as a flight engineer on Expeditions 39-40 in March-September 2014. Across his two prior missions, Skvortsov—a self-confessed lover of spicy food and responsible for having "finished off all the spicy ketchup stock" and shocking his crewmates "by making and eating wasabi sandwiches"—has logged over 345 days in space and more than 12.5 hours of spacewalking experience.
With Skvortsov in the center seat aboard Soyuz MS-13, the occupant of the left-hand Flight Engineer-1 couch will be 42-year-old Italian Air Force colonel Luca Salvo Parmitano, who in July 2013 became the first—and, so far, only—of his countryman in history to perform a spacewalk. Born in the Sicilian town of Paternò, he spent a year as an exchange student in Mission Viejo, Calif., before finishing high school in 1995 and later completing a degree in political science at the University of Naples.
In 2000, Parmitano graduated from the Italian Air Force Academy and went on to complete basic training with the U.S. Air Force at Sheppard Air Force Base in Texas. He subsequently qualified as an electronic warfare office, earned a master's degree in experimental flight test engineering and in 2007 became an experimental test pilot. Two years later, he was selected by the European Space Agency (ESA) for astronaut training and in May-November 2013 he became the first of his class to voyage to the space station. In doing so, Parmitano's increment on Expeditions 36-37 logged him 166 days in orbit and over 7.5 hours of Extravehicular Activity (EVA) time.
By contrast, U.S. Army colonel Andrew Richard Morgan—who will occupy the right-hand Flight Engineer-2 seat aboard Soyuz MS-13—will be embarking on his first space mission. And it promises to be lengthy one, for unlike Skvortsov and Parmitano, who are due to return to Earth in February 2020, the 43-year-old Morgan will remain aboard the ISS for nine months, not expected to land until April. This peculiar circumstance is the result of the United Arab Emirates sending its first astronaut on a week-long visit to the ISS in September-October 2019. To make available ascent/descent Soyuz seats for the UAE spacefarer, it was revealed earlier this year that NASA astronaut Christina Koch would extend her stay until February 2020 and, by a domino-like effect, Morgan who do likewise until April.
Asked at the crew's pre-flight press conference if training for a nine-month mission differs in any meaningful way from six months, Morgan identified the basic needs of additional food and clothes. But there was something else, too. "It's going to amount to an entire school year," he said, meaning he will miss out on key aspects of his children's education. "It feels a little more real when you miss an entire school year." Returning to Earth on or around 1 April 2020, Morgan will log some 255 days in orbit, securing a record for the longest single spaceflight by a U.S. Army officer and the first by a board-certified U.S. Army physician. He will also enter second place on the list of most flight-experienced U.S. Army astronauts, behind Jeff Williams.
Born in Morgantown, West Virginia, the progeny of a military family, Morgan received his schooling in Delaware and earned a degree in environmental engineering from the U.S. Military Academy at West Point, N.Y., in 1998. During his time at West Point, Morgan was a member of the Black Knights parachuting team. Four years later, he gained a medical degree from the Uniformed Services University of the Health Sciences in Bethesda, Md., and subsequently completed a residency in emergency medicine and a fellowship in primary care sports medicine. As a military officer, he volunteered for special operations and was a physician for the Army's parachute team and later a battalion surgeon. During his tenure in special operations, Morgan deployed in direct support of combat operations in Iraq, Afghanistan and Africa. Selected as a NASA astronaut candidate in June 2013, he was officially announced as a member of Expedition 60/61 in May 2018.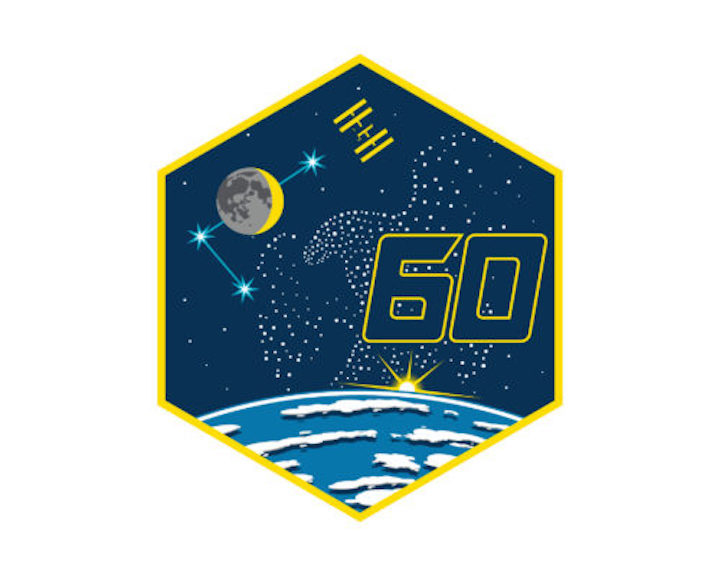 Skvortsov, Parmitano and Morgan pulled double backup duties in support of both the Soyuz MS-11 and Soyuz MS-12 crews, launched in December 2018 and March of this year, respectively. Late last month, they completed their final Soyuz exams and on 4 July, the three men and their own backups—spaceflight veterans Sergei Ryzhikov of Russia, NASA's Tom Marshburn and Japanese astronaut Soichi Noguchi—flew from the Star City cosmonauts' training center, on the forested outskirts of Moscow, to Baikonur, for final training. Weather at the Kazakh launch site hit 38 degrees Celsius (100 Fahrenheit), which Morgan labeled "a warm welcome", and the prime and backup crews pressed directly into final training and the traditional symbolic activities of raising national flags and planting trees in the fabled Avenue of Cosmonauts. The Soyuz-FG booster bearing the Soyuz MS-13 spacecraft was rolled out to Site 1/5 on 18 July.
Following their Saturday launch, Skvortsov, Parmitano and Morgan will spend six hours in transit, before docking at the ISS at about 6:50 p.m. EDT. During their journey to the sprawling orbital outpost, at 4:18 p.m., 50 years will pass since Armstrong and Aldrin brought LM Eagle into port on the Sea of Tranquility. And at 10:56 p.m. Saturday, as Skvortsov, Parmitano and Morgan settle down for their first night in space, a half-century will have passed since Armstrong's historic "one small step" onto alien soil. Unusually for a visiting crew, they will dock at the aft-facing port of the Zvezda module—along the station's longitudinal axis—as opposed to the space-facing Poisk or Earth-facing Rassvet modules, which are ordinarily utilized by incoming Soyuz vehicles. The reason is associated with the planned unmanned test-flight of Soyuz MS-14, which will dock at Poisk in late August.
The new arrivals will be welcomed aboard by the incumbent Expedition 60 crew of Russian cosmonaut Alexei Ovchinin and NASA astronauts Nick Hague and Christina Koch, all of whom have occupied the station since mid-March. There will be little time to acclimatize to their new surroundings, for SpaceX's CRS-18 Dragon cargo mission is due to arrive on 23 July and a few days thereafter Northrop Grumman's NG-11 Cygnus and Russia's Progress MS-11 resupply freighters will depart. The arrival of Dragon will bring with a long-awaited second International Docking Adapter (IDA) for Commercial Crew operations, which Hague and Morgan will install on the space-facing (or "zenith") face of the Harmony node during an Extravehicular Activity (EVA) in August.
The late summer and early fall will be a hectic time, with no fewer than two Soyuz vehicles—one crewed, the other uncrewed—slated to launch in August-September. Soyuz MS-14 is flying to test new guidance, navigation and control systems, with Soyuz MS-15 due to fly on 25 September to bring Russian cosmonaut Oleg Skripochka, NASA's Jessica Meir and UAE astronaut Hazza al-Mansouri uphill. A week later, al-Mansouri will return to Earth aboard Soyuz MS-12, shoulder to shoulder with Ovchinin and Hague, who will wrap up more than 6.5 months in orbit. Parmitano will assume command and become only the third European to helm the station and Expedition 61 will officially begin.
The arrival of the new crew will bring together four discrete classmates; for Skvortsov and Skripochka were selected together as cosmonauts back in 1997 and Morgan and Meir were picked together by NASA in 2013. Between four and six EVAs on the U.S. Operational Segment (USOS) are planned in the fall and winter—two to three spacewalks in September, followed by another two to three in January 2020, according to NASA's Rob Navias—which are tasked with replacing aging nickel-hydrogen batteries with upgraded lithium-ion ones on the two power channels of the station's P-6 truss. New batteries will be brought uphill aboard Japan's H-II Transfer Vehicle (HTV-8) in September and by HTV-9 in February 2020.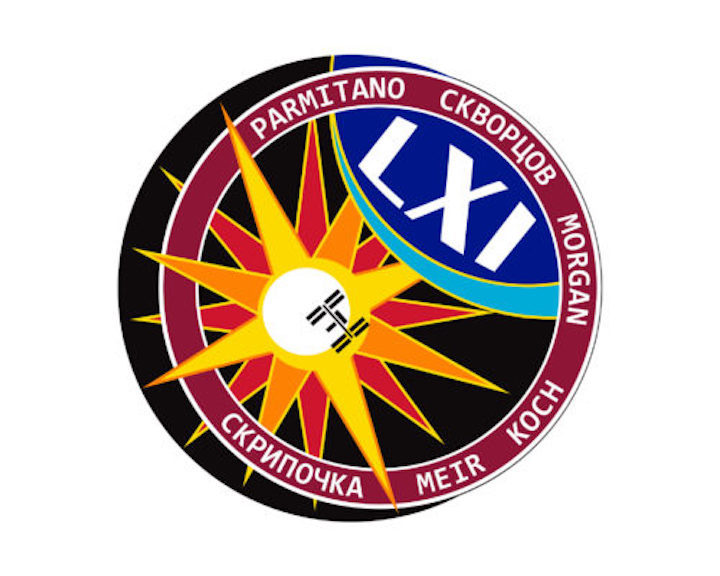 Quelle: AS
1693 Views