23.03.2019
GPS III Space Vehicle 02 "Magellan" arrives in Florida; Prepares for July launch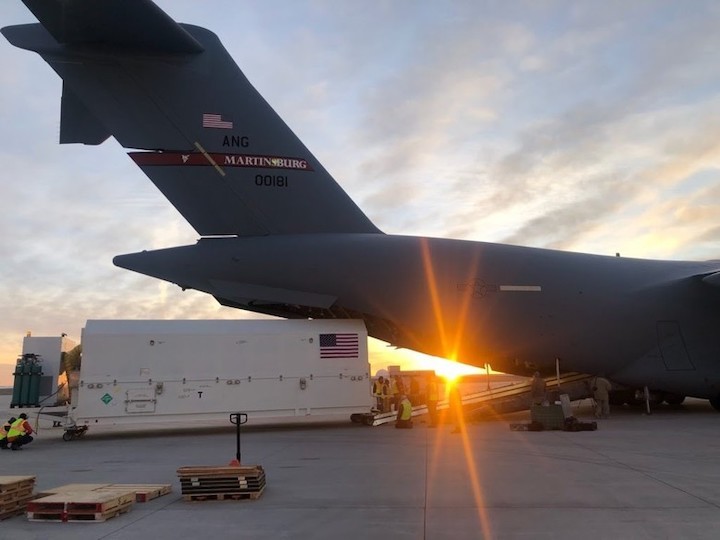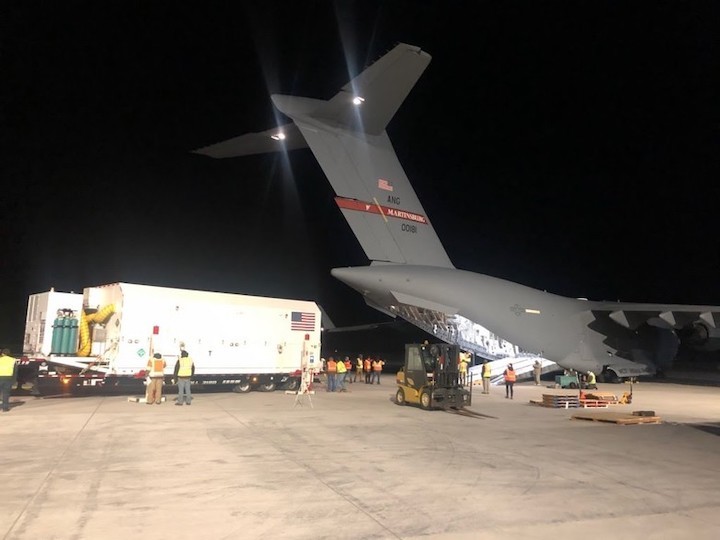 CAPE CANAVERAL AIR FORCE STATION, Fla. --
The U.S. Air Force's Space and Missile Systems Center's Global Positioning Systems Directorate achieved another major program milestone March 19, successfully delivering the second GPS III Space Vehicle to Astrotech Space Operations in Titusville, Florida to begin satellite launch processing.
"The shipment of this second GPS III satellite is once again an excellent representation of the collaborative effort and increasing efficiencies of SMC's push towards rapid acquisitions and operations of space technologies," said Lt Gen John F. Thompson, SMC commander and Air Force program executive officer for Space. "We are adding this second GPS III satellite just seven months from the launch of the inaugural Block III space vehicle, continuing our objective of modernizing GPS."
The satellite, dubbed "Magellan" in honor of Ferdinand Magellan, the Portuguese explorer who led the first expedition to circumnavigate the Earth, was transported in a custom container from the Lockheed Martin factory facility in Waterton, Colorado to the Space Coast Regional Airport in Titusville, Florida, by a C-17 Globemaster III originating from Shepherd Field Air National Guard Base, West Virginia, 167th Air Lift Wing. The transportation crew consisted of both contractor and government personnel who oversaw the entire operation to ensure that the conditions of the transport environment would not damage any of the satellite's sensitive components.
The delivery of SV02 starts the clock for final testing and checkout of the spacecraft prior to launch. Like SV01, this satellite will be processed at the Astrotech Space Operations Florida facility. A government and contractor team will ensure the full functionality of the satellite by performing various tests. Processing this time around will gain efficiencies from lessons learned on SV01. As the spacecraft nears launch, the team will prepare for propellant loading and will encapsulate the satellite into its protective fairing supplied by the launch provider. At the completion of these activities, the satellite will be integrated with the United Launch Alliance's (ULA) Delta IV launch vehicle. It is significant to note that GPS III SV02 will be the final payload to catch a ride on the Delta IV (4, 2) configuration of ULA's Launch Vehicle.
"As we prepare to launch this second GPS III satellite, we acknowledge a major transition of the GPS III program into a production program." said Col. Steve Whitney, director of the GPS Directorate. "Having successfully launched our 'Satellite of Firsts,' Vespucci, last December; we now look forward to a more regular pace of launches with this one and several more just on the horizon, as we continue to uphold the Gold Standard in space based position, navigation, and timing."
GPS III SV02 is currently slated to launch in July this year. Once on-orbit it will join the operational constellation of 31 GPS satellites. GPS delivers the world's gold standard in positioning, navigation, and timing services supporting vital U.S. and allied operations worldwide, underpinning critical financial, transportation, and agricultural infrastructure that billions of users have come to depend on daily.
Quelle: USAF
----
Update: 8.06.2019
.
Final 'single stick' Delta 4-Medium rocket arrives at Florida launch pad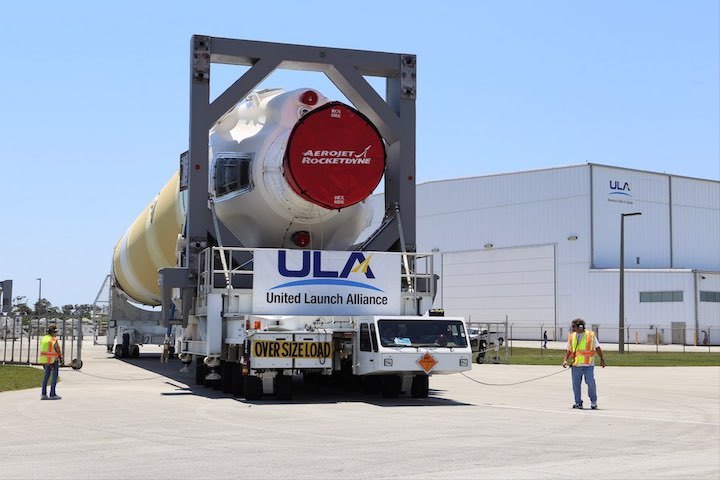 Ground crews finished the initial build-up of the last "single stick" medium-lift variant of United Launch Alliance's Delta 4 rocket on its launch pad at Cape Canaveral last week in preparation for liftoff with a GPS navigation satellite July 25.
ULA is retiring the Delta 4-Medium rocket after next month's launch, but will continue flying the Delta 4-Heavy rocket through at least 2024 to carry clandestine payloads into orbit for the National Reconnaissance Office, which owns the U.S. government's spy satellite fleet.
The Delta 4-Heavy uses three Delta 4 first stages connected together to loft more massive payloads into orbit, or spacecraft requiring higher-speed trajectories, while the Delta 4-Medium uses a single first stage and duplicates the capabilities offered by ULA's less expensive Atlas 5 rocket.
Positioned on a 36-wheel diesel-fueled transporter, the Delta 4's first and second stages — already mated together — emerged from ULA's Horizontal Integration Facility on May 28 for the short drive to Cape Canaveral's Complex 37 launch pad. A hydraulic lift raised the rocket vertical inside the launch pad's mobile gantry May 29, and workers installed a pair of solid-fueled boosters on each side of the orange first stage May 31 and June 3.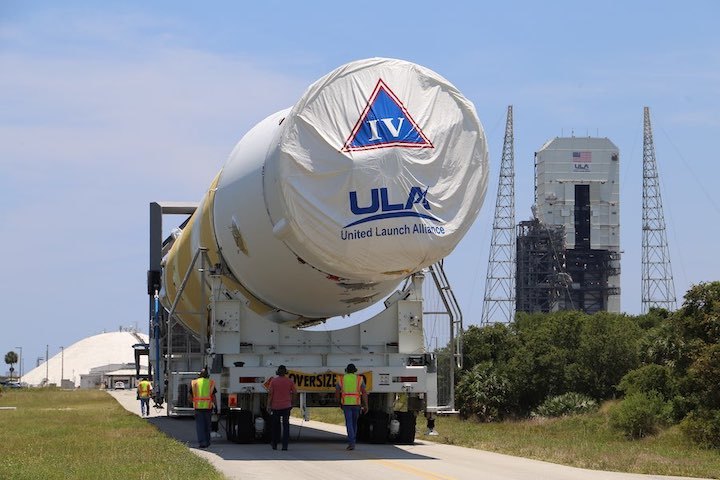 The Delta 4's first and second stages, powered by hydrogen-fueled Aerojet Rocketdyne engines, were connected together inside ULA's hangar near the launch pad before last week's rollout.
The Delta 4-Medium's final launch will deliver the second in a new generation of U.S. Air Force Global Positioning System satellites into an elliptical transfer orbit ranging more than 12,000 miles (about 20,000 kilometers) from Earth at its highest altitude.
The GPS 3 SV02 navigation satellite, nicknamed "Magellan" and built by Lockheed Martin, arrived at the Florida spaceport in March for final launch preparations. It will be added atop the Delta 4 rocket closer to launch, wrapped inside the launcher's protective nose cone.
The first of the new generation of GPS satellites, named "Vespucci," launched in December aboard a SpaceX Falcon 9 rocket. The GPS network provides positioning and timing services worldwide for military and civilian users.
The launch, scheduled for the morning of July 25, will mark the 40th flight of a Delta 4 rocket since 2002. It will be the 29th rocket to fly in the Delta 4-Medium configuration, with variants that include zero, two, or four strap-on solid rocket boosters, and options for two different payload fairing sizes.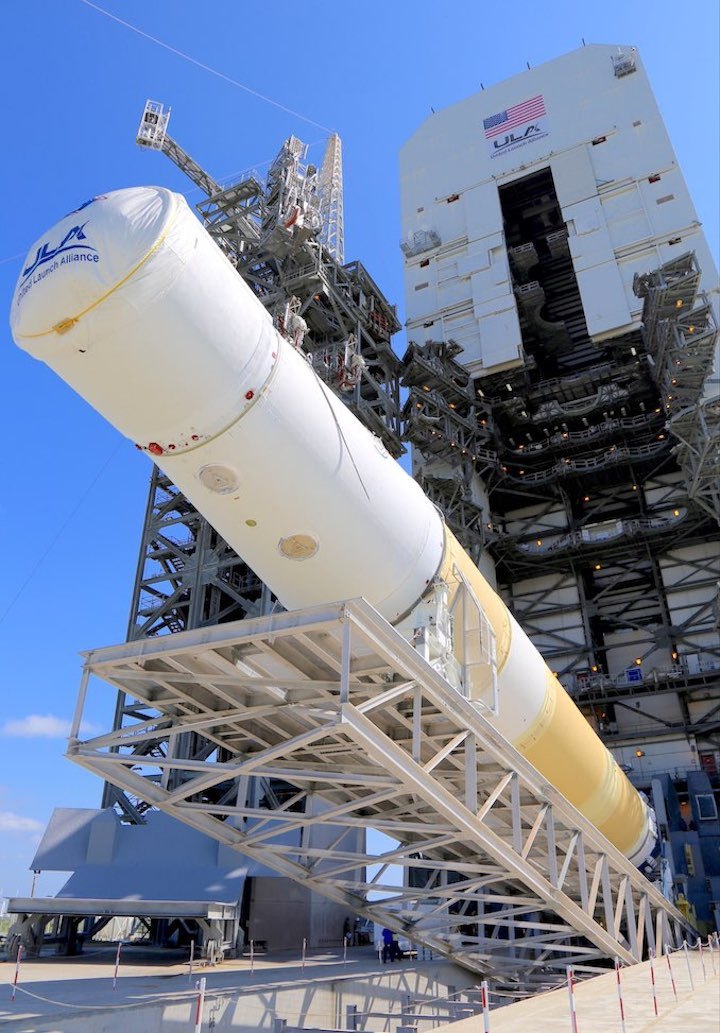 Originally designed and developed by Boeing, the Delta 4 rocket became part of ULA when the company was formed in 2006 by the merger of the Delta and Atlas launch vehicle divisions of Boeing and Lockheed Martin. ULA's primary business has been in launching U.S. national security satellites, and the Air Force's policy requires two rocket families be available to carry military payloads into space, in case one of the launchers runs into reliability woes.
ULA announced in 2014 it would retire the single-stick medium-lift version of the Delta 4. SpaceX's Falcon 9 and Falcon Heavy rockets are now certified by the Air Force to haul national security payloads into orbit. That places the Falcon and Atlas launcher families from SpaceX and ULA in head-to-head competitions for military launch contracts until a new generation of rockets come online in the early 2020s, including ULA's Vulcan Centaur, Blue Origin's New Glenn, and Northrop Grumman's planned OmegA system.
The Delta 4 the more expensive of ULA's two rocket families, hence the company's decision to retire it, and not the Atlas 5. But the Delta 4-Heavy variant will remain operational at least five more years. The National Reconnaissance Office, using the Air Force as a contracting agent, has purchased five more Delta 4-Heavy missions through 2024.
Quelle: SN
----
Update: 17.06.2019
.
Lockheed Martin Delivers GPS III Contingency Operations (COps) Ground System Upgrade To Control More Powerful GPS Satellites
Second GPS III Satellite Readies for Launch; Third Satellite Declared "Available for Launch"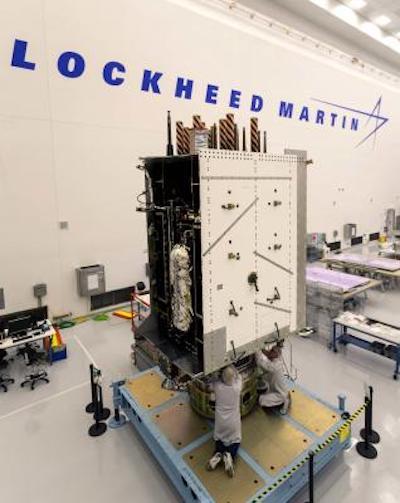 The next step in modernizing the Global Positioning System (GPS) satellite constellation with new technology and capabilities is happening from the ground up!
On May 22, Lockheed Martin (NYSE: LMT) delivered the GPS III Contingency Operations (COps) software upgrade to the U.S. Air Force's current GPS ground control system. The upgrade will enable the Air Force to start commanding the new, next-generation GPS III satellites now coming off the production line and beginning to launch.
And the new GPS III satellites are coming. The first GPS III satellite launched in December 2018; the second GPS III shipped to Cape Canaveral in March for a July launch; and the Air Force, on May 17, declared the third new GPS III "Available for Launch" next.
The challenge was modernizing the current ground system – formally known as the GPS Architecture Evolution Plan Operational Control System (AEP OCS) -- to fly the legacy constellation, as well as the new, modern GPS III satellites, until the next generation Operational Control System (OCX) Block 1, still in development, is delivered.
To address this, in 2016, the Air Force contracted Lockheed Martin to develop the GPS III COps program. Currently, the AEP OCS controls 31 GPS IIA, IIR, IIR-M and IIF satellites launched between 1993-2016. With the AEP OCS' new GPS III COps upgrade, the Air Force will be able to command and control both the legacy satellites, as well the more powerful GPS III satellites.
"Positioning, Navigation and Timing is a critical mission for our nation and COps will allow the Air Force to gain early access to its new GPS III satellites," said Johnathon Caldwell, Lockheed Martin's vice president for Navigation Systems. "We just finished Final Qualification Testing and delivery on COps, and it will be integrated and installed on the AEP OCS over the summer. We look forward to the Air Force 'flying' a GPS constellation on the COps OCS which includes the new GPS III satellites, later this year."
Meanwhile, the first GPS III space vehicle (GPS III SV01), launched in December 2018, is finishing up pre-operational on-orbit check-out. It continues to be controlled by OCX Block 0 software installed at Lockheed Martin's GPS III Launch and Checkout Center at the company's Denver facility. GPS III SV01 is expected to be "handed over" to the COps OCS later this year after the legacy constellation is moved over to the updated AEP OCS.
Lockheed Martin has sustained the AEP OCS since 2013. In November 2018, the company completed the AEP 7.5 upgrade -- the largest architectural change in the systems history -- replacing significant code, hardware and software to improve the system's cybersecurity capabilities and positioning the Air Force to better operate in contested, degraded and operationally limited environments.
In December 2018, the Air Force awarded Lockheed Martin the GPS Control Segment Sustainment II (GCS II) contract to continue to further modernize and sustain the AEP OCS through 2025. In 2020, the AEP OCS is expected to receive the M-Code Early Use (MCEU) upgrade, which will allow control of M-Code, an advanced, new signal designed to improve anti-jamming and anti-spoofing, as well as to increase secure access to military GPS signals for U.S. and allied armed forces.
Lockheed Martin is under contract to develop and build up to 32 GPS III/IIIF satellites. GPS III will deliver three times better accuracy and provide up to eight times improved anti-jamming capabilities. GPS III's new L1C civil signal will make it the first GPS satellite to be interoperable with other international global navigation satellite systems. Additional "IIIF" capabilities, beginning at the 11th satellite, will include a fully digital navigation payload, Regional Military Protection, an accuracy-enhancing laser retroreflector array, and a Search & Rescue payload.
Quelle: Lockheed Martin
2450 Views